Overview
Overview
Patient Experience
Cleveland Clinic values our patient and family feedback. We share our positive survey scores and written compliments with our dedicated staff to reassure them in their daily efforts.
We continually review opportunities to improve the patient experience. By monitoring real-time patient feedback, individual departments are able to review their results and prioritize patient experience improvement objectives.
How We Measure Patient Experience
All acute care hospitals throughout the United States participate in a patient survey process designed and regulated by the Centers for Medicare and Medicaid Services (CMS). This HCAHPS survey (Hospital Consumer Assessment of Healthcare Providers and Systems) measures patients' perspectives of their hospital care.
Public results are available at medicare.gov/hospitalcompare. Eligible adult patients are surveyed after hospital discharge and results displayed represent four consecutive calendar quarters.
HCAHPS Education and Data Coordination
The Intelligence Team in the Office of Patient Experience plays a vital role in coordinating survey data transmission between the survey vendor and the Cleveland Clinic system. Real-time survey results, complete with benchmark comparisons and performance indicators, are maintained on an internal web-based dashboard program available to all staff in leadership and management roles. The team also provides survey education, particularly for the CMS-required inpatient HCAHPS survey process, and works together with leadership to uncover feedback trends and help prioritize experience improvement efforts.
Cleveland Clinic Health System Hospital Compare
Cleveland Clinic Health System Hospital Compare
Would Recommend Hospital - Cleveland Clinic Health System Hospital Comparison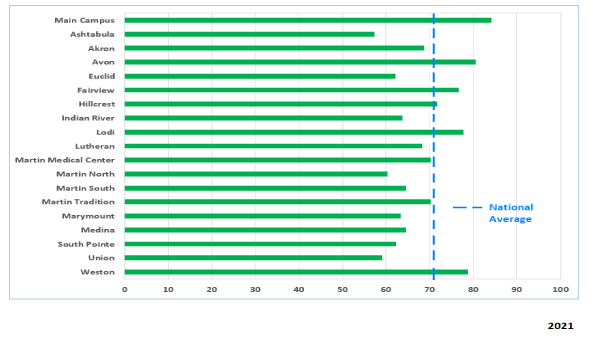 *Data from 2021 as reported by CMS*
% Definitely Yes
This is a summary question at the end of the HCAHPS survey asking patients how likely they are to recommend the hospital to friends and family. On this chart we display the percentage of patients providing a response of Definitely Yes.