Core Lecture Series
Core Lecture Series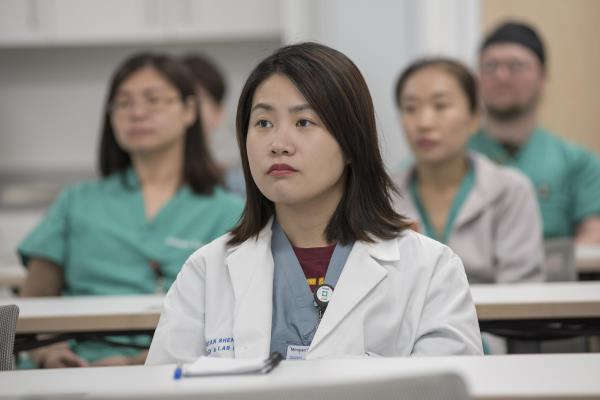 Abundant educational opportunities exist within the Robert J. Tomsich Pathology and Laboratory Medicine Institute. The residency program has a highly structured educational conference curriculum, comprised of a core lecture series at 8 a.m. each day, with topics rotating over two years. This is composed of a mixture of classic didactic lectures, interactive seminars, Grand Rounds, teaching at a multi-headed microscope with live video imaging, and review of "unknown" slide sets provided in advance of the seminar for residents to preview and prepare.
This includes a highly regarded monthly "General Surgical Pathology Case Conference" by Jesse McKenney, MD to increase exposure to all surgical pathology disciplines throughout the year. This one-hour lecture series is protected time for education. Service work during this time is covered by pathology assistants, technologists, and staff physicians. All residents in the program are expected to attend the morning lecture series daily.
A limited number of conferences are held during the noon hour (12-1 p.m.) are more variable throughout the year, including several working conferences for various rotations. Residents are expected to attend these lectures as service demands allow. These conferences include Autopsy conference (required for all PGY1 residents), Journal Clubs, and board review sessions. The breakdown of lectures is shown in the tables below, with examples of a real week in the second table.
| | | | | | |
| --- | --- | --- | --- | --- | --- |
| Time Slots | Monday | Tuesday | Wednesday | Thursday | Friday |
| 8 a.m. | AP Conference | CP Conference | CP Conference | Grand Rounds | AP Conference |
| Noon | No Session | Autopsy Conference | Journal Club or Board Review | No Session | Autopsy Conference |
Week of June 6, 2022
| | | | | | |
| --- | --- | --- | --- | --- | --- |
| Time Slots | Monday | Tuesday | Wednesday | Thursday | Friday |
| 8 a.m. | AP: Fibrohistiocytic Tumors | CP: Tumor Markers | CP: Lipids and Cardiovascular Risk | Grand Rounds | AP: Approach to Lipomatous Tumors |
| Noon | No Session | Autopsy Conference (PGY1 only) | No Session | No Session | Autopsy Conference (PGY1 only) |
Tumor Boards
Tumor Boards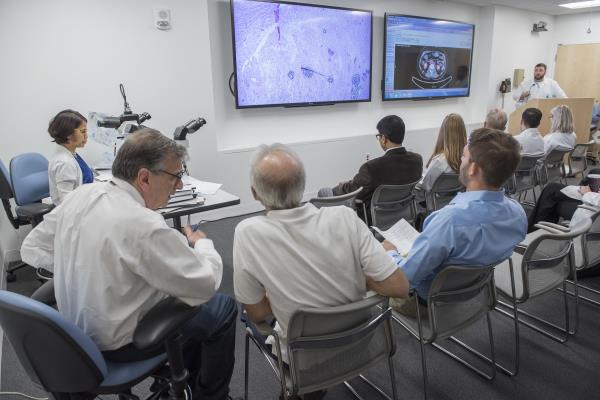 Beyond the typical didactic conference schedule, the Department of Pathology participates in more than 20 specialty specific tumor boards each week. Often the best learning occurs in the detailed review of clinical presentation, imaging, pathology review and discussion that occurs at multidisciplinary conferences. Residents are encouraged to attend tumor boards in PGY1 as time and interest allows, and are required to present at tumor boards during their PGY2, PGY3 and PGY4 years. Most residents choose one or two specialty areas to present at tumor boards each year. These are presented with faculty mentors and provide the resident with increased expertise and confidence in that surgical subspecialty area.
Summer Boot Camp Lecture Series
Summer Boot Camp Lecture Series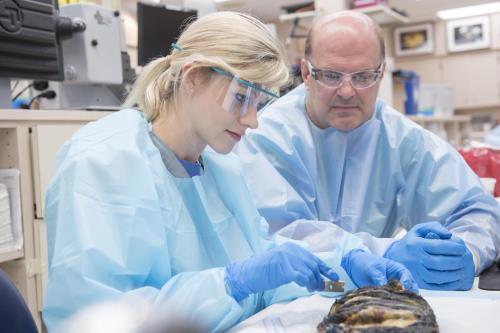 The usual core lecture series is suspended in July and August, as residents go through summer "boot camp" training for six weeks. To supplement the daily training experience, a training lecture series that repeats each year is provided for PGY1 residents to prepare them for anatomic pathology. This lecture series includes a mixture of introductory lectures and grossing demonstrations. Simultaneously, the PGY2 residents receive a CP boot camp series of introductory lectures in laboratory medicine.
The daily work for PGY1 residents in the first six weeks of residency consists of a "boot camp" in anatomic pathology. This is designed to help ease new residents into residency, a major transition from medical school or other graduate education endeavors. The boot camp consists of two weeks of autopsy training, where new residents are paired with a senior anatomic pathology resident (PGY3) to learn the ropes from a master, and four weeks of surgical pathology training. The surgical pathology training includes one-on-one instruction from Mindy Kral, our education specialist pathology assistant, one-on-one training in cutting frozen sections from Jennifer Abraham, our education specialist medical technologist, and one-on-one grossing experiences working with senior anatomic pathology residents. By the end of training, new residents are comfortable working at the surgical desk and ready to fly "solo", but are never without backup help and assistance.