Overview
Overview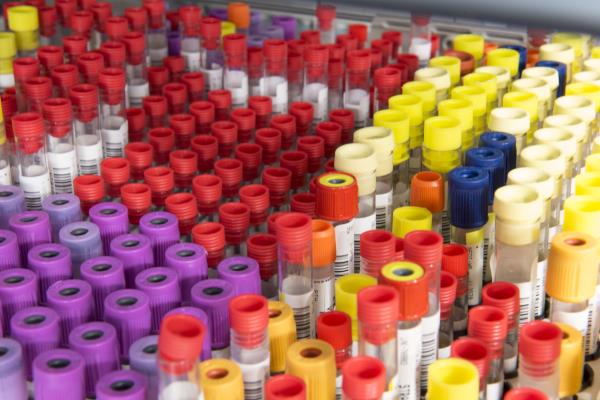 Rotations in Clinical Pathology occur in PGY2 and PGY4. We believe the concentrated exposure to Clinical Pathology is an advantage in resident education and allows residents to focus on one discipline at a time with no carry-over or call responsibilities from Anatomic Pathology rotations. The 14 members of the PGY2 and PGY4 classes have worked closely with each other on Anatomic Pathology during PGY1 and PGY3 and maintain those relationships as they move together into Clinical Pathology, with senior residents helping to supervise junior residents. Lastly, while each resident's rotations occur in a different order, all residents receive the same amount of time in each subspecialty by the end of training.
Representative Core Rotation Schedules
The schedules below are representative of each resident's core rotations in Clinical Pathology by PGY. Each rotation block is four weeks in length. At least for their first rotation in each specialty, junior residents are paired with senior residents to facilitate education. On each service, residents carry a pager and are available for immediate consultation. Electives may be taken in either AP or CP rotations, and may be custom designed by the resident with approval of the faculty and Program Director.
| | |
| --- | --- |
| PGY2 Representative Schedule | PGY4 Representative Schedule |
| Block 1: Hematopathology | Block 1: Hematopathology |
| Block 2: Clinical Chemistry | Block 2: Transfusion Medicine |
| Block 3: Transfusion Medicine | Block 3: Lymphoma Pathology |
| Block 4: Lymphoma Pathology | Block 4: Clinical Chemistry |
| Block 5: Microbiology | Block 5: Cross-Cover Elective |
| Block 6: Hematopathology | Block 6: Hematopathology |
| Block 7: Coagulation | Block 7: Elective |
| Block 8: Microbiology | Block 8: Clinical Chemistry |
| Block 9: Lymphoma Pathology | Block 9: Elective |
| Block 10: Transfusion Medicine | Block 10: Coagulation |
| Block 11: Molecular Pathology | Block 11: Elective |
| Block 12: Clinical Chemistry | Block 12: Molecular Pathology |
| Block 13: Hematopathology | Block 13: Microbiology |
To view more on rotation blocks, view the tabs above.
Diversity & Inclusion
Discover the role diversity and inclusion plays at Cleveland Clinic and at its Graduate Medical Education program, as well as our diversity and inclusion efforts.
Learn more
Clinical Chemistry
Clinical Chemistry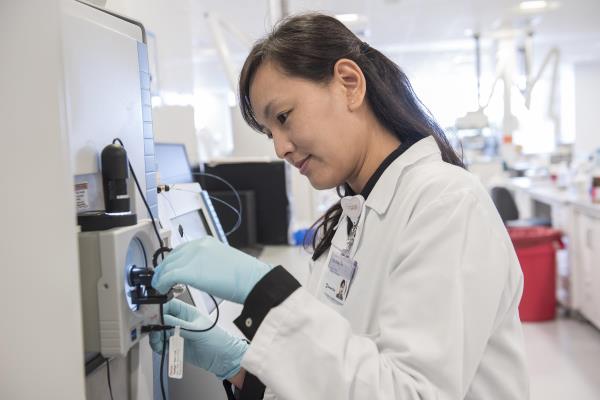 Clinical Chemistry (four blocks)
Resident education in the Section of Clinical Chemistry is organized in a modular approach, covering topics in automated chemistry (16 million tests/year), special chemistry, immunopathology and point of care testing. After a one- week introduction in PGY2, the resident selects seven one-week modules to cover each in PGY2 and PGY4 (14 modules total). The 16 possible modules include allergy and autoimmune disease testing, assay validation, primary immunodeficiency disease testing, infectious disease serology testing, protein electrophoresis and myeloma diagnostics, management for lab personnel, point of care testing, instrumentation, mass spectroscopy, prenatal testing, biochemical genetics, endocrine testing, vitamins and cholesterol/lipid assessment, toxicology and therapeutic drug monitoring, trace element/heavy metal assessment and cancer markers. The module for assay validation is mandatory for all residents. Residents meet daily with faculty and technologists in automated and special chemistry for staff reviews and sign out sessions, and are encouraged to select a research/quality project to complete during their rotations. They attend "Test of the Week" Conference (Tuesdays) and are required to present once during each rotation. They also attend Biochemical Genetics Case Conference (Fridays) and are required to present once.
Coagulation
Coagulation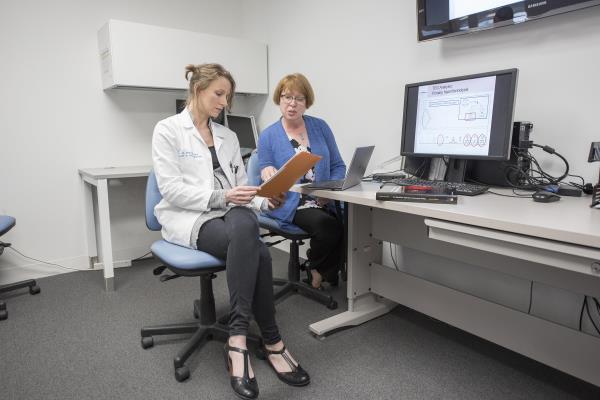 Coagulation (two blocks)
Residents on the coagulation service learn to interpret common and esoteric hemostasis and thrombosis studies for diverse adult and pediatric patient populations. This busy, hands-on experience teaches residents how to prepare interpretive consults for a variety of clinical scenarios – examples include von Willebrand disease, lupus anticoagulant, hypercoagulable state, platelet function testing, abnormal PT and/or APTT, and ADAMTS13 studies. Residents review clinical information, medication history and primary laboratory data, including molecular testing as needed, and often suggest additional testing to complete the work-up and answer the clinical question posed. An average of 50-60 interpretive consults a day are reviewed with faculty prior to sign out and placement in the electronic medical record. Additional duties on this rotation include interpretation of hemoglobinopathy/thalassemia evaluations using capillary electrophoresis augmented by ancillary studies (HPLC, isoelectric focusing, acetate and agar electrophoresis), as necessary.
Cross-Cover Elective
Cross-Cover Elective
Cross-Cover Elective (one block)
This PGY4 rotation allows the resident to take an elective in a subspecialty of choice while serving as a back-up for critical service coverage in Clinical Pathology should another resident be unexpectedly absent or away on vacation. 
Hematopathology
Hematopathology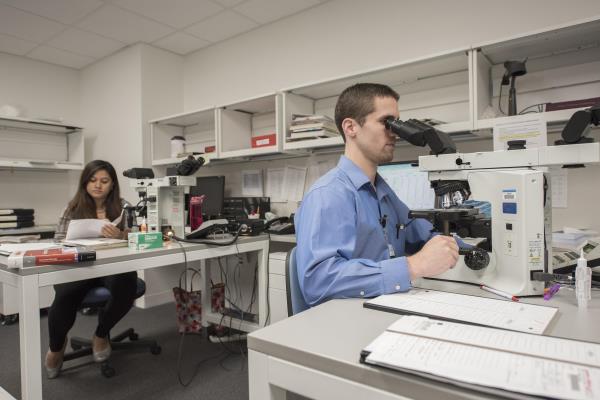 Hematopathology (five blocks)
The hematopathology service deals with peripheral blood, bone marrow, body fluids, and special hematology testing. Residents learn the operating principles and interpretation of results from automated hematology analyzers (CBC, automated and manual differential counts) in the context of associated benign and malignant hematologic disorders. In the course of each four-week block rotation, each resident will review and interpret approximately 100 bone marrow cases under faculty supervision. Bone marrow reports integrate findings of peripheral blood, marrow aspirate and biopsy, along with flow cytometry, and cytochemical and immunohistochemical stains, as needed. Residents have primary responsibility for preparing interpretive reports for flow cytometry of blood, marrow and body fluids. Residents also review results of abnormal peripheral blood smears and body fluids.
Lymphoma Pathology
Lymphoma Pathology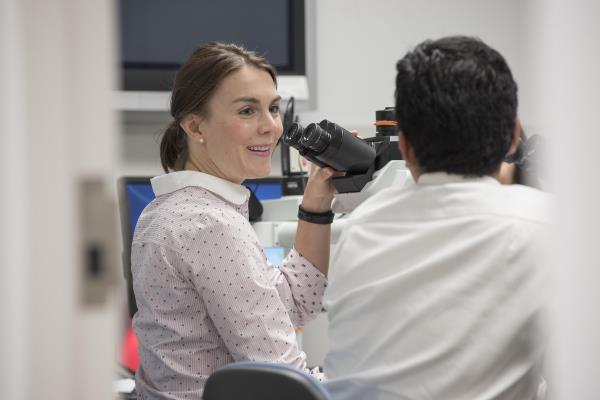 Lymphoma Pathology (three blocks)
The Lymphoma Pathology service deals with evaluation of nodal and extranodal benign and malignant hematologic diseases. The service uses an integrated approach that includes routine H&E morphology alongside immunohistochemical stains, flow cytometry and molecular diagnostics to develop a final report. Residents are actively involved in the evaluation of fresh lymph node biopsies submitted for frozen section as well as all consultation cases. Interpretation of T- and B-cell gene rearrangement testing is included on this rotation.
Microbiology
Microbiology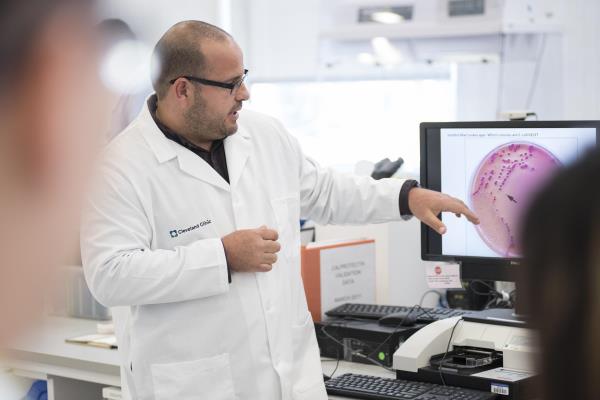 Microbiology (three blocks)
Resident training in microbiology includes rotations on the bacteriology, mycobacteriology, virology, mycology, parasitology and molecular microbiology services. The laboratory utilizes new technology including automated processing, MALDI-TOF mass spectrometry, and rapid molecular testing. Culture workup and test interpretation occurs predominantly on bench rotations. Clinical consultation, laboratory management and test utilization issues are discussed during daily rounds with the faculty. Clinical consultation emphasizes patient care and medical knowledge, but also includes aspects of professionalism and communication skills. Laboratory management includes aspects of proficiency testing and quality improvement (i.e. practice-based learning and improvement). Test utilization discussions include aspects of systems-based practice, medical knowledge of best practices and communication. Residents present at an intradepartmental case- based weekly conference with infectious disease clinicians and pharmacists (Fridays).
Molecular/Cytogenomics
Molecular/Cytogenomics
Molecular Pathology/Cytogenomics (two blocks)
Molecular Pathology supports a diverse testing menu for germline and somatic variants in disease, including cystic fibrosis, hemochromatosis, fragile X, alpha-1 antitrypsin deficiency, alpha thalassemia, spinal muscular atrophy, factor V Leiden and prothrombin gene mutations, as well as pharmacogenomics testing.  Molecular hematology includes testing for BCR-ABL1, JAK2, MPL, CALR, CEBPA and FLT3, among others. Assays for T- and B-cell gene rearrangement complement the interpretation of lymphoma pathology. Molecular oncology testing includes microsatellite instability and methylation testing for MGMT and MLH1. Next generation sequencing assays are available for myeloid diseases and a variety of solid tumors including lung and colon cancers, melanoma and gliomas. The service also includes a cytogenomics laboratory that offers traditional metaphase karyotyping, chromosomal microarray testing for copy number variants and LOH, and a full spectrum of FISH assays. There is also a biochemical genetics laboratory for diagnosis of inborn errors of metabolism. Residents spend one block each in PGY2 and PGY4 learning the principles of molecular diagnostics and its assay platforms, as well as optimal test utilization strategies. 
Transfusion Medicine
Transfusion Medicine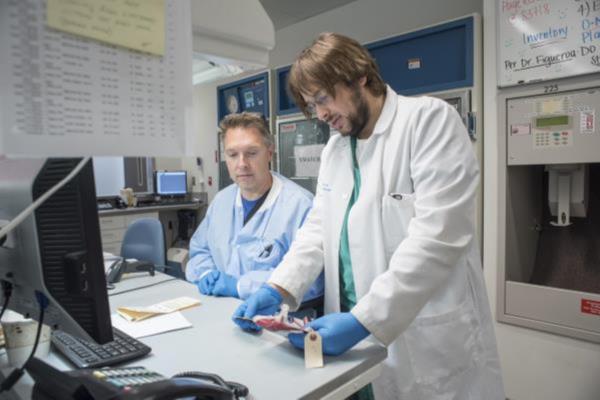 Transfusion Medicine (three blocks)
The Transfusion Medicine service supports the transfusion needs of a complex adult and pediatric medical and surgical population that includes high volume heart and vascular surgery services, liver, kidney, heart, multi-visceral organ and hematopoietic stem cell transplantation, and fetal surgery.

Transfusion Medicine consists of Transfusion Service and the Progenitor Cell Processing (PCP) Laboratory. It supports the Blood and Marrow Transplant program with cryopreservation, storage, and analysis of various progenitor cell products, including a full array of immune effector cell therapies. In addition, the lab supports cellular therapy research studies across the Enterprise.

The PCP Lab supports both pediatric and adult hematopoietic stem cell transplants, and CAR-T cell infusions. Additionally, it is involved in several research projects with some institutes. The lab processed 519 products collected from 263 hematopoietic stem cell transplant patients.

The Transfusion Service performs both serological and electronic crossmatches and advanced immunohematology testing. In 2021, the approximate workload for the transfusion service was: 121,863 type and screen samples, 3,645 antibody identification tests, 524 transfusion reaction evaluations, issuing 41,512 RBC and 16,563 Apheresis Platelets.

Residents are actively involved in assessing and managing the transfusion needs of patients requiring special products such as rare RBC units and HLA-matched platelets, as well as triaging difficult cross-matches and massive transfusions and evaluating and guiding management of transfusion reactions. Residents also spend a week on the separate apheresis service during their PGY4 rotation..