Overview
Overview
About the Department of Orthopaedic Surgery
Cleveland Clinic's Department of Orthopaedic Surgery offers expert diagnosis and state-of-the-art treatment for any injury or disease of the bones and joints, from simple fractures to complex tumors. Cleveland Clinic is recognized in the U.S. and throughout the world for its expertise and care.
Our surgeons perform more than 7,000 hip, knee, shoulder, ankle, elbow, wrist and finger joint replacements per year – one of the highest volumes in the United States – for severe osteoarthritis and rheumatoid arthritis, trauma and other conditions. Cleveland Clinic orthopaedic specialists have pioneered innovative techniques and technologies that are now used worldwide for a range of orthopaedic problems including:
Developing advanced techniques for fracture-healing
Expanding the uses of arthroscopic surgery in the hip
Building better artificial hip, knee, shoulder and ankle joints
Creating improved orthotics to treat diabetic foot problems
Tissue-engineering and biological enhancement to heal and repair cartilage and ligament
Multidisciplinary approach to health problems linked to sports injuries
To make an appointment with any Orthopaedic specialist, please call 866.275.7496.
About the Department of Rheumatology
Cleveland Clinic's Department of Rheumatology is committed to providing state-of-the-art diagnosis, treatment and rehabilitation for adults and children with rheumatic and immunologic diseases. These diseases vary from the simple to complex and mild to life-threatening. They include bursitis/tendonitis, osteoporosis, osteoarthritis, rheumatoid arthritis, gout, pseudogout and multiple other forms of arthritis, systemic lupus, vasculitis, fibromyalgia and others.
In every instance, there are opportunities to improve the quality of life and enhance longevity. Achieving disease control is almost always within our grasp, but cures are more elusive. That is why we are engaged in research that explores mechanisms of disease, innovative treatments and studies of outcomes that measure the success of new diagnostic tools and therapies.
It is critical that the physician thought-leaders in our Department pass on their knowledge to the next generation of doctors. Consequently, our efforts to provide excellent care are duplicated in state-of-the-art training for our students at the Lerner College of Medicine, residents, subspecialty fellows and our most advanced post-doctoral care trainees.
Mission Statement
Mission Statement
The mission of Cleveland Clinic's Orthopaedic & Rheumatologic Institute is to provide world-class, compassionate care and service to all patients seeking bone, muscle and joint care. Our institute is also dedicated to the education and training of residents and fellows, as well as colleagues both within and outside of Cleveland Clinic. We are also devoted to the development of new knowledge and innovation through both basic science and clinical research activities.
Leadership
Leadership

Interim Chairman, Orthopaedic and Rheumatologic Institute at Cleveland Clinic
Chairman, Department of Orthopaedic Surgery
Brendan M. Patterson, MD, is the interim Chairman, Orthopaedic and Rheumatologic Institute at Cleveland Clinic and Chairman, Department of Orthopaedic Surgery. An experienced leader in orthopaedic surgery whose specialty areas include limb salvage, complex fractures, adult reconstruction, and hip and knee replacements, Dr. Patterson joined Cleveland Clinic in 2017.
Previously, Dr. Patterson's 25 plus years of service at MetroHealth Medical Center following an orthopaedic residency at the Hospital for Special Surgery in New York City and an orthopaedic trauma fellowship at Harborview Medical Center, University of Washington in Seattle, Washington. He served as Chairman of Orthopaedic Surgery in the MetroHealth System for over 10 years with many accomplishments in his areas of expertise which included limb salvage, complex fractures and adult reconstruction.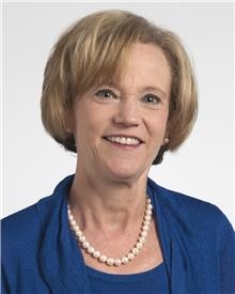 Chair, Department of Rheumatic and Immunologic Diseases
Dr. Abby Goulder Abelson is a very familiar face within the Lerner College of Medicine at Case Western Reserve University where she has served as the Co-Course Director since 2005. She is also a Physician Advisor to the students, the Rheumatology Elective Rotation Coordinator and a Basic Science Education Committee member.
Dr. Abelson is the Chair of the Department of Rheumatic and Immunologic Diseases at the Cleveland Clinic. She is also Vice Chairman for Education for the Orthopaedic and Rheumatologic Institute, as well as Rheumatology Fellowship Program Director.
Dr. Abelson grew up in Shaker Heights, and received her medical degree from Case Western Reserve University. Dr. Abelson completed her Residency in Internal Medicine at Mt. Sinai Hospital in Cleveland, where she was chosen to be Chief Resident. She stayed within the Cleveland area, and completed her Rheumatology fellowship training locally at University Hospitals.