From the Chairman
From the Chairman
Dear Imaging Institute alumni and staff,
It is no small thing when one of our Imaging Institute staff members forges into a new frontier of medicine, discovering truths, defining pathways and changing the journey of those to come. It's also no small thing when a staff member exhibits such inspiring wisdom and influence that he is invited to become a Cleveland Clinic executive leader.
Former radiology chair, Neurological Institute chair and Chief Clinical Transformation Officer Michael Modic, MD, accomplished both of these things before his well-deserved retirement last year. Thanks to Dr. Modic's efforts:
Physicians worldwide now classify degenerative disc disease changes as Modic 1, 2 or 3.
Cleveland Clinic uses Care Paths to standardize care and ensure quality outcomes for patients.
Imaging services are integrated throughout our health system with RIS/PACS.
And much more.
We highlight Dr. Modic's career and honor his retirement in the newest issue (2018) of Radiology Alumni Connection.
Also in this issue we celebrate diagnostic radiologist Bradford Richmond, MD, who retired after 36 years at Cleveland Clinic; the 2018 graduates of our Diagnostic Radiology and Diagnostic Medical Physics residency programs; Teacher of the Year Brian Herts, MD; and numerous other Imaging Institute staff and trainees.
There are so many to recognize. However, I'd also like to recognize each of you and convey my sincere appreciation.
As the Imaging Institute continues to grow — particularly our regional practice — I acknowledge that we couldn't perform at our high level without your teamwork. I realize that you also are doing no small thing to ensure our patients receive the best care.
I look forward to commemorating your professional achievements for many years to come and seeing how far your drive and determination will take our organization.
Thank you for your commitment to Cleveland Clinic and the Imaging Institute. I am grateful for your support.
Sincerely,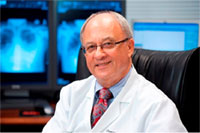 Gregory Borkowski, MD, FACR (IM'74, DR'79)
Chairman, Imaging Institute
Office: 216.444.6625
Newsletters
Alumni Events
Alumni Events
Alumni and current staff events are a great way for you to maintain and grow your social and professional connections with other alumni from Cleveland Clinic's Imaging Institute. Check out our latest edition of Radiology Alumni Connection for upcoming Imaging Institute events.
Imaging Institute Events