From the Chairman
From the Chairman
Dear Imaging Institute Alumni and Staff,
What a pleasure to have seen so many of you at our gathering last November at the Radiological Society of North America (RSNA) annual meeting in Chicago. Our Cleveland Clinic alumni and staff are a remarkable group, working at the top of the radiology specialty and accomplishing great things.
You'll read about some of these individuals in the latest issue of Radiology Alumni Connection, notably five Cleveland Clinic staffers who are retiring this year (pages 2-4). One of our retirees will be quite familiar to many of you, our former Residency Director and Vice Chair for Education David Einstein, MD (DR'82). Dr. Einstein had a significant impact on many of our alums as they began their radiology careers. I hope you enjoy the tribute to him — including his parting words — as well as tributes to our other distinguished retirees, Douglas Owens, MD (IR'89); Barbara Risius, MD (DR'79); John Saks, MD (CCF'03); and Anne Singer, MD (ABI'90).
Of course, we wish all five of these seasoned professionals the very best in their retirement. It has been an honor to work alongside them, and we commend them for their years of contributions to the Imaging Institute.
Among other news in this issue, you'll see a visual recap of the RSNA alumni gathering (page 8) and another fun annual event, the "Art of Radiology" exhibit at Cleveland Clinic Florida (page 5). These social events are evidence that our imaging/radiology community is thriving both in and out of the lab.
Please let us know how you are doing! As always, our Alumni Director Darlene Holden, MD (DR'08, MSR'09), and Alumni Membership Secretary Pauline Kwok, MD (TRS'95, DR'00, ABI'01), welcome your announcements and photos.
Sincerely,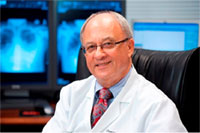 Gregory Borkowski, MD, FACR (IM'74, DR'79)
Chairman, Imaging Institute
Office: 216.444.6625
Newsletters
Alumni Events
Alumni Events
Alumni and current staff events are a great way for you to maintain and grow your social and professional connections with other alumni from Cleveland Clinic's Imaging Institute. Check out our latest edition of Radiology Alumni Connection for upcoming Imaging Institute events.
Imaging Institute Events