From the Chairman
From the Chairman
Dear Imaging Institute alumni and staff,
Among many who have influenced me as a physician, one of the foremost is a fellow radiologist who changed the practice of radiology both at Cleveland Clinic and around the world. Thomas F. Meaney, MD, was not only a giant in our field — and the one credited with bringing CT and MRI to Cleveland Clinic — he was one of my personal mentors.
Dr. Meaney was Chair of Cleveland Clinic's Division of Radiology from 1966 to 1987, during my residency and then appointment as a new staff member. I'm honored to walk in his footsteps today and was particularly honored to help commemorate the spirit of his work this summer at our institute's first-ever Thomas Meaney Radiology Research Day.
Not only did the full-day event include a presentation about what made Dr. Meaney great, it included a first-hand look at what makes today's department great — through research presentations by our current residents and fellows. Three trainees won cash prizes for their research that is helping propel our industry (see page 1). However, I am proud of everyone who participated and showcased the competitive spirit and high-quality work of our institute and Diagnostic Radiology Residency.
Speaking of the residency program, much has changed in the past few months (see page 4). I heartily thank and congratulate former Program Director Dr. Daniel Lockwood on a job well done, and I heartily welcome and congratulate new Program Director Dr. Joseph Veniero. Dr. Lockwood accomplished great things for our program over the last five years and set us on course for more. I look forward to seeing what we continue to achieve under Dr. Veniero's leadership.
Achievements already abound in the Imaging Institute. You'll read about many of them in the newest issue (Q3/Q4 2017) of Radiology Alumni Connection.
News of your latest achievements is always welcome. (Please send it to Pauline Kwok, MD, at kwokp@ccf.org.) We'd like to include it in our next newsletter.
I hope to see many of you at our Cleveland Clinic Radiology Alumni Reception on Sunday, Nov. 26, at the 2017 RSNA annual meeting in Chicago. More details are on page 11. Please RSVP as soon as possible to alumni@ccf.org or 216.445.6961.
Sincerely,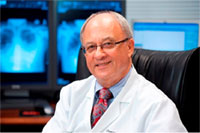 Gregory Borkowski, MD, FACR (IM'74, DR'79)
Chairman, Imaging Institute
Office: 216.444.6625
Newsletters
Alumni Events
Alumni Events
Alumni and current staff events are a great way for you to maintain and grow your social and professional connections with other alumni from Cleveland Clinic's Imaging Institute. Check out our latest edition of Radiology Alumni Connection for upcoming Imaging Institute events.
Imaging Institute Events