Training Locations
Simulation Center training is offered in multiple locations on main campus. In addition, in situ simulation is mobile and conducted within the everyday work environment. This experience allows teams to learn procedural skills, communication skills and teamwork in the same area that they work.
Cardiothoracic Anesthesiology Lab (J4-254)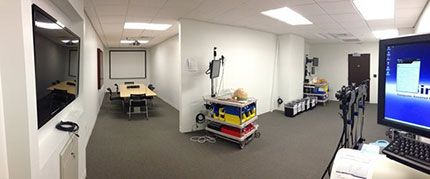 Address:
J Building - Sydell & Arnold Miller Family Pavilion
9500 Euclid Avenue
Cleveland, OH 44195
This facility offers task training devices to practice various skills used in patient care. This lab is located near the main campus CTA for easy access for caregivers.
The following stations are available:
Airway Stations.
Bronch Express.
Pacerman (Transvenous Pacing).
Heartworks (TTE/TEE) Simulator.
Art-Line Trainer.
US/CVA Simulators.
There is also an anesthesia machine that can be used for various small courses.
Task/Procedure-Based Lab (E3-54)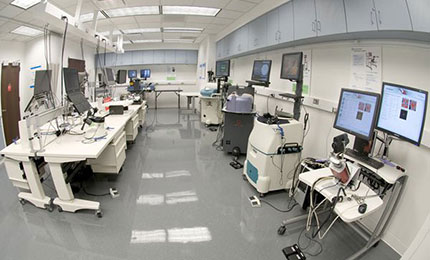 Address:
E Building, third floor (E3-54)
9105 Cedar Avenue
Cleveland, OH 44195
This facility offers basic training boxes to help improve suturing skills or advanced computerized models to practice laparoscopic and endoscopic skills.
The following simulators are available:
Standard Haptic Lap Mentor II.
Lap Mentor Express.
URO/PERC Mentor.
VirtaMed HystSim/TURP.
GI-BRONCH Mentor.
ANGIO Mentor Ultimate.
SAGES FLS Training Boxes.
Stanley Shalom Zielony Plaza (Health Space)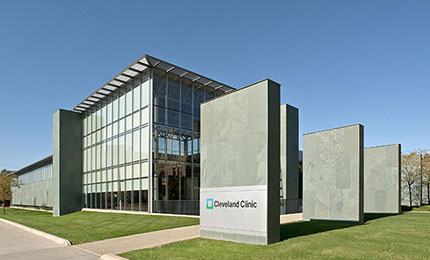 Address:
8911 Euclid Avenue
Cleveland, OH 44195
When healthcare providers are brought together in an integrated fashion, they learn how to better manage patients. The team training and communication aspects of team based training introduce one of the system integration pillars of improving unit culture of safety.
The Debra Ann November Pediatric Airway and Pulmonary Mechanics Laboratory (E3-226b)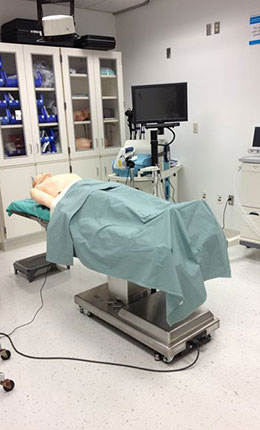 Address:
E Building, third floor (E3-226b)
9105 Cedar Avenue
Cleveland, OH 44195
The lab allows providers to advance their skills around adult and pediatric airway and ventilator management. Equipment includes infant and adult airway management trainers, intubation trainers, a lung isolation trainer (TOWCart™), and an adult human patient simulator.
Surgical Skills Training Lab (L1-300)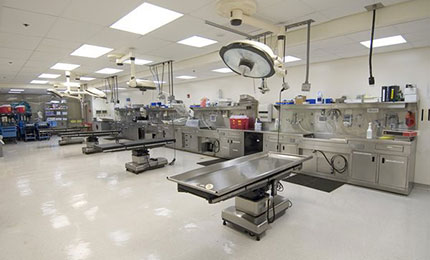 Address:
L1300 is in the Laboratory Medicine Building (L Building)
9410 Carnegie Ave
Cleveland, OH 44195
The Surgical Skills Training Lab allows providers to learn new or practice existing psychomotor skills by engaging in hands-on procedures using fresh frozen cadavers or anesthetized animals. The lab is equipped with eight stations, each station is equipped with:
Fully functional OR table.
Full anesthesia equipment.
Laparoscopic and endoscopic instrumentation, and other safety supplies to simulate a true OR experience.
The lab also includes an adjacent 35 seat classroom to use for didactics or debriefings as needed.
Critical Care Skills Lab (G6-134)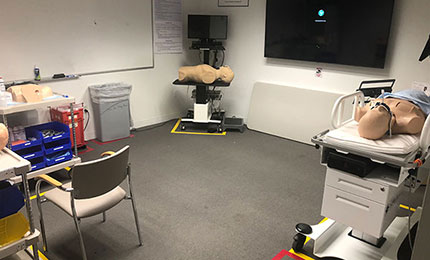 Address:
G Building, sixth floor (G6-134)
9500 Euclid Avenue
Cleveland, OH 44195
The Critical Care Skills Lab is a designated simulation facility that provides just-in-time training for interprofessional critical care teams.
The following simulators are available:
IngMar Airway Station.
Airway Trainer.
Simbionix TTE/TEE.
Subclavian Central Line.