Welcome
Welcome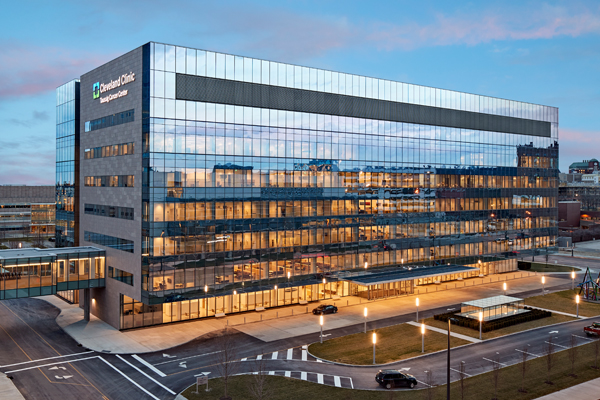 New Cancer Facility Designed for Collaboration, Improved Patient Outcomes
"The new cancer building creates a seamless, personalized experience for patients,"
- Brian J. Bolwell, MD, FACP, Chairman of Cleveland Clinic's Taussig Cancer Institute.
When you visit Taussig Cancer Center, Cleveland Clinic's new $276 million, 377,000-square-foot home for cancer care, some of its features are immediately apparent: expansive, welcoming spaces, the abundance of natural light, and the combination of clinical care and support services.
A deeper look reveals a facility designed expressly to improve patient outcomes through a collaborative, multidisciplinary approach to cancer care. The new multidisciplinary cancer building, with 126 exam rooms and 98 treatment rooms, aims to incorporate all services under one roof.
By The Numbers
126 exam rooms and 98 treatment rooms
30,000 square feet of interior glass
75,000 cubic yards of soil excavated
3,000 tons of steel
26,400 cubic yards of concrete
93 percent of materials recycled to date
700,000 man hours (equal to one worker for 336 years)
Care & Research
Care & Research
Coordinating Care, Expanding Clinical and Research Space
Multidisciplinary work has existed for years, but organizing multidisciplinary groups by disease — teams focused around breast cancer, head and neck cancer, and other specific cancer types — will receive new emphasis in the cancer facility. Each disease group will have its own dedicated clinical practice area on a floor of the new facility. Likewise, each practice area will have space for subspecialized nurses, social workers and other key team members, plus exam and procedure rooms.
By uniting all of our treatment disciplines – surgery, medical oncology, radiation oncology, genetics, nutrition, social work and imaging – it will provide great benefits for patients, families and clinicians.
Other features of the new building include:
Space for genetics and genomics
A centralized home for existing high-level treatment technology, including six linear accelerators and a Gamma Knife® suite.
A dedicated space for infusion for phase 1 Clinical trials
On-site diagnostic imaging
A large laboratory to help alleviate waits for blood-testing, and
An outpatient pharmacy
Patient Support
Patient Support
"The building will be bright, spacious and serene. It will raise the treatment of cancer to a new level of comfort and convenience, providing the most effective care in the most productive surroundings. It will set a new national standard for outpatient cancer treatment in the 21st century."
Toby Cosgrove, MD, CEO and President of Cleveland Clinic
Cleveland Clinic's new cancer care building, opening in 2017, is designed for easy access to the array of patient support services intended to reduce cancer's psychological stress. Those services will occupy most of the first floor of the $276 million, 377,000-square-foot outpatient tower currently under construction.
The open-plan first level — suffused with natural light from floor-to-ceiling windows — will contain a retail store stocked with items to meet cancer patients' needs, and a cafeteria with food offerings to accommodate special dietary needs and medical conditions.
The first floor will also be home to:
A resource center where patients and families can access printed and online cancer information.
Art and music therapy spaces.
A boutique where patients with chemotherapy-associated hair loss can receive free wigs, caps and scarves.
A wellness center for reiki, reflexology, guided imagery, facials and other aesthetic services.
A private prosthetics fitting area.
The 4th Angel Mentoring Program, an initiative begun by figure skating champion and Cleveland Clinic cancer patient Scott Hamilton to provide patients with free, confidential, one-on-one advice and support from a trained volunteer and cancer survivor.
A spiritual area where patients and families can go for prayer or meditation.
Photo Gallery
News
News
The latest news and updates about Cleveland Clinic's new Cancer Center
---
Communication From the Ground Up Forms Solid Base for Cleveland Clinic's New Cancer Building
December 28, 2016
Cleveland Clinic's new Cancer Center is a reflection of lean principles — and a reminder of the critical role relationships play in providing the best possible patient care.
---
A New Cancer Center, Designed Around Patients
November 4, 2016
At Cleveland Clinic's Taussig Cancer Center, empathy means an entirely different way of approaching cancer care.
We knew people were worn from their treks across our main campus several times a day: to see the surgeons, to receive radiation and chemotherapy, to the lab and to check in with their oncologists. The new Taussig Cancer Center building allows all of these specialists will come to patients instead.
We knew we were walking through crowded waiting rooms, so we made more of them, with more seating, more natural light, and wider views.
We saw that the last thing patients and their caregivers wanted to do after receiving a diagnosis or spending a long day at the hospital was wait for a valet to deliver their car. Especially in the wintertime in Cleveland. The three-lane roundabout in front of our new building was designed to ease the flow of valet traffic.
Check out Cleveland Clinic's empathy video series to better understand how empathy has changed the way we care.
---
Art Therapy in New Building
October 20, 2016
The art therapy studio at Cleveland Clinic's Taussig Cancer Institute is a special place. It's as though the air is different in there – this mix of heaviness and hope. Patient art hangs on the walls – images of illness and words of encouragement in pencil drawings, paintings on a variety of media, handmade jewelry and colorful silk scarves.
One art therapy client, the caregiver of a woman receiving treatment for brain cancer, said of the studio: "I look forward to coming to art therapy every week. A caregiver's schedule is so hectic, with radiation, physical therapy, breathing treatments, etc. Days go by and you're just constantly looking ahead to the next appointment. If you're here [in art therapy], you get your life back.
But all the fabulous work by art therapist Lisa Shea and Cleveland Clinic cancer patients is tucked away in the basement of the current building. When the new Taussig Cancer Center building opens in March 2017, this studio for creative release and reflection will be given a prominent, ground-floor location with lots of natural light and a garden view.
---
September 12, 2016
Providing multidisciplinary care for patients is the norm at Cleveland Clinic Cancer Center, but the new outpatient cancer building opening in March 2017 will make that process far more efficient for patients and physicians.
---
September 12, 2016
VPAC is a group of former and current cancer patients who received treatment at Cleveland Clinic. This group meets to discuss ideas and insight to enhance cancer care from a patient's point of view. The group recently toured the new cancer building and were happy to see the thought and detail put into its design.
---
Designed For – and With Patients
August 10, 2016
From inception and design, to chair and vendor selection, Cleveland Clinic has built the new cancer building for – and with – patients. Members of Cleveland Clinic Cancer Center's Voice of the Patient Advisory Council (VPAC), composed of patients and survivors, served as advisors throughout the building process.
VPAC members were involved in:
Architectural design of the new building
Touring mock-ups of the chemotherapy rooms
Picking out potential exam chairs
Deciding the letter designation for the new building to aid in way-finding:
CA for cancer
Determining hospital meal options
Signing the final support beam before it was placed
---
July 5, 2016
A wall of ribbons isn't something you'd expect to see on a construction site. But the new Cleveland Clinic Cancer Center isn't your typical construction site. Building project leaders from Cleveland Clinic and Turner Construction took care to create an inspiring environment for those constructing the new cancer building. The result: work that has purpose, and a building that has soul.
---
A United Front Against Cancer
June 28, 2016
The new cancer building is designed to deliver revolutionary care, uniting specialists from surgery, medical oncology, radiation oncology, genetics, nutrition, social work, imaging, laboratory, and pharmacy – all under one roof. Cleveland Clinic will begin seeing patients in its new, 377,000 square foot building in 2017. Organized by cancer type, the new building will bring specialists together around patients, leading to new insights into best practices and individualized, multidisciplinary care.
---
We're Using Light – and Lots Of It
June 16, 2016
With floor-to-ceiling windows, it is hard to miss the new building located on Carnegie Avenue, between E102nd and E105th. It's a bright, open, welcoming space designed to provide patients and their families with the convenience and comfort they deserve. Patients will have views of the meditation garden from spacious treatment rooms, an abundance of natural light, and easy access to on-site cancer support services, including Reiki, yoga, massage, a spiritual center, nutritional and genetic counseling, wig and prosthetic services, an outpatient pharmacy, and more.
---
A Better Way To Treat Cancer
May 31, 2016
The new building will accelerate an already-robust research program with dedicated space to support Phase I, II and III clinical trials. This is more than just another building. We're building a better way to treat cancer.
---
March 9, 2015
How care is being transformed at Cleveland Clinic.
---
September 29, 2014
A look at Cleveland Clinic's future 377,000-square-foot cancer building.
About Cancer Care
About Cancer Care
Cleveland Clinic's Taussig Cancer Institute, part of the Cleveland Clinic Cancer Center, is ranked no. 8 in the U.S. and best in Ohio for Cancer care according to U.S. News and World Report.