Welcome
Welcome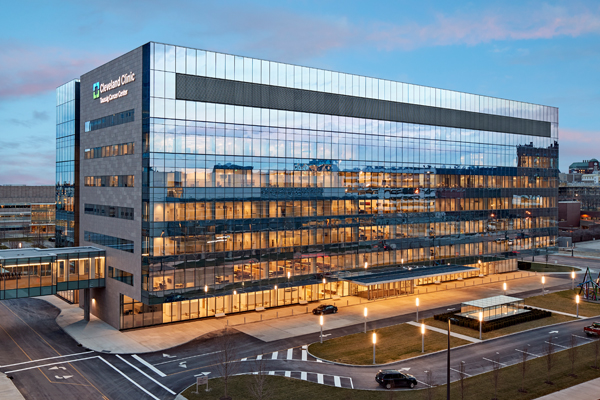 Cancer Facility Designed for Collaboration, Improved Patient Outcomes
Taussig Cancer Center is the hub for Cleveland Clinic Cancer Center. With locations throughout Northern Ohio and in Weston, Florida, Cleveland Clinic Cancer Center provides comprehensive care for patients with cancer. Our multidisciplinary cancer programs are designed to streamline care and improve patient outcomes. Cleveland Clinic Cancer Center provides a range of services to patients including clinical trials and internationally-recognized cancer research efforts ensuring patients have access to the latest advances in cancer treatment, as well as a range of support programs helping patients navigate the challenges associated with a cancer diagnosis. Cleveland Clinic is recognized in the U.S. and throughout the world for its expertise and care.
"Taussig Cancer Center creates a seamless, personalized experience for patients,"
- Brian J. Bolwell, MD, FACP, former Chairman of Cleveland Clinic's Taussig Cancer Institute.
When you visit Taussig Cancer Center, Cleveland Clinic's $276 million, 377,000-square-foot home for cancer care, some of its features are immediately apparent: expansive, welcoming spaces, the abundance of natural light, and the combination of clinical care and support services.
A deeper look reveals a facility designed expressly to improve patient outcomes through a collaborative, multidisciplinary approach to cancer care. The multidisciplinary cancer building, with 126 exam rooms and 98 treatment rooms, incorporates all services under one roof.
By The Numbers
126 exam rooms and 98 treatment rooms.
30,000 square feet of interior glass.
75,000 cubic yards of soil excavated.
3,000 tons of steel.
26,400 cubic yards of concrete.
93 percent of materials recycled to date.
700,000 man hours (equal to one worker for 336 years).
Care & Research
Care & Research
Coordinating Care, Expanding Clinical and Research Space
Multidisciplinary work has existed for years, but organizing multidisciplinary groups by disease — teams focused around breast cancer, head and neck cancer, and other specific cancer types —receives emphasis in the cancer facility. Each disease group has its own dedicated clinical practice area on a floor of the facility. Likewise, each practice area has space for subspecialized nurses, social workers and other key team members, plus exam and procedure rooms.
By uniting all of our treatment disciplines – surgery, medical oncology, radiation oncology, genetics, nutrition, social work and imaging – it provides great benefits for patients, families and clinicians.
Other features of the building include:
Space for genetics and genomics
A centralized home for existing high-level treatment technology, including six linear accelerators and a Gamma Knife® suite.
A dedicated space for infusion for phase 1 Clinical trials
On-site diagnostic imaging
A large laboratory to help alleviate waits for blood-testing, and
An outpatient pharmacy
Patient Support
Patient Support
"The building is bright, spacious and serene. It raises the treatment of cancer to a new level of comfort and convenience, providing the most effective care in the most productive surroundings. It sets a new national standard for outpatient cancer treatment in the 21st century."
Toby Cosgrove, MD, Executive Advisor and former CEO and President of Cleveland Clinic
Cleveland Clinic's cancer care building, which opened in March, 2017, is designed for easy access to the array of patient support services intended to reduce cancer's psychological stress. Those services occupy most of the first floor of the $276 million, 377,000-square-foot outpatient tower.
The open-plan first level — suffused with natural light from floor-to-ceiling windows — contains a retail store stocked with items to meet cancer patients' needs, and a cafeteria with food offerings to accommodate special dietary needs and medical conditions.
The first floor is also home to:
A resource center where patients and families can access printed and online cancer information.
Art and music therapy spaces.
A boutique where patients with chemotherapy-associated hair loss can receive free wigs, caps and scarves.
A wellness center for reiki, reflexology, guided imagery, facials and other aesthetic services.
A private prosthetics fitting area.
The 4th Angel Mentoring Program, an initiative begun by figure skating champion and Cleveland Clinic cancer patient Scott Hamilton, to provide patients with free, confidential, one-on-one advice and support from a trained volunteer and cancer survivor.
A spiritual area where patients and families can go for prayer or meditation.
Photo Gallery