Alumni Connect
Alumni Connect
Are you a Cleveland Clinic Alumnus that would like to get in touch with a colleague? Please use our Alumni Connect tool.
If you are not yet an alum but are an employee of Cleveland Clinic, you will not have a profile, however you can still use this tool as a way to locate our alumni worldwide.
Alumni Connect is the fastest and easiest way to network from anywhere in the world! The network combines your Alumni profile and information you've shared with us into one powerful tool, allowing you to find Cleveland Clinic alumni from any specialty and location you choose. Get started by reviewing your current profile to make sure all of the information is up-to-date.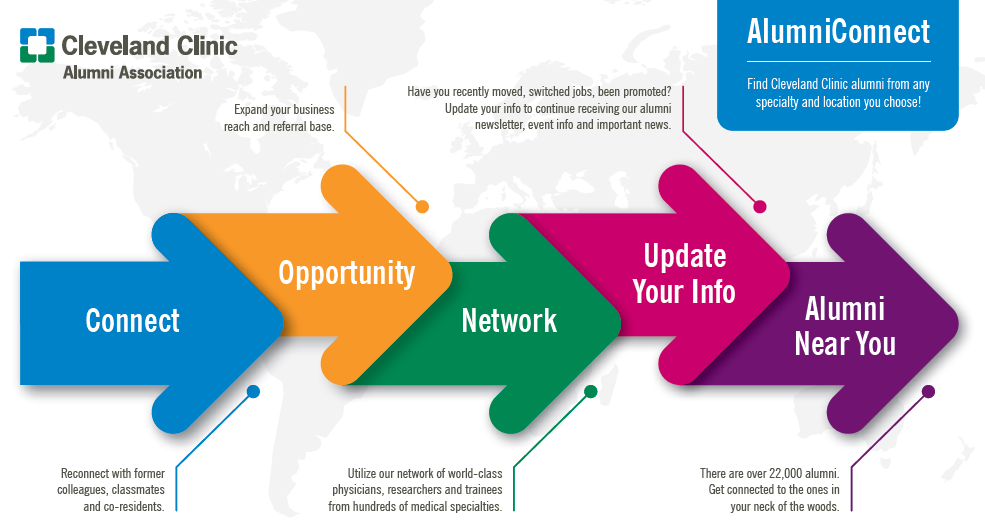 Physician Finder for Patients
Physician Finder for Patients
Are you a patient looking for a Cleveland Clinic trained physician?
The Cleveland Clinic Alumni Association maintains a database of all of our physicians who have trained here. You may request a physician in your area of need and geographic location and we will provide you with a physician as close to your area as possible.
Please fill out the form below and the Office of Alumni Relations will email you a list of physicians within 3-5 business days.