Welcome Letter
Welcome Letter
Dear patients, caregivers and community members,
Since our founding more than a century ago, Cleveland Clinic has strived to provide the best healthcare to the greatest number of people.
That goal has driven our growth from a small outpatient clinic to the world's first integrated international healthcare system.
But widely delivering advanced clinical care is not enough.
As a global citizen, Cleveland Clinic must act in ways that are good for our planet and that improve its inhabitants' wellbeing, dignity and quality of life. We are proud to be a signatory of the United Nations (UN) Global Compact, a commitment to improve society by championing principles of human rights, environmental stewardship and corporate integrity.
We offer this 13th annual Communication on Progress, reporting on our performance on environmental, social and governance issues in 2021.
In the COVID-19 pandemic's grueling second year, our caregivers continued to respond with extraordinary resilience, empathy and teamwork. We cared for tens of thousands of COVID-19 patients in our hospitals. We collaborated on a drive-through community testing site. We provided vaccinations at our family health centers and community-based clinics and co-led a nationwide campaign to encourage adults to get vaccinated.
Internationally, caregivers from our newest location, Cleveland Clinic London, helped administer shots as part of the National Health Service's vaccination program. And we shipped 138 pallets of medical supplies to assist the Indian Red Cross's pandemic relief work.
Locally, Cleveland Clinic must heal, hire and invest to support the communities we serve. We resolve to improve the social determinants of health — the economic, educational and environmental factors that affect wellness and quality of life.
In 2021, our nonprofit health system contributed $1.41 billion in annual community benefits from its operations in Ohio, Nevada and Florida — the largest community benefit in our 100-year history.
To end the scourge of childhood lead poisoning, we partnered with the Lead Safe Cleveland Coalition and pledged $52.5 million to remove sources of lead exposure from city homes. We expanded our work to reduce infant mortality and took comprehensive action to decrease opioid prescribing.
We welcomed nearly 1,100 Cleveland residents as new caregivers in 2021. By hiring our neighbors, we help make our communities stronger. And in Cleveland's Fairfax neighborhood, adjacent to our main campus, we teamed with other organizations to build a grocery market and 196-unit apartment complex that will provide access to healthy food and new housing in the area, which had been classified as an urban food desert.
Cleveland Clinic celebrated its centennial in 2021, but in many ways, our work is just beginning. I invite you to learn more from this Communication on Progress. Thank you for your interest.
About This Report
About This Report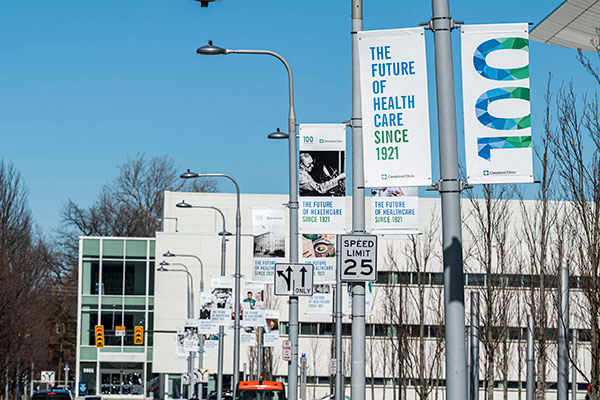 We are proud to present our 13th consecutive annual sustainability and global citizenship report detailing our work in the 2021 calendar year—our centennial year. Cleveland Clinic is committed to advancing practices that promote a just, thriving and green global economy. As such, we are a signatory of the United Nations (UN) Global Compact, a voluntary call to companies to align strategies and operations with universal principles on human and labor rights, environmental stewardship and anti-corruption, and take actions that advance societal goals. In this Communication on Progress, we include metrics, highlight stories and our approach for managing the various environmental, social and governance topics that are most important to our organization and valued stakeholders.
In addition to addressing the Ten Principles of the UN Global Compact, we prepared this report in accordance with the Global Reporting Initiative's (GRI) core standards. The GRI standards provide guidance on identifying, prioritizing and measuring progress on the management of an organization's most significant environmental, social and governance impacts, risks and opportunities.
More information on how our report links to the UNGC and GRI standards can be found in the index of our report.
Reporting Process & Oversight
Reporting Process & Oversight
An Executive Steering Committee comprised of leadership across the organization oversees the reporting process, including the use of frameworks and standards, materiality inputs, stakeholder engagement and report content. A cross-functional team produces the report, conducts stakeholder interviews and ensures alignment with the GRI reporting framework.
The following internal departments collaborated to develop and produce content for this report:
Art Program.
Buildings + Design.
Caregiver Office.
Center for Medical Arts & Photography.*
Cleveland Clinic Community Care (4C).
Clinical Affairs.
Corporate Communications.
Corporate Compliance Office.
Digital Marketing.
Employee Wellness.
Enterprise Quality.
Environmental Health and Safety.
Executive Administration.
Finance.
Government Relations.
Human Resources.
Law Department.
Nursing Institute.
Office of Diversity, Equity and Inclusion.
Office of Patient Experience.
Protective Services.
Supply Chain + Support Services.
Transportation and Fleet Services.
* Photographs from the Center for Medical Arts & Photography were contributed by the following photographers: Marty Carrick, Lisa DeJong, Donald Gerda, Shawn Green, Matt Kohlmann, Teen Nemeth and Annie O'Neill.
Stakeholder Engagement
Stakeholder Engagement
As a community anchor and the largest employer in the state of Ohio, our decisions have the potential to impact many different stakeholders. Our stakeholders also have unique perspectives, needs and areas of expertise that shape the way we deliver our mission. Cleveland Clinic engages with many stakeholder groups, including patients, caregivers, surrounding communities, suppliers, industry organizations and peers, trade associations, federal and state agencies, regional and national philanthropic foundations, media outlets and others. By actively listening and speaking with our stakeholders on a regular basis, we deepen relationships that enable us to more proactively to address challenges, create opportunities and deliver value. A number of the ways we engage stakeholders include surveys, interviews, meetings, events, calls and working groups.
Some of the external groups we engaged for this report include:
City of Cleveland.
Clean Production Action.
Cleveland Foundation.
Department of Energy.
Environmental Protection Agency.
Evergreen Cooperatives.
Florida Hospital Association.
Health and Human Services.
Local, state and federal government stakeholders.
National Institute of Health.
North Union Farmers Market.
Ohio Hospital Association.
Our top suppliers.
Materiality & Boundary
Materiality & Boundary
Materiality
Cleveland Clinic conducted a materiality update in 2021 to ensure the topics in our report reflected our most current and significant ESG impacts, risks and opportunities. Conducting our materiality update in 2021—the year of our centennial—provided a unique opportunity to ask our stakeholders to reflect upon Cleveland Clinic's legacy and solicit feedback on how we shape our future.
Material topic identification
To identify material topics, we reviewed our previous materiality assessment, engaged subject matter experts on our Executive Steering Committee and researched local, national, industry and global ESG issues and trends. We worked with members of the Executive Steering Committee to identify stakeholders and stakeholder groups to interview as part of our materiality assessment. For our 2021 materiality assessment, we identified 40-50 stakeholders to interview, half of which were internal and half of which were external. In addition to soliciting input on the prioritization of the material topics we identified, we asked all 40-50 stakeholders that we interviewed as part of our materiality assessment if there were any additional material topics we should consider in our assessment.
Stakeholder engagement
We interviewed 40-50 internal and external stakeholders for input on our most significant ESG impacts, opportunities and risks. During interviews, we asked stakeholders to provide feedback based on their areas of expertise, current events and trends. We also inquired about the significance of topics in relation to Cleveland Clinic's vision, value chain, geographic footprint and more. In addition to interviews, we also incorporated survey data from some stakeholder groups in our materiality assessment.
Topic prioritization
Once we completed interviews and surveys with our stakeholders, we used their input in addition to other ESG research and data to prioritize topics and group them into three distinct tiers. Tier 1 topics have the greatest influence on our stakeholders and/or the greatest impact on the economy, environment and society.
Tier 1

: topics for which we provide the most robust reporting, including our management approach, goals, progress metrics and multiple stories detailing our efforts in the last year.

Tier 2

: topics for which we report our management approach, goals, progress metrics and highlights from the past year.

Tier 3

: topics for which we report our management approach and progress updates, and monitor for changes in significance.
To finalize the prioritization of topics in our materiality assessment, our Executive Steering Committee reviewed and approved the results.
Results
Topics identified and alphabetized by tier in our 2021 materiality assessment include: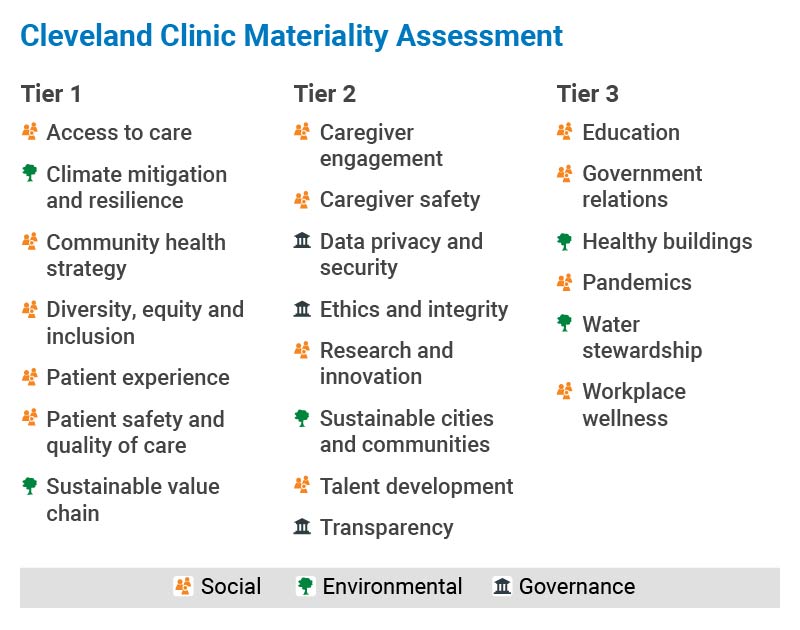 Boundary
Through our materiality process, we did not surface meaningful differences in the significance of topics by geography, however, we develop localized strategies for managing our impacts based on the unique qualities and needs of our surrounding communities. For example, while Climate Mitigation and Resilience is a Tier 1 topic across the enterprise, we focus our efforts in Florida on mitigating hurricane and sea-level rise risks, whereas we focus our efforts in Ohio on tree plantings and green transportation efforts.
Organizational Profile
Organizational Profile
Located in Cleveland, Ohio, Cleveland Clinic is a nonprofit, multispecialty academic medical center that was founded in 1921 by four physicians who brought a novel group practice approach to patient care, research and caregiver training.
As of December 31, 2021, the Cleveland Clinic operates a 6,496-bed healthcare system with 21 hospitals and 226 outpatient locations. The system includes a main campus in Cleveland with 1,294 beds and an additional 14 hospitals in Northeast Ohio. It also includes five hospitals in Southeast Florida with more than 1,000 beds, a center for brain health in Las Vegas, a sports and executive health center in Toronto, a 394-bed hospital in Abu Dhabi and an outpatient facility in London. Cleveland Clinic London, a 184-bed hospital, opened in spring 2022.
View All Cleveland Clinic Locations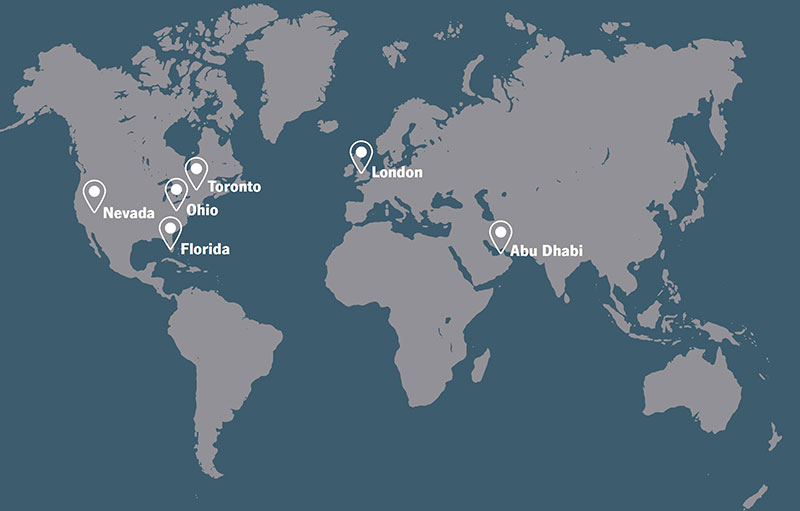 Who Are Our Patients?
Who Are Our Patients?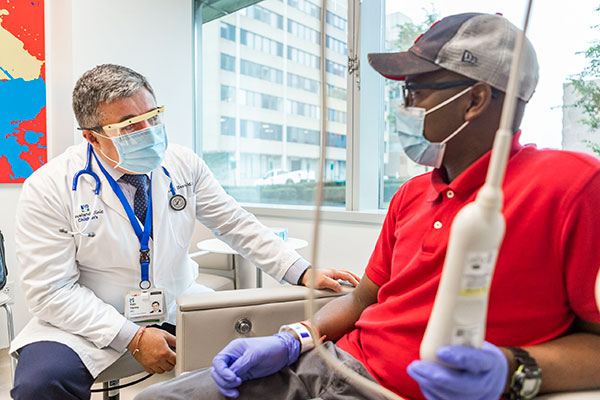 Cleveland Clinic is a world-class health organization nationally ranked in 13 adult specializations and 10 pediatric specialties. We care for 2.9 million unique patients annually, with 10.2 million outpatient visits in every state and 185 countries.
By the Numbers
By the Numbers
Learn more about Cleveland Clinic's Facts & Figures
Number of Caregivers: 72,500.
Number of Physicians and Scientists: 5,050.
Number of Nurses: 14,705.
Residents and Fellows in Training: 1,982.
Cleveland Clinic Outpatient Locations: 220+.
Cleveland Clinic International Locations: 3.
Number of Hospitals: 21.

Number of Beds System-wide: 6,496.
Number of Outpatient Patient Visits: 10.2 million.
Number of Admissions: 304,000.
Number of Surgical Cases: 295,000.
Number of Subspecialties: 140.

Operating Revenue: $12.4 billion.
Number of Active Research Projects: 3,234.
Number of Research Publications: 6,623.
Total Research Funding: $326 million.
Total Federal Revenue: $231 million.
Accredited Training Programs: 110.