Welcome Letter
Welcome Letter
Dear Patients, Caregivers and Community Members,
We are pleased to present our tenth Communication on Progress as part of the United Nations Global Compact. Cleveland Clinic shares the UN Global Compact's principles of human rights, environmental responsibility and corporate integrity. This report uses the Global Reporting Initiative's standards to measure our performance in these areas and is in accordance with core guidelines.
The healthcare environment continues to evolve. There is an increasing focus on population health, team care and the social determinants of health. Cleveland Clinic's Community Care initiative is enrolling increasing numbers of patients in a comprehensive, integrated value based system that includes care protocols, seamless electronic medical records, interdisciplinary care teams and discharge planning to reduce readmissions. We are educating all staff physicians in patient communication and proactively addressing caregiver burnout through a variety of programs.
We continue to improve sustainability through strategic purchasing, construction and recycling. We are collaborating with local governments and community groups to address opiate addiction and infant mortality. Cleveland Clinic caregivers now have the opportunity to volunteer for community agencies including local food banks through our Community Service Time Off program.
In 2018, Cleveland Clinic provided medical services to more patients from more places than ever before. We have been recognized among the World's Most Ethical Companies by Ethisphere Institute, honored as a top five hospital by DiversityInc and ranked as a Top 25 hospital by Practice Greenhealth.
We are proud to share the information in this year's Communication on Progress. Thank you for your interest.
Sincerely,
About This Report
About This Report
We are proud to present our tenth consecutive annual sustainability and global citizenship report detailing our work in the 2018 calendar year. Cleveland Clinic is committed to advancing practices that promote a just, thriving and green global economy. As such, we are a signatory of the United Nations (UN) Global Compact, a voluntary call to companies to align strategies and operations with universal principles on human rights, labor, environment and anti-corruption, and take actions that advance societal goals. In this Communication on Progress, we include metrics, highlight stories and our approach for managing various environmental, social and governance topics most important to our organization and valued stakeholders.
In addition to addressing the Ten Principles of the UN Global Compact, we prepared this report in accordance with the Global Reporting Initiative's (GRI) standards. The first and most widely adopted global sustainability reporting standards, the GRI standards provide guidance on identifying, prioritizing and measuring progress on the management of an organization's most significant impacts, risks and opportunities.
More information on how our report links to the UNGC and GRI can be found in the index of our report.
Reporting Process & Oversight
Reporting Process & Oversight
An Executive Steering Committee comprised of leadership across the organization oversees the reporting process, which includes the provision of data and report content, guidance on changes to material topics and/or our management approach of these topics and content review. A cross-functional team produces the report, engages with stakeholders by conducting materiality interviews and ensures alignment with the GRI reporting framework.
The following internal departments collaborated to develop and produce this report in support of the UN Global Compact principles:
Arts & Medicine
Buildings and Properties
Center for Medical Arts & Photography*
Clinical Affairs
Corporate Communications
Corporate Compliance Office
Enterprise Quality
Environmental Health and Safety
Executive Administration
Finance
Government & Community Relations
Human Resources
Law Department
Nursing Institute
Office for a Healthy Environment
Office of Caregiver Experience
Office of Diversity and Inclusion
Office of Patient Experience
Protective Services
Supply Chain Management
Transportation and Fleet Services
Wellness Institute
* Photographs from the Center for Medical Arts & Photography were contributed by the following photographers: Mike Candiotti, Marty Carrick, Don Gerda, Matt Kohlmann, Willie McAllister, Reen Nemeth and Stephen Travarca.
Stakeholder Engagement
Stakeholder Engagement
Cleveland Clinic engages with many stakeholder groups, including our patients, surrounding communities, the healthcare industry at large, trade associations, federal and state agencies, regional and national philanthropic foundations, media outlets and others.
As a community anchor and an economic engine, our decisions have the ability to impact many different stakeholders. Our stakeholders also have the ability to influence our operations as we work to address their evolving needs. By engaging with our stakeholders on a regular basis, we are better equipped to formulate solutions in partnership with them. We engage our patients and caregivers through internal surveys, we conduct ongoing in-person interviews with our executive team, board members and representatives from key external stakeholder groups, and we invite many of our stakeholders to attend facility openings, addresses by Cleveland Clinic executives and other Clinic-hosted events open to the public and other officials. We also periodically provide briefings to representatives of federal, state and local governments on issues important to healthcare providers.
Some of the external groups we engaged for this report include:
American Heart Association
American Lung Association
Our top suppliers
City of Cleveland
Cleveland Foundation
Department of Energy
Environmental Protection Agency
Evergreen Cooperatives
Health and Human Services
National Institute of Health
North Union Farmers Market
Ohio Hospitals Association
Practice Greenhealth
The White House
Materiality & Boundary
Materiality & Boundary
Materiality
In 2016, Cleveland Clinic completed its first materiality assessment to help us identify which sustainability topics matter most, or are most "material" to our operations, and where they matter most within our value chain. We continue to engage with our stakeholders on an annual basis or more frequently and use the results of these discussions, as well as research and trend data related to our material issues, to shift the prioritization of our material topics as necessary.
We group our material topics into three distinct tiers, with Tier 1 topics having the greatest influence on our stakeholders and/or the greatest impact on the economy, environment and society:
Tier 1: topics to set goals for, manage and provide robust discussion for in our reporting
Tier 2: topics to set goals for and manage
Tier 3: topics to manage and monitor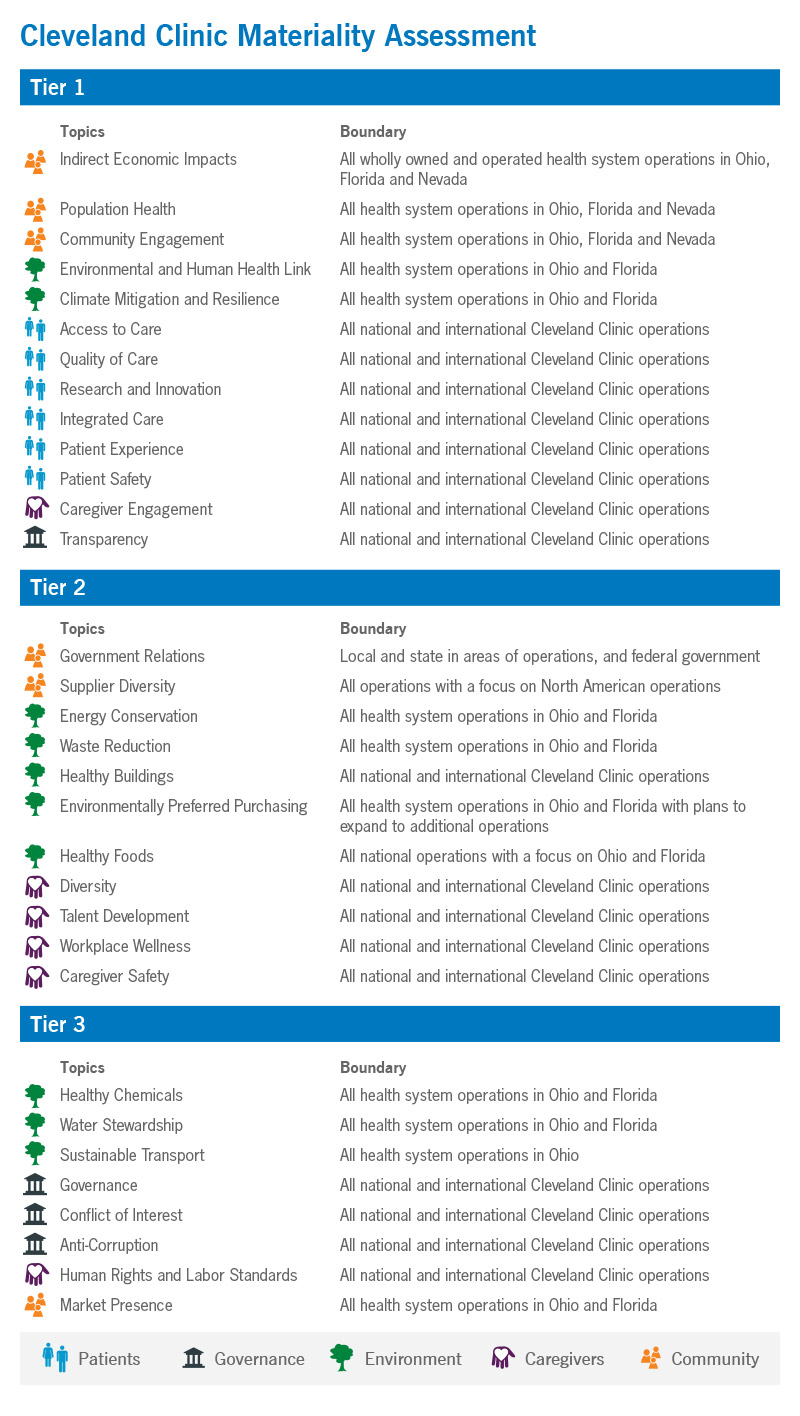 Both our internal and external stakeholders ranked several topics similarly high: indirect economic impacts of our operations, our engagement with the communities we serve, population health, research and innovation, access to care, quality of care and the inherent link between human health and the health of the environment. We weighed the responses of our patients and caregivers with additional consideration in alignment with our vision to become the best place for care anywhere and the best place to work in healthcare.
No significant changes that influence the prioritization of our material topics have occurred since the last reporting period; however, we plan to complete a thorough update of our materiality assessment in 2019 by conducting comprehensive interviews with an array of valued stakeholders both new to and familiar with our process.
Organizational Profile
Organizational Profile
Located in Cleveland, Ohio, Cleveland Clinic is a nonprofit, multispecialty academic medical center that integrates clinical and hospital healthcare services with research and education.
Four renowned physicians founded Cleveland Clinic in 1921 with a mission to provide better care of the sick, investigation into their problems and further education of those who serve. Drawing from military medicine, they believed in diverse specialists working and thinking as a unit. This kind of cooperation, efficiency and shared vision has fostered excellence in patient care, research and education.
Today, we continue to live and operate by the mission established by these visionary leaders, which is supported by six fundamental values: quality, innovation, teamwork, service, integrity and compassion. We operate more than 5,000 staffed beds at these locations:
13 hospitals in Northeastern Ohio
18 Northeast Ohio outpatient family health centers, including 10 ambulatory surgery centers
two specialized cancer centers in Mansfield and Sandusky, Ohio
5 hospitals in Southeast Florida, including a quaternary care hospital in Weston
a health and wellness center in West Palm Beach, Florida
an outpatient clinic and surgery center in Parkland, Florida
a specialized neurological and urological clinical center in Las Vegas, Nevada
a health and wellness center in Toronto, Canada.
Cleveland Clinic also provides management services for Ashtabula County Medical Center, located in Ashtabula, Ohio, with approximately 180 staffed beds, and Cleveland Clinic Abu Dhabi, a multispecialty hospital offering critical and acute care services that is part of Mubadala Development Company's network of healthcare facilities located in Abu Dhabi, United Arab Emirates with approximately 364 staffed beds. Cleveland Clinic is currently building a 185-bed hospital in London, England, due to open in 2021.
View All Cleveland Clinic Locations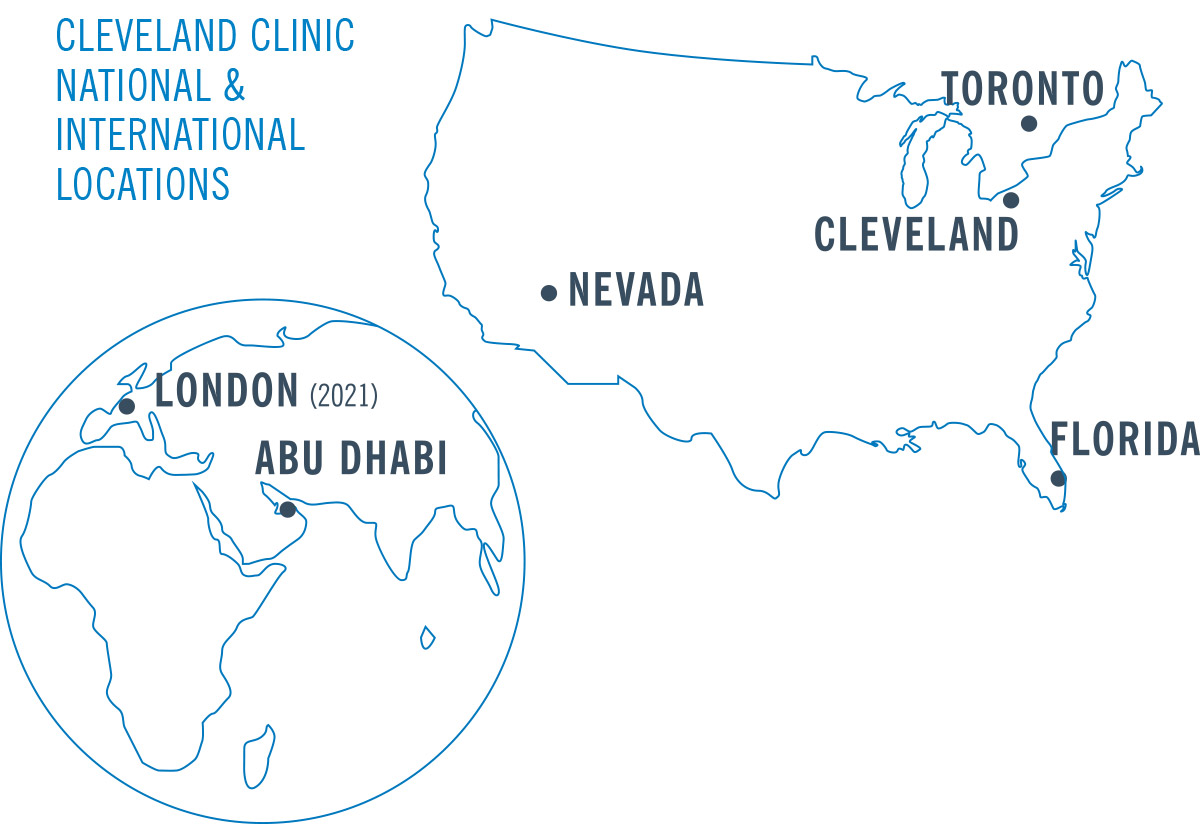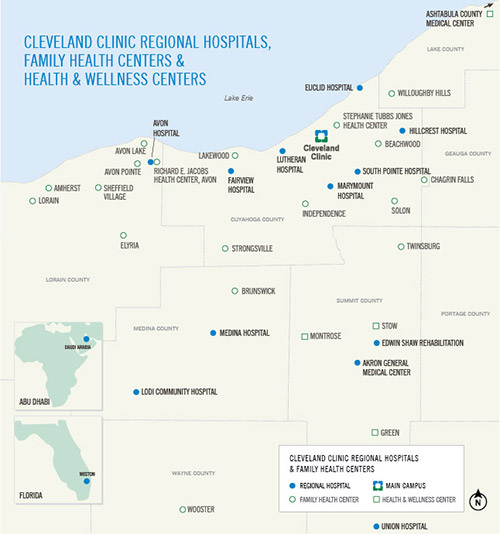 Who Are Our Patients?
Who Are Our Patients?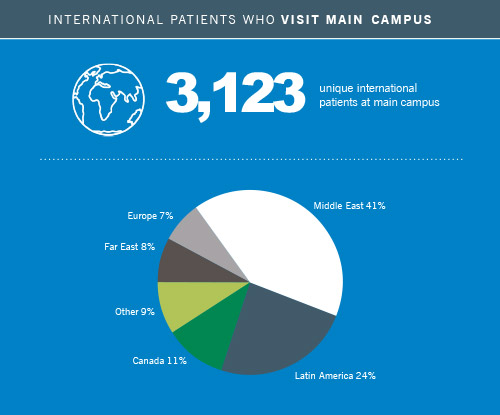 Cleveland Clinic is a world-class health organization nationally ranked in 14 adult specializations and 10 pediatric specialties. We care for 2 million patients annually, with nearly 8 million outpatient visits in locations around the globe.
While most of our patients live in Northeast Ohio, we see patients from across the United States and around the world, including the Middle East, Latin America, Canada, the Far East and Europe.
By the Numbers
By the Numbers
Number of Caregivers: 60,000
Number of Physicians and Scientists: 3,953
Number of Nurses: 14,710
Residents and Fellows in Training: 1,923
Cleveland Clinic Ohio Outpatient Locations: 180
Cleveland Clinic International Locations: 3
Number of Hospitals: 14
Number of Family Health Centers: 18
Number of Institutes: 27

Number of Beds on Cleveland Clinic main campus: more than 1,400
Number of Beds System-wide: 5,042
Number of Patient Visits: 7.9 million
Number of Admissions: 237,587
Number of Surgical Cases: 220,352
Number of Subspecialties: 140

Operating Revenue: $8.9 billion
Total Grant and Contract Revenue: $296 million
Total Federal Revenue: $109 million
Accredited Training Programs: 110