Welcome Letter
Welcome Letter
Cleveland Clinic's mission — Caring for life, researching for health and educating those who serve — is an increasingly global one as our organization expands its reach to touch the lives of ever more people around the world.
This means our long-standing participation in the United Nations Global Compact matters more than ever. The compact is an agreement among businesses and organizations across the globe to improve society by championing principles of human rights, environmental stewardship and corporate integrity. We are proud to share this 12th annual Communication on Progress, which uses the Global Reporting Initiative's standards to measure our performance in 2020.
The COVID-19 pandemic that dominated 2020 underscores the interconnectedness of global health like nothing in living memory. It made clear that every corner of the planet is at risk when an infectious threat arises in anywhere on the planet.
Cleveland Clinic responded to pandemic-related needs at all levels in 2020. In our local communities, we offered widespread community testing for the virus and shared personal protective equipment and other supplies with vulnerable populations.
At the national level, our experts advised the governors of Ohio and Florida as well as federal policymakers on pandemic response. We also helped lead coordinated public education efforts among U.S. medical centers on the importance of masking and other public health measures.
At the global level, our most important effort may prove to be the 2020 launch of our Global Center for Pathogen Research & Human Health, which brings together top scientists to better understand emerging pathogens and accelerate discovery of therapies for future pandemics.
COVID-19's disproportionate toll on racial and ethnic minorities sharpened society's focus on racial inequities in healthcare and beyond. In 2020 Cleveland Clinic continued our efforts to end these inequities. We held nearly 100 forums where caregivers discussed the impacts of racism, and we formed an executive council to recommend diversity and inclusion priorities for our organization. We also joined the national OneTen coalition to ensure the hiring and promotion of more Black Americans, and we collaborated with our communities to expand broadband internet access to digitally underserved neighborhoods.
The pandemic also revealed additional threats from the world's ecological challenges, reminding us how habitat loss can increase the odds of cross-species viral transmission and how poor air quality can worsen outcomes of patients with COVID-19. We continue to improve environmental sustainability through strategic purchasing, construction and recycling.
These efforts were recognized by third-party groups in 2020. Practice Greenhealth again ranked Cleveland Clinic among its top 25 honorees for environmental excellence among hospitals. We were likewise recognized by Ethisphere as one of the world's most ethical companies and by DiversityInc as one of the nation's top health systems for diversity, equity and inclusion.
I invite you to learn more from this Communication on Progress. Thank you for your interest.
Sincerely,


About This Report
About This Report
We are proud to present our 12th consecutive annual sustainability and global citizenship report detailing our work in the 2020 calendar year. Cleveland Clinic is committed to advancing practices that promote a just, thriving and green global economy. As such, we are a signatory of the United Nations (UN) Global Compact, a voluntary call to companies to align strategies and operations with universal principles on human and labor rights, environmental stewardship and anti-corruption, and take actions that advance societal goals. In this Communication on Progress, we include metrics, highlight stories and our approach for managing the various environmental, social and governance topics that are most important to our organization and valued stakeholders.
In addition to addressing the Ten Principles of the UN Global Compact, we prepared this report in accordance with the Global Reporting Initiative's (GRI) standards. The first and most widely adopted global sustainability reporting standards, the GRI standards provide guidance on identifying, prioritizing and measuring progress on the management of an organization's most significant environmental, social and governance impacts, risks and opportunities.
More information on how our report links to the UNGC and GRI standards can be found in the index of our report.
Reporting Process & Oversight
Reporting Process & Oversight
An Executive Steering Committee comprised of leadership across the organization oversees the reporting process, which includes the provision of data and report content, guidance on changes to material topics and/or our management approach of these topics and content review. A cross-functional team produces the report, engages with stakeholders by conducting materiality interviews and ensures alignment with the GRI reporting framework.
The following internal departments collaborated to develop and produce content for this report:
Art Program
Buildings + Design
Center for Medical Arts & Photography*
Cleveland Clinic Community Care (4C)
Clinical Affairs
Corporate Communications
Corporate Compliance Office
Employee Wellness
Enterprise Quality
Environmental Health and Safety
Executive Administration
Finance
Government Relations
Human Resources
Law Department
Nursing Institute
Office of Caregiver Experience
Office of Diversity and Inclusion
Office of Patient Experience
Protective Services
Supply Chain + Support Services
Transportation and Fleet Services
* Photographs from the Center for Medical Arts & Photography were contributed by the following photographers: Mike Candiotti, Marty Carrick, Don Gerda, Matt Kohlmann, Yu Kwan Lee, Willie McAllister, Reen Nemeth and Stephen Travarca.
Stakeholder Engagement
Stakeholder Engagement
Cleveland Clinic engages with many stakeholder groups, including our patients, caregivers, surrounding communities, suppliers, the healthcare industry at large, trade associations, federal and state agencies, regional and national philanthropic foundations, media outlets and others.
As a community anchor and the largest employer in the state of Ohio, our decisions have the potential to impact many different stakeholders. By engaging with our stakeholders on a regular basis, we can work together more proactively to address challenges, create opportunities and deliver value. We engage with stakeholders in many ways, including but not limited to surveys, interviews, meetings, calls and working groups. We invite many of our stakeholders to attend facility openings, addresses by Cleveland Clinic executives and other Clinic-hosted events, and we also periodically provide briefings to representatives of federal, state and local governments on issues important to healthcare providers.
Some of the external groups we engaged for this report include:
City of Cleveland
Clean Production Action
Cleveland Foundation
Department of Energy
Environmental Protection Agency
Evergreen Cooperatives
Florida Hospital Association
Health and Human Services
Local, state and federal government stakeholders
National Institute of Health
North Union Farmers Market
Ohio Hospital Association
Our top suppliers
Practice Greenhealth
Materiality & Boundary
Materiality & Boundary
Materiality
Due to disruptions from the COVID-19 pandemic, we postponed the materiality assessment update that we planned to conduct in 2020 to 2021. As part of this process, we are interviewing 40-50 key internal and external stakeholders for their input on which topics are most significant to Cleveland Clinic and where they matter most—both geographically and within our value chain.
We engaged our reporting Executive Steering Committee on updating our material topics and definitions to reflect current impacts, risks and opportunities, especially in light of the unprecedented events of 2020. Our material topics include: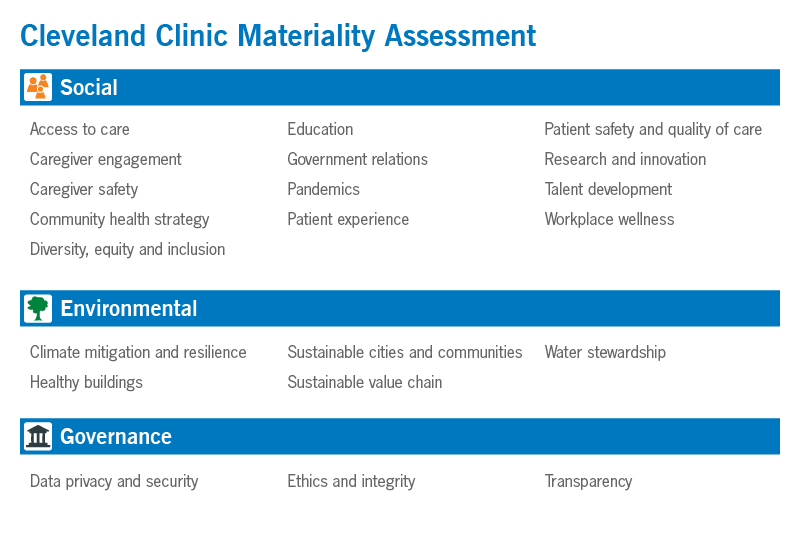 We will use stakeholder input from our materiality process in aggregate, as well as current trends and data to prioritize topics, which we group into three distinct tiers. Tier 1 topics have the greatest influence on our stakeholders and/or the greatest impact on the economy, environment and society.
Tier 1: topics to set goals for, manage and provide robust discussion for in our reporting
Tier 2: topics to set goals for and manage
Tier 3: topics to manage and monitor
Organizational Profile
Organizational Profile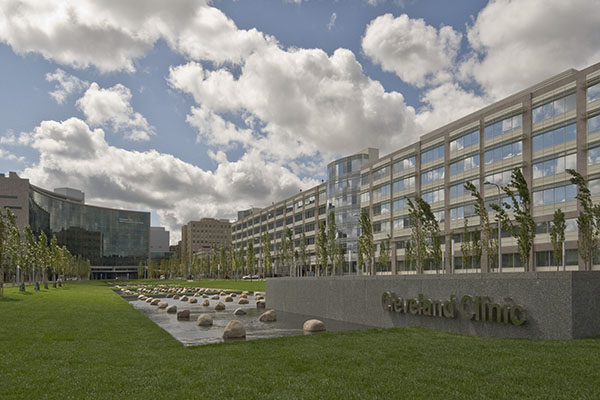 Located in Cleveland, Ohio, Cleveland Clinic is a nonprofit, multispecialty academic medical center that was founded in 1921 by four physicians who brought a novel group practice approach to patient care, research and caregiver training.
In 2020, we updated our historic mission statement — To provide better care of the sick, investigation into their problems and further education of those who serve — to reflect our growing emphasis on caring for people over the full course of their lives. Our new mission statement is: Caring for life, researching for health and educating those who serve.
We deliver on our four care priorities—patients, caregivers, community and organization—by operating in alignment with our six core values: quality & safety, empathy, teamwork, integrity, inclusion and innovation.
As of December 31, 2020, the Cleveland Clinic operates a 5,996-bed healthcare system with a main campus in Cleveland, 18 hospitals and over 220 outpatient locations. This health system includes five hospitals in Southeast Florida with more than 1,000 beds, a medical center for brain health in Las Vegas, a sports and executive health center in Toronto and a 394-bed hospital in Abu Dhabi. Cleveland Clinic London opened its outpatient facility in 2021 and will open its 184-bed hospital in 2022.
View All Cleveland Clinic Locations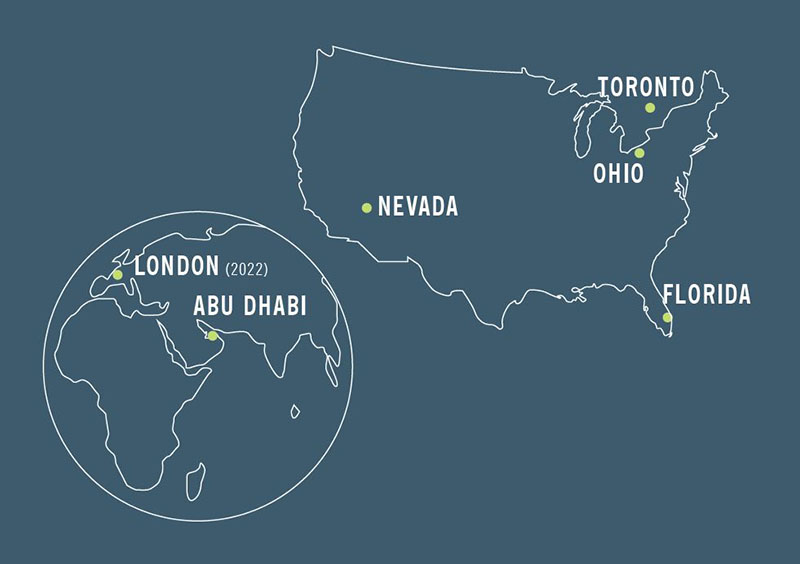 Who Are Our Patients?
Who Are Our Patients?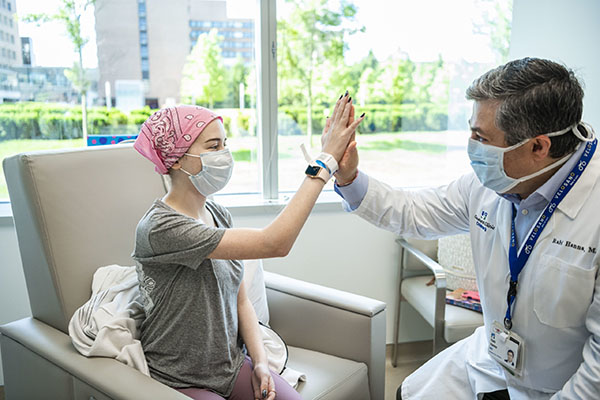 Cleveland Clinic is a world-class health organization nationally ranked in 13 adult specializations and 10 pediatric specialties. We cared for 2.45 million unique patients in 2020, with 8.7 million outpatient visits in locations around the globe. While most of our patients live in Northeast Ohio, we are privileged to see patients from every state and 185 countries.
By the Numbers
By the Numbers
Number of Caregivers: 68,700
Number of Physicians and Scientists: 4,640
Number of Nurses: 14,381
Residents and Fellows in Training: 1,952
Cleveland Clinic Outpatient Locations: 220+
Cleveland Clinic International Locations: 3
Number of Hospitals: 18

Number of Beds on Cleveland Clinic main campus: 1,400+
Number of Beds System-wide: 5,996
Number of Outpatient Patient Visits: 8.7 million
Number of Admissions: 273,000
Number of Surgical Cases: 217,000
Number of Subspecialties: 140

Operating Revenue: $10.6 billion
Number of Active Research Projects: 2,781
Number of Research Publications: 5,949
Total Research Funding: $312 million
Total Federal Revenue: $109 million
Accredited Training Programs: 107