Overview
Overview
Our goal is to achieve the highest level of safety and effectiveness for all who come to us for care. In 2020, Cleveland Clinic was named the number 2 hospital in the world by Newsweek as part of its World's Best Hospitals 2020 analysis and by the 2022-23 U.S. News & World Report "Best Hospitals" rankings. We support continuous improvement by transparently reporting performance metrics, benchmarking with industry peers and fostering a culture in which caregivers feel empowered to speak up regarding safety concerns. Our strong culture of safety was paramount during the 2020 COVID-19 pandemic, enabling us to rapidly adapt to changing conditions so that we could continue providing safe, quality care to our patients.
Culture of Safety
Culture of Safety
Quality & Safety is one of our core values and is embedded in our daily operations. To this end, we provide caregivers extensive safety training, use a Safety Event Reporting System (SERS) and have adopted comprehensive safety policies and standard operating procedures. Cleveland Clinic's online SERS allows any employee to report a near miss, process problem or a patient event. Our Quality and Safety Institute is committed to best practices in quality, treatment outcomes and quality performance. The Institute is made up of the following departments:
Accreditation
Clinical Risk Management
Environmental Safety
Infection Control
Quality
Quality Data Registries
Quality Improvement
Radiation Safety
Our caregivers have developed a Patient Safety Program with the goal of providing the safest possible environment for those in our care. One way we measure performance is through Leapfrog Group's semi-annual safety grades. The grades represent up to 28 national performance measures from the Centers for Medicare & Medicaid Service (CMS), the Leapfrog Hospital Survey and information from other supplemental data sources.
In December 2020, nine of our hospitals, in addition to Ashtabula County Medical Center, received an "A" grade:
Akron General
Euclid Hospital
Fairview Hospital
Hillcrest Hospital
Main campus
Marymount Hospital
South Pointe Hospital
Union Hospital
Weston Hospital
Learn more about Cleveland Clinic's Patient Safety Program
Encouraging Caregivers to Speak Up
To foster a culture in which caregivers feel empowered to speak up about safety events and concerns, we have created multiple safety recognition programs. In 2020, we launched our "Good Catch" initiative to acknowledge caregivers that identified and reported a near miss—or circumstances or events that have the capacity to cause an error, but did not reach the patient or person. We made the program basketball themed because like healthcare, basketball is a team sport where every player supports the other. Prior to the onset of the COVID-19 pandemic in 2020, CEO, President and Morton L. Mandel CEO Chair Tomislav Mihaljevic, MD, visited Good Catch recipients and presented them with tickets to basketball games to thank them for speaking up and reporting safety events.
Additionally, we ask caregivers to recognize Safety Champions across the health system year round with a Patient Safety honor by submitting a nomination through our online Caregiver Celebrations platform. Safety Champions are caregivers that have identified or anticipated potential risks, voiced their concerns to prevent harm, collaborated to develop and share solutions, eliminated variability and created best practices. In 2020, we hosted a celebratory event for our Safety Champions, to acknowledge the individual and team efforts of approximately 200 caregivers.
Universal Protocol / Safety Checklist
Cleveland Clinic developed a Universal Protocol to prevent serious safety events during every procedure we perform—in the operating room, procedural area, at the bedside and in the medical office setting. This is a required process for caregivers to ensure that a patient's identity, scheduled procedure and procedural site are correct.
To support the Universal Protocol, we require caregivers to use a standardized Safety Checklist. It guides teams with step-by-step scripting for sign-in, time-out and sign-out, ensuring that all teams have the same discussion for procedures.
Active team participation is essential for the Universal Protocol to be effective in every procedure from start to finish. We foster an environment where caregivers can speak up and be heard when there are safety concerns, and teams only proceed when there is collective agreement to do so.
Tiered Daily Huddles
Our caregivers participate in daily patient safety huddles across our system. These brief, focused conservations start with bedside caregivers communicating any patient safety concerns they identify to their managers. Teams that cannot immediately address these concerns can escalate this information to senior teams—tier by tier—within hours to executive leadership. Through these huddles, caregivers make Cleveland Clinic a safer place to receive care by creating open lines of communication where caregivers can share lessons learned, accomplishments and ideas. They also enable leaders to follow up with caregivers on actions taken. As part of our virtual rounding and tiered daily huddles in 2020, we introduced Hero Huddles to recognize caregivers and teams for their outstanding efforts during the COVID-19 pandemic. Learn more about how we recognized and cared for our caregivers in 2020.
Data Privacy and Security
Protecting information is an important part of Cleveland Clinic's commitment to providing the highest level care. In the digital age, a patient's information is an extension of themselves, and we view it as our responsibility to treat that information with the same respect we give every patient. In 2020, a number of U.S. hospitals had their operations shut down in ransomware attacks. The heightened threat prompted the federal government to issue an unprecedented cyberattack warning to healthcare organizations.
At Cleveland Clinic, we have a comprehensive Cybersecurity program designed to ensure a safe and trusted environment for the care we provide and the business we conduct. For years, Cleveland Clinic has invested in cybersecurity tools to secure information, keep our systems resilient and withstand evolving cyberattacks. Cleveland Clinic's Cybersecurity team is continuously improving the security of our systems, especially during times of global crisis, such as the COVID-19 pandemic. The team also actively engages caregivers by providing ongoing updates and training, including an intranet site with resources and alerts, annual compliance training and an ongoing phishing email campaign to train our caregivers to identify and report suspicious emails. In response to increased numbers of caregivers working remotely during the pandemic in 2020, our Cybersecurity team enhanced policies and standard operating procedures to address the evolving threats, empowering caregivers to protect our digital assets when working remotely.
Quality of Care
Quality of Care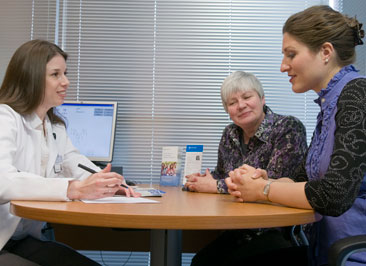 At Cleveland Clinic, we strive to not only provide the best quality care, but to define it by being at the vanguard of innovation in healthcare. In 2020, we continued to enhance our quality of care through high reliability and just culture initiatives.
High Reliability: A high reliability organization empowers caregivers to consistently achieve excellence for our patients and caregivers alike. We use evidence based behaviors to drive this culture. We continually strive to create a culture and processes that radically reduce system failures. When failures do occur, we dig deep to understand the etiology and learn how we can improve.
Just Culture: When medical errors occur, a just culture supports our high reliability work by addressing process or system failures, as well as individual failures. A just culture ensures caregivers are accountable for their own work, while leaders are responsible for ensuring we have well developed systems and processes in place to set our caregivers up for success.
Plan of Care Visits
A Plan of Care Visit brings together the provider, nurse and patient at the bedside to communicate the patient's daily plan of care with patients as part of the team. This discussion standardizes how patients and caregivers collaboratively develop treatment plans that provide the highest quality of care. Patients benefit from Plan of Care Visits because they can ask questions and be involved in decision making related to their daily plan of care, and caregivers benefit through increased engagement, communication and collaboration. Plan of Care Visits have resulted in improvements in patient safety, satisfaction and health outcomes, and have reduced patients' length of stay and readmissions.
Leadership Rounding
Every month, organizational leaders round on our units to hear directly from front-line workers and patients about what is working well and where there are opportunities for improvement. Leadership rounding is a best practice that includes participants from members of the Executive Team and their Direct Reports, Nursing Leaders, Institute Administrators, Physicians, Non-Physician Leaders, Cleveland Clinic Board Members and Healthcare Partners. This process encourages open communication by providing direct access to leadership and drives improvements in patient and employee experiences, as well as environmental conditions.
Continuous Improvement
We are building a culture in which every caregiver is empowered and expected to make improvements every day. Those improvements come in all sizes and take place in every corner of our organization. Our caregivers are active participants in driving continuous improvement by:
Seeking improvement every day
Making problems visible
Getting to the root cause
Testing and implementing countermeasures
Standardizing and sharing solutions
Our Cleveland Clinic Improvement Model (CCIM) promotes the values that catalyze change, such as collaboration, candor and accountability.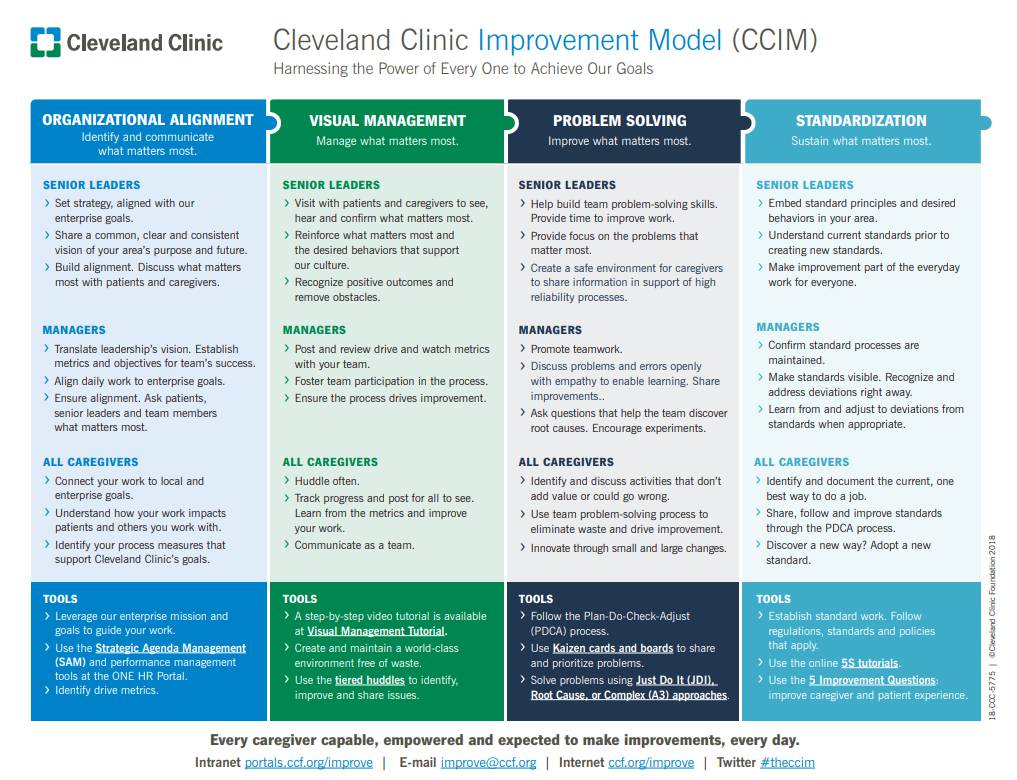 Identifying, measuring, improving and sustaining our most impactful behaviors, skills, processes and outcomes is an essential component of the CCIM. The model also promotes the creation of new resources and best practices for standardization across the enterprise. To transparently share our progress on patient safety and quality measures, Cleveland Clinic provides healthcare quality data in our annual State of the Clinic report. We also participate in the following reporting initiatives to enable stakeholders to benchmark our progress alongside industry peers:
The Joint Commission Performance Measurement Initiative
Centers for Medicare and Medicaid Services (CMS) Hospital Compare
Ohio Department of Health Service Line Reporting
National Specialty Society Databases and Registries
Additionally, through our Find a Doctor site, patients can leave reviews for our physicians and see experience ratings and comments from other patients to inform their decision making.
Accountable Care Organization
An Accountable Care Organization (ACO) is a group of doctors, hospitals and other health care providers who voluntarily work together to provide high quality care to the Medicare patients they serve. Coordinated care helps ensure that patients, especially those with chronic conditions, receive appropriate and timely care while avoiding duplicate services and medical errors. Through our ACO, we successfully connect patients in Ohio and Florida to medical homes and care teams, proactively manage their care across the continuum (including at skilled nursing facilities) and establish other value-based efforts so that patients rely less on emergency care. To support the health needs of our communities, Cleveland Clinic Community Care focuses on prevention and wellness, the diagnosis and treatment of both common and complex diseases and management of chronic conditions.
In August 2020, Cleveland Clinic announced a new multi-faceted collaboration with Aetna to form an Accountable Care Organization (ACO) model, and offer new plans and programs featuring Cleveland Clinic providers. The collaboration includes the launch of a co-branded insurance plan, which could reduce health care costs for participating employers. Additional benefits include an expanded relationship nationwide to provide members enrolled in Aetna commercial plans access to second opinions by Cleveland Clinic for certain conditions, and the deployment of Cleveland Clinic's Cardiac Center of Excellence (COE) program to Aetna plan sponsors. Both organizations are committed to continuing work on new initiatives to bring innovative, transformative and cost-effective care to local communities.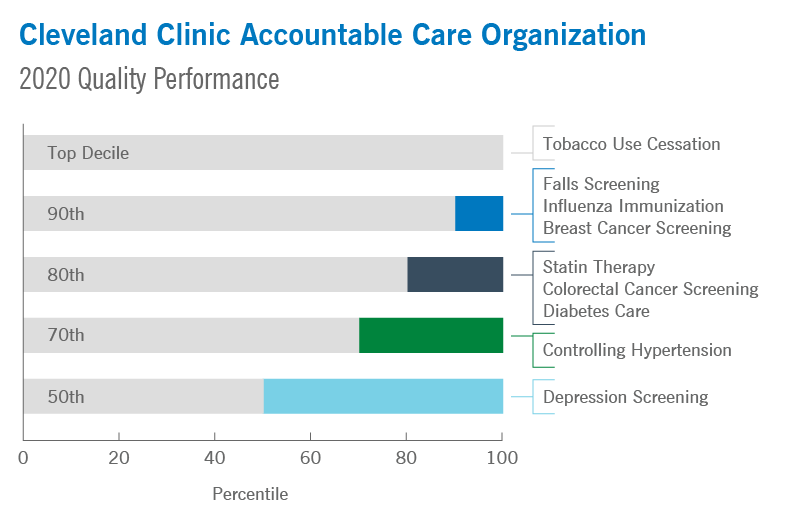 For more information about our ACO and most recent quality performance results, please visit our Cleveland Clinic Medicare ACO webpage.
Patient Data
Patient Data
We track and transparently report measures of patient safety, quality of care and satisfaction and set targets to continuously improve the patient experience across the enterprise.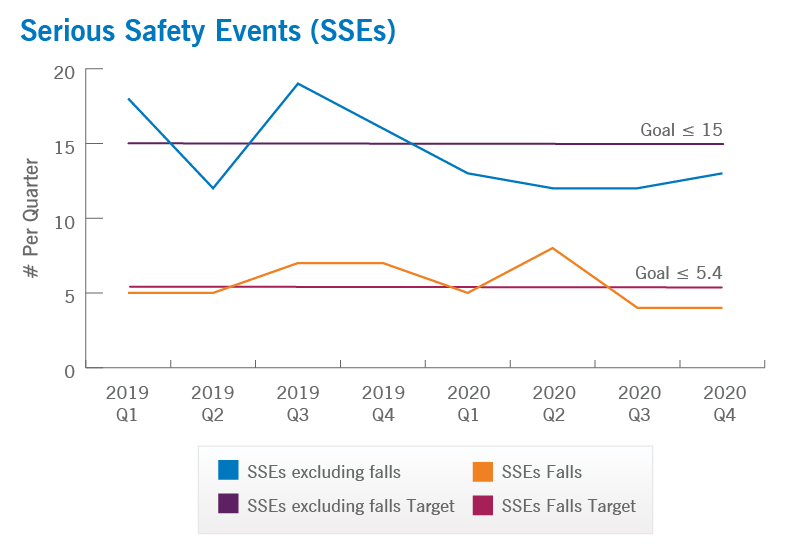 The serious safety event rate measures how many potentially harmful events occur in relation to the number of patients we serve. This rate allows us to monitor progress toward our goal of being the safest place to receive care. We perform a root cause analysis on all serious safety events, and share improvements and lessons throughout the enterprise to decrease the potential for the same event happening in other locations. By empowering and expecting caregivers to speak up when safety is at risk, we made progress on reducing harm in 2020.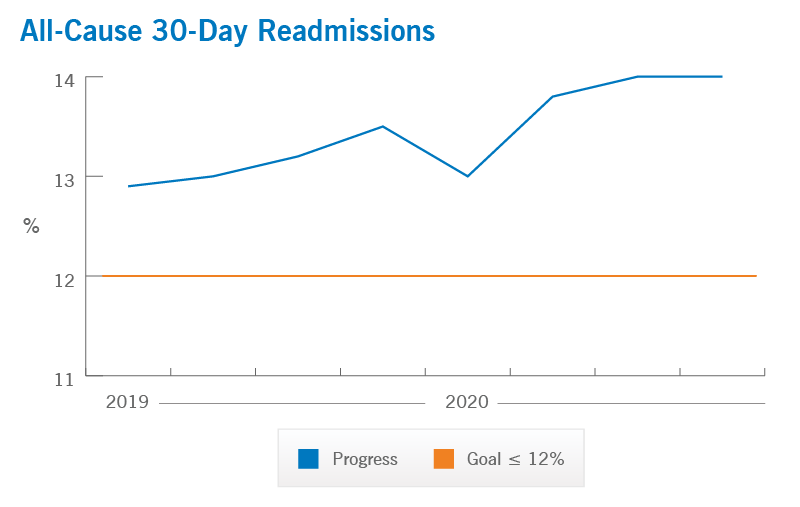 Despite a sicker patient population in 2020, our readmission rate remained consistent with prior years. Even so, the number of patients who return to our hospitals soon after discharge continues to be a challenge. We are working to reduce preventable readmissions by enhancing care coordination and adopting new approaches in home care and virtual follow-up appointments. Our Enterprise Readmissions Team is focusing its efforts on care transitions, and identifying patients most at risk for readmission and connecting with these patients within days after discharge to assure a durable discharge.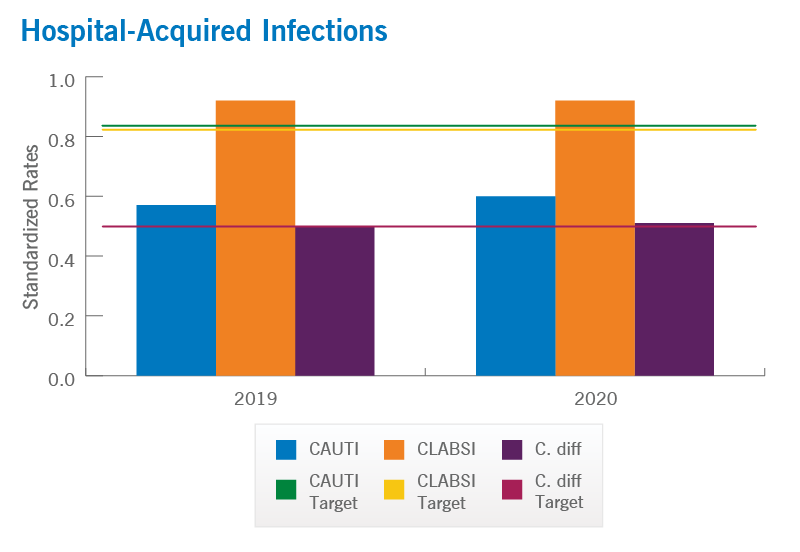 Hospital-acquired infections can result in sepsis, a potentially fatal immune response. Reducing hospital-acquired infections is a major priority for Cleveland Clinic. We conduct a root cause analysis review for each major infection, which has led to improvements in our infection rates over time.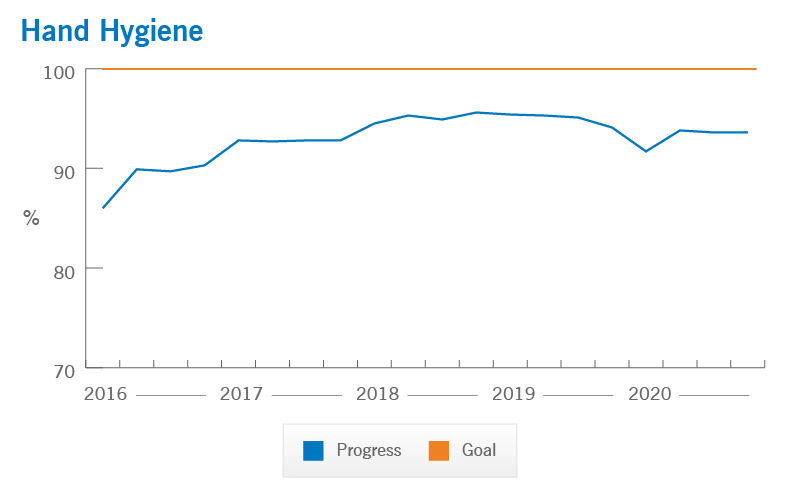 Cleveland Clinic uses external observers to track hand hygiene and decrease self-reported compliance. These individuals make more than 6,000 observations monthly across the enterprise.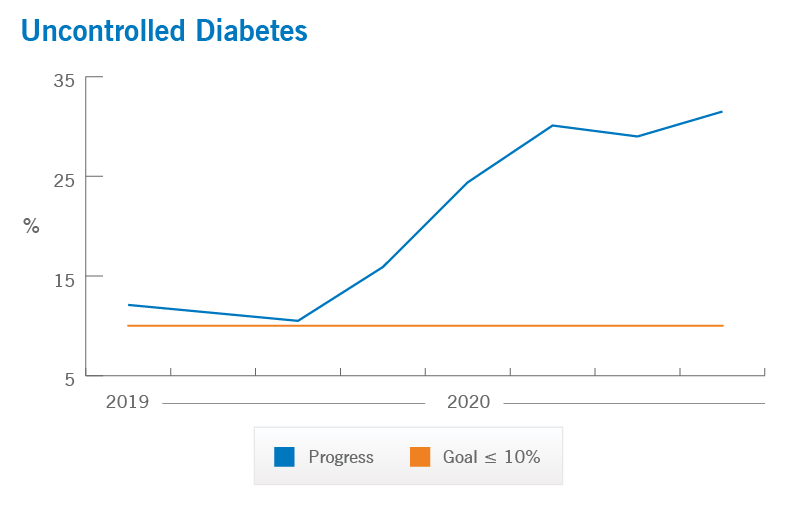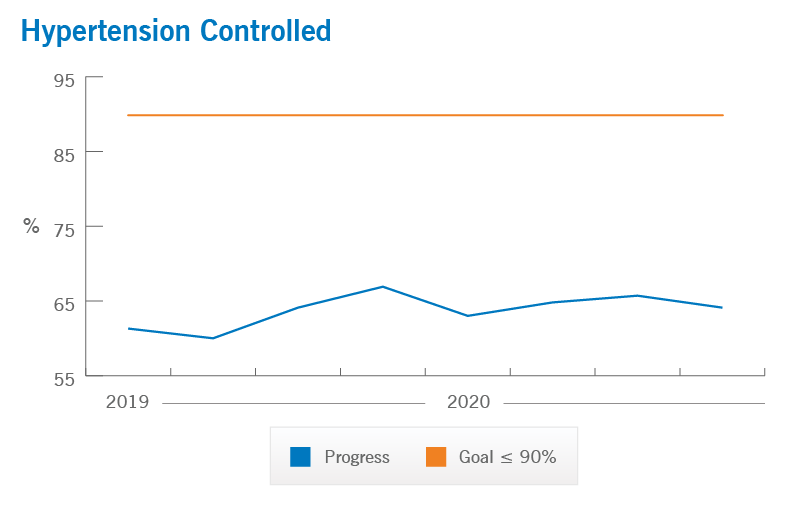 Uncontrolled diabetes and controlled hypertension are two important population health measures. Our Quality Team is actively working on improvement measures related to these conditions for our ACO.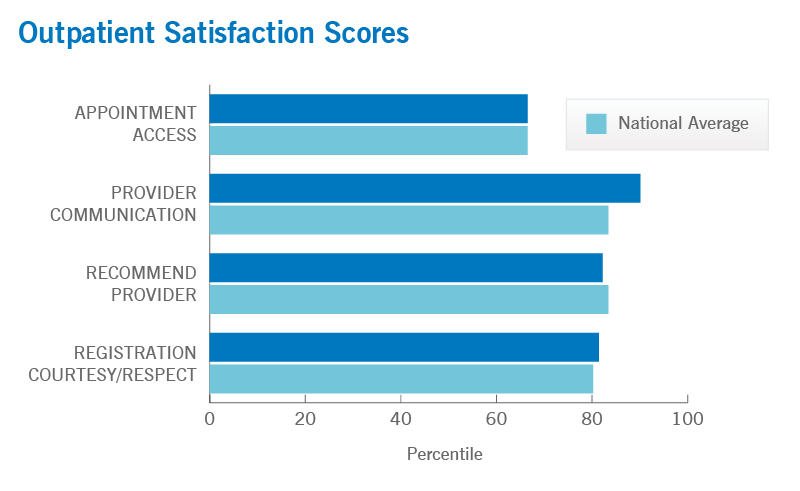 Cleveland Clinic recognizes that patient experience goes well beyond patient satisfaction surveys. Nonetheless, sharing the survey results with caregivers and the public affords opportunities to improve how Cleveland Clinic delivers exceptional care. Ultimately, caregivers have the power to impact every touch point of a patient's journey, including their clinical, physical, and emotional experience.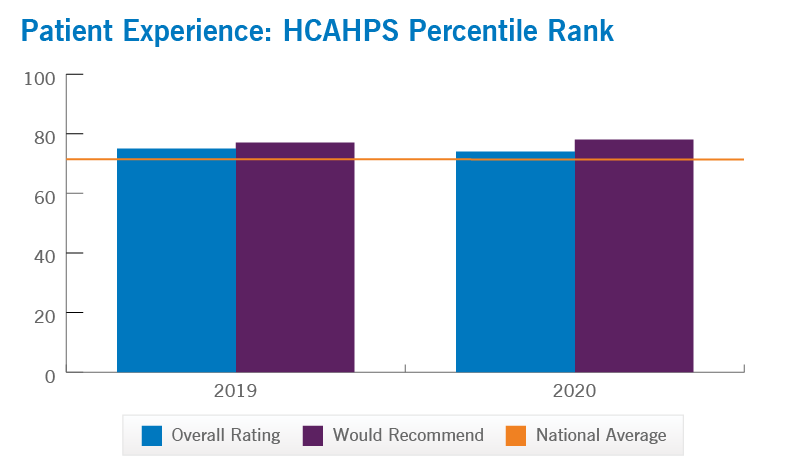 The Center for Medicare and Medicaid Services along with the Agency for Healthcare Research and Quality developed the Hospital Consumer Assessment of Healthcare Providers and Systems (HCAHPS) Survey to provide a standardized method for measuring patients' perspectives on care they received.
For some metrics, a negative percentage change in 2020 was due to the impact of the COVID-19 pandemic. We continue to focus on improving patients' satisfaction and experience.