Overview
Overview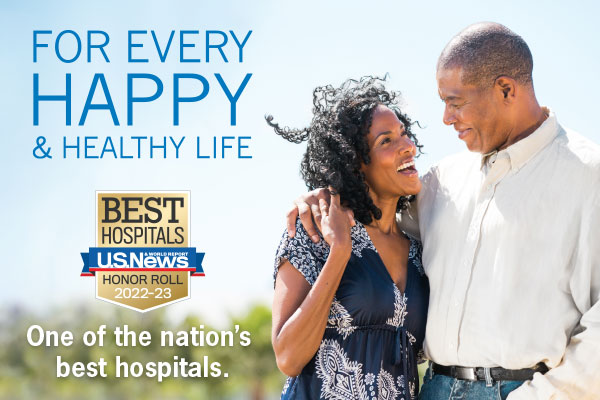 To provide our patients with the best experience, we track measures of patient safety, quality of care and satisfaction. We use this information to celebrate and replicate successes across our organization, as well as to identify areas for which we need to collaborate and innovate together to improve.
Culture of Safety
Culture of Safety
In order to achieve our vision of becoming the best place for receive care anywhere, we need to be the safest. To this end, we have comprehensive safety training, standard operating procedures and reporting. We encourage all caregivers, both in clinical and non-clinical environments, to speak up for safety and to come to leaders with potential concerns and solutions. By doing so, caregivers have the opportunity to learn, innovate and improve together and provide the most effective and reliable outcomes for patients.
In addition to fostering a culture in which caregivers candidly share safety concerns, Cleveland Clinic includes questions on its annual caregiver experience survey to ensure we are living our core value of quality and safety. Through the annual caregiver survey, we benchmark progress on the following key safety indicators:
Error prevention and reporting
Organizational learning and continuous improvement
Communication openness
Teamwork
Handoffs and transitions
Management support for safety
Staffing
Workplace safety
This anonymous survey empowers caregivers to voice opportunities for improvement while providing department-level results that are actionable for the organization. Cleveland Clinic also conducts Executive Leadership Safety Walkrounds, which includes representatives from the Quality & Patient Safety Institute, a unit/area member of management and a Cleveland Clinic senior executive. By walking a particular unit/area on a monthly basis, these teams facilitate a culture of safety and engage frontline staff on ideas for continuous improvement.
Patient Safety Goals
Cleveland Clinic's Patient Safety strategy goes above and beyond meeting the National Patient Safety Goals as defined by the Joint Commission to a focus on preventing complications, hospital-acquired conditions, infections, falls, and skin damage.
Quality of Care
Quality of Care
Advances in research and the rapid evolution of technology create new possibilities for treatment and enhance the quality of care patients can receive. At Cleveland Clinic, we strive to not only provide the best quality care, but to define it by being at the vanguard of innovation in healthcare. Our Quality Department oversees a comprehensive program to monitor, assess and improve the quality of patient care and operational processes we provide. Quality Directors work hand in hand with institutes and hospitals to identify and address quality. We are also working to build a culture in which every caregiver is empowered and expected to make improvements every day. Those improvements come in all sizes and take place in every corner of our organization, helping us to deliver better quality at a lower cost.
More than 5,000 caregivers across the Cleveland Clinic Health System provided input to develop, test and refine the Cleveland Clinic Improvement Model (CCIM), and its application enables us to continuously improve all aspects of our care:
Patient Safety
Patient Quality
Patient Experience
Caregiver Experience
Affordability
The CCIM encourages caregivers at all levels of the organization to drive innovation and continuous improvement by promoting values that catalyze change, such as collaboration, candor and accountability.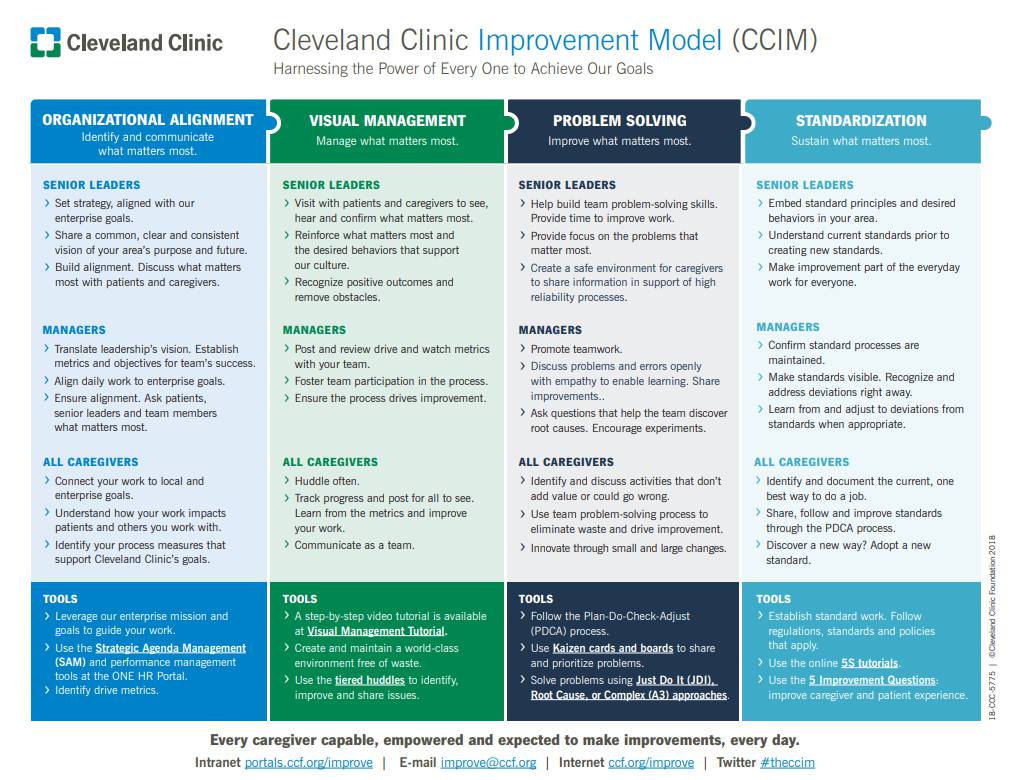 Measuring our quality and safety performance is also an essential component of the CCIM. In the spirit of continuous improvement and transparency, Cleveland Clinic publicly discloses healthcare quality data and participates in the following public reporting initiatives to benchmark our progress alongside industry peers:
The Joint Commission Performance Measurement Initiative
Centers for Medicare and Medicaid Services (CMS) Hospital Compare
Ohio Department of Health Service Line Reporting
National Specialty Society Databases and Registries
Additionally, we publishes annual Treatment Outcomes and makes patient experience ratings and comments of our physicians available on the internet via Cleveland Clinic's Find a Doctor site.
Accountable Care Organizations (ACOs) promote new models of patient care with a focus on population health, the continuum of care and reducing healthcare costs. ACOs encourage healthcare providers to work together to manage a patient's care across all settings – offices, hospitals and long-term care facilities. To improve the quality and affordability of care provided by Cleveland Clinic's Medicare Accountable Care Organization (ACO), we work directly with primary care physicians and specialists to coordinate care and incorporate technology and information systems.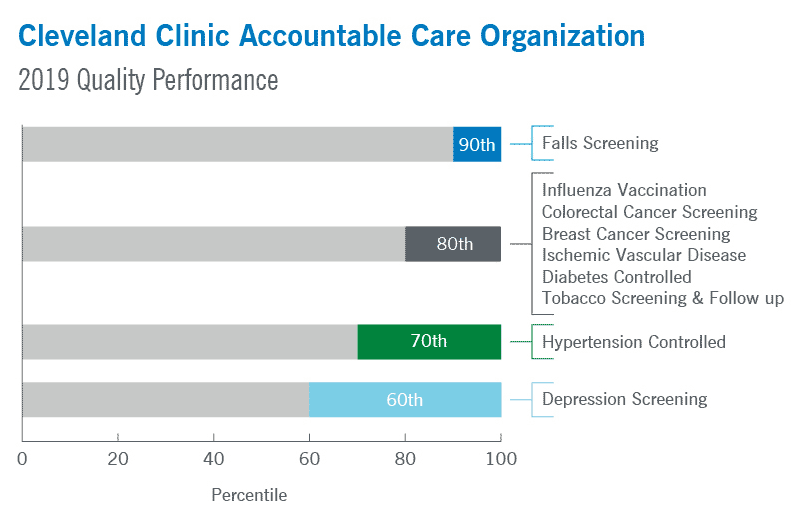 Patient Data
Patient Data
To better understand and improve the patient experience, Cleveland Clinic tracks inpatient Hospital Consumer Assessment of Healthcare Providers and Systems (HCAHPS) ratings, patient safety indicators and outpatient experience data.