Overview
Overview
At Cleveland Clinic, our caregivers work as one to provide safe, accessible and quality care. As an integrated, physician-led healthcare system, we use our technology, transportation, and human resources to coordinate care for patients to meet their desired outcomes while driving efficiencies to make care more affordable. As healthcare and the way it is delivered undergoes an evolution, we continue to draw upon our expertise and culture of innovation to shape the future of care.
Integrated Care Model
We understand that care is ongoing and continues after patients leave our facilities or complete their visits. The Cleveland Clinic Integrated Care Model is a patient-centered model of care in which our caregivers work as a seamless team to support patients across a continuum of care. By eliminating unnecessary practice variation, patients receive consistent, exceptional care in our care system across various settings. The blue ring in the graphic below represents this continuous pathway of care, in which patients always come first.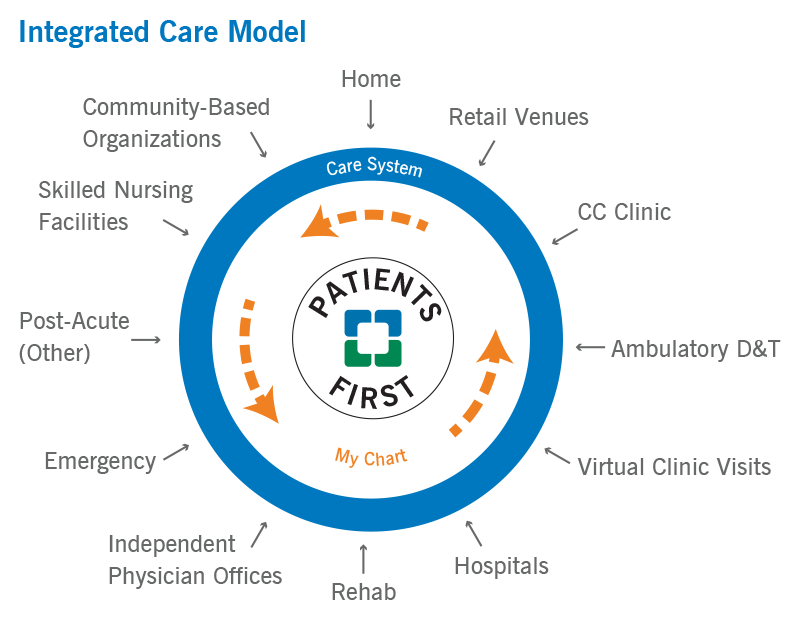 Community Health
Community Health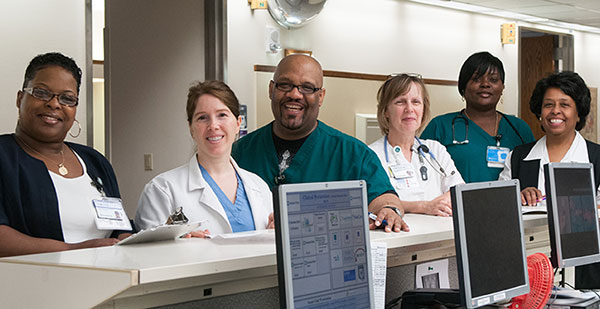 Our Community is a Cleveland Clinic Care Priority. As such, we have robust commitments to public health and well-being, youth education and economic development. As a leading academic health center, we are committed to helping to address the top public health challenges facing our region. In the spring of 2018, we extended our population health model further by launching Cleveland Clinic Community Care (CCCC) and hired our first Chief of Population Health.
CCCC takes a new, population health approach to manage the care of patients. Rather than just simply addressing individual patients' needs on a visit-by-visit basis, CCCC leverages a wealth of data and an expanded care team to proactively address the health needs of populations. The team includes physicians and advanced practice providers from Internal Medicine, Family Medicine, Hospital Medicine, Geriatrics and General Pediatrics, supported by Wellness, Express Care, Medical Care at Home and the Quality Alliance to best equip CCCC to manage access, quality, experience, utilization and cost across the entire continuum of care.
Cleveland Clinic clinicians and IT analysts built customized registries and reports that enable providers to see the entire population of Cleveland Clinic patients, whether they're coming in for appointments or not. Any member of the patient care team—including physicians, advanced practice providers, nurses, care coordinators, medical assistants, pharmacists, and social workers—can identify and reach out to consenting patients who have not recently seen a healthcare provider to discuss their current health status and determine appropriate care steps.
"Cleveland Clinic Community Care will apply a data-driven comprehensive team approach to the clinical needs of patients; and partner with others, including community leaders, municipalities and other health systems, to address the social determinants of health impacting the populations in those communities. We also seek to influence international policy dialogue around health system design and population health." Adam Myers, MD, Chief of Population Health and director of Cleveland Clinic Community Care
Through the CCCC model and our community benefit initiatives, we remain committed to investing in our caregivers, patients, neighbors, and communities to improve and maintain the health of the population at large.
Research & Innovation
Research & Innovation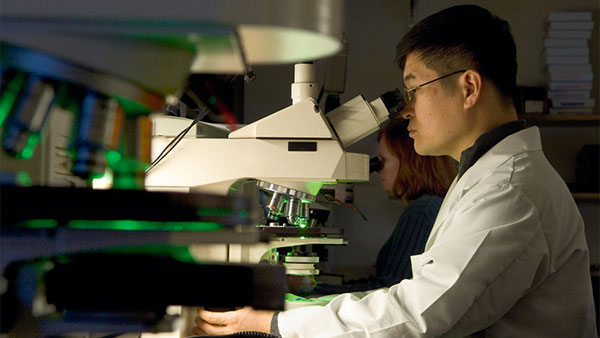 Research and innovation have been foundational to our mission since we opened our doors in 1921. To further this commitment, Cleveland Clinic opened the Lerner Research Institute in 1999 to:
uncover the biological pathways of disease
develop new medical devices, diagnostic and treatment therapies, and cures
train the next generation of biomedical researchers
With nearly 1,400 researchers and support personnel in 180 laboratories across 12 departments, the institute is one of the largest research facilities in the nation and consistently ranks in the top 10 in National Institutes of Health funding. Cleveland Clinic researchers focus on an array of conditions, including cancer, cardiovascular and metabolic diseases, brain and eye diseases, and diseases of inflammation and the immune system.
Cleveland Clinic also facilitates innovation through its annual Medication Innovation Summit, in which healthcare professionals from around the world gather to discuss and collaborate around material topics, trends and technologies to advance patient care. In 2018, Cleveland Clinic held its 16th annual Medical Innovation Summit, which drew more than 100 speakers and leaders from more than 500 organizations and 20 countries to downtown Cleveland to focus on the theme of Disruption: Reimaging Healthcare. This summit encouraged participants to look beyond the walls of hospitals and explore innovative solutions for the transformation of healthcare.
"Healthcare is in the midst of a dramatic change from hospital-based care focused on illness and disability to community-based services that focus on the prevention of illness and disability before they occur. As a result, markets are emerging that focus on the ever-growing data gleaned from sophisticated sensors and biomarkers of healthy populations to keep patients out of the hospital."
– Will Morris, MD
Senior Medical Director of Cleveland Clinic Innovations
Each year, we recognize an individual caregiver with the Sones Innovation Award for achievements that continue the tradition of pioneering Cleveland Clinic cardiologist F. Mason Sones, MD, to advance innovation in the service of improved patient care. In 2018, we were proud to present the award to neurologist Robert J. Fox, MD, for identifying an asthma medication, ibudilast, as a potential treatment for progressive MS after it had failed in an earlier study for relapsing MS. His idea to apply the agent to progressive MS resulted in the multicenter SPRINT-MS study, which demonstrated an unprecedented 48 percent slowing in the progression of whole brain atrophy with ibudilast therapy.1
That resourceful inventiveness is a key reason Dr. Fox, who serves as Vice Chair for Research in the Neurological Institute, was named the recipient of the award. The selection committee also cited Dr. Fox's leadership of a team of Cleveland Clinic imaging physicists and engineers to develop a collection of innovative, complex imaging techniques to provide imaging biomarkers for measuring a response to therapy in the SPRINT-MS trial.
"These techniques are the most advanced imaging modalities ever deployed in a multicenter neurological clinical trial, and they have the potential to accelerate the development of therapies for other neurodegenerative diseases as well."
– Andre Machado, MD, PhD
Chair of Cleveland Clinic's Neurological Institute
---
1Robert J. Fox, Christopher S. Coffey, Robin Conwit, Merit E. Cudkowicz, Trevis Gleason, Andrew Goodman, Eric C. Klawiter, Kazuko Matsuda, Michelle McGovern, Robert T. Naismith, Akshata Ashokkumar, Janel Barnes, et al., "Phase 2 Trial of Ibudilast in Progressive Multiple Sclerosis," New England Journal of Medicine (August 2018): 379:846-855. DOI: 10.1056/NEJMoa1803583.
Distance Health
Distance Health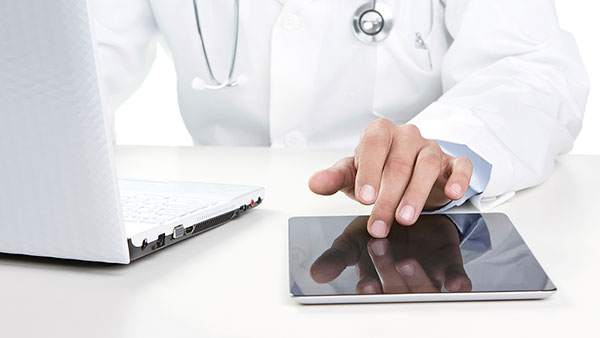 Through distance health initiatives, we can provide care to more patients and deliver highly specialized care quickly to locations patients need it most. Our efforts include increasing the number of urgent care walk-in clinics in our surrounding communities, as well as expanding our telemedicine presence.
In addition to providing more extensive access to care at reduced costs, technology empowers patients to be better advocates for their own health by providing them with tools to track symptoms, review records, contact providers and more with greater ease at times most convenient for them.
Some examples of ways we use technology to enhance patient care include:
Express Care Online, a HIPAA-compliant Skype®-like app that connects patients directly with Cleveland Clinic providers for face-to-face visits
MyConsult Online, a secure web platform that allows patients to obtain a written second opinion from a Cleveland Clinic specialist
Remote Image Upload, which enables the digital transfer of images from multiple vendor sources into a patient's EMR and subsequent access from any point of care
Telestroke Network, which provides outside hospitals 24/7 access to enhanced stroke consultation services from specialists in Cleveland Clinic's Cerebrovascular Center via a mobile two-way videoconferencing system and linked imaging systems
A mobile stroke treatment unit that brings the essential tools of stroke diagnosis and treatment right to the site of stroke onset via a specially equipped and staffed ambulance
Our DrConnect® tool is an internet-based program specially developed to provide physicians who refer their patients to specialists at Cleveland Clinic secure, real-time information about their patients' treatment progress
eHospital enables us to remotely monitor patients on ICUs at various locations from 7 p.m. to 7 a.m., seven days a week via an operations center staffed on the main campus to provide better access to intensivists and experienced critical care nurses
MyChart is a secure, online health management tool that connects Cleveland Clinic patients to portions of their electronic medical record, allowing them to see test results, message physicians, schedule appointments and more.
In addition to creating new, innovative ways to enhance care through technology, we also work to increase awareness and adoption of our existing initiatives.
| Distance Health Initiatives | 2017 | 2018 | % Change |
| --- | --- | --- | --- |
| Virtual Visits | 25,503 | 42,976 | 68.5% |
| Electronic Medical Record Patients | 8,020,079 | 8,785,627 | 9.5% |
| MyChart Users | 1,037,792 | 1,132,207 | 9.1% |
| DrConnect Users | 10,537 | 11,882 | 12.8% |
Patient-Centered Medical Home
Patient-Centered Medical Home
Also referred to as the primary care medical home, advanced primary care and the healthcare home, a patient-centered medical home (PCMH) is an accessible, team-based model for patient primary healthcare that addresses individuals' mental and physical health needs. Patient providers coordinate a team of caregivers to arrange appropriate, quality care as needed, including prevention and wellness services.
Cleveland Clinic participates in the Comprehensive Primary Care Plus (CPC+) program, a public-private collaboration created to achieve better primary care health outcomes at lower costs using population health strategies. The program provides support to participants through value-based payments that promote performance and shared resources to help them improve primary care across the following delivery areas:
Access and Continuity
Care Management
Comprehensiveness and Coordination
Patient and Caregiver Engagement
Planned Care and Population Health
By reforming multi-payer fees and care delivery, the goal of the CPC+ program is to strengthen primary care for patients in the program's 18 participating regions across the United States.
Shared Medical Appointments
Center for Functional Medicine
Center for Functional Medicine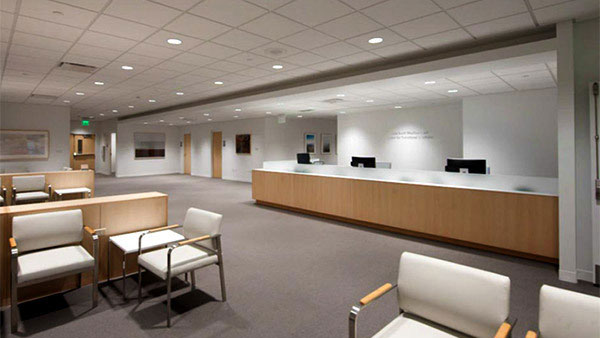 The Cleveland Clinic Center for Functional Medicine is unrivaled as the first Functional Medicine practice in the United States to exist within an academic medical center. Functional Medicine is a personalized, systems-based approach to health care that identifies the root cause of chronic disease and engages both patient and provider in a therapeutic partnership. Functional Medicine providers examine key environmental, genetic and lifestyle factors that influence health and well-being or contribute to complex, chronic disease. Identification and remediation of clinical imbalances can then help the patient achieve optimal wellness. Established in late 2014, the Center for Functional Medicine opened its doors to significant anticipation and demand, and soon after expanded its offerings to Chagrin Falls and Lakewood Family Health Centers. Led at the time by Mark Hyman, MD, the Center aimed to transform health care, expand awareness and accessibility through education, and support and promote value-based care through innovative delivery models and community outreach.
By the end of its first two years, the Center's patient volume had grown exponentially. Expanding access to functional medicine and delivering value-based care within an academic medical setting or elsewhere required an innovative care delivery model. Therefore, the Center developed the Functioning for Life™ (FFL™) Shared Medical Appointment (SMA) program. The FFL™ SMA program is tailored to engender a sense of community and addresses various chronic conditions including autoimmune disease, weight management, diabetes, digestive disorders, pain management and women's health. From 2017 to 2018, over 800 patients completed the FFL™ SMA program.
Following the footsteps of its landmark program, the Center seized the opportunity to develop various other SMAs to support patients in their personal wellness journeys. Such programs included Get Functional which reviewed the steps needed to detoxify the body, and Functional Ketogenics which reviewed the healthy implementation of a low carb, high fat diet.
The Center for Functional Medicine also developed and launched SMA programs in collaboration with other Cleveland Clinic departments and institutes. In 2018, the Center and the Urology Institute launched the Minority Men's Health Program. This series of six SMAs introduced minority men to the functional medicine approach and provided the necessary health information, dietary guidance and wellness coaching to promote self-management of chronic disease. The program covered important topics including the benefits of healthy eating, identification of foods to eat for wellness as well as foods to avoid, the importance of monitoring lab results and the power of music to improve health. Participants also received a customized product list that included items from nearby grocery stores, restaurant recommendations and suggestions for the healthiest options at local fast food and restaurant locations.
The Center for Functional Medicine is expanding under the leadership of Elizabeth Bradley MD, Medical Director and Mark Hyman MD, Head of Strategy and Innovation. Additional services include Functional Pride, a series of SMAs specifically for LGBT patients offered in collaboration with Lakewood Family Health Center, and FFL™ Community, a series of SMAs that provide medical management for individuals who frequent community-based healthy living programs offered in collaboration with Langston Hughes Family Health Center.