Overview
Overview
Cleveland Clinic is caring for more patients by building a sustainable model for growth that embraces digital care, expands our service and location offerings and reduces healthcare costs. From prenatal to geriatric care, our multidisciplinary caregiver teams are positioned to provide exceptional care throughout our patients' lifetime health journeys.
Community Health
Community Health
Cleveland Clinic Community Care is our platform for delivering exceptional care that is personalized, equitable and accessible for patients and communities. Community Care physicians are part of teams that include advanced practice providers, nurses, medical assistants, behavioral health social workers, pharmacists, care coordinators and navigators. Using data to target improvement and patient engagement, these care teams focus on optimizing patient outcomes, quality and cost through proactive management of a patient's health, wellness and chronic diseases.
Community Care's Clinical Operations include departments that provide coordinated care across the practices of adult and pediatric primary care, consultative internal medicine, geriatrics, hospital medicine, medical care at home, clinical genomics, functional medicine, and wellness and preventative medicine. These teams serve patients during their lifetime and reach across multiple venues to provide continuity throughout the continuum of care.
The Community Health and Partnerships team works to bridge clinical efforts with community needs by using internal capabilities and engaging community partners to assist with removing barriers to care. These barriers often include social needs, or nonmedical aspects of individual and family lives that can affect health and well-being, such as housing (stability and quality); food (stability and security); legal needs related to immigration status, eligibility for public health insurance, employment, family, and/or housing access; and government benefits access for income maximization.
Research & Innovation
Research & Innovation
Researching for health is an essential part of our mission. Cleveland Clinic's research model brings together basic science researchers, clinical investigators and caregiver teams to address patients' unmet needs. Despite the pandemic, our research activity remained robust in 2020: Cleveland Clinic received $312 million in research funding and supported 2,781 active research projects.
Upon the onset of the COVID-19 pandemic, we focused our efforts on understanding, treating and preventing the spread of the virus. Cleveland Clinic was one of the first organizations to create a registry and biobank specific to COVID-19. Our researchers developed COVID-19 risk prediction models and used artificial intelligence to identify existing drugs that might effectively treat the virus. We also joined national studies of proposed COVID-19 therapies, initiated several studies of our own and contributed more than 570 academic publications on COVID-19.
Planned before the COVID-19 pandemic, we established a new Global Center for Pathogen Research and Human Health in April 2020. Headquartered in Cleveland and spanning our international footprint in Florida, London and Abu Dhabi, the Global Center for Pathogen Research & Human Health is organized around six critical programs:
Virus & Immune Discovery
Personalized Medicine
People & Population Studies
Diagnostic Tests
Technology Development, Treatments & Vaccines
Clinical Application & Healthcare Deliverables
Our team of virology, immunology, genomics and population health experts leading the center are focused on advancing research toward diseases such as COVID-19, highly pathogenic influenza, Dengue fever, AIDS and Zika virus-related conditions, and expediting critically needed treatments and vaccines.
In July 2020, we opened the Cleveland Clinic Florida Research and Innovation Center in Port St. Lucie. With a focus on immuno-oncology and infectious diseases, including COVID-19, the center will complement and expand research underway at our Florida hospitals and Lerner Research Institute on main campus. Our caregiver teams at both of these new centers will closely collaborate to develop new treatments for patients around the globe.
Medical Innovation Summit
In 2020, Cleveland Clinic continued to promote idea-sharing through its 18th annual Medical Innovation Summit. Organized by Cleveland Clinic Innovations, the development and commercialization arm of Cleveland Clinic, the Medical Innovation Summit brings together healthcare thought leaders to discuss and celebrate new ideas happening locally and around the globe. Cleveland Clinic's 2020 Medical Innovation Summit (MIS2020) focused on the adoption of virtual care and other digital health initiatives, which were especially salient due to the COVID-19 pandemic. Traditionally held as an in-person event, Cleveland Clinic delivered the MIS2020 virtually and offered complimentary access for the first time in its history. Topics included healthcare investment, data privacy, digital health integration, rapid pharmaceutical development and more. The one-day summit brought together diverse speakers and leaders across the healthcare spectrum to discuss continuous innovation for superior care.
Distance Health
Distance Health
The mission of Cleveland Clinic's Virtual Health Program is to connect anyone to care, from anywhere. We seek to harness technology to reimagine and transform care, expand access and deliver the best patient-centered experience. Cleveland Clinic's program offers a range of synchronous virtual offerings, including paramedicine, on-demand urgent care, telestroke, primary care, behavioral health, medical and surgical subspecialty visits, eCoaching, shared medical appointments and remote patient monitoring. Asynchronous options include adult and pediatric express care eVisits, eDermatology, ePharmacy and written second opinions.
COVID-19 and Virtual Care
The COVID-19 pandemic radically changed healthcare care delivery over a short period of time. Cleveland Clinic rapidly expanded virtual health programs to ensure uninterrupted access, minimize healthcare worker exposure and contribute to the overall effort of reducing the spread of COVID-19 by keeping patients home. In the span of six weeks (from March 7 to April 11, 2020), total Cleveland Clinic outpatient visits increased from 2% remote (virtual or phone) to 75% remote. Our digital health playbook was recognized by the Health and Human Services and the White House, and shared with health systems across the country. As we expanded in-person care following spring 2020 COVID-19 restrictions, we remained committed to meeting the ongoing demand for virtual health services. During 2020, we completed 1.2 million virtual visits.
Creating a Safe Workplace
Cleveland Clinic also developed a COVID-19 Employer Solutions website with free offerings and COVID-19 updates to help industries navigate the pandemic. The site includes guides for staying safe during COVID-19 at work and at home, as well as industry-specific guides that provide blueprints for creating safe work environments and support systems for employees returning to workspaces.
MyClevelandClinic and MyChart
Additionally, Cleveland Clinic's Virtual Team and Information Technology Department have worked to redefine our digital front door to provide ease of access to care through the MyClevelandClinic patient mobile application. MyClevelandClinic improves the patient experience by consolidating our mobile apps into a single app where patients can access MyChart (our online portal that connects Cleveland Clinic patients to portions of their electronic medical record), virtual visits, visitor information and more. The platform is available 24/7, secure and free to download, with 158,310 unique downloads as of September 2021. Some key features in the app allow users to:
See a healthcare provider live 24/7 for non-emergency concerns
See Cleveland Clinic providers for scheduled appointments
View health records
View test results
Schedule appointments
Message a doctor's office
Pay bills
In 2020, MyChart users increased 24% over 2019 to 1.6 million users. To improve access to MyChart, we began offering patients the option to view MyChart headers, titles and navigation instructions in Spanish. To view MyChart in Spanish, patients can click the Ver en Español link in the upper right-hand corner of the log-in page. The mobile app will automatically update if the patient's phone language setting is set to Spanish.
Patient-Centered Medical Home
Patient-Centered Medical Home
A patient-centered medical home (PCMH) is team-based model for patient primary care designed to improve accessibility, reduce costs and increase efficiency, resulting in a healthier patient population. In the PCMH model, a team of caregivers work together to coordinate appropriate care for individual patients, including prevention and wellness services.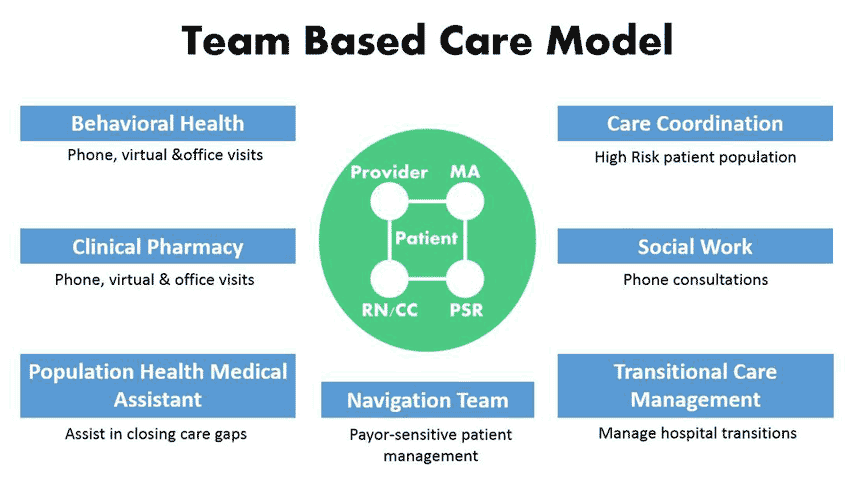 Cleveland Clinic participates in the Comprehensive Primary Care Plus (CPC+) program, a public-private collaboration designed to improve the following primary care functions:
Access and Continuity
Care Management
Comprehensiveness and Coordination
Patient and Caregiver Engagement
Planned Care and Population Health
The goal of the CPC+ program is to achieve better primary care health outcomes at lower costs in the program's 18 participating regions across the United States through multi-payer fee and care delivery reform.
Shared Medical Appointments