Overview
Overview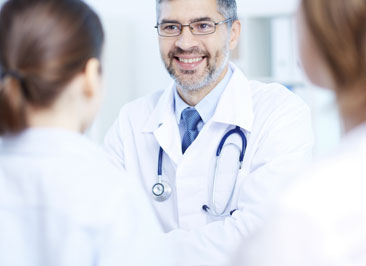 A multidisciplinary team guides the evolution of our enhanced primary care model. This model integrates our world-class specialty care with population health to emphasize primary care, prevention and lifelong engagement. We are designing new ways to care for patients through expanded teams and increased access enabled by technology. The result will be a system of seamless, integrated care for all patients. Cleveland Clinic is moving beyond episodic healthcare delivery to caring for patients across their lifetimes. We will serve as partners to our patients in their health journey from prenatal care to geriatric services.
Community Health
Community Health
As a leading academic health center, we are committed to helping to address the top public health challenges facing our region. In spring of 2018, we extended our population health model further by launching Cleveland Clinic Community Care (4C), and hired our first Chief of Population Health.
4C takes a new, population health approach to managing the care of patients. Rather than addressing individual patients' needs on a visit-by-visit basis, 4C leverages a wealth of data and an expanded care team to proactively address the health needs of populations. The team includes physicians and advanced practice providers from Internal Medicine, Family Medicine, Hospital Medicine, Geriatrics and General Pediatrics, supported by Wellness, Express Care, Medical Care at Home and the Quality Alliance to best equip 4C to manage access, quality, experience, utilization and cost across the entire continuum of care. In 2019, 4C added several areas to enhance and expand care for the community, including Community Relations and Functional Medicine.
Cleveland Clinic clinicians and IT analysts built customized registries and reports that enable providers to see the entire population of Cleveland Clinic patients, whether they're coming in for appointments or not. Any member of the patient care team—including physicians, advanced practice providers, nurses, care coordinators, medical assistants, pharmacists and social workers—can identify and reach out to consenting patients who have not recently seen a healthcare provider to discuss their current health status and determine appropriate care steps.
Research & Innovation
Research & Innovation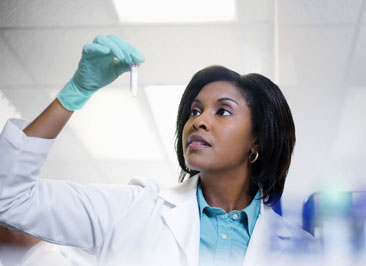 Our research model brings scientists together with clinical researchers and caregiver teams to address our patients' biggest challenges. In 2019, Cleveland Clinic had 2,488 active research projects supported by $307 million in research funding. Over 1,200 scientists and support personnel work in our world-renowned Lerner Research Institute (LRI), seeking new treatments and cures for disease. To reduce the amount of time and money required to create new therapeutic drugs and bring new medications to market, we opened the Cleveland Clinic Center for Therapeutics Discovery, located within LRI, in 2019. The center uses state of the art technology to investigate the absorption, distribution, metabolism and elimination of new compounds to accelerate further development of promising candidates.
In November of 2019, we established the Cleveland Clinic Florida Research and Innovation Center in Port St. Lucie, Florida. The approximately 100 full-time researchers and support staff at the center will complement and expand clinical research underway at our five Florida hospitals, as well as enhance research conducted by our caregivers in Ohio. Additionally, Cleveland Clinic celebrated the 10th anniversary of our Lou Ruvo Center for Brain Health in Las Vegas in 2019, which has earned a global reputation for neurodegenerative disease care, research and education. The center also conducts prevention trials for people at risk for brain disease and offers risk-reduction programs such as HealthyBrains.org, where visitors from around the world sign up to receive free online brain health self-assessments.
25 Years of No. 1 in Heart Care
Cleveland Clinic performs more cardiac surgeries than any other U.S. hospital and has the best outcomes, while frequently serving patients with more complex medical needs. In 2019, U.S. News & World Report released its 2019-20 Best Hospitals rankings, with Cleveland Clinic surpassing all other hospitals in heart care for an unprecedented 25 years in a row. No other hospital has ranked higher in this specialty since 1995.
Innovation in 2019
Each year, Cleveland Clinic promotes idea-sharing through its Medical Innovation Summit. Organized by Cleveland Clinic Innovations, the development and commercialization arm of Cleveland Clinic, the Medical Innovation Summit brings together healthcare thought leaders to discuss and celebrate new ideas happening locally and around the globe. In October 2019, more than 2,000 healthcare influencers and leaders gathered in downtown Cleveland for the three-day event. The theme of the summit was "Caring for Every Life through Innovation" and focused on topics such as personalized healthcare, artificial intelligence and strategic investing to help translate healthcare technology.
"Innovation is one of our six core values at Cleveland Clinic and it runs deep. With innovation we welcome change, encourage invention and continually seek better, more efficient ways to achieve our goals." Will Morris, MD, Senior Medical Director Cleveland Clinic Innovations.
In 2019, Cleveland Clinic was proud to be recognized as one of the 5 most innovation hospitals by our peers. To develop the list, Reaction Data surveyed more than 300 C-level executives, department heads and staff members from hospitals and clinics across the United States. They asked survey participants what provider organization comes to mind as being a model for innovation, quality care at a sustainable cost and thought leadership on topics related to healthcare transformation.
Medical breakthroughs our caregivers achieved in 2019 included:
The first U.S. birth from a deceased donor uterine transplant
Northern Ohio's first in utero spina bifida repair
The world's first successful single-port robotic kidney transplant
The Midwest's first purely laparoscopic living donor surgery for liver transplant
Distance Health
Distance Health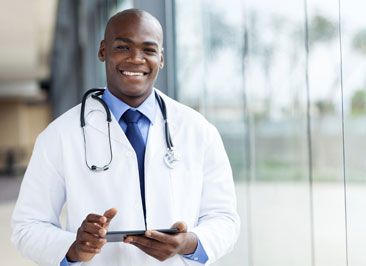 Technology is helping us to reach more patients in more places. An early adopter of digital health services, Cleveland Clinic has had a rapid increase in the use of virtual visits to deliver patient care. In 2019 alone, the number of annual virtual visits grew 29%. Telehealth is a key part of Cleveland Clinic's growth strategy to double the number of patients served in the next five years. As we expand our distance health services, we are increasingly vigilant in protecting the integrity of our patients' information. In 2019, we established new Data Management Principles and Guidelines that specify how we use and protect patient data. We are at the forefront of digital transformation, using augmented intelligence, machine learning and big data to improve the patient and caregiver experience. Some of the digital tools we use to support patient access and care include:
Express Care Online, a HIPAA-compliant Skype®-like app that connects patients directly with Cleveland Clinic providers for face-to-face visits
Our DrConnect® tool is an internet-based program specially developed to provide physicians who refer their patients to specialists at Cleveland Clinic secure, real-time information about their patients' treatment progress
MyChart is a secure, online health management tool that connects Cleveland Clinic patients to portions of their electronic medical record, allowing them to see test results, message physicians, schedule appointments and more
| Distance Health Initiatives | 2018 | 2019 | % Change |
| --- | --- | --- | --- |
| Virtual Visits | 45,497 | 58,765 | 29.1% |
| Electronic Medical Record Patients | 8,785,627 | 9,028,206 | 2.8% |
| MyChart Users | 1,132,207 | 1,290,843 | 14.0% |
| DrConnect Users | 11,882 | 12,480 | 5.0% |
With the addition of a new Digital Health Support Desk at main campus in 2019, caregivers can better assist patients in setting up and using our telemedicine services. The desk is located in the Miller Pavilion lobby, near the main entrance information desk, and is staffed weekdays from 8 a.m. to 5 p.m. Our telemedicine services also help patients stay better connected to their loved ones. For example, physicians in the Cleveland Clinic Hillcrest Hospital Intensive Care Unit (ICU) found that only 25% of patients had a family member at the bedside during patient rounds since family members are often unable to be with loved ones during their entire stay. So, they established a way to virtually connect up to eight family members using an application of Express Care Online via a camera mounted on a mobile station. This enables families to be able to see and speak to a patient's entire care team to ensure they have an in-depth understanding of the patient's care and treatment.
In 2019, Cleveland Clinic announced a partnership with one of the world's largest telemedicine companies on a first-of-its-kind initiative to provide broad access to comprehensive and high-acuity care services via telehealth. The service will focus on leading the industry toward integrated, digital care delivery models that complement and are connected to traditional care settings. Through a secure digital platform, people from around the world will be able to connect with Cleveland Clinic's leading specialists and receive insights, opinions, recommendations and assistance for a variety of conditions.
We created the Center for Clinical Artificial Intelligence in 2019 to develop clinical applications for Machine learning (ML) and augmented intelligence (AI). The center will be a hub of collaboration between physicians, researchers, computer scientists and statisticians across the United States and globally to advance the application of ML and AI to diagnostics, disease prediction and treatment planning. Projects already underway include building machine learning models to predict inpatient length of stay and readmission risk with a higher degree of accuracy than existing models.
Patient-Centered Medical Home
Patient-Centered Medical Home
To be successful in population health, we have been transitioning to a team-based care model. A patient-centered medical home (PCMH) is team-based model for patient primary care designed to improve accessibility, reduce costs and address patients' mental and physical health needs. Patients are at the center of the model and are surrounded by a team of caregivers that coordinate appropriate care, including prevention and wellness services.
Cleveland Clinic participates in the Comprehensive Primary Care Plus (CPC+) program, a public-private collaboration created to achieve better primary care health outcomes at lower costs using population health strategies. The goal of the CPC+ program is to improve patient primary care in the program's 18 participating regions across the United States through multi-payer fee and care delivery reform. The program supports participants through value-based payments that promote performance and provides shared resources to improve:
Access and Continuity
Care Management
Comprehensiveness and Coordination
Patient and Caregiver Engagement
Planned Care and Population Health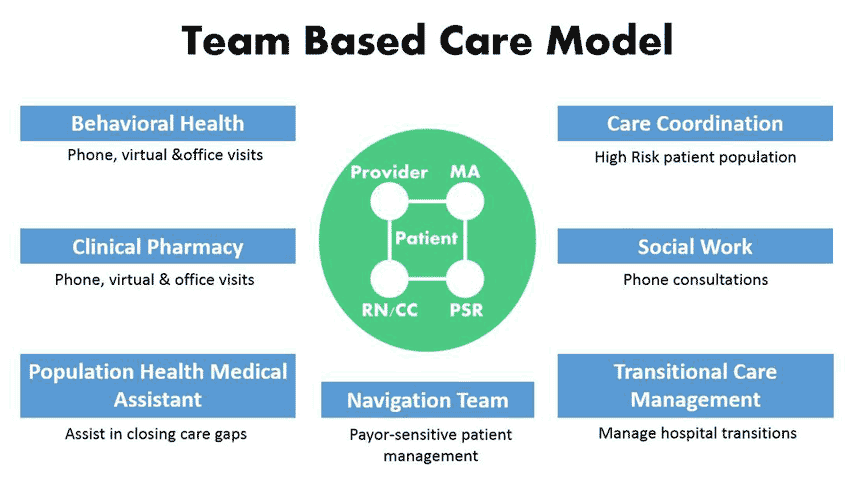 Shared Medical Appointments