Overview
Overview
Water makes up more than 60% of the human body and people need access to clean water to survive. According to the World Health Organization, half the global population will be living in water-stressed areas by 2025.1 Fresh water resources are crucial for both human and economic health, and safeguarding them is increasingly important as scarcity becomes more commonplace. Lake Erie is one of Northeast Ohio's greatest assets, and we are committed to protecting it by managing our water consumption and waste responsibly. As we continue to grow in Florida, the safety and management of the Everglades water resources is also a priority.
---
1 World Health Organization, "Drinking-water," accessed 30 July 2019, who.int/news-room/fact-sheets/detail/drinking-water.
Water Conservation
Water Conservation
Cleveland Clinic is committed to using municipal water responsibly and decreasing our consumption where possible. Our goal is to reduce our water use by 10% from our 2015 baseline by 2027.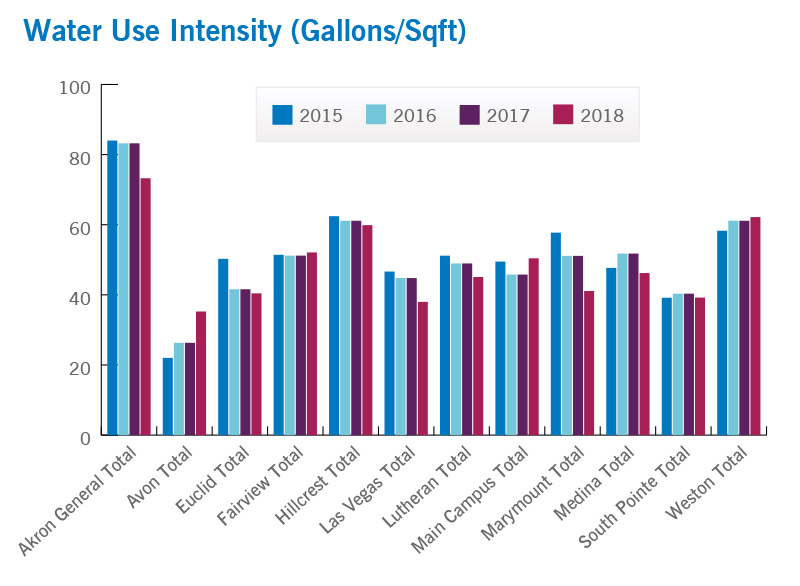 In 2016, we initiated an enterprise-wide water flow reduction assessment in which a team examined multiple options—from changing sinks to redesigning our HVAC systems—to reduce usage. The team determined that the best first step was to restrict flow on existing faucets and showers. Following the completion of a successful pilot at one of our regional hospitals, we installed more than 7,500 low-flow retrofits in sinks and showers across our healthcare system from 2016-2018. Through this initiative, we saved more than 29 million gallons of water—enough to meet the average water needs of 266 American families for an entire year, or to fill 44 Olympic-sized swimming pools—and saved approximately $400,000. Additionally, we are incorporating low-flow fixtures in all of our new design and construction projects, including Lakewood Family Health Center and Akron General's emergency department, which we opened in 2018.
Some of our other water use reduction strategies include:
Adding sensors and controllers to our irrigation system
Using waterless hand scrub in operating rooms
Engaging caregivers and green teams in water-saving behaviors
Promoting proactive leak detection and reporting
Wastewater Stormwater Management
Wastewater Stormwater Management
To protect our local waterways, we carefully manage how we collect and dispose of our various waste streams, and work to reduce the amount of waste we generate and chemicals we use. Examples of our efforts are as follows:
Using an integrated pest strategy to reduce chemical applications
Minimizing our use of herbicides and pesticides on our landscaping
Providing public education on safely disposing of pharmaceuticals at our Earth Day events and offering take back programs at our facilities
Prioritizing organic treatments on the lawn of Crile Mall at main campus, where we host our weekly farmers market April-September
We are also committed to managing stormwater on our properties, which is important because the greater Cleveland area has some combined sewer systems. This means that rainwater and sewage are collected in the same system, and when the system reaches capacity during heavy rain events, it discharges a portion of its contents into local bodies of water (e.g. Lake Erie). For this reason, nearly 4.5 billion gallons of combined rainwater and sewage from Cleveland and its surrounding communities overflow into Lake Erie and other local waterways each year, according to the Northeast Ohio Regional Sewer District.1 To reduce the amount of stormwater that runs off of our properties and into the sewer system, we are increasing the surface area of land that can absorb water.
Cleveland Clinic has implemented a diverse set of programs that impact stormwater:
---
1 Northeast Ohio Regional Sewer District, "About Project Clean Lake," accessed 30 July 2019, neorsd.org/community/about-the-project-clean-lake-program.