Overview
Overview
According to the World Health Organization, half of the world's population will be living in water-stressed areas by 2025.1 Access to clean water sources is essential for health, and we steward these natural assets by reducing our water use, preserving water quality and responsibly managing stormwater and wastewater.
---
1World Health Organization, "Drinking Water," 2021, accessed 10 May 2021, who.int/news-room/fact-sheets/detail/drinking-water
Water Conservation
Water Conservation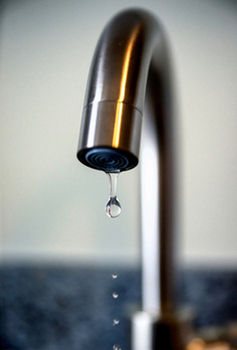 Conserving water reduces the need to divert water from local sources, as well as the energy required to transport, heat, and clean water. Our goal is to reduce our water consumption by 10% from our 2016 baseline by 2027. We decided to change our baseline year from 2015 to 2016 because we enhanced our data collection practices for water data in 2016, and data from this year serves as a more consistent and reliable baseline. Our water conservation strategies include green building design, landscaping and caregiver engagement.
We consciously include water conservation measures in the design of new facilities. Initiatives include the installation of high efficiency fixtures, equipment and irrigation systems. We also install fixtures with motion sensors and low-flow faucets, toilets and showers in our facilities where feasible. To conserve water used in landscaping, we capture rainwater, install high-efficiency sprinkler systems with moisture sensors and plant drought-tolerant vegetation.
Caregiver engagement is core to all of our resource conservation programs. Through the Sustainability team's Connect Today site—a caregiver collaboration platform that enables teams to create communities with unique content—we provide caregivers with tips on conserving water at work and at home, and also provide a form caregivers can use to report leaks. Additionally, our green teams and committees share and promote water-saving behaviors across the enterprise. For example, we incorporated waterless hand scrub in our operating rooms as a result of a project championed by one of our Ken Lee Memorial Fellows and Greening the Operating Room Committee.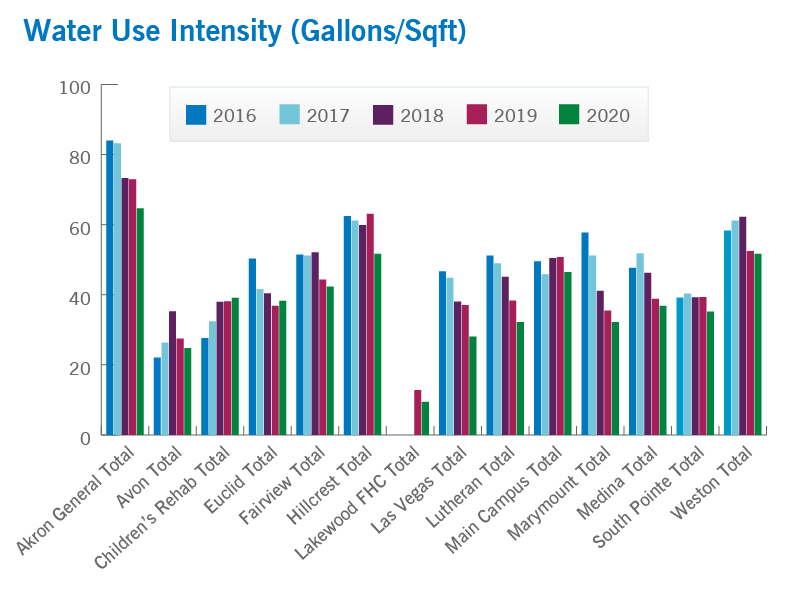 Our water use per square foot decreased by 9% in 2020 compared to 2019, largely due to disruptions in our operations during the COVID-19 pandemic. Since 2016, we have reduced our water use per square foot by 11%.
Water Quality
Water Quality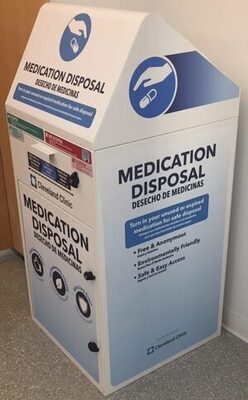 Through our Green Cleaning Directive and Integrated Pest Management Operating Procedure, we have streamlined the number of chemicals we use and prioritize chemicals that are safer for human and environmental health in our operations. To ensure caregivers know how to safely identify and handle chemicals, we provide training to all caregivers on safe chemical management practices and accessing Material Safety Data Sheets. We also seek to minimize the use of chemicals in our landscaping and prioritize greener chemical applications where necessary.
Through our drug take-back program, we support community health and water quality by reducing opportunities for illegal diversion and disposal of unused medications. We have nine Northeast Ohio locations where caregivers, patients and families can drop off unused prescription medications (including inhalers), over-the-counter medications and other drugs 365 days a year:
Beachwood Family Health Center
Crile Pharmacy (main campus)
Euclid Avenue Pharmacy (main campus)
Hillcrest Hospital
Independence Family Health Center
Lutheran Hospital
Marymount Hospital
Medina Hospital
Richard E. Jacobs Family Health Center
To ensure confidentiality, we shred all prescription bottles with labels through this program.
Wastewater & Stormwater Management
Wastewater & Stormwater Management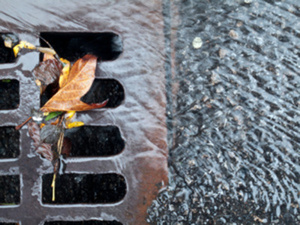 We have robust waste management programs to prevent hazardous materials from entering local watersheds. Through our water conservation and green building efforts, we reduce the amount of stormwater and wastewater entering sewer systems and waterways. Some of our green building efforts include:
Installing rain gardens with native plants, pervious pavers, detention ponds and other stormwater management infrastructure
Increasing green space and decreasing impervious surface area
Consolidating impervious area used for parking at main campus and Fairview Hospital via parking garages
Supporting our green teams in creating and maintaining pollinator, rain, produce, and other types of gardens
We also collaborate with local organizations to plant trees in Fairfax and give away trees to our caregivers to plant at their homes through our caregiver tree giveaway program.