Overview
Overview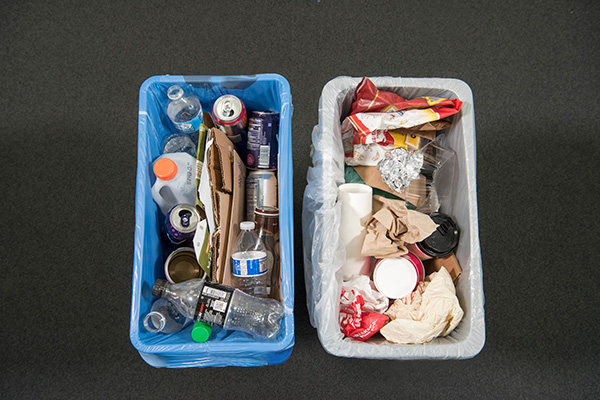 Cleveland Clinic has a goal to divert 100% of our non-hazardous waste from landfills by 2027. Our efforts include reducing the amount of waste we generate, reprocessing devices, recycling and composting programs and creative reuse initiatives. These efforts involve collaboration across multiple departments and individual caregiver participation. In addition to our enterprise waste reduction initiatives, many caregivers champion waste reduction and recycling efforts in their functional areas, especially members of our green teams, committees and communities.
Landfill Diversion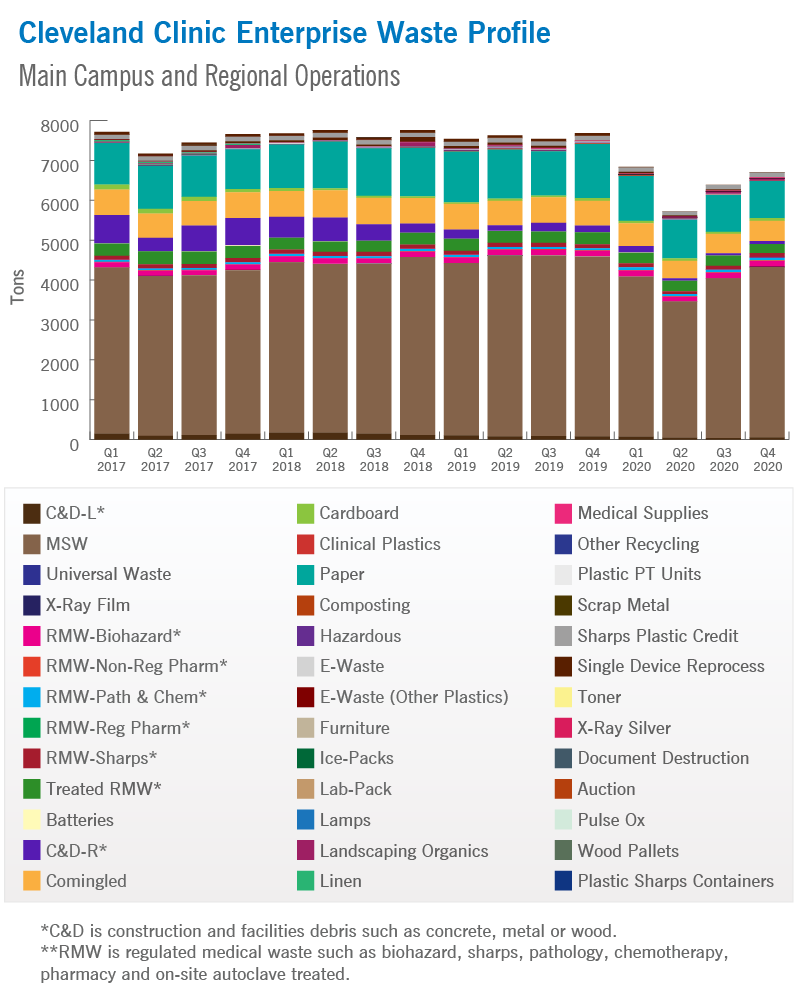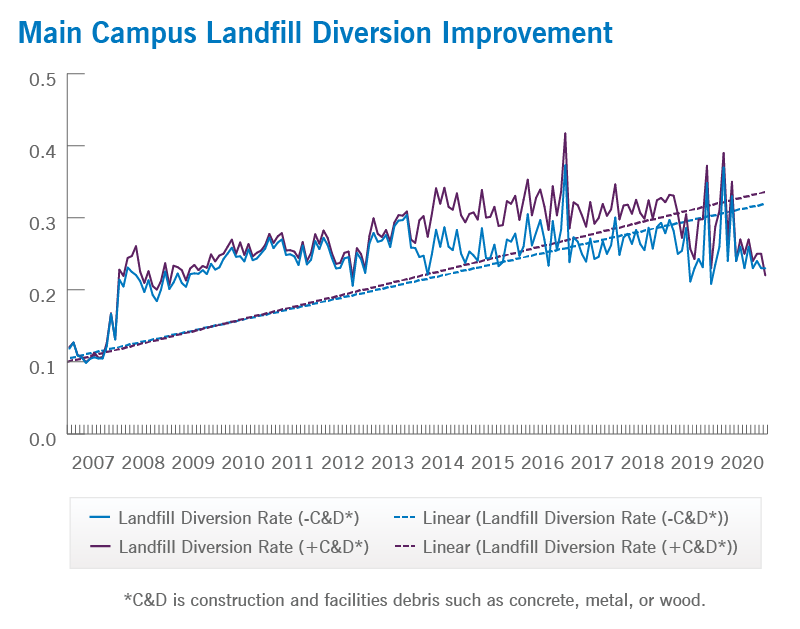 COVID-19 and Waste at Cleveland Clinic
The COVID-19 pandemic increased the use and visibility of disposable items, such as facemasks, gloves and hand sanitizer. The widespread use and littering of these items across the nation and around the world raised awareness of the pandemic's environmental consequences, generating a national conversation on the issue of waste and COVID-19. At Cleveland Clinic, the pandemic had a mixed impact on our waste reduction and recycling efforts. Our overall use of materials declined in 2020 due to a slowdown of both clinical operations and construction, and we generated nearly 16% less waste compared to 2019. Additionally, our recycling rate, which includes waste from construction and debris (C&D), decreased from 29% in 2019 to 27% in 2020. Our enterprise landfill diversion rate including C&D was 29% in 2020, compared to 32% in 2019.
The decline of our recycling and landfill diversion rates are primarily attributable to decreases in the volume of construction material and paper we produced. Due to the pandemic, we postponed our renovation and construction work and transitioned administrative teams to a work from home model. Our construction work will recommence, but a portion of our caregivers will be working from home permanently on a full-time or part-time basis moving forward, which we expect will impact our recycling rates.
Hazardous and Regulated Medical Waste
Hazardous and Regulated Medical Waste
While we work to reduce the amount of hazardous waste we generate, important items for healthcare delivery such as sterilization chemicals, pharmaceuticals, electronics, laboratory chemicals and radiological films contain hazardous properties. We have several policies and standard operating procedures (SOP) to ensure the safe handling, storage, transportation and disposal of all hazardous wastes, including but not limited to a Hazardous Materials Transportation SOP, Hazardous Waste Management SOP, Hazardous Chemical Identification and Communication Policy, Hazardous Chemical Delivery and Storage Policy and Hazardous Drug and Pharmaceutical Waste Disposal Procedure. We work with a U.S.-based vendor to manage our hazardous waste within the U.S. and do not import, export or ship any hazardous waste internationally. In 2020, we transported 20 tons of hazardous waste from our Ohio and Florida hospitals and family health centers for treatment.
Our Greening the Operating Room (OR) Committee educates and engages caregivers on proper waste sorting in our ORs, and champions recycling pilots and programs, reprocessing efforts and transitioning away from single-use items where possible. One of the Committee's focus areas is reducing the amount of regular trash and recycling items placed in regulated medical waste (RMW) receptacles. Efforts include sharing the environmental and cost benefits of proper waste sorting, standardizing the number of bins in our ORs and reducing the size of our RMW bins where possible. Additionally, Cleveland Clinic processes a portion of our RMW at main campus, Hillcrest Hospital and Akron General Hospital where we have equipment to do so, reducing the transportation footprint of managing this waste.