Overview
Overview
Cleveland Clinic has a goal to divert 100% of our non-hazardous waste from landfills by 2027. Our efforts include reducing the amount of waste we generate, reprocessing, recycling and composting programs and creative reuse initiatives. We involve our caregivers in waste reduction and sorting efforts in various ways, including contests and competitions for our green teams, and collaborate with various departments across the enterprise to maintain our programs and make progress.
Landfill Diversion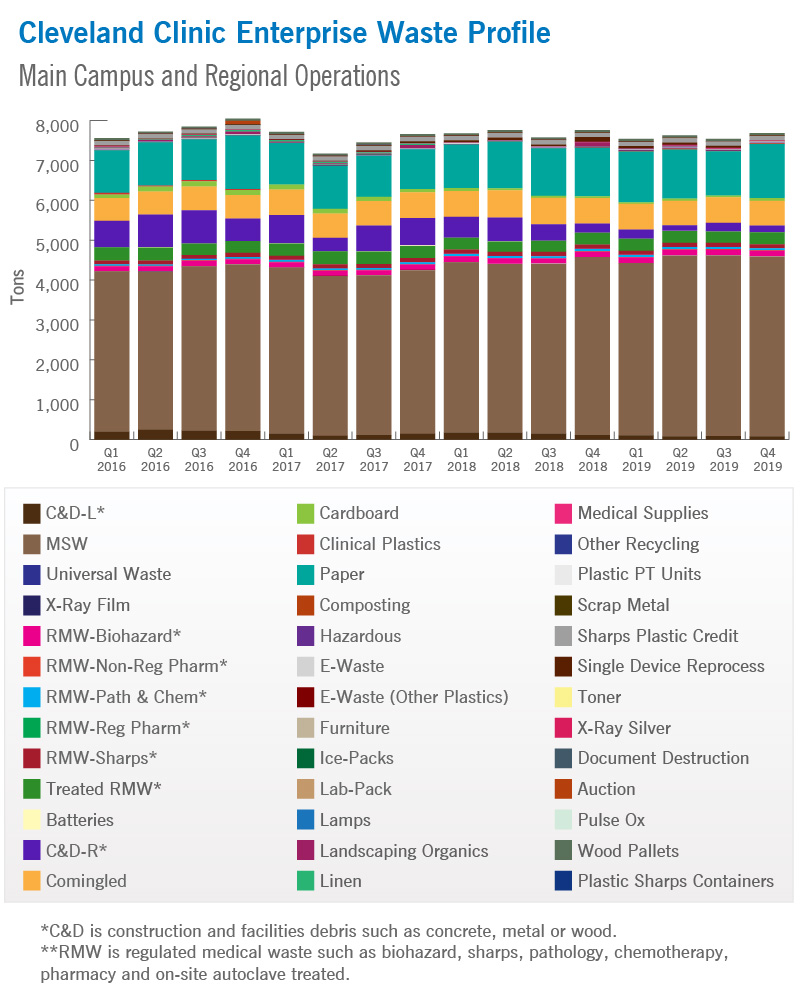 In 2019, our enterprise landfill diversion rate excluding construction and debris (C&D) decreased slightly from 31% in 2018 to 30% in 2019. Our enterprise landfill diversion rate including C&D was 32% in 2019, compared to 34% in 2018 because we had fewer active construction projects in 2019.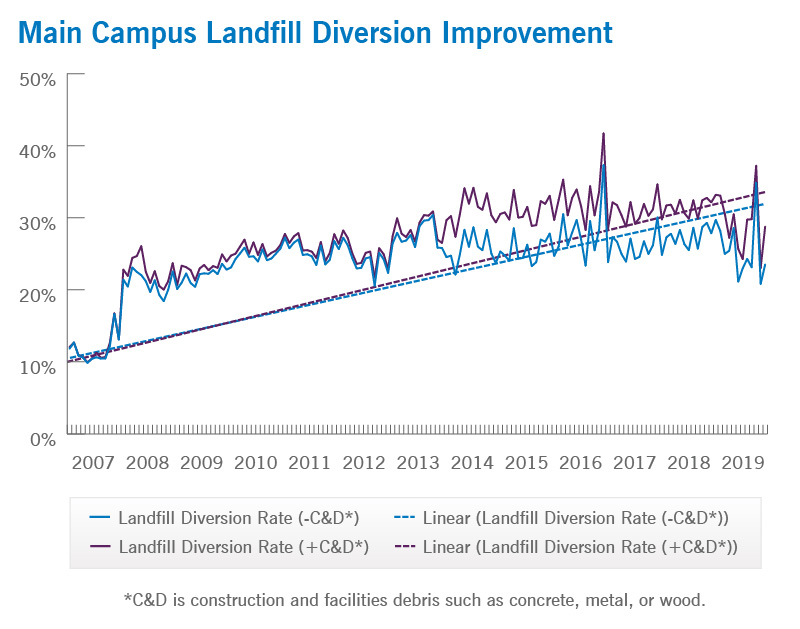 Hazardous and Regulated Medical Waste
Hazardous and Regulated Medical Waste
While we work to reduce the amount of hazardous waste we generate, important items for healthcare delivery such as sterilization chemicals, pharmaceuticals, electronics, laboratory chemicals and radiological films contain hazardous properties. We have several policies and standard operating procedures (SOP) to ensure the safe handling, storage, transportation and disposal of all hazardous wastes, including but not limited to a Hazardous Materials Transportation SOP, Hazardous Waste Management SOP, Hazardous Chemical Identification and Communication Policy, Hazardous Chemical Delivery and Storage Policy and Hazardous Drug and Pharmaceutical Waste Disposal Procedure. We work with a U.S.-based vendor to manage our hazardous waste within the U.S. and do not import, export or ship any hazardous waste internationally. In 2019, we transported 83 tons of hazardous waste from our Ohio and Florida hospitals and family health centers for treatment. Additionally, we have an e-waste recycling program and recycled 80 tons of electronics in 2019.
We collaborate across departments to minimize our use of products and processes that generate regulated medical waste (RMW) and to ensure proper waste sorting. In 2019, our Greening the Operating Room (OR) Committee focused on reducing our RMW in operating rooms by standardizing the number of bins in our ORs and reducing the size of our RMW bins where possible. Committee members also met with caregivers to share the environmental and cost benefits of ensuring only RMW is placed in these bins, and provided signage on sorting waste in our ORs. As a result of this initiative, we found a 22% reduction in RMW in the first full month of data we collected compared to the monthly average for the last three years during this same time period. We also process a portion of our RMW at main campus, Hillcrest Hospital and Akron General Hospital where we have equipment to do so, reducing the transportation footprint of managing this waste.
Reprocessing, Recycling and Composting
Reprocessing, Recycling and Composting
Single-Use Device Reprocessing
Caregivers prepare operating rooms by arranging sterile clinical instruments that surgeons may need during a procedure, however, surgeries do not always require the use of all instruments. We have been reprocessing these devices since 2011 to prevent them from entering the waste stream by following a strictly regulated process for sterilization and quality assurance. Once completed, we reuse or resell the reprocessed items at a lower cost to healthcare providers. In 2020, we reprocessed approximately 44 tons of single-use devices through this program.
Recycling
To better understand current recycling trends and challenges, including ways the COVID-19 pandemic was impacting recycling, Cleveland Clinic Sustainability visited a local Material Recovery Facility (MRFs) in the spring of 2020. Through this visit, the team learned more about common contaminants placed in recycling bins and the damage they can cause to recycling equipment, recycling markets and the value of different recyclable materials. This tour was part of the Sustainability team's ongoing efforts to improve Cleveland Clinic's recycling programs. Additional 2020 recycling initiatives included engagement with vendors to identify and reduce recycling contamination, updating signage, making and communicating about changes to recycling programs due to COVID-19, exploring new recycling programs and identifying ways to expand existing programs. Despite disruptions related to the COVID-19 pandemic, in 2020 we recycled:
3,492 tons of paper
2,008 tons of comingled recyclables
99 tons of scrap metal
245 tons of cardboard
Cardboard was in high demand in 2020 because the COVID-19 pandemic led to an increased demand for shipping items. In response, our Sustainability team increased communications with our green teams and caregivers about our cardboard recycling programs. As a result, we recycled more cardboard in 2020 than we did in 2018 (229 tons) and 2019 (216 tons).
Composting Food Waste
The COVID-19 pandemic significantly impacted our composting program in 2020. When possible, we continued composting pre-consumer food scraps from our nutritional services at our main campus and Euclid, Avon, Fairview and Lutheran hospitals with our local, Cleveland-based vendor. We composted approximately 23 tons of food waste in 2020.
Kick the Can Campaign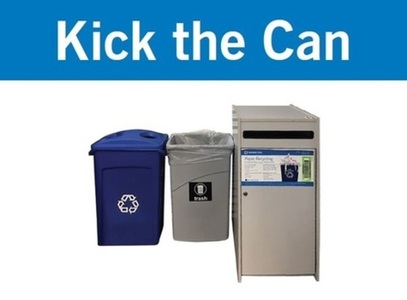 To reduce COVID-19 transmission risk at our facilities, Cleveland Clinic transitioned more than 7,000 caregivers to a work-from-home model in March 2020. Following this transition, EVS was still collecting trash from individual waste bins at administrative locations for a reduced number of caregivers, some of whom were working only intermittently on site. Recognizing an opportunity to conserve resources, Sustainability and EVS worked together to inventory existing trash and recycling bins, develop plans to create centralized trash and recycling stations and remove excess bins at 13 Cleveland Clinic facilities. The Kick the Can initiative yielded the following positive outcomes:
Saved time for EVS caregivers
Reduced waste from trash liners
Decreased recycling contamination by aggregating bins and signage
Creative Reuse
Creative Reuse
In addition to our waste reduction, reprocessing, recycling and composting efforts, we look for projects and collaborations that enable us to give waste products new life through creative reuse. In 2019, this included a collaborative installation with local artist, Dana Depew, and a contest for our enterprise green teams to create art from single-use plastic waste.
Makeshift Sanctuary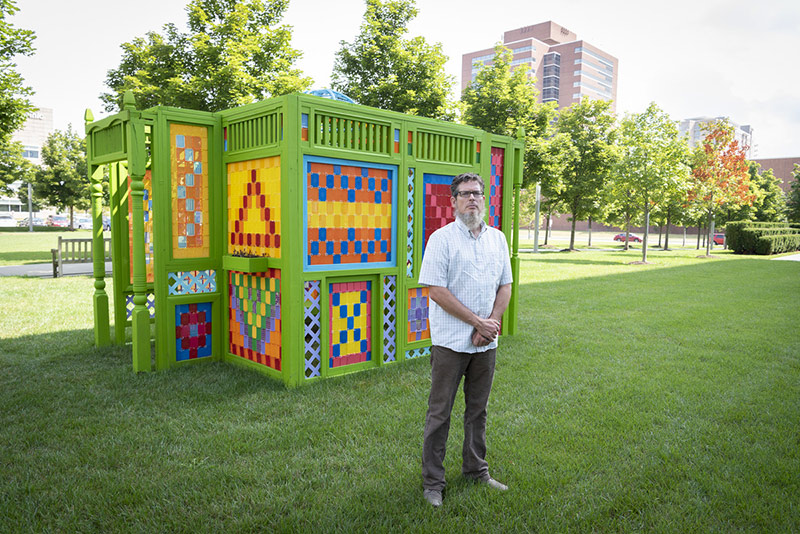 Artist Dana Depew in front of Makeshift Sanctuary
Cleveland Clinic Sustainability and the Art Program teamed up with local artist Dana Depew to create a structure made from single-use plastics in celebration of Cuyahoga50—a citywide event commemorating Cleveland's efforts toward environmental sustainability. Depew lives and works in Sullivan, Ohio, and is best known for using reclaimed materials from around the city of Cleveland to create his colorful installations.
Depew's piece, Makeshift Sanctuary, was on display in the green space behind the Taussig Cancer Center on main campus from May through October 2019. Depew constructed the installation from reused plastic pipette tip boxes collected from the clinical labs of Special Chemistry, Clinical Pathology and the Genomic Medicine Institute. The artist upcycled other reclaimed materials, and he constructed simple wooden benches to decorate the interior. These benches reinforce the idea that this sanctuary is a space for visitors to pause and reflect—to consider the nature of the structure, its materials, their own environmental efforts, and what it means to feel secure both in one's surroundings and in the future.
The piece aims to show that—both as a healthcare system and as a society—we generate an enormous amount of single-use plastic waste. Plastics don't dissolve, but instead they break down into tiny pieces over time in our waterways, creating microplastics. These microplastics are challenging and expensive to remove, and pose dangers to our health, wildlife and waterways.
Green Team Great Lake Plastic Art Contest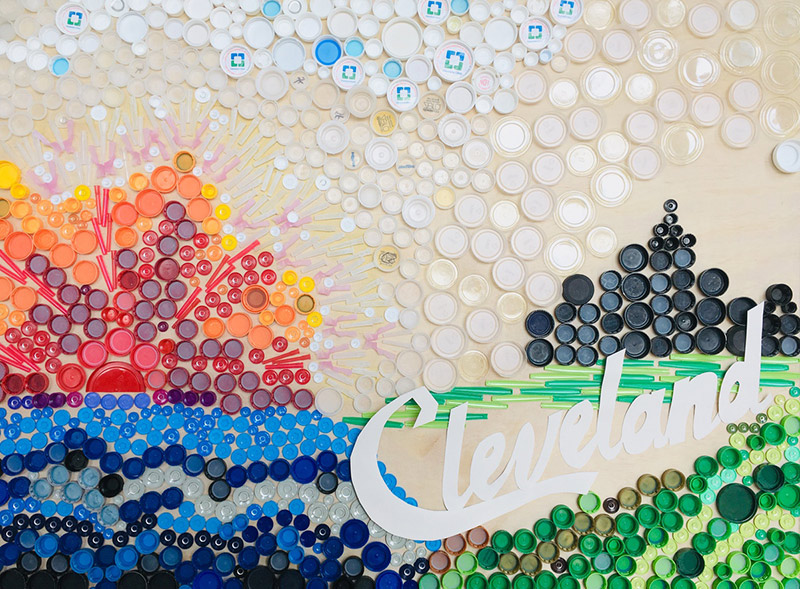 Cleveland Sign at Sunset, Edgewater Park, Lakewood by the Avon Green Team
We tasked our green teams with tackling plastic pollution to protect Lake Erie through a creative reuse contest. The goal of the contest was to encourage green teams to reduce single-use plastic waste at their facilities and to generate awareness of plastic pollution by creating a work of art of Lake Erie from single-use plastic waste (80% or more of which was generated from the workplace and up to 20% from home).
To decide on a winner, we posted all works of art on our intranet for caregivers to vote on their favorite piece. The Avon green team created the winning piece and chose to depict the Cleveland script sign at Edgewater Park to show their gratitude for the waterfront and the regionally-famous Cleveland script signs located around the city that highlight various photo-op backdrop gems of Cleveland.
Caregivers at the Avon Hospital and Avon Family Health Center collected all the plastic to make the artwork, the majority of which were caps from needles, syringes, vials and medication bottles. Their aspiration for the mural is that it will raise awareness about plastic use in the hospital system and at home, and make people think about the single use plastics they use every day and ways they can minimize their impact.