Overview
Overview
Delivering our healthcare services requires a significant quantity of supplies, and in 2018 Cleveland Clinic used more than 26,000 tons of materials. Cleveland Clinic is committed to minimizing the amount of waste we generate across our health system, reusing and recycling wherever possible and managing all other waste we produce responsibly. To achieve our goal of reusing or recycling 100% of our non-hazardous waste, we have several different waste management strategies and encourage our caregivers across the Enterprise to identify creative solutions for curtailing and repurposing our waste streams.
Landfill Diversion
We divert waste from landfill through reuse, recycling and composting programs. In 2018, our enterprise landfill diversion rate excluding construction and debris (C&D) was static from 2017 at 31%. Our enterprise landfill diversion rate including C&D was 35% in 2018, compared with 36% in 2017. To identify additional opportunities for diverting waste, the Office for a Healthy Environment formed a cross-departmental zero waste committee. This dedicated group of caregivers supports waste audits and champions waste diversion efforts across the enterprise.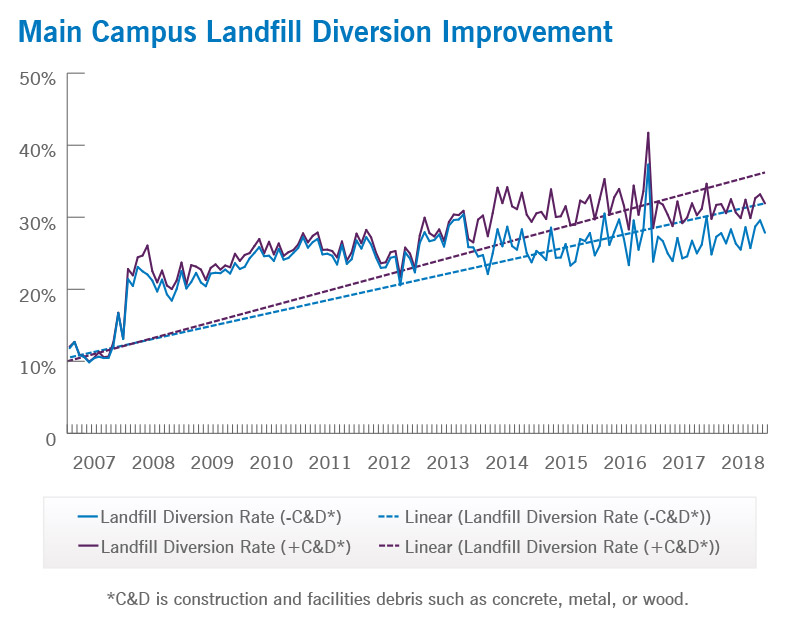 Single Use Devices and Medical Waste
Single Use Devices and Medical Waste
Single Use Device Reprocessing
Where possible, we prefer to reuse products because reprocessing them has a smaller environmental footprint than recycling. As part of preparation for surgery, caregivers remove clinical instruments from their packaging, but do not always use every instrument during a procedure. To prevent these items from incineration or treating them as regulated medical waste, we adopted a program in 2011 to clean and repurpose these devices. Each instrument undergoes a strictly regulated process for sterilization and quality assurance, after which we reuse or resell the reprocessed items at a lower cost to healthcare providers. In 2018, we diverted more than 66 tons of devices by repurposing them through this program.
Hazardous and Regulated Medical Waste
Sterilization and water treatment chemicals, pharmaceuticals, cleaning products, electronics, laboratory chemicals and radiological films serve important roles in healthcare delivery, but contain hazardous properties and require proper disposal to safeguard public and environmental health. We work to minimize our use of products and processes that generate regulated medical waste (RMW) and find alternatives where possible. Additionally, to decrease the environmental footprint of processing RMW, we sterilize a portion of it in-house at our main campus via two Rotoclaves, as well as at our Hillcrest and Akron General Hospitals. In 2018, we decreased the amount of RMW we produced by 10% compared to 2017.
Recycling & Composting
Recycling & Composting
Recycling
Following China's foreign waste ban in January 2018, U.S. recyclers have struggled to find an outlet for recycled waste, especially plastics. This means that while we continue to divert as much waste as possible via recycling, there is unfortunately little economic incentive currently for manufacturers to use this material to make new products.
One of the reasons for China's restrictions was the high levels of non-recyclable and contaminated recyclables in the U.S.'s recycling stream. According to the National Waste & Recycling Association, about 25% of recycled waste generated in the U.S. is contaminated. To increase the marketability of our recyclable plastic, we distributed educational materials to encourage caregivers to only recycle appropriate items that are empty, clean and dry in our blue single-stream recycling bins. In 2018, we continued to encourage our caregivers to "go green by using blue" and increased our comingled, blue-bag recycling by 3%. Additionally, through our "Kick the Can" program, we work with caregivers across the organization to streamline the number of waste receptacles and increase recycling bins in support of our zero non-hazardous waste to landfill goal.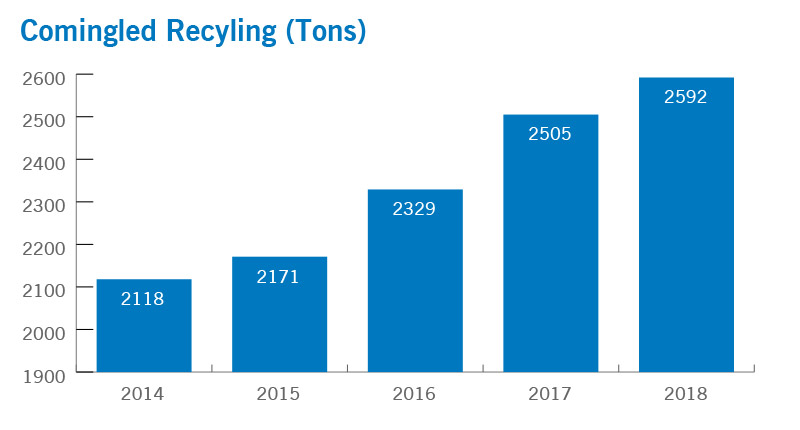 In 2018, we continued our paper shredding recycling program that we began in 2010. In addition to protecting personal patient and sensitive internal information, this separate recycling stream for paper products simplifies sorting and minimizes contamination rates, making it a highly marketable recycling stream and one of our most cost effective methods.
Metal Recycling Program
While China's foreign waste ban has had a profound impact on plastic recycling, there remains a strong local market for recycling metals in northeast Ohio. In 2017, the Office for a Healthy Environment (OHE) and facilities teams began a metal recycling program at all northeast Ohio locations, selling the scrap to a local metal recycling vendor for reprocessing into new products. In the program's second year, we diverted over 250,000 pounds of metal from the landfill, more than double the waste we recycled in its inaugural year. This year, the Cleveland Clinic main campus won a trophy created by a local artist from recycled scrap metal for recycling the most metal among our Northeast Ohio hospitals.
Composting Pilot
In 2018, we worked with Rust Belt Riders to launch a composting pilot for pre-consumer food scraps from our nutritional services at our main campus and Euclid, Avon, Fairview and Lutheran regional hospitals. This local Cleveland-based company composts the scraps via windrows and sells the nutrient-rich soil produced to urban gardeners and farmers to turn food waste into a community asset.
Healthcare Plastics Recycling Council
Cleveland Clinic rejoined the Healthcare Plastics Recycling Council (HPRC) Healthcare Facility Advisory Board (HFAB) in the fall of 2017. HPRC is a project-based private technical consortium of globally recognized members from the healthcare and recycling industries. The council is currently focused on projects that seek to promote a circular economy for healthcare plastics. HPRC members meet bi-annually in person and the technical working group conducts monthly virtual meetings, during which project leaders give updates on progress and challenges and solicit input from the group. The HFAB also meets monthly to discuss issues specifically of interest to the healthcare facility side of the group.
HPRC promotes a closed-loop approach to effectively recycling healthcare plastics throughout organizations' value chains. This past year, HFAB members (including representation from the Cleveland Clinic liaisons to HPRC, Office for a Healthy Environment (OHE) Regional Program Coordinator, Gabriele Olinchic and OHE Medical Director, Ilyssa Gordon, MD, PhD) refreshed their key resource for healthcare facilities, Hospicycle. Projects completed last year include a guidance tool for recyclers and scientific testing of film plastics recovered from the healthcare setting to evaluate their properties and identify opportunities for repurposing the material. Cleveland Clinic Greening the OR team members Sofya Asfaw, MD and 2018 Ken Lee Fellow Voranaddha Vacharathit, MD along with OHE Administrative Program Coordinator, Emily Szramowski and other members of the OHE helped sort and package our Clinical OR plastics to be used in this project.
OHE members are currently involved in two ongoing HPRC projects through the fall of 2019. Dr. Gordon is the project lead on the Recycling Vendor Directory project, the desired outcome of which is to create a geographic database of recyclers and plastic processors that manage healthcare plastics.
"This is a very common question that we are asked—'Who is taking your clinical plastics? Can they take ours too?' The market is region dependent, and this will be the first resource to actively connect healthcare organizations to plastics recyclers who are interested in this valuable feedstock that we generate," says Dr. Gordon.
An important component of being able to recycle any plastic, and healthcare plastics especially, is identifying markets to buy the recycled plastic to incorporate into their products. Leveraging its membership of global leading companies in healthcare products, devices and packaging, the HPRC is developing a Circular Healthcare Plastics Whitepaper to identify circular opportunities and document challenges for using recycled plastic resins in medical devices and medical device packaging. OHE Sustainable Purchasing Project Manager, Andrew Pettit, is contributing his purchasing expertise to this important project.
---
1National Waste and Recycling Association, "NWRA Celebrates America Recycles Day," accessed 30 July 2019, wasterecycling.org/news/426888/NWRA-Celebrates-America-Recycles-Day.htm.