Overview
Overview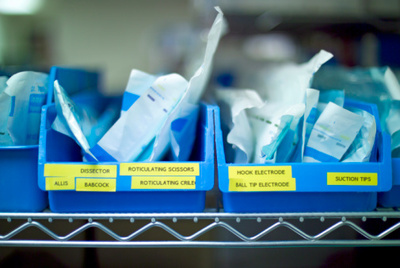 According to Health Care Without Harm (HCWH), 64% of greenhouse gas emissions from U.S. healthcare organizations are Scope 3 emissions, which includes emissions from purchased goods and services (manufacturing, transportation and disposal).1 Due to the large environmental impact of our supply chain, we engage with our suppliers on their organizational sustainability commitments as well as the sustainable attributes of their products and services.
Many caregivers support our responsible procurement efforts, some of which include increasing our spend with local and diverse suppliers, sourcing food produced using sustainable practices and purchasing environmentally preferable electronics. In 2020, Cleveland Clinic received a three star Electronic Product Environmental Assessment Tool (EPEAT) Purchaser Award. The Green Electronics Council provides these awards to recognize organizations with a commitment to sourcing green electronics, and 100% of the computers and displays we purchased in 2020 were EPEAT Gold level. In addition, 96% of all furniture we procured in 2020 met the HCWH's Healthy Interiors Criteria.
Cleveland Clinic Sustainability has a dedicated project manager to support sustainable procurement initiatives. Their responsibilities include incorporating sustainability criteria into requests for proposals and supplier agreements, evaluating products and suppliers for environmental, social and governance (ESG) criteria, engaging directly with suppliers and Group Purchasing Organizations (GPOs) to gather product sustainability data, advocating for progress on sustainable practices in the healthcare supply chain and reviewing third-party ratings and rankings on suppliers' sustainability performance.
Sustainable procurement efforts related to products and services include:
Supporting circular economy efforts to minimize resource use and waste
Procuring items with reputable, third-party certifications for sustainable attributes and safer, healthier ingredients
Minimizing packaging waste and the transportation footprint of products and services
Eliminating mercury, polyvinyl chloride (PVC) and Di-2-ethylhexyl phthalate (DEHP)
Reducing hazardous waste and bioaccumulative toxins (PBTs)
In 2020, Cleveland Clinic Sustainability and Supply Chain & Support Services worked together to add language to our Supplier Handbook that reflects our increasing commitment to supply chain sustainability. To support our efforts in measuring and reducing the environmental impacts of our supply chain, the new Supplier Handbook language requires vendors to provide metrics on key enterprise goals and initiatives for Cleveland Clinic:
Waste Reduction and Recycling
Safer Chemicals
Energy Conservation
Climate Resilience
Water Stewardship
Green Building
Healthy/Local/Sustainable Foods
We also adopted language to notify vendors that Cleveland Clinic expects them to comply with the environmental, social and governance (ESG) standards outlined in the United Nations Global Compact and will assess their performance in these areas. Ongoing dialogue and collaboration with our vendors provides opportunities for innovation and leadership in greening healthcare's supply chain, and we look forward to working with our vendors to make progress on important ESG issues.
---
1Health Care Without Harm, "Health Care's Climate Footprint: How the Health Sector Contributes to the Global Climate Crisis and Opportunities for Action," 23 September 2019, accessed 22 September 2021, noharm-global.org/sites/default/files/documents-files/5961/HealthCaresClimateFootprint_092319.pdf
Sector Leadership
Sector Leadership
The mission of our Supply Chain & Support Services team is to empower caregivers to deliver world class healthcare, research and innovation focused on "Patients First" by providing optimal resources at the best value. Supply Chain & Support Services combines complimentary skills (e.g. contract management and logistics) to drive operational excellence and an exceptional experience for patients. For innovating to improve patient outcomes and reduce costs, Gartner recognized Cleveland Clinic in its 12th annual Healthcare Supply Chain Top 25 list. Cleveland Clinic placed third on the 2020 list of organizations and has been included on Gartner's list for five consecutive years.
Sharing Sustainable Practices
We strive to serve as a thought leader and role model in the healthcare industry for sustainable supply chain initiatives. As a member of Practice Greenhealth (PGH), we share best practices with our peers through:
Virtual cohorts focused on specific sustainability topics, such as Sustainable Procurement
The Market Transformation Group, which focuses on driving sustainable practices in the health care supply chain
Cleveland Clinic is also a signatory to PGH's Environmentally Preferred Purchasing Pledge. Our participation in these initiatives is ongoing throughout the year, and includes monthly update calls with PGH and quarterly calls with healthcare peers on specific sustainability topics.
In 2020, PGH recognized Cleveland Clinic with a Circle of Excellence Award for our environmentally preferable purchasing (EPP) efforts in 2019. Cleveland Clinic also received this honor in 2015, 2016, 2017 and 2019 for our leadership in sustainable procurement. Due to the COVID-19 pandemic, PGH did not offer applications for Circle of Excellence Awards for 2020 performance.
Vizient Environmental Advisory Council
Cleveland Clinic is a member of Vizient's Environmental Advisory Council, which is a group of 15 healthcare systems that advise Vizient—the largest Group Purchasing Organization in the country—on its environmentally preferred sourcing strategy. This includes working with suppliers on reporting their environmental performance at the product level, and Vizient has engaged suppliers in disclosing their performance on 23 environmental attributes to date. Vizient's purchasing reach extends to more than 50% of US healthcare spend, which enables Cleveland Clinic to impact the behavior of suppliers at a far greater scale as a member of the council.
Healthcare Anchor Network Impact Purchasing Commitment
In 2020, Cleveland Clinic joined the Healthcare Anchor Network (HAN), a national collaboration of leading healthcare systems committed to using their purchasing power to address the economic, racial, and environmental resource disparities that impact community health. We were one of 14 HAN member health systems that signed the Impact Purchasing Commitment, which includes supplier diversity, sustainability and community wealth building goals. Developed in partnership with Practice Greenhealth, the sustainability goals include five-year targets related to sourcing sustainable food and renewable energy, reducing anesthesia and transportation emissions, eliminating chemicals of concern and transitioning from single-use disposable products to reusable products in operating rooms. As a signatory of the Impact Purchasing Commitment, Cleveland Clinic has pledged to select and achieve four of the seven goals by 2025.
Local and Sustainable Food
Local and Sustainable Food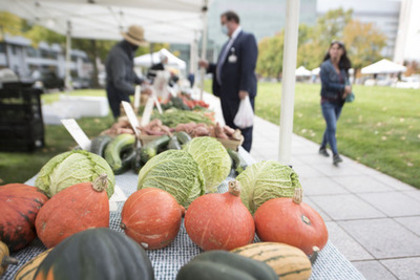 Each year, Cleveland Clinic offers meals, snacks and beverages to millions of patients, visitors and caregivers. To support the health and well-being of those we serve, we focus on providing nutritious food options and eliminating options that are fried and/or contain trans fat, high fructose corn syrup and added sugars or syrups. We are also committed to sourcing local and sustainable foods to support local economies and reduce the environmental footprint of our food service. We include local, sustainable and healthy food criteria in our food service contracts and regularly engage with our food service providers to gather data to evaluate products and measure our progress.
Our 2020 goal was to purchase more than 30% of ingredients for our main campus from local (sourced within 250 miles) and/or sustainable sources. As of the end of 2020, 46% of food we purchased for main campus was local or from farms and producers that use sustainable practices. This large increase in the percentage of food we sourced locally was due to disruptions resulting from the COVID-19 pandemic. Due to pandemic-related reductions in food service demand, we continued to source many ingredients locally while reducing larger orders for ingredients sent from more than 250 miles away.
Criteria we use to evaluate food for sustainable attributes include:
Health Care Without Harm's Sustainably-Raised Meat and Poultry guide
Practice Greenhealth's Healthy Beverage and Less Meat, Better Meat criteria
Third-party animal welfare certifications, such as Certified Humane and Global Animal Partnership
USDA-approved label claims
Our HAN Impact Purchasing Commitment goal for 2025 is to source at least 20% of food across the enterprise that meets sustainable criteria.
Farmers Market Program
According to a 2018 Cuyahoga County Supermarket Assessment prepared by the Cuyahoga County Planning Commission and Cuyahoga County Board of Health, more than 59% of Cleveland residents and 35% of Cuyahoga County residents live in Food Deserts. Areas in the assessment qualify as Food Deserts if they are located more than a half mile from a grocery store and over 30% of their population's income is 200% below the poverty level.2 To improve community access to fresh, local foods, Cleveland Clinic sponsors a community Farmers Market program, which includes markets at our main campus and several of our regional hospitals and family health centers. We offer the following USDA programs at our markets: Supplemental Nutrition Assistance Program (SNAP), WIC Farmers Market Nutrition Program (FMNP) and Senior Farmers Market Nutrition Program coupons. Additionally, guests at our markets have access to unlimited free or free parking up to one hour, depending on the location.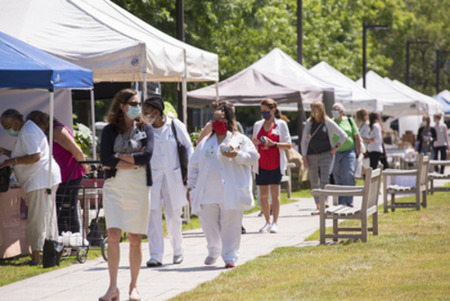 In 2020, we hosted our 12th annual Farmers Market season at Crile Mall on main campus to provide fresh, local produce to patients, visitors, and caregivers. Sustainability collaborated with various teams throughout the enterprise to redesign and operate the market in accordance with CDC guidelines and best practices on COVID-19 to ensure the safety of vendors and customers. Measures we adopted included:
Early priority shopping for customers aged 60+ and/or who are immune compromised
Hand sanitizing stations and hand-washing protocols
Ground markers to help customers maintain a six-foot distance from vendors and each other
One-way navigation through the market
No reusable bags or touching of produce
Vendors bag products for customers
Guidance for vendors and customers to remain home if sick, even with mild illness
---
2 The Food Trust, "Food Access Raises Everyone: A Collaborative, Comprehensive Approach to a Healthier Cleveland and Cuyahoga County," accessed 4 June 2020, thefoodtrust.org/uploads/media_items/fare-report-final-lowres.original.pdf