Overview
Overview
Healthcare facilities are important anchors of the urban landscape, housing critical community resources and employing thousands of people. Residential and commercial buildings accounted for about 40% of total U.S. energy consumption in 2018, resulting in air, water and soil pollution.1 Cleveland Clinic is committed to addressing the intrinsic link between a person's health and the environment by constructing and operating healthy buildings in order to support our mission of providing better care of the sick, investigating their problems and furthering education of those who serve. To this end, we consider indoor environmental quality measures such as lighting, thermal conditions, ergonomics, air quality, water quality, and other factors that support the health of our caregivers, patients and communities.
Since 2007, Cleveland Clinic has implemented the U.S. Green Building Council's (USGBC) Leadership in Energy and Environmental Design (LEED) rating system to provide a framework for the construction of healthy, sustainable, energy and resource efficient and cost-saving green buildings. To date, we have certified 16 of our buildings to LEED standards—including 8 at the silver rating level and 5 at the gold rating level. According to the U.S. Green Building Council, LEED-certified buildings consume on average 25% less energy and 11% less water than non-green buildings, and have helped divert more than 80 million tons of waste from landfills to date. 2
To support our green building efforts, the Office for a Healthy Environment (OHE) added an Environmental Engineer position to its team in 2018, and hired an individual with a LEED AP (accredited professional) credential. In addition to contributing expertise to new design, construction, renovation and maintenance of our built environment, our OHE Environmental Engineer also supports data management of facility-level environmental performance data across the Enterprise.
Resources
1 U.S. Energy Information Administration, "How much energy is consumed in U.S. residential and commercial buildings?," accessed 30 July 2019, eia.gov/tools/faqs/faq.php?id=86&t=1.
2 U.S. Green Building Council, "Benefits of Green Building," accessed 30 July 2019, new.usgbc.org/press/benefits-of-green-building.
New Construction
New Construction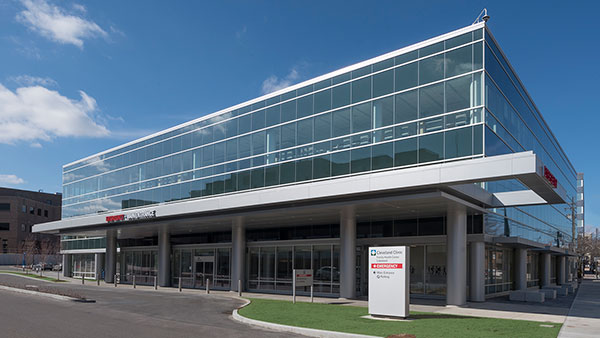 In 2018, Cleveland Clinic opened two new buildings, Lakewood Family Health Center and Akron General's emergency department. To reduce the environmental impacts of new construction, we incorporated the following sustainable design elements in both of these facilities:
Water efficiency: Installed low-flow toilets and sinks, reducing water consumption by approximately 40% compared to a baseline system
Energy Efficiency: Incorporated 100% LED lighting and building automation systems to maximize the efficiency and use of conditioned air
Energy Conservation: Programmed indoor lights for full use only when the building is operational and scheduled setbacks for periods when the building is not occupied
Landfill Diversion: Fabricated construction materials offsite prior to installation, reducing waste, improving quality and increasing safety, and diverted 90% of construction debris from landfills by reclaiming and repurposing materials for use in other products
Sustainable Operations: Optimized recycling programs by including dedicated collection rooms and receptacles throughout the facilities
Indoor Air Quality: Reduced indoor air pollution by selecting low-VOC paints, adhesives, furnishings and materials
Current Projects
Current Projects
In 2018, we continued to make progress on our Health Education Campus and Cleveland Clinic London. We will be pursuing LEED certification for both facilities. This certification scheme includes design and construction standards specific to healthcare facilities for each of the following categories:
Location & Transportation
Sustainable Sites
Water Efficiency
Energy & Atmosphere
Material & Resources
Indoor Environmental Quality
Innovation
Regional Priority
Our OHE Environmental Engineer is collaborating with various cross-functional teams involved in the design and construction of our new facilities to achieve LEED credits in each category for certification.
Health Education Campus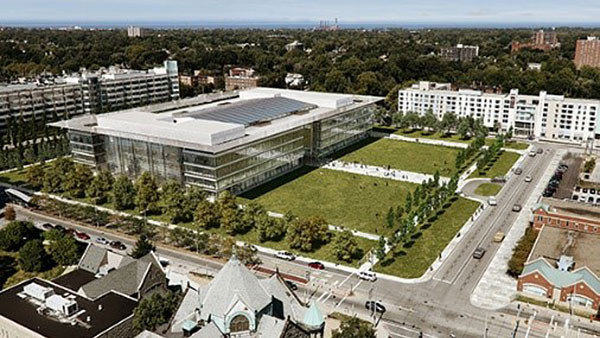 The result of an unparalleled partnership between Cleveland Clinic and Case Western Reserve University (CWRU), the new four-story Health Education Campus will foster a collaborative environment that unifies Case Western Reserve University's medical, dental and nursing schools with the Cleveland Clinic's medical school. Through its innovative design, the Health Education Campus will encourage students to work and learn together as multi-disciplinary teams, facilitating valuable skill development that will improve patient outcomes and prepare students for their future careers in healthcare.
Students will work together in the same simulation labs, including augmented reality simulators that enable students to practice treating patients in an ambulance and helicopter. Mixed reality and virtual reality digital anatomy programs will aim to meet the needs of audio, visual and kinesthetic learners while providing students a better understanding of how the human body works and how it is organized.
The Health Education Campus will also include a new three-story dental clinic and adjacent recreational park. The existing dental clinic located on CWRU's main campus provides low-cost care to about 19,000 patients a year, about 60 percent of whom are Cleveland residents. Relocating the dental clinic to Chester Avenue will make it more accessible to patients, giving students and faculty a greater reach in the local community for providing services and education.
"Cleveland Clinic is firmly committed to supporting our community. We are proud that the addition of the dental clinic became part of the Health Education Campus design and will provide greater access for patients where they live and to nearby schools and community centers."
-Tomislav Mihaljevic, MD, CEO and President
Cleveland Clinic London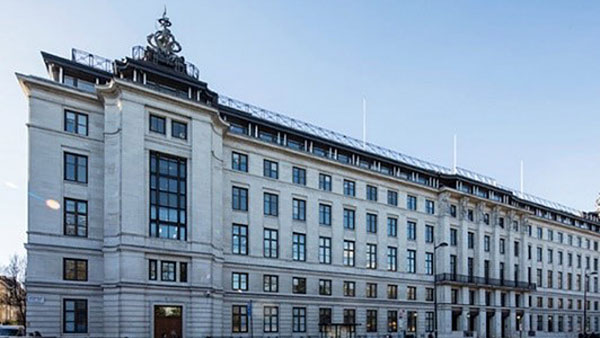 In 2018, we continued progress on Cleveland Clinic London, a proposed 323,000 square-foot medical facility located at 33 Grosvenor Place in London, England. Plans for the building include new architectural finishes and building systems for the interior while the maintaining the principal structure and historical façade. We achieved our best construction recycling rate to date for this project, diverting 97 percent of demolition materials from landfill.
Upon opening in 2021, Cleveland Clinic London will offer both inpatient and outpatient services, and include the following institutes:
Heart & Vascular
Digestive Disease & Surgery
Neurosciences
Orthopedics, Plastic Surgery & Rheumatology
Critical Care & Anesthesia
General PracticeV
Hospital Services
Medical Subspecialties
We are looking forward to bringing our "Patients First" model of care to the United Kingdom and collaborating with local healthcare organizations and physicians to implement best practices along the continuum of each patient's journey.