Overview
Overview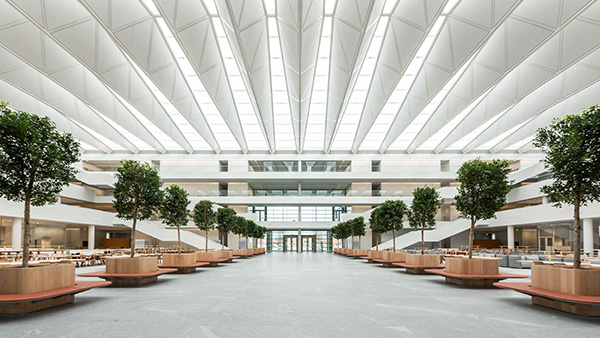 Cleveland Clinic is committed to constructing and operating buildings that support the health of our caregivers, patients and communities. We consider factors such as lighting, thermal comfort, ergonomics, air quality and water quality in our facilities. We also strive to reduce the environmental impact of our facilities by sourcing products with environmental certifications, using local suppliers and incorporating materials that make our building more resource efficient.
To date, Cleveland Clinic has certified 18 building projects to the U.S. Green Building Council's (USGBC) Leadership in Energy and Environmental Design (LEED) standards:
GOLD level certification:
Cleveland Clinic Abu Dhabi
Global Cardiovascular Innovations Center
Marymount Hospital Surgery Renovation & Expansion
Sheila and Eric Samson Pavilion at Heath Education Campus
Tomsich Pathology Laboratories
Twinsburg Family Health & Surgery Center
SILVER level certification:
Data Center
East 89th Street Parking Garage and Service Center
Hillcrest Hospital Jane and Lee Seidman Tower
JJ North Office
Richard E. Jacobs Avon Health Center
Stephanie Tubbs Jones Health Center
Taussig Cancer Center
Weston (FL) 4th Floor
Weston (FL) NICI, Egil and Pauline Braathen Center
CERTIFIED level certification:
Meridian Phase II (Weston, FL)
Strongsville Radiation Oncology Expansion
Wooster Family Health & Surgery Center
Akron General Solar Array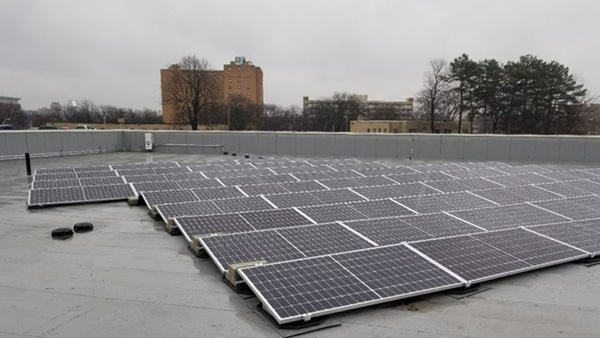 Cleveland Clinic is committed to energy efficiency and carbon neutrality, both of which benefit health. Renewable energy projects generate power without releasing greenhouse gas emissions and harmful air pollutants. In February 2020, Cleveland Clinic installed a 32 kW rooftop solar array on our Akron General Emergency Department building. In the first year it was installed, the array produced 33,429 kilowatt-hours (kWh) of clean and green renewable electricity, which is equivalent to avoiding the carbon dioxide emissions from burning 26,043 pounds of coal.1
---
1U.S. Environmental Protection Agency, "Greenhouse Gas Equivalencies Calculator," March 2021, accessed 26 March 2021, epa.gov/energy/greenhouse-gas-equivalencies-calculator
Current Projects
Current Projects
Due to the COVID-19 pandemic, Cleveland Clinic postponed the majority of its construction projects in 2020.
Cleveland Clinic London
Cleveland Clinic Portland Place Outpatient Centre is the first Cleveland Clinic London location to accept patients. The facility — a six-floor, 28,000-square-foot building with 17 consultation rooms — is equipped with the latest technology to enhance quality, safety and experience of care. The outpatient centre offers a variety of outpatient services, including outpatient appointments, diagnostics (imaging, cardiac and neurophysiology) and general practice appointments across the following specialties:
Heart, Vascular and Thoracic
Digestive Disease
Neurosciences
Orthopaedics, Plastic Surgery and Rheumatology
Ear, Nose and Throat
Urology
Executive Health Assessments
Cleveland Clinic London's main hospital in central London will open in early 2022.