Overview
Overview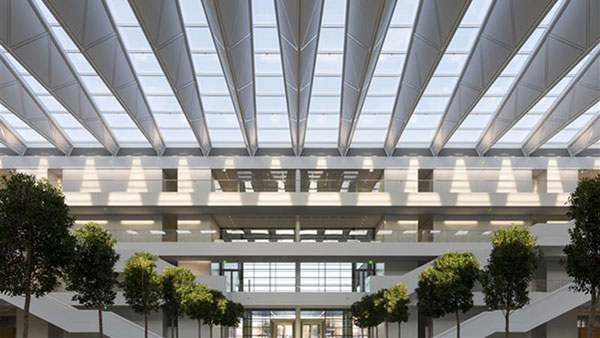 Cleveland Clinic is committed to addressing the intrinsic link between an individual's health and the health of the environment in which they work and heal by constructing and operating healthy buildings. Across our portfolio, we strive to incorporate leading-edge products and technologies for lighting, thermal comfort, ergonomics, air quality, water quality and other factors that support the health of our caregivers, patients and communities.
According to the International Energy Agency, buildings are responsible for more than one-third of all energy consumption, 12% of water use and nearly 40% of carbon dioxide emissions.1 To reduce the environmental impact of our built environment, Cleveland Clinic has certified 18 building projects to the U.S. Green Building Council's (USGBC) Leadership in Energy and Environmental Design (LEED) standards since 2007. The LEED rating system provides a framework for identifying, implementing and tracking green building processes and materials. Cleveland Clinic's Art + Design Institute has an Environmental Engineer with a LEED AP (accredited professional) credential on staff to support our commitment to greener, healthier buildings.
In 2019, Cleveland Clinic Sustainability explored opportunities to advance green building in the healthcare sector through industry-specific standards that prioritize human and environmental health in building design and operations. We will continue to investigate solutions in the coming year.
Health Education Campus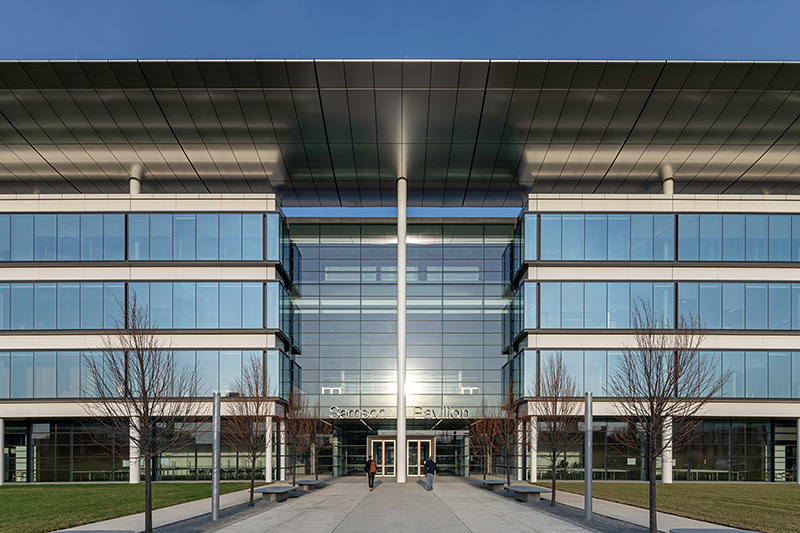 Cleveland Clinic and Case Western Reserve University launched a new era of health education in 2019 with the completion of the Health Education Campus, a joint project that the university and hospital first began working toward in 2013. The two institutions collaborated to develop shared courses and other experiences in which students from Case Western Reserve's dental, nursing and medical schools—including those from Cleveland Clinic Lerner College of Medicine—learn the fundamentals of team-based care, while also practicing skills together in simulated settings and at actual clinical sites.
The LEED Gold-Certified, 477,000-square-foot Sheila and Eric Samson Pavilion also welcomed its first 2,200 students in 2019. The Samson Pavilion expressly encourages interaction and collaboration through each floor's open walkways and dedicated shared space for students from all programs to study and relax. The Samson Pavilion also features extensive cutting-edge technology, including:
Two distinct digital anatomy programs, one using mixed reality, and the other virtual;
Simulation programs for flight nursing and ultrasound training;
Visualization tables that allow students to see anatomic structures in precise detail and explore clinical cases with classmates; and
Large LED wireless touch screens in classrooms that allow students to interact with high-resolution images and easily participate in videoconferences from around the world.
Across the street from the Samson Pavilion is the second building of the Health Education Campus, a three-story, 132,000-square-foot dental clinic. The new facility is almost double the size of Case Western Reserve University's existing clinic, which welcomes about 19,000 patients a year—about 60% of them Cleveland residents. The new space enjoys frontage on the well-traveled Chester Avenue, ample space for parking and curbside drop-off for patients. It also puts dental faculty and students closer to residents of Hough neighborhood, allowing for increased engagement at nearby schools and community centers.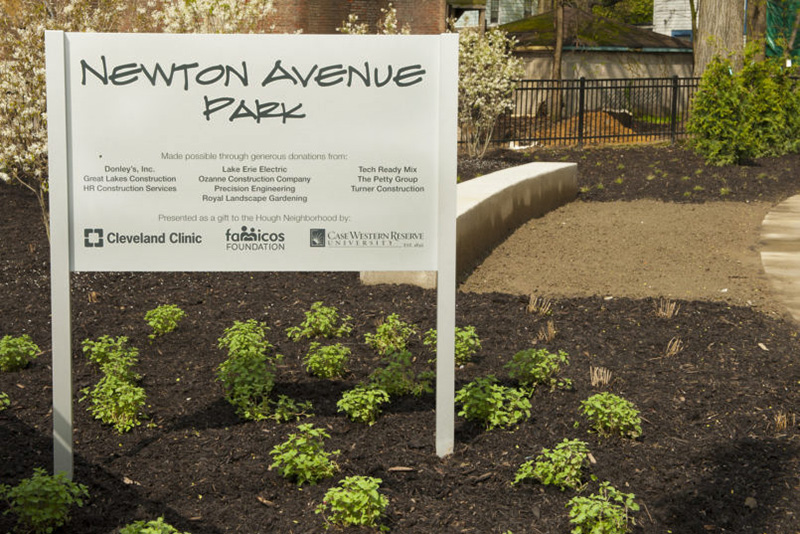 The Health Education Campus also includes Newton Avenue Park, a 28,000-square-foot park with playground equipment, a walking trail and abundant green space. Located next to the historic Newton Apartments at 1871 East 97th St., the intergenerational park provides local residents a welcoming space for children's play, modest exercise and community gathering for picnics or simply shared conversations.
---
1 International Energy Agency, "Buildings: A Source of Enormous Untapped Efficiency Potential," 2020, accessed 8 July 2020, iea.org/topics/buildings.
Current Projects
Current Projects
In 2019, we continued to make progress on the construction of Cleveland Clinic London, as well as the LEED certification process for this facility.
Cleveland Clinic London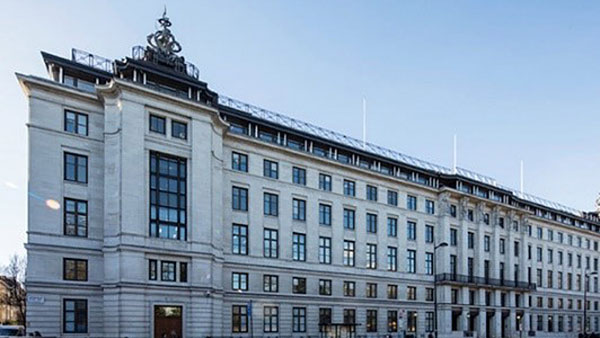 In October 2019, we reached a major milestone in the construction of our 184-bed hospital at 33 Grosvenor Place, when the final external piece of the eight-story, 324,000 square-foot building was put into place. We marked this achievement with a 'Topping Out' ceremony.
Cleveland Clinic London is scheduled to open in 2022 and will have 184 inpatient beds, eight operating rooms, a full imaging suite, endoscopy and catheterization labs, day case rooms for surgery and a full neurological suite with rehabilitation.
New Construction
New Construction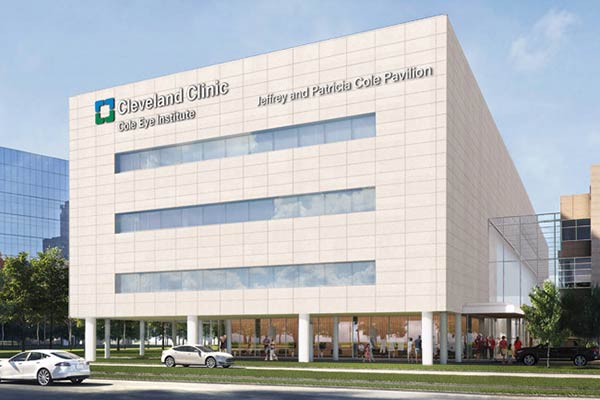 In 2019, Cleveland Clinic announced several new building projects to help us serve more patients in more places, including:
Consolidation of the Neurological Institute's outpatient services in a new tower at Euclid Avenue and East 96th Street on main campus, which will serve as a hub for collaborative patient-centered care delivery using digital tools
Expansion of the Cole Eye Institute building on main campus to twice its current size, which will include new operating rooms, an imaging center, training facilities and a larger research center
Facilities upgrade and expansion of the Moll Cancer Center, Medical Office Building and parking facilities at Fairview hospital to enhance the safety and experience of both patients and caregivers
A new-concept hospital with comprehensive services in Mentor, Ohio, which will feature a flexible modular design to accommodate changing patient needs, and expansion of primary care capacity at our facilities in Chardon, Madison, Mentor and Willoughby Hills to supplement this new hospital
For additional information on these new projects, please view our 2019 State of the Clinic.
Shanghai Luye Lilan Hospital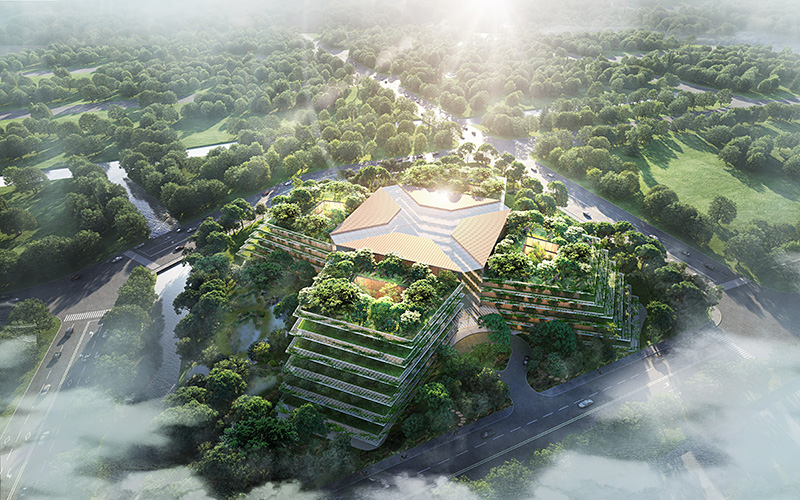 The Luye Lilan Hospital is being built and managed by the Luye Medical Group for opening in 2024 in Shanghai, China. Through a new partnership called Cleveland Clinic Connected, we have the opportunity to be part of the project by establishing specialty services, sharing care protocols, supplying quality and safety expertise, and exploring opportunities for research and education. Shanghai Luye Lilan Hospital will focus on key therapeutic areas including cardiology, digestive disease and oncology, improving clinical outcomes, performing technology-intensive complex surgeries and providing a wide range of high-quality patient-centered medical services.
The hospital will adopt the latest digital technologies and follow the international quality assurance standards to create an eco-friendly and comfortable space. Every patient will be able to enjoy an environment tied to nature, including an open, landscape-rich atrium, a well-vented glass rooftop that can provide plenty of natural light and the main building surrounded by a courtyard.