Overview
Overview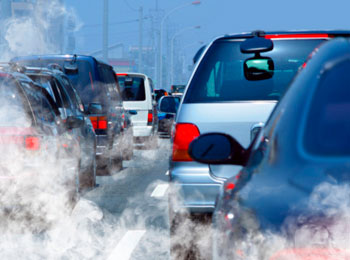 Burning fossil fuels for energy is a major source of air pollution. According to the American Lung Association's 2020 State of the Air report1, nearly 50% of Americans lived in a county with a failing grade in at least one of three different measures of air quality in 2016-2018. This is an increase of 25 million people living in communities impacted by unhealthy air pollution from the 2017 State of the Air report covering 2013-2015. Cleveland Clinic's efforts to reduce our energy consumption are a core component of our sustainability strategy and support our commitment to public health. Since the commencement of our sustainability commitments in 2007, we have saved approximately $80 million dollars through energy conservation initiatives, reducing our carbon intensity by 28% and inspiring our caregivers to engage in environmentally beneficial behaviors at work, at home and in their communities.
1American Lung Association, "State of the Air 2020 Report," accessed 21 April 2020, stateoftheair.org/key-findings/
Goal Progress
Goal Progress

Better Buildings Challenge
Cleveland Clinic achieved its 10-year Better Buildings Challenge goal in 2019. An initiative of the U.S. Department of Energy (DOE), Better Buildings is designed to promote leadership in energy innovation and better the lives of Americans. In 2010, Cleveland Clinic committed to reducing its energy use per square foot by 20% by 2020. The DOE completed their annual review and found we improved the energy efficiency of our facilities by 22% from 2010-2019, exceeding our goal. Cleveland Clinic is only the 3rd healthcare system to complete the Better Buildings Challenge.
Achieving this result is due to the effort of a dedicated "Team of Teams." Operations professionals assessed and implemented changes in how we run our buildings; designers and engineers placed more energy efficient systems into our 6 million square feet of LEED buildings and other facilities; finance provided capital to invest in LED retrofits, OR setbacks, and many other infrastructure upgrades; and our caregivers have provided daily support by turning off equipment when not in use and taking action to reduce energy consumption.
Cleveland Clinic is proud to support the DOE's efforts to drive leadership in energy innovation. By transparently reporting our progress throughout the duration of the challenge and sharing best practices, we hope to inspire other organizations to reduce their energy use for the benefit of environmental and human health.
Measuring Progress
Cleveland Clinic measures energy reduction using a weather-normalized source Energy Use Intensity (EUI) metric, which measures the efficiency of our facilities relative to their size and accounts for annual weather variances. This metric includes transmission, delivery and production losses of fuel used to generate energy. It also enables us to compare year over year performance even as our building portfolio continues to expand.
To track energy usage data of our facilities, we use an energy data management platform and create custom reports to run our own analytics on energy consumption. As we continue to expand our building portfolio, we are increasing our energy metering and integrating it with our building automation system (BAS) to access more real-time energy use data for our facilities. We provide monthly energy performance reports to all facility managers to enable them to track progress on our energy reduction goals and proactively reach out to individual facility managers with any discrepancies in energy consumption.
Energy Treasure Hunts
Energy Treasure Hunts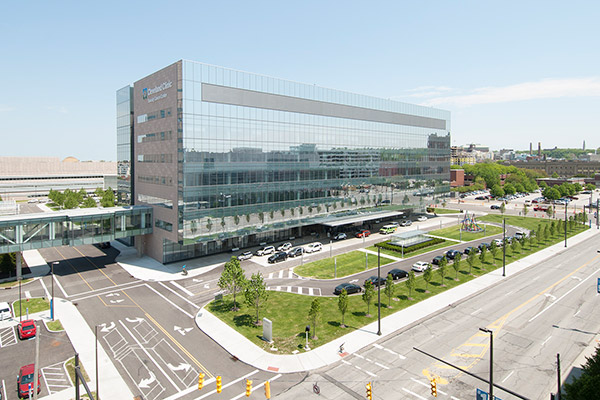 In December 2019, a cross-functional team of approximately 20 caregivers conducted Cleveland Clinic's first ENERGY STAR Energy Treasure Hunt in Taussig Cancer Center on main campus. An Energy Treasure Hunt is a process in which a team comprised of employees across departments work together to identify low- and no-cost ways to reduce energy use in a facility during operating and non-operating hours. The goal of an Energy Treasure Hunt is to engage staff with diverse perspectives and backgrounds in identifying and implementing energy saving behaviors in an appreciative way to achieve greater success in realizing and maintaining energy savings.
The Taussig Energy Treasure Hunt Team worked together to identify energy saving opportunities that would reduce annual energy use by at least 8%, which included lighting and HVAC setbacks, reducing lighting, powering down equipment during unoccupied periods and optimizing air handling units. We plan to conduct additional Energy Treasure Hunts at our regional hospitals and family health centers in the future.
Green Fund
Green Fund
Cleveland Clinic maintains a $7.5 million Green Revolving Fund (GRF) to support projects that reduce our energy consumption, such as installing LED lighting, expanding building automation controls and upgrading building systems and equipment. To sustain the GRF, we reinvest savings and rebates from these energy conservation measures back into the fund, which enables us to continue to reduce our energy footprint by investing in conservation projects each year across the enterprise.
LED Retrofits
LED Retrofits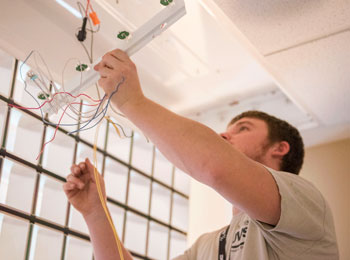 In 2019, we continued to install LEDs in new construction and retrofit bulbs in existing buildings to LEDs to reduce our energy consumption from lighting, which comprises approximately one-sixth of our energy footprint organization-wide. Additionally, incorporating LEDs in our facilities supports our caregiver safety, hazardous waste reduction and climate efforts because they provide better lighting for our patients and caregivers, are mercury-free and safer to dispose of and have led to a 4% reduction in our carbon footprint. To date, we have installed more than 500,000 units in our hospitals, family health centers and administrative spaces. We source LED tubes made locally in Solon and contract local businesses for installation, which has helped create 20-25 manufacturing and installation jobs. Some of our 2019 LED installations included:
Exterior lighting retrofits at Brunswick Family Health Center and Lutheran Hospital
Atrium lighting conversion at Lorain Family Health and Surgery Center
Parking lot pole lighting retrofits at Twinsburg Family and Surgery Health Center and Willoughby Hills Family Health Center
Facility-wide retrofits at Akron General Hospital
Greening our ORs
Greening our ORs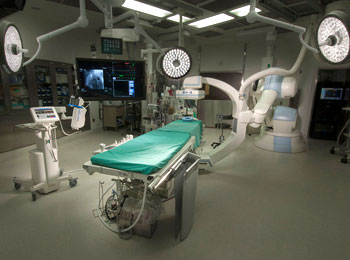 Cleveland Clinic has 215 operating rooms (ORs) across our health system, including 86 ORs on our main campus. According to Practice Greenhealth2 , ORs, on average:
Are responsible for 40-60% of the organization's total supply costs
Produce more than 30% of a facility's waste and two-thirds of its regulated medical waste
Can consume three to six times more energy per square foot than anywhere else in the facility
To this end, Cleveland Clinic created a Greening the OR Committee in 2013 to educate and engage caregivers in resource conservation. This cross-functional committee ideates and executes green initiatives to reduce the environmental impact of our ORs and has received top honors from Practice Greenhealth for leadership in Greening the OR initiatives and outcomes.
ORs have a large energy footprint due to their energy-intensive surgical lighting systems, high number of required air changes per hour when in use and stringent temperature and humidity specifications. To reduce energy consumption in our ORs, we setback hourly air changes from more than 25 during occupied periods down to 6 when ORs are unoccupied, resulting in $2 million in energy savings annually. Cleveland Clinic Sustainability collaborated with the Surgical Operations Executive Committee and Facilities Department to implement this plan while ensuring we continued to meet or exceed all regulations for OR operations.
2 Practice Greenhealth, "Greening the OR," accessed 3 May 2020, practicegreenhealth.org/topics/greening- operating-room/greening-or
Building Systems
Building Systems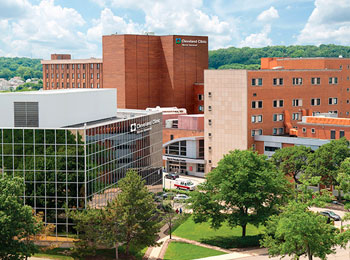 Analyzing opportunities to adjust and enhance controls and equipment in our facilities is an ongoing process. In 2019, we continued to identify and implement energy conservation measures (ECMs) in our existing facilities to improve energy efficiency and occupant comfort. This year, we focused on making improvements at several of our regional hospitals, including Akron General, Avon, Fairview, Medina, Euclid, South Point, Lutheran and Shaker Children's. Initiatives implemented included temperature resets, scheduling setbacks, optimizing and repairing building equipment and systems, removing excess equipment and lighting, establishing temperature policies and powering down equipment and lighting in occupied areas. Combined, these initiatives will yield an annual utility cost savings of $362,000 and reduce our annual energy consumption by more than 1.5 million kWh—the greenhouse gas equivalent of removing 236 passenger vehicles from the road for one year.