Overview
Overview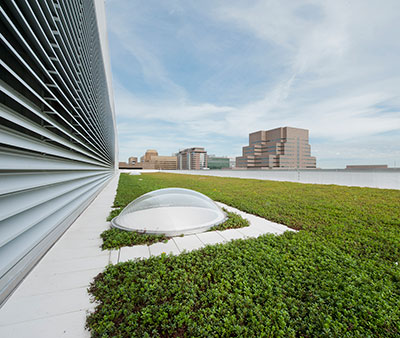 Cleveland Clinic's energy reduction efforts are central to our sustainability strategy and commitment to public health. We are minimizing our energy use to contribute to a future with cleaner air, soil and water, and to do our part to slow climate change. By becoming less resource-intensive, we free up additional capital to invest in developing valuable programs and solutions for our patients, caregivers and communities.
Goal Progress
Goal Progress
To measure our energy use, we installed meters and developed energy dashboards to provide building-level energy data. Not only do these dashboards enable us to proactively manage our energy use and measure progress, but they also encourage friendly competition between caregivers to reduce the most energy.
Cleveland Clinic measures energy reduction using a weather-normalized source Energy Use Intensity (EUI) metric, which measures the efficiency of our facilities relative to their size accounting for annual variances in weather. This metric includes transmission, delivery and production losses of fuel used to generate energy. It also allows for comparability year to year even as our portfolio of facilities continues to expand, enabling us to measure improvement over time. We set a goal to reduce our EUI by 20% from 2010-2020 and as of December 2018, we have reduced our EUI by 19% from our 2010 baseline based on the Department of Energy's review of our progress.

Green Fund
Green Fund
To support the implementation of our energy reduction projects, Cleveland Clinic maintains a $7.5 million Green Revolving Fund (GRF), one of the largest of its kind in the United States. As we spend funds on projects such as LED retrofits, retro-commissioning, building automation systems and energy efficient equipment, we reinvest savings and rebates realized from these projects back into the fund to sustain it. This approach enables us to complete ongoing projects in our existing facilities to improve our energy footprint across the enterprise.
LED Retrofits
LED Retrofits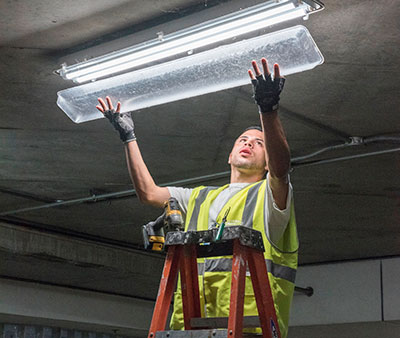 Keeping our properties well-lit comprises 16% of our total energy use. To this end, in 2018 we continued to retrofit our lighting fixtures with linear LED tubes and can lights and using 100% LED on new construction. To date, we have installed more than 450,000 units in our hospitals, family health centers and administrative spaces. By sourcing LED tubes made locally in Solon, Ohio and supporting local businesses for installation, we have helped create 20-25 manufacturing and installation jobs. Positive impacts from this initiative include:
Improving health and safety for patients and caregivers from the inherent brightness and spectrum of LED lighting, and for maintenance staff because LEDs are free of mercury, leading to safer disposal
Saving $2 million in annual electricity costs from improved efficiency, in addition to reduced maintenance costs because LED lights run for nearly 2.5 times as long as fluorescent lights
Lowering our electric consumption by 28,600,000 kilowatts each year, the COâ'' equivalent of removing approximately 4,300 passenger vehicles from the road for one year
Reducing our carbon footprint by nearly 19,400 tons of COâ'' annually, a 4% decrease in our total emissions
Greening our ORs
Greening our ORs
The most energy-intensive component of our operations is our heating, ventilation and air conditioning (HVAC) systems, which constitute 51% of our total energy use. This is in large part due to the considerable energy demands of our operating rooms (ORs), which have energy-intensive surgical lighting systems, a high number of required air changes per hour when in use and stringent temperature and humidity specifications. Cleveland Clinic has 215 operating rooms (ORs) across our health system in which surgeons are completing multiple cases per day, including 86 ORs on our main campus.
To reduce the environmental footprint of our ORs, Cleveland Clinic formed a cross-functional Greening the OR committee, which meets monthly or more often to brainstorm and execute green ideas. Additionally, the OHE worked with the Surgical Operations Executive Committee and Facilities Department to implement an OR Setback plan to reduce energy use while continuing to meet all regulations for ORs. For example, we have reduced the number of hourly air changes from more than 25 down to 6 when ORs are unoccupied. Our OR Setback plan has led to approximately $2 million in energy savings each year.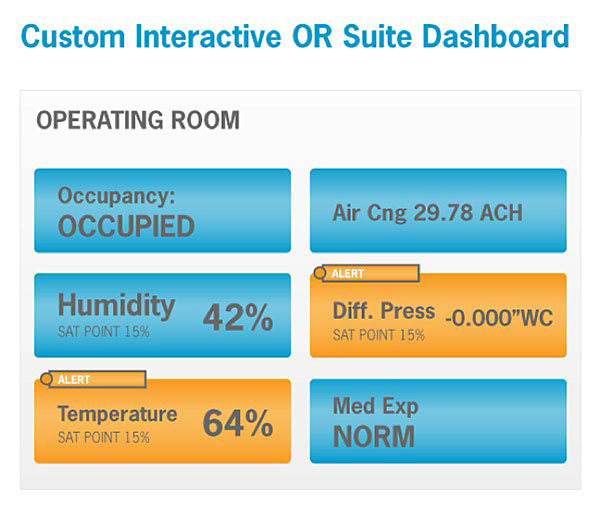 Building Systems
Building Systems
Retro-commissioning is part of our energy reduction strategy, which involves analyzing existing building controls and equipment and making adjustments to enhance energy efficiency and occupant comfort. We recently completed retro-commissioning projects at our Strongsville Family Health and Surgery Center to optimize equipment, controls and operating conditions, resulting in a 40% savings on energy use. We also worked with a local company to modify or replace several chillers—used to cool buildings—at our main campus and several other hospitals. These adjustments resulted in an annual savings of $650,000.
To reduce the energy use of fans in our air handling units with variable speed drives, we initiated a system-wide program to replace high-efficiency particulate arrestance (HEPA) filters with more efficient filters designed for non-surgical spaces. This program resulted in nearly $1 million in savings and decrease energy use in fans by approximately 23%.