Overview
Overview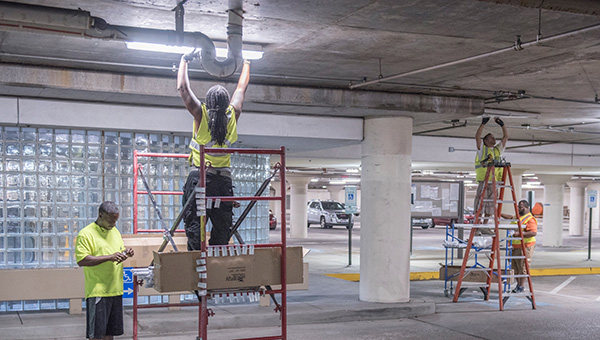 Burning fossil fuels for energy releases pollutants into the air that are harmful to human health. Exposure to particulate matter from fossil fuel emissions contributed to an estimated 8.7 million deaths globally in 2018, or nearly one in five.1 Cleveland Clinic's efforts to reduce our energy consumption are a core component of our sustainability strategy and support our commitment to public health.
---
1 Karn Vohra, Alina Vodonos, Joel Schwartz, Eloise A. Marais, Melissa P. Sulprizio, Loretta J. Mickley, "Global mortality from outdoor fine particle pollution generated by fossil fuel combustion: Results from GEOS-Chem," Environmental Research, Volume 195, 2021, accessed 13 May 2021, doi.org/10.1016/j.envres.2021.110754
Goal Progress
Goal Progress
Following the achievement of our Better Building Challenge goal (reducing our energy use per square foot by at least 20% from our 2010 baseline) in 2019, our internal teams collaborated to set a new energy reduction goal, look for opportunities to replicate and scale successes across our portfolio and celebrate the accomplishments of our caregivers in 2020. Our new energy goal is to reduce our energy use per square foot by 40% from our 2010 baseline by 2030. We continue to collaborate with the Department of Energy on efficiency projects and provide publicly accessible reports on our facility-level energy use to support industry benchmarking.
Measuring Progress
Cleveland Clinic uses a weather-normalized source Energy Use Intensity (EUI) metric, which measures the efficiency of our facilities relative to their size and accounts for annual weather variances. This metric includes transmission, delivery and production losses of fuel used to generate energy. It also enables us to compare year over year performance even as our building portfolio continues to expand.
Our Sustainability team and facility managers use ENERGY STAR's Portfolio Manager to compare the energy performance of our facilities and measure progress toward our energy conservation goals. This an online data management platform provides building utility use and cost tracking functions, and also enables us to track the ENERGY STAR scores of our facilities. Five of our facilities met or exceeded the ENERGY STAR score for certification in 2020, including our Avon, Lutheran and South Pointe hospitals, which have achieved ENERGY STAR certification for their energy efficient operations.
We provide monthly energy performance reports to all facility managers and engage them in improving our energy performance. To more proactively measure and manage our energy use, we are investing in metering, controls and building automation system (BAS) integration. In 2020, we established a cross-functional committee that meets monthly to review and collaborate on issues related to utilities management, such as energy reduction efforts, demand response performance, billing discrepancies, procurement strategies and more.
Energy Treasure Hunts
Energy Treasure Hunts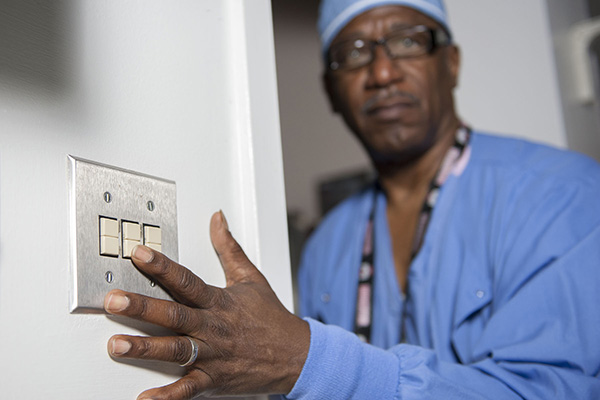 In December 2019, Cleveland Clinic conducted its first ENERGY STAR energy treasure hunt. This engagement process empowers cross-functional teams to identify low- and no-cost energy saving opportunities in a facility by allocating time for the team to complete a comprehensive walkthrough of a building. During the walkthrough, caregivers on the treasure hunt team use their unique perspectives and expertise to ask questions, share ideas and write down observations on energy use. The team then follows up with calculations on potential energy and cost savings, and an implementation plan to engage caregivers in saving energy. Due to the COVID-19 pandemic, we postponed additional energy treasure hunts planned for 2020, but made progress throughout the year on implementing low- and no-cost energy saving opportunities identified in December 2019 by our Taussig Cancer Center energy treasure hunt team. We plan on conducting additional energy treasure hunts in 2021.
Green Fund
Green Fund
Cleveland Clinic maintains a $7.5 million Green Revolving Fund (GRF) to support projects that reduce our energy consumption, such as installing LED lighting, expanding building automation controls and upgrading building systems and equipment To sustain the GRF, we reinvest savings and rebates from these energy conservation measures back into the fund, which enables us to continue to reduce our energy footprint by investing in conservation projects each year across the enterprise.
LED Retrofits
LED Retrofits
Energy consumption from lighting accounts for approximately one-sixth of our energy footprint across the enterprise. To improve energy efficiency, we install LED lighting in new construction and retrofit bulbs in existing buildings, and have installed more than 500,000 LED units in our hospitals, family health centers and administrative spaces. Due to the COVID-19 pandemic, most of our LED retrofit projects were postponed in 2020. We plan on continuing to upgrade lighting in our facilities to reduce our energy consumption.
Greening our ORs
Greening our ORs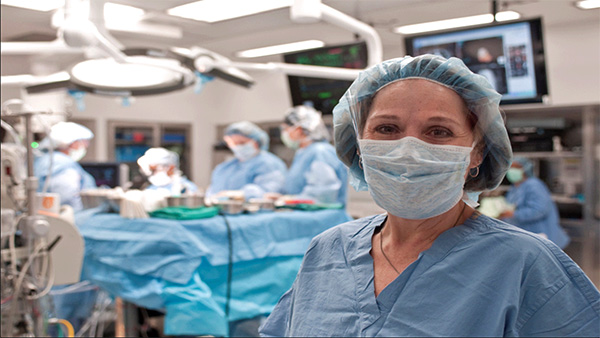 Cleveland Clinic has more than 215 operating rooms (ORs) across our health system. ORs have very high energy consumption per square foot due to stringent temperature and humidity specifications, energy-intensive lighting and the high number of required air changes per hour when occupied. To save energy, we reduced the number of hourly air changes in ORs during unoccupied times where possible, while still meeting or exceed all regulations for OR operations.
Our Greening the OR Committee actively works to reduce the environmental impacts of our ORs. This cross-functional team champions sustainability initiatives in ORs through engagement and education, and provides input and expertise on pilot initiatives and established programs to reduce energy, water and waste. For leadership in Greening the OR initiatives and outcomes, Cleveland Clinic received a Greening the OR Circle Award from Practice Greenhealth in 2020.
Building Systems
Building Systems
In 2020, we continued to identify and implement energy conservation measures (ECMs) in our facilities to improve energy efficiency and occupant comfort. Initiatives implemented included:
Adjusting discharge air temperature of non-critical units across the system to reduce cooling and reheat loads
Assessing and repairing steam traps
Retro-commissioning of air handling units (AHUs)
Validating, calibrating and replacing sensors that control AHUs
Combined, these initiatives yielded an estimated $490,000 in annual utility cost savings in 2020. Additionally, we assessed the energy and water savings potential for setbacks of administrative properties when caregivers began working offsite during the COVID-19 pandemic.