Overview
Overview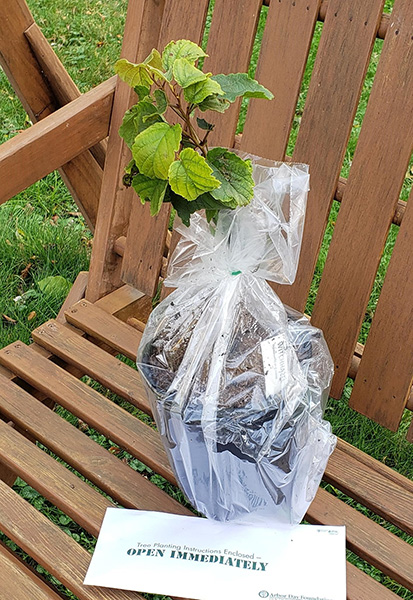 According to the Centers for Disease Control and Prevention, climate change can intensify existing health threats and cause new stressors to emerge through effects such as increases in air pollution, allergens, wildfires, air and water-borne illnesses, temperature and weather extremes, food insecurity and mental health and stress-related disorders.1 These effects have negative consequences for public health and disproportionately impact vulnerable populations. Cleveland Clinic is committed to reducing emissions that contribute to climate change in our operations and supply chain. Our efforts include supporting energy efficiency and clean energy, green transportation, resilient buildings and tree planting initiatives.
---
1 Centers for Disease Control and Prevention, "Climate Effects on Health", 2 March 2021, accessed 21 October 2021, cdc.gov/climateandhealth/effects/default.htm
Measuring & Reducing Our Carbon Footprint
Measuring & Reducing Our Carbon Footprint
Since 2010, we have decreased our carbon emissions intensity—or CO₂ equivalents (CO₂e) generated per square foot of building space—by 33.8% and our total emissions by 23.9%.
In 2020, Cleveland Clinic emitted 118,408 metric tons of Scope 1 and 294,627 metric tons of scope 2 CO₂e for a total of 413,035 metric tons of CO₂e, a 4% reduction from 2019 and a 23.9% reduction from our 2010 baseline.2 We adjusted our baseline in 2020 to include natural gas and electricity from our Indian River and Martin Health facilities, and steam from Akron General Hospital. Our Scope 1 emissions, or CO₂e generated from on-site combustion and consumption, include emissions from natural gas, generator fuel, fleet vehicle fuels and anesthesia gases. Our Scope 2 emissions, or CO₂e generated from utility providers, includes emissions from purchased electricity.
In 2020, we worked with a third party to begin measuring our Scope 3 emissions, or CO₂e generated from indirect emissions, such as emissions from our supply chain, investments, waste disposal and other upstream and downstream impacts. We will use this data to identify opportunities to make the biggest emissions reduction impact and integrate Scope 3 emissions reduction activities into our carbon reduction strategy.
Green Transportation Initiatives
Many of our caregivers commute to work via single-occupant vehicles, which generate greenhouse gas emissions and air pollution. To reduce our transportation footprint, Cleveland Clinic offers green transportation programs and incentives for caregivers, including pre-tax public bus and rapid transit system passes purchasable via payroll deduction, carpool and efficient vehicle parking discounts, rebates for purchasing green vehicles, incentives for living near work and a caregiver carpooling program. In 2020, Cleveland Clinic received a silver NEO Commuter Choice Award from the Northeast Ohio Areawide Coordinating Agency for encouraging our caregivers to choosing alternatives to drive-alone commutes. We also continued to serve as a member of the Sustainable Transportation Action Committee, which focuses on expanding sustainable transportation options for all travelers and residents in the University Circle area of Cleveland.
We also work to reduce the emissions of our fleet vehicles by optimizing routes and purchasing more fuel-efficient models to replace vehicles at the end of their lifecycle. Since our 2010 baseline, we have improved the miles per gallon of our fleet by 36%.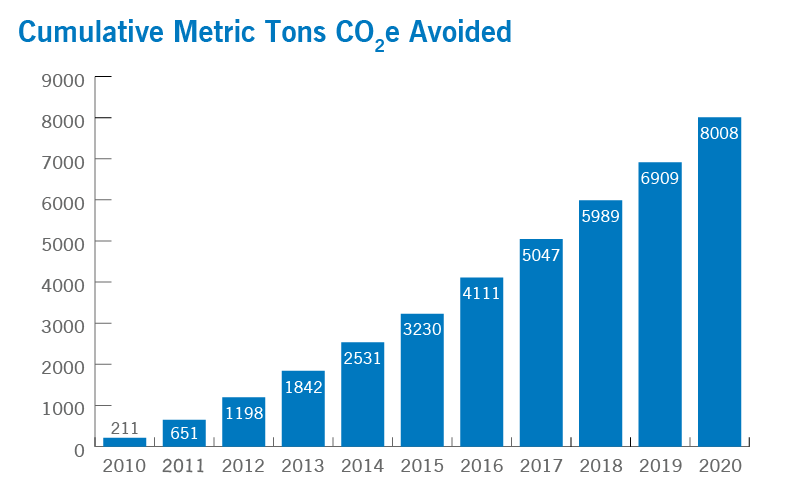 ---
2 We are still in the process of gathering data on anesthesia gases, fuel oil and diesel fuel for Martin Health, which we will include in next year's reporting cycle. We estimate the emissions from these sources to be approximately 600 metric tons of CO₂e.
Community Tree Planting
Community Tree Planting
According to the Cleveland Tree Plan, Cleveland's tree canopy cover is currently at 19%, only one quarter of what is possible, and the City lost an additional 5% of tree canopy from 2011 to 2017.3 Cleveland Clinic is committed to expanding green space through tree plantings at our facilities and in our surrounding neighborhoods due to the community health benefits trees provide. According to the Arbor Day Foundation, benefits of trees include: providing oxygen, cooling and wildlife habitat; cleaning water and air; saving energy; increasing property values; and reducing pollution, stress, crime and the effects of climate change4. To this end, Cleveland Clinic is a member of the Cleveland Tree Coalition, a collaborative group of public, private and community stakeholders supporting the City of Cleveland in restoring its tree canopy. The coalition has committed to creating a healthy, vibrant, sustainable and equitable urban forest, and to increasing Cleveland's tree canopy from 19% to 30% by 2040.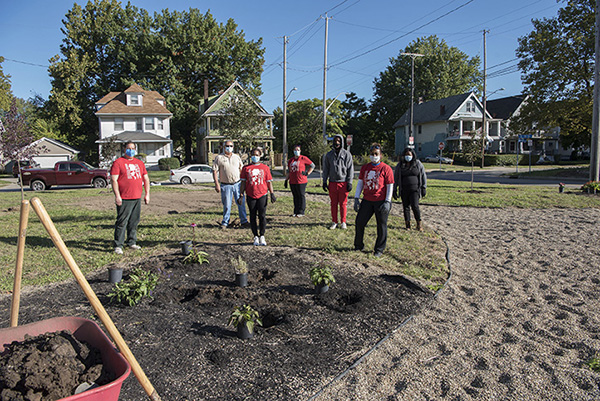 From 2016-2020, Cleveland Clinic has planted 3,367 trees and 1,102 shrubs at our properties and in our communities. This total includes 621 trees—11 of which were planted at Fairfax residences through a program we developed where Fairfax community members can request free trees—and 3 shrubs planted in 2020. To ensure the success of our 2019 plantings at St. Adalbert's school, a volunteer group of Cleveland Clinic physicians and their families watered and mulched on Saturday mornings from June to September in 2020. In partnership with Famicos (a community development nonprofit corporation in Cleveland) and Davey Tree, Cleveland Clinic caregivers planted trees and perennials in an empty green space in Hough, a community neighboring our main campus. This space is also is also home to a "take what you need, leave what you don't" box for community donations, often durable food items.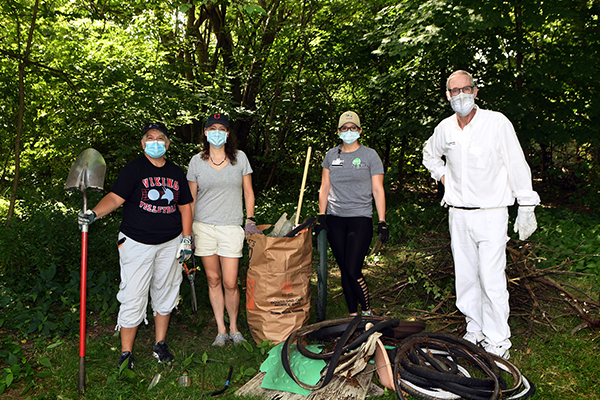 Our caregivers also participated in three volunteer events to clean up empty lots owned by the Fairfax Renaissance Development Corporation in 2020. During these events, caregivers cleaned up trash, cut down overgrown brush, trimmed trees and made other landscaping enhancements as needed.
Caregiver Tree Giveaway
Additionally, in 2020 we held our fourth consecutive Caregiver Tree Giveaway, in which we provided caregivers 600 trees free of charge to plant at their homes and in their communities. In response to the COVID-19 pandemic, we mailed caregivers their trees instead of hosting a pickup event. To date, caregivers have planted 2,045 trees in more than 100 zip codes through the Caregiver Tree Giveaway. The infographic below from an impact report generated by the Arbor Day Foundation projects the 20 year cumulative benefits of these plantings: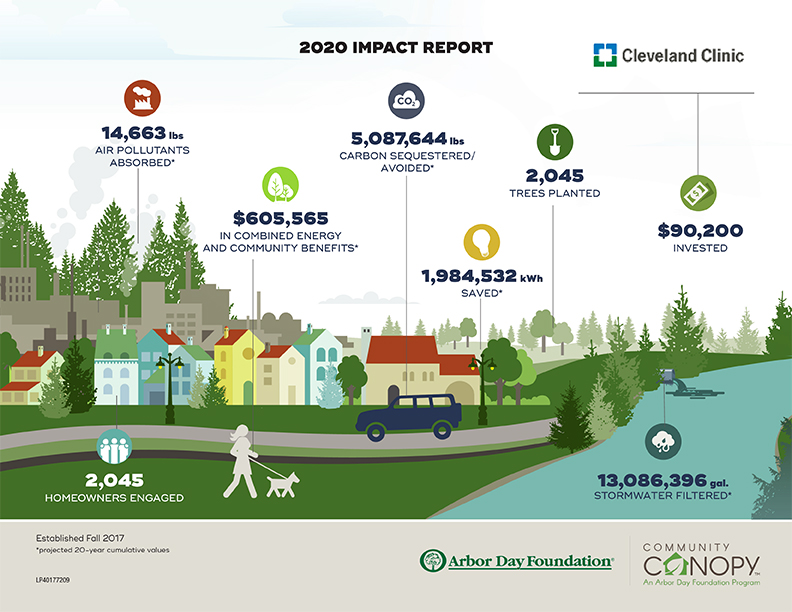 ---
3 Cleveland Tree Coalition, "Cleveland Tree Plan: 2020 Tree Canopy Progress Report", 2020, accessed 21 October 2021, clevelandtrees.org/wp-content/uploads/Cleveland-Tree-Plan-2020-Tree-Canopy-Progress-Report.pdf
4 Arbor Day Foundation , "Tree Facts", accessed 21 October 2021, arborday.org/trees/treefacts/
Healthcare Climate Council
Healthcare Climate Council
Cleveland Clinic is a member of Health Care Without Harm's Climate Council, a group of hospitals and health systems committed to addressing climate change and communicating its impacts on public health. Membership includes 19 health systems representing 500 hospitals in 36 states, 75 million patients served annually, a total annual operating revenue of more than $215 billion and 1 million employees. The Council encourages healthcare systems to use their purchasing power and unique position as anchor institutions to promote resiliency in their communities through investing and influencing policies. Their three-pillar strategy includes mitigation, resilience and leadership.
Regulated Air Emissions
Regulated Air Emissions
Under Title V of the Clean Air Act, facilities that generate air pollutants above a designated threshold must obtain a Title V air permit, and comply with emissions limits and reporting requirements. Cleveland Clinic main campus meets the Title V emissions criteria and reports regulated emissions annually. Per the Title V requirements, we do not report normalized emissions.
EPA Air Title V Emissions for Cleveland Clinic's Main Campus
Air Pollutant
2017 Emissions
Total (Tons)
2018 Emissions
Total (Tons)
2019 Emissions
Total (Tons)
2020 Emissions
Total (Tons)
Nitrogen Oxides
17.416
21.684
20.131
19.721
Sulfur Dioxides
0.293
0.315
.306
.248
Organic Compounds
4.370
4.809
4.807
4.631
Particulate Matter (PM)-10
0.761
0.837
.835
.808
Volatile Organic Compounds
2.257
2.476
2.463
2.373
Carbon Monoxide
33.401
36.751
36.733
35.389
Total of Chargeable Pollutants
22.845
28.931
26.082
25.431