Overview
Overview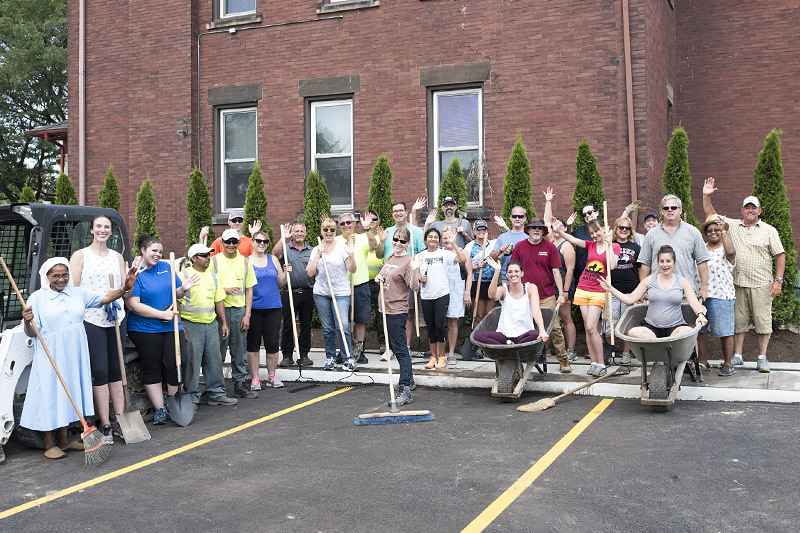 According to the National Institute of Environmental Health Sciences, climate change repercussions such as extreme heat waves, rising sea-levels, changes in precipitation resulting in flooding and droughts, intense hurricanes and degraded air quality directly and indirectly affect the physical, social and psychological health of humans.1 These changes to our environment disproportionately impact vulnerable populations and threaten public health. Cleveland Clinic supports healthy, resilient communities through its commitment to carbon neutrality and carbon sequestration initiatives. We communicate the interconnectedness of environmental and human health to our stakeholders and advocate for a low-carbon economy within our supply chain, areas of operation and industry.
---
1 National Institute of Environmental Health Sciences, "Climate and Human Health", 31 October 2019, accessed 15 July 2020, niehs.nih.gov/research/programs/geh/climatechange/health_impacts/index.cfm
Reducing Our Carbon Footprint
Reducing Our Carbon Footprint
Cleveland Clinic has committed to becoming carbon neutral by 2027. Since 2010, we have decreased our carbon emissions intensity—or CO₂ equivalents (CO₂e) generated per square foot of building space—by nearly 31% through our commitment to green building, design and operations even as we have continued to serve more patients in more locations. In 2019, Cleveland Clinic emitted 124,108 metric tons of Scope 1 and 291,852 metric tons of scope 2 CO₂e for a total of 415,960 metric tons of CO₂e, a 1.6% reduction from 2018 and a 20% reduction from our 2010 baseline. Our Scope 1 emissions, or CO₂e generated from on-site combustion and consumption, include emissions from natural gas, generator fuel, fleet vehicle fuels and anesthesia gases. Our Scope 2 emissions, or CO₂e generated from utility providers, includes emissions from purchased electricity.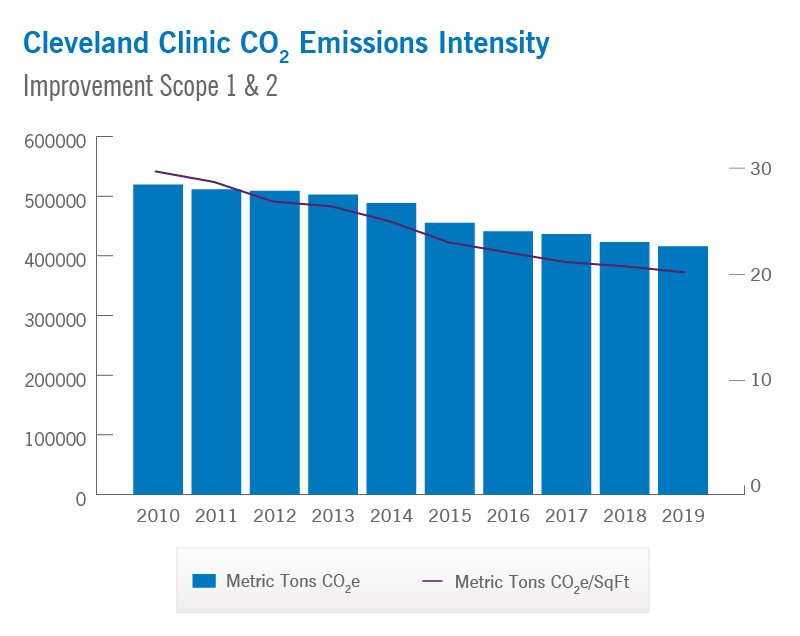 In 2019, we continued gathering data to better measure and reduce our Scope 3 emissions— or emissions from our upstream and downstream operations. Our focus areas include sustainable transportation initiatives for our patients, caregivers and supplies, and sustainable sourcing efforts. We continued to serve as a member of the Sustainable Transportation Action Committee, which focuses on expanding sustainable transportation options for all travelers and residents in the University Circle area of Cleveland.
We also conduct ongoing research into sustainable transportation offerings for our caregivers. We currently offer preferred parking and discounts for carpoolers, RTA commuter advantage discounts and green vehicle rebates. Through a collaboration with the Northeast Ohio Areawide Coordinating Agency (NOACA), our caregivers can use Gohio Commute to track and reduce their transportation footprint. This online platform helps pair up caregivers for carpooling based on their location and shifts, houses information on local sustainable and alternative transit options and can track the carbon footprint of our caregivers' daily commutes.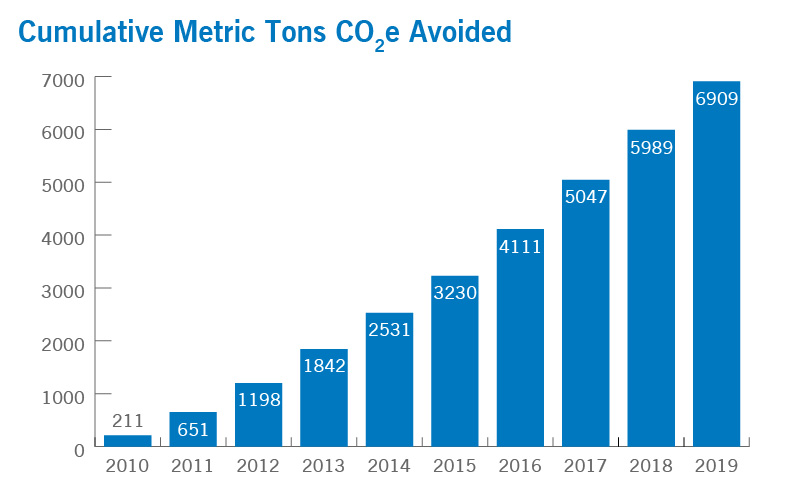 Community Tree Planting
Community Tree Planting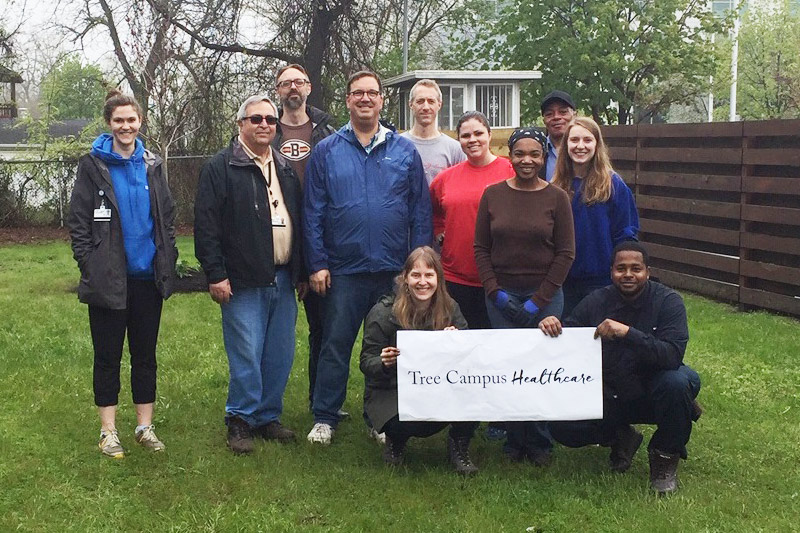 According to the Cleveland Tree Plan, the City of Cleveland lost more than 45% of its tree canopy between 1960 and 2015.2 In addition to providing numerous environmental benefits, trees also benefit human health by improving air and water quality, absorbing stormwater, buffering noise, cooling surrounding environments and beautifying spaces. More specifically, a systematic review and meta-analysis of cohort studies published by The Lancet found increased time spent in green spaces reduces all-cause mortality, with studies associating green space with reduced cardiovascular disease, better mental health, immune system benefits and improved pregnancy outcomes.3 Cleveland Clinic supports the Cleveland Tree Plan, a community plan to conserve and strategically restore Cleveland's urban canopy in locations that promote neighborhood equity. We are committed to expanding green space at our facilities and in our communities through our tree planting initiatives.
Since 2016, Cleveland Clinic has planted nearly 4,000 trees and shrubs at our properties and in our communities, including 240 trees and 315 shrubs planted in 2019. Our 2019 projects included community plantings in Fairfax and at St. Adalbert School, with more than 20 trees planted at Fairfax residences. Through a program we developed in 2018, Fairfax residents can request a tree planting in their yard free of charge, which includes resources on the human health benefits of trees to share with others. Our 2019 on-site plantings were located at our Children's Outpatient Center and Health Education Campus, which opened in 2019 and includes the Newton Avenue community park.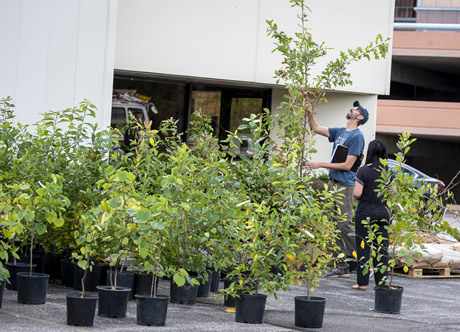 Additionally, in 2019 we held our third consecutive Caregiver Tree Giveaway, in which we provided caregivers 795 trees free of charge to plant at their homes and in their communities. We also made 100 bags of soil from the local organization, Rust Belt Riders, available to caregivers during the giveaway, which was made in part from Cleveland Clinic compost. Since its inception in fall 2017, caregivers have planted 1,445 trees in more than 100 zip codes through the Caregiver Tree Giveaway. The infographic below from an impact report generated by the Arbor Day Foundation projects the 20 year cumulative benefits of these plantings: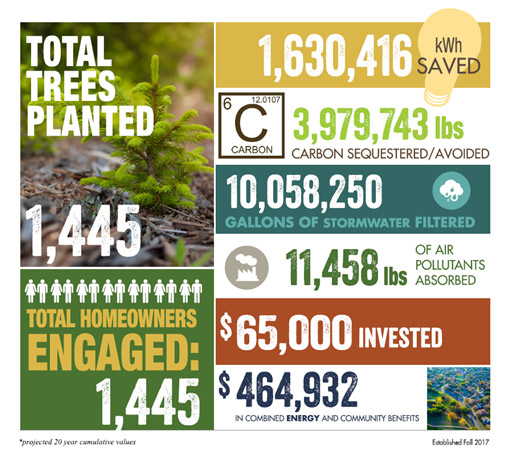 ---
2
Davey Resource Group, "The Cleveland Tree Plan", August 2015, accessed 14 July 2020, city.cleveland.oh.us/sites/default/files/forms_publications/ClevelandTreePlan.pdf
3
David Rojas-Rueda, Mark J Nieuwenhuijsen, Mireia Gascon, Daniela Perez-Leon, Pierpaolo Mudu, "Green spaces and mortality: a systematic review and meta-analysis of cohort studies,"
Lancet Planet Health
(November 2019): 3: 469–77, accessed 15 July 2020, doi.org/10.1016/S2542-5196(19)30215-3
Climate Action Fund
Climate Action Fund
The first community-based, open-access carbon reduction fund in the United States, the Cleveland Climate Action Fund (CCAF) uses donations to fund local projects to support climate action and community resiliency. Cleveland Clinic, the Cleveland Foundation, The George Gund Foundation, the Cleveland Museum of Natural History and the City of Cleveland founded the CCAF in 2008 to empower local innovators and entrepreneurs to drive positive environmental and social change in Cleveland neighborhoods. To date, the CCAF has promoted and funded more than 70 resident-led carbon mitigation projects that foster economic growth, social well-being, and environmental stewardship. In 2015, the CCAF funded a community composting pilot program by Rust Belt Riders, an organization that has continued to grow and has provided composting services to Cleveland Clinic since 2018.
Healthcare Climate Council
Healthcare Climate Council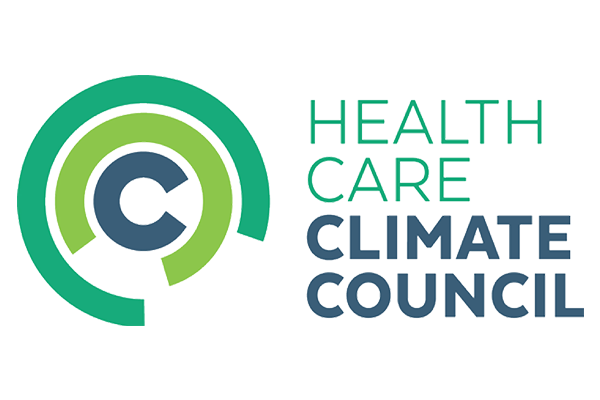 Cleveland Clinic is a member of Health Care Without Harm's Climate Council, a group of hospitals and health systems committed to addressing climate change and communicating its impacts on public health. Membership includes 19 health systems representing 500 hospitals in 36 states, 75 million patients served annually, a total annual operating revenue of more than $215 billion and 1 million employees. The Council encourages healthcare systems to use their purchasing power and unique position as anchor institutions to promote resiliency in their communities through investing and influencing policies. Their three-pillar strategy includes mitigation, resilience and leadership. In October 2019, Cleveland Clinic joined members of the House Climate Action Committee in a discussion and ideation session on progressing the climate agenda using a health-based lens. We will continue to collaborate with our peers to drive climate resiliency in our industry and communities.
Regulated Air Emissions
Regulated Air Emissions
Under Title V of the Clean Air Act, facilities that generate air pollutants above a designated threshold must obtain a Title V air permit, and comply with emissions limits and reporting requirements. Cleveland Clinic main campus meets the Title V emissions criteria and reports regulated emissions annually. Per the Title V requirements, we do not report normalized emissions.
EPA Air Title V Emissions for Cleveland Clinic's main campus
| Air Pollutant | 2016 Emissions Total (Tons) | 2017 Emissions Total (Tons) | 2018 Emissions Total (Tons) | 2019 Emissions Total (Tons) |
| --- | --- | --- | --- | --- |
| Nitrogen Oxides | 15.803 | 17.416 | 21.684 | 20.131 |
| Sulfur Dioxides | 0.267 | 0.293 | 0.315 | 0.306 |
| Organic Compounds | 4.198 | 4.370 | 4.809 | 4.807 |
| Particulate Matter (PM)-10 | 0.731 | 0.761 | 0.837 | 0.835 |
| Volatile Organic Compounds | 2.150 | 2.257 | 2.476 | 2.463 |
| Carbon Monoxide | 37.072 | 33.401 | 36.751 | 36.733 |
| Total of Chargeable Pollutants | 21.031 | 22.845 | 28.931 | 26.082 |