Overview
Overview
Cleveland Clinic is committed to enhancing the resilience of the communities we serve by reducing our carbon footprint, supporting carbon sequestration initiatives and advocating for a low-carbon economy within our supply chain and at all levels of government. The impacts of climate change—including increased severe weather events, air pollution, days exceeding 90° degrees Fahrenheit, food and water scarcity, disease-carrying vectors and allergens—pose serious threats to public health and disproportionately affect vulnerable populations. We are collaborating with various stakeholders to communicate the nexus between climate and health and to advance climate solutions in our industry and communities.
Reducing Our Carbon Footprint
Reducing Our Carbon Footprint
Carbon Neutral by 2027
In 2017, we announced an ambitious goal to become carbon neutral by 2027. In 2018, Cleveland Clinic generated 130,110 metric tons of Scope 1 and 302,450 metric tons of scope 2 emissions of CO2 equivalents (CO2e) for a total of 423,054 metric tons of CO2e, a 3% reduction from 2017 and an 18% reduction from our 2010 baseline. Our Scope 1 emissions, or CO2e generated from on-site combustion and consumption, include emissions from natural gas, generator fuel, fleet vehicle fuels and anesthesia gases. Our Scope 2 emissions, or CO2e generated from utility providers, includes emissions from purchased electricity.
We have decreased our carbon intensity, or CO2e generated per square foot of building space, by nearly 28% from our 2010 baseline, even as our organization has continued to grow. We have accomplished this largely through our energy reduction and green building strategies, which are priorities because 75% of our Scope 1 and 2 emissions come from purchased electricity.
We also work to reduce our Scope 3 emissions, or emissions from our upstream and downstream operations, with an emphasis on sustainable transportation initiatives and sustainable procurement. As a member of the University City's Sustainable Transportation Action Committee, we support efforts to increase the viability and use of sustainable transportation options among all travelers and residents in the University Circle area. Initiatives to promote alternative transit include sharing information, providing incentives, expanding options and availability and engaging with stakeholders to understand their needs.
To encourage our caregivers to commute using more sustainable transit options, we offer RTA commuter advantage discounts, green vehicle rebates and carpool preferred parking and discounts. Additionally, in 2017 we collaborated with the Northeast Ohio Areawide Coordinating Agency (NOACA) to create Gohio Commute, an online platform for our caregivers that enables them to set up carpools with colleagues based on their location and shifts, track the carbon footprint of their daily commute, participate in green transit challenges and learn about alternative transit options in their area.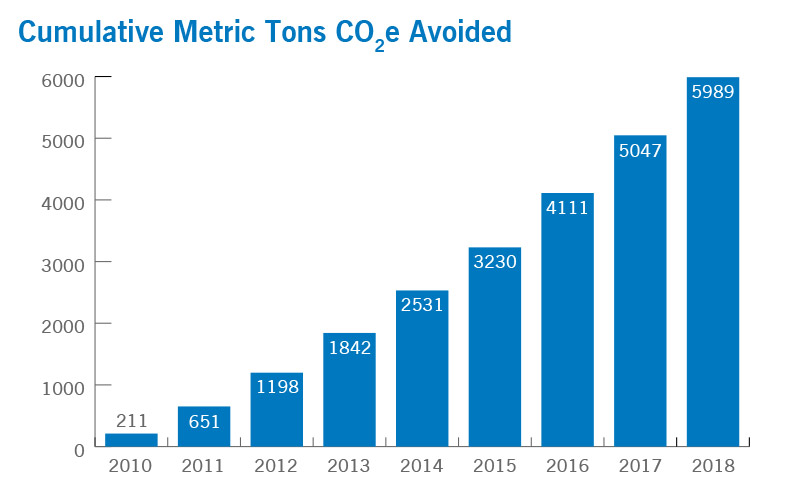 Community Tree Planting
Community Tree Planting
In the American Lung Association's 2018 State of the Air report, Cleveland ranked 10th for most polluted cities out of 203 metropolitan areas for year-round particle pollution.1 Cleveland is also included on the 2018 Asthma and Allergy Foundation of America's top 20 list of most challenging cities to live with asthma.2 Trees take up a variety of air pollutants, including particulate matter, which has detrimental effects on heart and lung health.
Additionally, trees provide the following ecosystem services and health benefits:
Filtering and cleaning air and stormwater
Absorbing stormwater and preventing erosion
Cooling surrounding environments via shade and ambient moisture, saving energy by reducing air conditioning needs
Buffering noise and wind
Providing wildlife habitat and food sources
Beautifying properties and increasing their value
In support of the Cleveland Tree Plan, a community plan to conserve and strategically restore Cleveland's urban canopy in locations that promote neighborhood equity, Cleveland Clinic is working with our neighbors in Fairfax to plant trees. In 2018, we planted 319 trees and 915 shrubs at our hospitals and family health centers, and planted 15 trees in Playwright and Fairfax parks. Additionally, in 2018 we launched a program in which Fairfax residents can request a tree planting in their yard free of charge, which includes resources on the human health benefits of trees to share with others.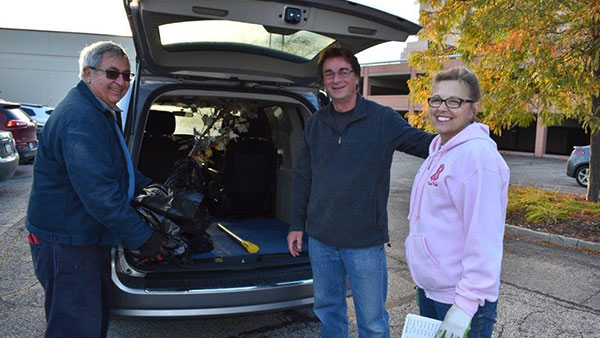 For the second year in a row, Cleveland Clinic collaborated with the Arbor Day Foundation to host a tree giveaway for caregivers. Through this initiative, caregivers have planted 885 trees in more than one hundred zip codes throughout the greater Cleveland area and beyond. In 20 years, the 555 trees planted from the 2018 giveaway will save enough energy to run 65 houses for a year (698,484 kWh), retain enough stormwater runoff to fill nearly 5.5 Olympic-size swimming pools (3,568,268 gallons) and sequester 388 metric tons of carbon dioxide, the equivalent of removing 92 passenger vehicles from the road for one year.
According to the Cleveland Tree Plan, ecosystem and health services provided by trees in Cleveland amount to $28 million annually, plus an additional $25 million in carbon sequestration services over their lifetime.3 Cleveland Clinic is committed to planting trees on our campuses and in our communities. We designed our medical campuses to maximize views of trees and green spaces, which research shows to accelerate patient healing and shortens their length of stay. By planting trees, not only are we benefiting the environment and making Cleveland more climate resilient, but we are also making a positive impact on human health.
---
1American Lung Association, "State of the Air® 2018," accessed 31 July 2019, lung.org/assets/documents/healthy-air/state-of-the-air/sota-2018-full.pdf.
2Asthma and Allergy Foundation of America, "2018 Asthma Capitals™," accessed 31 July 2019, aafa.org/media/2119/aafa-2018-asthma-capitals-report.pdf.
3Davey Resource Group, "The Cleveland Tree Plan," August 2015, accessed 31 July 2019, city.cleveland.oh.us/sites/default/files/forms_publications/ClevelandTreePlan.pdf.
Climate Action Fund
Climate Action Fund

Cleveland Clinic has supported the Cleveland Climate Action Fund (CCAF) since its inception in 2008, serving as a founding member in collaboration with the City of Cleveland and several other organizations and foundations invested in stimulating sustainable development in Cleveland. The mission of the CCAF is to promote and fund local carbon mitigation projects that foster economic growth, social well-being, and environmental stewardship in Cleveland neighborhoods. The first community-based, open-access carbon reduction fund in the United States, the CCAF has invested more than $170,000 in 70 resident-led projects throughout Cleveland to support vibrant and healthy communities. Examples of projects include community solar installations, composting programs, urban gardens, pocket parks, educational workshops, and initiatives to promote bicycling and other forms of alternative transit.
Healthcare Climate Council
Healthcare Climate Council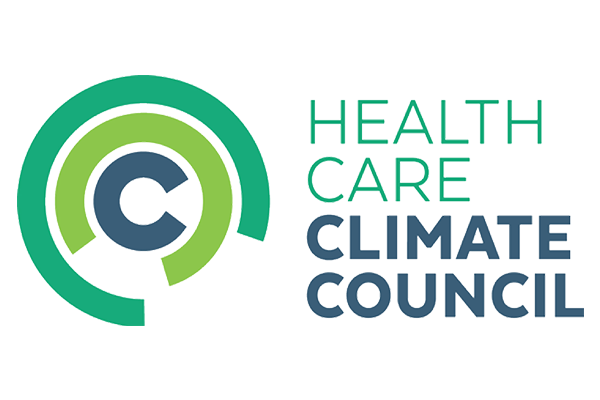 As a member of Health Care Without Harm's Climate Council, Cleveland Clinic joins other hospitals and health systems working to address climate change impacts on human health and advocating for climate change solutions. As trusted voices with significant purchasing power, healthcare systems are uniquely positioned to influence policy and markets and spur positive change to improve the health and resiliency of their communities. Health Care Without Harm's Climate Council encourages its members to act as catalysts for transforming healthcare to a climate-smart future with its three-pillar strategy:
Minimizing the carbon footprint of healthcare and championing low-carbon products and processes in supply chains to create demand and drive change
Designing and building resilient hospitals that support community health and sustainability in the wake of climate challenges
Sharing the health effects of climate change publicly and proposing and supporting policies at all levels of government that promote a low-carbon economy
By working as a unified community, we share best practices and aspire to serve as catalysts for collective action in addressing climate change in the healthcare industry.
Regulated Air Emissions
Regulated Air Emissions
Under Title V of the Clean Air Act, sources with specific types of emissions above a certain threshold must obtain a Title V air permit and observe permit limits and reporting requirements. Cleveland Clinic main campus meets the Title V emissions criteria and reports regulated emissions on an annual basis accordingly. Per the Title V requirements, we do not report normalized emissions. Our 2018 emissions increased over 2017 due to multiple power failures that required us to run our backup generators and use additional fuel oil.
EPA Air Title V Emission for Cleveland Clinic's main campus
Fee Emission Report (FER) | Emission Statement (ES)
| Air Pollutant | 2015 Emissions Total (Tons) | 2016 Emissions Total (Tons) | 2017 Emissions Total (Tons) | 2018 Emissions Total (Tons) |
| --- | --- | --- | --- | --- |
| Nitrogen Oxides | 31.612 | 15.803 | 17.416 | 21.684 |
| Sulfur Dioxides | 0.450 | 0.267 | 0.293 | 0.315 |
| Organic Compounds | 4.874 | 4.198 | 4.370 | 4.809 |
| Particulate Matter (PM)-10 | 0.865 | 0.731 | 0.761 | 0.837 |
| Volatile Organic Compounds | 2.666 | 2.150 | 2.257 | 2.476 |
| Carbon Monoxide | 37.308 | 32.072 | 33.401 | 36.751 |
| Total of Chargeable Pollutants | 37.814 | 21.031 | 22.845 | 28.931 |