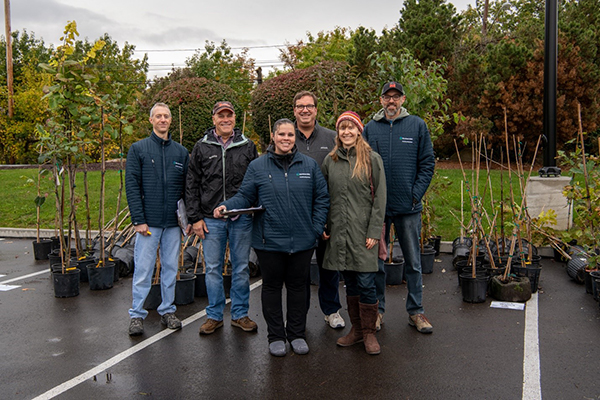 Our Commitment To Environmental Health
Cleveland Clinic defines environmental sustainability as our efforts to make a positive impact on human health by promoting clean air, soil and water; and healthy buildings and homes. Formed in 2007, Cleveland Clinic's Sustainability team supports efforts to:
Measure and manage our environmental impacts.
Develop and advance our sustainability strategy.
Collaborate with and empower fellow caregivers to take action at work, at home and in our communities to make a positive impact on human and environmental health.
Cleveland Clinic also has 28 enterprise green teams and three committees that champion sustainability efforts at their facilities or in their functional areas. These groups model sustainable behaviors, host events, promote engagement in sustainability initiatives, educate colleagues and share ideas for improvement, which has resulted in significant progress on our energy, water and waste goals.
Environmental sustainability goals
| Issue | Goal | 2021 Progress |
| --- | --- | --- |
| Climate | Carbon neutral (scope 1 and 2) by 2027 | 26% overall and 35% intensity reduction |
| Energy | Reduce energy use per square foot by 40% from 2010 baseline by 2030 | 18% reduction |
| Local & Sustainable Food | Source at least 30% of food for main campus from local and/or sustainable sources | 43% sourced locally |
| Waste | Divert 100% of non-hazardous waste from landfill by 2027 | 27% diversion |
| Water | Reduce water use per square foot by 10% from 2016 baseline by 2027 | 11% reduction |
In addition to the goals listed above, we also have commitments to healthy buildings, sustainable procurement, annual sustainability reporting, sustainability education and engagement, community tree planting and low carbon transportation.
Environmental Health Reporting
Environmental Health Reporting
Sustainable Procurement
We engage and collaborate with suppliers to promote sustainable practices, environmental impact reporting and products that are healthier for people and the environment.
Learn More
Water Stewardship
Several of our facilities are located near Lake Erie and the Florida Everglades. We strive to be conscientious neighbors of these two important freshwater sources through efficient water use and responsible waste management.
Learn More
Office for a Healthy Environment
Office for a Healthy Environment
Cleveland Clinic is committed to healthy environments for healthy communities. Learn more about our enterprise wide sustainability office.
Learn More