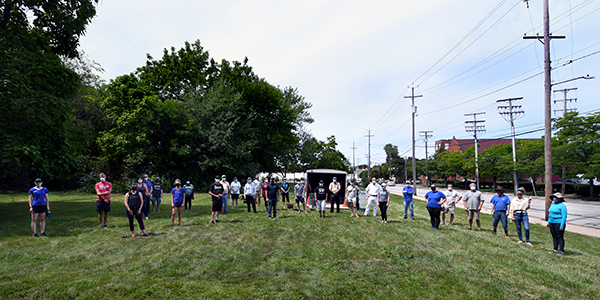 Our Commitment To Environmental Health
Cleveland Clinic promotes leadership in sustainability to address the impacts of pollution on public health, increase caregiver engagement, reduce costs and build upon our global reputation. Recognized as an industry leader, Cleveland Clinic launched its sustainability program in 2007 to lessen our environmental impacts.
Environmental Sustainability Goals
| Issue | Goal | 2020 Progress |
| --- | --- | --- |
| Climate | Carbon neutral (scope 1 and 2) by 2027 | 24% overall and 34% intensity reduction |
| Energy | Reduce energy use per square foot by 40% from 2010 baseline by 2030 | 25% reduction |
| Local & Sustainable Food | Source at least 30% of food for main campus from local and/or sustainable sources | 46% sourced |
| Waste | Divert 100% of non-hazardous waste from landfill by 2027 | 29% diversion |
| Water | Reduce water use per square foot by 10% from 2016 baseline by 2027 | 11% reduction |
In addition to the goals listed above, we also have commitments to green buildings and transportation, sustainable purchasing, toxicity reduction, annual sustainability reporting, caregiver and community engagement, tree planting and sustainability education.
Environmental Health Reporting
Environmental Health Reporting
Sustainable Procurement
We promote sustainability in the healthcare value chain by sourcing sustainable products and engaging with suppliers on advancing their sustainability practices and commitments.
Learn More
Water Stewardship
Our efforts to safeguard water quality include responsibly managing stormwater and wastewater, and we also work to conserve water by implementing efficiency measures at our facilities.
Learn More
Office for a Healthy Environment
Office for a Healthy Environment
Cleveland Clinic is committed to healthy environments for healthy communities. Learn more about our enterprise wide sustainability office.
Learn More