Maternal Infant Mortality
Maternal Infant Mortality
The Cleveland Clinic is a founding partner of First Year Cleveland and maintains a board of directors' seat currently occupied by Rebecca Starck, MD, president CC Avon Hospital and member of the Women's Health Institute. Working in conjunction with First Year Cleveland, the Task Force focuses on the priority areas of racial disparities, prematurity and safe sleep by participating in First Year Cleveland Action Teams.
First Year Cleveland GOAL:> By 2020, our community will reduce Cuyahoga County's infant mortality rate from 10.5 in 2015 to 6.0 by mobilizing the community through partnerships and identifying a unified strategy centered on reducing racial disparities, addressing extreme prematurity and eliminating sleep-related infant deaths.
On November 29, 2019 The Ohio Department of Medicaid awarded First Year Cleveland a two year grant of $4.8 Million dollars to fund activity to reduce infant deaths.
Key successes:
Hosted 140 participants total at 4 sites (STJFHC, Lakewood, Columbia, South Pointe) in Centering (a group prenatal care model that is proven to lead to better health outcomes for babies and mothers by bringing expecting parents together for interactive learning and community building)

Maintained steady Centering enrollment at Stephanie Tubbs Jones Health Center (STJFHC) from 2018 to 2019 (43 participants)
Established Centering at South Pointe Hospital and hosted 4 groups (16 participants)

Held 4 CCF Baby Shower programs at East Cleveland, Warrensville and Maple Heights with over 217 families in attendance, and reached 400 families at the Lorain County Community Baby Shower
Multiple Community Collaborations, including a Radio One Day at the Cleveland Metroparks Zoo that reached over 1,200 pregnant women and families
Safe Sleep Training: 5,960 caregivers trained to be Safe Sleep Heroes in 2019
Pregnancy Emergency Information Card approved and disseminated throughout the Women's Health Institute for use with all Obstetric Patients
Infant Mortality Task Force members are actively participating with the Fetal Infant Mortality Review Action Team, First Year Cleveland, Ohio Equity Institute and Healthy Cleveland
Awarded over $100K in grant funding to support Infant Mortality Initiatives
Opioid Awareness Education
Opioid Awareness Education
The Opioid Education and Prevention committee is made up of caregivers from across the Enterprise with a passion for educating the community on opioids and substance abuse.
Key accomplishments for 2019 include:
Distribution of over 2,500 Deterra bags to the community to encourage and promote proper disposal of unused medications
Presentations to 10 senior centers on the proper disposal and storage of medication
Caregivers made Nix Opiates presentations to over 1,200 students
Collaboration and agreement created with Rachel's Angels to expand programing to Cuyahoga County
Hosted Operation Street Smart educational forum after receiving a grant to bring the program to the area
Learn more about our work in addressing the opioid crisis in 2019.
Healthy Communities
Healthy Communities
Healthy Communities Initiative (HCI)
The Healthy Communities Initiative (HCI) fosters collaboration between Cleveland Clinic and community partners to promote optimal health and wellness. Based on the community health needs assessment and utilizing combined resources within our local communities, Healthy Communities Initiative programs will be customized around four core areas: physical activity, nutrition, tobacco cessation and lifestyle management.
Disease prevention is at the core of the how the U.S. will improve the health care system. External forces are simultaneously putting pressure on the system to reduce cost, improve quality and implement value-based payment programs. Providers are expected to go outside the walls of their institutions and play a prominent role in keeping people well, promoting health and leading public health initiatives. So in addition to providing world class care, Cleveland Clinic's responsibility as an anchor institution is to provide the tools to our community to empower people to be more accountable and responsible for their own well-being. With this in mind, Community Relations is working to better advance the health of the community.
Our goal is to transform the health and wellbeing of the communities in which we work, live and play. We have defined a transformed community as one in which empowered individuals work together to maintain and improve their health.
The Healthy Communities Initiative (HCI) focused on recruiting and engaging community members in an eight week health challenge that we measured by tracking BMI, blood pressure and weight change.
ENGAGEMENT PLATFORM GOALS: WE MEET THE PARTICIPANTS/COMMUNITIES WHERE THE ARE ON THEIR JOURNEY TOWARDS BETTER HEALTH AND WELLNESS.
There are multiple levels of engaging participants/communities in our health challenges Dynamic programming built for fun whether at the individual level or population level Includes education on nutrition, exercise, mobility sleep, hydration, recipes, videos, social interaction, incentives as the participants learn to move more, eat better and make positive lifestyle changes.
Level 1: Core Challenge: Come to free education classes that support your well-being journey
Level 2: Comprehensive Challenge: come and participate in an 8- week challenge and choose your own educational classes to support your health journey
Level 3: Total Commitment Challenge: start with 8 week group challenge that starts with community activity, mindfulness, results-oriented goal setting, friendly competition with your neighbors, family and friends that includes a combination of physical activity, nutrition classes
Our caregivers have a chance to address and teach about issues gathered from the tri-annual Community Health Needs Assessment (CHNA), which points to community concerns around diabetes, heart disease, hypertension, etc. Many individuals participate in the health challenges for 2-3 sessions with a smaller percentage continuing to attend after the initial sessions. Our caregivers have 12-18 opportunities per year to equip community members with the tools and minformation they need to make healthy choices now and later. Essential topics taught include: know your numbers, label reading, meal planning/prepping, exercise basics (aka finding the exercise you like that works for you), diabetes prevention/control, healthy heart habits, managing hypertension, sleep, stress management, journaling/tracking and more.
As health care moves from a traditional clinic-based model of care to one that reaches patients where they are in the community, Community Relations is positioned to facilitate the transition from a sick care model to well care.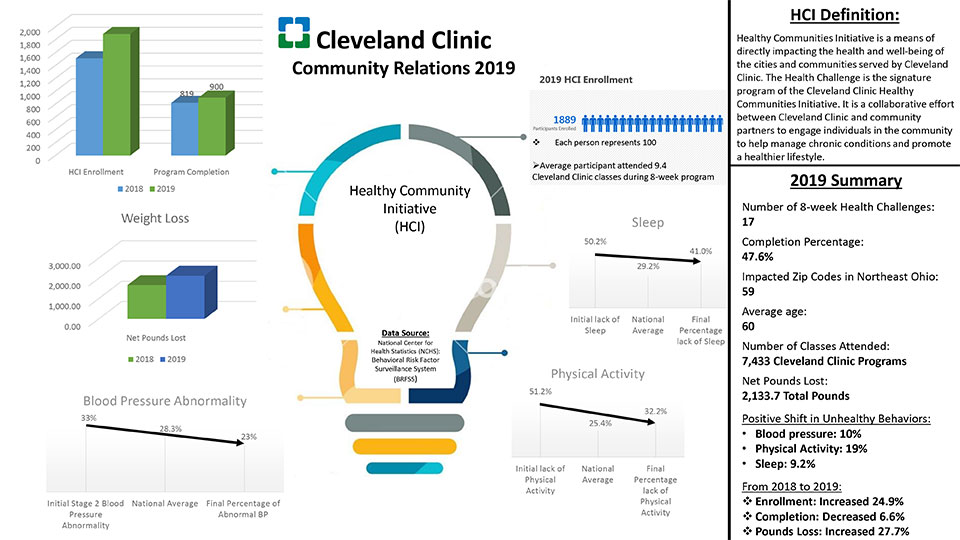 The Healthy Communities Initiative was retired in 2020.
Women's Health / Men's Health
Mammography Clinic at the Langston Hughes Community Health & Education Center
The Mammography Clinic provides breast exams, women's health education and more. Breast Exams and mammogram screenings are usually covered under most insurance plans. Cleveland Clinic offers financial aid for the uninsured and underinsured. Financial responsibility is determined by completing the financial assistance application. The Mammography Clinic is offered through a collaboration between Community Relations and Taussig Cancer Institute.
To schedule an appointment, please visit clevelandclinic.org/mammographyclinic, or call 216.444.2626 and indicate you would like a mammogram at Langston Hughes Community Health & Education Center.
Women's Health Clinic at Langston Hughes Community Health & Education Center and South Pointe Hospital
A warm, welcoming environment for all. Free, comprehensive and confidential care, including: routine women's health exams, preventative screenings, contraception and more.To schedule an appointment, please visit clevelandclinic.org/womenshealthclinic.
Come Learn with Us!
A wide variety of topics are available for health talks in the community. To join us for an upcoming program, please visit clevelandclinic.org/comelearnwithus, or email us at [email protected] ccf.org.
Fitness Classes
Our interactive fitness classes get people active and moving. No matter where you are on your fitness journey, we have classes to help you reach your goals so you can live a happier, healthier life. Classes are open to people of all ages and abilities at the Langston Hughes Community Health and Education Center and also at Stephanie Tubbs Jones Family Health Center.
To join us for an upcoming program, please visit clevelandclinic.org/fitnessclasses