Anchor Initiatives
Connecting Caregivers to K–12 Classrooms
Through our Worldwide Classroom® program, we bring health information and insider looks at careers in medicine direct to K–12 classrooms. In October 2019, more than 800 middle and high school students from 36 schools across five states participated in Cleveland Clinic Worldwide Classroom connected learning sessions.
Worldwide Classroom engages middle and high school students in explorations of health issues and health science and exposes them to career opportunities in medicine. Each experience includes interactive exchanges with healthcare professionals that are designed to influence and encourage students to make healthy life choices and to explore health science and medicine career paths.
Exploring Art and Architecture with the New ar+ App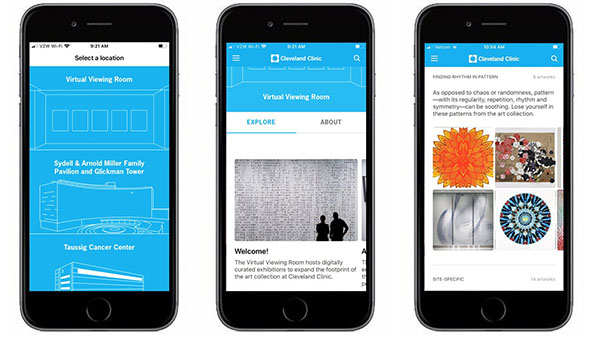 Experience Cleveland Clinic's world-class art and architecture from wherever you are with the free app ar+. Designed to promote a healing environment, the app allows users to explore Cleveland Clinic's art collection and facilities across the globe through augmented reality, images, videos and more.
The app launched with nine locations, including several buildings at main campus, regional hospitals throughout North East Ohio, Las Vegas, Florida and Abu Dhabi. In response to the ever-changing pandemic landscape, a newly added Virtual Viewing Room features digitally curated, thematic exhibitions that investigate pertinent topics, such as "Take Me There" and "Finding Rhythm in Pattern."
New content is added regularly, with four more locations joining the roster in 2020.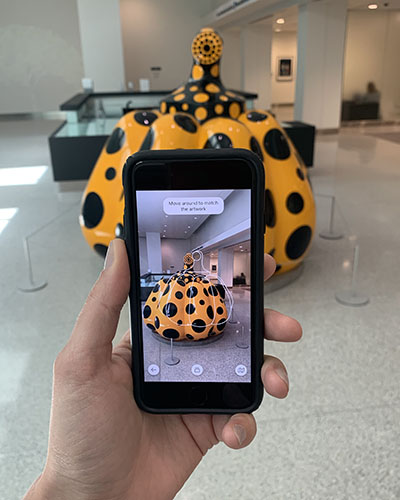 ar+ allows you to:
Interact with dynamic media from wherever you are
Experience augmented reality (ar) at featured locations
Discover how art and architecture at Cleveland Clinic create unique healing environments
Learn about artworks in Cleveland Clinic's contemporary art collection
Engage with artists and explore buildings through video, audio and 360° views
Access a calendar of events and performances
Locate patient and visitor amenities like cafés, boutiques and special resources
Connect to hospital facilities and departments
Download Cleveland Clinic ar+ for free in the Apple App Store for iOS devices 6s or later.
Made possible by a gift from Anita Cosgrove and her daughters in honor of Toby Cosgrove, MD, Executive Advisor and former CEO and President of Cleveland Clinic.
Louis Stokes Internship Program
The Louis Stokes Internship Program is a six-week paid summer internship that honors Congressman Louis Stokes' legacy of public service and his longstanding commitment to the youth of Cleveland. It provides rising high school sophomores, juniors, and seniors from Cleveland, East Cleveland, and Warrensville with real-world experience in non-clinical/business focused areas of healthcare, such as Administration, Buildings & Properties/ Engineering, Community Outreach, Hospitality, Human Resources, Information Technology, Law Department, Marketing, Protective Services & more. Almost 16,000 students have completed this and other Cleveland Clinic civic education programs over the years.
Caregivers Volunteer to Sort Life-Saving Supplies at Medwish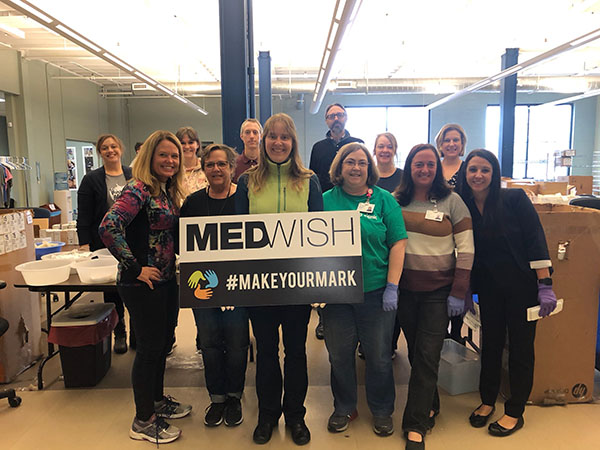 Caregivers from Cleveland Clinic's Art + Design Institute Volunteering at Medwish
MedWish International is a not-for-profit organization based in Cleveland, Ohio that collects and reuses medical supplies and equipment to help save lives and divert valuable materials from landfills. Medwish repurposes these supplies that are no longer needed by healthcare organizations to provide humanitarian aid locally and in developing countries.
Caregiver champions at various facilities across Cleveland Clinic identify, collect and arrange pickups of materials suitable for donation. Many of our 25 enterprise-wide Green Teams support our collection efforts for Medwish by sharing updates with other caregivers at their facilities on which supplies are currently accepted and in the greatest demand.
In 2019, Cleveland Clinic donated nearly 61 tons of medical supplies to Medwish, and caregivers volunteered 1,846 hours to help organize and prepare shipments of medical supplies for others in need.
Greater Cleveland Food Bank Recognizes Cleveland Clinic as Volunteer Group of the Year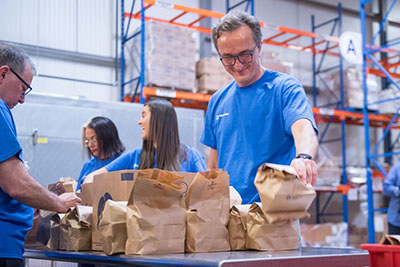 Caregivers, including President and CEO Tomislav Mihaljevic, MD, Pack Lunches at The Greater Cleveland Food Bank
Strengthening our impact in the community by partnering with local service organizations to help better serve the community's needs is one of our strategic goals.
In 2019, Cleveland Clinic was recognized by the Greater Cleveland Food Bank as the Volunteer Group of the Year. This award is presented annually to companies, community organizations and groups of people who have gone above and beyond to give back to the Food Bank.
Since Oct. 1, 2018, more than 1,400 caregivers volunteered over 4,300 hours of their time assisting with many different projects to support the Food Bank's mission. Included in these numbers are individual as well as group service outings, including more than 700 caregivers who participated in the new Community Service Time Off program.
Caregivers Prepare Thanksgiving Meals for Main Campus Neighbors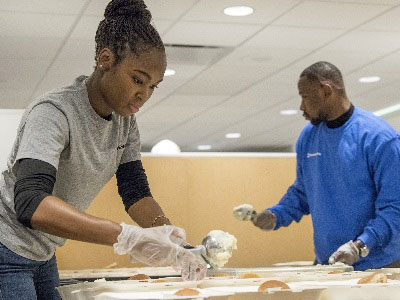 Hundreds of community residents near main campus got an early taste of traditional Thanksgiving dishes following a special caregiver volunteer opportunity. On November 23, our Community Outreach department worked with Supply Chain and Morrison Health (one of our main campus food providers) to provide meals to Cleveland's Fairfax and Hough neighborhood residents. Caregivers packed turkey, mashed potatoes, green beans and rolls into boxed meals that were distributed at six locations.
In addition to connecting caregivers with the community, the volunteer experience also helped build camaraderie among caregivers.
"When we have opportunities to give back beyond our normal responsibilities, we are able to bond on a different level—which further impacts the community in a positive way." Melvonna Williams, administration program coordinator for the Global Leadership and Learning Institute.
Volunteers exceeded their goal of assembling 650 meals—ultimately distributing 730 to local community members.