Anchor Initiatives
Anchor Initiatives
Connecting Caregivers to K–12 Classrooms
Through our Worldwide Classroom® program, we bring health information and insider looks at careers in medicine direct to K–12 classrooms. In October 2019, more than 800 middle and high school students from 36 schools across five states participated in a Cleveland Clinic Worldwide Classroom connected learning session with Charles Modlin, MD. The students were taken through a kidney transplant surgery, where Dr. Modlin explained the health issues that can lead to kidney disease and the need for kidney replacement surgery. He also discussed his career as a surgeon and the team of healthcare professionals that supports him in the operating room.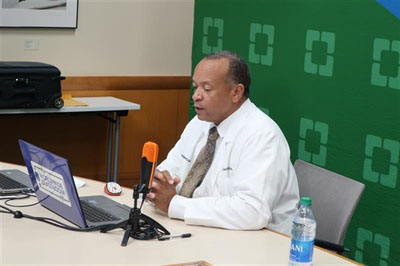 Worldwide Classroom engages middle and high school students in explorations of health issues and health science and exposes them to career opportunities in medicine. Each experience includes interactive exchanges with healthcare professionals that are designed to influence and encourage students to make healthy life choices and to explore health science and medicine career paths.
Learn more about Worldwide Classroom
Exploring Art and Architecture with the New ar+ App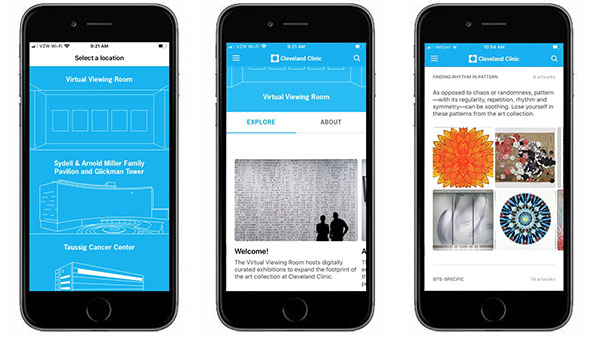 Experience Cleveland Clinic's world-class art and architecture from wherever you are with the free app ar+. Designed to promote a healing environment, the app allows users to explore Cleveland Clinic's art collection and facilities across the globe through augmented reality, images, videos and more.
The app launched with nine locations, including several buildings at main campus, regional hospitals throughout North East Ohio, Las Vegas, Florida and Abu Dhabi. In response to the ever-changing pandemic landscape, a newly added Virtual Viewing Room features digitally curated, thematic exhibitions that investigate pertinent topics, such as "Take Me There" and "Finding Rhythm in Pattern."
New content is added regularly, with four more locations joining the roster in 2020.
ar+ allows you to:
Interact with dynamic media from wherever you are
Experience augmented reality (ar) at featured locations
Discover how art and architecture at Cleveland Clinic create unique healing environments
Learn about artworks in Cleveland Clinic's contemporary art collection
Engage with artists and explore buildings through video, audio and 360° views
Access a calendar of events and performances
Locate patient and visitor amenities like cafés, boutiques and special resources
Connect to hospital facilities and departments
Download Cleveland Clinic ar+ for free in the Apple App Store for iOS devices 6s or later.
Made possible by a gift from Anita Cosgrove and her daughters in honor of Toby Cosgrove, MD, Executive Advisor and former CEO and President of Cleveland Clinic.
Louis Stokes Internship Program
The Louis Stokes Internship Program is a six-week paid summer internship that honors Congressman Louis Stokes' legacy of public service and his longstanding commitment to the youth of Cleveland. It provides rising high school sophomores, juniors, and seniors from Cleveland, East Cleveland, and Warrensville with real-world experience in non-clinical/business focused areas of healthcare, such as Administration, Buildings & Properties/ Engineering, Community Outreach, Hospitality, Human Resources, Information Technology, Law Department, Marketing, Protective Services & more. Almost 16,000 students have completed this and other Cleveland Clinic civic education programs over the years.
Caregivers Volunteer to Sort Life-Saving Supplies at Medwish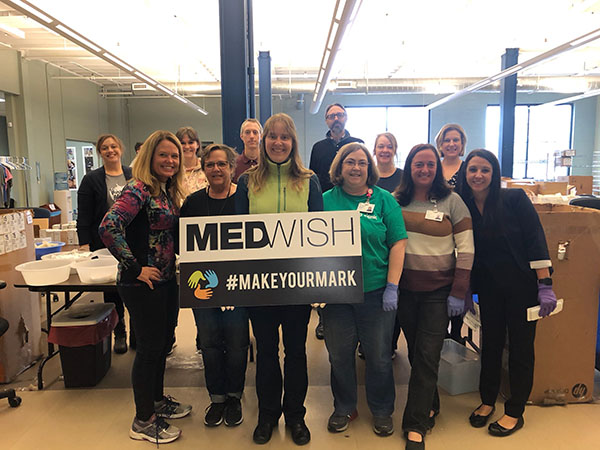 Caregivers from Cleveland Clinic's Art + Design Institute Volunteering at Medwish
MedWish International is a not-for-profit organization based in Cleveland, Ohio that collects and reuses medical supplies and equipment to help save lives and divert valuable materials from landfills. Medwish repurposes these supplies that are no longer needed by healthcare organizations to provide humanitarian aid locally and in developing countries.
Caregiver champions at various facilities across Cleveland Clinic identify, collect and arrange pickups of materials suitable for donation. Many of our 25 enterprise-wide Green Teams support our collection efforts for Medwish by sharing updates with other caregivers at their facilities on which supplies are currently accepted and in the greatest demand.
In 2019, Cleveland Clinic donated nearly 61 tons of medical supplies to Medwish, and caregivers volunteered 1,846 hours to help organize and prepare shipments of medical supplies for others in need.
Greater Cleveland Food Bank Recognizes Cleveland Clinic as Volunteer Group of the Year
Caregivers, including President and CEO Tomislav Mihaljevic, MD, Pack Lunches at The Greater Cleveland Food Bank
Strengthening our impact in the community by partnering with local service organizations to help better serve the community's needs is one of our strategic goals.
In 2019, Cleveland Clinic was recognized by the Greater Cleveland Food Bank as the Volunteer Group of the Year. This award is presented annually to companies, community organizations and groups of people who have gone above and beyond to give back to the Food Bank.
Since Oct. 1, 2018, more than 1,400 caregivers volunteered over 4,300 hours of their time assisting with many different projects to support the Food Bank's mission. Included in these numbers are individual as well as group service outings, including more than 700 caregivers who participated in the new Community Service Time Off program.
Caregivers Prepare Thanksgiving Meals for Main Campus Neighbors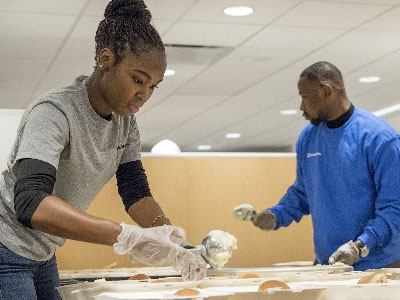 Hundreds of community residents near main campus got an early taste of traditional Thanksgiving dishes following a special caregiver volunteer opportunity. On November 23, our Community Outreach department worked with Supply Chain and Morrison Health (one of our main campus food providers) to provide meals to Cleveland's Fairfax and Hough neighborhood residents. Caregivers packed turkey, mashed potatoes, green beans and rolls into boxed meals that were distributed at six locations.
In addition to connecting caregivers with the community, the volunteer experience also helped build camaraderie among caregivers.
"When we have opportunities to give back beyond our normal responsibilities, we are able to bond on a different level—which further impacts the community in a positive way." Melvonna Williams, administration program coordinator for the Global Leadership and Learning Institute.
Volunteers exceeded their goal of assembling 650 meals—ultimately distributing 730 to local community members.
Advocacy & Policy
Advocacy & Policy
In 2018, we continued our advocacy and policy work to address the ongoing opioid crisis. Much of this effort was through community collaboration with Cleveland Clinic's membership in the Northeast Ohio Hospital Opioid Consortium.
The Northeast Ohio Hospital Opioid Consortium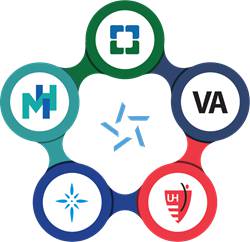 The Northeast Ohio Hospital Opioid Consortium is a partnership between the Center for Health Affairs, Cleveland Clinic, MetroHealth, Northeast Ohio VA Healthcare System, St. Vincent's Charity Medical Center and University Hospitals—as well as several support teams and committees. The principal goal of the Opioid Consortium is to serve as a model hospital system-based and physician-led group that significantly reduces the impact of the opioid epidemic by:
Sharing and implementing effective, alternative pain management practices
Promoting policy changes
Increasing addiction prevention efforts
Improving access to treatment
Reduction in Opioid Prescribing & Alternative Pain Management
In order to offset decades of prescribing trends, the consortium has invested resources in alternative pain management strategies. Since 2013, Ohio has had a 25-30 percent reduction in prescription opioid-related deaths, and hospital members of this consortium continue to make efforts to reduce opioid prescribing. Cleveland Clinic has reduced opioid prescribing by 40 percent since 2014.
Some of our efforts at the Clinic include:
Maximizing non-opioid medicines like Tylenol 1000 (and Motrin) in the operating room, limiting acute tolerance
Increasing opioid-free C-sections by more than 40 percent since 2017
Enrolling patients in "Back on TREK," a comprehensive 12-week interdisciplinary program that empowers individuals to manage their pain through physical and behavioral approaches
Improving Access to Care and Medication-Assisted Treatment (MAT)
Through the Pain Committee's leadership, Cleveland Clinic has expanded its 'hub and spoke' model, placing newly trained primary care practitioners across the enterprise and broadening access to care for opioid-use disorder (OUD) patients.
Additionally, increasing access to Medication-Assisted Treatment (MAT) is a top priority for the consortium. A study in the Harvard Review of Psychiatry found that the use of MAT in treatment of OUD patients more than doubled opioid-abstinence outcomes when compared with therapy involving a placebo or no medication, significantly improving the odds of recovery in OUD patients.1 Since its inception in 2017, more than 150 new providers have been trained to treat OUD patients through MAT.
While the expansion of a 'hub and spoke' model is critical, eliminating unnecessary barriers to treatment for MAT is equally important. As we move forward, a key focus of the consortium will be advocating for the removal of prior authorization from insurance companies for MAT and opioid addiction treatment, as other states have done.
---
1 Hilary Smith Connery, "Medication-assisted treatment of opioid use disorder: review of the evidence and future directions," Harvard Review of Psychiatry 23, no. 2 (March-April 2015): 63–75. DOI: 10.1097/HRP.0000000000000075.
Healthy Lifestyles
Healthy Lifestyles
Residents Across Northeast Ohio Rise to the Healthy Communities Initiative Challenge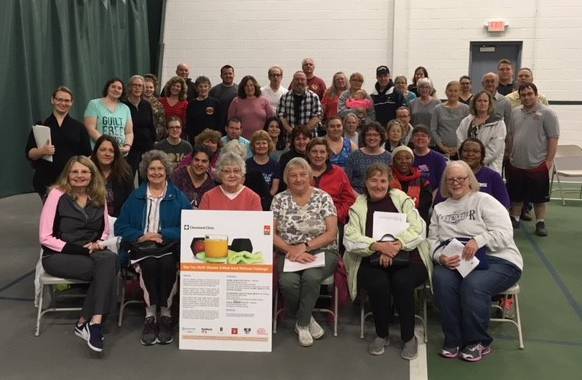 Throughout the month of January, we helped northeast Ohio residents commit to their New Year's resolutions by engaging them in our Healthy Communities Initiative (HCI) Wellness Challenges. Based on the Community Health Needs Assessment and available combined assets within our local communities, we created HCI programs to address three core areas: education, nutrition and physical activity. These 8-week long competitions, sponsored by Cleveland Clinic and local businesses, educate participants on current health trends and motivate them to make simple lifestyle changes to help meet their health and fitness goals.
The "New You North Olmsted" HCI launched with 92 people completing blood pressure, Body Mass Index (BMI,) and exercise screenings. Participants in this wellness challenge met weekly for group exercise, healthy recipes and education sessions with Cleveland Clinic specialists and other professionals. The top six participants received an annual membership to the North Olmsted Recreation Center.
The "Healthy Medina" HCI also kicked off a wellness challenge, where 104 people received screenings for blood pressure, BMI, total cholesterol and glucose. Participants met at least once a week for educational programming, cooking demonstrations and physical activities. As part of the challenge, individuals were able to take advantage of Buehler's Fresh Foods' grocery delivery service, and get the exact food items featured during the cooking demonstrations so they could reproduce healthy meals at home.
A total of 183 residents from the Fairfax, Glenville, Hough and Central/Kinsman neighborhoods enrolled the Langston Hughes Community Health & Education Center Winter Health Challenge, 27 percent of whom had not previously participated in a challenge. The Center collaborated with several new internal and external partners to introduce a variety of different fitness and educational programs, including: Art Therapy, Yoga, Financial Literacy (supported by Citizens Bank,) Cancer Awareness (presented by The Gathering Place,) and Healthy Brain/Healthy Body (presented by the Cleveland Area Chapter of the Alzheimer's Association). At the beginning of the Challenge, screenings identified 52 participants as stage 2 hypertensive. Of these 52 individuals, 38 completed post-program screenings and 19 significantly lowered their blood pressure to a level no longer classified as stage 2 hypertensive.
At the end of each health challenge, participants once again completed screenings to gauge progress, and received information regarding additional Cleveland Clinic opportunities and programs to help them continue their journey of maintaining a healthier lifestyle.
Heart Health Programs Educate Residents Throughout the Region
According to the National Center for Health Statistics, nearly half of all Americans have at least one of three key risk factors for heart disease.1 To this end, we set out to educate the community on this very important topic during American Heart Month in February by providing interactive programming at Euclid Public Library, the Fulton Branch of the Cleveland Public Library, the Maple Heights Library Branch of the Cleveland Public Library, the Warrensville Heights Civic and Senior Center, Buehler's Fresh Foods of Wadsworth, the Akron Urban League, Cleveland Clinic Akron General Health & Wellness Center—Bath, Stephanie Tubbs Jones Family Health Center and the Langston Hughes Community Health & Education Center.
More than 450 community members took part in these programs, which provided participants with tips they could easily incorporate into their daily routines to protect their heart against disease, and encourage choices that support a healthy, active lifestyle. Our Community Health Nurses team was also on hand at several of these events and provided free health screenings to more than 140 individuals.
Opioid Education and Prevention Committee Brought Its Message to Minority Men's Health Fair
On April 19, Cleveland Clinic's Opioid Education and Prevention Committee (OEPC) hosted a table at the 16th Annual Minority Men's Health Fair. The OEPC shared information including the latest statistics on the opioid epidemic and the rise of fentanyl-related overdoses, the importance of carrying naloxone (an opioid overdose antidote) and how to locate resources for addiction treatment and recovery.
A generous contribution from Cover2 Resources enabled the OEPC team to distribute 106 fentanyl testing kits, which allow illicit drug users to test drugs for the presence of this powerful and often deadly opioid. Circle Health Services regularly distributes these testing kits through their Syringe Exchange Program, which focuses on reducing the incidence of HIV and Hepatitis C infection in high risk populations by providing injection drug users with clean supplies and education to slow the spread of blood borne disease.
A Healthy Summer of Learning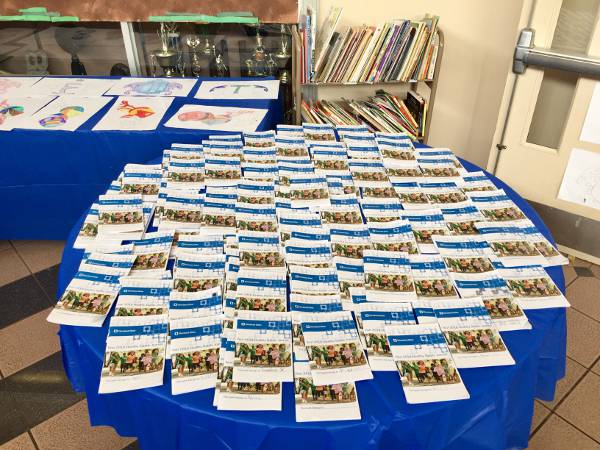 During the summer of 2018, Community Outreach Health Educators presented on-the-ground programming such as healthy eating, self-esteem and anti-bullying to a total of 1,314 youth at several community partners and at our main campus Farmers Market.
A number of core community partners, including Fatima Family Center, Inner City Tennis Clinics, Boys & Girls Clubs of Cleveland and Rainey Institute incorporated our Healthy Habits Journal as part of their summer curriculum. In total, our partners completed 423 pre- and post-program surveys to learn the impact the daily journaling and health lessons had on program participants. They surveyed individuals at the beginning and end of camp across six categories, all of which had equal or improved measures. Notable responses among the findings include:
Nutrition & Healthy Eating Category: Youth agreeing that "food is fuel for my body" increased from 89% to 94%
Personal Fitness & Exercise Category: Youth agreeing that "exercise can help me do better in school" increased from 67% to 78%
Anger Management Category: Youth agreeing that "there is 'good' anger and 'bad' anger" increased from 73% to 87%
Self-Esteem Category: Youth agreeing that "I can learn from my mistakes" increased from 92% to 96%
In addition to visiting partner locations to deliver health education, our team invited our partners and their summer campers to our main campus Farmers Market for an up-close look at local fresh fruits and vegetables to learn how important these staples are to being healthy. Campers had the opportunity to purchase food at the market and bring it back to their camps to create nutritious snacks.
---
1Cheryl D. Fryar, Te-Ching Chen, and Xianfen Li, "Prevalence of Uncontrolled Risk Factors for Cardiovascular Disease: United States, 1999–2010," NCHS data brief, no. 103, Hyattsville, MD: National Center for Health Statistics, (2012).
Education
Education
Connected Learning Programs Kick Off the New Year in a Big Way
Through our Civic Education Department's Connected Learning programs, hundreds of students from area middle and high schools took part in interactive learning sessions that incorporate various multi-media educational tools to engage students in the exploration of science, medicine, healthcare careers, creative expression and more.
Led by a team of caregivers from Cleveland Clinic's Taussig Cancer Institute, 180 students from seven schools participated in the January 16th session of Worldwide Classroom®. The Taussig Cancer Center team engaged their student audience in friendly competition with an ice-breaker game on the costs of smoking. Students from the Cleveland Metropolitan School District's Campus International High School won the top prize. The Taussig team also shared information about the risks of using tobacco, and answered a myriad of questions from students about second-hand smoke, the risks of e-cigarettes and how they can help their loved ones quit smoking.
On January 30, world-renowned surgeon and Center Director of Cleveland Clinic's Minority Men's Health Center, Charles Modlin, MD, MBA, led the "Meet a Kidney Surgeon" session of Worldwide Classroom®, giving 340 students from 12 schools a bird's-eye view of a kidney replacement surgery. Dr. Modlin's presentation walked students through the entire process, from the first incision to the final stitch. Dr. Modlin also shared information about his career, the support team inside the operating room and the health risks that lead to kidney disease.
The Adventure in Health Science and Medicine® (AHSM®) program also kicked off in January, with 153 students from eight middle schools embarking on the journey to diagnose and treat a case study patient. Throughout the course of the program, students interacted with Cleveland Clinic caregivers from Medical Laboratory, Radiology, Respiratory Care, Pharmacy and Physical Therapy professions. Caregivers led interactive discussions with students and facilitated hands-on learning activities, concluding the program with an innovation challenge in which students were asked to create a medical solution related to the case studies.
Adventures in Health Science and Medicine Wins Distance Learning Innovation Award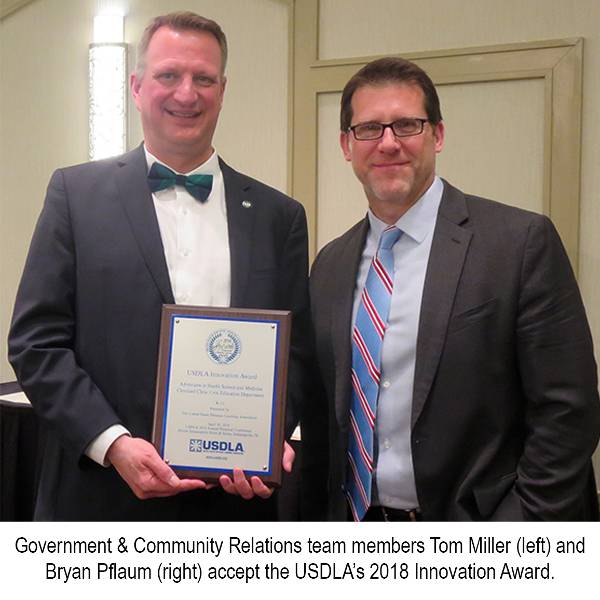 In April 2018, Cleveland Clinic's Adventures in Health Science and Medicine® (AHSM®) program was honored with the United States Distance Learning Association's (USDLA) annual prestigious Innovation Award.
The AHSM program is a series of five, hour-long distance learning courses offered in real-time through video conference technology to promote the health sciences and study of medicine to middle school students. The AHSM program encourages critical thinking and collaboration in the form of experiential case studies. By interacting with Cleveland Clinic caregivers virtually, students are exposed to various career paths in medicine and can go behind the scenes at Cleveland Clinic to enhance their learning.
The USDLA International Distance Learning Awards are presented to five major sectors of distance learning, education and training that include the Pre-K – 12, Higher Education, Corporate, Government and Telehealth markets, and recognize seven categories of excellence.
Student eXcellence on Display at the Global Center for Health Innovation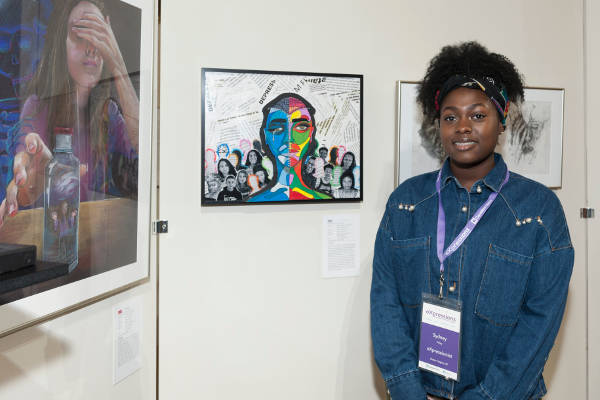 Cleveland Clinic's 2018 eXpressions™ Art, Language, and Math eXhibition opened on February 15th at the Global Center for Health Innovation with a program and reception attended by more than 400 participating students, their parents, teachers and program judges.
Launched in 2005, eXpressions™ is an award-winning educational initiative that uses creative expression to engage middle and high school students in the exploration of science and medicine. Through project-based, peer-to-peer learning, students translate research studies conducted by Cleveland Clinic high school interns, producing artistic, literary and mathematical interpretations of the science.
Best in Show honors for Art went to Sadie Reda from Hoover High School in North Canton. Her painting interprets research conducted on Attention Deficit Hyperactivity Disorder and reflects the struggles her brother endures with this diagnosis.
Schuylar South, a student at Kirtland High School in Kirtland, was the Best in Show Award recipient for Language. She used a creative approach to capture the thoughts and feelings of someone suffering from an eating disorder. She presented her writing in a dictionary format with definitions of words that describe the perceptions those afflicted with these disorders may have of themselves.
The Best in Show Award for Math went to an eighth grade student, Ethan Barker, from Middleburg Heights Junior High School in Middleburg Heights. Research on the global benefits of immunizations inspired the mathematical calculations in his work, the intent of which was to help increase awareness of the "Power of Vaccines."
In 2018, eXpressions™ engaged a record-breaking 1,904 students and 105 teachers from 61 schools across the state. We received 1,784 projects and an esteemed panel of content experts granted a total of 116 awards (75 in Art, 36 in Language and 5 in Math).
New Civic Education Program Unleashes Serious Fun and Learning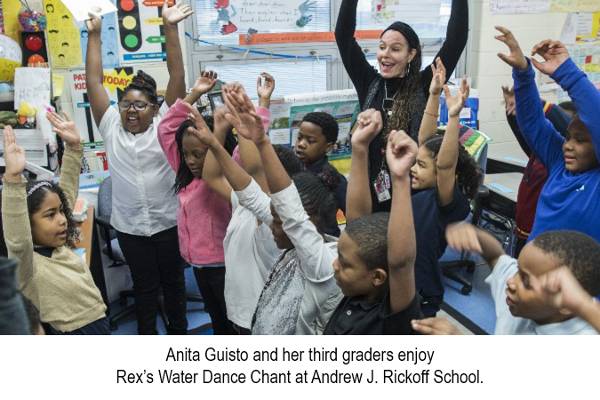 In 2018, Cleveland Clinic launched Health Unleashed!, a new Civic Education program that promotes healthy lifestyle choices, literacy and interdisciplinary exploration for early elementary school students. The Health Unleashed! program features the title character of the Rex Rules! storybook series, a Cleveland Clinic therapy dog who takes pride in teaching his canine cohorts the important health tips he overhears on his rounds at the hospital.
Making learning fun for students was a top priority in the development of the Rex Rules! Storybooks and the Health Unleashed! program, particularly for their chief architects, Cleveland Clinic Creative Learning Interns Madeline Spicer, from Notre Dame-Cathedral Latin School, and Rachael Thorn, from Rocky River High School. With the support of Civic Education mentors, the two interns interviewed and evaluated responses from teachers, healthcare providers, and children's literature specialists to craft characters and storylines for the books, developed activities for the corresponding lessons, build a prototype of an all-inclusive educator's kit and refine the program using feedback from pilot sessions.
The Health Unleashed! Program employs humor, song, dance and creative hands-on activities with the goal of ensuring an engaging educational experience for students.
What is Your Anti-Drug Contest Engages Nordonia Middle School Students in the Discussion About Substance Abuse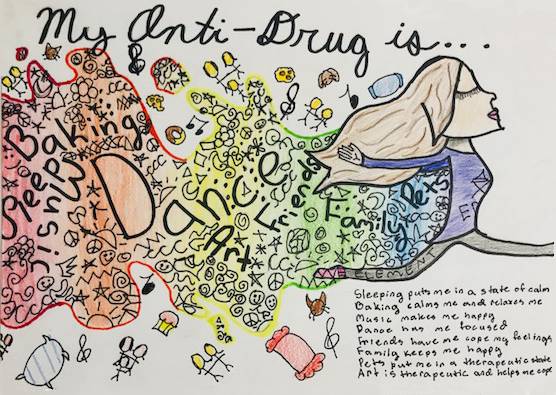 Cleveland Clinic's Twinsburg Family Health and Surgery Center hosted a special student art show in April called "What is Your Anti-Drug?"
Earlier in the school year, the Heroin Awareness Team—a group of Nordonia Hills School District alumnus who have been impacted by the opioid epidemic—conducted substance abuse education at Nordonia Middle School. After the program, students were asked to create works of art that portray images and words that answer the question, "Instead of using drugs, how can you cope with stress and boredom?" The resulting exhibit showcased more than 100 works from the middle school students. The top prize went to a sixth grade student who wrote and drew about her many hobbies, including baking, music, dance and art.
Members of the Heroin Awareness Team include Cleveland Clinic caregivers such as Melissa Paruleski, RN, CNOR, who works as a Care Coordinator in the Orthopaedic Surgery Department on Cleveland Clinic's main campus. Melissa participates in honor of her brother who died of a heroin overdose. Other members include local law enforcement personnel, EMS workers and business owners.
Cleveland Clinic and Maple Heights Schools Aim to Keep the Mustangs Healthy
Maple Heights City Schools and Cleveland Clinic partnered to bring health and wellness programs to students and their parents with the goal of empowering students with the knowledge they need to lead healthy lives and engaging parents in support of their child's efforts.
Administrators from Maple Heights Schools approached Cleveland Clinic earlier in the 2017-18 school year to discuss their desire to reduce the childhood obesity rate among students in the district. We started the program with a pilot offered to fourth grade students at Barack Obama Elementary School to provide education on proper nutrition, physical fitness and chronic disease management.
On April 10, Maple Heights expanded programming to include a Family Engagement Night open to all students and parents. The event included food sampling, cooking demonstrations, nutrition education, exercise activities and free health screenings for adults. Every family in attendance was able to take home 30 pounds worth of free, healthy groceries and produce courtesy of the Greater Cleveland Food Bank.
Other offerings included the Diabetes 101 program, recess exercise clinics and Heart Health Month education. When the program concluded on May 24, the nearly 275 students engaged in these learning experiences received a certificate of participation at their school's Field Day event.
Healthcare professionals from Cleveland Clinic's Pediatrics Institute will participated in the development and implementation of 2018-19 school year offerings, which opened to more students with the opportunity to bring the Community Pediatrics Mobile Health Unit directly to the schools.
Hundreds of Medina-Area Residents Attended Functional Medicine Talk
On Wednesday, April 25, nationally-known health expert, author, speaker, and frequent guest of the Dr. Oz Show, Mark Hyman, MD, spoke to more than 600 attendees at the Medina High School Performing Arts Center about ways to tackle the root causes of chronic disease by harnessing the power of Functional Medicine to transform healthcare.
As Director of Cleveland Clinic's Center for Functional Medicine, Dr. Hyman believes that all individuals deserve a life of vitality and that they have the potential to create it for themselves.
Sponsored by the "Healthy Medina" Healthy Communities Initiative—a collaborative effort between Cleveland Clinic and community partners to promote optimal health and wellness—Dr. Hyman's 90 minute talk focused mainly on topics covered in his most recent book, Food: What the Heck Should I Eat?, Participants received recommendations on the daily intake of various foods to optimize wellness, such as sugar and salt, healthy fats, grains, vegetables and healthy protein sources.
At the conclusion of the program, Healthy Communities Initiative participants from throughout northeast Ohio received recognition for their efforts in recent health challenges.
Economic Vitality
Economic Vitality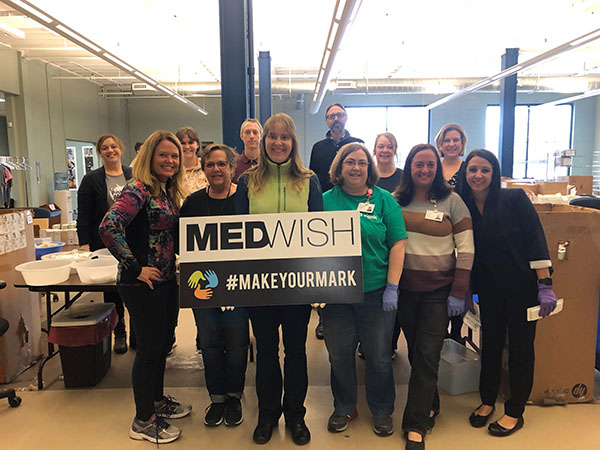 Cleveland Clinic Service Day Partners with Medwish to Deliver Life-Saving Supplies
On March 23, more than 30 Cleveland Clinic caregivers volunteered at the new downtown Cleveland headquarters of MedWish International, a not-for-profit organization that saves lives and the environment by repurposing discarded medical supplies and equipment to provide humanitarian aid in developing countries.
Working in teams, caregivers sorted, packed and labeled hundreds of pounds of medical supplies, which were transported to Puerto Rico, Yemen and other countries in the Middle East, Africa and Eastern Europe. This experience is just one of the many ways Cleveland Clinic supports the community through service, monetary donations, in-kind contributions and other resources.
In 2018, Cleveland Clinic donated a total of 68 tons of medical supplies to Medwish, and an estimated 230 caregivers volunteered to help organize and prepare shipments of medical supplies for others in need.
Community Service with Rebuilding Together in the Glenville Neighborhood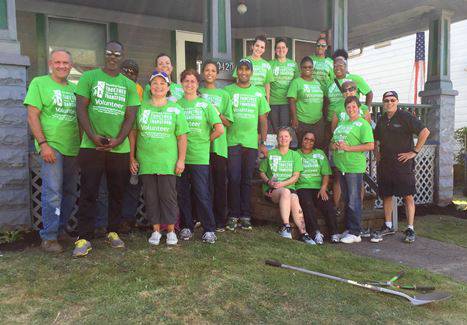 On September 28, 2018 Cleveland Clinic partnered with Rebuilding Together Northeast Ohio for a special Enterprise Community Service Day in the Glenville neighborhood, right near our main campus. Volunteers painted community spaces, cleared property for further landscaping and eventual use, placed plants and flowers at homes all along the street and addressed other needs of homes and homeowners on East 118th Street in the heart of our Glenville Community. A total of 22 caregivers provided 77 hours of service to contribute community benefit during this work day alongside Rebuilding Together Northeast Ohio staff.
Rebuilding Together Northeast Ohio works to preserve and revitalize communities by engaging volunteers and professionals in the repair of distressed homes. The organization's mission is to ensure that low-income families, the elderly, the disabled and veterans live in warmth, safety and independence. Cleveland Clinic has participated in joint service projects with this community partner for the last several years, as we believe their focus directly impacts one of the most important components of population health—having a secure and healthy place to live.
Cleveland Clinic's 2018 Harvest for Hunger Campaign
Throughout Northeast Ohio, one in six people—and one in five children—is food insecure.1 That's why the Cleveland Clinic continues to be a proud partner of the Greater Cleveland Food Bank and a signature partner for the annual Harvest for Hunger campaign.
Throughout the campaign, caregivers were encouraged to make and collect donations, as well as conduct food drives for boxed and canned goods, and peanut butter. For every dollar donated, the Greater Cleveland Food Bank provided four nutritious meals to individuals in need. In 2018, Cleveland Clinic contributed more than $32,000 and over 6,000 lbs of food to the Harvest for Hunger campaign.
---
1 Greater Cleveland Food Bank, "Hunger Facts," accessed 30 July 2019, greaterclevelandfoodbank.org/about/hunger-facts.