K-12 Education
K-12 Education
Community Relations offers resources and programs that support success in the classroom and beyond; empowering our youth to become Northeast Ohio's next generation of leaders.
Overview
Education and workforce development are in our Cleveland Clinic DNA. Cleveland Clinic works to improve health and wellness, promote academic achievement and foster career preparedness for students in grades pre-K through 12. Our Clinic-Based, School-Based and Connected Learning programs provide a wide range of authentic learning experiences at Cleveland Clinic facilities, in schools and through technology-mediated activities. Aligned with academic content standards and centered on real-world applications, these programs leverage organizational resources and community partnerships to support student success, both inside and beyond the classroom, empowering our community's next generation of leaders.
School Based Programs
New name, same mission for youth education
Since 2005, Cleveland Clinic Civic Education has worked to improve health and wellness, academic achievement and career readiness for students in grades K through 12. And, it still will—just under a new name. As K–12 Education, the team will continue its award-winning, nationally recognized work to advance student success, both within and beyond the classroom, to empower our community's next generation of leaders.
Caregivers engaged 15,000+ students through K–12 School Programs
In 2019, Cleveland Clinic K–12 Education's School Programs engaged a record 15,617 students from 190 schools across 6 states, producing measurable improvements in the areas of health literacy, academic achievement and career readiness—and representing an 86% increase in students participation over 2018. The reach and impact of these authentic learning experiences, which are facilitated by caregivers both on-site at schools and online through webinar technology, exemplify Cleveland Clinic's commitment to youth education and the well-being of the communities we serve.
"Awesome" growth for connected learning School Program
2019 marked the sixth year of Adventures in Health Science and Medicine® program—or AHSM® (pronounced "awesome") for short. As a series of connected learning experiences designed to promote learning about health science and medical professions for middle school students, AHSM features an ongoing case study, hands-on activities and collaborative discussions facilitated by Cleveland Clinic caregivers.
Historically, each cycle of AHSM engaged students from 8 area middle schools. However, with an increased demand among K–12 educators, the School Programs staff worked diligently to nearly double the size of the program, engaging 15 schools this past year.
To expand the reach of this impactful program to even more students in more communities, the K–12 School Programs team has created a turnkey version of AHSM that other healthcare organizations can license to help achieve their own workforce development and community benefit goals. In fact, in 2019 the department entered year three of its licensing partnership with Reading Hospital (Tower Heath) in Reading, PA, and is currently in talks with other organizations.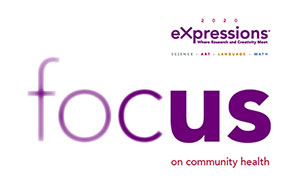 An eXciting opportunity for girls (and boys) in STEM
The eXpressions® program engages middle and high school students in the creative exploration of science and medicine. Through project-based, peer-to-peer learning, students translate Cleveland Clinic research projects, producing artistic, literary and mathematical interpretations of the science.
In the spring, four students from Notre Dame-Cathedral Latin whose project was showcased in the 2018-2019 eXpressions eXhibition caught the attention of local news station WKYC-TV 3. The four young women and their Best in Show-winning math project, entitled "Floating Body of Hand Washing," were featured on Betsy Kling's segment, Girls in STEM, as part of the "Donovan Live" show.
This fall, as part of the 2019-2020 program, nearly 1,500 students from 59 schools submitted 1,410 creative interpretations of research focused on important community health topics. The award-winning projects, which will be exhibited for six weeks and published in the program's annual booklet early in 2020, will help inform, educate and inspire the community at large to make a positive impact on public health.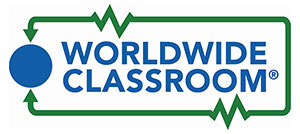 Worldwide Classroom®
This program includes free, interactive, real-time courses delivered through video conference or live stream technology that address a wide range of important health topics and healthcare careers for regional and national middle and high school-aged students. Educators can register their students to participate in one or all of the courses offered through the program's two unique learning series—Hot Topics and Meet the Caregivers.
Hot Topics courses explore an array of important health topics, with one health topic being spotlighted each month.
Meet the Caregivers courses showcase the work of Cleveland Clinic caregivers whose careers relate to the health topics being spotlighted each month in the Hot Topics courses.
Classroom teachers who wish to participate can find more information at clevelandclinic.org/wwclassroom
Internships
Internships
Cleveland Clinic's K–12 Education Team offers annual paid summer experiences and internship programs to support our chief aim of Youth Education Leading to Workforce Development. Post high school and/or college graduation, participants in our programs have been hired as caregivers into clinical and business-related roles at Cleveland Clinic, and gained acceptance to (and graduated from) Cleveland Clinic's Lerner College of Medicine. Many have published and presented research along with their Cleveland Clinic mentors. These programs have proven to be rewarding for students, families, schools, mentors and the organization.
2019 marked 15 Years of Opportunity, Advancement, Experience, Confidence, Transformation and Growth.
| | |
| --- | --- |
| Then (2005) | Now (2019) |
| 42 students | 2,246 students impacted by our programs |
| 25 schools | 225 schools have participated |
| 8 cities/communities | 159 cities/communities have been involved |
| Participation started with 1 county | 8 counties now participate |
| 1 internship program - Science Track | 4 internship programs and 15 career tracks |
| 42 mentors - mentors contributed 15,120 hours | 1,632 mentors to date - mentors have contributed over 587,520 hours |
Community Relations' internship programs give Northeast Ohio middle and high school students the opportunity to learn and work alongside world-renowned caregivers at Cleveland Clinic's Main Campus, Regional Hospitals and Family Health Centers.
Through their experiences in the internship programs, students gain exposure to healthcare fields and careers, cultivate their 21st century skill set through hands-on learning opportunities and find practical, real-world applications for their academic knowledge.
These programs promote learning in health and wellness, the arts, innovation, financial literacy and more. Each program is formulated to inspire students to embrace a variety of disciplines as keys to success, and to foster skills that will help them become life-long learners.
Healthcare+ Pathways® Internship Program (8th grade students)
NEOREMA™ Internship Program (9th grade students)
Louis Stokes Workforce Readiness Internship Program (9th grade students- 12th grade students)
Health Horizons Internship Program (10th and 11th grade students)
Science Internship Program: Applied Medicine, Creative Learning, Laboratory Medicine, Nursing Care, Pharmacy, Public Health, Radiology, Respiratory Care and Translational Medicine (10th and 11th grade students)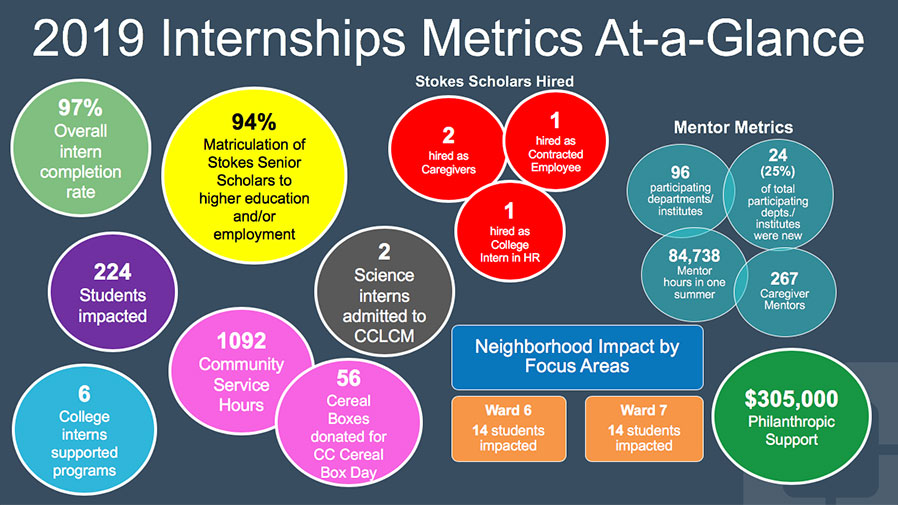 2019 marked the graduation of the first cohort of Stokes Scholars with 94% of them moving on to higher education opportunities, military and/or employment upon graduation.
PLEASE NOTE: Community Relations does NOT offer college-level or graduate-level internship programs.
Economic Development
Economic Development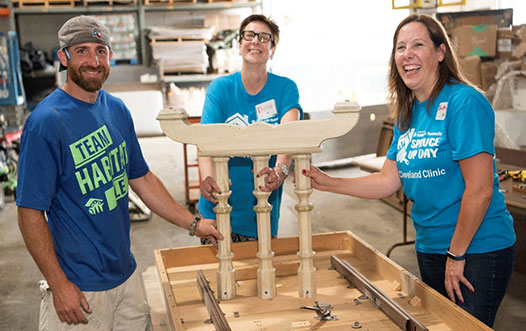 Overview
As an academic medical institution anchored in the community, Cleveland Clinic is committed to leveraging its economic power and resources for the mutual benefit of the Institution and the communities where we are located.
Community Partnerships
Community Relations partners with key community organizations to provide a meaningful and measurable experience for our communities. Working with these partners to identify, connect and provide the resources they need to thrive builds a sense of trust and community.
Community Service Time Off (CSTO)
Cleveland Clinic has a long-standing history of caring for our communities by supporting efforts to:
Improve personal and community health and well-being
Expand educational and workforce development opportunities
Invest and participate in economic development initiatives
In 2019, to further demonstrate Cleveland Clinic's commitment to the communities we serve, the department of Community Relations launched the Caregiver Community Service Time Off program (CSTO), a new initiative that gives caregivers across the enterprise a one-time opportunity each year to use up to four paid hours providing service at an approved community partner organization. This benefit, unique among health care providers in the US, launched in April 2019 and is now in place at all Cleveland Clinic sites in North America. Through the end of the year, more than 1,800 caregivers provided 6,500 hours of community service.
Community Partnerships & Event Sponsorship
Cleveland Clinic's community outreach efforts, collaborations and sponsorships have included on-the-ground programs, hands-on community service experiences, health & wellness education sessions, health screenings and navigation, and funding investments for requested programs, activities and events. These alliances annually involve and support over 250 community partners, non-profits, community resource centers and other organizations wherever the Clinic has a presence.
The focus of Community Relations continues to be connecting with our communities and residents through a variety of neighborhood-based partners and social organizations, schools, houses of worship and other sites to consistently engage in discussions about local health needs and create action plans to connect young and old alike with the medical, social and economic resources that will empower them to transform their own health and well-being, as well as that of their communities. This is standard throughout all Cleveland Clinic locations.
An approved partnership request in 2019 focused on sustainable program(s) to impact and improve the health and well-being of the communities Cleveland Clinic serves in the United States. An event or sponsorship request approved in 2019 was specific to a health and wellness-related attraction or engagement in each community. Essential elements for investment include providing community education for people of all ages; Enhancing Economic Vitality; and Supporting Workforce Development. With the ever-changing landscape in health care and services, the dynamic is changing from "sick" care to "health" care. As such, the health of a community is not determined solely on physical well-being, but on all the factors that go into the experience of living, working and thriving in the communities where our patients, caregivers and families reside. Cleveland Clinic is committed to working with individuals and organizations that understand this reality, and these social and environmental determinants are considered within the framework of any request for support.
Greater University Circle Initiative (GUCI)
This collaboration addresses the specific challenges of some of Cleveland's most disinvested neighborhoods—Hough, Glenville, Fairfax, Central, Buckeye-Shaker, Little Italy and East Cleveland. In 2005, the Cleveland Foundation convened the leaders of key anchor institutions—Cleveland Clinic, University Hospitals, and Case Western Reserve University—as well as the City of Cleveland and other partners to undertake the difficult task of creating "jobs, income and ownership opportunities" for all Greater University Circle residents.
The leaders set four goals:
Buy Local—increase the capacity and use of local businesses.
Hire Local—link residents to jobs and income opportunities.
Live Local—attract new residents and support existing residents in quality housing.
Connect—connect people, neighborhoods and institutions in a vital network.
In many cities like Cleveland, anchor institutions have surpassed traditional manufacturing corporations to become their region's leading employers. Cleveland Clinic is currently Ohio's largest employer and recognizes the important role it plays as an anchor institution in the local economy.
There have been some remarkable early successes, including:
A leadership table that is the forum for collaboration for GUCI;
An evolving local procurement program to funnel purchasing power to local businesses;
The creation of the Evergreen Cooperatives (three employee-owned businesses that aim to create wealth in GUCI neighborhoods);
Workforce training programs;
A Greater Circle Living employer-assisted housing program;
A comprehensive community engagement strategy emphasizing the power of networks; and
Hundreds of millions of dollars in new real estate development that have boosted the area's commercial and residential base.
Local and Diverse Spending
We support our local communities by sourcing products and services from diverse and local suppliers. In 2019, our procurement budget was nearly $3 billion, of which 26% was invested in suppliers within Cuyahoga County, and of that 26%, one quarter was spent with suppliers located in the City of Cleveland.
Through our Supplier Diversity strategy, we focus on increasing procurement spend with businesses that are at least 51% owned and operated by minorities, women, veterans, service-disabled veterans, individuals identifying as LGBTQ and/or are Historically Under-utilized Business Zone (HUBZone) certified. Elements of our strategy include identifying and sharing procurement opportunities with diverse businesses across the enterprise (including Tier II opportunities with our contracted vendors), providing mentorship and learning resources to diverse suppliers to support their continued growth and development and collaborating with professional organizations and leadership at the local, state and national level to create a network and targeted programming that supports diverse businesses.
In 2019, our diverse supplier spend was approximately $130 million, and over the last decade, we have spent approximately $1.1 billion on products and services from certified diverse suppliers.