Overview
Overview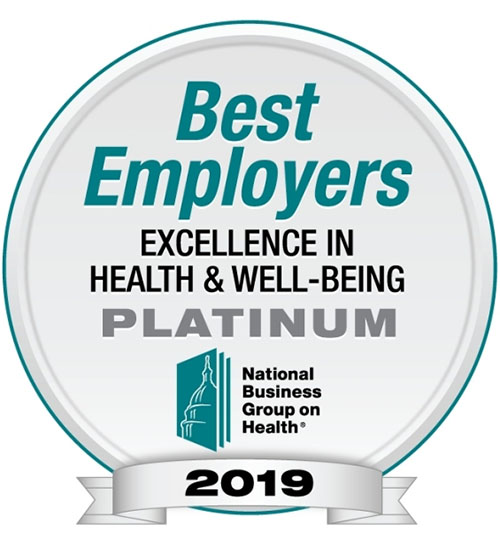 Cleveland Clinic works to strengthen the culture of wellness throughout the Cleveland Clinic caregiver community by taking a whole person approach, which includes delivering programs, resources and incentives that support increased physical activity, eating healthier, avoiding tobacco, managing stress, practicing mindfulness and sleeping better. Some of the resources we offer include starting with step-by-step instructions for a well-being self-assessment, to offering tailored in person and virtual programs that help individual caregivers build healthy practices in the four dimensions of well-being: emotional, physical, spiritual and social.
In 2019, the National Business Group on Health named Cleveland Clinic among the Top 50 Best Employers for Excellence in Health & Well-Being. We were one of 19 employers to achieve the highest honor, platinum. The award honors organizations that have recognized a connection between workforce well-being and key business outcomes, and have implemented strategies with demonstrated results across several dimensions of well-being. Highlighted strategies include:
Our generous Employee Health Plan and Healthy Choice program
Focused, evidenced-based wellness programs delivered by collaborative teams that meet the caregiver where they are in their wellbeing journey
Specific, impactful emotional supports through our Caring for Caregivers program and Wellbeing Resource and Referral Center, critically important during the pandemic
A steadfast commitment to our caregivers, patients and community health by not hiring tobacco users or allowing tobacco use at any of our facilities
A continued emphasis to provide an environment that supports making the healthy choice the easiest choice
Healthy Choice Premium Discount Program
Healthy Choice Premium Discount Program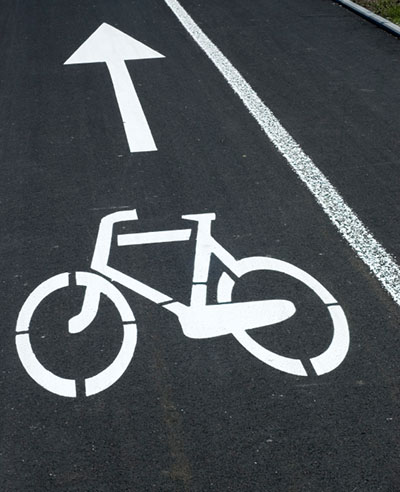 Poor nutrition, inactivity, tobacco use and excessive alcohol consumption are the key risk factors for developing chronic diseases, which impact 60% of Americans and are the leading cause of the United States' annual $3.5 trillion healthcare costs.1 The American workforce spends a significant portion of their waking hours in the workplace and an increasing number of employers are investing in workplace health. According to the Centers for Disease Control, nearly 50% of U.S. organizations employing 10 or more people offered health or wellness programs to their employees in 2017.2 Cleveland Clinic offers the Healthy Choice program to members of our Employee Health Plan (EHP), which includes over 104,000 members. The Healthy Choice program is a way for Health Plan members to take charge of their well-being, and 53% of EHP members participated in 2019.
Caregivers and their spouses who participate can improve their health and get up to 30% off their premiums by meeting personalized annual medical, nutrition or fitness goals. In 2019, nearly 650,000 caregivers and spouses were eligible for the Healthy Choice premium discount program. Individuals track progress toward their goals by tracking steps, active minutes or visits to fitness centers, or by participating in one of the chronic disease management programs depending on their health status. To help users track their progress, all Healthy Choice Program participants have access to a personal wellness portal where they can view their health goals, track progress from their step-counting devices and create fitness contests with other participants. To date, Cleveland Clinic has recorded more than 39,000 portal users.
The Healthy Choice program has encouraged EHP members to improve their health and wellbeing, leading to lower annual increases in healthcare premiums than the national average since 2009. For example, Cleveland Clinic Employee Health Plan premiums increased 3% in 2019 for the 2020 calendar year, compared to the national average of 5-8%.3 Additionally, the Healthy Choice Program has contributed to the avoidance of over $850 million in healthcare costs since its inception. Benefits of our health and wellness programs to our members include decreases in our inpatient and emergency department admission rates, including members with diabetes, hypertension and asthma.
1 National Center for Chronic Disease Prevention and Health Promotion, "About Chronic Diseases ," 23 October 2019, accessed 16 June 2020, cdc.gov/chronicdisease/about/index.htm
2 Centers for Disease Control and Prevention, "Half of Workplaces Offer Health/Wellness Programs ," 22 April 2019, accessed 16 June 2020, cdc.gov/media/releases/2019/p0422-workplaces-offer-wellness-infographic.html
3 National Business Group on Health, "Large Employers Double Down on Efforts to Stem Rising U.S. Health Benefit Costs which are Expected to Top $15,000 per Employee in 2020," 13 August 2019, accessed 16 June 2020, businessgrouphealth.org/who-we-are/newsroom/press-releases/large-employers-double-down-on-efforts-to-stem-rising-us
Healthy Living
Healthy Living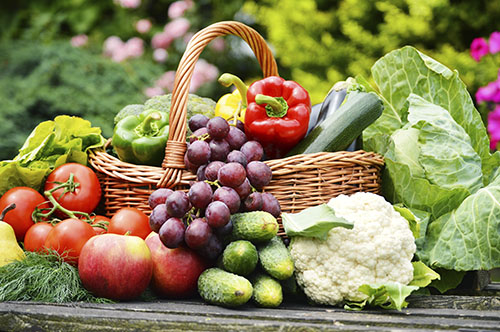 Physically Fit
Cleveland Clinic has 14 on-site fitness centers enterprise wide that are free to caregivers. Additionally, several vendors nationwide offer discounts to our caregivers at their workout facilities through our total rewards employee benefits program. Through our Group Exercise Program, we offer a variety of free exercise classes at our fitness centers led by leading area instructors. Classes vary from high intensity aerobics to yoga, and by exercising as a group, we encourage caregivers to motivate one another to maintain their routines and achieve fitness goals. Other fitness programs we provide include:
Annual health fair at Walker Fitness Center on main campus for caregivers and their family members ages 16 and up
Personal Training sessions with a fitness specialist for a fee at our Walker Fitness Center at main campus
Run Club, Run Club meetups and Virtual 10k Training Program
Get Active events and annual 5k Employee Wellness Run/Walk
Sunrise, sunset and lunch-time yoga classes for caregivers at 12 different locations across the enterprise, including several complementary classes
Yoga on Demand and Strength Improvement videos for caregivers to practice as their schedule permits
Healthy Eating
Good nutrition supplies the body with important vitamins and minerals, which strengthen immunity, help prevent chronic disease and contribute to overall health. According to the National Center for Chronic Disease Prevention and Health Promotion, less than 10% of adults and adolescents eat the recommended amount of fruits and vegetables, and 90% of Americans ages two and up consume more than the recommended amount of sodium.1 Cleveland Clinic is committed to offering healthy food options that support the wellbeing of our patients, visitors and caregivers.
To this end, Cleveland Clinic launched the Foods that YOU Love That Love YOU Back program in 2018 to provide healthier food and beverage offerings at our food service locations. Through this program, we are working to reduce and/or elimination the following from our food service offerings at all Cleveland Clinic facilities:
Trans Fat
Fried Foods
High Fructose Corn Syrup
Beverages with Added Sugar or Syrup
Non-100% whole grains
Sodium (greater than 80mg per serving)
Saturated fats (greater than 4mg per portion)
Processed red meats
Educational Programs
To support our caregivers on their wellness journey, we provide ongoing education opportunities, such as our Wellness Grand Rounds (a bi-monthly, one-hour presentation given by an expert in the field of wellness) and Wellness Connections (a monthly half hour presentation by a wellness professional). Caregivers who cannot attend a Wellness Connection can visit the Employee Wellness website and view past presentations in our Wellness Connection Video Library.
We also offer wellness toolkits, seminars and the following free online courses for caregivers:
Go! to Sleep: A six week web-based program that employs "Cognitive Behavioral Therapy for Insomnia," a therapeutic strategy that helps patients to identify and then re-frame specific thoughts and behaviors that are interfering with their ability to sleep deeply.
Stress Free Now: A six week program with relaxation tools, educational resources and daily strategies to decrease stress, build resilience and increase energy.
Wellness Champions
Wellness Champions work in collaboration with the Employee Wellness team to promote a culture of wellness within their teams and facilities. These enthusiastic individuals encourage participation in Cleveland Clinic Wellness programs by spreading the word about wellness events and programs, leading by example and serving as a point of contact to facilitate events at their locations. Champions meet for a monthly conference call where they receive updates about programs, facilities, resources and incentives that are available to caregivers to help them meet their wellness goals. In 2019, we had 215 Wellness Champions across the enterprise.
1 National Center for Chronic Disease Prevention and Health Promotion, "Poor Nutrition," 14 April 2020, accessed 17 June 2020, cdc.gov/chronicdisease/resources/publications/factsheets/nutrition.htm
Healthy Environments
Healthy Environments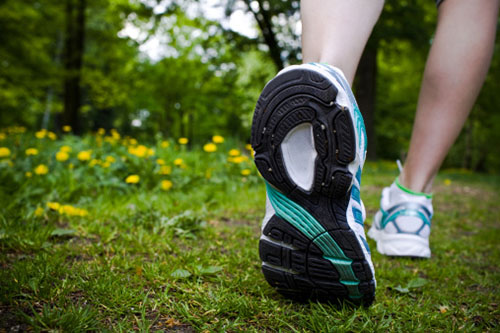 Green Transit
We support initiatives to reduce our transportation footprint because cleaner air means healthier communities. We offer caregivers a 20% parking discount for driving high-efficiency vehicles, as well as rebates on the purchase of a fuel efficient, hybrid or electric vehicle (up to $1,000 on a new vehicle or $500 on a used vehicle). To promote carpooling, we offer a carpooling discount and established a Gohio commute platform. By creating an account on this platform, caregivers can see the work schedules and locations of their colleagues who are interested in setting up a carpool, helping caregivers who may not have met before connect with one another. The platform also measures carbon emissions avoided from individuals who carpool, walk, bike or take public transit to work. We provide access to shower facilities and bike racks for caregivers who opt to bike to work, and have been expanding the amount of bike racks available at our facilities, especially in new construction.
Flexible Work Arrangements
We work with our caregivers to help them achieve a healthy work-life balance. For some caregivers, this may mean flexing their schedules to pick up children from school or daycare, and for other caregivers, it may be working from a different location one day per week. Caregivers can work with their supervisors and teams to establish arrangements such as telecommuting to offsite meetings, working from home, condensing their work weeks and flexing when they start and end their day to accommodate other engagements. An additional benefit of our Employee Health Plan is that it enables many caregivers to schedule healthcare appointments at their work sites and at times most convenient for their schedules.
Encouraging Family Fun
We ask that our caregivers treat the organization as their home and patients and fellow caregivers as family. We foster a sense of community among our caregivers by hosting events and activities for caregivers and their families to enjoy one another's company. In 2018, we held our first-ever Family Day at Progressive Field—home of the Cleveland Indians—with 33,000 caregivers and family members in attendance. In 2019, we held a Family Fun Day in Florida for over 3,000 caregivers and their families. These important events are a way to thank our caregivers, make new caregivers and their families feel welcomed as part of Cleveland Clinic and provide opportunities for attendees to make meaningful connections with one another.
Discount Programs for Employees
Cleveland Clinic has networked with regional and national vendors to provide an extensive suite of discounts on activities, products and services to our caregivers. Through our discount programs, we aim to help caregivers relax, enjoy time with family and friends and promote financial wellness and work-life balance. Discounts are available in the following categories:
Arts & Entertainment
Automotive
Dependent Care
Dining
Education
Family Friendly
Financial
Health & Wellness
Housing
In-House Offers
Products & Services
Sporting Events
Stores
Travel
One of our most popular discounts is an exclusive discount ticket offer for Cedar Point Amusement Park in Sandusky, Ohio, with caregivers purchasing more than 20,000 tickets annually. Through the TicketsatWork® program, caregivers can purchase tickets for Playhouse Square, Disney, Cleveland Orchestra, Blossom Music Center, the Rock & Roll Hall of Fame & Museum, Cleveland Cavaliers, Cleveland Indians and other family events and venues at a discounted rate. By offering discounts for local organizations, we encourage caregivers to support local businesses and discover assets around the Greater Cleveland area.
A Calming Environment
Cleveland Clinic's Art Program and Arts & Medicine help create serene, restorative environments for our patients, caregivers and visitors.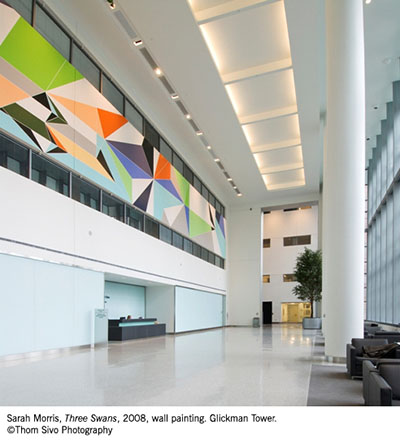 Cleveland Clinic's Art Program crafts engaging, meaningful interactions with contemporary art within a healthcare setting. Integral to the healing environment, the fine art collection of more than 7,000 works is shown in public spaces, hallways and patient rooms to activate and anchor spaces throughout Cleveland Clinic Enterprise. The art collection is designed to present a broad range of perspectives, promoting empathy and inclusion by making visible the diversity of patients, visitors and caregivers.
Our Arts & Medicine Institute was created for the purpose of integrating the visual arts, music, performing arts and research to promote healing. The team includes art and music therapists to aid in the wellbeing of patients during treatment of an illness. Additionally, regularly scheduled visits from performing artists such as musicians, choirs and dancers at our facilities provide therapeutic benefits that enhance the lives of our patients, visitors and caregivers.
During their time at our facilities, caregivers, visitors and patients of all faiths may also request services from our Center for Spiritual Care, which provides holistic and compassionate care through our clinically trained chaplains, holistic nurses and Family Liaisons.