Overview
Overview
Our Learning Culture
We learn for life. As caregivers, we grow and develop throughout our careers. We do so to enrich the lives of our patients, our team members and ourselves. That's the promise of lifelong learning: You get back what you put in. And that effort is what transforms healthcare for all.
We promote four qualities to encourage a learning culture at Cleveland Clinic:

We offer learning and development resources through our Mandel Global Leadership and Learning Institute that help caregivers excel and grow throughout their careers, including:
New caregiver experience and onboarding
New leader and executive onboarding
Talent and performance management
Assessments
Coaching
Facilitation and retreats
Leadership and team consulting
Social collaboration communities and resources
In 2018 we launched Connect Today—a cloud-based social learning and collaboration platform—to support our learning culture. This platform empowers caregivers to share information, stay informed and improve workflows. As of 2019, caregivers created more than 140 active online communities spanning multiple departments and institutes on Connect Today, and more than 32,000 caregivers registered to use the platform.
Career Growth Pathways
Career Growth Pathways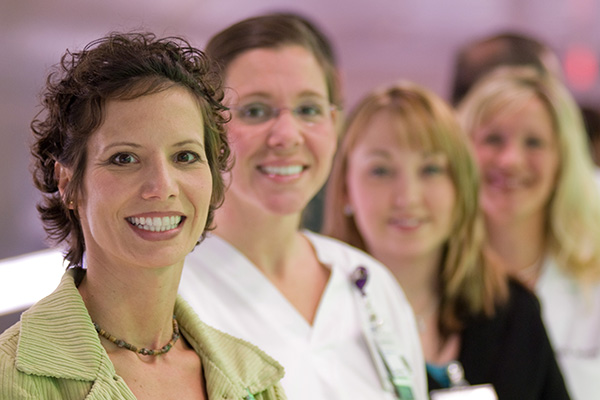 In 2019, Cleveland Clinic was excited to launch four career growth pathways based on caregiver research and feedback:
Enrichment: growing in an individual's current role
Exploratory: learning about other roles of interest
Lateral: moving sideways into a position that offers new challenges
Vertical: moving up in the organization.
To assist caregivers in identifying the pathway best suited to their career development goals, we developed a self-assessment tool and a Career Development Getting Started Guide. Once a caregiver has selected a pathway, they will receive access to a suite of resources and a workbook with activities. Each pathway has developmental steps, along with an online community where caregivers can collaborate with one another at work and after work to grow and develop together. Each pathway contains 5–7 hours of material that caregivers can complete at their leisure. Once completed, caregivers will have access to actions they can take to continue developing in their selected path, including how to have developmental conversations with their manager.
Cleveland Clinic also supported caregivers' professional development in 2019 by offering them access to thousands of online courses through a partnership with LinkedIn Learning. To promote the platform, we held several webinars to provide an overview of LinkedIn Learning and how to access it, and also recommended relevant courses as part of our four career growth pathways.
Development Opportunities
Development Opportunities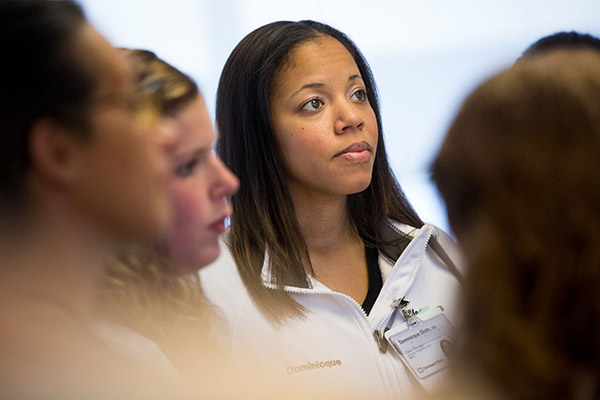 Cleveland Clinic is an organization of lifelong learning where we encourage our caregivers to achieve their full potential. By supporting a learning culture, our caregivers grow in ways that enrich their own lives and improve how they care for patients and one another.
Our Learning Culture
We promote four qualities to encourage a learning culture at Cleveland Clinic: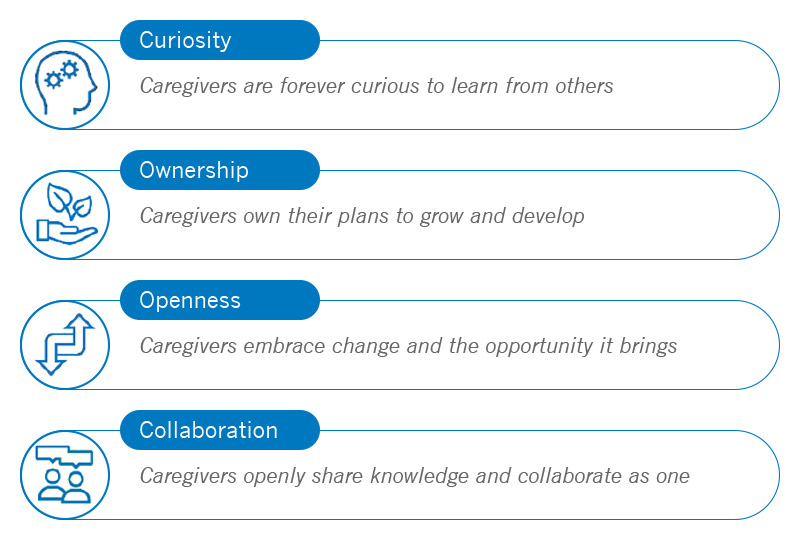 We prepare every caregiver to take responsibility their professional growth by providing a suite of resources through our Global Leadership and Learning Institute that best suit caregivers' individual goals for improvement and advancement, including:
An extensive suite of courses to support continuous learning, including online, in the classroom and on-the-job formats
Coaching and mentoring programs
Team and leadership development assessments
Talent management resources, including formal reviews and tools to establish and track objectives and key results
Technical training in all clinical and technical fields
A diversity of ongoing lectures, speaker series, grand rounds, conferences and symposia featuring thought leaders covering best practices and salient healthcare industry issues
Robust development programs for current, emerging and aspiring leaders
Mandel Global Leadership & Learning Institute (GLLI)
Mandel Global Leadership & Learning Institute (GLLI)
A New Name and Location for Mandel GLLI
A generous gift from the Jack, Joseph and Morton Mandel Foundation in 2019 enabled Cleveland Clinic to create the Jack, Joseph and Morton Mandel Global Leadership and Learning Institute. Located within our Health Education Campus, the newly created institute will advance experiential learning, simulations, assessments and research-driven content to prepare leaders from around the world to solve future healthcare delivery issues.
The gift also supported the creation of the Jack, Joseph and Morton Mandel Global Leadership and Learning Pathway. This training initiative will be housed within the Mandel Institute, and will support top-performing Cleveland Clinic caregivers and cultivate them for future executive leadership roles throughout the organization. This grant makes it possible to create an intensive leadership development experience uniquely developed for Cleveland Clinic leaders. The pathway will align to Cleveland Clinic leader behaviors: Drive Results, Lead Change, Inspire and Coach, Connect Teams and organizational values: Quality & Safety, Empathy, Teamwork, Integrity, Inclusion, and Innovation. The leader behaviors and organizational values serve as a foundation for the education, assessments, experiential learning and mentoring frameworks that will be components of the pathway.
Learning Strategy
At Mandel GLLI, we provide caregivers the tools and resources to own their development and grow in their careers at Cleveland Clinic. We inspire Cleveland Clinic leaders and caregivers through our offerings of learning expertise, experiences and exposures; driving a learning culture rooted in the Cleveland Clinic Values, Leader Behaviors, and Care Priorities. Our team of experts in leadership, organizational and professional development, learning and technology are dedicated to crafting, delivering and supporting the continuous development of our caregivers.
Our four Learning Priorities for our caregivers are as follows:
Coach: Helping caregivers grow through the observations and developmental conversations of their leaders and peers
Change: Helping caregivers understand the behaviors needed as we grow, become more Global, and venture into new care areas for our patients
Team: Helping leaders and followers learn the best ways to work together
Thrive: A focus on how caregivers' approach to their work impacts their patients, team, and the organization
In 2019, the Mandel GLLI offered more than 354 eLearning courses and 149 seminars to help caregivers build the necessary knowledge and skills to excel their current positions and advance in their careers. A total of 4,870 caregivers participated in our learning programs, People Leader series and high potential programs designed to develop the next generation of healthcare leaders. In 2019, 91% of caregivers set development goals, 60% of caregivers completed mid-year reviews and 99% of caregivers completed annual performance reviews.
Total Rewards
Total Rewards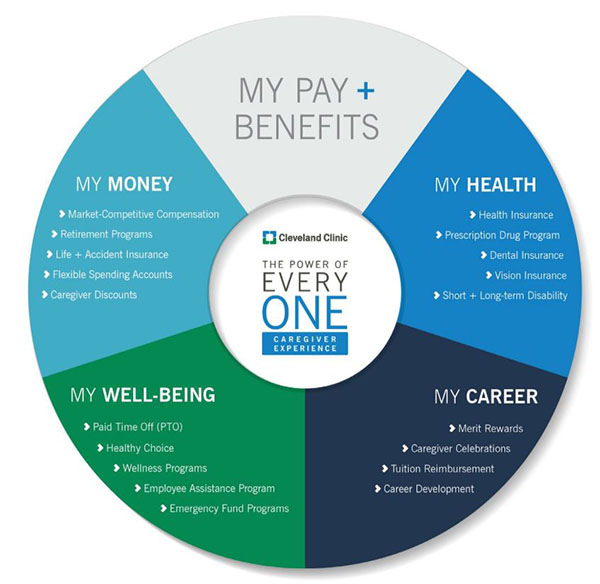 Our vision is to become the best place to work in healthcare and improving the caregiver experience is one of our top priorities. To attract and retain top talent, we offer a competitive benefits package that provides added value equivalent to approximately 30% of a caregiver's base pay on average. Benefits include multiple health and dental plan choices, vision and prescription drug coverage, life and disability insurance, flex spending, partner benefits, 403(b) investment and pension plans, wellness programs, tuition reimbursement, career development and more. In 2019, we announced that we would raise our minimum wage to $15 per hour at locations not covered by preexisting contracts. Additionally, Cleveland Clinic was proud to announce that by April of 2020, we will offer fully paid time away to eligible new parents. This benefit includes eight weeks of maternity leave for the mother following childbirth plus four weeks of parental leave, and four weeks of parental leave for the other parent.
Tuition Reimbursement
Tuition Reimbursement
To empower caregivers to build upon their knowledge, strengths and skills, we offer a tuition reimbursement program toward the completion of graduate and undergraduate degrees. All caregivers who have been employed for a year or more are eligible for financial support, which is provided via reimbursement at the end of each semester contingent upon students completing their approved coursework. Encouraging our caregivers' educational pursuits enables us to attract and retain top talent and provide the best care for our patients.
In 2019, 3,096 caregivers participated in the program and received $11 million in reimbursements.
Annual Maximum Cap Allowance
Type of Degree
Nursing Major
Non-nursing Major
Physician Assistant Major
Graduate, Doctorate & PhD
Full Time: $7,500
Part Time: $3,750
Full Time: $4,500
Part Time: $2,250
Full Time: $7,500
Part Time: $3,750
Bachelor
Full Time: $5,000
Part Time: $2,500
Full Time: $3,000
Part Time: $1,150
Full Time: NA
Part Time: NA
Associate
Full Time: $2,500
Part Time: $1,250
Full Time: $1,500
Part Time: $750
Full Time: NA
Part Time: NA
Cleveland Clinic collaborates with EdAssist™ to schedule and facilitate onsite and online college fairs and to process tuition reimbursement requests.