Overview
Overview
Cleveland Clinic is a place of life-long learning. We want to help our caregivers grow and achieve their full potential. By investing in the professional development of our caregivers, we find better ways to care for patients and fellow caregivers. We offer learning and development resources through our Mandel Global Leadership and Learning Institute (GLLI), which is staffed by experts dedicated to crafting, delivering and supporting the continuous development of our caregivers. Offerings provided by GLLI include:
New caregiver experience and onboarding
New leader and executive onboarding
Talent and performance management
Assessments
Coaching
Facilitation and retreats
Leadership and team consulting
Social collaboration communities and resources
Feedback is an important component of our caregivers' development. To this end, caregivers complete mid-year and annual reviews with their managers, and many caregivers have regular check-in conversations with their supervisors throughout the year. In 2020, 78% of caregivers completed a check-in conversation with their manager.
Virtual Learning
Virtual Learning
In response to the COVID-19 pandemic, our caregivers pivoted to provide and lead virtual development programs and virtual express coaching. We designed virtual learning experiences to help caregivers better operate in a virtual world, including remote work and healthy teams series focused on best practices in leading virtual teams, cultivating trust and collaboration within teams and staying productive while working remotely. Other virtual learning resources we continued to offer to caregivers in 2020 included 285 eLearning courses and 85 seminars via our caregiver learning portal, and access to LinkedIn Learning.
Through Connect Today, our cloud-based social learning and collaboration platform, our caregivers have created more than 282 active online communities spanning multiple departments since we launched the site in 2018. These communities enable caregivers to organize and share information, collaborate on projects, solicit ideas and feedback and create educational resources. Using the Connect Today platform, we launched our Career Journeys professional development program in July 2020. This program offers a self-assessment to help caregivers identify the best development path for them (enrichment, exploratory, lateral or vertical) and provides guided or self-guided learning activities to promote networking, self-reflection, skill-building, goal-setting and more. The Career Journeys group also provides a community for caregivers to stay connected and learn from one another by sharing reflections and progress from completed activities.
Total Rewards
Total Rewards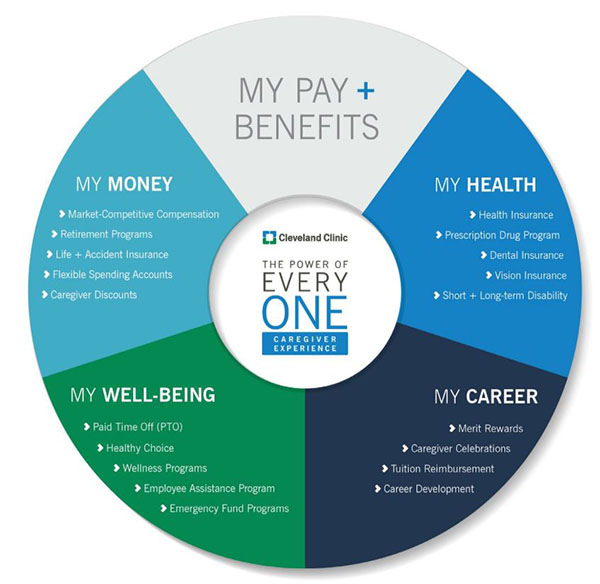 To become the best place to work in healthcare, providing an exceptional caregiver experience is one of our top priorities. We offer a competitive benefits package to attract and retain top talent, which provides added value equivalent to approximately 30% of a caregiver's base pay on average. In 2020, we maintained pay and benefits for our caregivers, including caregivers with approved time away when contracting or exposed to COVID-19 illness. Our benefits include multiple health and dental plan choices, vision and prescription drug coverage, life and disability insurance, flex spending, partner benefits, 403(b) investment and pension plans, wellness programs, tuition reimbursement, career development and more. In 2020, we covered 7,917 individuals under our Retiree Health Plan. Additionally, in 2020, Cleveland Clinic implemented a new minimum wage at the following locations not covered by preexisting contracts:
$15 per hour at Cleveland Clinic, Cleveland Clinic Akron General, and Cleveland Clinic Weston Hospital
$14 per hour at Cleveland Clinic Union Hospital
$13 per hour at Cleveland Clinic Indian River and Martin Health
Cleveland Clinic launched its Maternity and Parental Leave benefit in April 2020, which provides eight weeks of maternity leave following childbirth plus four weeks of parental leave, and four weeks of parental leave for non-birthing and adopting parents.
Tuition Reimbursement
Tuition Reimbursement
Encouraging our caregivers' educational pursuits enables us to attract and retain top talent, and provide the best care for our patients. We support the professional development and career growth of our caregivers through our tuition reimbursement program, which provides caregivers financial aid toward the completion of undergraduate and graduate degrees. To be eligible, caregivers must have at least one year of tenure at Cleveland Clinic. Through the program, caregivers receive reimbursement at the end of each semester contingent upon completing their approved coursework.
In 2020, over 3,000 caregivers participated in the program and received $11.4 million in reimbursements.
Annual Maximum Cap Allowance
Type of Degree
Nursing Major
Non-nursing Major
Physician Assistant Major

Graduate, Doctorate & PhD

Full Time: $7,500
Part Time: $3,750

Full Time: $4,500
Part Time: $2,250

Full Time: $7,500
Part Time: $3,750

Bachelor

Full Time: $5,000
Part Time: $2,500

Full Time: $3,000
Part Time: $1,500

Full Time: NA
Part Time: NA

Associate

Full Time: $2,500
Part Time: $1,250

Full Time: $1,500
Part Time: $750

Full Time: NA
Part Time: NA
Cleveland Clinic collaborates with EdAssist™ to schedule and facilitate onsite and online college fairs, and to process tuition reimbursement requests.