Development Opportunities
Development Opportunities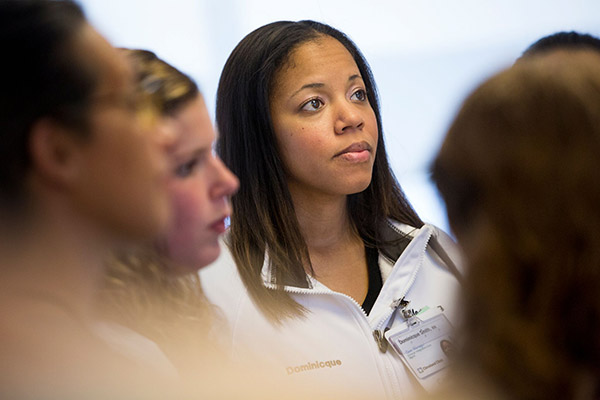 Cleveland Clinic is an organization of lifelong learning where we encourage our caregivers to achieve their full potential. By supporting a learning culture, our caregivers grow in ways that enrich their own lives and improve how they care for patients and one another.
Our Learning Culture
We promote four qualities to encourage a learning culture at Cleveland Clinic: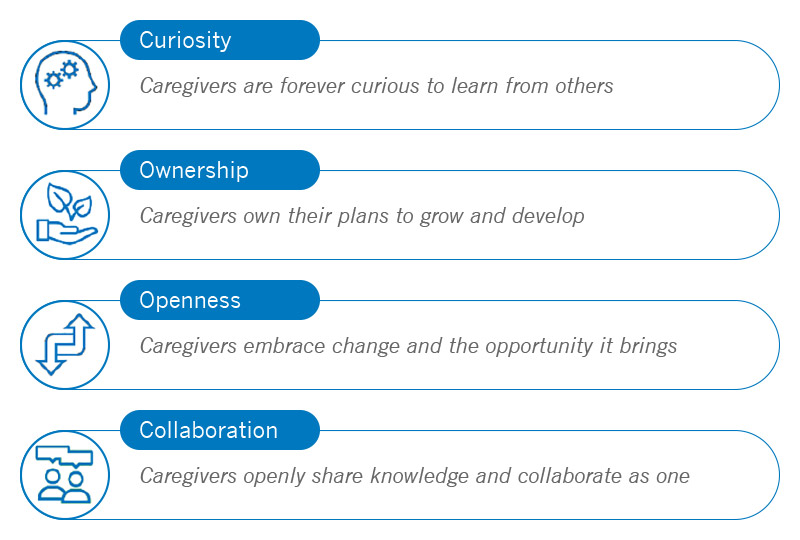 We prepare every caregiver to take responsibility their professional growth by providing a suite of resources through our Global Leadership and Learning Institute that best suit caregivers' individual goals for improvement and advancement, including:
An extensive suite of courses to support continuous learning, including online, in the classroom and on-the-job formats
Coaching and mentoring programs
Team and leadership development assessments
Talent management resources, including formal reviews and tools to establish and track objectives and key results
Technical training in all clinical and technical fields
A diversity of ongoing lectures, speaker series, grand rounds, conferences and symposia featuring thought leaders covering best practices and salient healthcare industry issues
Robust development programs for current, emerging and aspiring leaders
Global Leadership & Learning Institute (GLLI)
Global Leadership & Learning Institute (GLLI)
All caregivers have access to the Global Leadership and Learning Institute (GLLI), Cleveland Clinic's center for leaning and development. The purpose of the GLLI is to enable a learning and performing organization that shapes and strengthens the Cleveland Clinic Vision and to prepare leaders to solve future global healthcare delivery issues. Our strategy includes:
Leadership and Team Development: Providing education and experiences to enhance skills, knowledge, self-awareness and performance of all leaders and teams across Cleveland Clinic
Caregiver Development: Equipping individual contributors to develop professionally and perform the Cleveland Clinic way
Talent and Performance: Developing and evaluating talent and performance
Learning and Performance Ecosystem: Delivering a robust infrastructure that includes processes, technology and solutions to enable a learning and performing organization
To deliver on this strategy, the GLLI has five Centers of Expertise: Global Executive Education, Collaboration & Learning Technologies, Operations & Onboarding, Talent Management and Team & Leadership Development. In 2018, we further refined our approach to equip caregivers for success by launching four Learning Priorities.

We designed our Learning Priorities to inform, expose, and/or teach the vital behaviors all caregivers need to exhibit to ensure Cleveland Clinic realizes its cultural ambitions, goals and priorities. Additionally, in 2018 we launched Connect Today, a cloud-based social learning and collaboration platform available to more than 57,000 caregivers to empower them to share information, stay informed and improve workflows.
The GLLI offers experiential classes and online learning modules at every experience level to give Cleveland Clinic caregivers the tools and the connections they need to find success, while allowing them to develop their own career path. Our offerings include more than 360 eLearning courses designed and developed to date. In 2018, 6,309 caregivers participated in experiential GLLI classes, a 36% increase over 2017. Approximately half of these caregivers enrolled in our learning programs, people leader series and high potential programs designed to develop the next generation of healthcare leaders.
In 2018, 39,000 caregivers set individual development goals for their personal career growth and more than 99% of caregivers completed annual performance and mid-year reviews.
"The Global Leadership and Learning Institute is proud to champion a learning culture that promotes learning for life for Cleveland Clinic caregivers. 2018 was notable in launching our enterprise learning priorities of Team, Change, Coach and Thrive."
- Gina Cronin, Executive Director, Global Leadership and Learning Institute
Total Rewards
Total Rewards
Our vision is to become the best place to work in healthcare. To attract and retain top talent, we offer a competitive benefits package that provides added value equivalent to approximately 30% of a caregiver's base pay on average. Benefits include multiple health and dental plan choices, vision and prescription drug coverage, life and disability insurance, flex spending, partner benefits, 403(b) investment and pension plans, wellness programs, tuition reimbursement, career development and more. In 2018, we rebranded Total Rewards to include My Pay + Benefits highlights to better communicate the value proposition of our benefits to caregivers. We also conducted a My Pay + Benefits survey in which 91% of caregivers said our benefits factor into their retention and 82% said they would refer others to work at Cleveland Clinic based on our benefits.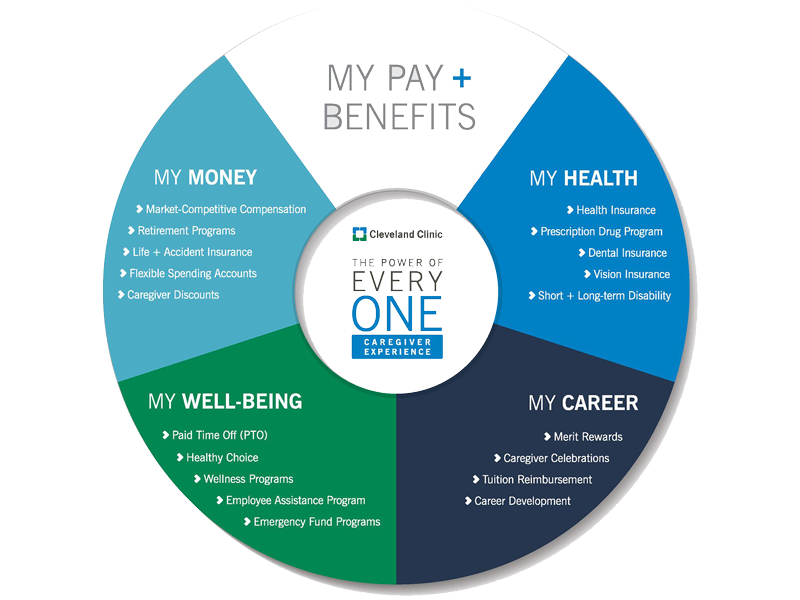 Tuition Reimbursement
Tuition Reimbursement
To empower caregivers to build upon their knowledge, strengths and skills, we offer a tuition reimbursement program toward the completion of graduate and undergraduate degrees. All caregivers who have been employed for a year or more are eligible for financial support, which is provided via reimbursement at the end of each semester contingent upon students completing their approved coursework. Encouraging the educational pursuits of our caregivers enables us to attract and retain top talent and provide the best care for our patients.
In 2018, more than 3,300 caregivers participated in the program and received over $10.6 million in reimbursements.
Annual Maximum Cap Allowance
Type of Degree
Nursing Major
Non-nursing Major
Physician Assistant Major
Graduate, Doctorate & PhD
Full Time: $7,500
Part Time: $3,750
Full Time: $4,500
Part Time: $2,250
Full Time: $7,500
Part Time: $3,750
Bachelor
Full Time: $5,000
Part Time: $2,500
Full Time: $3,000
Part Time: $1,150
Full Time: NA
Part Time: NA
Associate
Full Time: $2,500
Part Time: $1,250
Full Time: $1,500
Part Time: $750
Full Time: NA
Part Time: NA
Cleveland Clinic collaborates with EdAssist™ to schedule and facilitate onsite and online college fairs and to process tuition reimbursement requests.