Overview
Overview
"Treating each other with respect goes a long way toward creating an experience that is inclusive for all of us—our fellow caregivers, our patients and their families. Patient care is why we are here. When patients choose us, they're entrusting us with their most precious possession—their health, no matter where we serve them. We value a diverse and inclusive organization. Our diverse perspectives contribute to better experiences for all."
– Tomislav Mihaljevic, MD
Cleveland Clinic CEO and President
Diversity & Inclusion Statement
Cleveland Clinic values a culture where caregivers integrate diversity and inclusion throughout the enterprise. We respect and appreciate our similarities and differences; they enable us to better serve our patients, one another and our global communities.
Cleveland Clinic is committed to creating a diverse and inclusive organization. Our core values fortify this commitment.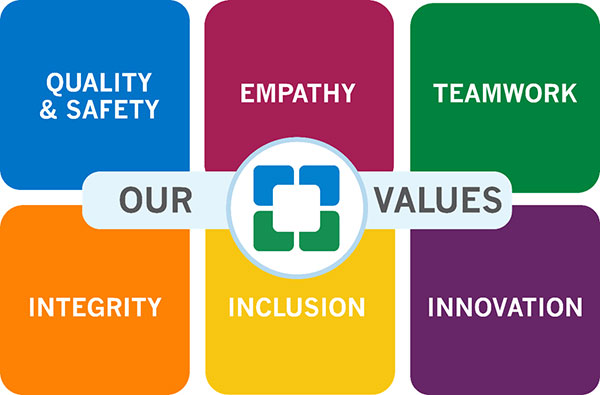 They are:
Quality & Safety
Teamwork
Empathy
Inclusion
Integrity
Innovation
In 2019, the Value of Inclusion was added to our core values. Intentionally practicing inclusion across our system creates the best care and outcomes for our patients, and promotes engagement through the best work experience for our caregivers. To carry out this commitment, we promote key behaviors of inclusion.
Our Inclusion Value states:
"We intentionally create an environment of compassionate belonging where all are valued and respected."
The corresponding inclusion behaviors are:
I seek to learn, understand and respect differences with a curious heart and an open mind.
I achieve better outcomes through a diversity of perspectives and experience.
I hold myself and others accountable for demonstrating the values of inclusion and respect.
I support an inclusion-driven culture through my compassionate interactions with all others
DiversityInc Top Health Systems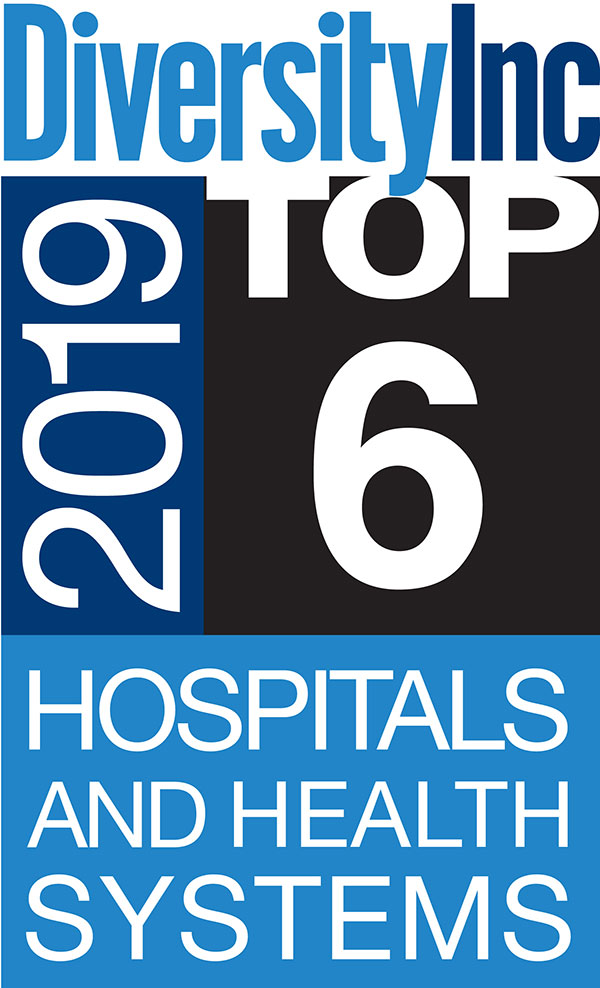 For the 10th year in a row, DiversityInc named us a top hospital and health system. This year, we were proud to achieve top honors for the first time ever, placing first for healthcare systems.
The rankings are data driven and assess performance based on:
Talent pipeline
Talent development
Leadership accountability
Supplier diversity
ERGs & Councils Honors AwardTM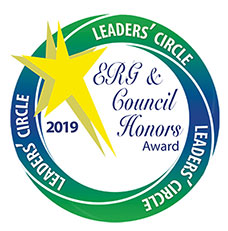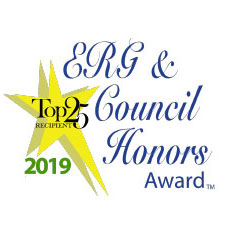 We also received recognition for our employee resource groups (ERGs), which connect caregivers with similar interests or cultural backgrounds. For the fourth year in a row, our ERGs have been ranked among the nation's best by PRISM International. Out of 1,300 applicants, Cleveland Clinic had the most ERGs recognized—three total—including one in the Top 10 Leadership Circle:
5 – SALUD (Leader's Circle)
14 – ClinicPride
17 – Military/Veterans
Caregivers who participate in an ERG are visible in the organization and our community. They live our values and provide strategic insights on diversity and inclusion across Cleveland Clinic. These awards demonstrate our commitment to our value of Inclusion. They contribute to creating an environment of compassionate belonging where all are valued and respected.
American Indian Science and Engineering Society Top 50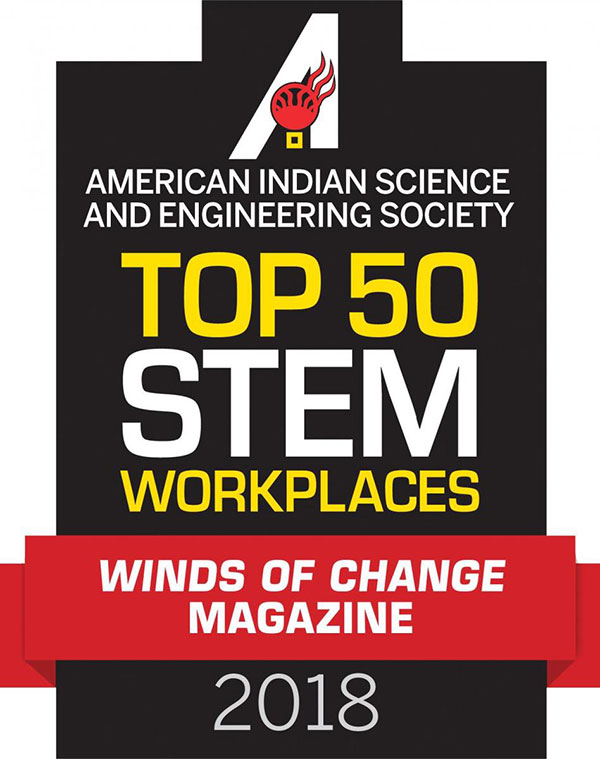 Since 2013, the American Indian Science and Engineering Society (AISES) has honored Cleveland Clinic in Winds of Change, its nationally distributed publication focusing on career and educational advancement for American Indians/Alaska Natives/Native Hawaiians/First Nations with an emphasis on the science, technology, engineering and math (STEM) professions.
Organizations selected for this Top 50 list demonstrated a commitment to diversity recruitment, including specific outreach to indigenous communities. Winds of Change noted that a number of companies, such as Cleveland Clinic, have effective employee resource groups (ERGs) specifically for Native American employees. Our Circle of Healers ERG hosts educational and cultural forums open to all caregivers. This year, Dr. Matthew Z. Anderson, assistant professor of microbiology at Ohio State University, presented on his academic journey and his research "Self determination of Infectious Disease among Native Americans."
The Office of Diversity and Inclusion provides strategic leadership for creating an inclusive organizational culture for patients, caregivers, business partners and the communities Cleveland Clinic serves.
Our three core focus areas are:
Enterprise Demographics
Cultural Competency Education and Training
Health Equity and Community Engagement
These focus areas complement and enhance yearly enterprise goals because integrating diversity in Cleveland Clinic's daily operations enables us to better serve all of our valued stakeholders. Office of Diversity and Inclusion programming promotes our charge of building and sustaining a culturally competent and diverse caregiver population.
Enterprise Demographics
Enterprise Demographics
"Creating an environment of inclusion is a journey requiring intentionality. We advanced our strategic imperative by creating partnerships that integrate diversity and inclusion best practices throughout the enterprise. We continued to focus our efforts on developing the skillsets of our caregivers to better understand biases so that we can all become more empathetic towards others. We drove engagement through respectful interactions of a more culturally competent workforce and defined and collected metrics that demonstrated the outcomes of how this work results in better care for patients, caregivers and the communities Cleveland Clinic serves."
– Le Joyce K. Naylor, MA, CCDP/AP
Chief Diversity & Inclusion Officer
Cleveland Clinic recognizes that having a workforce that reflects the patient population it serves includes a diverse leadership team and pipeline. The integration of diversity and inclusion initiatives across the enterprise addresses the strategic need to expand the number of diverse candidates available to hire into healthcare with succession into management and executive roles.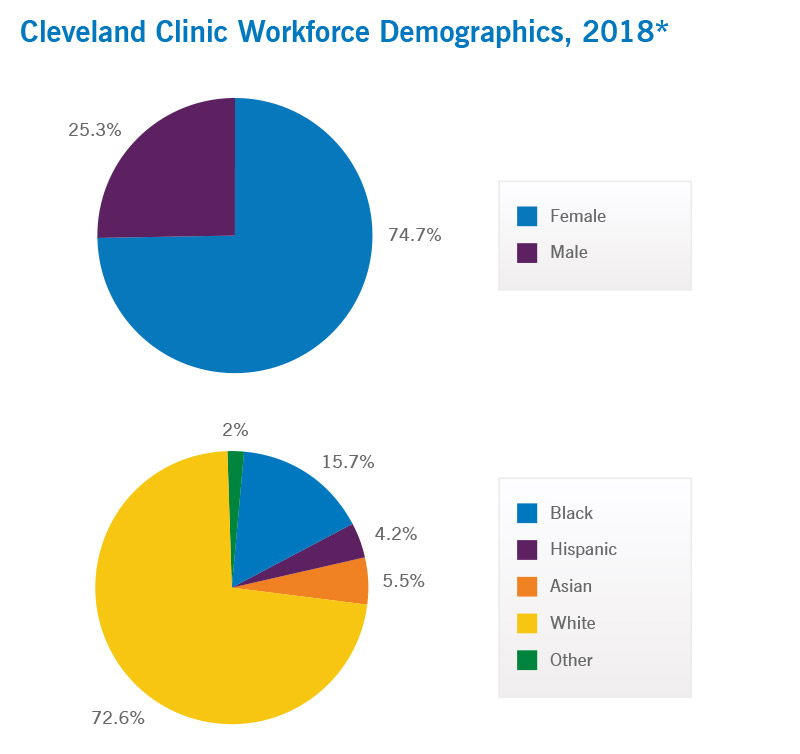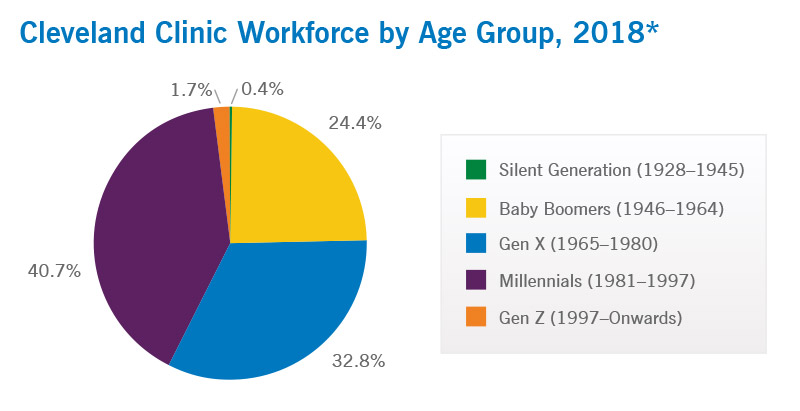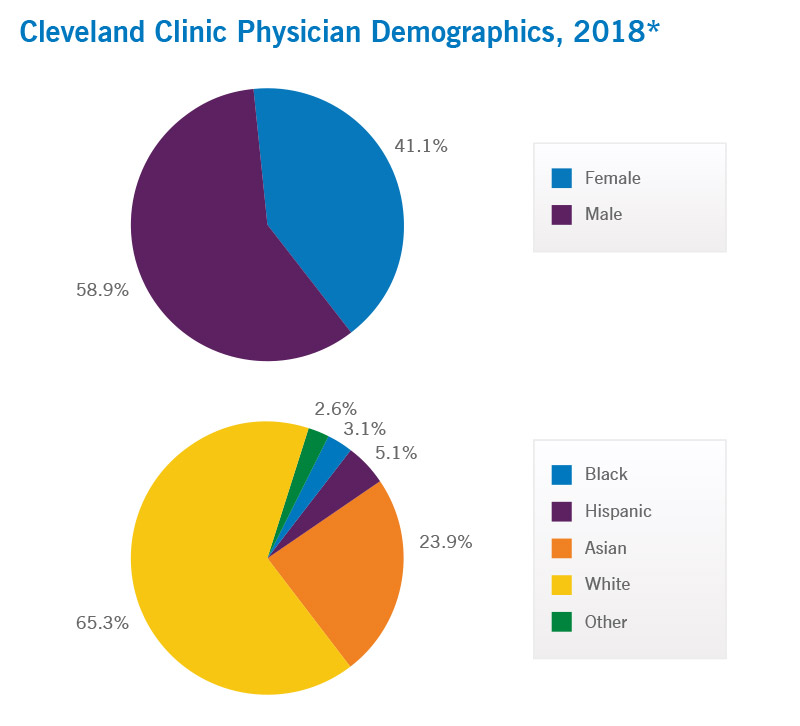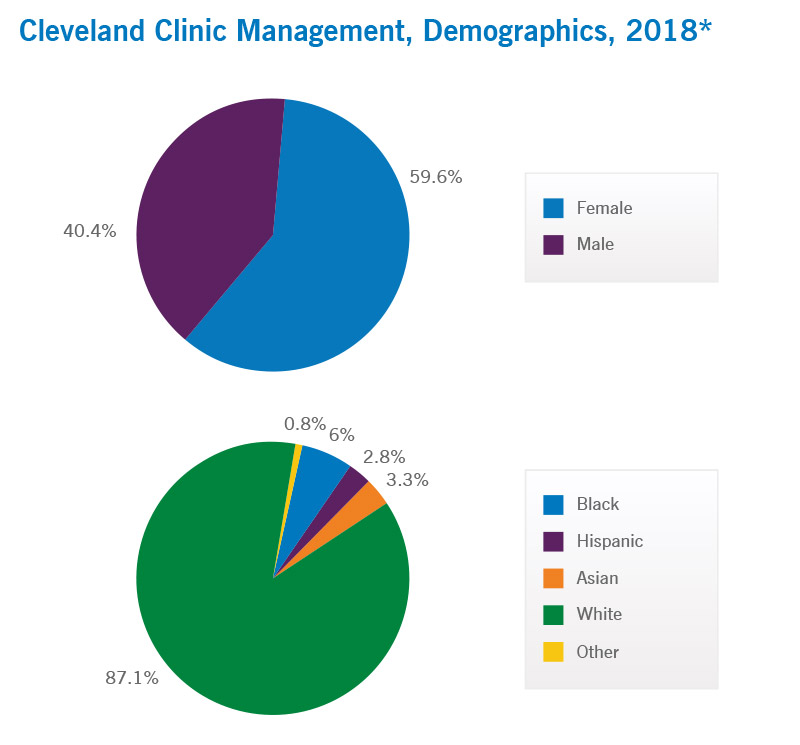 *Enterprise-wide employee analysis as of 12/31/2018 (N=52,811). Workforce = full time, part time and PRN (temporary and contract employees were removed).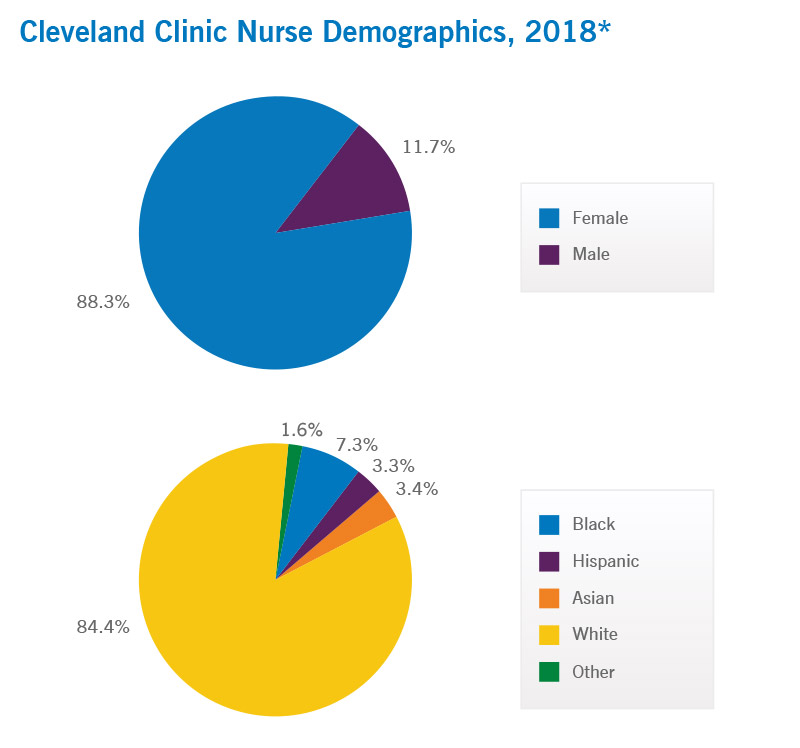 The Cleveland Clinic Board of Directors, as the governing body of the Cleveland Clinic, regularly evaluates its membership with a view to increasing its diversity and including qualified representatives from the communities it serves. The Governance Committee of the Board of Directors regularly reviews the composition of the Board, based on various factors, so as to ensure a balanced membership that includes ethnic and gender diversity, as well as business and community expertise. The Governance Committee also seeks recommendations from Board members of candidates that will add value to the Board of Directors and Board of Trustees.
Increasing the enrollment of underrepresented minority (URM) students in health professions is becoming a more important and urgent issue. Cleveland Clinic takes an innovative approach to foster the continuing education and development of URM talent into healthcare. We offer various programs for high school and college students to provide them with career information, coaching and mentoring to enhance professionalism, team-based experiential learning, and problem-solving expertise. Additionally, Cleveland Clinic is committed to increasing diverse talent in management and executive roles through the following initiatives:
African American Employee Resource Group (AAERG) / SALUD Leadership Development Program: We addressed a system-wide education gap through a group-led professional development workshop series that both increases visibility and access to senior leaders, and creates a pipeline of talent from within the organization for future leadership roles. In 2018, 80 caregivers participated in the AAERG / SALUD Caregiver Development Series, our largest cohort to date. Following the completion of the program, participants experienced lower average turnover rates compared to the rest of the organization, and 31% of participants received promotions. A total of 318 caregivers have participated in the program in the last 6 years.
Mentoring Circles: A collaborative effort of the Global Leadership and Learning Institute and the Office of Diversity and Inclusion this program brings together a diverse group of employees—identified by their managers as capable future leaders—for informal talks with senior leaders to support participants' growth. In 2018, 26 Staff members participated in Professional Staff Mentoring Circles facilitated in collaboration with the Office of Professional Staff Affairs and Global Leadership & Learning Institute. The diverse group of participants were 19% African American, 12% of Two or More Races, 35% Caucasian, 19% Hispanic and 15% Asian.
Cultural Competency & Training
Cultural Competency & Training
Enterprise-wide cultural competency skill development is fundamental to achieving the best patient and caregiver experience for an increasingly diverse population. We build skills and increase awareness and knowledge by providing online training, seminars, events, coaching and consultation services to caregivers and departments to further enhance cultural competency and the patient/caregiver experience.
Online Training: This Diversity and Inclusion module created for caregivers provides an overview of diversity, inclusion and cultural competence across the Cleveland Clinic enterprise, including Ohio, Florida and Nevada locations. All caregivers complete this training annually.
LGBTQ Diversity & Inclusion Training: More than 600 caregivers have completed LGBTQ-specific training based on the Safe Zone model. The course covers: 1) providing culturally competent care for LGBTQ patients and their families, and 2) creating a culture of safety, quality and intentional inclusion for LGBTQ caregivers and patients. Upon completion of the course, knowledge among participants increased by an average of 25%.
Unconscious Bias Training: To date, more than 900 of our leaders have completed Unconscious Bias training. The Office of Diversity and Inclusion launched this initiative in collaboration with Global Leadership and Learning in 2017. Its objective is to raise awareness of individuals' biases and increase our caregivers' cultural competence with a particular emphasis on the Talent Review process. Its impact is creating a more diverse and inclusive workforce. Upon completion of the course, participants' knowledge increased by an average of 22%.
Language Enrichment Programs: Offered in-person and online, our language enrichment programs enhance the communication skills of caregivers with the goal of improving the patient experience. Courses include: Spanish for Healthcare Professionals, Accent Modification and English as a Second Language.
Health Equity & Community Engagement
Health Equity & Community Engagement
"By seeking to learn, understand and respect our differences, we can offer and provide the very best patient care in all of the communities we serve."
– Tomislav Mihaljevic, MD
Cleveland Clinic CEO and President
We partner with key internal and community stakeholders to make advancements in research, patient access and patient education to reduce health disparities. Our focus areas include enhancing patient access, outcomes and satisfaction, and improving community health outreach, education and research.
Having diverse caregivers that represent our patients and members of our communities is key to our success in these endeavors. Caregivers in our Employee Resource Groups (ERGs) and Diversity Councils (DCs) serve as ambassadors of diversity and inclusion strategies to support recruitment efforts, provide personal and professional development, increase engagement and promote health equity throughout our system.
Employee Resource Groups and Diversity Councils
Employee Resource Groups and Diversity Councils
Cleveland Clinic has 11 affinity-based Employee Resource Groups (ERGs) that span the enterprise and 19 location-specific Diversity Councils (DCs). Through our ERGs and DCs, we offer strategic programming to address the healthcare and wellness needs of our diverse patient population and provide caregivers with the opportunity to increase their cultural competence. Services provided by our ERGs and DCs raise awareness of health disparities and inequitable care that may exist in the organization and across the communities we serve.
Select highlights of contributions our ERGs and DCs made in 2019 can be found below.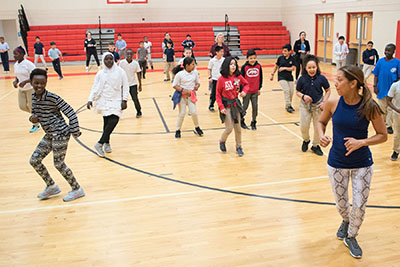 The SALUD Hispanic/Latinx ERG developed an innovative six-to-eight week bilingual/bicultural health and wellness program for Hispanic youth. ACTiVHOS® (which stands for Activity, Cognitive Therapy, Incentives in Health Outreach for Students) encourages youth to be physically active and adopt healthy behaviors by integrating fun, educational dialogues and fitness activities with incentive-based awards and prizes. When we first launched the program in 2014, it was the first fully bilingual health and wellness youth outreach program in Northeast Ohio. In 2018, we began offering ACTiVHOS®in one of our local schools, and in 2019, we expanded to a second school and increased overall participation in the program by 47%. Engagement was at an all-time high with students achieving 16,700,000 total moves, a 66% increase over previous years. In five years, 213 students have participated in ACTiVHOS®, with 80% reporting improved personal health perception and logging in a total of 24.5 million moves. In 2020, we also leveraged our social media platform to increase outreach of Hispanic/Latinx community during the COVID-19 pandemic through clinician videos and translated Cleveland Clinic collateral.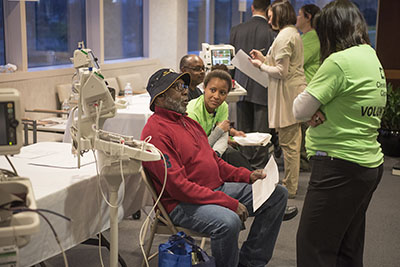 Cleveland Clinic Office of Diversity & Inclusion, in collaboration with SALUD and the African American Employee Resource Group, provided guidance and support in the expansion of Glickman Urological & Kidney Institute's Men's Minority Health Fair at Akron General, Lorain Family Health Center and Lutheran Hospital. At the health fairs, we provided BMI, diabetes, hypertension, hepatitis C, prostate, cholesterol and vision screenings. Through its continued expansion, overall participation of African American and Hispanic/Latinx men increased by 96% (239 men screened in 2018 vs. 469 men screened in 2019 at these specific locations). Since its inception, more than 17,800 men have attended the health fair and undergone more than 50,000 screenings.
The Greater University Circle Employee Resource Group (GUC-ERG) is comprised of Cleveland Clinic caregivers who reside in one of the eight Greater University Circle neighborhoods. GUC-ERG members serve as ambassadors to other GUC caregivers, potential caregivers and all members of these communities. Through peer-to-peer activities and initiatives, GUC-ERG emphasizes the overall goals of Cleveland Clinic's strategic plan while supporting recruitment, retention and caregiver engagement strategies. The group also connects to the overarching goals of the Greater University Circle initiative to Live Local, Buy Local, Hire Local & Connect. In collaboration with Talent Acquisition and the Greater University Circle Employee Resource Group (GUC-ERG), we conducted 11 workforce readiness workshops to promote Cleveland Clinic as a "great place to work and grow". Through these workshops we explored employment opportunities with community members and provided guidance on navigating our career website and application process, resume writing and behavioral-based interviewing. Out of 127 workshop attendees, we had 83 applicants, 10 active candidates, and 12 hires in 2019.