Overview
Overview
"Treating each other with respect goes a long way toward creating an experience that is inclusive for all of us—our fellow caregivers, our patients, and their families. Patient care is why we are here. When patients choose us, they're entrusting us with their most precious possession—their health, no matter where we serve them. We value a diverse and inclusive organization. Our diverse perspectives contribute to better experiences for all."
—Tomislav Mihaljevic, MD, CEO and President
"We are a global healthcare leader that builds cultural competency and targeted initiatives in education, pathway development and supplier diversity to better align with an evolving workforce. We openly engage with diverse groups and seek multicultural experiences with stakeholders to reflect the patients and communities we serve. Through our governing bodies, including our diversity councils, employee resource groups, Operations Council, Board of Directors, Board of Trustees and other networks across the health system, Cleveland Clinic proudly honors diversity in all its forms. We recognize that inclusion is at the heart of business and culture."
—Jacqui Robertson, Chief Diversity and Inclusion Officer
Diversity & Inclusion statement
Cleveland Clinic values a culture where caregivers integrate diversity and inclusion throughout the enterprise. We respect and appreciate our similarities and differences; they enable us to better serve our patients, one another and our global communities.
Inclusion as a Cleveland Clinic value
Cleveland Clinic has a longstanding commitment to diversity and inclusion. Inclusion is one of the six core values that drives our work. Defined as "intentionally creating an environment of compassionate belonging where all are valued and respected," practicing inclusion across our system ensures the best care and outcomes for our patients, and cultivates the best work experience for our caregivers.
To fulfill this vision, we promote the following key commitments to inclusion:
I seek to learn, understand and respect difference with a curious heart and an open mind.
I achieve better outcomes through a diversity of perspectives and experience.
I hold myself and others accountable for demonstrating the values of inclusion and respect.
I support an inclusion-driven culture through my compassionate interactions with all others.
Addressing Racism as a Public Health Crisis
Addressing Racism as a Public Health Crisis
Cleveland Clinic continues to take action to address and end long-standing structural racism after supporting the City of Cleveland's 2020 resolution declaring racism a public health crisis. We established an Executive Diversity Inclusion and Racial Equity Council to examine and promote policies to eliminate racism, bias and health disparities. In 2021, the council met with over 50 thought partners and leaders across the organization, and consulted over 100 benchmarking data sources to develop new initiatives in the DEI space. The council's main priorities are: mirror the communities we service with better communication and representation in their languages, create better access to care and scheduling, partner with diverse educational programs for recruitment, ensure career growth opportunities for underrepresented minorities and develop programs in under-resourced communities.
Enterprise Demographics
Enterprise Demographics
Cleveland Clinic's Office of Diversity & Inclusion provides strategic leadership for cultivating a culture that embraces diversity, inclusion and equity. These efforts include hiring, developing and advancing a more diverse workforce.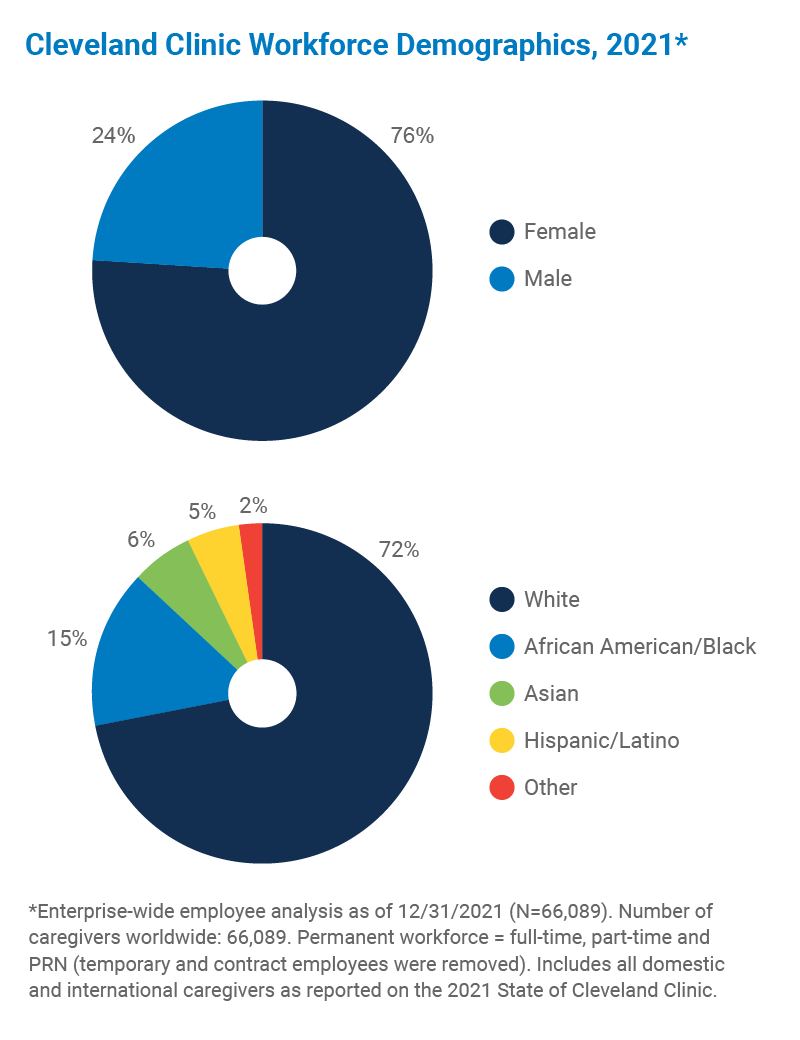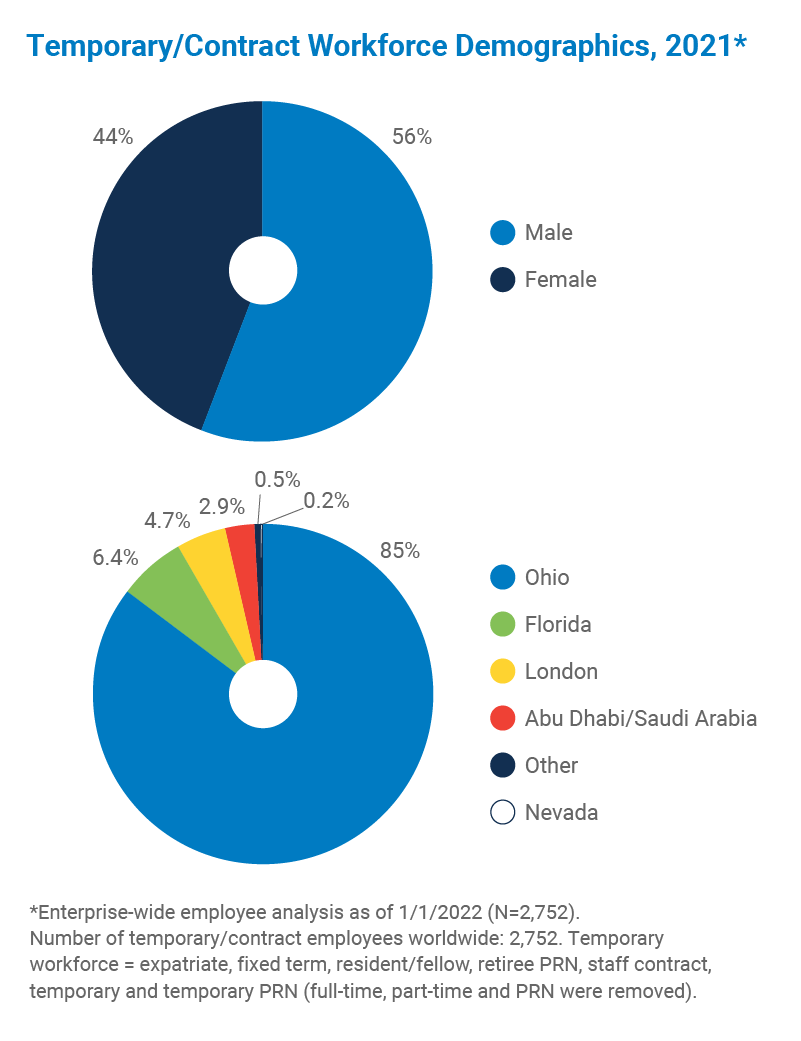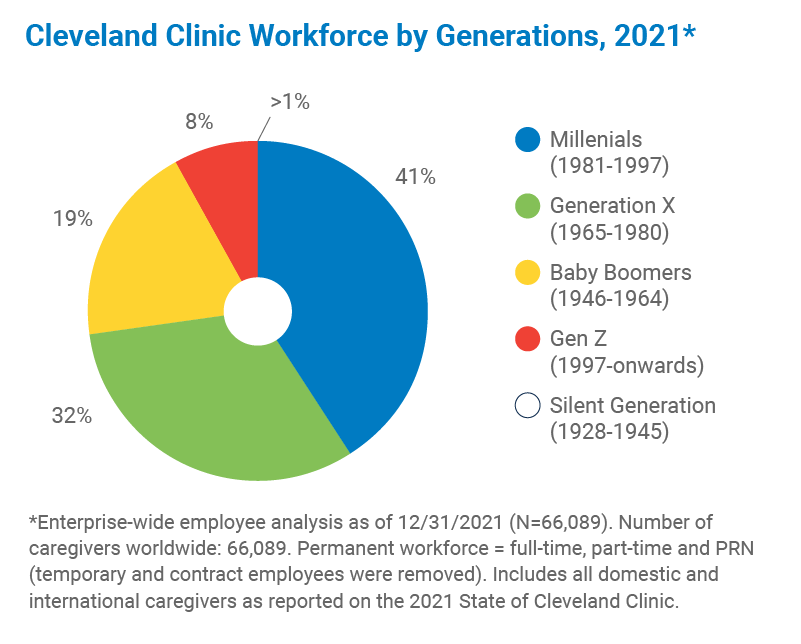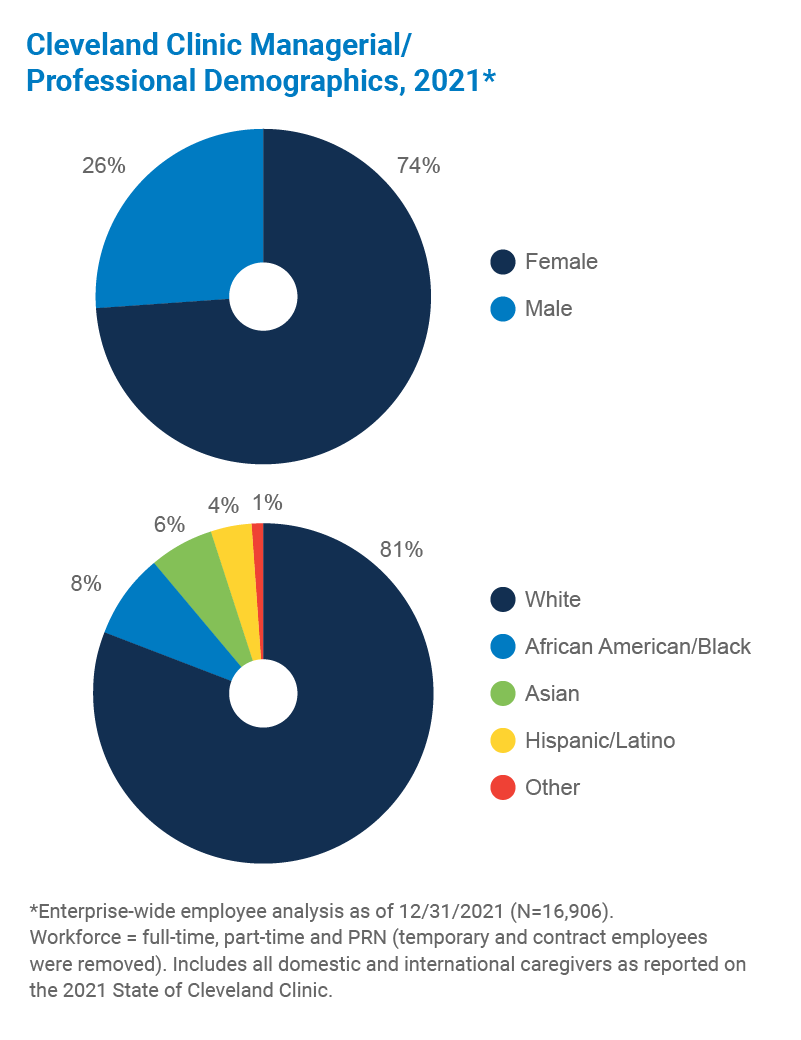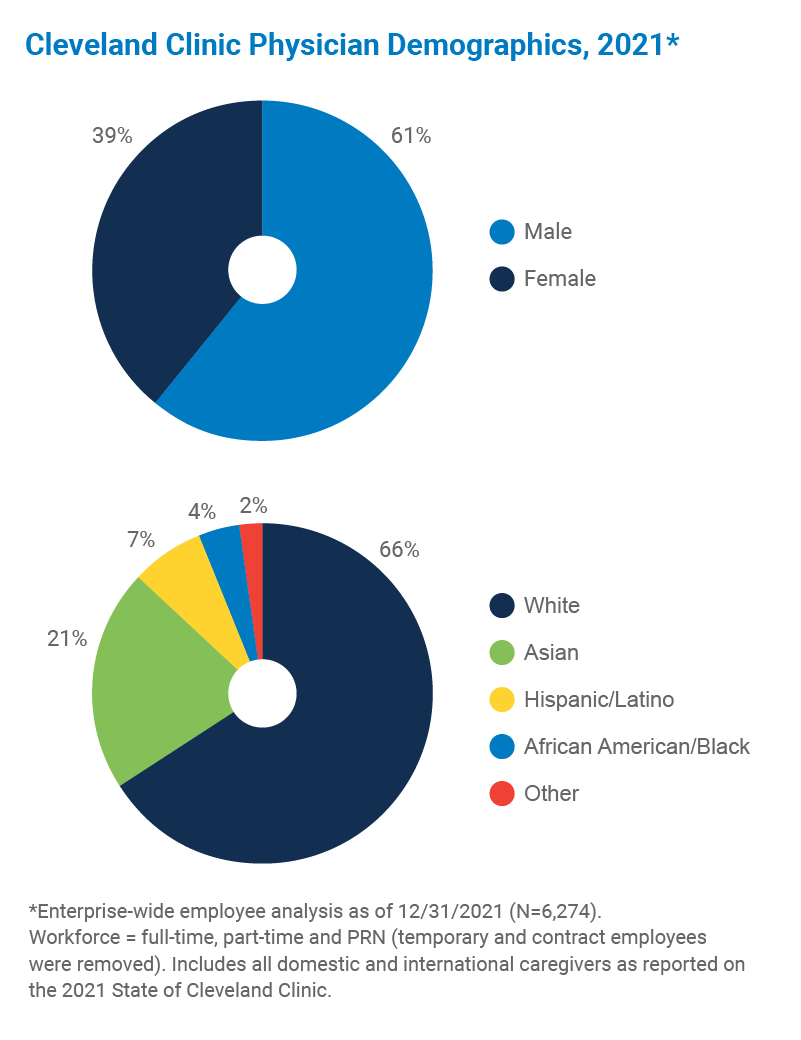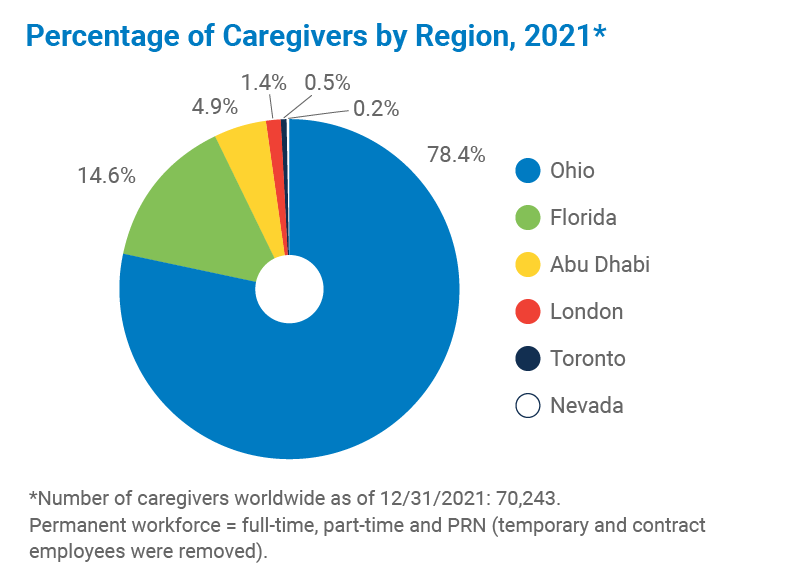 Community Partnerships
Community Partnerships
In line with our goal of eliminating health disparities, Cleveland Clinic donated $2.5 million toward advancing the work of the Lead Safe Cleveland Coalition's lead poisoning prevention efforts in 2021. This gift was the single largest contribution given to United Way of Greater Cleveland's Impact Institute to date. We pledged an additional $50 million in early 2022 with the aim of eliminating all lead exposure in the Cleveland area. Cleveland has lead-poisoning rates that are nearly four times the national average, and working with community partners to eliminate lead poisoning helps ensure we are creating the healthiest communities for everyone.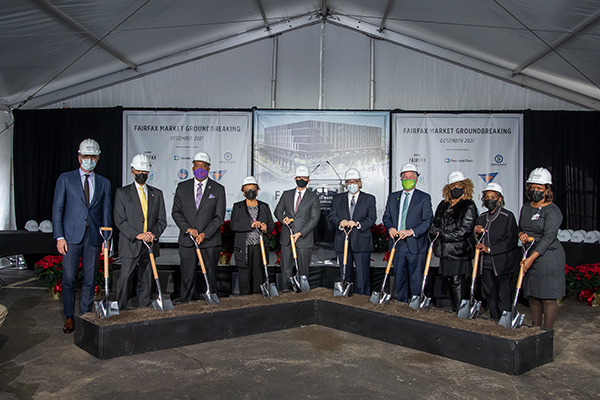 Additionally, Cleveland Clinic partnered with the City of Cleveland, Meijer, the Fairfax Renaissance Development Corporation and Fairmount Properties on a $52.8 million mixed-use development to bring a new grocery market and apartment complex to the Fairfax neighborhood of Cleveland. Positioned to help revitalize and transform the neighborhood, the project will significantly contribute to creating a healthier community by addressing food insecurity, supporting economic development in the area and providing a new shopping destination for customers from surrounding neighborhoods.
In 2020, Cleveland Clinic joined 11 other U.S. health systems in signing the Healthcare Anchor Network's Impact Purchasing Commitment to build healthy, equitable and climate-resilient local economies. Designed by the Democracy Collaborative with support from Health Care Without Harm and Practice Greenhealth, the network's commitment includes: increasing spending with Minority and Women Owned Business Enterprises, and local employee-owned, cooperatively-owned or nonprofit enterprises by at least $1 billion over five years; agreeing to work with at least two large existing vendors to create hiring pathways in disinvested communities and adopting procurement goals for purchasing goods and services that minimize damage to human and environmental health.
Hiring and Pathways for Advancement
Hiring and Pathways for Advancement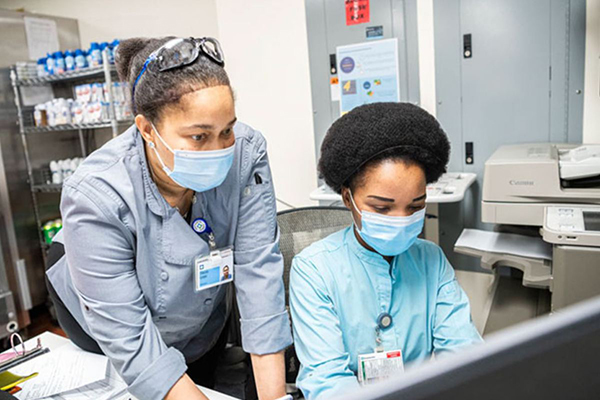 In support of the OneTen Initiative, Cleveland Clinic is one of many organizations that made a commitment in 2020 to hire, upskill or promote one million Black Americans within ten years, as well as create apprenticeship programs to serve as a talent pipeline to support this initiative. To fulfill its commitment, Cleveland Clinic has focused skills-first hiring, identifying middle skills jobs with a minimum salary of $48,000, creating career paths and development guides for entry level positions and developing paid apprenticeship programs. In 2021, Cleveland Clinic hired or promoted more than 800 individuals.
The Office of Diversity and Inclusion (ODI) is partnering with other internal departments to develop career opportunities. In 2021, ODI collaborated with Mandel Global Leadership and Learning Institute (GLLI), Workforce Diversity, Pharmacy and members of the Black Heritage Employee Resource group to refresh the current Pharmacy tech program, and align it with the requirements and guidelines of OneTen. In addition, ODI created an apprenticeship program guide to be used enterprise-wide by departments interested in starting their own apprenticeship. ODI is currently in the process of developing a mentorship program, and interested Employee Resource Group (ERG) and Diversity Council (DC) members will serve as mentors for the apprentices upon completion of a three-hour coach training provided by GLLI.
The Pharmacy Tech Program is now branded as the OneTen Pharmacy Apprenticeship Program and officially launched in late September, 2021 at Cleveland Clinic's main campus. Shortly after, 6 other regional pharmacy locations—Fairview, Medina, Avon, Euclid, Marymount and South Pointe Hospitals—joined this initiative and began actively recruiting apprentices at their locations. More than 12 apprentices participated in the program in 2021. Additionally, we have plans to launch apprenticeship programs in our IT, Finance and Imaging departments, and our Sleep Disorders Center in 2022.
In 2021, the Black Heritage Employee Resource Group piloted its Black Male Mentoring Program, designed to connect established Cleveland Clinic leaders with Black or African American male caregivers that desire to become future leaders within the organization. Program offerings and benefits include professional guidance, skills development, networking opportunities and advocacy on behalf of these future leaders throughout the organization. The 2021 cohort consisted of ten mentees, three mentors and three executive-level sponsors. This mentoring initiative complements the Caregiver Development Program, Community of Mentors Mobilizing & Inspiring Talent (COMMIT) and Mentoring Circles that are made available annually to all caregivers.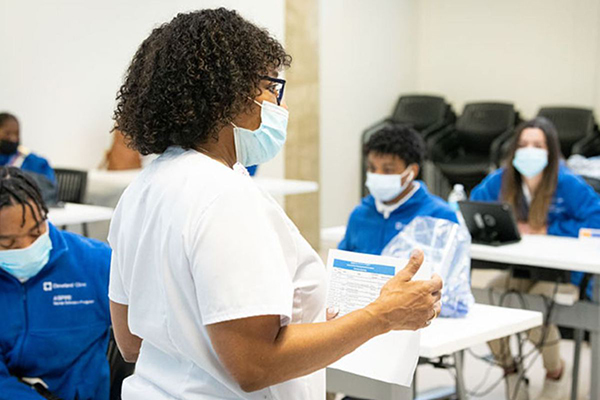 Before caregivers can be mentored, they need to join the organization. ODI designed several programs to foster recruitment of individuals from marginalized communities and promote Cleveland Clinic as an inclusive place to work. Some of these programs are: the Louis Stokes Workforce Readiness Program for high school students; Howley ASPIRE Nurse Scholars Program: a local high school enrichment program; the annual Aspiring Physicians and Research Scientists Conference (held virtually for the first time in 2021) for underrepresented minority undergraduate students and Project Search: a collaborative internship program for young people with disabilities. In partnership with the Military Veterans Employee Resource Group, Cleveland Clinic also revitalized its decade-old Hero Experience Program with a new four-week training initiative for independent duty corpsmen. Through this program, we aim to hire at least 300 military veterans annually.
Education and Training
Education and Training
In May of 2021, we launched Inclusion Café 2.0 R.E.E.L. (Race, Ethnicity, Equity and Language) Talk. These sessions allowed caregivers to learn more about individual perspectives and values related to race, ethnicity, equity and language. Caregivers who attend Inclusion Café are empowered to engage in healthy dialogue about these topics. Through this training, we support caregivers in building their inclusion capacity and their ability to connect with each other through inclusive listening and sharing. We held a total of seven sessions with 124 caregivers participating in 2021.
Due to popular demand, we continued offering the Becoming an Anti-Racist Ally: Our Journey to End Racism course to provide language and tools for caregivers seeking to develop anti-racist allyship skills. This virtual training experience challenges caregivers to advance self-awareness of their biases, identify strategies to engage in difficult conversations, reflect on their own identities and experiences and integrate anti-racism work into their daily lives. From August 2020 to October 2021, we held 31 sessions with 1,038 caregivers completing the course.
In 2021, we developed additional training opportunities, including two unique anti-bias workshops: Unconscious Bias and Infant Mortality for the Women's Health Institute and Unconscious Bias in Selection and Hiring, collectively training 638 caregivers. An additional multi-session training launched in 2021 focuses on understanding and challenging microaggressions. These courses complement our Inclusive Leadership training (279 participants in 2021), LGBTQ+ Diversity & Inclusion training (200 participants in 2021) and five self-paced modules on: Disability Etiquette, Building Caregiver Inclusion and Upstander Culture, Unconscious Bias in the Workplace, How to be an Upstander in the Face of Racism and Transgender Inclusion.
Employee Resource Groups and Diversity Councils
Employee Resource Groups and Diversity Councils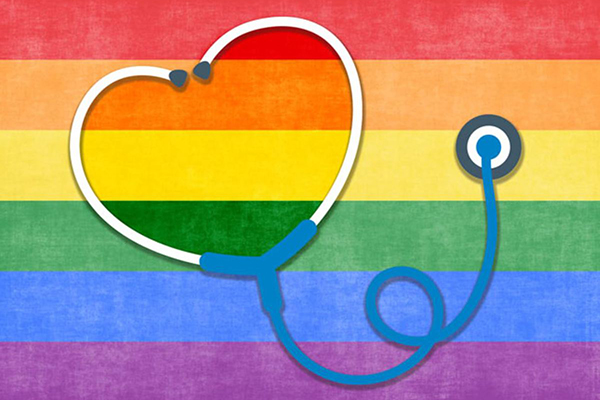 Caregiver-led initiatives
Our nine Employee Resource Groups (ERGs) and 13 Diversity Councils (DCs) remained active during the pandemic. In 2021, ERGs and DCs developed innovative programs and activities to support all caregivers during a challenging year, particularly in healthcare.
Some highlights include:
Hosting virtual lectures to support caregiver social and emotional wellbeing, which included topics such as mindfulness and finance, interfaith approaches to generational differences, recruitment of diverse staff and caregivers in healthcare, National Coming Out Day and interactive healthy cooking demos.
Offering community health screenings and COVID-19 vaccination clinics in both English and Spanish in underserved neighboring communities in Northeast Ohio.
Launching the Tu Salud campaign, which highlights numerous physicians and nurse practitioners who are bilingual and fluent in Spanish to further support the needs of the Hispanic/Latinx community.
Organizing book clubs focused on raising awareness about racism, bias and LGBTQ+ inclusion.
Inclusive name change: as a reflection of our value of inclusion and to honor individuals that identify as Black, the African American Employee Resource Group changed its name to the Black Heritage Employee Resource Group (BHERG).

Releasing SALUD's—the Employee Resource Group for self-identified Hispanic/Latinx caregivers—second annual "Nuestra Cocina" cookbook highlighting family recipes from caregivers across the Cleveland Clinic enterprise.

Expanding the quarterly Diversity Leaders Forum through a virtual format with representation from all ERGs and DCs across the system.
Participating in Pride & Ride in the CLE and Akron Pride—the ClinicPride Employee Resource Group engaged over 50 caregivers and their families in these socially-distanced celebrations.
Collaborating with the LGBT Community Center of Greater Cleveland to host Thrive with Pride to provide health screenings and education to 75 patients/community members.
Successful fundraising for Cleveland Clinic's Center for LGBTQ+ Care through the ClinicPride Employee Resource Group's t-shirt fundraiser.
Recognition
Recognition
In 2021-2022, we received the following third-party acknowledgements for our DEI programs, efforts and accomplishments:
Recognized for diversity, equity and inclusion efforts in the areas of talent pipeline and development, leadership accountability and supplier diversity efforts, and named the #2 Hospital and Health System by DiversityInc in 2022, up from #5 in 2021.
Named "Best in Class for Workforce Diversity" for progress in creating, enhancing and sustaining diversity and inclusion strategies, and inducted into the Best in Class Hall of Fame by The Greater Cleveland Partnership Commission on Economic Inclusion.
Awarded winner of the 2021 Governor's Inclusive Employer award by Opportunities for Ohioans with Disabilities (OOD).
Additionally, eleven hospitals received recognition through the Human Rights Campaign's Healthcare Equality Index in 2021 for their active participation in embracing and adopting LGBTQ+-inclusive practices.
Leader status, the highest overall designation:

Akron General Medical Center.
Main campus in Cleveland.
Avon Hospital.
Euclid Hospital.
Fairview Hospital.
Hillcrest Hospital.
Lutheran Hospital.
Medina Hospital.
South Pointe Hospital.
Cleveland Clinic Florida Weston.

Top Performer status, the index's highest designation for Catholic hospitals:
Caregivers completed 1,985 hours of LGBTQ+ Cultural Competency training across the system—260% more hours than the total required by the Healthcare Equality Index for recognition, and an increase of 1,235 hours over the number of training hours our caregivers completed in 2019.