Overview
Overview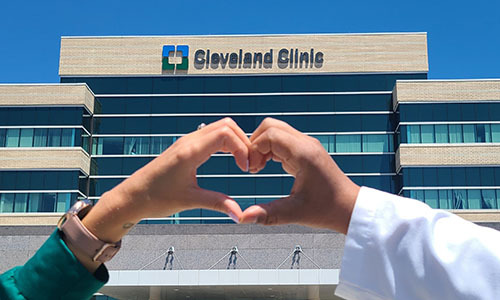 Cleveland Clinic's Office of Diversity and Inclusion (CC ODI) provides strategic leadership for creating an inclusive organizational culture for patients, caregivers, business partners and the communities Cleveland Clinic serves.
Three core focus areas for CC ODI are:
Enterprise Demographics.
Cultural Competency Education and Training.
Health Equity and Community Engagement.
Creating a diverse and inclusive environment complements our yearly enterprise goals by enabling us to better serve our stakeholders. Programming from the Office of Diversity and Inclusion promotes our charge of building and sustaining a culturally competent and diverse caregiver population that reflects communities we serve.
Diversity & Inclusion Statement
Cleveland Clinic values a culture where caregivers integrate diversity and inclusion throughout the enterprise. We respect and appreciate our similarities and differences; they enable us to better serve our patients, one another and our global communities.
Cleveland Clinic is committed to creating a diverse and inclusive organization. Our core values fortify this commitment.
They are:
Quality & Safety
Teamwork
Empathy
Inclusion
Integrity
Innovation
In 2019, we added the Value of Inclusion to our core values. Intentionally practicing inclusion across our system creates the best care and outcomes for our patients, and promotes engagement through the best work experience for our caregivers. To carry out this commitment, we promote key behaviors of inclusion.
Our Inclusion Value states:
"We intentionally create an environment of compassionate belonging where all are valued and respected."
The corresponding inclusion behaviors are:
I seek to learn, understand and respect difference with a curious heart and an open mind.
I achieve better outcomes through a diversity of perspectives and experience.
I hold myself and others accountable for demonstrating the values of inclusion and respect.
I support an inclusion-driven culture through my compassionate interactions with all others.
To foster a more inclusive environment at Cleveland Clinic, the launched Inclusion Cafés in 2019. Through this initiative, we asked caregivers to share a complementary beverage with a fellow caregiver that they wanted to get to know better. We hosted Inclusion Cafés system-wide at various Cleveland Clinic locations, reaching over 5,600 participants during fall and winter to build our inclusion capacity and facilitate understanding, respect and a sense of community among caregivers. This initiative was intentionally designed to build upon our commitment to the American Hospital Association Equity Pledge, CEO Action for Diversity and Inclusion, our value of Inclusion and mitigating unconscious bias.
In 2020, CC ODI created Inclusion Cafe 2.0 R.E.E.L (Race, Ethnicity, Equity, Language) Talk to meet an increasing demand from caregivers wanting to understand how to build their inclusion capacity around having conversations on race and difference. Inclusion Café 2.0 allows caregivers to learn more about individual differences, perspectives and values as they relate to race, ethnicity, equity and language. We encouraged caregivers to have dialogue around these topics and listen to others. Thus, the purpose of this course is to support caregivers in building their inclusion capacity and their ability to connect with each other through inclusive listening and sharing.
Racism as a Public Health Crisis
On June 3, 2020, Cleveland Clinic supported the City of Cleveland's resolution declaring racism a public health crisis. As a health system, we are committed to ending long-standing systemic racism and bias that result in health disparities, and are taking an active role to further develop strategies to guide our pursuit of true equality, justice and care for our patients and community. We have also signed on to resolutions from Lorain City Council and national statements from the Healthcare Anchor Network and the OneTen initiative.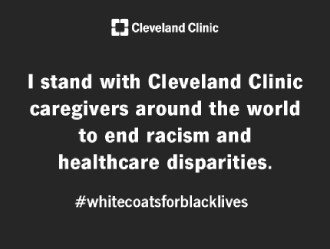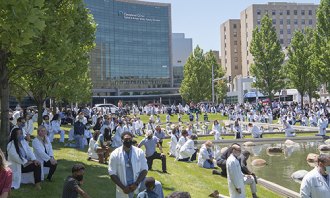 On Friday, June 12, at 12:30 p.m., as part of White Coats for Black Lives, Cleveland Clinic caregivers from around the globe stood or kneeled together at their locations for 8 minutes and 46 seconds of silent reflection. Caregivers in Ohio, Florida, Nevada, Canada, London and China — in person and in spirit — came together to support our community, patients and fellow caregivers, and in remembrance of George Floyd. They expressed our organization's commitment to ending racism and bias resulting in health disparities.
In response to the stress and disparate impact of the pandemic, and social unrest following violent acts against people of color, Cleveland Clinic's Office of Diversity & Inclusion launched a series of caregiver forums to offer support, hear what is on the minds of our caregivers and inform system-wide change.
CC ODI designed Lift Every Voice listening sessions as an inclusive approach to facilitate dialogue, empathy, awareness and inclusion on the topics of race, racism and bias. Lift Every Voice sessions provided a safe space for caregivers to address their thoughts and feelings around the personal impact of race, racism and bias in their lives. From June – October 2020, CC ODI held 95 virtual sessions reaching over 3,000 caregivers, and presented key themes to leadership to inform strategic next steps on diversity, equity and inclusion.
One of the key themes was the need for more education and training. Caregivers expressed a strong desire to help and support, but did not feel they had the language or skillset to do so. To this end, CC ODI developed the Becoming an Anti-racist Ally: Our Journey to End Racism series for caregivers seeking to learn and grow in anti-racist allyship. This virtual training experience challenges caregivers to learn how to develop self-awareness of their beliefs, biases and perceptions; identify strategies to engage in difficult conversations; and reflect on their own identity and experience in an ally role, integrating anti-racism work into their daily lives. Since August 2020, CC ODI has held more than 32 sessions with over 1,000 caregivers participating.
While our Cleveland Clinic leaders model inclusion and respect in every interaction as part of our core values, we realize that unconscious biases are a reality in all of our lives. Therefore, we began providing Unconscious Bias training in 2017, reaching 1,200 leaders to date. In 2020, we leveraged online learning platforms to make unconscious bias training and racial equity resources more readily available to all caregivers.
2021 DiversityInc Top Health Systems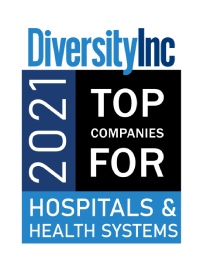 For the 12th year in a row, DiversityInc named Cleveland Clinic a top hospital and health system. In 2020, we were named fifth on the list.

The rankings are data driven and assess performance based on:
Talent pipeline.
Talent development.
Leadership accountability.
Supplier diversity.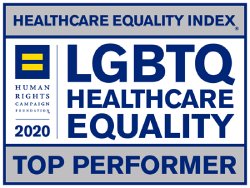 Since 2014, the Human Rights Campaign has recognized Cleveland Clinic's dedication, commitment and action in LGBTQ+ inclusion as a healthcare system. In 2020, we were recognized as a Top Performer in the Healthcare Equality Index.
Hospital systems are ranked on how many LGBTQ-centered policies and practices they have in place in four different criteria:
Foundations of LGBTQ-centered patient care.
Patient services and support.
Employee benefits and policies.
Patient and community engagement.
Eleven Cleveland Clinic facilities were noted for their active participation in embracing and adopting LGBTQ-inclusive practices. As a system, we completed 750 hours of LGBTQ Cultural Competency training, 170% higher than the required 275 hours to receive the designation. Honorees included Cleveland Clinic Main Campus, Akron General Medical Center, Avon, Euclid, Fairview, Hillcrest, Lutheran, Marymount, Medina and South Pointe Hospitals, and Cleveland Clinic Florida.
Enterprise Demographics
Enterprise Demographics
Cleveland Clinic recognizes that having a workforce that reflects the patient population it serves includes a diverse leadership team and pipeline. The integration of diversity and inclusion initiatives across the enterprise addresses the strategic need to expand the number of diverse candidates available to hire into healthcare with succession into management and executive roles.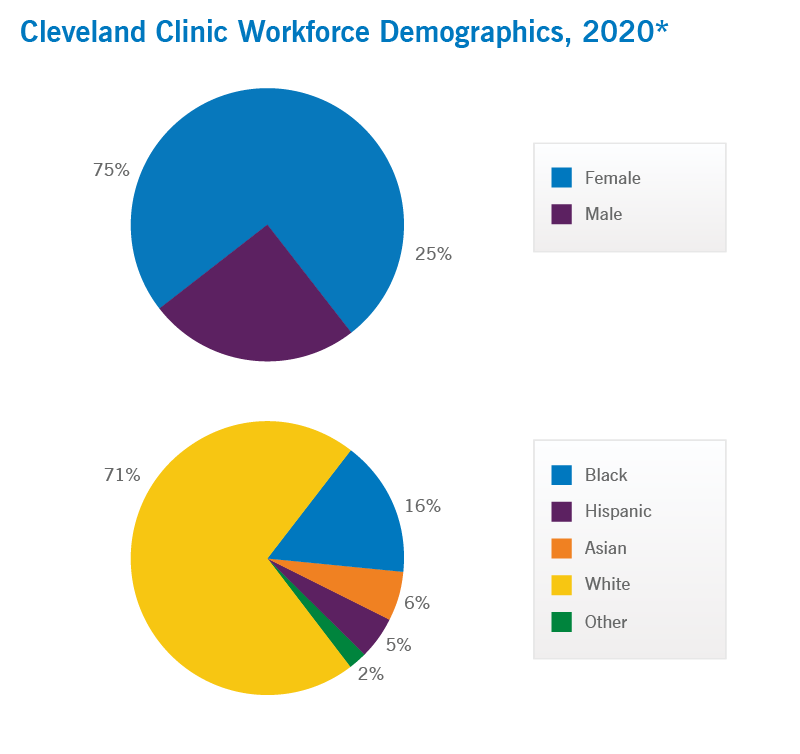 *Enterprise-wide employee analysis as of 12/31/2020 (N=55,266). Workforce = full-time, part-time and PRN (temporary and contract employees were removed).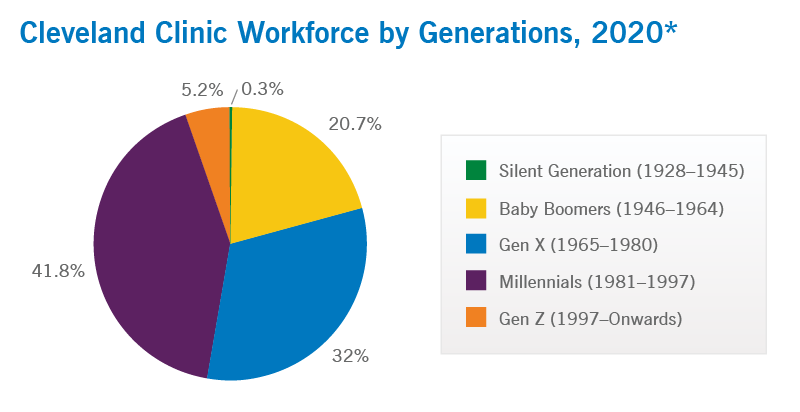 *Enterprise-wide employee analysis as of 12/31/2020 (N=69,011). Workforce = full-time, part-time and PRN (temporary and contract employees were removed). Includes all domestic and international caregivers as reported on the 2020 State of Cleveland Clinic.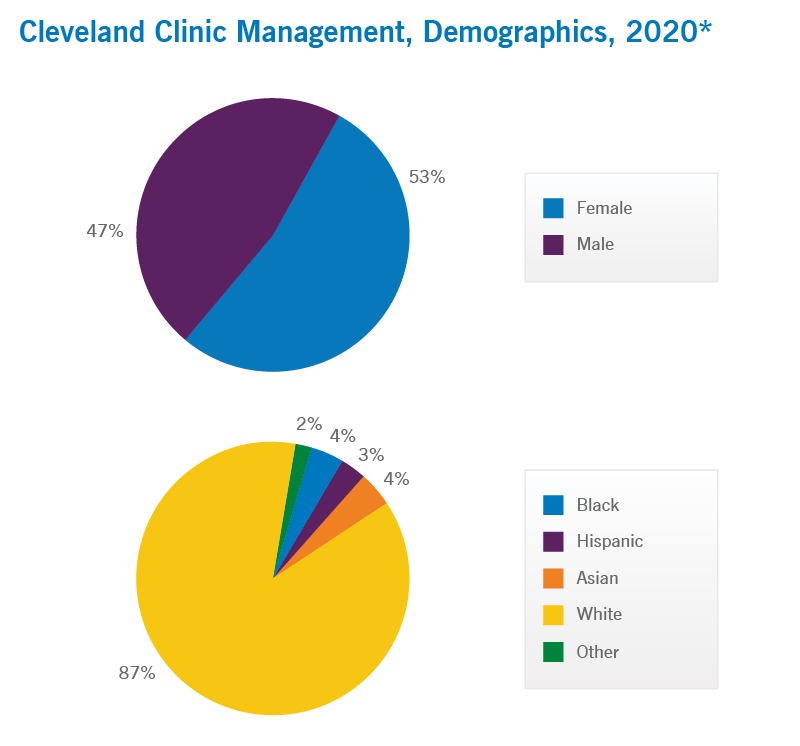 *Enterprise-wide analysis of management as of 12/31/2020 (N=1,543). Management is defined as all caregivers with direct reports; caregivers in EEO-1 Categories Executive/Senior Level and with the title of Manager or Director.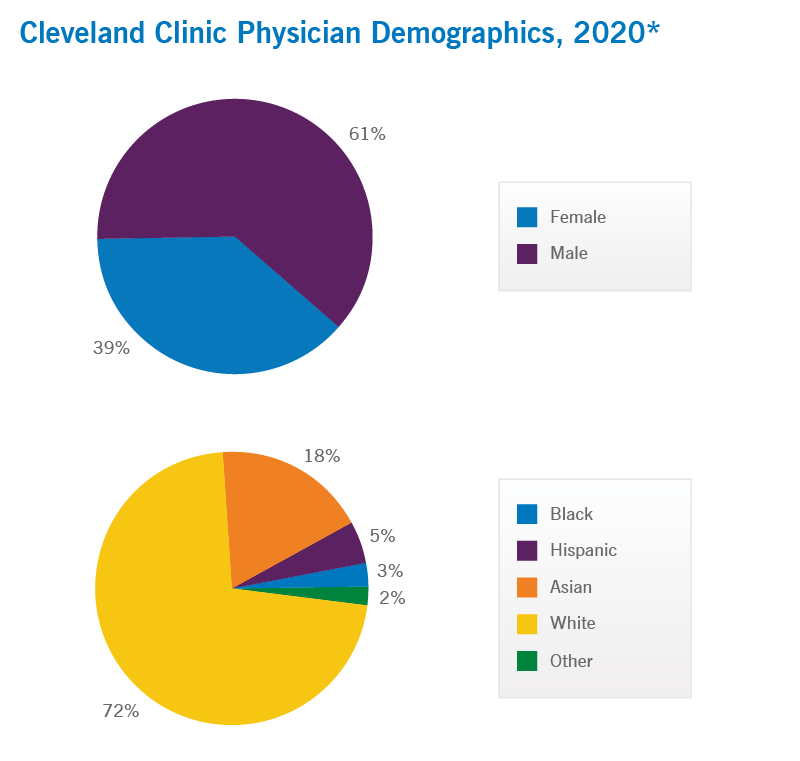 *Enterprise-wide analysis of physicians as of 12/31/2020 (N=4,198). Does not include residents and fellows.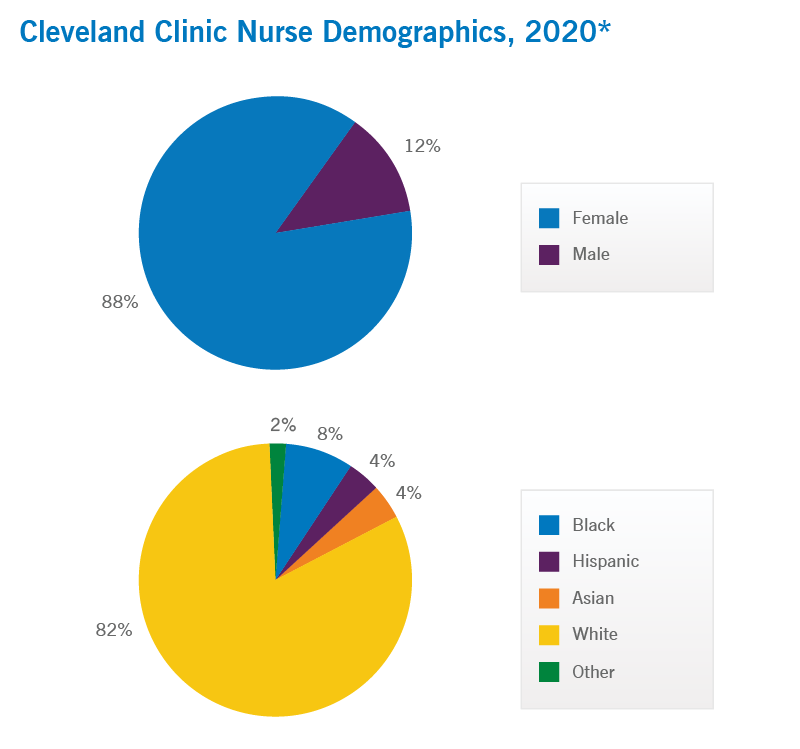 *Enterprise-wide analysis of nurses as of 12/31/2020 (N=11,332). Includes full-time, part-time and PRN (temporary and contract employees were removed).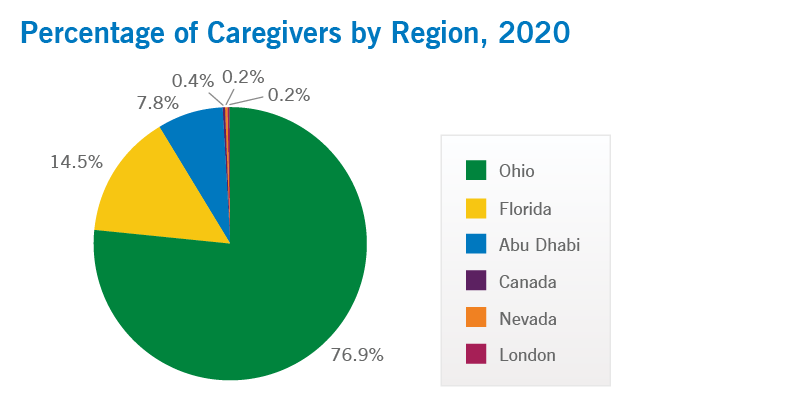 *Enterprise-wide employee analysis as of 12/31/2020 (N=69,011). Number of caregivers worldwide: 69,011. Workforce = full-time, part-time and PRN (temporary and contract employees were removed). Includes all domestic and international caregivers as reported on the 2020 State of Cleveland Clinic.
Pipeline Talent Development – Increasing the enrollment of underrepresented minority (URM) students in health professions is an increasingly important and urgent issue. Cleveland Clinic takes an innovative approach to foster the continuing education and development of URM talent into healthcare. We offer various programs for high school and college students to enhance professionalism by providing them with career information, coaching, mentoring, team-based experiential learning and problem-solving expertise.
Mentorship – Cleveland Clinic is committed to increasing diverse talent in management and executive roles:
African American Employee Resource Group (AAERG) and Hispanic/Latinx Employee Resource Group (SALUD) Caregiver Development Program
We addressed a system-wide education gap through the AAERG / SALUD Caregiver Development Series, a group-led professional development workshop series. The goal of the series is to increase participants' visibility and access to senior leaders, and to create a pipeline of talent from within the organization for future leadership roles. In 2020, 73 caregivers participated (60% female and 72% minority) as the program transitioned to a virtual format. A total of 463 caregivers have participated over the past 8 years.
AAERG C.O.M.M.I.T. (Community of Mentors Mobilizing and Inspiring Talent) Program
In 2019, the African American Employee Resource group launched C.O.M.M.I.T. - a pilot mentoring program to build mentors for workforce development and facilitate the professional development of qualified participants in group settings through sharing of experiences, skills and proficiencies over a period of 6 months. The participant cohort was 100% African American and 82% female. In 2020, the C.O.M.M.I.T. program continued virtually with a second cohort of 54 caregivers.
Of the 247 total caregivers that have participated in the Caregiver Development and C.O.M.M.I.T. programs over the last 2 years:
64 caregivers (26% of participants) have been promoted
84% of caregivers have been retained by Cleveland Clinic
Mentoring Circles (Professional Staff and Caregiver)
Professional Staff and Caregiver Mentoring Circles are both collaborative efforts of the Global Leadership and Learning Institute (GLLI), the Office of Professional Staff Affairs and the Office of Diversity & Inclusion. These 2 programs bring together a diverse group of employees—identified by their managers as capable future leaders—for informal talks with senior leaders to support their growth. In 2020, a total of 46 caregivers participated in both Professional Staff and Caregiver Mentoring Circles. The 2020 cohorts were 61% female and 54% minority.
Health Equity and Community Engagement
Health Equity and Community Engagement
We partner with key internal and community stakeholders to make advancements in research, patient access and patient education to reduce health disparities. Our focus areas include enhancing patient access, outcomes and satisfaction, and improving community health outreach, education and research.
Employing diverse caregivers that represent our patients and members of our communities is key to our success in these endeavors. Caregivers in our Employee Resource Groups (ERGs) and Diversity Councils (DCs) serve as ambassadors of diversity and inclusion strategies to support recruitment efforts, provide personal and professional development, increase engagement and promote health equity throughout our system.
Employee Resource Groups and Diversity Councils
Employee Resource Groups and Diversity Councils
Cleveland Clinic has 10 affinity-based Employee Resource Groups (ERGs) that span the enterprise and 13 location-specific Diversity Councils (DCs). Through our ERGs and DCs, we offer strategic programming to address the healthcare and wellness needs of our diverse patient population and provide caregivers with the opportunity to increase their cultural competence. Services provided by our ERGs and DCs raise awareness of health disparities and inequitable care that may exist in the organization and across the communities we serve. All ERGs and DCs remained active virtually during the COVID-19 pandemic, and developed programs and activities to support all caregivers during this trying period. Some highlights include:
Conducting periodic wellness check-ins and programs, including yoga and meditation.
Hosting virtual lectures on topics such as domestic violence / victim advocacy awareness, health literacy, COVID-19 health disparities and how to better engage with minority patient populations. Download our translated COVID-19 screening questions.
Holding Book Clubs to discuss themes on addressing racism and bias.
Leveraging social media ACTiVHOS® brand recognition by producing Spanish language videos and materials, and helping address COVID-19 disparities in the Hispanic/Latinx community.
Continuing to offer caregiver development programs and using the transition to virtual formats to expand program reach.
Additional accomplishments in 2020 for Cleveland Clinic's Office of Diversity & Inclusion include:
Reaching 65,000 caregivers and community stakeholders through in-person and virtual D&I programming, and website and social media presence.
Growing CC ODIs presence on its internal website for caregivers — getting 21,000 views and increasing active followers by 557% to 3,000 caregivers.
Successfully modifying and advancing CC ODIs talent pipeline development programs to position under-represented caregivers and college students for leadership roles and healthcare careers, with 176 caregivers (75% minority; 74% female) participating.