Overview
Overview
To ensure the safety of all our caregivers, we have an extensive safety program managed by multiple departments and teams with shared responsibility. Our formal Environmental Health and Safety (EHS) team is accountable for monitoring and implementing practices at Cleveland Clinic main campus and our family health centers. In addition, each community hospital maintains written management plans that address the "Environment of Care" based on their unique structure and needs.
Enterprise safety leadership members conduct ongoing reviews of regulatory changes and adapts safety policies, equipment, procedures and training as appropriate. Occupational Health promotes the health and safety of our caregivers through new hire pre-placement assessments, urine drug screenings, annual compliance, Tuberculosis testing, audiograms, and mandatory immunizations and flu vaccinations. We have a comprehensive safety reporting system through which we encourage caregivers to report all events, exposures and near-misses.
Following a caregiver safety report, we conduct thorough post-exposure follow-up procedures to address the needs of our caregivers and identify opportunities for improvement to prevent subsequent events. For example, we established a work restriction policy for caregivers with communicable diseases and provide post-exposure guidelines and support for those exposed to blood-borne pathogens. Cleveland Clinic records and reports accident statistics in accordance with Occupational Safety and Health Administration (OSHA) and Bureau of Labor Statistics (BLS) requirements. An injury or illness is work-related if an event or exposure in the work environment either caused or contributed to the resulting condition, or significantly aggravated a pre-existing condition.
Environmental Health and Safety (EHS) Data
Environmental Health and Safety (EHS) Data
Cleveland Clinic places a high priority on caregiver safety and health. In 2018, all of our Ohio hospitals had total OSHA-recordable injury rates less than the 2017 hospital industry average of 5.7 injuries per 100 full time equivalent employees reported by the Bureau of Labor Statistics. There were no work-related fatalities in 2018.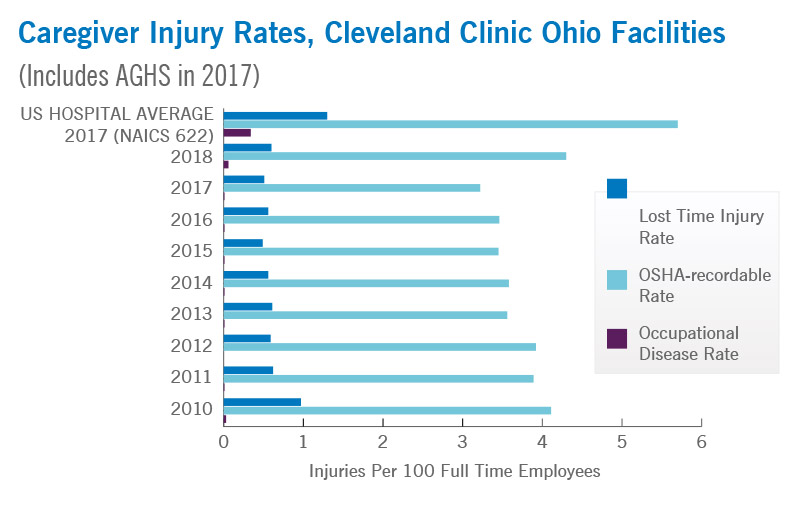 In 2018, caregivers in our ambulatory health and surgery centers experienced a slightly higher total recordable injury frequency than the 2017 ambulatory healthcare industry average, but significantly lower severity rates as measured by restricted duty or lost time cases.
Bloodborne Pathogens
Bloodborne Pathogens
As part of our commitment to caregiver safety, Cleveland Clinic has a comprehensive Bloodborne Pathogen Exposure (BBPE) program. Within Occupational Health, we have a BBPE Operations Committee comprised of BBPE Committees representing hospitals across the Enterprise that meets regularly to share metrics, best practices and continuous improvement initiatives. All new caregivers complete BBPE training as part of their onboarding process.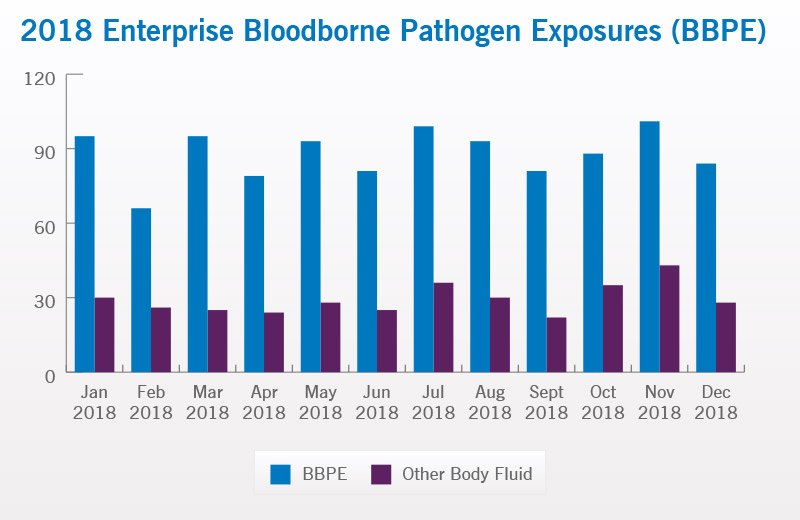 In 2018, BBPE sharp and splash events increased in part due to the acquisition of Union Hospital and the opening of new physician practice sites and the closure of some existing practices. To reduce BBPE, we introduced two new initiatives in 2018. On June 25th, 2018 we launched a BBPE hotline, a 24/7 phone number to report BBPE in Northeast Ohio. Following a report, Occupational Health will document the exposure, schedule lab work and follow up with the exposed caregiver. This resource is available to all caregivers on our intranet, along with BBPE procedures and our BBPE Toolkit, which includes training materials, educational graphics and videos, best practices and other assets to help prevent and reduce BBPE. Additionally, in 2018 we implemented a train-the-trainer program facilitated by the Simulation Center. Caregivers from each BBPE Committee attended to learn about and replicate three scenarios in which BBPE occur frequently. Participants in the program then shared learnings with colleagues at their locations.
To reduce BBPE at their facility, Fairview Hospital installed more than 350 eyewear brackets in 2018 following a department walkthrough in 2017 where we discovered eyewear was not easily accessible. In May 2019, Fairview Hospital implemented a Mandatory OR/Procedural Areas Eyewear Policy to empower caregivers to speak up when eyewear is not in use, but should be. As of June 2019, these combined efforts have resulted in a 43% decrease in BBPE from splashes compared to 2018.
OSHA Recordable Injuries, Other Emphasis Programs
OSHA Recordable Injuries, Other Emphasis Programs
Cleveland Clinic works to provide ergonomic workspaces for all caregivers. Ergonomic injuries in healthcare most commonly occur when handling patients, but are also associated with individuals moving objects and interfacing with machines. We provide caregivers education, training and equipment for handling patients safely and list additional resources on the employee intranet.
To ensure any new or replacement products we purchase support caregiver comfort and wellbeing, Environmental Health and Safety compiled a list of ergonomically approved office products and workstations. We provide caregivers with step-by-step instructions for adjusting chairs, computers and workstations on the intranet. Any caregiver can use the request assistance of an Ergonomist via our Safety Event Reporting System to optimize their workstations or request accommodations to suit their individual needs, including requests for sit-stand workstations.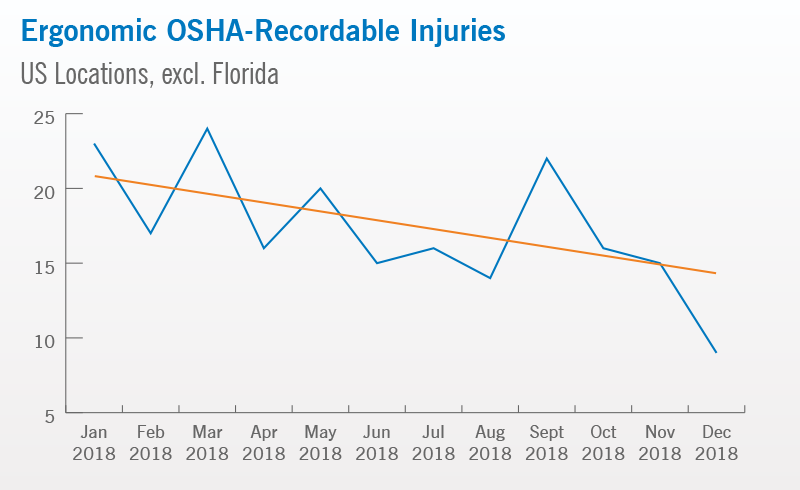 We continued to reduce slip, trip and fall injuries in 2018 through ongoing evaluation of walking and working surfaces to proactively eliminate risks. Due to the accumulation of snow and ice during the winter months in Northeast Ohio, we experience an increase in recordable injuries this time of year.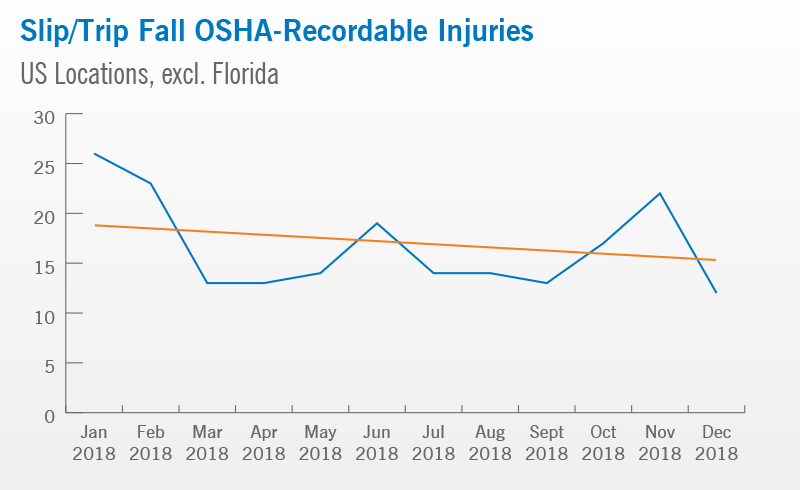 Workplace Violence Prevention
Workplace Violence Prevention
To prevent workplace violence, Cleveland Clinic has a Workplace Violence Prevention Committee comprised of representatives from across the enterprise with a multitude of backgrounds. This committee is focused on providing education, assistance and resources to help ensure Cleveland Clinic remains a safe, caring and supportive environment for our patients, patients' families and fellow caregivers.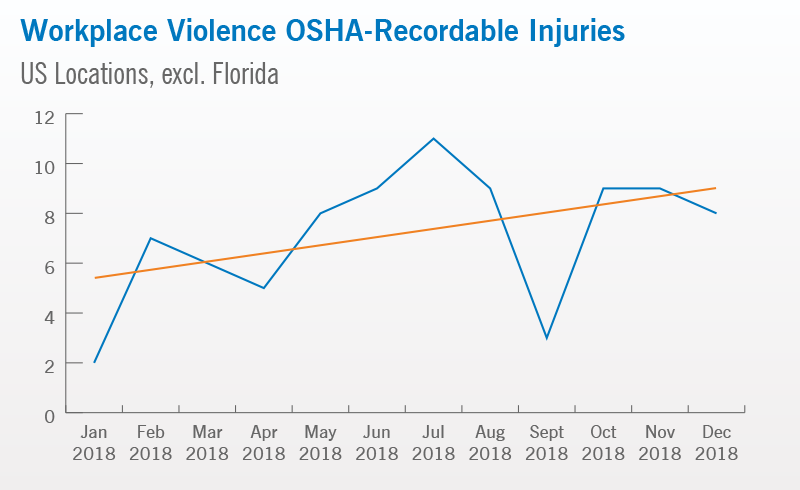 The Enterprise Workplace Violence Steering Committee collaborated with Human Resources to revise our enterprise policy on workplace violence prevention. Additionally, this cross-functional team created a Standard Operating Procedure (SOP) for workplace violence that outlines specific steps caregivers should take following any form of workplace violence incident. Released in February 2018, this new policy replaced all previous versions of workplace violence policies or procedures to create consistency across the main campus, regional hospitals and family health centers on reporting and documentation of workplace violence incidents.
To provide consistent and ongoing education for all caregivers, the Enterprise Workplace Violence Steering Committee created an internal website and downloadable toolkit dedicated to workplace violence prevention. This initiative launched in August 2018 with a comprehensive communication plan in collaboration with Corporate Communications and Human Resources. This website also links to external resources such as OSHA and The Joint Commission.
In response to growing concerns of violence in the workplace, Cleveland Clinic's executive nursing leadership team collaborated with Protective Services to shape the vision for the S.H.I.E.L.D. Conference (Safety in Healthcare through Information, Education and Learning Development). Dedicated to educating frontline caregivers and support staff on social factors that impact safety in healthcare, we designed the conference to acknowledge stress points that clinicians, patients, and visitors face every day and provided practical tactics and skills to manage these situations. Any caregiver could attend the daylong conference held on April 2018, which covered a variety of current safety topics that address violence in healthcare, disaster preparation, drug epidemics, and general security. Learning objectives included:
Educating caregivers on tactics for dealing with difficult situations and ensuring patient and caregiver safety
Understanding the changing patient populations and social factors impacting safety
Exploring ways to minimize risk for harm and to effectively de-escalate situations
This partnership between Protective Services and the Nursing Institute at Cleveland Clinic pursued best practices in safety, prevention and critical response to prepare staff and secure those in our care.
"Healthcare organizations need to take better care of caregivers so they can take better care of patients. At Cleveland Clinic, we are creating a culture that encourages caregivers to speak up about workplace safety and assures them they'll be supported."
– K. Kelly Hancock, DNP, RN, NE-BC
Executive Chief Nursing Officer
A.L.I.C.E.
A.L.I.C.E.

Hospitals represent a vulnerable environment. By definition, they contain a population less able to counter or evacuate due to illness and injury, as well as visiting loved ones who may not be prepared to leave the bedside of a friend or family member.
It is crucial for caregivers to possess the knowledge necessary to respond to an active shooter. To help caregivers protect themselves, other caregivers, patients and visitors, Cleveland Clinic uses the A.L.I.C.E. Program. A.L.I.C.E. stands for: Alert. Lockdown. Inform. Counter. Evacuate. This program is not designed to be sequential, but rather deployed dynamically in each unique situation.
To deliver consistent and effective training, the Emergency Management Department and Cleveland Clinic Police Department developed a healthcare-oriented A.L.I.C.E. training module for use by all of our certified Instructors. Participants receive the training through various channels, including a module within the annual mandatory online Emergency Management training; live "lunch-and-learn" training sessions; monthly department meetings and enterprise-wide training delivered by caregivers.
All new caregivers and contracted vendors complete A.L.I.C.E. training, and all caregivers receive refresher courses annually. Additionally, through the employee intranet, caregivers can request an A.L.I.C.E. training for their team or location at any time.
Victim Advocate Program
Victim Advocate Program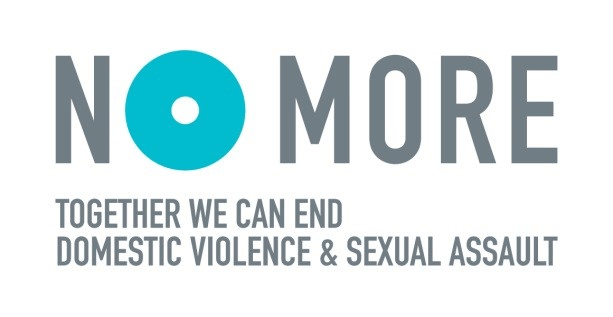 We strive to provide a safe and secure environment in order to deliver the best care. To this end, the Cleveland Clinic Police Department offers a Victim Assistance Program to all patients, visitors and caregivers.
Our Victim Assistance Program is dedicated to providing victims affiliated with Cleveland Clinic with individualized, efficient and effective support, education and resources to cope with the aftermath of a criminal offense, such as domestic violence, sexual assault, workplace violence, harassment, homicide survivors, assault, child or elder abuse, human trafficking and/or robbery. Advocates offer victims information about the different options available to them and support victims' decision-making. Services advocates offer include:
Providing education regarding victimization and the criminal and/or civil justice system
Informing individuals of their rights as a victim of crime according to the Ohio Revised Code
Providing local resources and referrals, such as counseling, shelter, transportation, etc.
Assisting with safety planning & protection orders
Helping apply for Ohio Crime Victim's Compensation and/or registering for victim notification programs
Accompanying individuals to file a police report, meet with detectives and/or prosecutors and participate in court proceedings
Advocacy services are free of charge and are available at Cleveland Clinic main campus, regional hospitals, family health centers and administrative offices.