Overview
Overview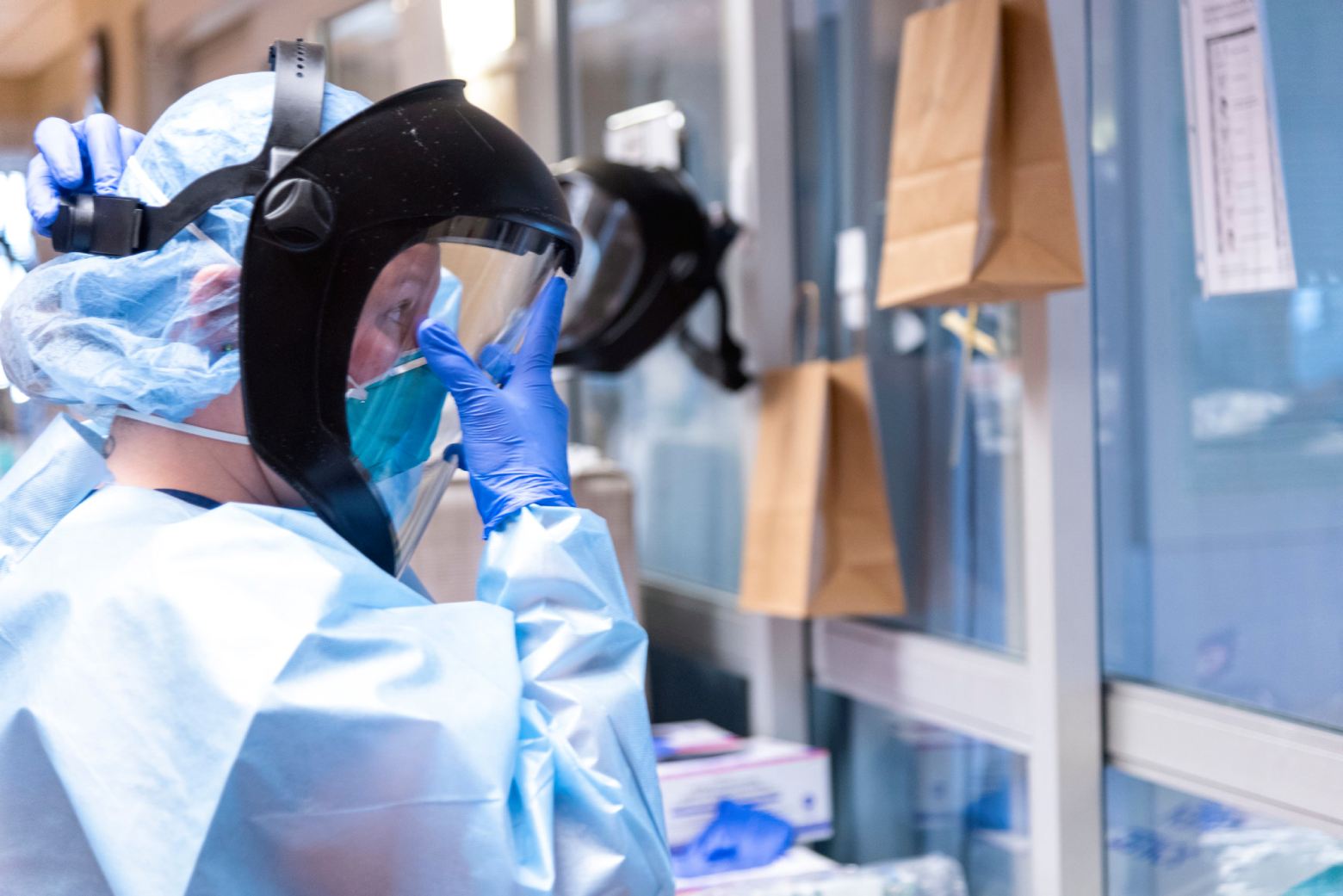 Cleveland Clinic has an extensive safety program to inform and protect our caregivers. Our safety teams are responsible for providing training and resources to prevent safety events, responding when events occur and reviewing safety performance for continuous improvement. Our Environmental Health and Safety (EHS) team monitors and implements safety practices at our main campus and family health centers. Each Cleveland Clinic hospital maintains safety plans specific to their unique environment of care.
The enterprise safety leadership team revises safety policies, equipment, procedures and training as appropriate based on regulatory changes and ongoing reviews of our performance. Occupational Health promotes the health and safety of our caregivers through new hire pre-placement assessments, urine drug screenings, annual compliance, Tuberculosis testing, audiograms and mandatory immunizations and flu vaccinations.
In order to safeguard the health of our caregivers in 2020, we provided personal protective equipment, implemented safety policies and adopted universal pandemic precautions. Our Occupational Health team created a system that included a 24/7 Caregiver COVID-19 Hotline, exposure education, safe return to work practices and vaccine education and access. We also expanded our annual flu vaccination program to caregiver household members. Learn more about how we cared for our caregivers in 2020.
Our Protective Services Department is responsible for the safety and protection of patients, visitors, caregivers and property throughout the Cleveland Clinic Health System. The department is comprised of teams focused on personal safety, confidentiality, security, transportation and parking services and emergency readiness. This includes our Cleveland Clinic Police Department, which is comprised of more than 150 sworn police, security, communications and traffic control officers, and is nationally accredited by Commission on Accreditation for Law Enforcement Agencies (CALEA). One of the many services they provide is the Safety Escort program, which is a free service available to all caregivers, patients and visitors who need safe transportation to locations on main campus.
Safety is one of our core values, and as such, all caregivers contribute to maintaining a safe work environment for patients, visitors and one another. For example, we encourage every caregiver to report all events, exposures and near-misses through our safety reporting system. Following a caregiver safety report, we conduct thorough follow-up procedures to address the needs of our caregivers and identify opportunities for improvement to prevent subsequent events.
Environmental Health and Safety (EHS) Data
Environmental Health and Safety (EHS) Data
Cleveland Clinic records and reports accident statistics in accordance with Occupational Safety and Health Administration (OSHA) and Bureau of Labor Statistics (BLS) requirements. An injury or illness is work-related if an event or exposure in the work environment either caused or contributed to the resulting condition, or significantly aggravated a pre-existing condition.
In 2020, all of our Ohio hospitals (with the exception of Union Hospital in Dover, Ohio) had total recordable injury rates greater than the 2019 hospital industry average of 5.5 injuries per 100 full time equivalent (FTE) employees. This is due to the COVID-19 pandemic affecting our caregivers. While in 2019 our overall occupational disease rate was 0.00, in 2020 it was 5.29. There were no work-related fatalities in 2020.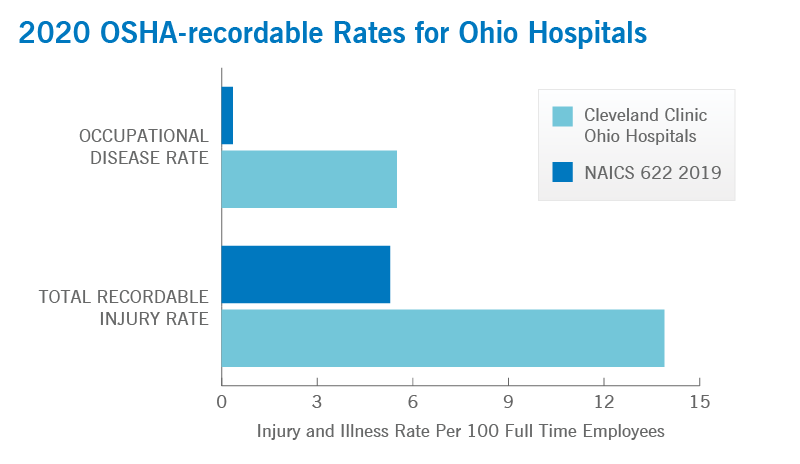 *Note: 2019 is the most current year for comparison data provided by BLS and the pandemic was in its infancy
In 2020, caregivers in our ambulatory health and surgery centers, specialty centers, and business locations also experienced a higher total recordable injury rates than the 2019 ambulatory healthcare industry average, again, due to the COVID pandemic.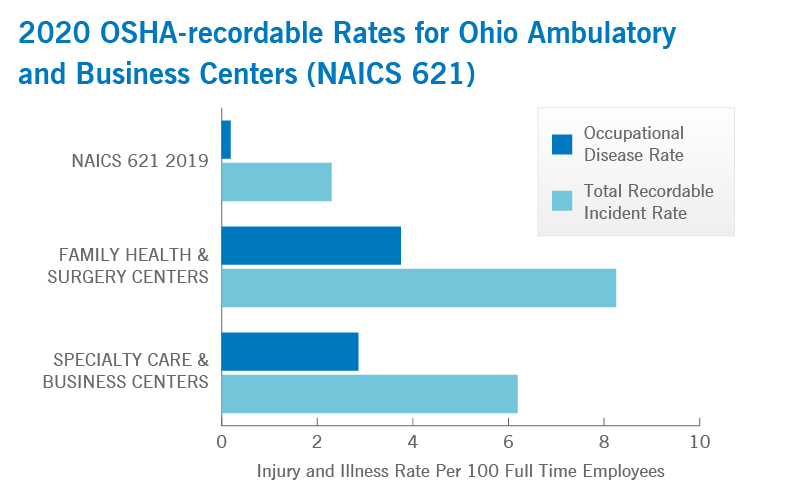 *Note: For the majority of calendar year 2020, Cleveland Clinic recorded all COVID+ caregivers on the OSHA log without regard for where the virus was contracted (at the workplace or in the community). This was done to ensure all work-related cases were properly recorded when it could be difficult to determine with certainty that a case was work-related. We know this resulted in over-reporting and higher injury/illness rates. The organization is performing a data review in 2021 to determine if any cases should be reclassified or removed.
Bloodborne Pathogens
Bloodborne Pathogens
Cleveland Clinic has a comprehensive Bloodborne Pathogen Exposure (BBPE) program and a BBPE Operations Committee, which is comprised of multiple BBPE Committees representing hospitals across the Enterprise. The committee meets regularly to share metrics, best practices and ideas for improving our program and performance. To reduce BBPE in the workplace, Cleveland Clinic:
requires all new hires to complete BBPE training during onboarding
maintains a 24/7 BBPE hotline for caregivers to report events
has dedicated Occupational Health caregivers to document exposures, schedule lab work and follow up with exposed caregivers following a report
provides all caregivers access to BBPE procedures and our BBPE Toolkit via our intranet, which includes training materials, educational graphics and videos, best practices and other assets to help prevent and reduce BBPE
In 2020, Cleveland Clinic held monthly BBP Exposure Prevention Champion Training sessions for caregivers. BBP Exposure Prevention Champions ensure all caregivers in their area have completed BBP training at least once per year, identify potential BBP risks in their area, provide instruction on exposure prevention, assist with investigations and interventions and support caregivers post exposure.
OSHA Recordable Injuries, Other Emphasis Programs
OSHA Recordable Injuries, Other Emphasis Programs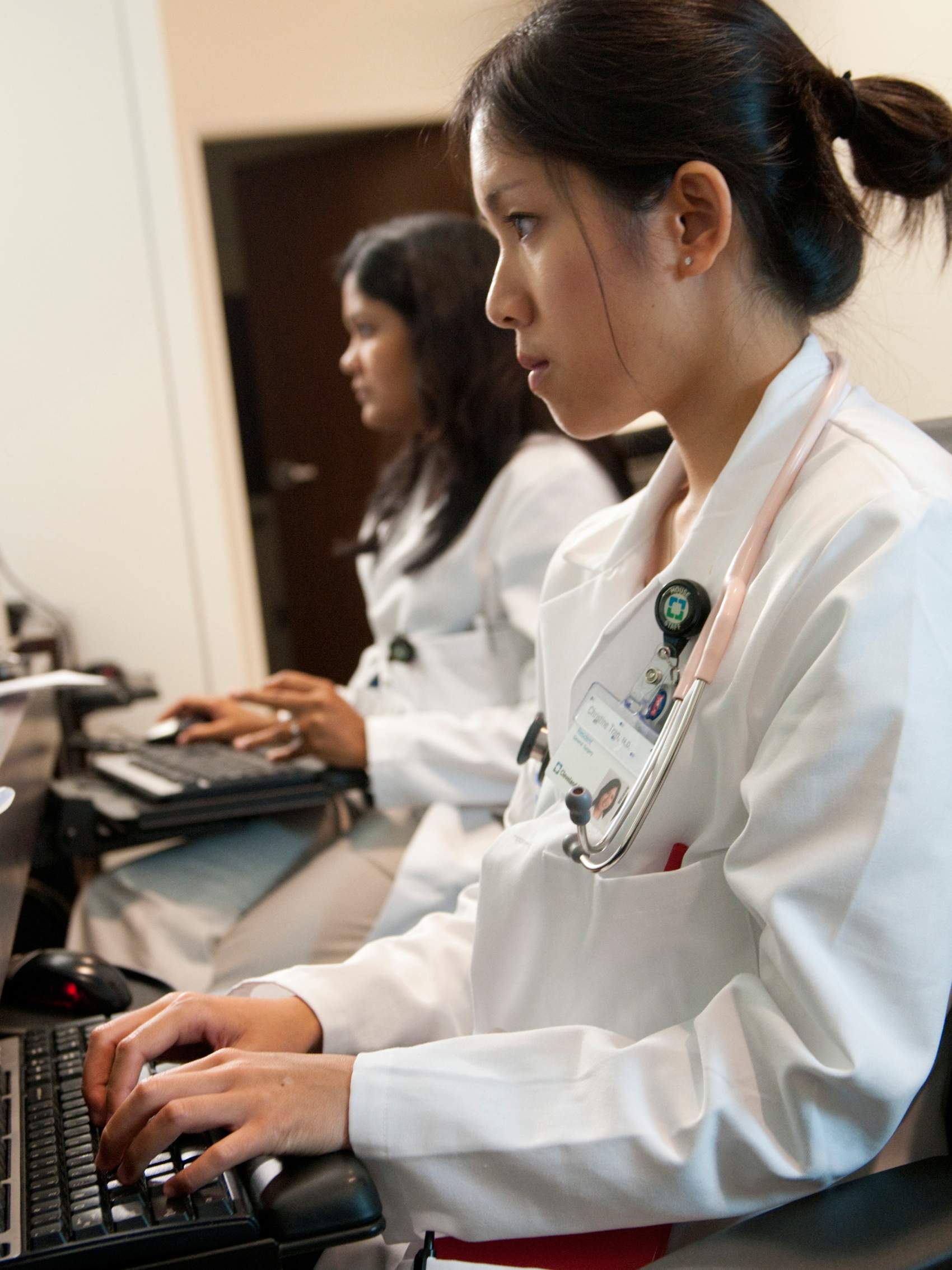 Healthcare can be a hazardous place to work. OSHA has a special emphasis program that focuses on the top injury types in a healthcare setting: Bloodborne Pathogen Exposures, Workplace Violence, Patient Handling (ergonomics), and Slips, Trips and Falls. Information on Bloodborne Pathogen and Workplace Violence prevention activities can be found in accompanying sections of this report.
Ergonomic principles support our caregivers in working as safely, comfortably, efficiently and effectively as possible. Ergonomic injuries in healthcare most commonly occur when caregivers are interacting with patients (ambulation, repositioning, wound care, bathing, etc.). Our Mobility with Safe Patient Handling (MSPH) Committee works with our in-patient and out-patient locations to evaluate risks and implement measures to reduce the potential for injury to both the caregiver and the patient. These include overhead and portable lifts, friction-reducing devices, mobility assist devices and most importantly, thorough patient screening and assessment.
Strains and sprains and overuse injuries also occur when individuals move objects and use equipment. Through our intranet, we provide caregivers with guidance and recommended products to help them correctly set up workstations, perform daily tasks and request help to accommodate a disability. Resources include:
A list of ergonomically approved office products and workstations compiled by Environmental Health & Safety
Step-by-step instructions for adjusting chairs, computers and workstations
Laboratory set-ups and practices
Disability accommodation examples and request forms
Guidance documents on safely moving patients and lifting, pushing and pulling items
Work area design recommendations
Best practices documents on clinical ergonomics, office workstations and work at home computer set ups
To ensure the safety of our patients, visitors and caregivers, our Environmental Health & Safety team provides resources to help reduce slips, trips and falls. Materials available to caregivers on our intranet include:
Safety and Environmental Health & Safety hotlines to report slip, trip and fall hazards
Severe weather alerts
Guides for identifying and preventing common slip, trip and fall hazards
Winter walking tips
Additionally, we continue to evaluate walking and working surfaces to proactively eliminate slip, trip and fall risks. We experience a greater number of recordable injuries in the winter months of Northeast Ohio from slips, trip and falls compared to other months of the year due to snow and ice accumulation.
Workplace Violence Prevention
Workplace Violence Prevention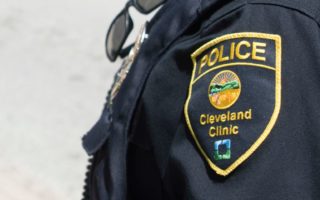 According to the U.S. Bureau of Labor Statistics, healthcare workers' risk of injury due to workplace violence is five times greater than that of workers in other industries, with 73% of all nonfatal workplace violence occurring in healthcare settings in 2018.1 To promote workplace safety, Cleveland Clinic has an enterprise-wide Workplace Violence Committee, policy and procedure.
Our efforts to prevent workplace violence include:
Requiring Welle training for all emergency department caregivers, which provides them with techniques to foster healthy behaviors, recognize signs of agitation and de-escalate threatening situations
Expanding police officer presence and visibility, including a commitment to 24/7 coverage at our emergency departments
Using metal detectors/magnetometers to prevent weapons from entering our facilities
An internal website and downloadable toolkit dedicated to workplace violence prevention
An online system through which caregivers can report incidents
Support resources for caregivers affected by workplace violence
Cleveland Clinic is committed to providing a safe environment for our patients, visitors and caregivers. Our organizational leaders are actively engaged in communicating with our caregivers about workplace violence prevention. We have pledged to speak out against workplace violence and foster a culture that supports caregivers who report workplace violence incidents.
In 2020, we focused our efforts on:
Determining correlations between COVID-19 and workplace violence
Creating a new workplace violence form in our Safety Event Reporting System (SERS), making it easier for caregivers to input workplace violence events, as well as for leadership to quickly respond to events and provide support
Increasing workplace violence awareness through caregiver communications and by standardizing workplace violence signage placement
Engaging with and building upon local violence prevention workgroups to share and implement best practices
1
U.S. Bureau of Labor Statistics, "Workplace Violence in Healthcare, 2018", 8 April 2020, accessed 8 July 2021, https://www.bls.gov/iif/oshwc/cfoi/workplace-violence-healthcare-2018.htm
A.L.I.C.E.
A.L.I.C.E.

Cleveland Clinic provides ALICE Program training to inform and prepare caregivers on ways to protect themselves, other caregivers, patients and visitors in an active shooter situation. ALICE stands for: Alert. Lockdown. Inform. Counter. Evacuate. Due to the unique vulnerabilities of healthcare settings, the Emergency Management Department and Cleveland Clinic Police Department developed a healthcare-oriented ALICE training module for use by all of our certified Instructors.
Caregivers learn each step of the program so they can deploy it dynamically based on each unique situation and environment. Caregivers receive training through a module within our annual mandatory online Emergency Management training, live "lunch-and-learn" training sessions and department meetings. Additionally, caregivers can request an ALICE training for their team or location at any time, which includes a walkthrough component with a certified instructor so caregivers know how to best respond in their specific workspace. All new caregivers and contracted vendors complete ALICE training, and all caregivers receive refresher courses annually.
Victim Advocate Program
Victim Advocate Program
The Cleveland Clinic Police Department offers a Victim Assistance Program to all patients, visitors and caregivers. Through the program, we provide victims affiliated with Cleveland Clinic individualized, efficient and effective support, and resources to cope with the aftermath of a criminal offense, such as domestic violence, sexual assault, workplace violence, harassment, homicide survivors, assault, child or elder abuse, human trafficking and/or robbery. Advocates offer victims information about the different options available to them and support their decision-making related to medical, legal or emotional interventions. Services advocates offer include:
Providing information regarding victimization and the criminal and/or civil justice system
Informing individuals of their rights as a victim of crime according to the Ohio Revised Code
Providing local resources and referrals, such as counseling, shelter, transportation, etc.
Assisting with safety planning and protection orders
Helping apply for Ohio Crime Victim's Compensation and/or registering for victim notification programs
Accompanying individuals to file a police report, meet with detectives and/or prosecutors and participate in court proceedings
Advocacy services are free of charge and are available at Cleveland Clinic main campus, regional hospitals, family health centers and administrative offices.