Overview
Overview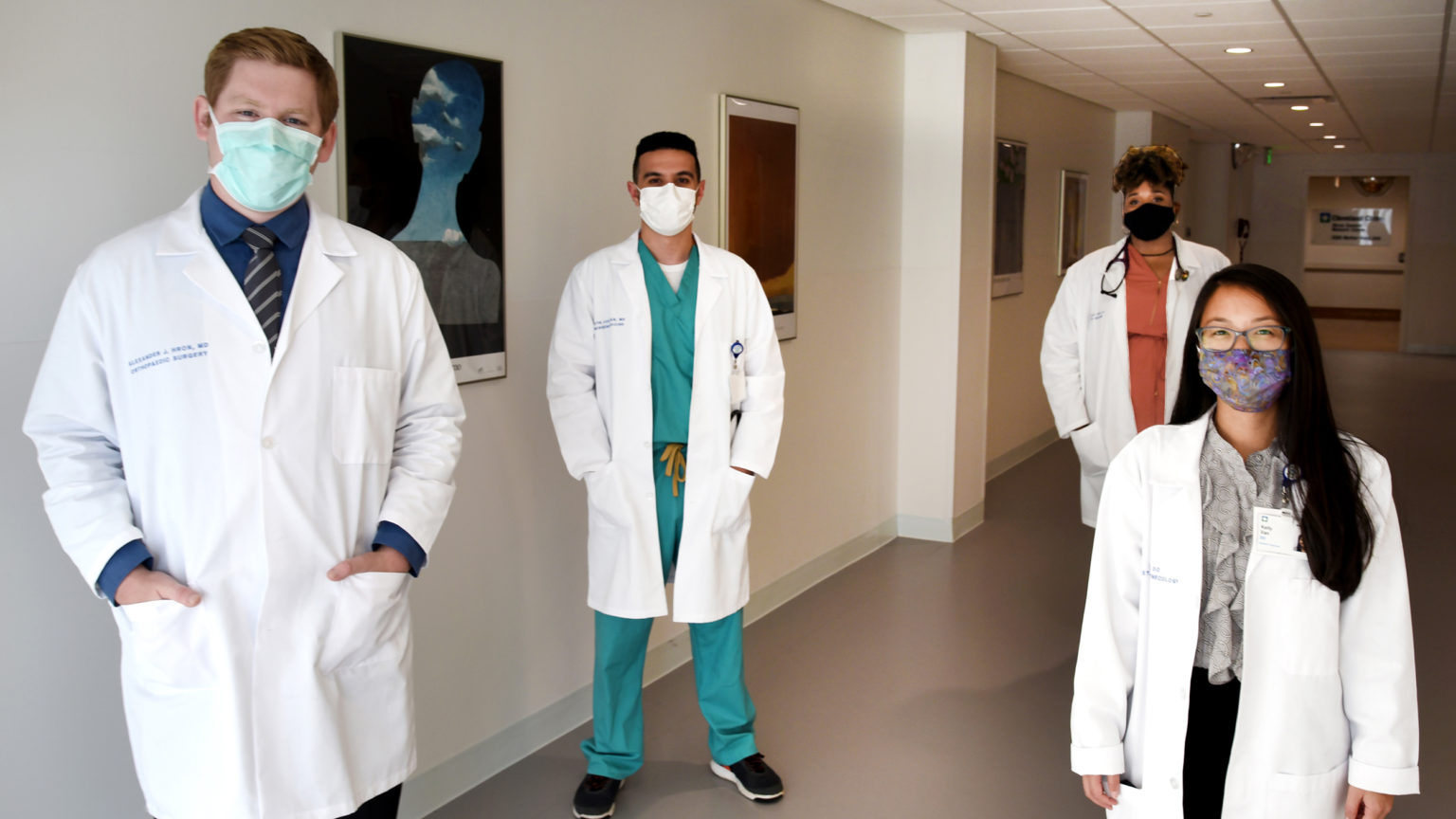 Our vision is to be the best place to work in healthcare. To this end, we strive to create an exceptional work experience for our caregivers where they feel safe, valued, supported and empowered to voice ideas and concerns. Our caregiver engagement initiatives are an important aspect of our workplace culture and support our efforts to attract and retain top talent. In 2020, we conducted comprehensive research to better understand our caregivers' strengths and motivators, which we used to design core messaging for prospective employees on what is it like to work at Cleveland Clinic. We also recorded our lowest regrettable turnover at 8.2% in 2020 compared to the national hospital average turnover rate of 19.5%, of which 94% were voluntary resignations.1
Cleveland Clinic engages caregivers through a variety of initiatives and platforms. Our intranet, surveys, Caregiver Celebrations, town hall meetings and team huddles provide caregivers opportunities to share feedback, process improvements and ideas, and to recognize their peers. Caregivers can elect to join one or more of a diverse array of communities that are meaningful and rewarding to them, such as our Wellness Champions, green teams, career development pathways, employee resource groups and more.
Learn more about how we supported caregivers during the COVID-19 pandemic in 2020.
1
NSI Nursing Solutions, Inc., "2021 NSI National Health Care Retention & RN Staffing Report," March 2021, accessed 25 August 2021, nsinursingsolutions.com/Documents/Library/NSI_National_Health_Care_Retention_Report.pdf
Caregiver Experience Survey
Caregiver Experience Survey
Surveys are an important way for our caregivers to share feedback on engagement, workplace culture, communications and our organization's alignment with objectives and key results for safety and patient care. Our Caregiver Experience Survey is open to all caregivers across the enterprise and Cleveland Clinic leadership actively encourages all caregivers to participate. While we ensure the anonymity of individuals who take the survey, supervisors and teams review aggregated results to develop tailored strategies for improvement. Through our survey vendor, we can also see how our results compare to industry peers to help us understand and address broader engagement trends in healthcare.
In 2020, we recorded our highest engagement survey percentile, increasing from the 70th percentile in 2019 to the 81st percentile. During our June 2020 Pulse Survey, 72% of our caregivers shared their voice and 85% would recommend Cleveland Clinic as a great place to work and grow.
Caregiver Celebrations
Caregiver Celebrations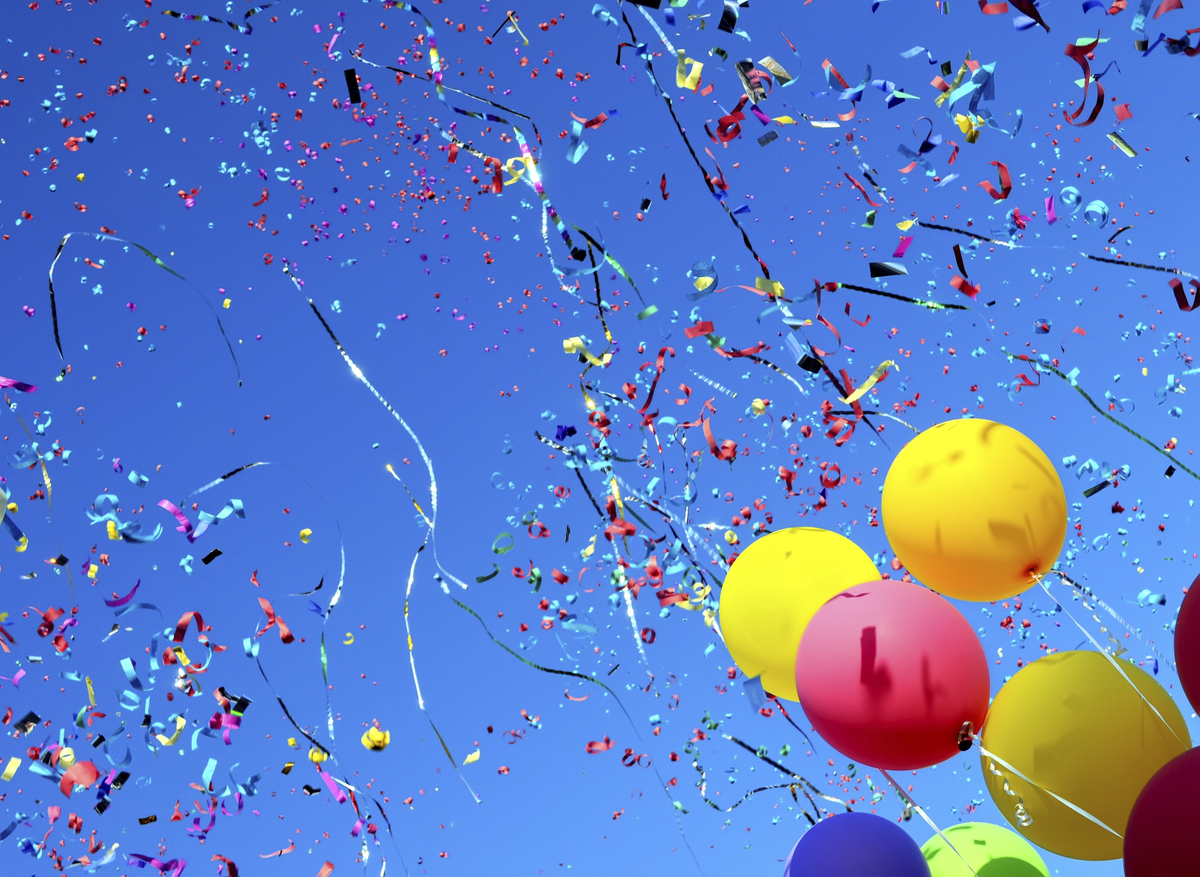 Our comprehensive Caregiver Celebrations rewards and recognition platform serves to acknowledge and thank our caregivers for their dedication and accomplishments. Caregiver Celebrations empowers caregivers to share appreciation for fellow caregivers for outstanding behaviors and performance that support Cleveland Clinic's mission, vision and values.
Since its inception in 2010, over 1.8 million awards have been sent to caregivers. The program features several types of recognition:
Appreciation Award: Simple, non-monetary recognition for accomplishments supporting Cleveland Clinic's values and patient experience. (Awardees receive an e-certificate.)

Awards sent since inception: 1,430,717
Awards sent in 2020: 145,269

eCard: Peer-to-peer electronic graphic cards to acknowledge anniversaries and birthdays.

Awards sent since inception: 9,544
Awards sent in 2020: 3,420

Teaching Recognition Award: Simple, non-monetary recognition that recognizes individuals for their skill in, and enthusiasm for, teaching Cleveland Clinic colleagues (e.g., all caregivers, multidisciplinary groups and students) in support of Cleveland Clinic's mission, part of which is to "educate those who serve." (Awardees receive an e-certificate.)

Awards sent since inception (new as of January 2020): 2,489
Awards sent in 2020: 2,489

Excellence Award: Quarterly institute-level nomination recognition for excellent performance exhibited by individuals or teams (All award winners receive e-certificates. Individual winners receive a desktop award. Team winners each receive a framed certificate and a desktop award to share.)

Awards sent since inception: 5,809
Awards sent in 2020: 320

Milestone Award: Recognition celebrating those caregivers who achieve a milestone service anniversary (5-, 10-, 15-years, etc.,) for their continued service with Cleveland Clinic. (Awardees receive an e-certificate and other milestone-specific gifts.)
Caregiver Award: Annual nomination recognition celebrating the best of the best individual and team award recipients (All award winners receive an e-certificate. Individual winners receive a monetary award and desktop award. Team winners receive a monetary award, a framed certificate and a desktop award to share.)

Awards sent since Inception: 447
Awards sent in 2020: The COVID-19 Heroes Awards replaced Caregiver Awards in 2020

CEO Award: Annual recognition celebrating the top one individual and top one team of Caregiver Award recipients (All award winners receive an e-certificate. Individual winners receive a $10,000 monetary award and a desktop award. Team winners receive $10,000 to share equally, a framed certificate and a desktop award to share.)

Awards sent since Inception: 18
Awards sent in 2020: The COVID-19 Heroes Awards replaced Caregiver Awards in 2020
2020 COVID-19 Hero Awards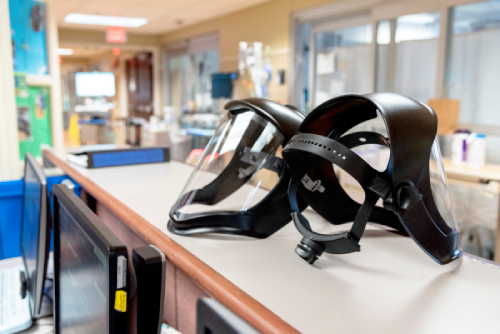 For the 2020 annual Caregiver Celebration awards, we chose to recognize the caregivers and teams who performed above and beyond in response to the COVID-19 pandemic with a special 2020 COVID-19 Heroes Award. The exceptional caregivers who received this award modeled our values by rallying around our patients, fellow caregivers and communities with courage, empathy, creativity and teamwork. They demonstrated extraordinary dedication, performed heroic acts and made outstanding contributions throughout the pandemic.
We received more than 650 nominations for caregivers and teams across the enterprise, and our executive leadership selected 10 winners, including five individuals and five teams. Of these winners, one individual, Robert Wyllie, MD, Chief of Medical Operations, and one team, the COVID-19 Testing Team in Pathology & Laboratory Medicine Institute (PLMI), received the highest award: the CEO COVID-19 Hero Award.
2020 COVID-19 Heroes Award Recipients: CEO Awards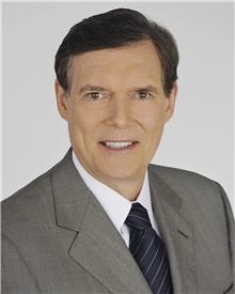 Robert Wyllie, MD, received the individual CEO Award for his leadership during the COVID-19 pandemic, including his role as Incident Commander in the early weeks of the pandemic, and later as a representative at the local, regional and state level. Fellow caregivers recognized him for being committed, innovative and collaborative, and for his contributions to COVID-19 preparedness.
The COVID-19 Testing Team in Pathology & Laboratory Medicine Institute (PLMI) received the team CEO Award for innovation, development and processing related to COVID-19 testing. PLMI successfully launched testing just eight days after the CDC authorized private laboratories to do their own COVID-19 testing. They scaled capacity from 200 tests per day in March to over 5,000 tests per day by November to serve Cleveland Clinic patients, caregivers and community members. The team also designed testing product and process improvements to improve safety, conserve resources and improve the comfort and efficacy of tests.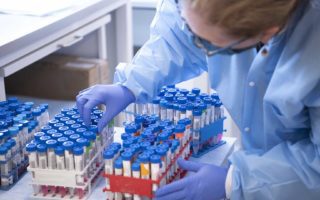 2020 COVID-19 Heroes Award Recipients: Individuals
Steven Gordon, MD, Chairman, Department of Infectious Disease: For leading front-line infectious disease doctors with consistent competence and compassion, and for his role in Cleveland Clinic's pandemic preparedness
Claire Strauser, Nurse Manager, Medical Intensive Care Unit (MICU): For fostering an environment of safety, inclusion, transparency and support for her team so they could provide the best day to day care for patients in a rapidly evolving environment
Alice Kim, MD, Staff, Medical Operations: For developing PPE guides and COVID-19 protocols alongside others in Cleveland Clinic Health System Incident Command, supporting clinical and operational plans for hospitals across Ohio's Zone 1 and leading the strategic response for the largest hospital systems to support skilled nursing facility testing, preparation and outbreak management across Ohio's Region 2
Jeffrey Woolf, Assistant Nurse Manager, ASC, NE, Surgical Operations: For serving as a lead at Cleveland Clinic's COVID-19 Walker Testing Site, leading the team of nurses and staff members with a caring and kind demeanor and being attentive and comforting to patients
2020 COVID-19 Heroes Award Recipients: Teams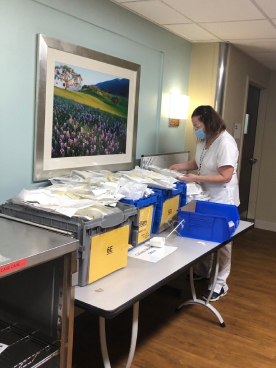 Infection Preventionists (44 team members): For working above and beyond in their efforts to keep our patients and caregivers safe, including:

Testing: Before testing was available in-house, Infection Prevention (IP) reviewed all tests and had to obtain permission from the local health department.
Personal Protective Equipment (PPE): The team worked with stakeholders to evaluate and select PPE and responded to caregiver questions about PPE.
Media Relations: The team reviewed and helped respond to media requests about PPE.
Reporting to Health Departments: IP reported all positive tests, as well as "person under investigation" forms to the health department with the manual process that was required for several months.
On-call volume: At the peak in March, the IP on-call pager log was 600 per day.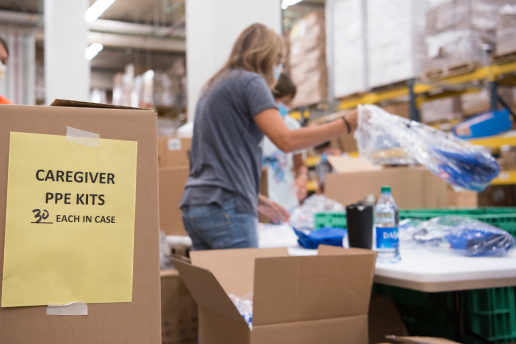 Personal Protective Equipment (PPE) Team (69 team members from The Supply Chain (SC), Philanthropy, Innovations and Surgical Operations): For creating a supply response team composed of Buy, Make, Donate, Disinfect and Manage Use workstreams to meet the demand of PPE needed, including:

Buy: The SC team saw a 300% to 1,000% increase in product demand with only a 50% production increase nationally. SC caregivers manually picked and processed approximately 300 PPE orders daily while managing donated supplies numbering in the six figures.
Make: The Innovations team used specifications from the SC team for standard products and began designing and making our own products — from face shields and cotton masks to isolation gowns and intubation bags — in partnership with local manufacturers.
Donate: The Philanthropy team coordinated the Make a Mask program, engaging surrounding communities to make cloth masks. The team also coordinated PPE donations from large companies.
Disinfect: The SC, Surgical Operations and Buildings & Properties teams built an offsite reprocessing center to disinfect PPE in nine days. The strategy included Evergreen Co-Op, the managers of our laundry facility.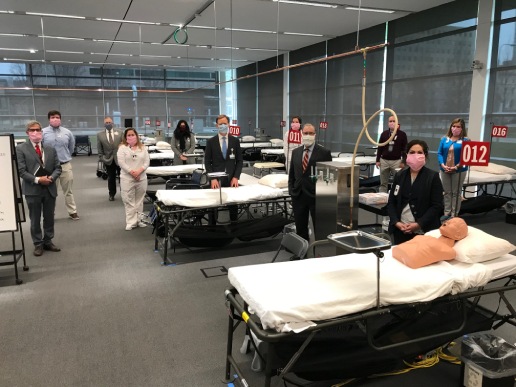 Hope Hospital Core Team (62 team members): For activating Hope Hospital, a 1,000-bed surge facility inside the Health Education Campus, to support a potential COVID-19 surge.

The Buildings & Property and Construction teams, which included caregivers with 65 different skilled trades, worked around the clock (including weekends) to erect Hope Hospital in April 2020.
The Information Technology (IT) Division installed 200 network drops, 200 workstations, 65 phones and 37 printers. They also programmed 500 Vocera Badges, configured 58 workstations on wheels, and built 1,000 beds and 25 nursing units in Epic to help maintain medical records.
The Supply Chain & Support Services team built over 1,600 feet of supply racks, 27 par locations in WaveMark and more than 50 carts for PPE stations. They also created over 40 glove stands, 50 whiteboards and more than 150 hampers. In total, they ordered more than 310,000 supply items for Hope Hospital.
Patient Support Services prepared 50 wheelchairs, two stretchers, one lift and one morgue cart while stocking the first floor with linen and reusable isolation gowns.
Clinical Engineering deployed 150 infusion pumps, 40 vital sign monitors, 14 code carts and 10 defibrillators among other medical equipment.
The Protective Services Police staffed Hope Hospital 24/7 to provide security for the area and protect the facility's assets.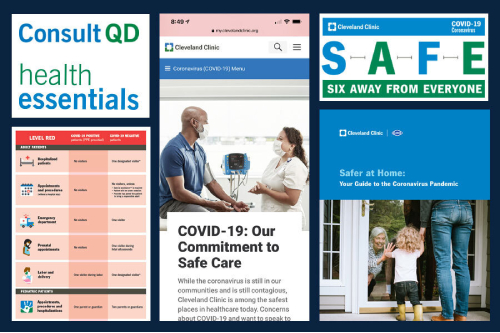 Content & Creative Services (65 team members): For ensuring patients, caregivers and the public received timely, high-quality and trusted information about the virus by:

Working directly with Google to find unanswered COVID-19 questions from users and provide accurate answers from Cleveland Clinic experts.
Producing hundreds of articles for Cleveland Clinic platforms, as well as playbooks to help industry and community organizations implement infection prevention protocols, including a 117-page Digital Health Playbook for the White House.
Developing and launching a caregiver recognition campaign, including an online kudos board, banners and yard signs, plus social videos and graphics.