Overview
Overview
According to Gallup's 2017 State of the American Workplace report, employee engagement reduces turnover, absenteeism and safety incidents; improves productivity; and increases satisfaction of the individuals employees serve.[1] We provide various platforms to keep our caregivers informed and to empower them to provide feedback, such as surveys, weekly polls, team huddles, town hall meetings, our My Two Cents idea-sharing platform and our caregiver intranet. We also celebrate accomplishments together and encourage caregivers to follow their passions through opportunities such as volunteer events, becoming a Wellness champion or joining an Employee Resource Group or green team.
EcoCaregiver
We encourage all caregivers to engage in efforts to reduce energy, water and waste sent to landfill. There are a myriad of ways employees can channel their inner EcoCaregiver, including green teams, volunteer events and submitting ideas through our My Two Cents platform.
Learn more about how we engage caregivers in our sustainability initiatives
My Two Cents
Many of our best ideas come from our caregivers. Since 2010, we have invited caregivers to share ideas on ways to improve our organization through a virtual suggestion box on our intranet called My Two Cents. Since 2010, caregivers have submitted more than 8,000 ideas, approximately 1,200 of which we have fully implemented. Through caregiver ideas on this platform, we have realized more than $2.6 million in savings and average a return of $325 per idea submitted.
Leadership Rounding
Our organizational leadership participates in a monthly rounding program in which leaders gather with different caregiver teams for approximately 75 minutes to observe and discuss the most salient issues in their work areas.
This process enables leadership to engage and build relationships with caregivers by speaking to them directly about what is working well—and to recognize these efforts—, where there are opportunities for improvement and what tools and resources could benefit their teams. At the end of the rounding session, leadership reconvenes to share what they learned from their interactions with patients and caregivers.
---
1Gallup, "State of the American Workplace Report," 2017, accessed 5 September 2019
Caregiver Experience Survey
Caregiver Experience Survey
We conduct enterprise-wide surveys open to all caregivers designed to measure engagement, reliability, team effectiveness and alignment with objectives and key results for safety and patient care. By aligning our caregiver survey with our patient satisfaction survey, we can see a more holistic view of our performance and how our caregiver experience impacts and is interconnected with our patients' experiences.
To promote candor while ensuring we can take action on caregiver feedback, individual responses are kept anonymous, but supervisors are able to review aggregate results from caregivers on their teams and hold meetings to discuss broader trends. Additionally, through our survey provider, we are able to see how our results compare with benchmarks in the healthcare industry to give us clearer insight into where we excel and where we can improve. We have used annual caregiver survey results to make valuable changes to organizational processes, programs, resources and communications to enhance both the experiences of our caregivers and patients.
Caregiver Celebrations
Caregiver Celebrations
In May 2018, we held our annual Caregiver Awards program at InterContinental Hotel & Conference Center to honor nearly 350 individual caregivers and teams with the highest awards in our Caregiver Celebrations program. Of the 1.4 million awards given since 2010, only 403 have been Caregiver Awards. Other awards include certificates of appreciation given to caregivers by one another, as well as quarterly Excellence recognition for institutes, divisions and/or hospitals for their accomplishments.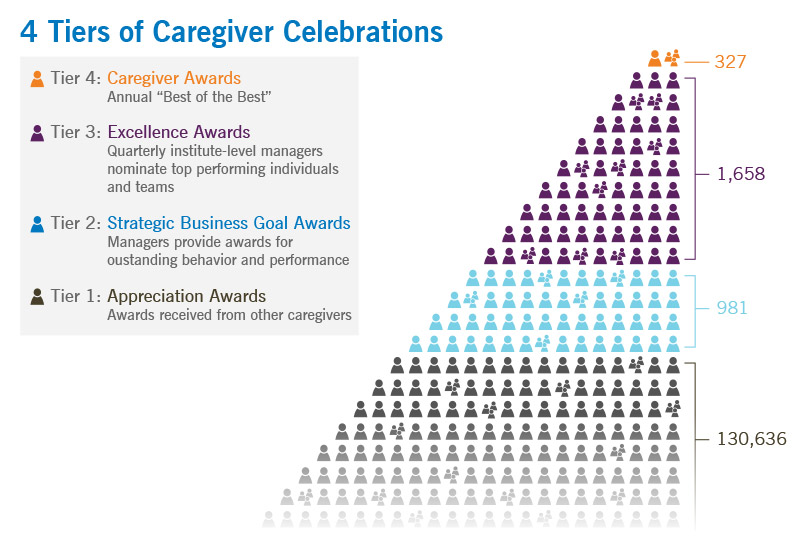 "This event recognizes the best and brightest caregivers who truly embrace our values," said Cleveland Clinic CEO and President Tom Mihaljevic, MD. "This is the pinnacle of recognition in our organization."
Recipient Highlights
Each year at the ceremony, one individual and one team receive special awards presented by our CEO. The individual CEO award is $10,000, as well as the team award, which is split evenly amongst the team.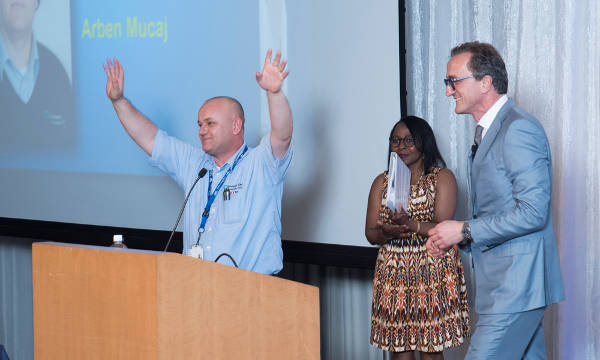 Arben Mucaj accepts the CEO Award at the 2018 Annual Caregiver Awards. Arben (Ben) Mucaj, Shuttle Bus Driver, Main Campus.
As a team, our transportation caregivers deliver phenomenal service — averaging under eight minutes from when an individual makes a request to when they board. Ben Mucaj's average, however, is five and a half minutes, or 30 percent faster than his counterparts. Mucaj is also known for his efficiency in boarding wheelchair-bound patients, and he performs his duties with safety at top of mind—accumulating 3,500 accident-free hours in his first two years on the team.
Beyond the numbers, though, Mucaj is known for being a compassionate and humble caregiver who puts others first. His supervisor says Mucaj approaches his work with gratitude and takes extra shifts when there are vacancies, always willing to help his team members.
"Ben gets the job done in a graceful way," said his supervisor Rich Aiple. "He's all about giving the patient comfort, listening to hear their story, doing whatever he can to take the burden off of them either physically or mentally."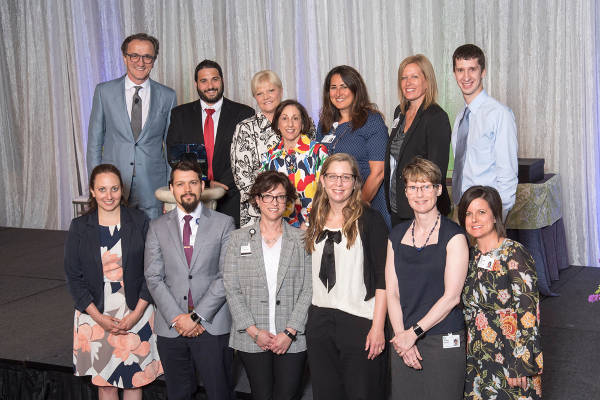 Dr. Mihaljevic and the Readmissions – High-Risk team. Readmissions – High-Risk team: Quality, Nursing, Medical Operations, Information Technology, Lerner Research Institute.
Hospitals across the nation grapple with all-cause readmissions on a daily basis. Getting patients healthy—and keeping them well enough to avoid unnecessary readmission—is easier said than done.
The Readmissions High-Risk team looked at the problem from a new perspective. They wanted to better understand which patients were particularly at high risk for readmission to develop focused solutions and strategies for those individuals. The team worked with Quantitative Health Sciences to develop a 30-day high-risk model for predicting readmissions. The model was successful and allowed the team to develop targeted interventions for patients in need of greater support following an acute stay.
In April 2018, we made the high risk score and report visible in Epic with other tools for discharge readiness. As a result of this work, we have reduced our all-cause readmissions.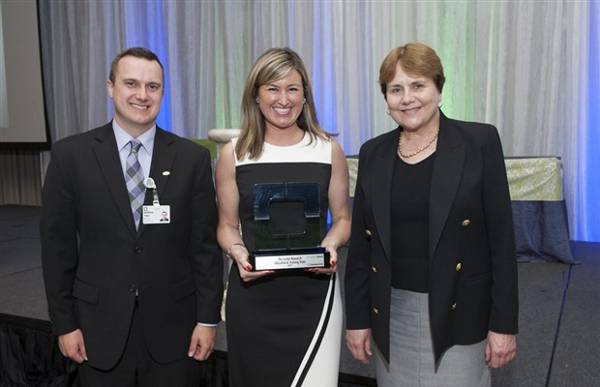 Caregiver Celebration Facts
| | |
| --- | --- |
| Number of Caregiver Awards since inception | 403 awards, 2,372 winners |
| Number of Excellence Awards since inception | 5,102 awards, 15,321 winners |
| Number of Strategic Business Goal Awards since inception | 2,436 |
| Number of Appreciation Awards since inception | 1,128,676 |
| Total number of all awards since inception | 1,463,345 |
| Total number of all Patient Recognition awards since inception | 75,172 |
Office of Caregiver Experience
Office of Caregiver Experience
Launched in 2018, the Office of Caregiver Experience (OCE) works in collaboration with caregivers across the health system to create the best possible experience for Cleveland Clinic caregivers. The OCE uses ongoing employee feedback, knowledge of the behavioral sciences and evidence-based research, analytics and experiential data to understand and implement the drivers of the optimal employee environment.
Examples of OCE projects and caregiver programs include:
Gratitude Stations set up around the health system provide pop-up opportunities to go online and send simple expressions of care and appreciation to fellow caregivers.
Lactation rooms updated with expanded availability and access communicated enterprise-wide.
Food at Night services established with online ordering access for main campus emergency department and intensive care units for patients, families and caregivers.
Listening Tours let caregivers share what they need through small group discussions, online chats, MY Experience questionnaires and in-person listening sessions.
"Fostering the culture and environment necessary for all caregivers to be part of a team of teams, where individual safety, professional growth, well-being and empowerment are prioritized in a lifelong partnership with our caregivers—that's the OCE vision. We aim to create the ultimate workplace environment as we become the best place to work and grow in healthcare."
--Joy Jones, Executive Director, Office of Caregiver Experience
OCE Strategic Pillars