Overview
Overview
At Cleveland Clinic, we believe that engaged caregivers contribute to innovation, continuous improvement, workplace safety, a positive workplace culture and a better experience for our patients. To this end, we provide a variety of resources and initiatives through which our caregivers can stay informed, make their voices heard, co-create solutions, recognize peers and take action on issues important to them. Some of these resources and initiatives include our intranet, surveys, Caregiver Celebrations, town hall meetings and team huddles. Through caregiver groups such as our Wellness Champions, green teams, Caregiver Interest Groups, career development pathways, employee resource groups and more, we encourage caregiver involvement and collaboration in communities that are meaningful and rewarding to them.
Caregiver Experience Survey
Caregiver Experience Survey
Cleveland Clinic surveys its caregivers to better understand their experiences, state of well-being and needs. The Caregiver Experience Survey is open to all caregivers across the enterprise and measures engagement, reliability, team effectiveness and alignment with objectives and key results for safety and patient care. In 2019, we had the highest ever number of survey respondents, best ever engagement score and a significant increase in our safety culture score.
We ensure anonymity of individuals to promote candid responses on the survey, but supervisors and teams are able to aggregate results to identify common themes so that feedback is actionable. Additionally, through healthcare industry benchmarks provided by our survey vendor, we can compare our results with peers to identify opportunities for improvement and areas of success. We review our survey results alongside our patient satisfaction survey to identify trends in our performance and for more comprehensive insight into how the caregiver experience is related to the experiences of our patients.
Caregiver Celebrations
Caregiver Celebrations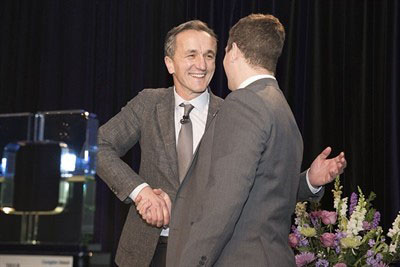 Everyone at Cleveland Clinic is a caregiver who provides direct patient care or supports those who do. Caregivers who share our organizational values and provide exceptional care deserve recognition and rewards for putting patients first. That is why we created the easy-to-use online recognition and rewards program: Caregiver Celebrations. It is one of the many Cleveland Clinic programs we are proud to offer that supports our ongoing goal of being a great place to work and grow.
Caregivers can receive seven different kinds of recognition, which includes Appreciation Awards, eCards, Strategic Business Goal Awards, Excellence Awards, Caregiver Awards, CEO awards and Milestone Awards. All caregivers are eligible to give recognition via the Appreciation Award, the eCard and the Strategic Business Goal Award. Managers with direct reports can recognize employees at the Excellence Award and Caregiver Award levels. Each year, we honor one individual and one team with the CEO Award. Since the inception of our Caregiver Celebrations program in 2010, caregivers have recognized one another with more than 1.6 million awards.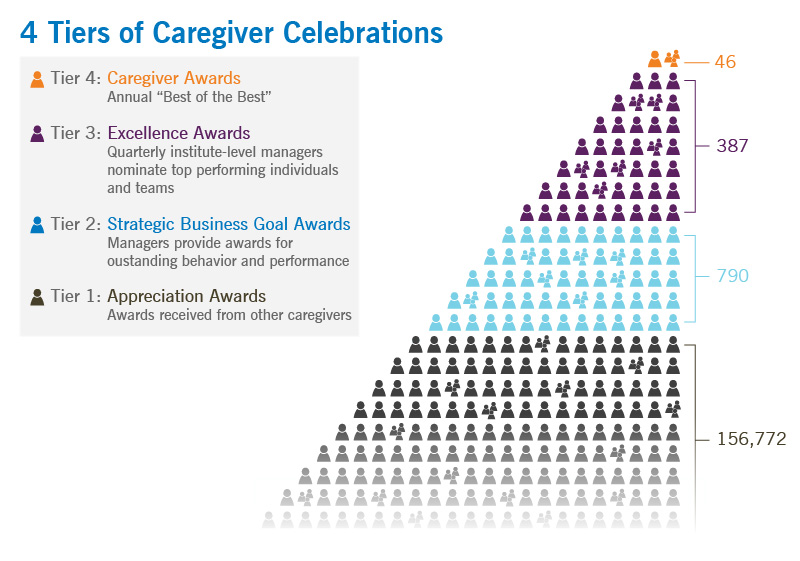 Annual Caregiver Awards Dinner
On June 5, 2019, we honored the best of the best at our Annual Caregiver Awards dinner. The event took place at the InterContinental Hotel on main campus with 315 caregivers in attendance. The ceremony featured some "first-of-their-kind" awards, including the new annual Well-Being Award and Speak-Up Award.
Recipient Highlights

Tomislav Mihaljevic, MD, CEO and President with Michael Roizen, MD

The recipient of the Well-Being Award was Michael Roizen, MD, founding chair of our Wellness Institute for his many contributions to patient and caregiver wellness. We also announced that starting in 2020, the award will be named the Dr. Michael Roizen Well-Being Award in his honor.


Aaron Hamilton, MD, presents the inaugural Speak-Up Award to Heeyoon Kim, MD, with Tomislav Mihaljevic, MD, CEO and President

Our first awardee of the Speak-Up Award was Heeyoon Kim, MD, an Internal Medicine resident at Fairview Hospital. The purpose of this award is to recognize those who have the courage to speak up and do the right thing for patient and caregiver safety. Dr. Kim was persistent in speaking up about a patient's condition following surgery, which led to them being transferred to the intensive care unit right as their condition began to worsen. This led to the patient's care team being able to administer interventions, ultimately saving the patient's life.


Members of the Face Transplant Team accept the CEO Award with Tomislav Mihaljevic, MD, CEO and President

Our CEO and President, Tomislav Mihaljevic, MD, presented the prestigious CEO Awards. The team and individual award winners each received a $10,000 prize.

The Face Transplant Team earned this year's CEO Award. In May 2017, they performed Cleveland Clinic's third face transplant—and on the youngest patient in the U.S. to ever receive one. It was the true spirit of teamwork, involving more than 20 departments. Last year, we began to tell the patient's story through the help of National Geographic, which reached 3 billion people worldwide.


Tomislav Mihaljevic, MD, CEO and President presents Matthew Layne, chief dialysis technician at main campus, the CEO Award for an individual

Matthew Layne, chief dialysis technician at main campus, earned the CEO Award for an individual. Layne worked with an external device manufacturer to try equipment that introduces a new method of dialysis. This new device, which had never been introduced to an acute hospital or ICU setting, manages dialysis treatments for a longer time period and at a slower rate, requiring little caregiver oversight. Layne provided feedback to the manufacturer that would improve the experience for the caregivers using it. Additionally, Layne developed a new supply chain auditing process, helping save Cleveland Clinic $172,000.
Caregiver Celebration Facts
Nearly 1,000 caregivers with 25 years of tenure or more celebrated 29,355 combined years of service in 2019
Caregiver Awards winners since inception: 447
Excellence Award winners since inception: 5,489
Strategic Business Goal Awards since inception: 3,226
Patient Recognition Awards received since inception: 85,870
Appreciation Awards since inception: 1,285,448
Total number of all awards since inception: 1,641,367
Office of Caregiver Experience
Office of Caregiver Experience
"We will create the best place to work—not for you, but with you."
– Tomislav Mihaljevic, MD, CEO and President
Cleveland Clinic created the Office of Caregiver Experience (OCE) in 2018 to support our vision of being the best place to work in healthcare. The Office of Caregiver Experience was designed around four strategic areas: culture, tools and technology, physical environment and my experience –belong, be-well & grow. In 2019, the team launched Culture & the Caregiver Experience Executive Briefing series featuring famed Harvard author Dr. Amy Edmondson as their inaugural speaker. The team also runs the enterprise Caregiver Experience Survey and Action Planning process, which recorded over an 84% participation rate and more importantly, increases in the CEO's metric of "Would recommend Cleveland Clinic as a good place to work".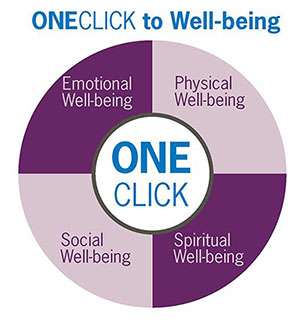 To support caregiver well-being, the OCE created the ONECLICK to Well-being site, which centralizes resources from teams across the enterprise, including Employee Wellness, Spiritual Care and Healing Services and more. The site contains a plethora of easily accessible tools and resources to help caregivers with the following dimensions of well-being:
Emotional Well-Being: personal relationships, stress and grief, mental health, substance use and legal/financial
Physical Well-Being: nutrition, sleep, exercise and stress management
Spiritual Well-Being: care box and code lavender, spiritual healing, grief and end of life ethics
Social Well-Being: employee resource groups, social involvement, caregiver interest groups and diversity councils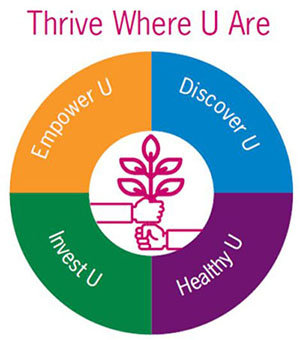 To raise caregiver awareness regarding the wide array of resources available, OCE developed the "Thrive Where U Are," program. Modeled after a health or college fair, teams from across the enterprise come to a central location and within just a few minutes, caregivers can gather information and learn about, signup and attend informational sessions. Caregivers tend to have higher engagement scores after participating in this event.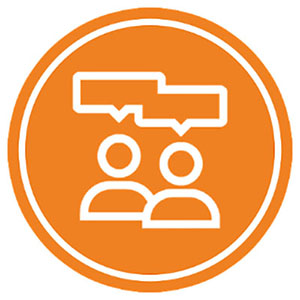 Additionally, in 2019 OCE created Caregiver Interest Groups on Connect Today—our cloud-based social learning and collaboration platform—to facilitate connections between caregivers with similar interests or life circumstances. The goal of the groups is to help caregivers make new friends, find support and share resources with one another through virtual discussions, live events and group challenges. Communities launched in 2019 include:
Caregiver at Home and Work
New Parents
Foodies of Cleveland
Caregiver Interest Groups in development include Caring for a Child with Special Needs and New to Cleveland. Caregivers can also submit suggestions for new Caregiver Interest Groups at any time.