Overview
Overview
Cleveland Clinic's energy management work is an outgrowth of our sustainability commitment to our patients, community and caregivers. As population health payment models proliferate, the link between energy, pollution and human health intensifies. Energy efficiency is more aligned to our core mission than ever before.
In 2017, Cleveland Clinic continued implementing a $12M enterprise energy demand reduction strategy to improve our energy efficiency and become less resource-intensive. By decreasing energy intensity, Cleveland Clinic is providing value for our patients and leading the industry in responsible healthcare operations.
Reduction Progress
Reduction Progress
Energy Use Intensity, or EUI, measures the energy consumed by a building relative to its size. Cleveland Clinic uses weather normalized source EUI or the total amount of raw fuel used. This includes transmission, delivery and production losses of that fuel as it is used as energy. Our goal is to reduce our EUI to 20% by 2020. As of December 2017, we have reduced our EUI by 15% from our 2010 baseline.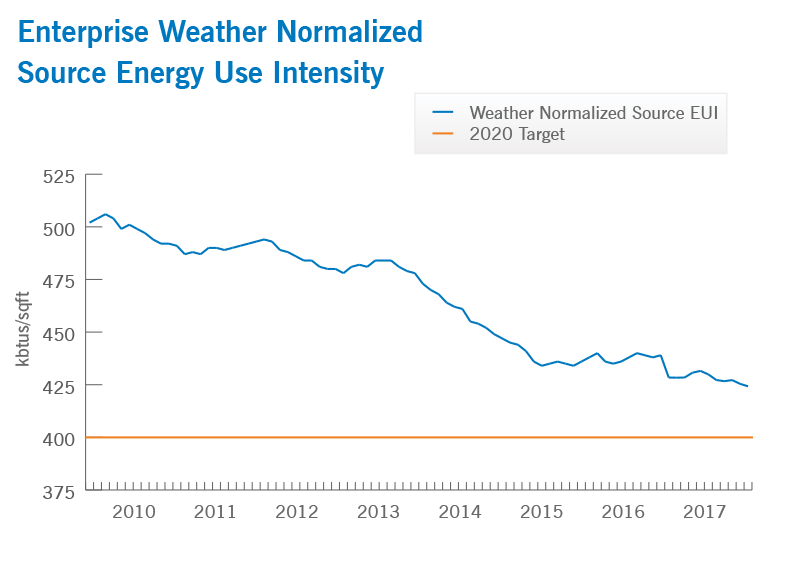 Green Fund
Green Fund
As a leader in healthcare, we are continually looking for ways to improve the health of the communities we serve and reduce our operating costs in order to make care more affordable for our patients. Cleveland Clinic maintains $7.5 million Green Revolving Fund (GRF), which is the largest established fund of its kind in the healthcare industry. Green revolving funds invest in energy efficiency projects to reduce energy consumption while reinvesting the money saved into future projects. As projects pull money from the fund, it is replenished by reinvesting tracked savings from reduced energy consumption, in addition to any rebates received.
Several projects funded by the GRF were key to improving the energy efficiency of Cleveland Clinic's existing buildings. They included optimizing building automation systems; making targeted reinvestments; utilizing ENERGY STAR-rated lighting appliances and equipment; implementing an industry-leading LED lighting retrofit strategy, and numerous other energy reduction projects.
Energy Reduction Projects and Programs
Energy Reduction Projects and Programs
LED Retrofit
Just keeping our lights on accounts for 16 percent of our total energy use. The cost of LEDs has reached the point where the payback makes sense, even in Ohio where electricity prices are low relative to other regions. In 2017, Cleveland Clinic continued standardizing 100% LED for new construction and replacing approximately 400,000 fluorescent tubes. Some of the benefits from this initiative include:
Cutting our electric consumption by 28,600,000 kilowatts each year – roughly the sameas removing approximately 2,600 houses off the electrical grid – for a total annual savings of $2 million.
Reducing our carbon footprint by nearly 19,400 tons of CO2 annually – equivalent to taking 3,600 cars off the road.
Decreasing our waste, because LED lights last nearly 2.5 times longer than fluorescent lights - and they are mercury-free, which translates into safer disposal.
Creating nearly 20 new jobs in our community (between 5-10 in manufacturing and 10 in installation)
Operating Room (OR) Setbacks
Heating, ventilation and air conditioning (HVAC) is the single most energy- intensive component in our energy profile (51%). There are 215 operating rooms (ORs) across our health system (86 on our main campus) running multiple cases per day. Because of the ORs' requirements for air changes per hour, strict temperature and humidity parameters, pressure relationships and energy- intensive (and often heat-generating) surgical lighting systems, OR HVAC systems came into sharp focus as our largest strategic priority for energy demand reduction.
In 2017, in collaboration with the Surgical Operations Executive Committee, the Facilities Department continued implementing our OR Setback plan to reduce energy while maintaining State and Federal regulations for air exchange.
Lighting Setbacks & Caregiver Behavior
Building setbacks and caregiver education offer significant energy reduction opportunities. We have programmed our lighting systems to reduce usage during unoccupied periods for administrative areas and are creating a culture of conservation through an enterprise wide Ecocaregiver training initiative where all caregivers are required to participate in an Energy Savings and You online
course.
Chiller Optimization & Replacement
In partnership with Gardiner Trane, we implemented several chiller optimizations on main campus and several other hospitals. Chillers are machines used for cooling our facilities and contribute a significant portion of our HVAC costs. We anticipate savings of $650,000/year based on internal studies and an external study performed by a third party.
Filter Optimization
We initiated a filter optimization program to replace high-efficiency particulate arrestance (HEPA) filters with 14 high efficiency filters for non-surgical spaces and utilize a more energy efficient filter package across the system. The conversion is projected to save approximately 23% in fan power for all affected air handling units with variable speed drives and deliver almost $1 million in savings.
Retro-Commissioning
We optimized equipment condition, controls and programmed operatingconditions to achieve a 40% savings at our Strongsville Family Health and Surgery Center. Additional facility retro-commissioning is planned in future.
Building Metering & Monitoring
We integrated meter installations and developed energy dashboards to provide detailed building by building energy metering and monitoring. This resulted in caregivers competing to control their respective buildings at the lowest energy use per square foot.