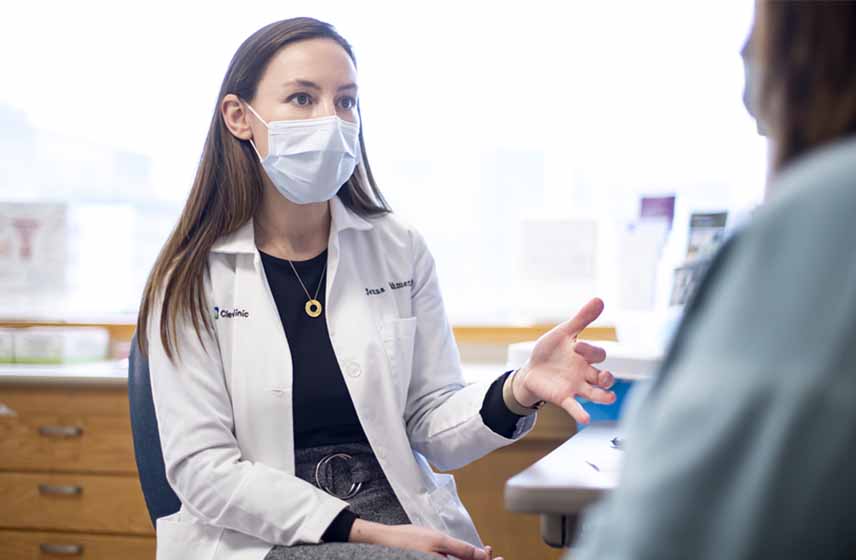 Polycystic Ovary Syndrome
When your hormones are out of balance, your body often tells you in some not-so-pretty ways.
---
Acne, weight gain and excess facial and body hair are a few of the physical effects of polycystic ovary syndrome. But so are things you can't see, like irregular periods and struggles with fertility. If you're one of the countless people with this condition, you know how frustrating it can be. It can feel like your body's turning on you, and you don't know how to get things back on track.
Polycystic ovary syndrome (PCOS) is a lifelong condition, but there are ways to control the symptoms that are getting in the way of your life. Our compassionate providers are ready with treatment options and strategies that can help you manage your condition and live your life with confidence.
Why Choose Cleveland Clinic for Polycystic Ovary Syndrome Care?
Specialized knowledge:
Our providers are board-certified and fellowship-trained experts. Your PCOS care team may include gynecologists, endocrinologists and dietitians. Meet our team.
Collaborative care:
PCOS can affect your whole body, not just your reproductive system. Our specialists work as a team with other Cleveland Clinic experts to make sure you get the comprehensive care you need to start feeling better.
Caring approach:
We understand that the physical effects of PCOS can cause anxiety and sometimes even depression. Our providers want you to feel good about yourself again, and we're here to support your physical and mental health.
Virtual visits:
In addition to in-person appointments, we offer virtual visits when it makes sense. This makes it easy to focus on your health with just a smartphone, tablet or computer. You'll get the same great care but from the comfort of home.
National recognition:
U.S. News & World Report consistently ranks Cleveland Clinic a top hospital in the nation. Newsweek has also named us a top hospital in the world.
Polycystic Ovary Syndrome Diagnosis at Cleveland Clinic
We want to know how PCOS is affecting you. We'll ask about your symptoms and how they impact your life. From the start, we want to understand your worries and the challenges that go with your PCOS. Learning about your personal and family health history will also help us learn about you. Our goal during this first part of the diagnosis process is to get to know you. This will also include testing. Running tests helps us learn about your hormones, ovaries and overall health. These tests may include:
Pelvic examination: Your provider inserts a speculum (an instrument that expands your vaginal walls) into your vagina to take a close look at your cervix. They also put their hands on your abdomen and pelvis to feel your uterus and ovaries.
Blood test: We take a blood sample and send it to our lab, where we check your hormone levels. Too much androgen (a male hormone) is a sign of PCOS. And because PCOS can also be a sign of diabetes and heart disease, we'll check your blood sugar and cholesterol levels, too.
Ultrasound: We use transvaginal pelvic ultrasound to see if you have cysts on your ovaries and to check your uterus. Your healthcare provider puts a transducer (thin probe) covered with a special plastic sleeve and gel into your vagina. This simple test uses soundwaves to create 2D and 3D pictures of your pelvic organs, which helps our specialists to see if you have polycystic ovaries.
Who Treat Polycystic Ovary Syndrome
Locations
We offer treatment for polycystic ovary syndrome at many locations throughout Northeast Ohio, Akron, and Florida.
Polycystic Ovary Syndrome Treatment at Cleveland Clinic
Everyone with PCOS has different concerns and priorities, so before designing a treatment plan, our specialists want to understand exactly what yours are. For example, you may want to:
Become pregnant.
Get rid of excess hair growth.
Lose weight.
Regulate your periods.
You may want all of the above — and that's OK, too. Our experts work together across teams and departments to treat everything about this condition that's holding you back. Once we understand your individual goals, we'll come up with a treatment plan to make your PCOS more manageable. This may include:
Lifestyle counseling: We make sure you have the information you need to live a healthy life. Our dietitians can teach you how to make changes to your diet to help control blood sugar, cholesterol and weight gain. We can also help you start a manageable exercise program.
Hormonal medications: We may recommend birth control medications containing estrogen and progestin. These medications can help reduce hair growth, regulate your periods and lower your risk of developing endometrial cancer.
PCOS and fertility
If you have PCOS, you may not ovulate (release eggs) every month. And if you want to become pregnant, this can be a problem. Our specialists work with you to help you reach your goal of becoming pregnant.
To help your ovaries release an egg, Cleveland Clinic's gynecologists may recommend medications to help increase your fertility, depending on your health and history.
Taking the Next Step
Living with PCOS can be frustrating and discouraging, but it's easier to handle when the right healthcare team is supporting you along the way. If you've been diagnosed with PCOS or are wondering if you might have it, reach out to a provider as soon as possible. We're here to help you learn how to manage your PCOS, which is the first step toward living a happy, healthy life with this condition.
Appointments
Getting an appointment with Cleveland Clinic polycystic ovary syndrome experts is easy. We're here to help you get the care you need.
---
Billing & Insurance
Manage your Cleveland Clinic account. Find billing information and financial assistance, plus FAQs.
---
MyChart
Securely access personalized health information at any time, day or night.
---