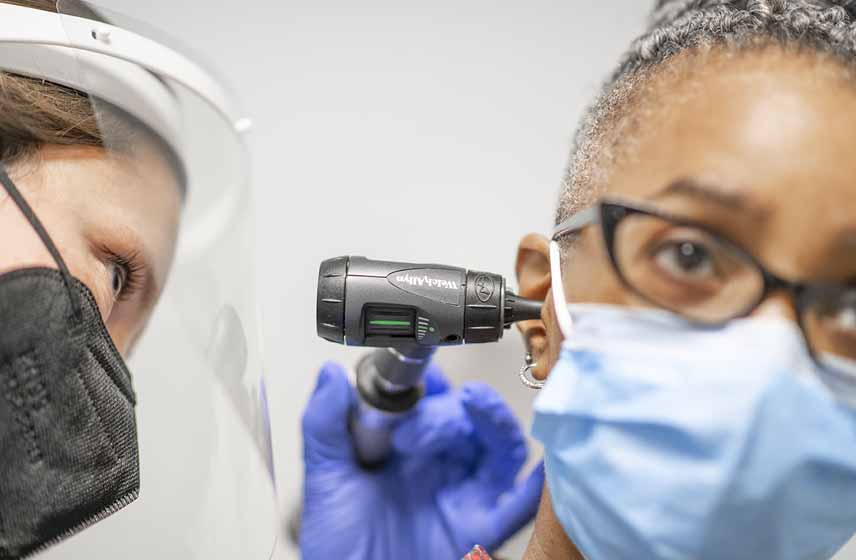 Hearing Loss Treatment (Audiology)
Your ability to hear really affects your day-to-day life.
---
Listening to the evening news. Interacting with the clerk at the grocery store. Hearing your grandchild ask you a question or share a proud accomplishment. Engaging with teachers or students in the classroom. It puts you in touch with the environment around you, it keeps you safe and it allows you to interact directly with others.
If you or a loved one are having trouble hearing or communicating, it's time to get help from Cleveland Clinic's hearing loss experts. Whether you're a newborn or an octogenarian — and every age in between — our audiology experts are ready to help you.
Why Choose Us for Hearing Loss?
National recognition:
Cleveland Clinic is ranked No. 1 in Ohio and in the Miami-Ft. Lauderdale metro area, as well as among the top hospitals nationally by U.S. News & World Report. This recognition speaks to the quality of our care and our exceptional patient outcomes.
Specialized knowledge:
With over 30 members on our audiology team, we're one of the largest audiology programs in the nation. Our audiologists are dedicated to using their vast experience to help those with hearing loss improve their hearing and quality of life. We'll answer all of your questions and address any concerns you might have about your care plan and what you can expect afterward.
Collaborative team approach:
Experts from multiple backgrounds come together to develop the best plan to meet your needs. You will have an audiologist and an ear, nose and throat (ENT) specialist — also known as an otolaryngologist — on your care team, in addition to any other specialists, as needed. Meet our team.
Family-centered care:
Our team creates care plans with the entire family in mind. This helps everyone from spouses to partners to children and caregivers who are closest to the patient. We'll gather valuable insight and keep your family involved in your care plan, when appropriate.
Innovative care:
We're committed to providing the best and most advanced care possible, using evidence-based practices to provide the highest quality of service. For example, our care team was at the forefront in offering shared medical appointments. These allow patients who are being treated for the same condition to visit together with a caregiver in a group setting — to share experiences, learn from each other and get emotional support.
Ongoing care when you need us:
Managing hearing loss is a journey. You can feel confident knowing that we'll help you every step of the way. We're here if you have questions, need your devices readjusted or need to be re-evaluated at any point in the future to optimize your hearing. We also encourage annual visits to check the status of your hearing and verify your devices are functioning properly. Our team will make sure that you always have the best possible outcome and care.
Hearing Loss Diagnosis at Cleveland Clinic
Are you asking people to repeat themselves? Complaining that people mumble? Having trouble hearing in crowded situations? A comprehensive hearing evaluation with an audiologist provides a picture of what type of hearing loss you have and the severity of your hearing loss to inform your treatment plan.
Hearing test
During a hearing test, an audiologist will determine the softest sounds you are able to hear across many pitches from low to high. They'll also evaluate how hearing across those pitches affects your ability to communicate with others. Results from this test allow the audiologist to determine the best management options for you, including determining whether you need to proceed to a hearing needs assessment.
Hearing needs assessment
Your audiologist will discuss with you and your family members your unique listening and communication needs. The discussion may include the various styles of hearing devices, the latest technological advancements and what you can realistically expect from having hearing devices. Hearing device technology (including hearing aids, osseointegrated implants and cochlear implants) has improved tremendously over the past 15 years. Together, you, your family (if appropriate) and your audiologist will decide what's most appropriate for you while taking into account any physical, financial or lifestyle limitations.
Locations
Our office at Cleveland Clinic's main campus is located in the A Building - Crile Building: Audiology, Desk A71. Audiology services for hearing loss are also available at our regional locations throughout Northeast Ohio and Florida.
Hearing Loss Treatment at Cleveland Clinic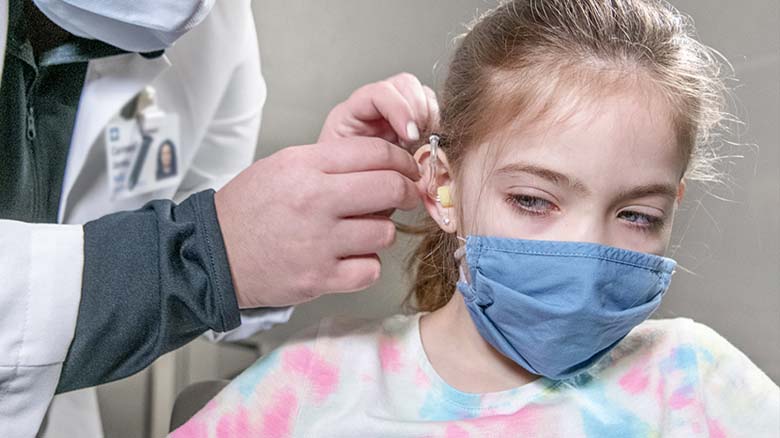 Cleveland Clinic audiologists have years of experience diagnosing and managing hearing loss. We'll work with you and your family to help you hear your best and have the best quality of life possible.
We understand that untreated hearing loss can interfere with relationships, whether with your family members, friends or coworkers. Not being able to communicate as you once could can also make you feel frustrated, isolated, withdrawn and even depressed.
We will create a customized treatment plan based on your needs and lifestyle.
Following your hearing needs assessment, you will receive a recommendation for the appropriate hearing aids and a fitting for the devices. This time period can range from the same day to several weeks. Osseointegrated or cochlear implants require surgical intervention. If these devices are recommended, you will be scheduled for further evaluation, including consultation with a surgeon.
Your care team will explain how to properly maintain your devices, including how to care for the technology and troubleshoot minor issues.
In Ohio, all hearing devices have a 30-day right-to-return period. This gives you time to evaluate how well the devices work in your everyday life. During this time, you'll be scheduled to return for at least one follow-up visit with your audiologist.
You can feel confident knowing that your care team will continue to be there for you, including drop-off services to repair devices or scheduling additional appointments to assist with any issues that arise. We are always here to answer questions, reevaluate any problems you're having or discuss changes in your hearing.
Financial Assistance
We understand that improving your hearing is an investment. Medical insurance companies may provide coverage for your hearing devices. Please check with your insurance company to determine your coverage and if Cleveland Clinic is a provider for your plan. Many insurance companies now work with a third-party administrator and require you to obtain hearing devices from an office associated with that third-party administrator. You are always welcome to receive our services by opting out of using your insurance benefit if you desire.
If you cannot afford hearing aids, there may be options to assist you financially with the purchase of devices.
State - If you're receiving assistance through an Ohio Medicaid program, you may be eligible for coverage for hearing testing and cochlear implants, but not hearing aids. But each Medicaid program has its own rules, so check that the program you choose is registered with your insurance as an authorized service provider. Medicare also typically covers testing fees, but not the hearing aids themselves. The Ohio Rehabilitation Services Commission/Bureau of Vocational Rehabilitation and the Bureau for Children with Medical Handicaps also offer assistance.
Federal - Contact your local Veterans Administration hospital or office for more information.
Corporate - Your health insurance provider, union or employer may provide financial assistance. You can also use a flexible spending account to buy hearing aids pre-tax. The Americans with Disabilities Act may also provide assistance if it is needed for your job.
Charitable organizations - Many social service organizations offer help for hearing testing and devices such as Hear Now, Kiwanis Club, Lions Club International, March of Dimes, National Easter Seals, Rotary Club, Sertoma Club and Quota International. Contact their local chapters for more information.
Taking the Next Step
Hearing loss doesn't need to be something you just accept. If you're having trouble hearing clearly or communicating with the people in your life, we can help you. Reach out to our experts today!
Appointments
Getting an appointment with Cleveland Clinic's hearing loss team is easy. We're here to help you get the care you need.
---
Billing & Insurance
Manage your Cleveland Clinic account. Find billing information and financial assistance, plus FAQs.
---
MyChart
Securely access personalized health information at any time, day or night.
---