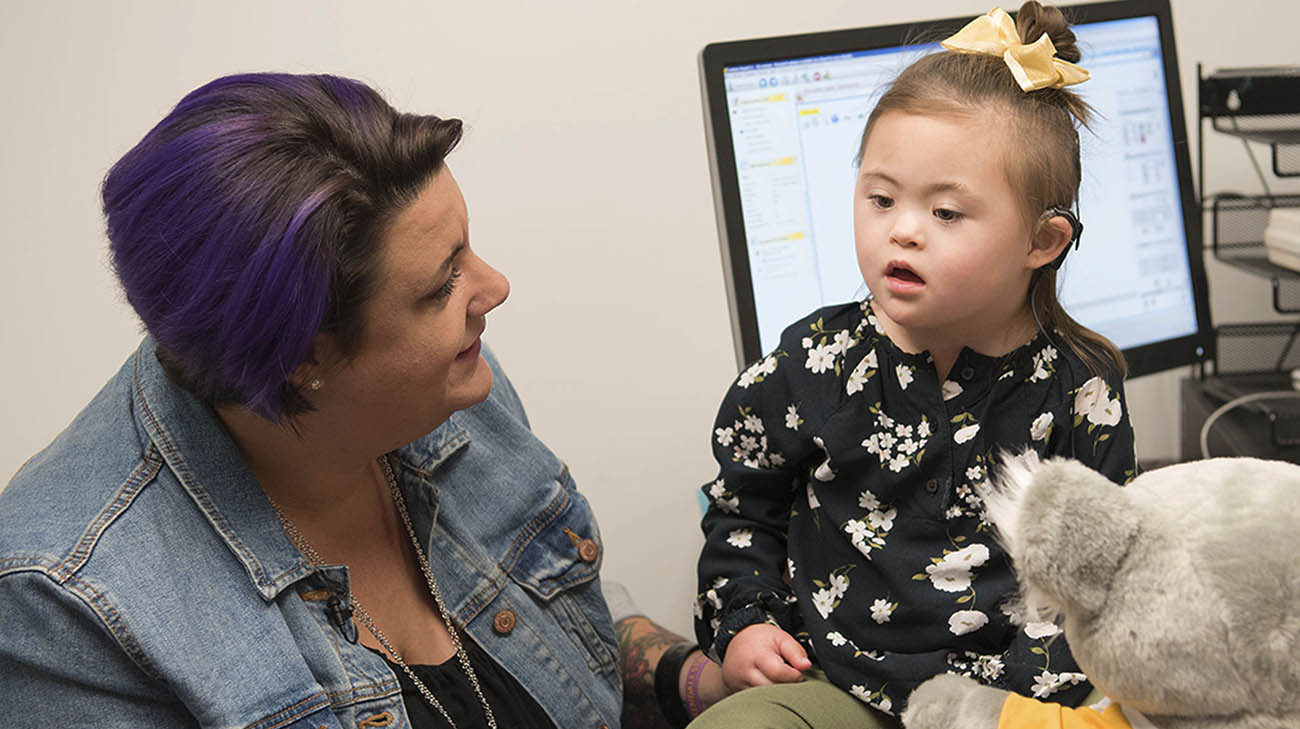 In her short life, 3-year-old Grace Rosian has visited Cleveland Clinic Children's countless times – especially for intensive chemotherapy treatments that have helped her beat leukemia twice.
However, her most recent visit would be far from routine. Just a few weeks after Grace underwent bilateral cochlear implant surgery to treat severe and profound hearing loss, clinical audiologist Karen Petter, AuD would activate the external processors that operate the devices in her ears.
Ideally, for the first time, Grace would be able to hear sounds clearly.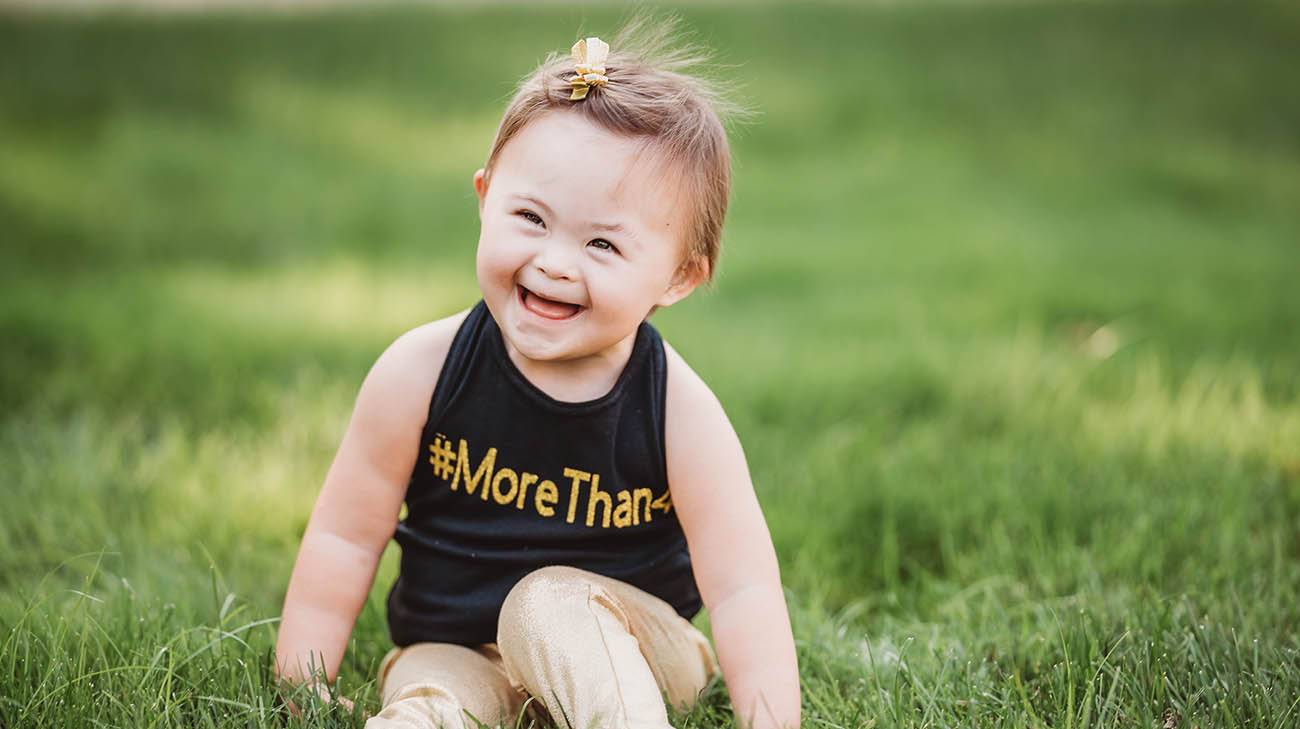 Born with Down syndrome and diagnosed with two different kinds of leukemia, Grace has faced a lifetime's worth of challenges. (Courtesy: Regovich Imaging Company)
Grace's mother, Valerie Revell-Rosian, wasn't sure what to expect once her daughter's hearing suddenly improved from the 75 to 85 percent loss she has always had in each ear. "I don't want to set myself up for some kind of great expectation and be let down. If Grace has shown us anything, she has her own set of rules," Valerie says with a laugh.
"You never quite know what a (child) patient's reaction will be," agrees Dr. Petter, who works in the Audiology Center at Cleveland Clinic's Head & Neck Institute. "Sometimes you'll get crying, sometimes a smile, sometimes no big response. It's always an exciting day."
This day was a long time coming for Grace, who didn't pass the newborn hearing screening test administered soon after birth. Typically, a surgeon will perform an operation sometime in the patient's first year of life to insert cochlear implants – which directly stimulate the hearing nerves to provide access to sounds and speech.
Grace was born prematurely, at 33 weeks, on October 24, 2016. (Courtesy: Valerie Revell-Rosian)
Grace's surgery, however, was delayed because of her complicated medical situation. Delivered prematurely at 33 weeks, Grace was born with Down syndrome and was immediately diagnosed with transient myeloproliferative disorder (TMD), a form of leukemia common in babies with Down syndrome. She spent her first two months of life in the Neonatal Intensive Care Unit (NICU) at Cleveland Clinic Fairview Hospital.
While her cancer was soon in remission, Grace remained at risk of contracting acute myeloid leukemia (AML), a more serious cancer of the blood and bone marrow, which has high incidence in children with Down syndrome. Indeed, she was diagnosed with AML just before her first birthday, prompting another inpatient stay, this time for eight months.
According to Samantha Anne, MD, Grace's pediatric otolaryngology surgeon, treatment for her hearing loss was put on hold while her life-threatening issues were dealt with. "Our challenge was to try and find a window of time when she was not being treated for cancer and healthy enough for surgery, especially in terms of her immune system. We wanted to make sure she was caught up on immunizations that had been on hold while she was recovering from cancer treatment," she explains. "Grace's Down syndrome adds a level of complexity as to what we can expect from her. But we'll be aggressive with speech, language and auditory-based therapy to help her get where she needs to be."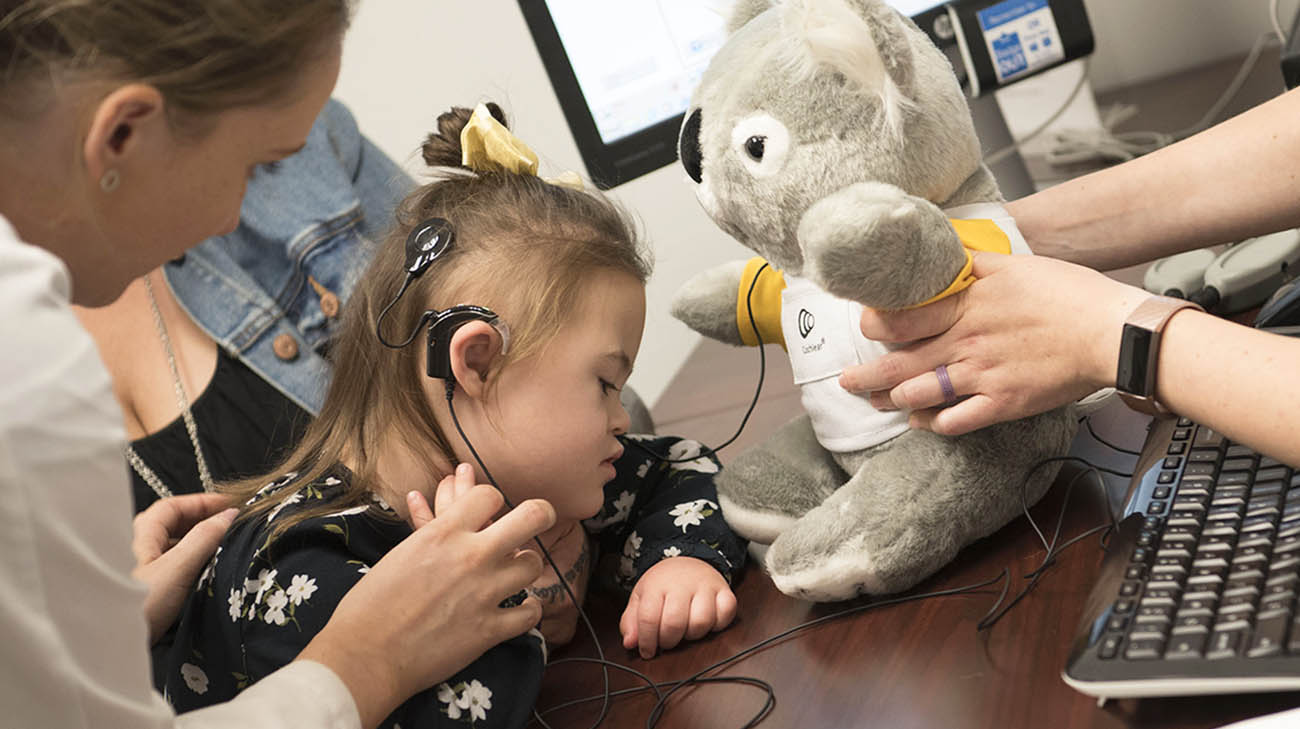 A Cleveland Clinic Children's specialist positions Grace's cochlear implant device. (Courtesy: Cleveland Clinic)
The surgery to insert the cochlear implants lasted about 60-to-90 minutes, for each side. Dr. Anne opened the mastoid bone, in the temporal region behind each ear, and inserted an implant. Next, she advanced an array of electrodes into the cochlea of each inner ear. After Grace recovered from surgery, Dr. Petter fitted her for speech/sound processors, which are worn behind each ear and stay in place by connecting to magnets placed beneath Grace's skin during her operation.
On activation day, Dr. Petter hooked up each external processor to a computer, slowly turning up the volume until Grace responded. "We don't expect her to understand what she will be hearing at first," explains Dr. Petter. "It will take a lot of work and practice for sound to have meaning."
When the moment arrived, and her implants were activated, Grace's eyes widened. Not yet able to walk, she began to scoot backwards, apparently an attempt to move from the unfamiliar sounds. However, Valerie, Grace's father, Josh, and 4-year-old brother, Robert, recognized that as a step in the right direction.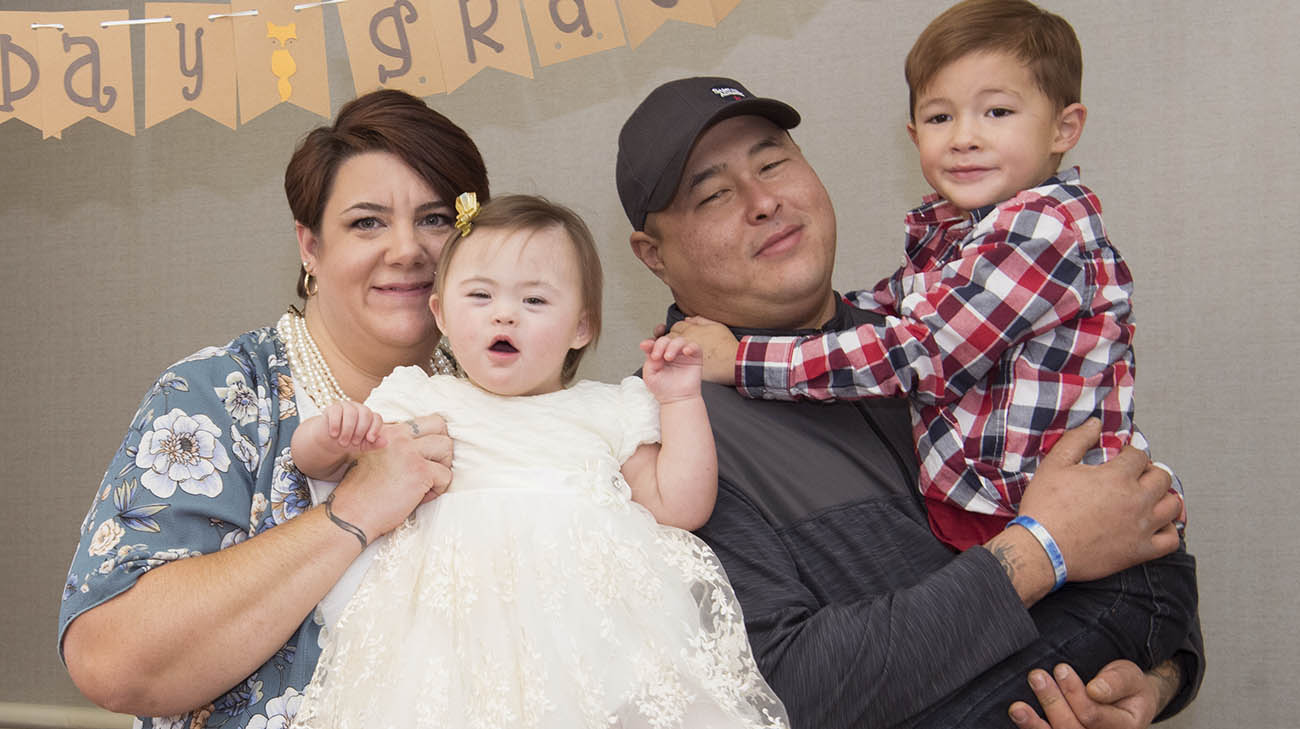 Grace's mother, Valerie, Grace, her father, Joshua, and brother Robert, at her second birthday party. (Courtesy: Cleveland Clinic)
Valerie appreciates how dramatic the change is for Grace. "People who grow up able to hear have time to learn, slowly, that a dog bark is coming from a dog or that my voice is coming from me. But Grace is hearing all these sounds at once. She has to learn how to identify what they are, and what they mean."
As Dr. Anne explains, "The hard work is ahead for Grace. She has to learn how to use the implants and get up to speed with her speech and language development." Grace has begun speech, language and auditory-based therapy with Donald Goldberg, PhD, at Cleveland Clinic Children's –visits Valerie fits into her daughter's existing busy schedule of physical and occupational therapy.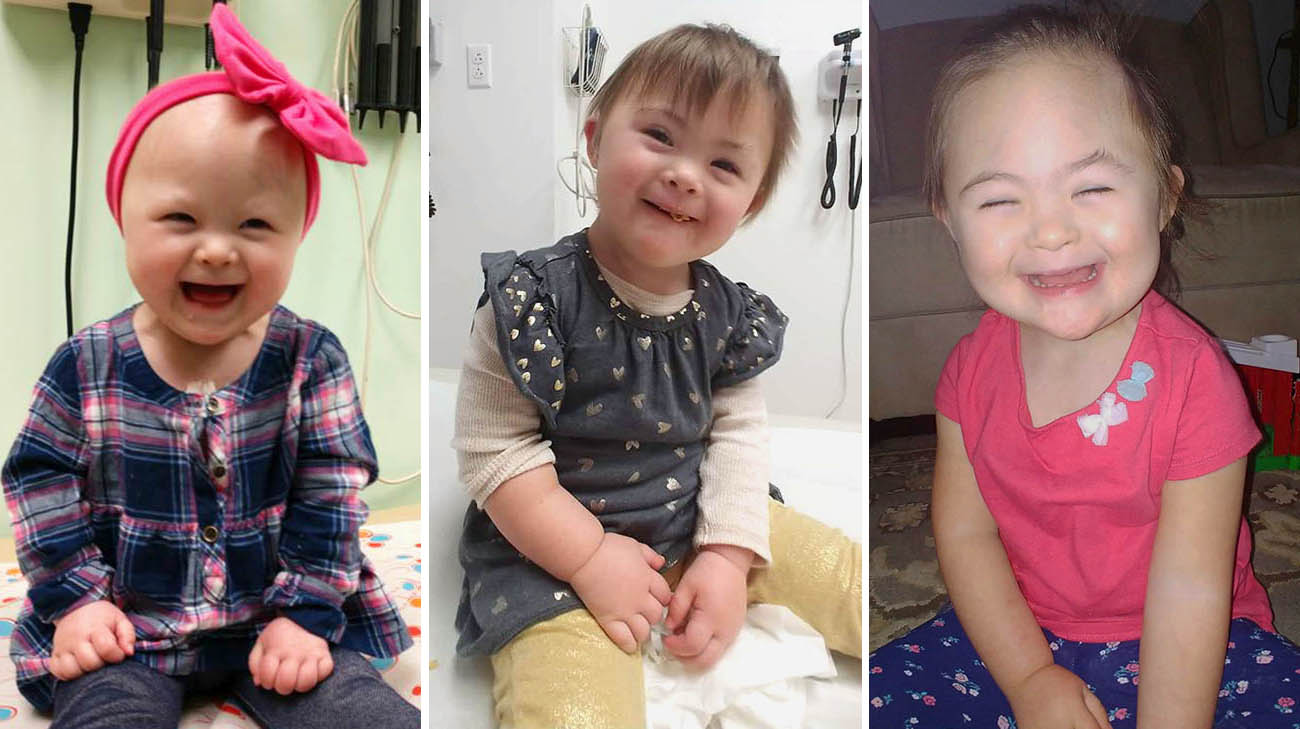 Grace's mom says Grace is the perfect combination of princess and warrior. Grace celebrated her third birthday in October 2019. (Courtesy: Valerie Revell-Rosian)
It's early, but Valerie is seeing signs that Grace is adapting to her new world of sound. One of their favorite activities is singing, and clapping along to, "Row, Row, Row Your Boat," and other children's songs. Always enjoyable for Grace, the songs are now eliciting new reactions.
"It's really interesting. Before, Grace knew the song and hand gestures because she was just mimicking me," Valerie exudes. "Now, Grace can hear. I can see her eyes light up. She's starting to think, 'Oh, this is what it sounds like when mom is singing.'"
Related Institutes: Cleveland Clinic Children's , Head & Neck Institute
Patient Stories
Patient Stories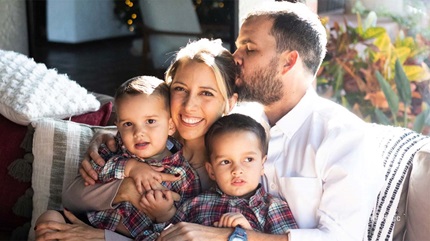 Mar 16, 2023
"Dr. Pieretti took the time to explain how the robotic surgery would work and how quick my recovery would be with this technology. That made me happy because I wanted to get back to my regular life fast."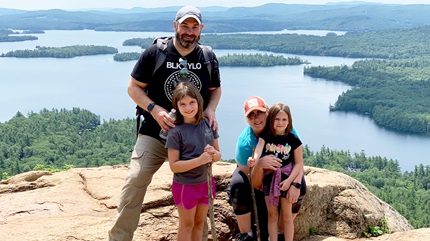 Mar 14, 2023
"If you notice any change with your body, get it checked out regardless of how insignificant you think it might be. If something hadn't made me go to a doctor, I might not be here today."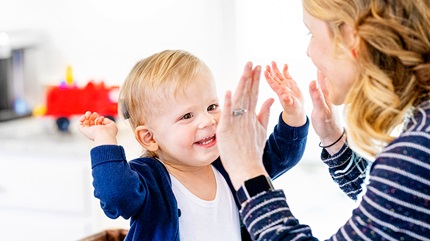 Mar 3, 2023
"From being born essentially deaf, to now singing lullabies. It blows my mind. Corbin is not just meeting developmental milestones, he's surpassing them."