Overview
Overview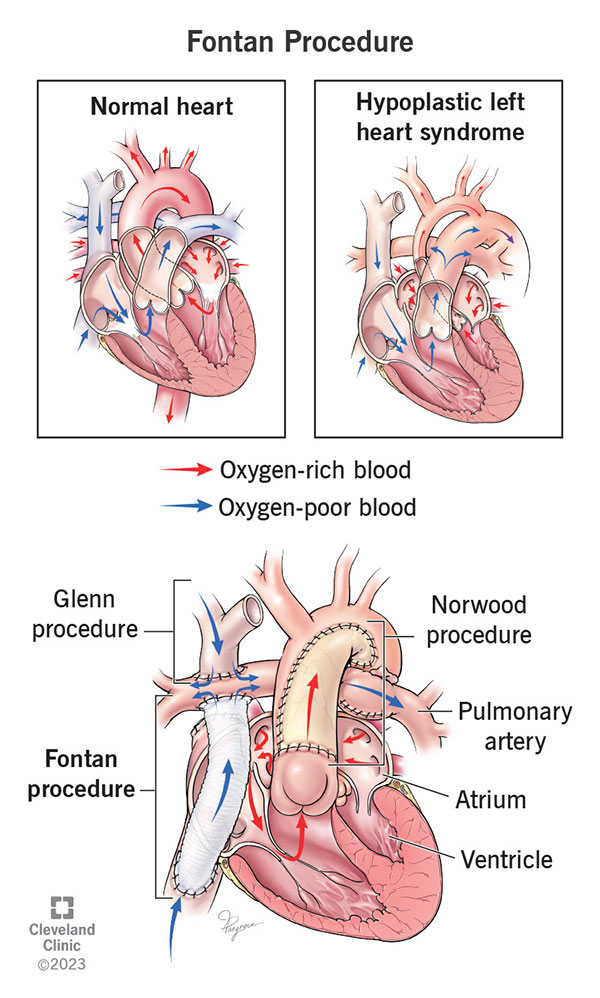 Congenital heart disease patients with Fontan circulation require lifelong follow-up care by practitioners with expertise in treating single ventricle patients. At Cleveland Clinic Children's, our team is uniquely positioned to serve these patients by bringing together experts from different specialties like cardiology, hepatology, nephrology, social work, behavioral health and more into the same physical space.
Mission
Our program's mission is to improve the short- and long-term outcomes and quality of life of children, adolescents and adults with Fontan circulation.
What is the Fontan procedure?
The Fontan procedure is a palliative solution for children born with only one effective ventricle (pumping chamber) in their heart. This includes congenital (born with it) heart conditions like tricuspid atresia, hypoplastic left heart syndrome (HLHS), and other conditions. After having a Fontan procedure, all oxygen-poor blood in the child's body goes right to their pulmonary artery instead of through their heart chambers.
About the FRONTIER Fontan Program
Fontan
Resiliency enhancement
Optimized interprofessional care
Neurodevelopmental support
Therapeutic Interventions
Exercise Rehabilitation
There's increasing recognition that Fontan circulation affects several non-cardiac organ systems. To improve overall outcomes and quality of life, our team consistently provides comprehensive and cohesive expert care to children and adults with Fontan circulation.
Conditions We Treat
Conditions We Treat
Cyanosis (skin turning blue from a lack of oxygen).
Cirrhosis (liver scarring) and liver dysfunction.
Protein-losing enteropathy (PLE, the inability to digest and absorb proteins).
Delayed puberty.
Growth issues.
Osteoporosis and osteopenia (low bone density).
Heart rhythm problems.
Abnormal kidney function.
Psychological and behavioral concerns.
Social determinants of health (social and environmental factors that can limit a person's ability to stay healthy).
Nutritional deficiencies.
What to Expect
What to Expect
Initially, each patient has a virtual visit for a brief assessment of their individual needs. After the initial meeting, our team formulates a customized plan. Any recommended tests will be performed the day before the Fontan Clinic meets so results are available during the appointment.
On the day of the Fontan Clinic, patients stay in one room and all the providers visit them there. Providers will rotate through the patient's room until they have been seen by every specialty in the FRONTIER Fontan Program. By the end of the day, patients will have had a thorough interprofessional evaluation and will leave with an individualized, comprehensive care plan tailored to their unique needs.
If you have any questions about the program, please call 216.445.5000.
Our Team
Our Team
Pediatric and Adult Congenital Heart Center
Program leaders
Cardiology team
Interprofessional team members