As she peered down the long hospital corridor, Bianca Arnold didn't recognize anything – or anyone – there. Despite having spent nearly 40 days prior to Thanksgiving 2021 in the Cleveland Clinic cardiovascular intensive care unit (ICU), which at the time had been converted to a COVID-19 ICU, the 40-year-old mother of two young girls saw everything with fresh eyes.
"It was my first time meeting the nurses and doctors, although it wasn't really," recalls Bianca, whose initial stay as a patient had been while she was unconscious and connected to an extracorporeal membrane oxygenation (ECMO) device as a result of a severe case of COVID-19. She had contracted the virus days after her youngest daughter, Anastasia, was born in a Toledo hospital.
Bianca was so nervous upon returning to Cleveland Clinic in the spring of 2023, one of her caregivers, nurse manager Daelle Waldron-Gearhardt, led her by hand as they greeted the many nurses, doctors and staff who had worked tirelessly to save her life.
"I felt such a connection with all of them," adds Bianca. "I kept saying, 'Can I hug you?'"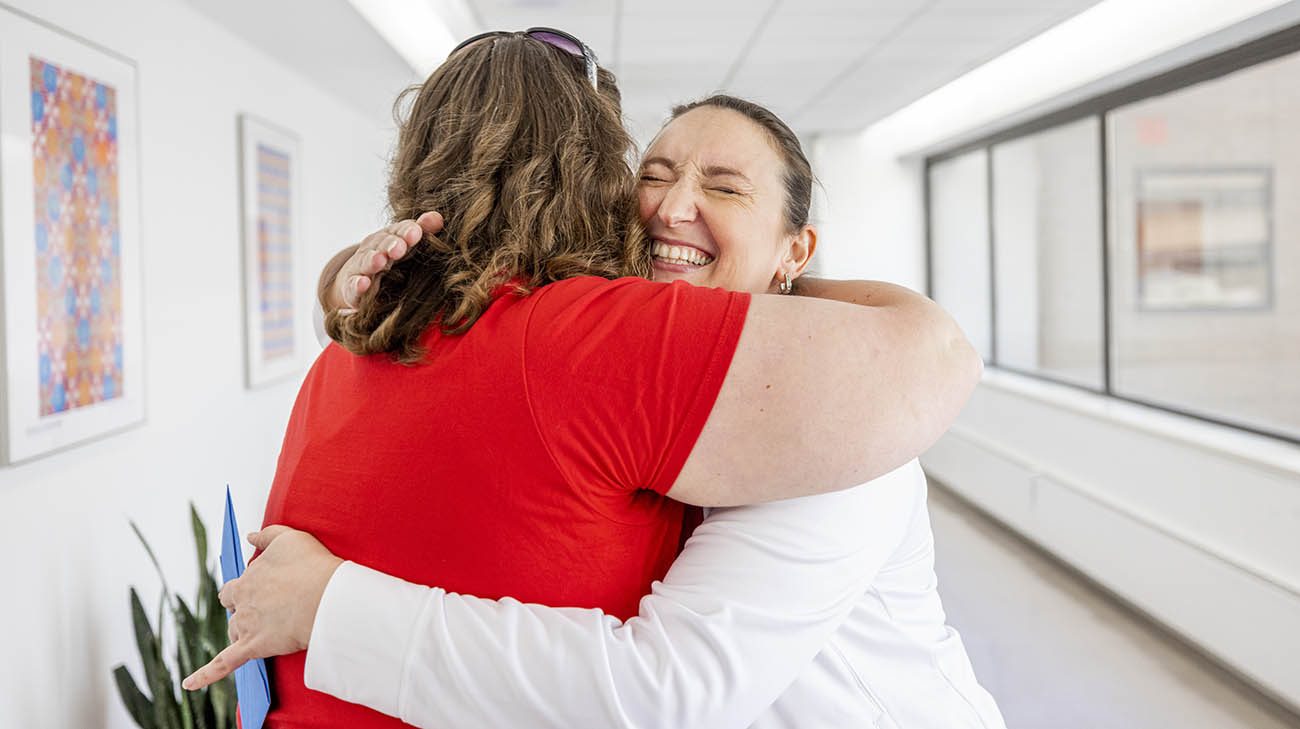 Bianca reuniting with Daelle for the first time since being discharged from Cleveland Clinic. (Courtesy: Cleveland Clinic)
Bianca's reunion with Cleveland Clinic caregivers also served as a rite of passage, enabling her to gain a measure of closure following her bout with the disease. While the Toledo, Ohio, resident continues to experience side effects from long COVID, she is extremely grateful to be alive and able to take care of her girls.
A former mental health provider, Bianca understands and appreciates what caregivers do for their patients. "It's more than just science and medicine," states Bianca. "I wanted them to realize that we as patients think about what they have done for us more than you would ever imagine. I am just so grateful."
Right after Anastasia was born, Bianca rushed her back to the hospital after the baby wouldn't stop crying and couldn't hold down her food. A few days later, as the family reunited, Bianca began not feeling well. Her mother, Marisa Hutchinson, recalls meeting Bianca and the girls for dinner, during which Bianca had difficulty staying awake and struggled to hold the baby.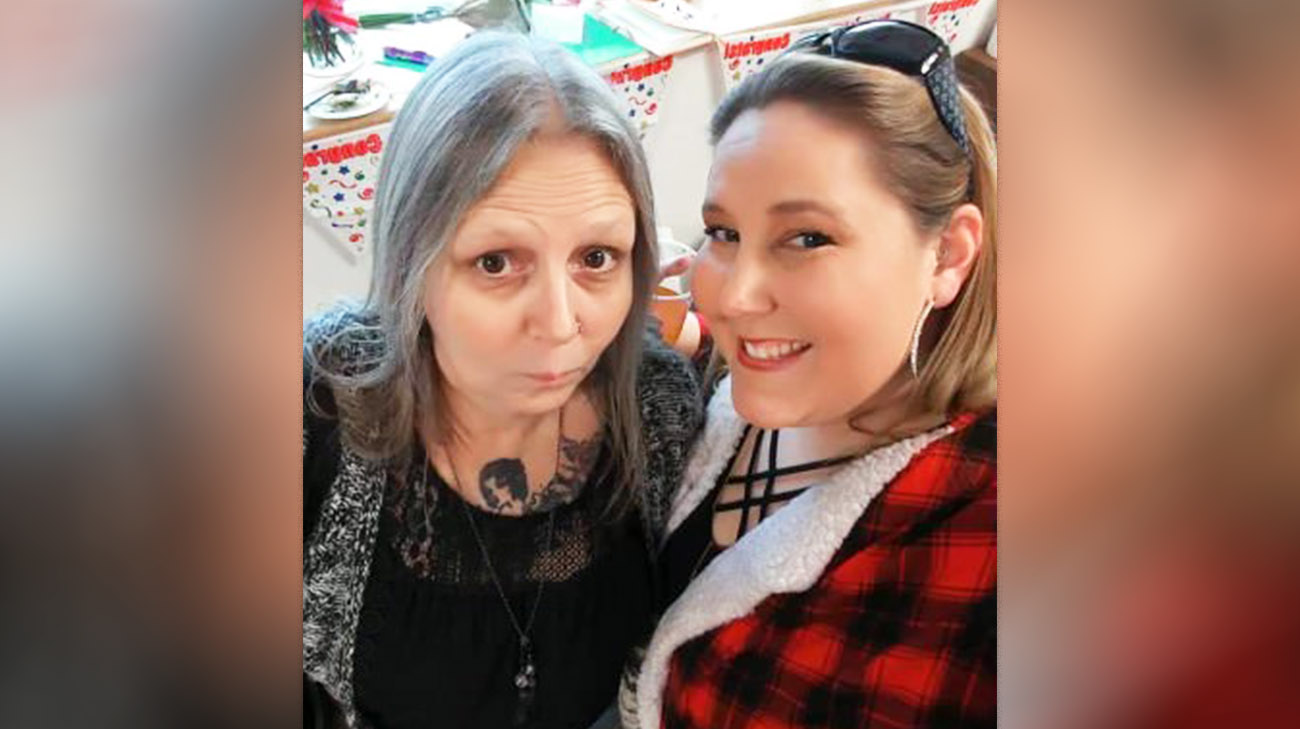 Marisa (left) advocated for Bianca to be transported to Cleveland Clinic where there was access to ECMO. (Courtesy: Bianca Arnold)
Hours later, as her condition worsened, Bianca's boyfriend called for an ambulance. Paramedics rushed her to a local hospital. There, doctors determined she had contracted a severe case of COVID-19. She was intubated and placed into a medically induced coma. At the advice of a friend, Marisa sought out facilities that offer ECMO, a type of artificial life support that can help a person whose lungs and heart aren't functioning properly.
She reached out to Cleveland Clinic. Based on availability and Bianca's status of illness, within hours, a Cleveland Clinic Critical Care Transport helicopter transported her to Cleveland Clinic's main campus. Says Marisa, "God answered our prayers."
Justin Lonczak, one of the nurse practitioners who tended to Bianca on the 45-minute flight, recalls she was in dire straits.
"COVID affected her lungs and the ability of her body to oxygenate blood," says Justin. "It was really important to keep her oxygen levels up, her blood pressure under control and just supporting her in any way we could."
Upon arrival to Cleveland Clinic, and under the direction of pulmonologist Eduardo Mireles-Cabodevila, MD, a critical care team connected Bianca to ECMO and intubated her. While she remained unconscious for weeks, the nursing staff tended to her night and day. They even reached out to her family and connected them to Bianca.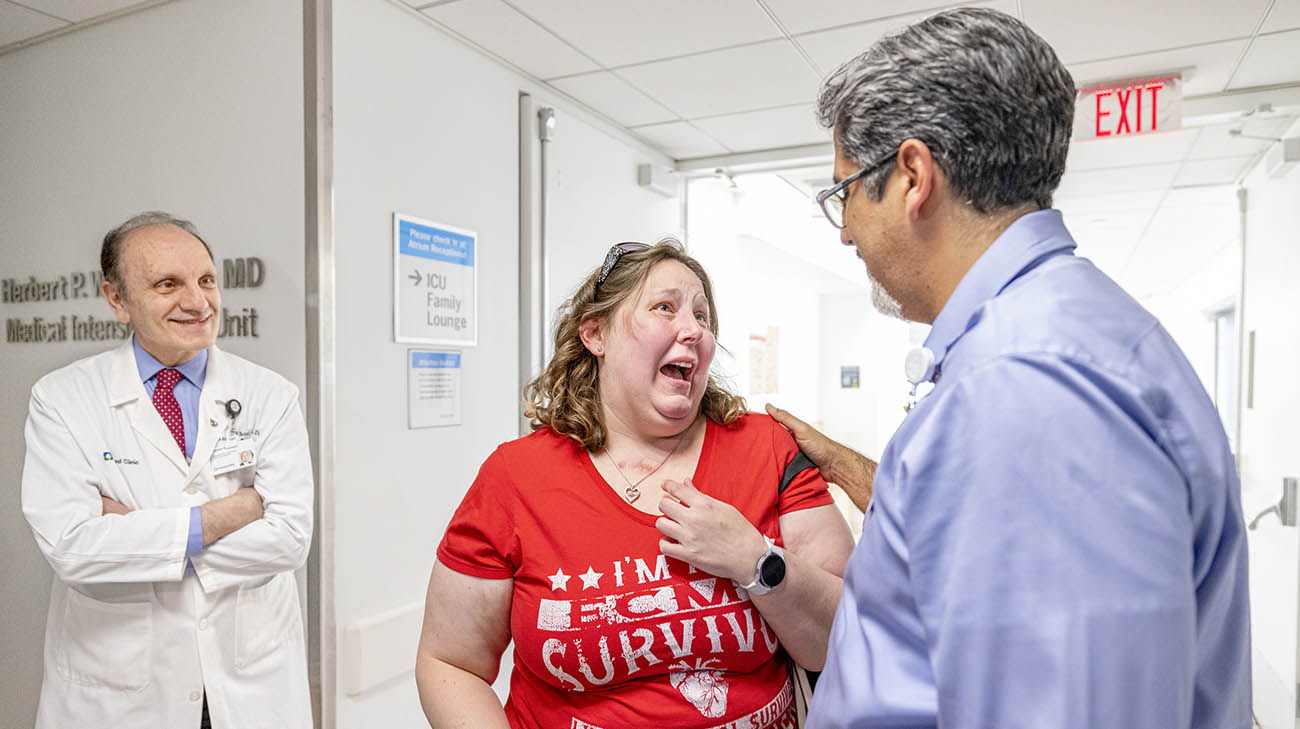 Bianca meeting and talking with Dr. Mireles-Cabodevila (far right) and Hassan Khouli, MD, chair of the department of critical medicine (far left), during her return visit to Cleveland Clinic. (Courtesy: Cleveland Clinic)
While Marisa would speak to Bianca and tell her about the babies, she could see the walls of her hospital room were covered with photos of the girls Marisa regularly emailed to the nursing staff.
"The nurses were angels. A lot of them would even use their own personal phones to make the calls," marvels Marisa, who also noted they would keep Bianca's hair brushed or braided and even painted her fingernails. "Everybody there – the nurses, social workers, everybody -- they turned into family for us. They knew I couldn't be there, so they were there for me. They're the absolute best."
Adds Daelle, "I'm a firm believer in the power of hearing, and it was important Bianca, even while unconscious, would hear every single day her children were alive and healthy, and that we were going to do everything we could to get her back to them."
Days before Thanksgiving, Bianca began showing signs of recovery. When she finally opened her eyes, she assumed she had been in a car accident. "When I found out how sick I was, I wondered if I'd ever get out of there. I was scared, but I loved seeing pictures of the girls. It's what made me fight."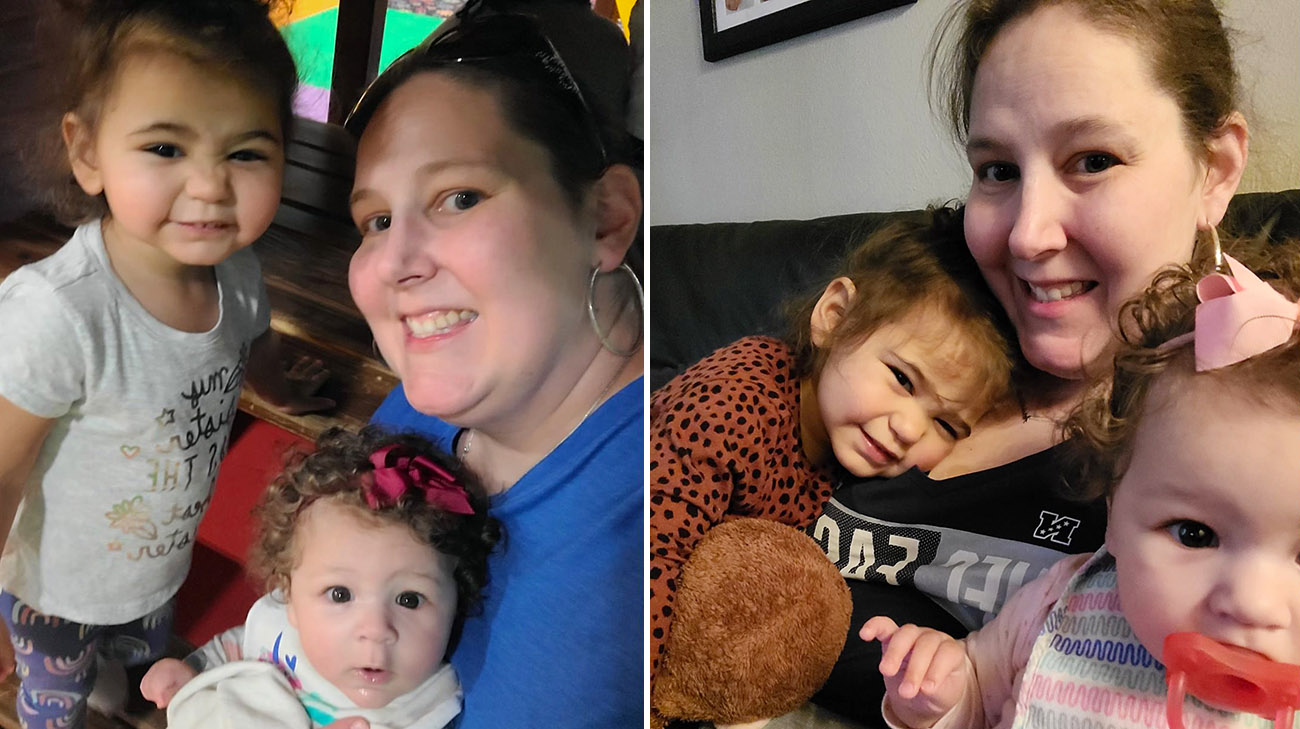 Bianca with her daughters, Layla and Anastasia. (Courtesy: Bianca Arnold)
Eventually, as she improved and moved to step down units in the hospital, Bianca was transferred back to her local hospital and then home. In the following two years, she has undergone physical and behavioral therapy to slowly regain her physical and mental health, including guidance from the Cleveland Clinic reCOVer Clinic team that specializes in treating patients with long COVID symptoms.
It was during a therapy session when she had the idea to make a return visit to Cleveland Clinic to pay homage to the dozens of staff members whose professional skills and empathy sparked her recovery.
"Their job is to provide medical care, but they did so much more. They were such great advocates for me, and it's a big part of what helped me regain my health."
Related Institutes: Respiratory Institute
Patient Stories
Patient Stories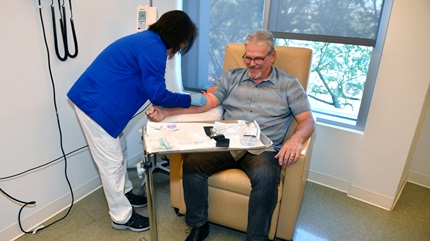 Dec 7, 2023
"The most frustrating thing in the world is not being able to remember something when it was just told to me two minutes ago. Now, with this drug, there's a chance I won't get worse for a while."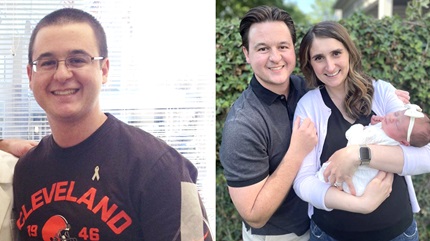 Nov 30, 2023
"At the time of my diagnosis, I was thinking, 'I'm 24. I'm a lifelong nonsmoker. I'm not supposed to get cancer.'"