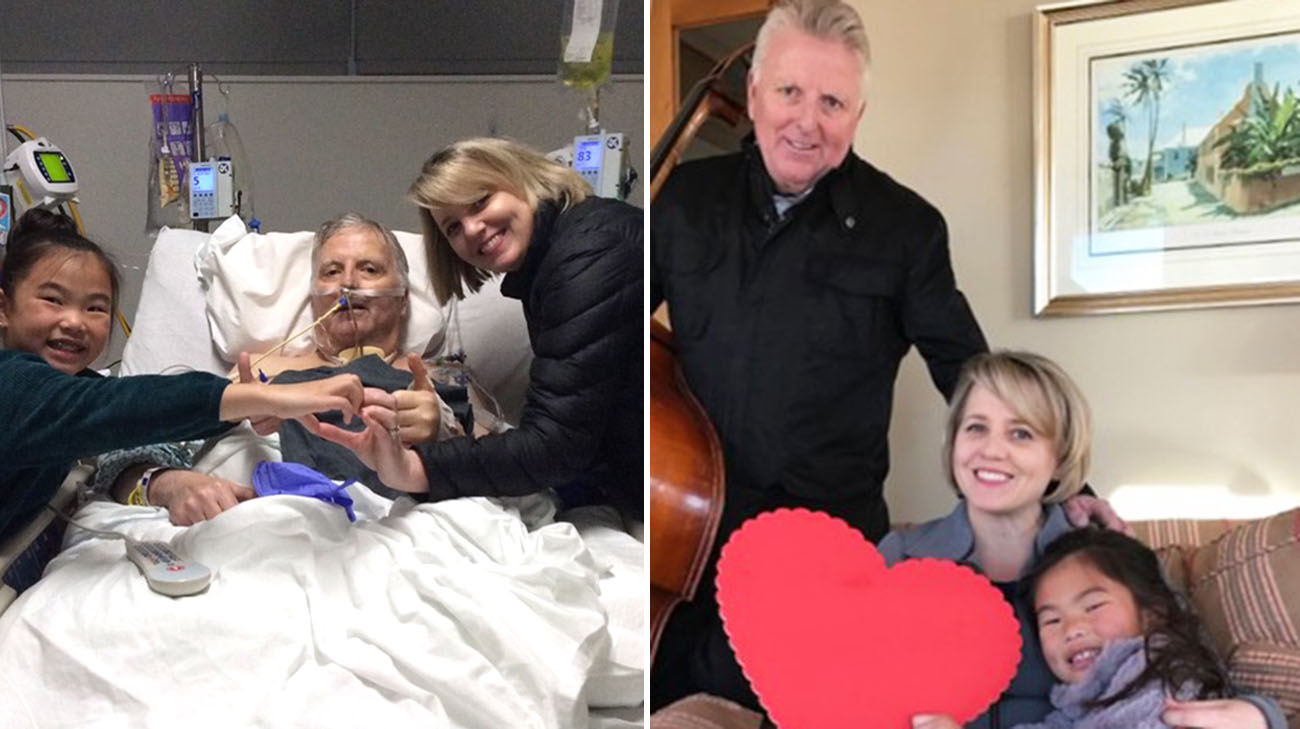 The lyrics to "Cowboy Up," an up-tempo tune from Connecticut band Village Jammers, are ostensibly about the challenges of being a rodeo bull rider. They're also a metaphor for the medical struggles and determination of guitarist Geoff Corkhill, who has undergone both a life-saving double-lung transplant and a dual kidney transplant at Cleveland Clinic since 2018.
The line, "and if the cowboy's gettin' thrown, he's going to ride again," is a testament to the grit and determination of Geoff, age 67, who has experienced both interstitial lung disease, chronic rejection of his new lungs and kidney failure, in his battle to keep his medical crises at bay.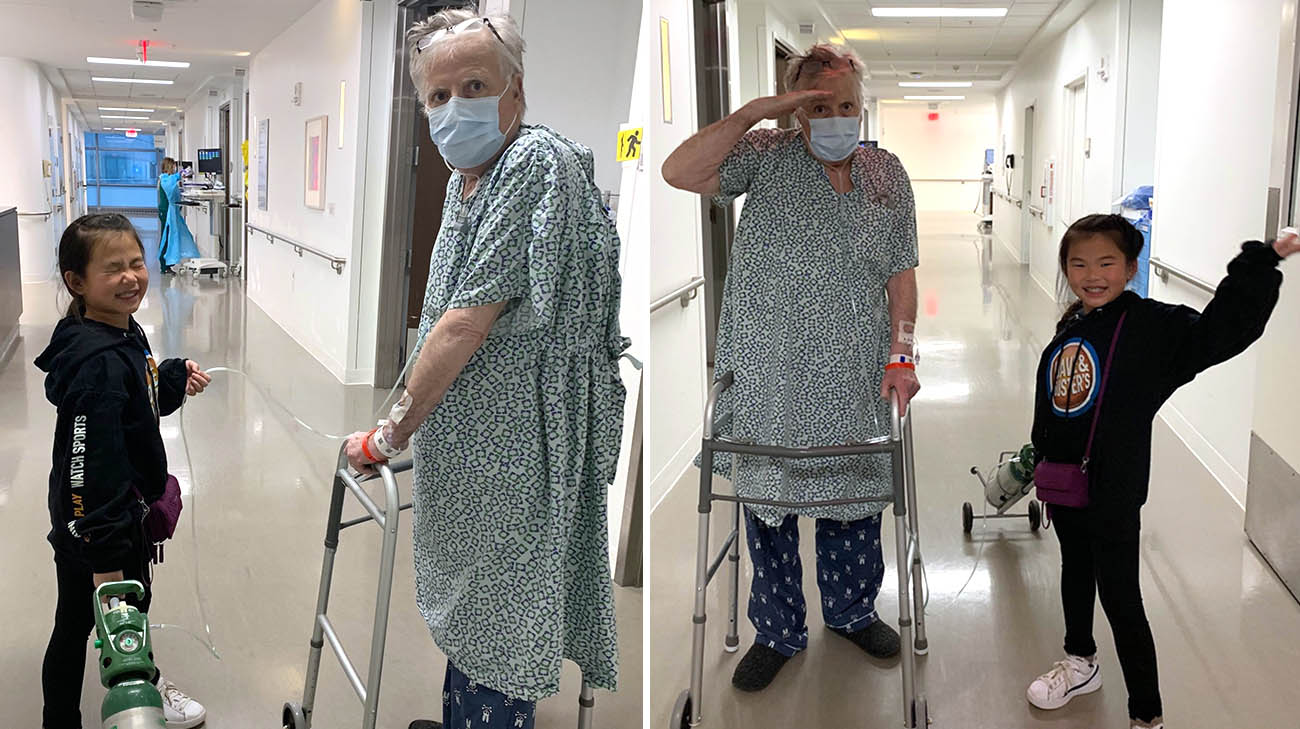 Sabine has always been an inspirational source of light and life for Geoff. (Courtesy: Kimmerle Balentine)
"I've got a 13-year-old daughter named Sabine, and I want to be here as long as I can for her," says Geoff, who ran his own cable TV wiring installation company and would often run five miles daily, before being sidelined by his medical problems. "Taking her to school and picking her up are the best parts of my day. As I've gone through my health journey, watching her strength and advocacy has been a huge inspiration to me."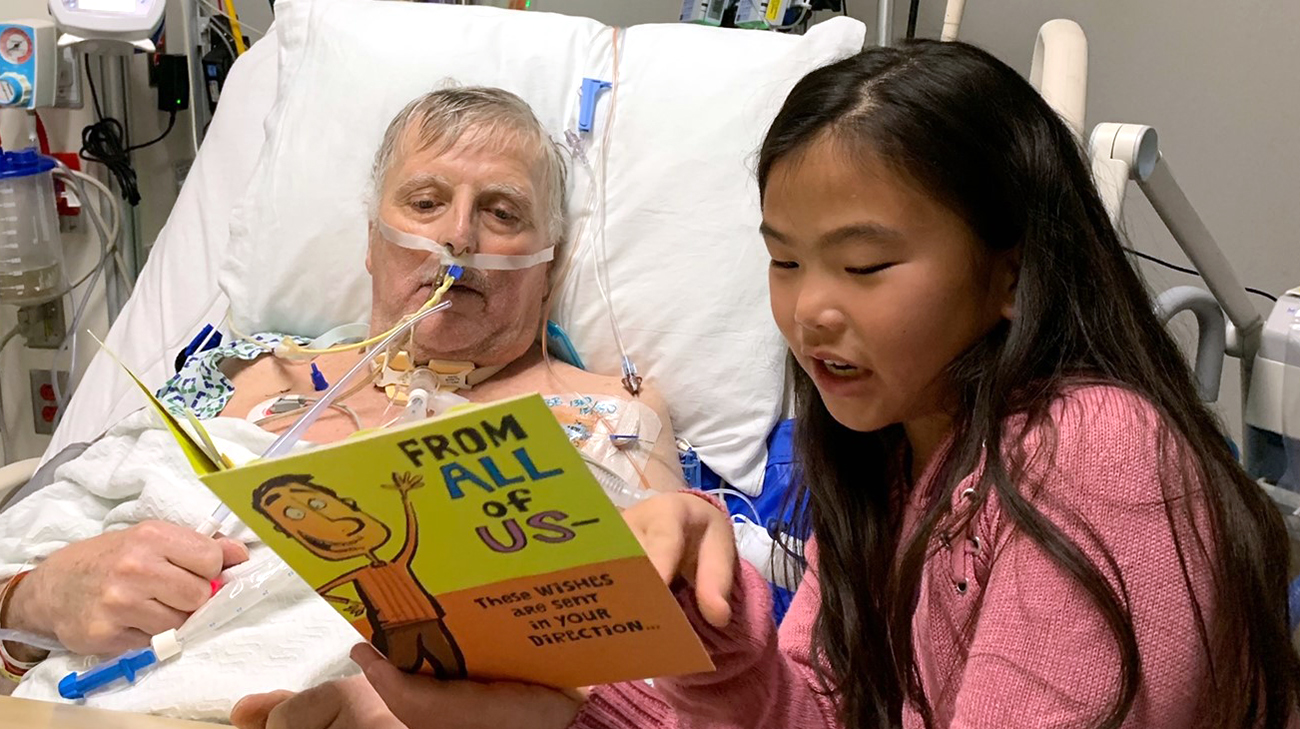 Sabine reading a get well card to Geoff while he was hospitalized at Cleveland Clinic. (Courtesy: Kimmerle Balentine)
According to Marie Budev, DO, Geoff's pulmonologist at Cleveland Clinic, Geoff's ability to realistically understand the issues he faces while fighting to achieve the best quality of life possible is inspirational.
"Geoff is the most realistic patient I've met in a while. He's not a dreamer," says Dr. Budev, who is the Medical Director of Cleveland Clinic's lung transplant program, one of the largest in the country. "He takes a real interest in learning exactly what's happening so he can make the best decisions possible for his treatment."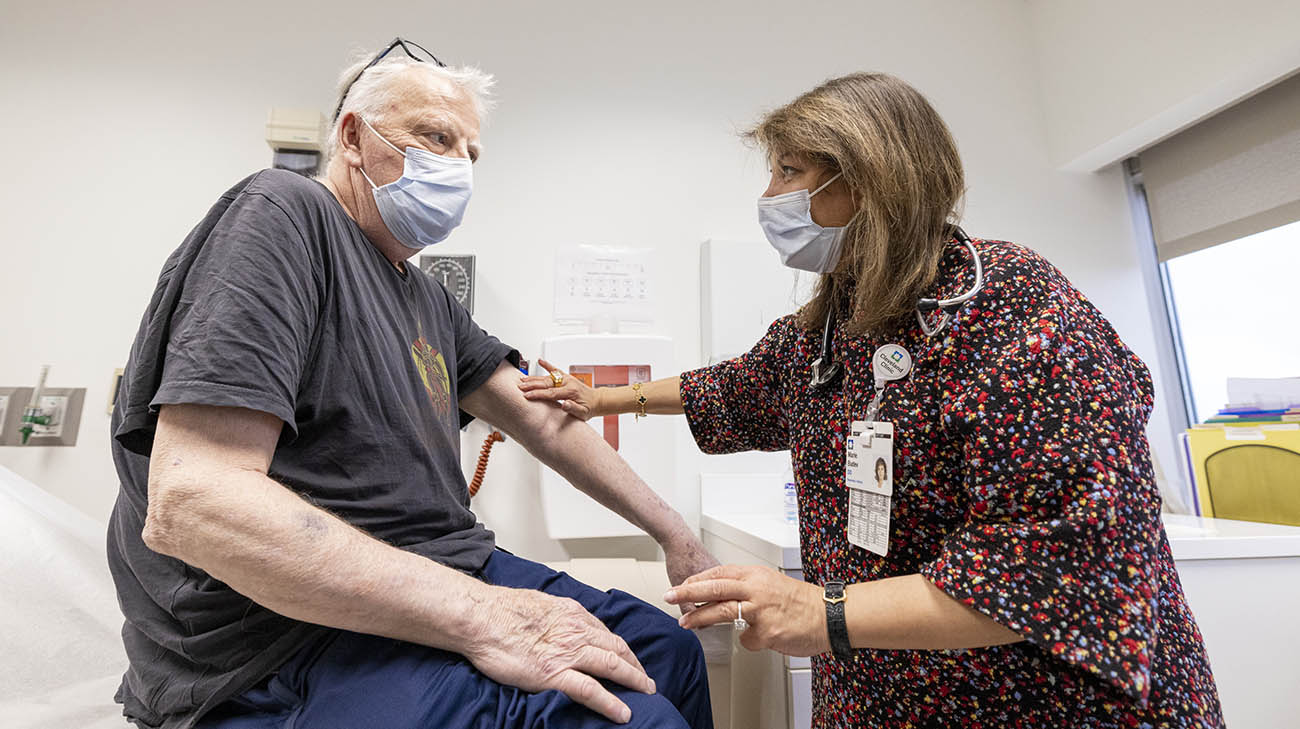 Geoff during a follow-up appointment with Dr. Budev, after undergoing his double-lung transplant. (Courtesy: Cleveland Clinic)
Interstitial lung disease is a term describing more than 200 conditions that cause inflammation and scarring in the lungs, which in turn makes it difficult to breathe and circulate oxygen throughout the body. While often associated with people who smoke, some patients like Geoff, a nonsmoker, contract the disease for unknown reasons.
Geoff was shocked to learn of his condition when he sought medical treatment after frequent bouts with shortness of breath hindered his long-distance running routine in 2012. "I've never smoked, and I worked outside my whole life," says Geoff, who assumed he was out of shape following his recovery from knee surgery.
For several years, Geoff's life continued relatively unchanged, until breathing became more difficult and he would require frequent rests. Ultimately, in mid-2018, a Boston hospital that had been monitoring his condition informed Geoff he needed a lung transplant.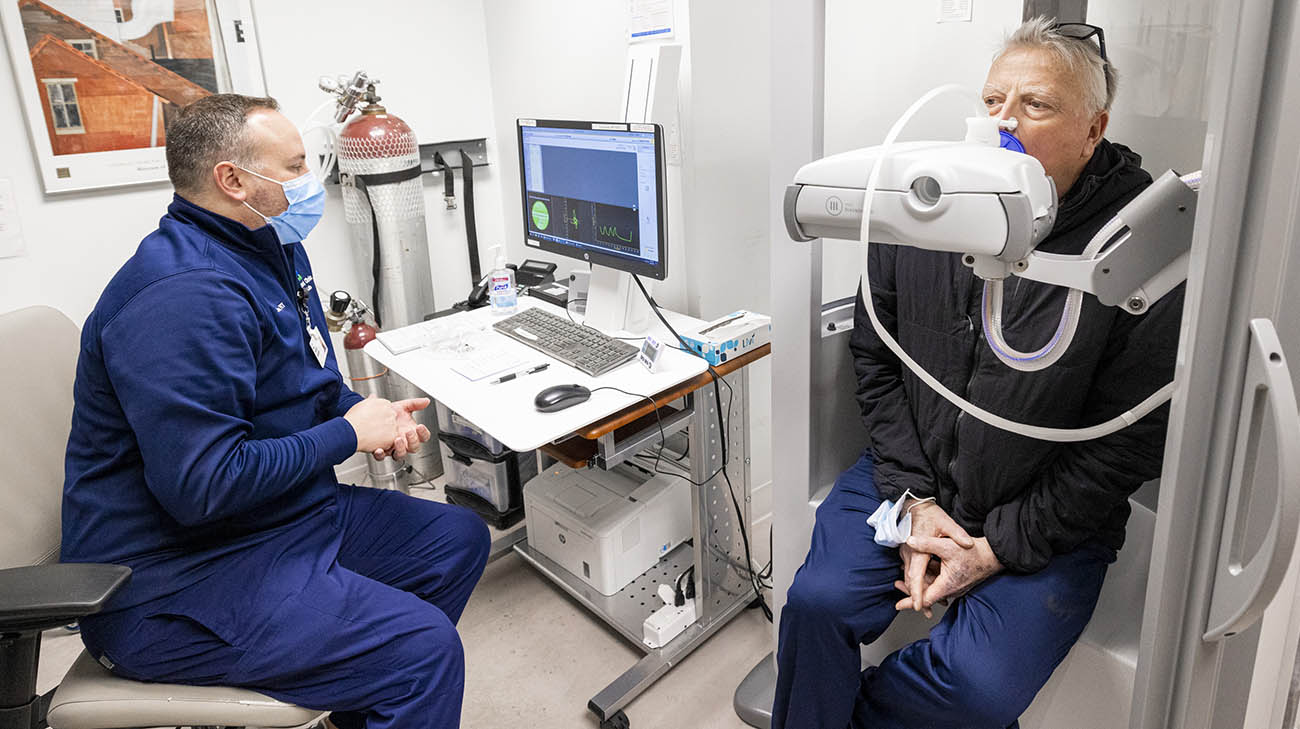 Geoff undergoing a breathing test at Cleveland Clinic. (Courtesy: Cleveland Clinic)
However, tests revealed Geoff's ejection fractions (EF) – which measure the heart's ability to pump blood – were too low to safely undergo a lung transplant. Undeterred, Geoff had a visit with a local pulmonologist who referred him to Cleveland Clinic. Doctors said they could treat his EF and get him listed for donor lungs.
In continuous efforts to support her dad, then 9-year-old Sabine came up with the idea to send numerous hand-written, cheerfully-colored letters to Cleveland Clinic, begging doctors to help.
"I knew he was in desperate need of a transplant. Mom and I felt desperate, too. Each day we'd write and fax a letter to Cleveland Clinic, talking about dad, so whoever was receiving them could get to know him," says Sabine. "I hope someone saw them and it helped."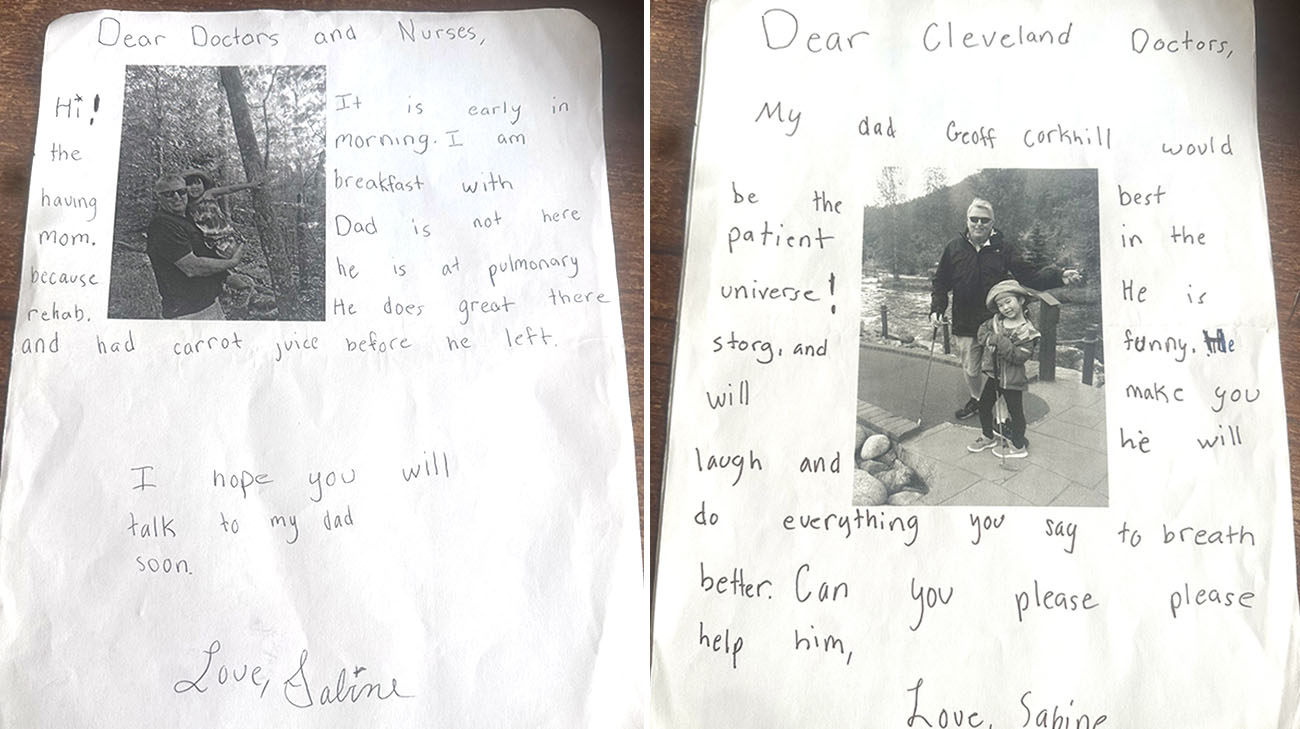 Sabine wrote letters to Cleveland Clinic in support of her dad's transplant. (Courtesy: Sabine Balentine)
Fortunately, treatment with a medication controlled Geoff's EF. He was indeed eligible to be placed on the lung transplant waiting list. In September 2018, Geoff temporarily moved into a hotel, closer to Cleveland Clinic's main campus in Cleveland, Ohio, from his home in Stonington, Connecticut, to be nearby when donor lungs were available.
Geoff's condition quickly deteriorated, leaving him wheelchair-bound and on 15-liters of oxygen daily. Although Sabine and Kimmerle Balentine, Geoff's wife, remained in Connecticut so Sabine's schooling wouldn't be interrupted, Geoff was rarely alone. A coterie of friends and family, including his brother, and Village Jammers' bandmates he's known for 40 years, would take turns coming to Cleveland for week-long shifts to care for and watch over Geoff as he waited.
"These guys are my best friends, and they really proved it. They were there when I needed them," recalls Geoff.
Still, there were times when Geoff, who was increasingly struggling to breathe, thought death was near. Supportive phone calls from Kimmerle would keep him going, and he took very slow walks up and down his hotel hallway corridor to try and stay active.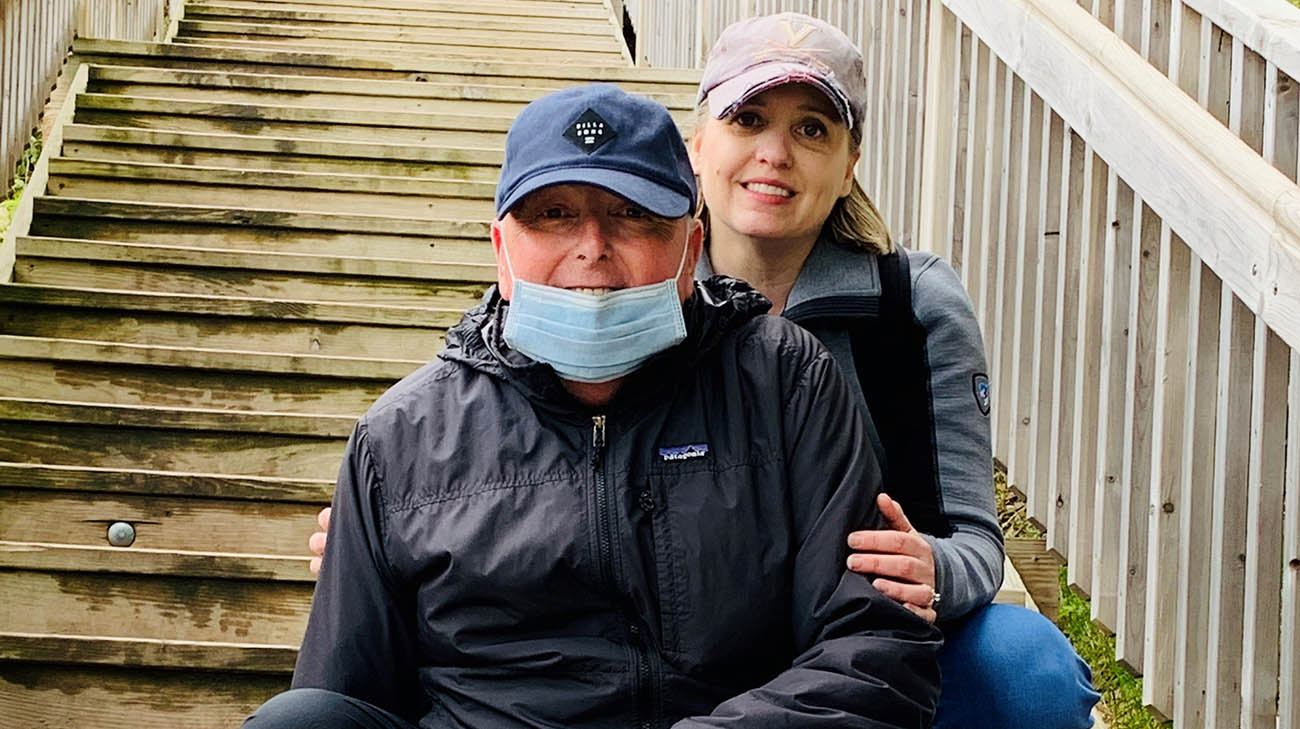 While Geoff was in Cleveland waiting for donor lungs, phone calls from Kimmerle and Sabine would help keep him positive. (Courtesy: Kimmerle Balentine)
Finally, on December 13, 2018, Geoff received the call he had been waiting for. His care team had a perfect donor match for him. "I'll be there in 20 minutes," he remembers telling the coordinator.
The double-lung transplant, performed by Usman Ahmad, MD, at Cleveland Clinic, was successful. Despite some postoperative complications, and the need to build back his strength and atrophied muscles, Geoff recovered and returned home to Connecticut in March 2019.
There, he found Kimmerle and Sabine had left up the Christmas tree, as well as all the presents under it unopened. At Sabine's urging, Geoff opened one oddly shaped package, a walking stick, with the inscription, "Because of you, I walk." It also included a reference of gratitude for Geoff's donor. "I use it every day," says Geoff.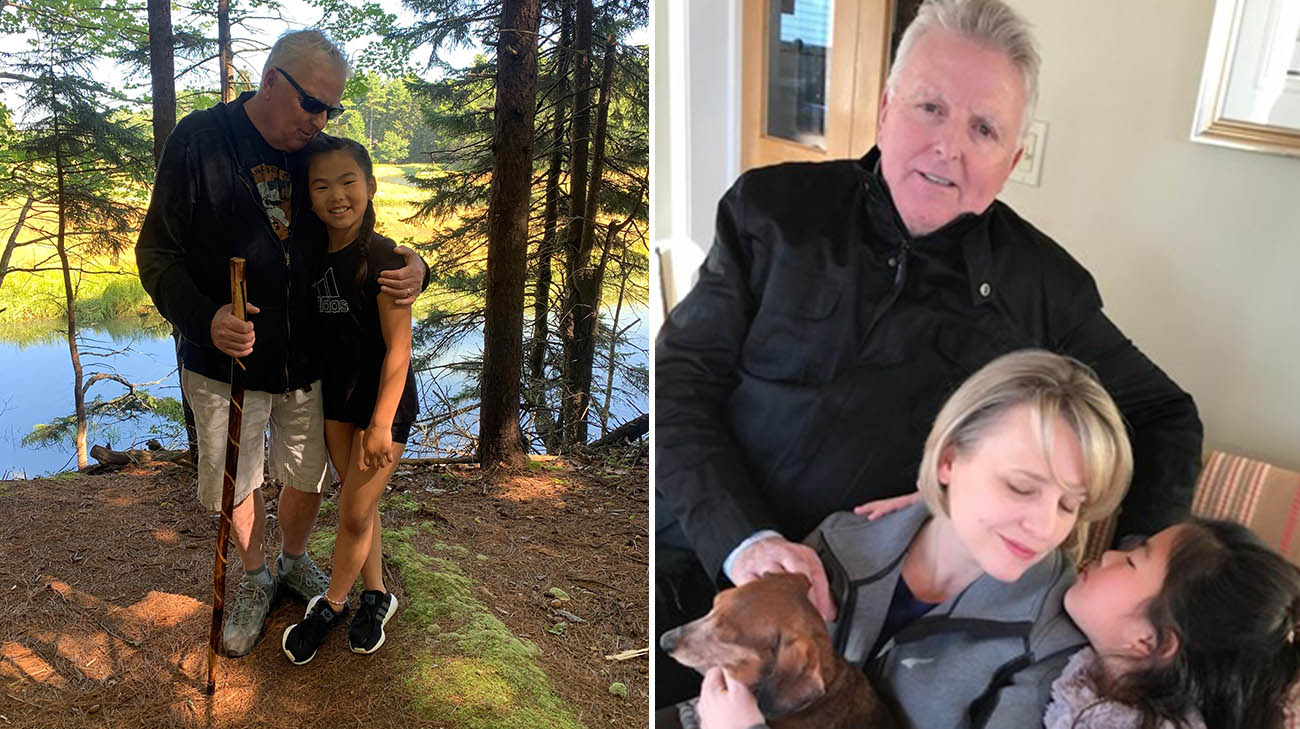 Geoff and Sabine with the walking stick Kimmerle and Sabine gifted Geoff.(left) Geoff at home with Kimmerle and Sabine.(right) (Courtesy: Kimmerle Balentine)
Knowing first-hand the impact organ donation has had on Geoff, family members and friends, Sabine chose to do a school project on Donate Life, including creating a video that shows Geoff's health journey.
"I grew up with my dad not being fully healthy and not being able to do things most dads do," Sabine says. "Raising awareness about organ and tissue donation is very important to me because it saved my dad's life."
While his new lungs had helped restore a better quality of life for Geoff, his health again began to fail in 2021. That's when he learned his body had entered into a state of "chronic rejection" from his lungs.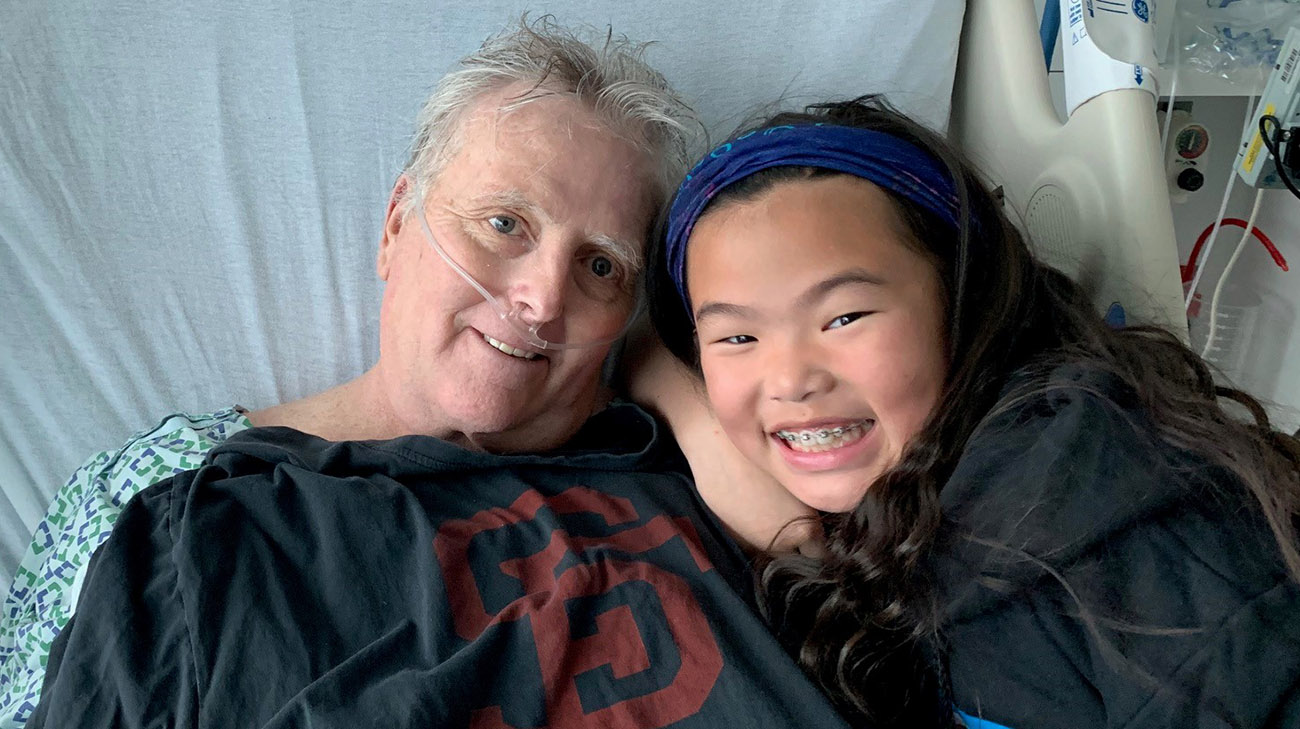 Geoff returned to the hospital when his health began to deteriorate and he needed a kidney transplant. (Courtesy: Kimmerle Balentine)
According to Dr. Budev, Geoff's condition is stabilized for now, due in part to the use of a new drug administered to Geoff through his participation in a clinical trial.
Additionally, as a result of anti-rejection drugs required in the wake of his lung transplant Geoff experienced narrowing of the blood vessels connected to his kidneys, causing them to fail.
"Geoff needed a kidney transplant, but if we hadn't been able to stabilize his lung deterioration, he wouldn't have been eligible for one," explains Dr. Budev.
Geoff returned to the organ transplant waiting list –this time for a kidney. As an innovative approach to extending the use of marginally-effective kidneys from a list of expanded criteria donors who would otherwise be ineligible, Cleveland Clinic's kidney transplant team decided to use both of the kidneys from a single deceased donor. This surgery is known as a dual kidney transplantation (DKT).
It's a procedure in which two kidneys from the same donor are transplanted into the recipient – providing greater functionality than a single kidney. This approach also shortens the waiting time to receive an organ. Geoff underwent his kidney transplant 45 days after he was listed. With the need for life-saving organ donations, this method also aids in increasing the donor pool.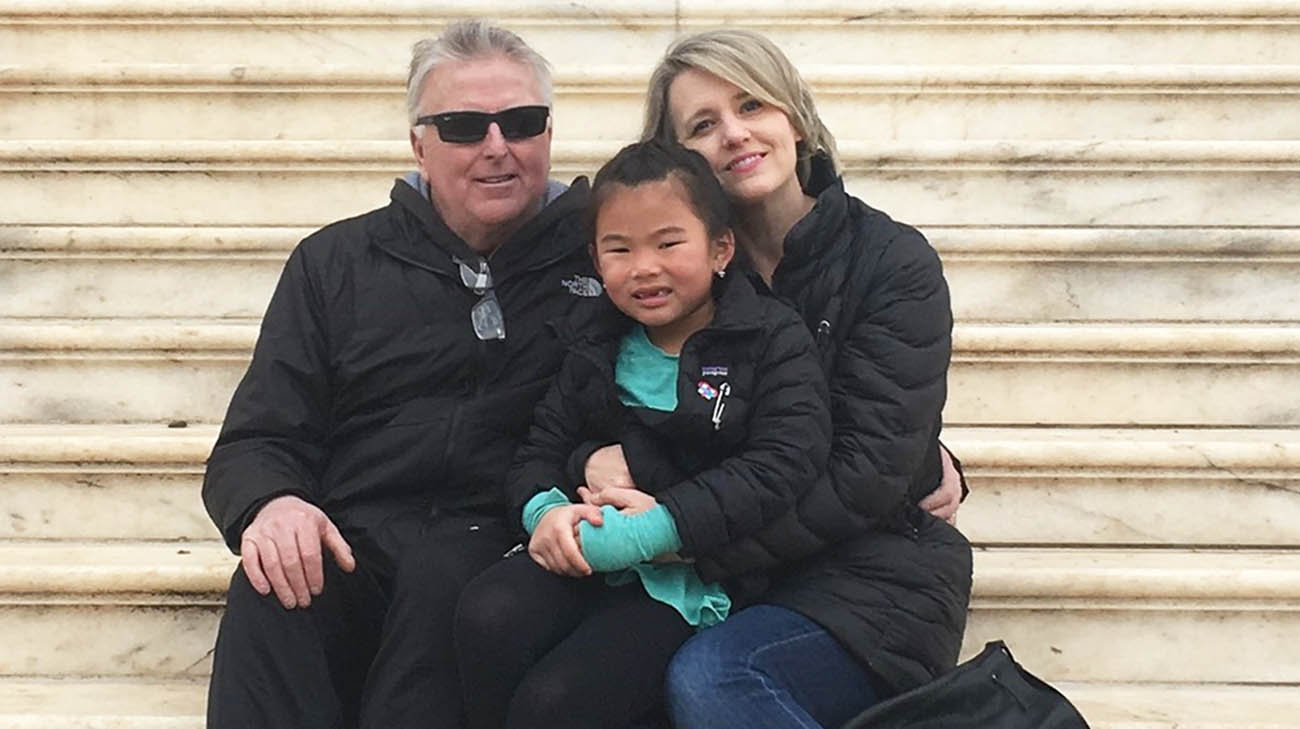 Geoff and Kimmerle are beyond proud of Sabine's efforts in helping raise awareness for the importance of organ and tissue donation. (Courtesy: Kimmerle Balentine)
The transplant, with both of the donor's kidneys implanted together, on the same side of Geoff's body was performed by Alvin Wee, MD, program director of Cleveland Clinic's Kidney Transplant Program.
There were no complications, and Geoff was discharged two days later. He's back home in Connecticut, enjoying time with his family, taking long walks again and jamming with the Village Jammers.
In the meantime, Geoff and Kimmerle marvel at the impact Sabine is making with her advocacy efforts around organ, eyes and tissue donation. She's organized informational tables at events, signed individuals up on the organ donor registry and raised funds.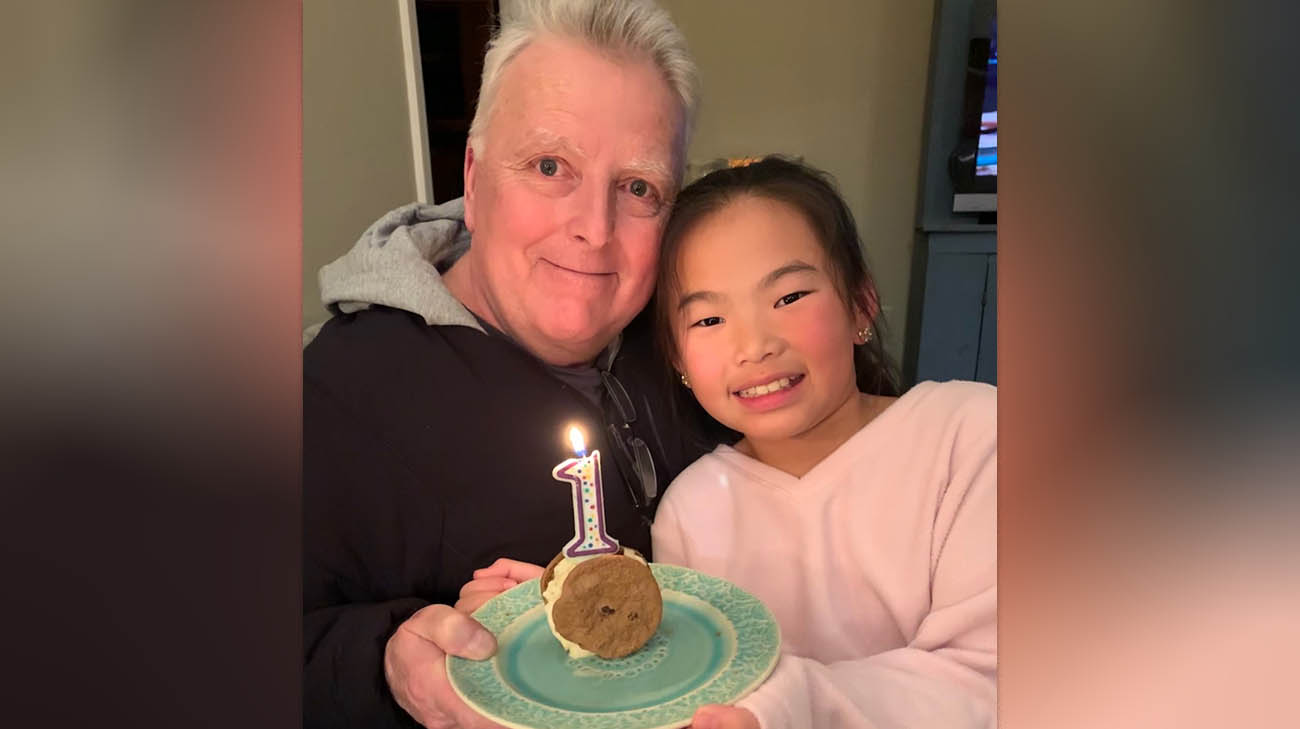 Sabine and Geoff celebrating Geoff's 1-year transplant anniversary in 2019. They celebrate every year. (Courtesy: Kimmerle Balentine)
"Geoff's health issues have shaped her life, and she has dealt with challenges well beyond her years," says Kimmerle. "I believe that has molded her into the caring, empathetic person she is today. And, boy, does she always advocate for the underdog!"
"Donors and caregivers. They're the real heroes," Geoff implores. "Whenever I see someone on oxygen, I'll go and talk to them. But I always look at the people next to them, who usually are caretakers. You can see the pain and stress in their face. They sacrifice so much, and we wouldn't be here without them."
Related Institutes: Glickman Urological & Kidney Institute, Respiratory Institute
Patient Stories
Patient Stories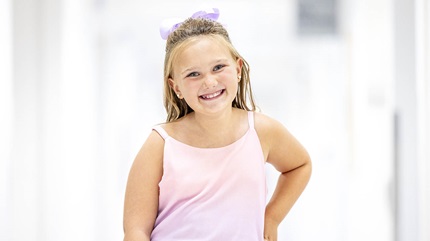 Sep 22, 2023
"This wraps up a chapter in her life we hope we never have to reopen. Audrey handled everything like a champ, and we are so grateful and proud."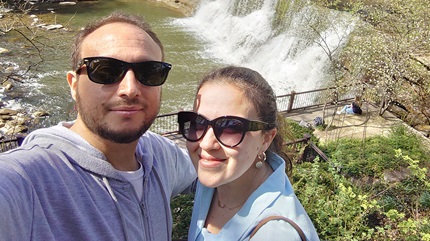 Sep 18, 2023
"Besides my first transplant, I've had other noninvasive surgical procedures, and I needed pain medication for all of them but not this time."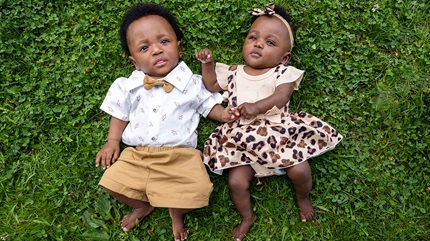 Sep 15, 2023
"Thinking about everything Kimyah and DJ have been through, it was hard to imagine us ever getting to this point. It was unclear if they would be able to do anything by themselves. Now, they're trying to do everything by themselves."