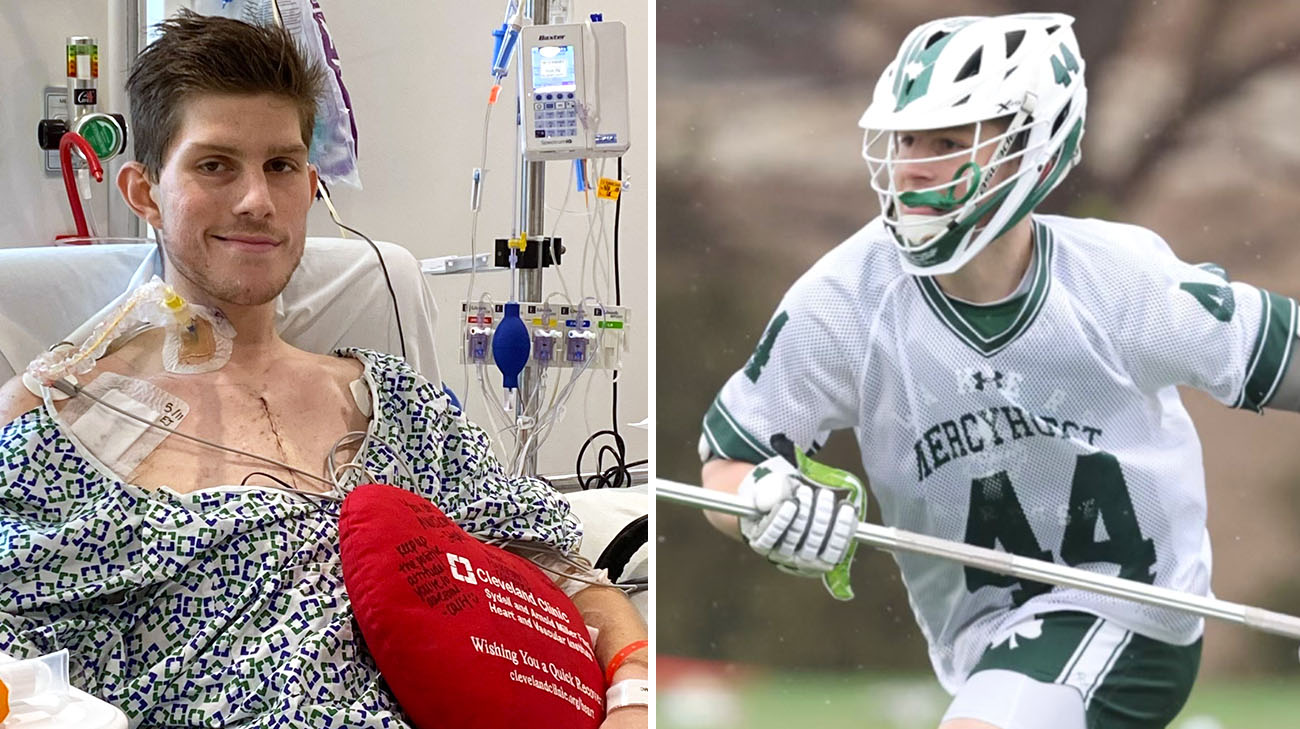 Cradling the ball in the pocket of his lacrosse stick, while sidestepping a charging opponent, Ryan Scoble saw nothing ahead of him but green grass. Unhesitatingly, the 23-year-old Mercyhurst University defenseman sprinted to daylight, on a rare quest toward the offensive end of the field.
It was uncharted territory for Ryan, who – like most lacrosse defenders – rarely strays too far from the area around his team's goal. In fact, Ryan, who began playing lacrosse as a child in his hometown of Cincinnati, Ohio, had never scored in a game.
But the college senior, now crossing midfield en route to the Malone University end of the field, was no stranger to unexpected challenges.
Ryan, a 6' 2" lifelong athlete, is again playing for his highly-ranked Division II lacrosse team about 18 months following a life-saving heart transplant. Ryan had dilated cardiomyopathy, a condition that reduces the heart's ability to pump blood effectively and can lead to heart failure. Ryan was not expecting to receive his diagnosis when he began struggling to breathe in the spring of 2021.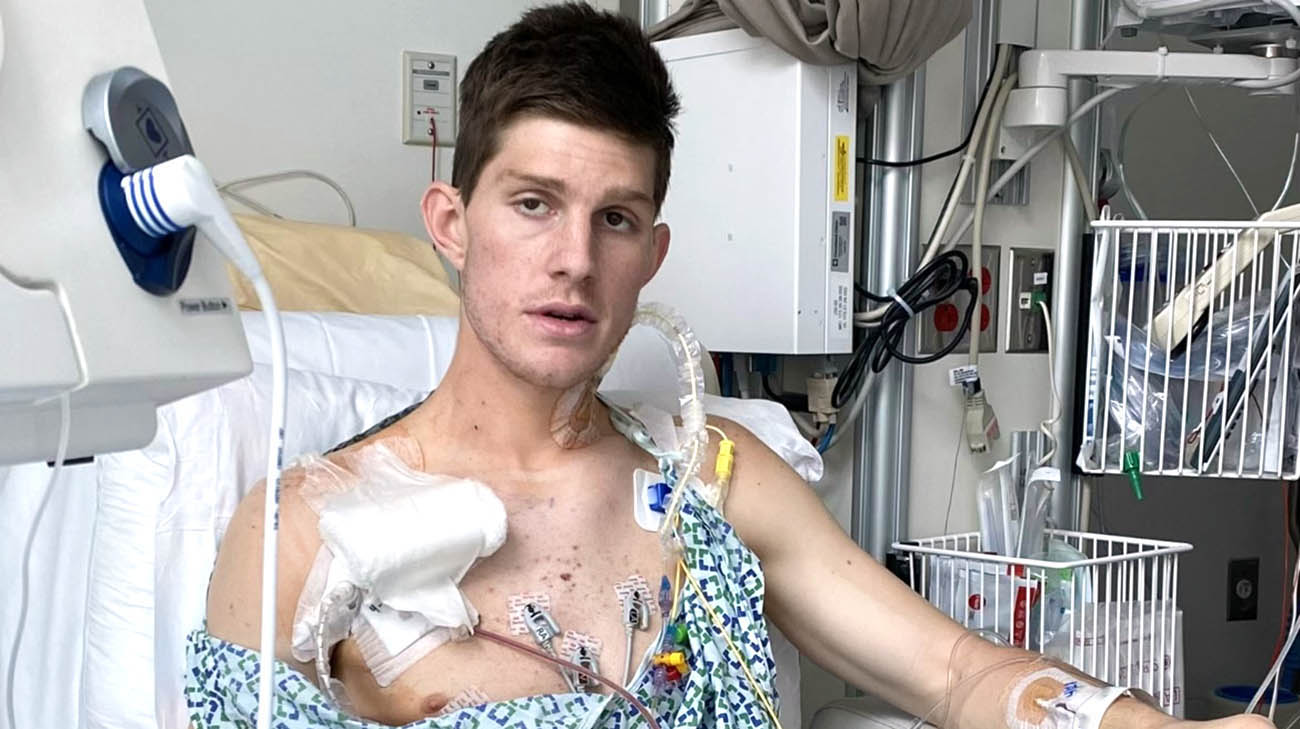 After Ryan noticed he was struggling to breathe, doctors diagnosed him with dilated cardiomyopathy – a condition that can lead to heart failure. (Courtesy: Ryan Scoble)
"Leading up to learning about my condition, I was diagnosing myself with everything except a serious illness," recalls Ryan. "I thought it could be COVID or spring allergies from pollen. Despite what was going on with my dad, I wasn't thinking someone young like me could have late-stage heart failure."
Ryan's dad, Steve, was enduring his own battle with cardiomyopathy at the time and would ultimately receive a heart transplant in September 2021, four months after his son. Ryan's sudden decline took him, his parents, teammates and friends completely by surprise.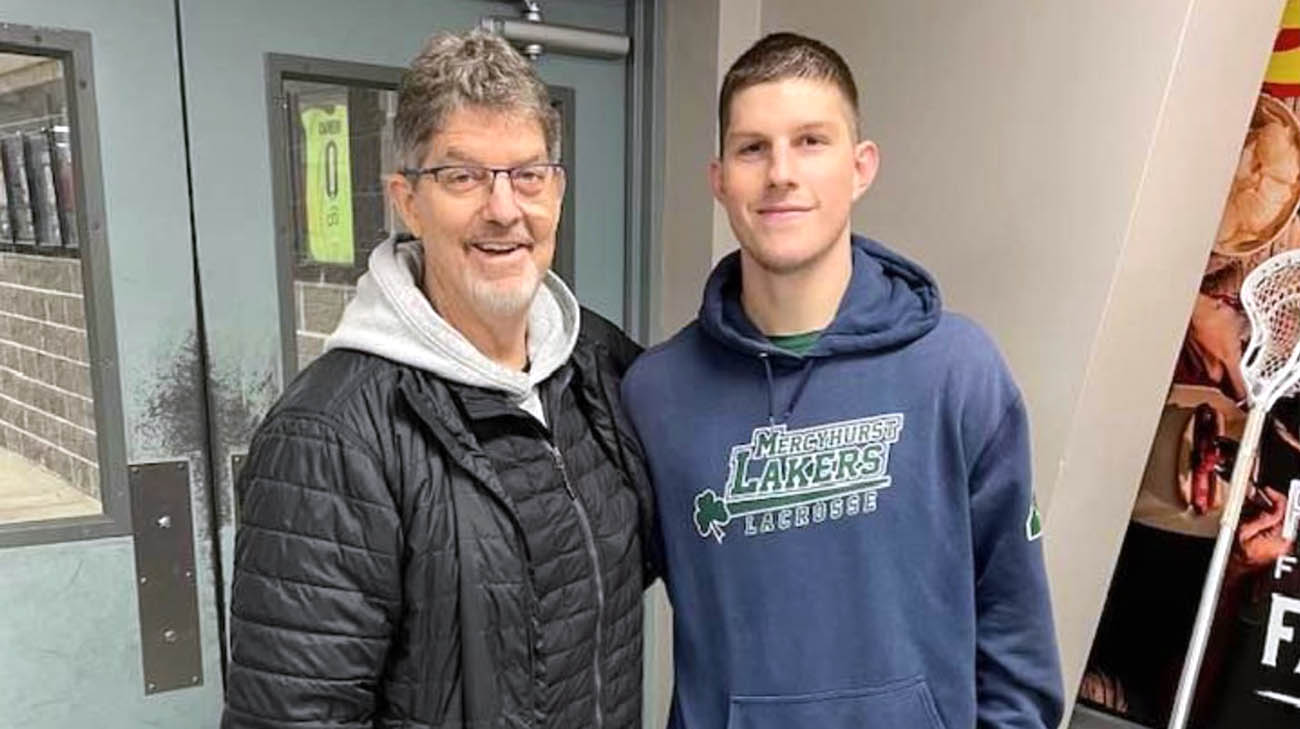 Ryan with his dad, Steve. Steve also suffered from cardiomyopathy. (Courtesy: Ryan Scoble)
"The craziest of it is I had been running up to seven miles a week, working out and playing lacrosse," adds Ryan. "My doctors think my strenuous exercise may have increased the damage to my heart before I even started having symptoms."
First diagnosed by doctors in Erie, Pennsylvania, where Mercyhurst is located, Ryan returned home to Cincinnati for further treatment, including the insertion of a heart pump designed to prolong his life while preparing him for transplant. Soon after receiving the pump, Ryan was transferred to Cleveland Clinic.
Cardiologist Andrew Higgins, MD, was among the first to examine Ryan upon his arrival. "With older patients, you usually get more warning there's a problem with the heart. Patients like Ryan, who are young and athletic, can compensate for these deficiencies until their condition is fairly advanced, and then they suddenly fall off the cliff."
Dr. Higgins and specialists including cardiac surgeons Aaron Weiss, MD, PhD, and Edward Soltesz, MD, realized in order to further stabilize his rapidly deteriorating heart, Ryan would need a larger pump implanted.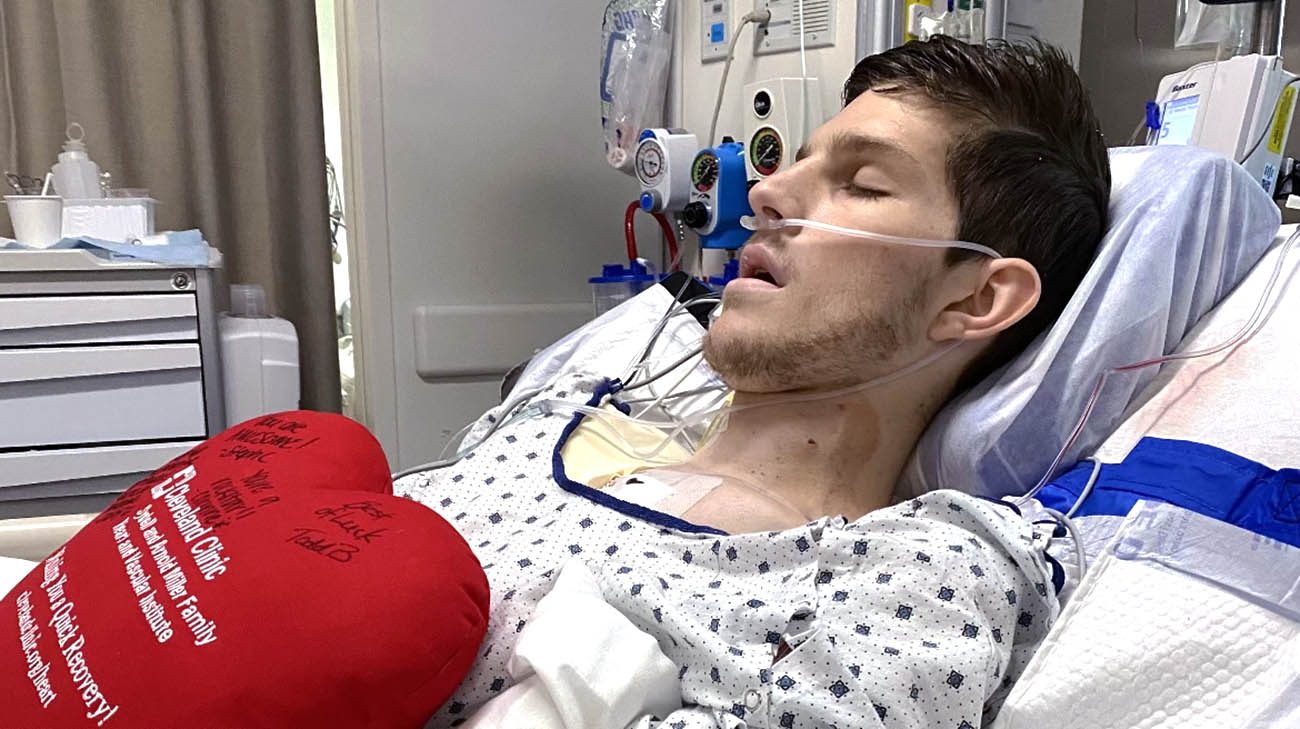 Ryan underwent a heart transplant at Cleveland Clinic on May 9, 2021. (Courtesy: Ryan Scoble)
"Ryan stabilized nicely with the new pump, and that gave us a few days to gather data, sort things out and get him on the list for a transplant," adds Dr. Higgins. "But we didn't have much time to wait."
Two weeks after his arrival at Cleveland Clinic, Ryan was placed on the national heart transplant registry.
"It was on May 9, on Mother's Day," recalls Ryan. "It was during COVID, and my mom was with me as the only visitor I was allowed to have when I got the call."
The transplant, performed by a surgical team led by Dr. Soltesz, was completed successfully. Within two days, Ryan was up and walking, and just a few weeks later, began cardiac rehabilitation which continued upon his return home to Cincinnati.
"Once I got the transplant, I really got back into exercise as quickly as I could," he adds. "It may have seemed far-fetched to some people, but I set my goal on getting back to playing lacrosse. It motivated me to get up every day and get moving."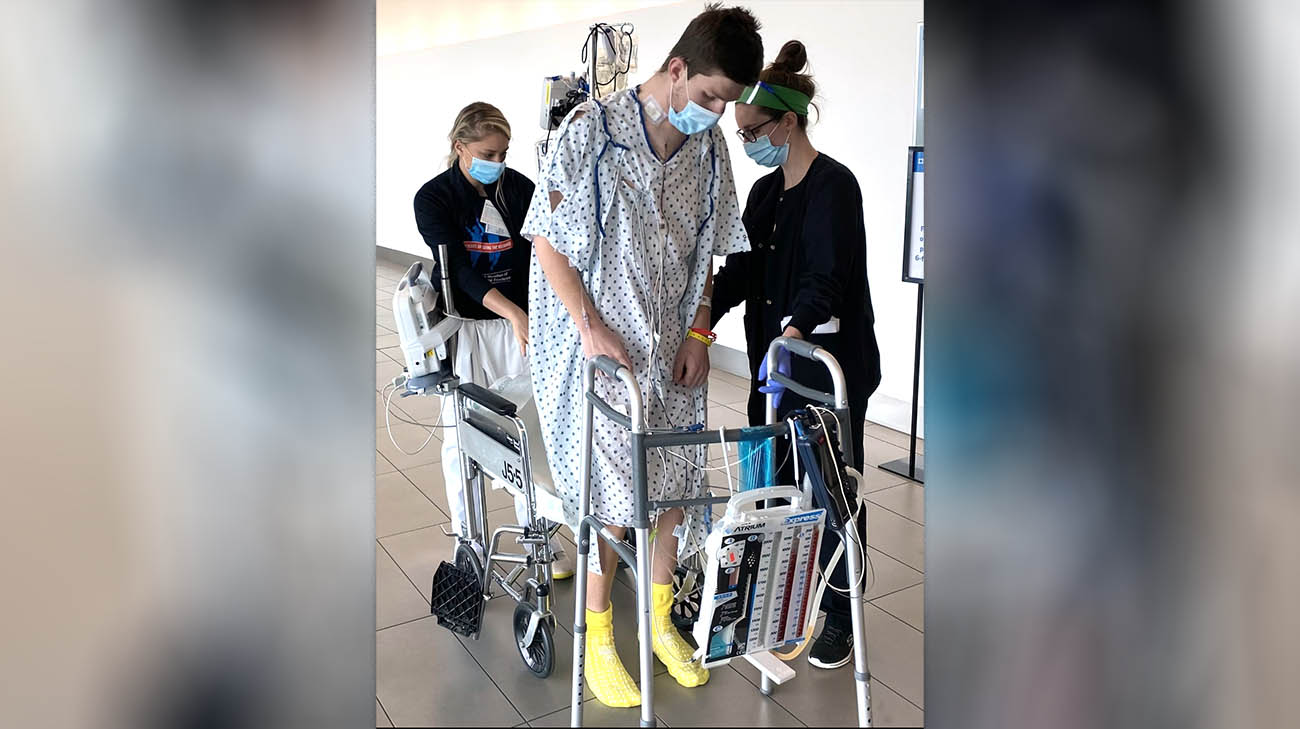 Ryan recovering after his heart transplant. (Courtesy: Ryan Scoble)
Due to concerns about contracting COVID in his immunosuppressed state, Ryan took a year off from college. Doctors cleared Ryan to not only return to college for his 2022-23 senior year but to return to playing lacrosse as well.
Recalls Dr. Higgins, "Initially, it was scary to think of him playing again and getting hit in the chest. But our team consulted on it, and we felt given how much time had passed and how well he had recovered, he could play again safely – as long as he wears a chest protector device."
As the spring lacrosse season began for Mercyhurst, Ryan again donned jersey number 44, which the team had kept available for him. Ryan didn't want to be treated differently, and wanted no preferential treatment from teammates or opponents, most of whom aren't even aware one of their defensemen has undergone a heart transplant.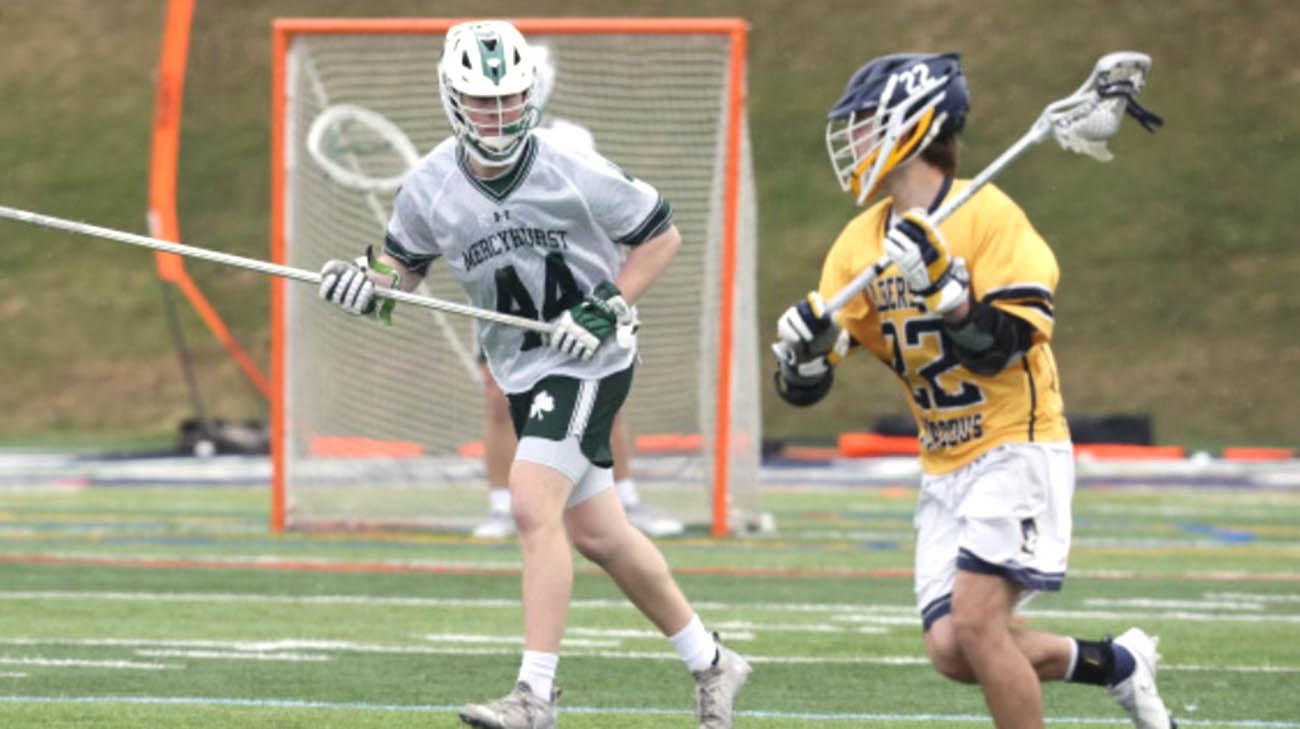 Doctors cleared Ryan to return to playing lacrosse as a result of his strong recovery and as long as he wears a chest protector. (Courtesy: Mercyhurst University)
"My first practice back, I was in a scuffle in front of the goal, trying to find the ball on the ground, when I got hit in the ribs pretty hard by another player. It was kind of like being slapped in the face, a wake-up call," notes Ryan. "But I was fine. And that's when I knew I was back."
As the season progressed, Ryan played in several games, and Mercyhurst won the Great Midwest Athletic Conference tournament. They also advanced to the NCAA Division II tournament, with the first game scheduled during the weekend of May 12, 2023, the same time Ryan graduated with a degree in business administration.
"Thanks to my donor I got a second chance at life. I never looked at this experience as something being taken away from me, I looked at is as getting a heart gave me the gift of life, something to propel me forward and make memories. By taking this obstacle head-on, I was doing something that would prepare me for the rest of my life."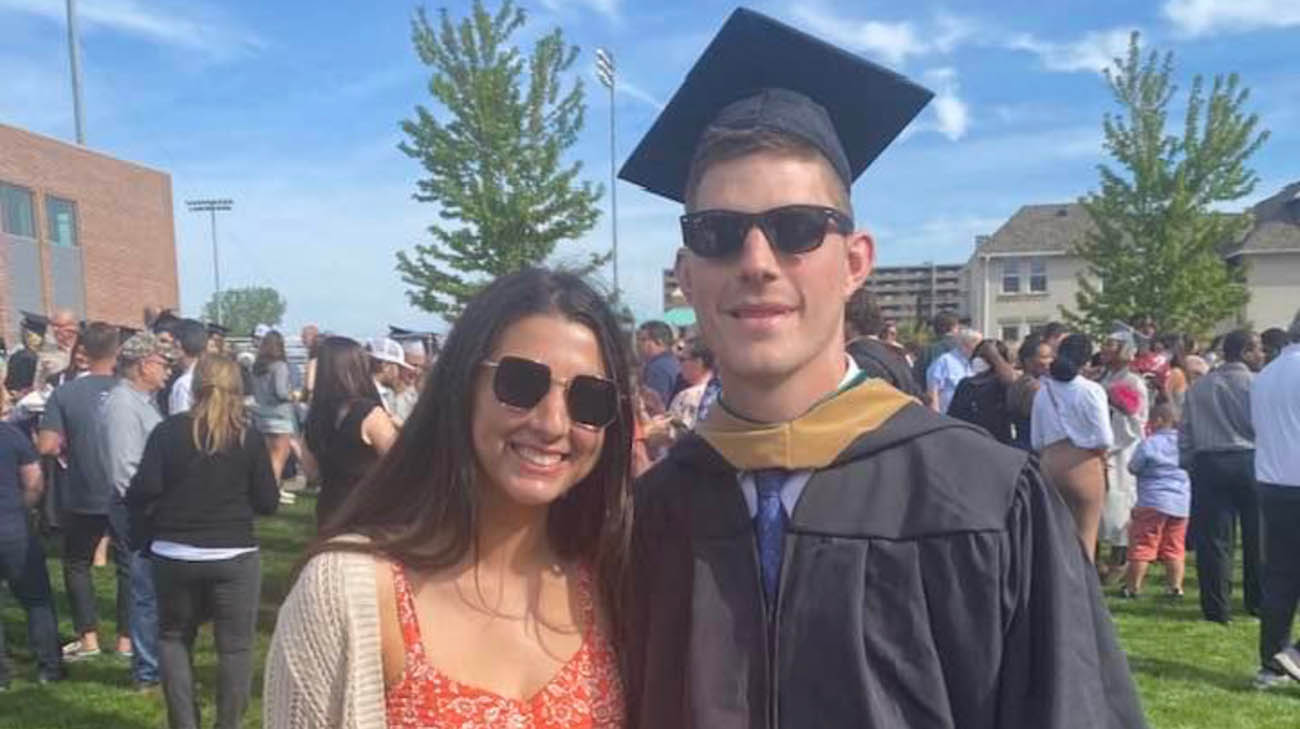 Ryan with his sister, Devon, after his graduation from Mercyhurst University in May 2023. (Courtesy: Ryan Scoble)
Soon after crossing midfield, Ryan passed the ball to an attacker. Instead of heading back to the defensive end of the field, he darted forward, approaching the crease just outside the Malone University goal.
His teammate passed the ball back to him, Ryan faked and fired the ball into the back of the net. It was a goal, Ryan's first ever, at any level of lacrosse.
As his teammates mobbed him and cheered, dad Steve – having recovered from his own heart transplant, vowing not to miss a game – smiled and joined in the celebration.
Related Institutes: Heart, Vascular & Thoracic Institute (Miller Family)
Patient Stories
Patient Stories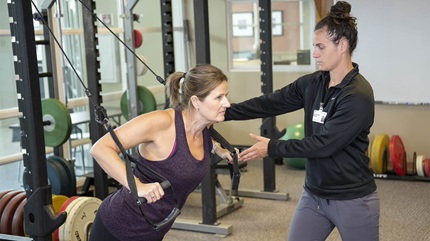 May 25, 2023
"Watching all the challenges my mom was facing made me rethink how important weight training is as we age."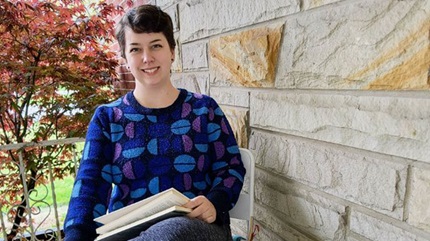 May 24, 2023
"If you feel something is wrong, call an ambulance. Don't wait it out to see if it passes. That's what saved me, by getting into surgery as fast as possible. Otherwise, I'd absolutely not be here."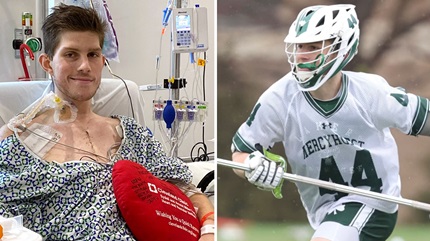 May 22, 2023
"Thanks to my donor I got a second chance at life. I never looked at this experience as something being taken away from me, I looked at is as getting a heart gave me the gift of life, something to propel me forward and make memories."