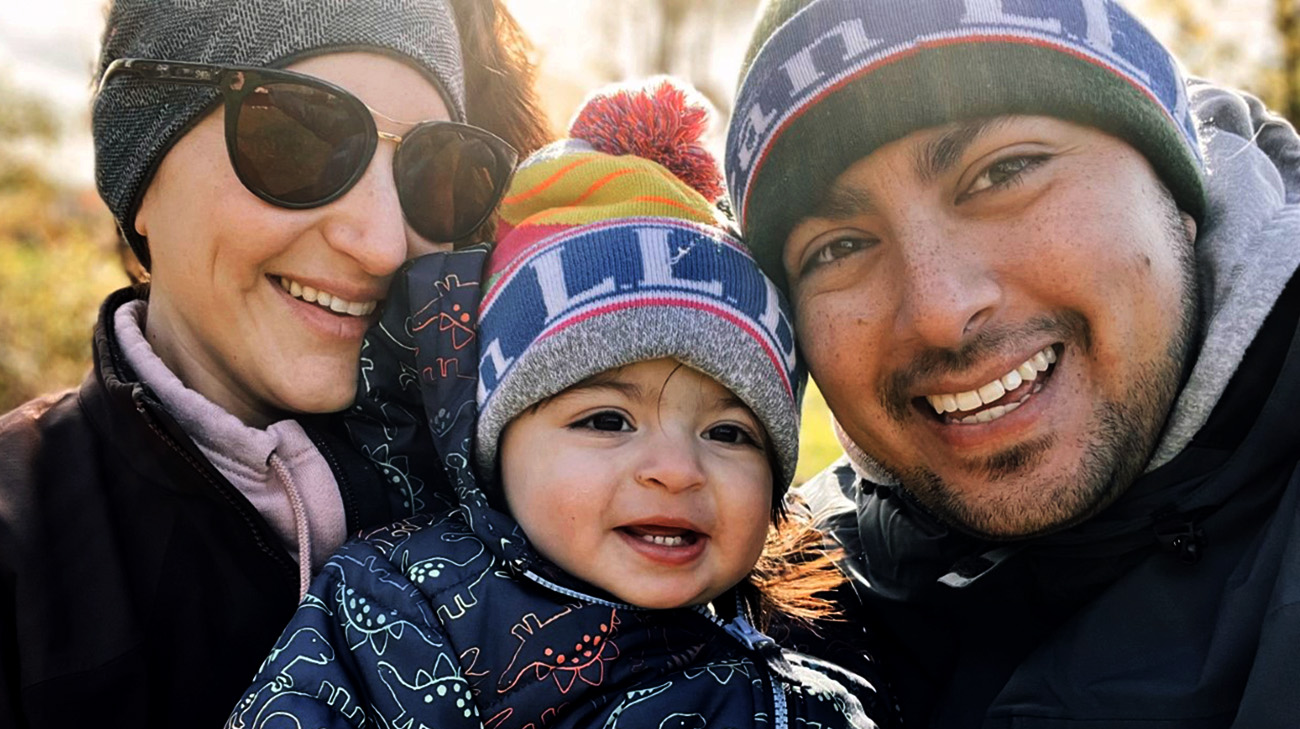 After months of wondering if starting a family would be possible, Katy Sanchez and her husband are loving being mother and father to 2-year-old Lillian. A few years before Lillian's birth, Katy received a life-changing diagnosis.
"I remember the emergency doctor telling us she was very sorry, but there was a large mass on the right side of my head, and I asked, 'Are you sure?' That was the first thing I said because I had been feeling OK overall. The doctor was certain because it was quite clear on the image," says Katy.
The Michigan native was only 28 years old when she found out she had glioblastoma, an aggressive brain cancer that's difficult to treat.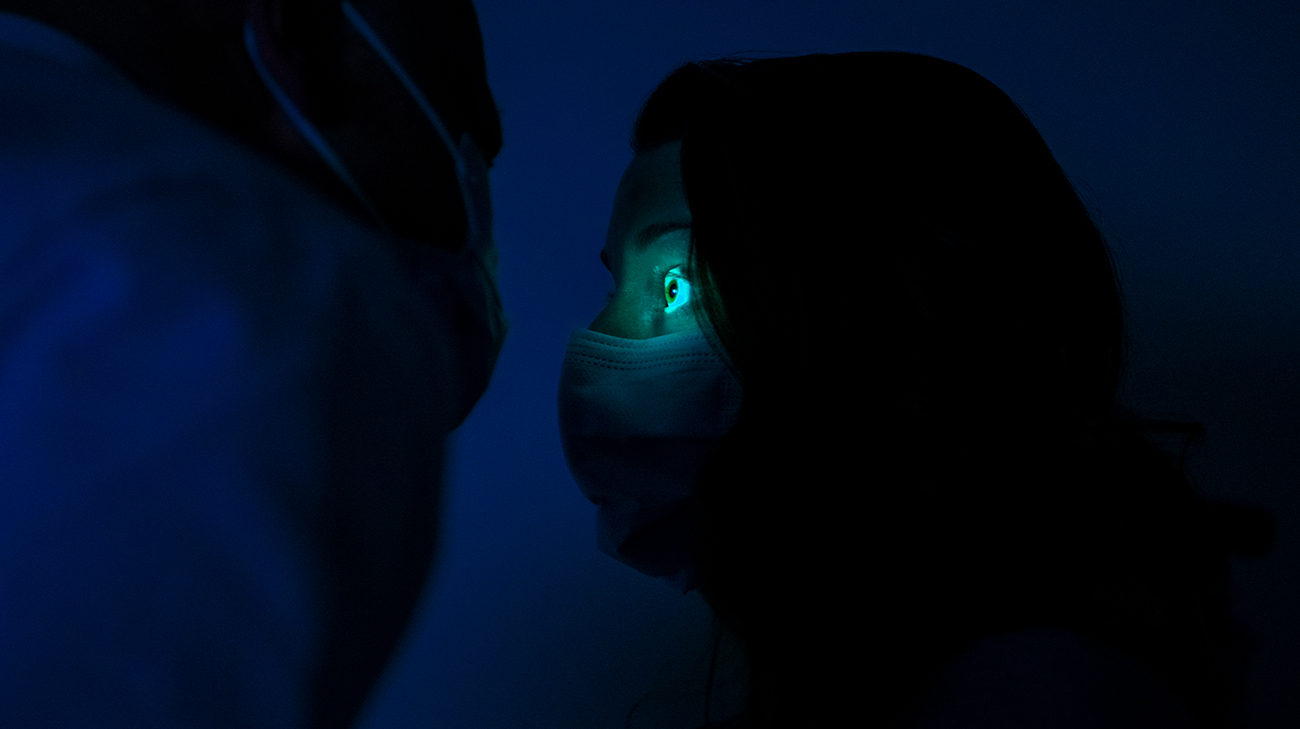 Katy had been experiencing symptoms, including headaches, before being diagnosed with glioblastoma. (Courtesy: Cleveland Clinic)
Before her diagnosis, Katy says she had been experiencing severe headaches that wouldn't go away as well as tingling on the left side of her body. She also described losing some peripheral vision on her left side. A visit to the optometrist revealed her optic nerves were hemorrhaging from increased pressure in her skull. The discovery prompted her eye doctor to take action.
"He wanted me to get an image of my head immediately," recalls Katy. "They found the tumor later that night. It all happened very fast."
Soon after, Katy had surgery to remove her tumor. That's when she learned it was glioblastoma. Katy's diagnosis led to chemotherapy, radiation and a clinical trial to help prevent recurrence of disease.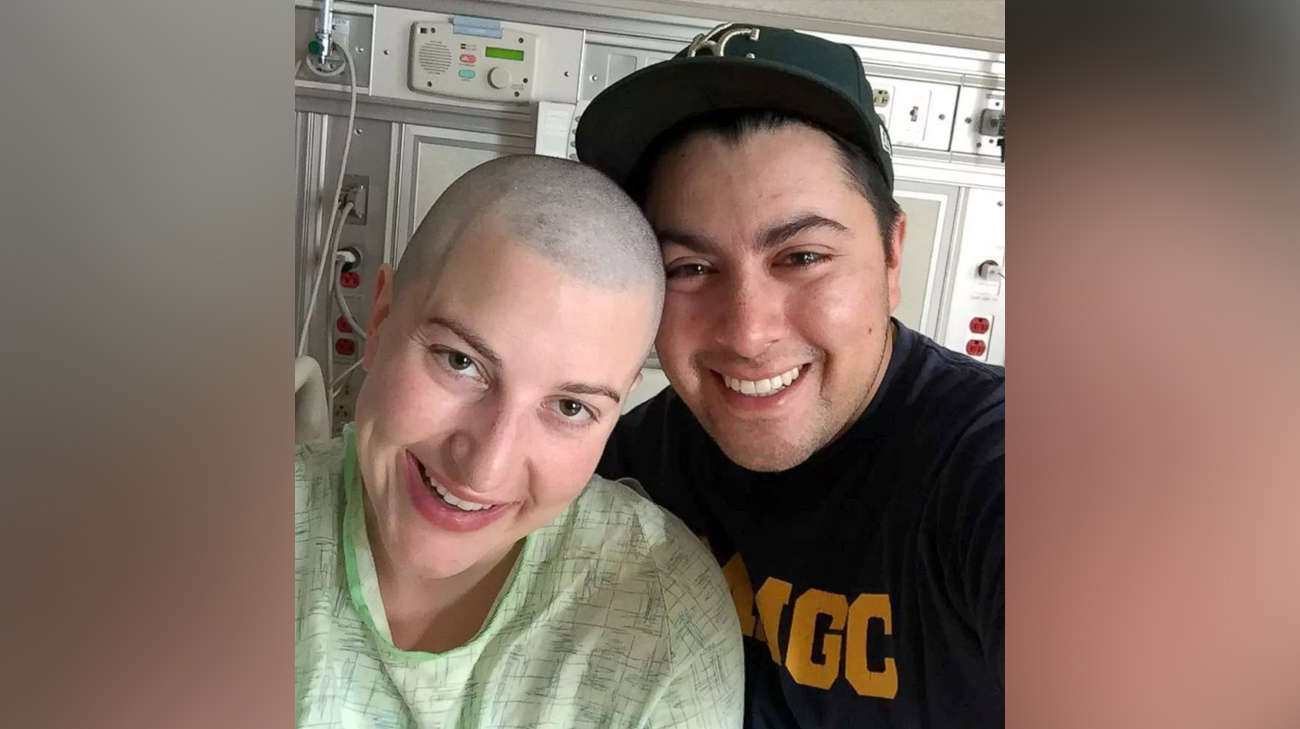 Katy and her husband, Joshua, before Katy's surgery to remove her tumor. (Courtesy: Katy Sanchez)
"My dad was the one who found the clinical trial at Cleveland Clinic," says Katy. "I was right at the point in my standard of care treatment they wanted for the trial. It was a good stroke of luck for me."
Katy recalls a sense of hope after enrolling in the phase 2 trial for a new glioblastoma treatment called SurVaxM. It's a vaccine designed to stimulate a person's own immune system to attack glioblastoma cells by locking onto survivin, a protein on glioblastoma cells that promotes cancer cell growth. The goal of the vaccine is to control tumor growth and delay recurrence in people diagnosed with glioblastoma.
"Glioblastoma is a highly aggressive disease and survival rates have been virtually unchanged for decades. In this study, we found patients were living about two years on average compared with the typical life expectancy of 14 to 15 months for those undergoing traditional treatment," explained David Peereboom, MD, a medical oncologist in Cleveland Clinic's Rose Ella Burkhardt Brain Tumor and Neuro-Oncology Center who helped oversee the trial. "We also found certain subgroups had a far better outlook. In the subgroup Katy was in, patients were living 41 months on average."
Dr. Peereboom says administration of the vaccine continues for as long as the tumor is not growing. In Katy's case, there have been no signs of cancer recurrence in more than five years.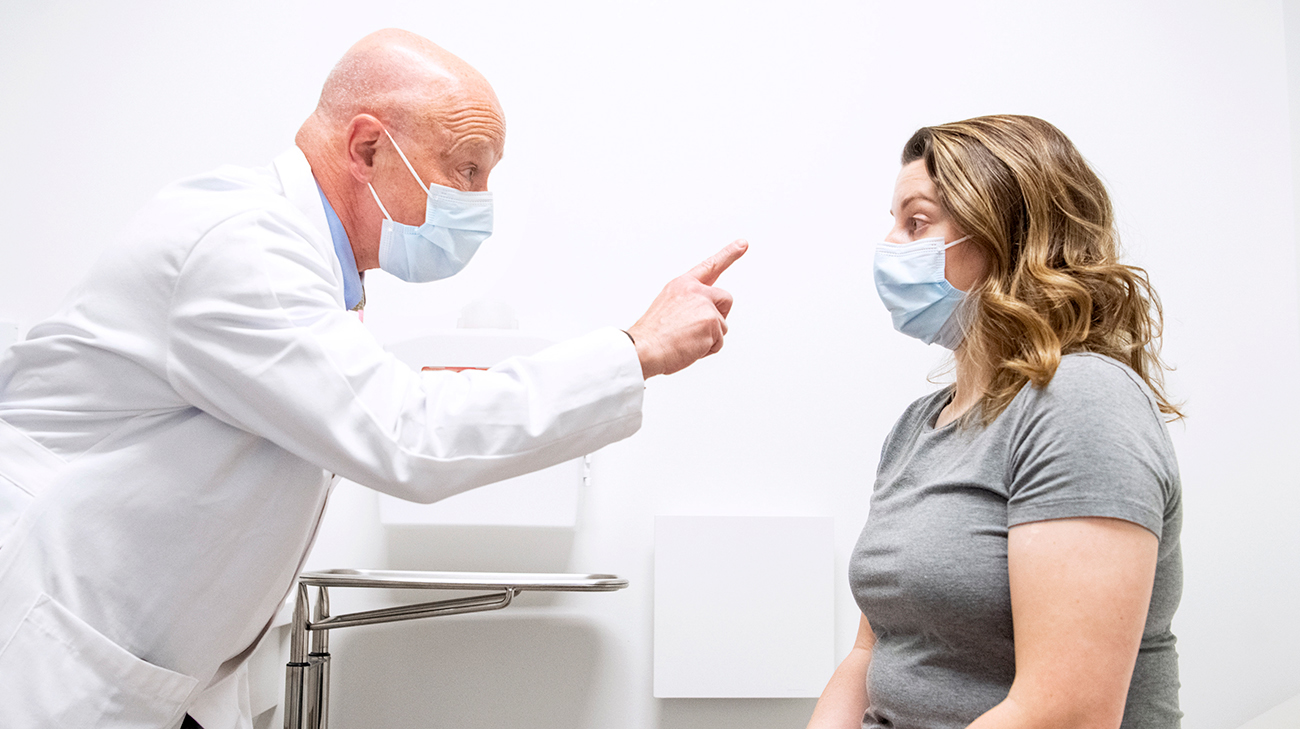 Katy at a follow-up appointment with neuro-oncologist Mark Malkin, MD. Katy returns to Cleveland Clinic every 10 weeks to get the trial vaccine. (Courtesy: Cleveland Clinic)
Amid her treatment, Katy and her husband put their hopes of having a child on hold. Katy's doctors told her she could not become pregnant while receiving the trial medication because its potential impact on a fetus is unknown.
"I don't think we ever considered stopping the trial because it's, by all means, likely saving my life. My husband said, 'I need you here first, and then we can worry about the other things.' So, we started to look at surrogacy options."
Katy explained the process is difficult in her home state. Someone has to volunteer out of compassion. Katy decided to share her story on social media, and an old friend from high school wrote back.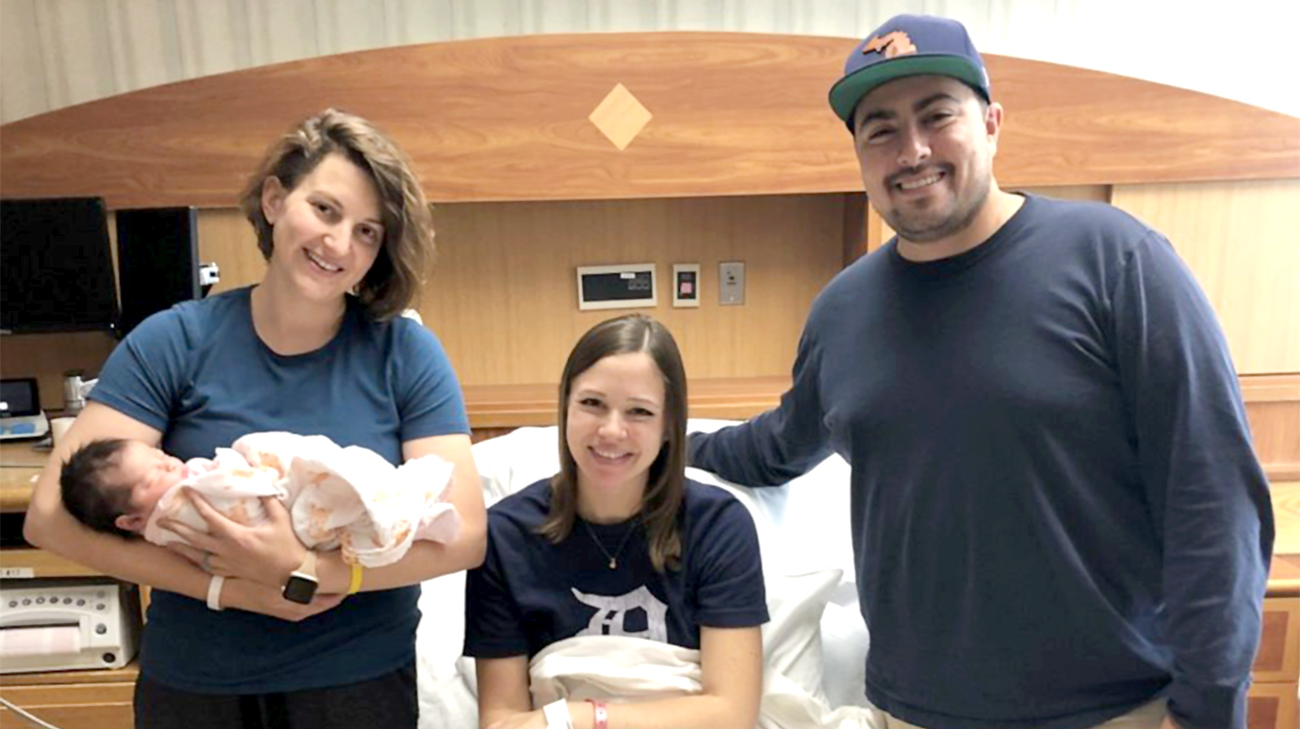 Katy and her husband with their surrogate, Christy Acevo. (Courtesy: Katy Sanchez)
"She saw my post and said it spoke to her. Now Joshua and I have a little girl," laughed Katy. "She turned 2 years old in October. She's at a very fun age, running around and talking nonstop."
Along with raising Lillian, the now 33 year old works full-time and enjoys playing recreational hockey. She returns to Cleveland Clinic every 10 weeks to get the trial vaccine and an MRI. Katy encourages others going through a similar situation to stay positive and remember there are options.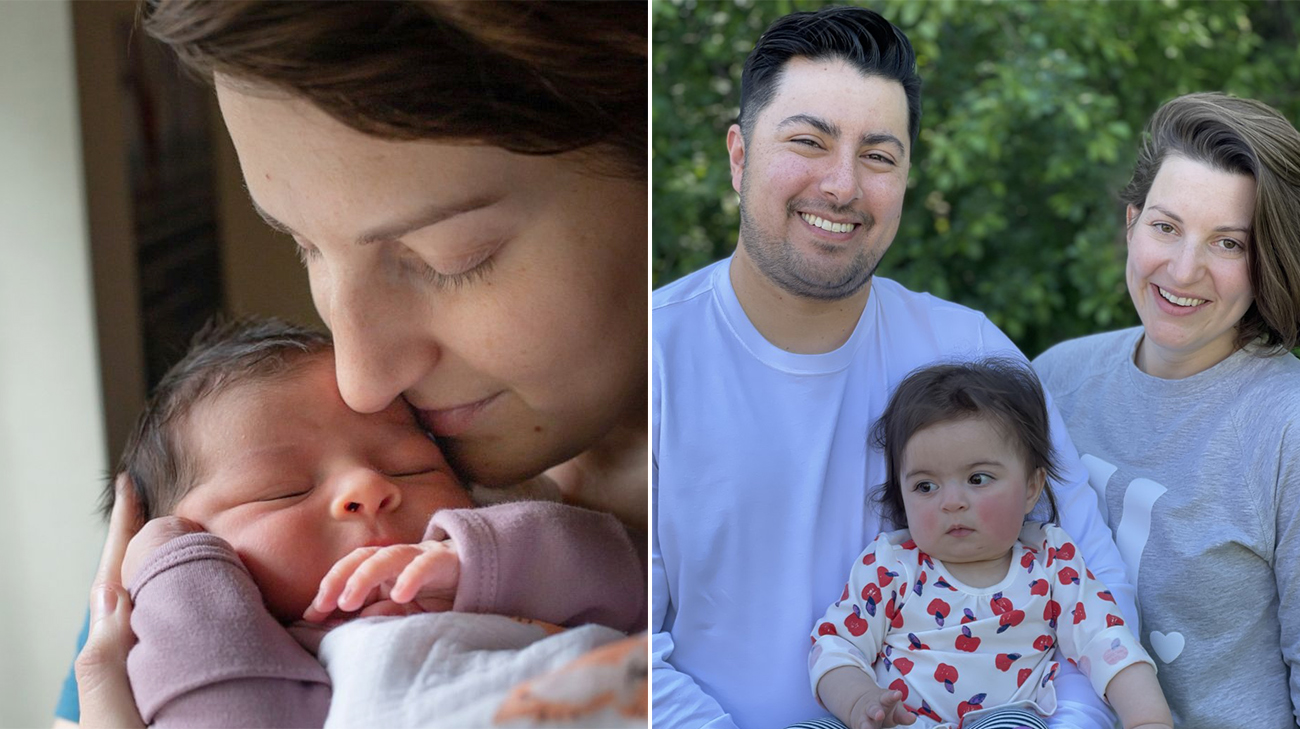 Katy and her husband are busy raising their daughter, Lillian, after months of putting their hopes of having a child on hold. (Courtesy: Katy Sanchez)
"I think you've got to give yourself time for a little bit of grief. This is not anything you ever expect to happen in your life. While there may not be a lot of treatments, there are a growing number of clinical trials. And that gives me hope," says Katy. "At the beginning, it can be overwhelming to go through everything. Just take it one day at a time."
Dr. Peereboom adds, "As difficult as brain cancers are to treat, various centers like ours specialize in brain cancer research. We try to have a clinical trial available to every patient we see so they can participate in leading-edge research and have expanded treatment options. We encourage patients to ask their provider about clinical trials. We're passionate about them because a successful, new treatment provides hope and the possibility of improving our patients' quality and length of life."
Related Institutes: Neurological Institute, Cleveland Clinic Cancer Center
Patient Stories
Patient Stories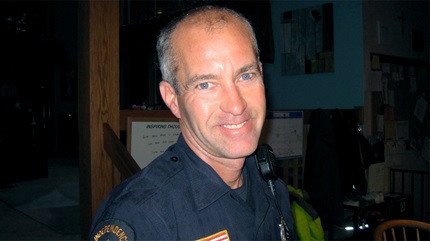 Feb 2, 2023
"I asked Dr. Gillinov if I could get back to where I was after my surgery, and he responded, 'You'll be better. You've been doing everything with a misfiring engine. We're going to fix the engine.'"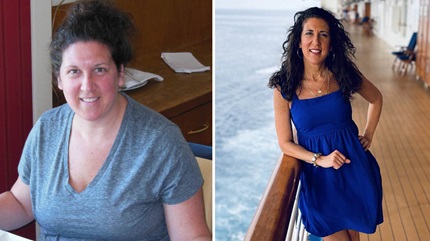 Jan 31, 2023
"You have the support of health experts and other people in the group. If I can do it, anyone can do it. It's something you can stick with and feel good about."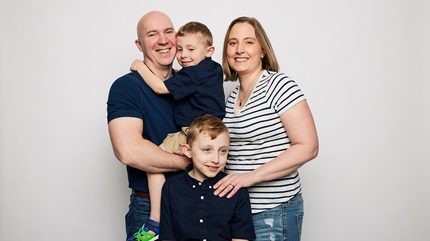 Jan 27, 2023
"We're thrilled that we've gotten 10 years and hope to get 10 more."