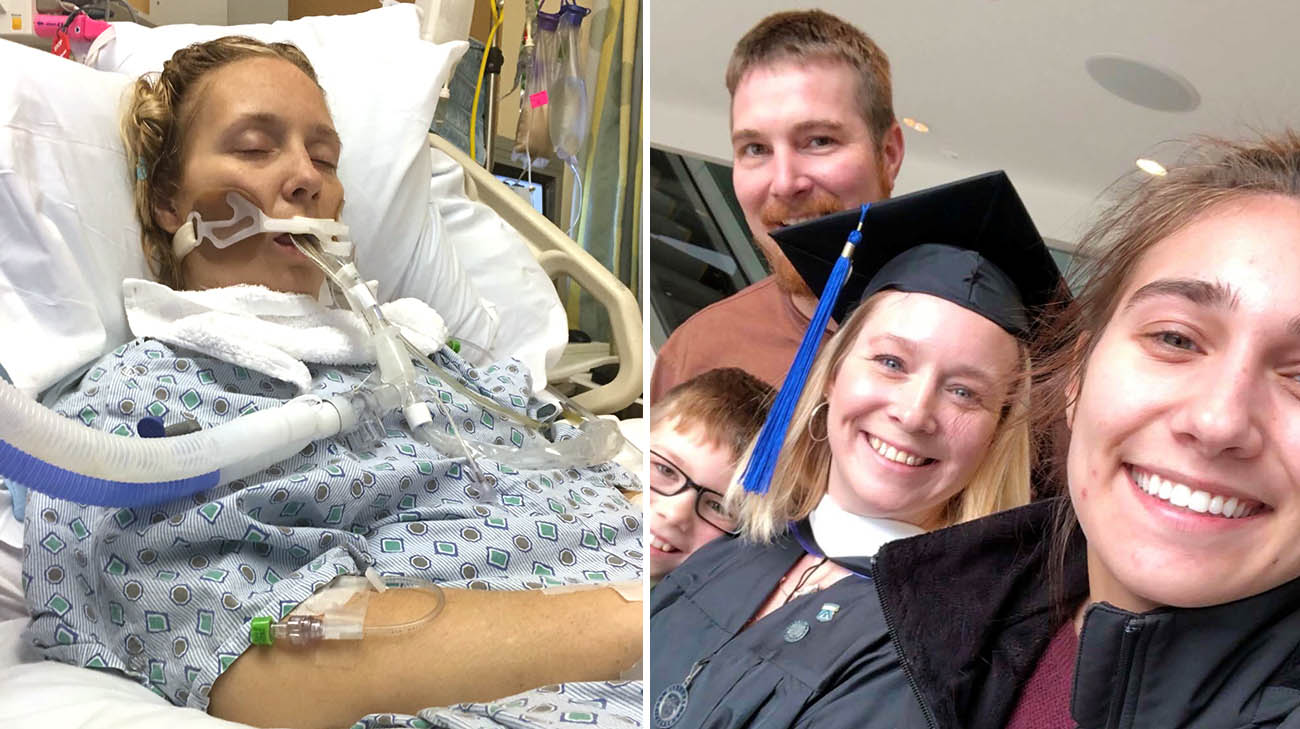 The third time proved to be the charm for Paula Crider. Seven months after being hospitalized close to home with an autoimmune condition called pulmonary alveolar proteinosis (PAP), Paula underwent her third whole-lung lavage (WLL) procedure. It was the first time she had the treatment at Cleveland Clinic. It's enabled the 37-year-old Butler, Pennsylvania, resident and mother of four to finally get back on the path to a healthy life.
"I still have trouble climbing steps sometimes," says Paula, who works at a community college near her home. "But I'm able to join in with my kids on most activities now, like going on walks. For many months, I was very limited."
Paula first experienced trouble breathing, a persistent cough and headaches, early in 2019. Her doctors thought the problem was bronchitis. So, they prescribed medications for treating it. She felt progressively worse, but was determined to join the family on their first visit to Disney World in March of that year.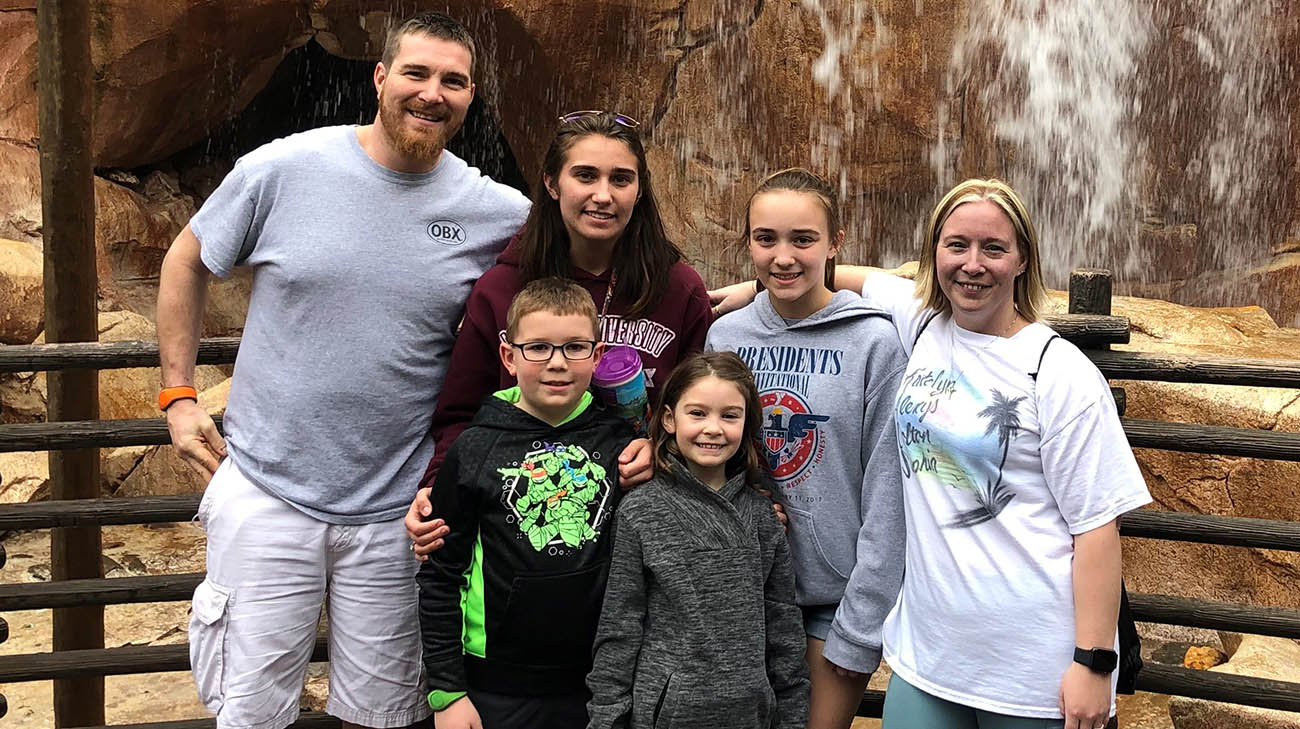 Paula started showing symptoms of PAP right before and during a family trip. (Courtesy: Paula Crider)
"I barely remember any of it, I was so miserable and in such a fog," recalls Paula. "On the last day there, one of my daughters said, 'Mom, your lips are blue.'"
She didn't realize it at the time, but blue lips or fingernails are one of the telltale signs of PAP -- a rare, life-threatening lung disease that blocks the transfer of oxygen into the bloodstream. It occurs when proteins, fats and other substances collect in the alveoli, the lungs' air sacs. Upon getting her oxygen saturation level checked at a local hospital (it was around 73, well below the standard of 90 or higher), Paula was admitted to a larger hospital an hour away. Doctors ran a series of tests confirming she had PAP.
Paula would spend a month in a Pennsylvania hospital, during which time she underwent her first WLL. She spent three days on extracorporeal membrane oxygenation (ECMO), a type of artificial life support that can help a person whose lungs and heart aren't functioning independently. "I was heavily sedated, but it still felt like torture," says Paula. "All I could think about was my children. I was so worried about them and didn't know when I would see them again."
A second WLL would take place in July 2019. While she returned to work and some semblance of normalcy after each medical intervention, Paula continued to suffer from similar symptoms. Finally, in early October 2019, another oxygen saturation level test found her number to be even more dangerously low. On the advice of her pulmonologist, Paula was transferred to Cleveland Clinic.
Pulmonologist Leslie Tolle, MD, saw Paula's lungs were in extremely poor condition and a double-lung transplant might be needed to save her life. First, however, he discussed options with Paula. Together, they decided a WLL procedure performed by his colleague, anesthesiologist Basem Abdelmalak, MD, would be the next best step. Dr. Abdelmalak has had considerable experience in, and success with, WLL for patients.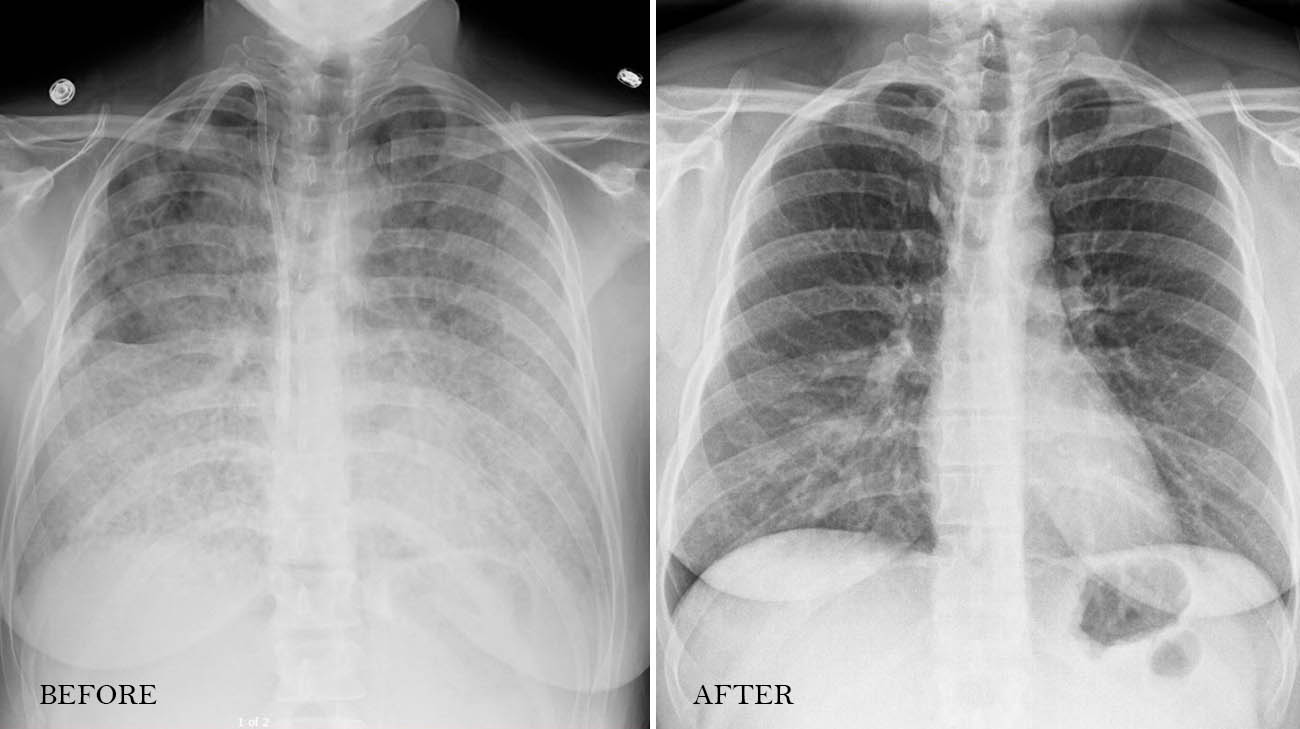 An X-ray of Paula's lungs before and after undergoing a whole-lung lavage procedure. (Courtesy: Cleveland Clinic)
"With PAP, the body isn't able to get rid of all of the (bad) protein fluid from the lung air sacs," Dr. Tolle explains. "With regards to whole-lung lavage, the results can vary. In order to get the best results, it must be done carefully and with great patience. You can imagine when instilling 20 or 30 liters of fluid, one liter at a time, it takes quite a long time."
Also called lung washing, WLL can be successful in countering the effects of PAP if performed by an experienced team, one lung at a time. Using a double-lumen breathing tube, the team shuts off one of the lungs, as the other is attached to a breathing ventilator. One liter at a time, a saline solution is pumped into the lung being treated and a vest wrapped around the patient's chest shakes the body to agitate the lung, forcing the abnormal proteins from PAP to mix with the saline liquid. Then, suction devices remove any remaining liquids.
Upwards of 30 liters of solution are pumped into the lung, agitated and then suctioned out. Each liter removed is stored in its own bottle so it can be compared with subsequent liters. The team continues with the WLL until the removed liquid is perfectly clear, indicating none of the abnormal fluid created by PAP remains.
Once specialists complete the procedure on the first lung, the process is often repeated on the other lung, as it was for Paula.
After the WLL at Cleveland Clinic, Paula steadily improved. She remained in the hospital for a month, during which time she began being treated with an inhaled medication that is being tested to determine if it helps the body ward off PAP. Paula has also received other treatments, like plasmapheresis and immunosuppressant drugs, to hopefully, lessen the chance she'll need WLL again.
Paula returns quarterly to be checked by Dr. Tolle. She undergoes breathing tests and a chest X-ray to monitor her condition. "She is doing quite well and hopefully she will continue to do so without additional issues," he said. "Unfortunately, not everyone with PAP does this remarkably well."
Paula encourages to "listen to what your body is telling you. If something is wrong, make sure you take care of yourself and get it treated right away."
Amazingly, during her month-long stay in the hospital, Paula completed and submitted the final work required to earn her master's degree with a 4.0 grade point average. As she says, "That proves you can do anything if you put your mind to it."
Related Institutes: Respiratory Institute, Anesthesiology & Pain Management
Patient Stories
Patient Stories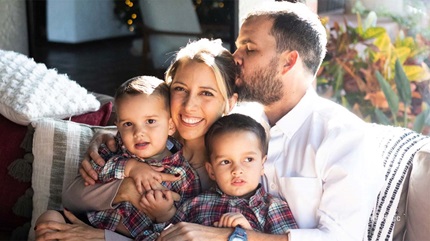 Mar 16, 2023
"Dr. Pieretti took the time to explain how the robotic surgery would work and how quick my recovery would be with this technology. That made me happy because I wanted to get back to my regular life fast."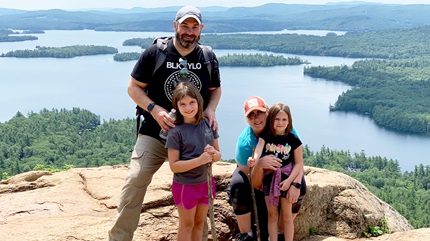 Mar 14, 2023
"If you notice any change with your body, get it checked out regardless of how insignificant you think it might be. If something hadn't made me go to a doctor, I might not be here today."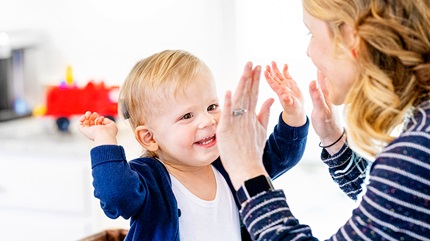 Mar 3, 2023
"From being born essentially deaf, to now singing lullabies. It blows my mind. Corbin is not just meeting developmental milestones, he's surpassing them."