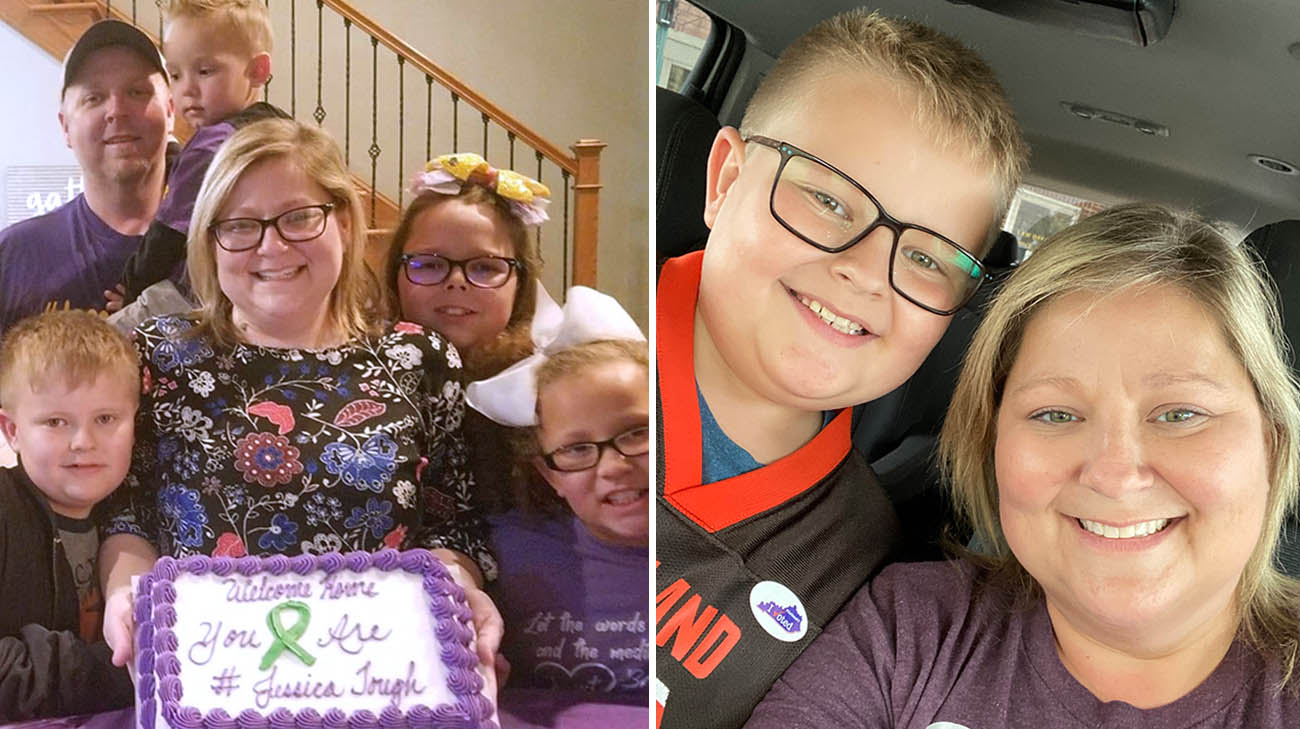 Jessica Gullet bought herself a baseball glove, for daily games of catch with her 11-year-old son, Evan, who has aspirations of becoming a pitcher. It's something the 40-year-old Kentucky schoolteacher wouldn't have dreamed of doing until two years ago, when a heart and kidney transplant at Cleveland Clinic restored both her energy and her hope for a normal life.
"He wants to be a pitcher, so I decided I'll be the catcher. I don't know how good I am but I tried – and I haven't gotten any bruises, thank goodness," says Jessica, a single mom who can now also easily walk the 200 yards to her mother's house in Greenup, a rural town by the Ohio River.
"I've never had this much energy," she adds. "I feel like a new person."
For much of her life, Jessica has faced severe health issues. At age 6, she was diagnosed with osteosarcoma, a form of bone cancer that eventually resulted in the amputation of her right leg at age 19. While undergoing chemotherapy and radiation treatment for the disease, Jessica developed cardiotoxicity, a side effect that caused kidney damage and severe, potentially life-threatening congestive heart failure.
The heart problems would cause severe fatigue. Throughout her teen years and into early adulthood it was typically mitigated through medication adjustments. "My heart would flare up, and my doctors would change or increase my medication, and within a few months, I'd be back to myself."
The only extended time period she can recall without facing congestive heart failure symptoms is when Jessica was pregnant with Evan. "He was my miracle baby," says Jessica, who lauds Evan and her mother, Jackie Felty, for being great caregivers during her bouts with heart failure. "He grew up quickly because he had to help me. Even when he was little, he would take such good care of me."
In 2018, Jessica suffered another bout with congestive heart failure, but this time changes in medication didn't help. Simple activities like carrying a basket of laundry or standing in her third grade classroom became impossible. "The best way I can explain it is that it felt like someone was sitting on your chest and you're just gasping for air," she recalls. "I had zero energy. I couldn't even take a shower."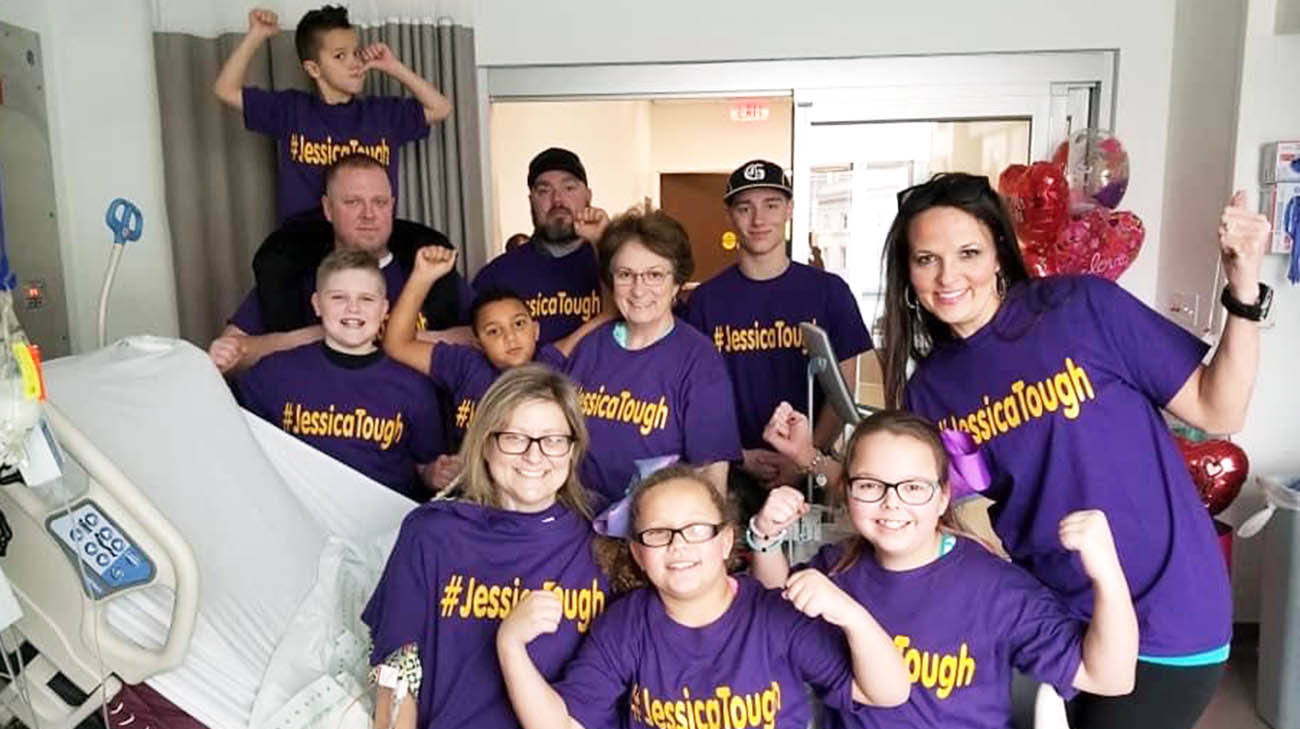 As a child, Jessica underwent cancer treatment that left her with serious health issues. Years later, she had a life-changing heart and kidney transplant. (Courtesy: Jessica Gullet)
After treatments locally and in a hospital in Lexington, Kentucky, failed to help her, Jessica was transported by ambulance four hours north to Cleveland Clinic's Sydell and Arnold Miller Family Heart, Vascular & Thoracic Institute.
It was the first time the possibility was raised of Jessica requiring a heart and kidney transplant. "My mom and I both were taken aback because that was not something that we had even imagined," says Jessica.
According to cardiac surgeon Michael Tong, MD, who would perform Jessica's heart transplant, her heart slowly deteriorated over time, finally reaching a point where a transplant was her only viable option as the therapeutic window for treatment by medicine gradually closed.
"With heart failure, you can stay stable for a long time with medication," explains Dr. Tong, Cleveland Clinic's Director of Cardiac Transplantation and Mechanical Circulatory Support. "You go through these peaks and valleys, and over time, the peaks become less tall and the valleys become deeper. Eventually, you get to a valley you just can't come out of anymore."
Simultaneously, Jessica's kidney function began to decline, prompting the need for Jessica to require a kidney transplant. As Dr. Tong explains, the positive effects of a heart transplant would likely be lost if the kidney problem wasn't also addressed. A failing kidney and the need for dialysis would likely cause the new heart to deteriorate.
On February 15, 2019, Jessica was placed on the national Organ Procurement and Transplantation Network (OPTN), the waiting list for recipients requiring transplants. Just two days later, a donor was found with both a heart and kidney that was a perfect match for Jessica.
Dr. Tong and his heart transplant team performed their portion of the operation first, with no major complications. Then, after several hours of recovery and monitoring in the intensive care unit (ICU) to ensure her body was responding well, the kidney transplant team – led by urologist Alvin Wee, MD, who is Director of Cleveland Clinic's Kidney Transplant Program – performed a successful surgery.
Within days, Jessica was out of the hospital, living with her mom in a nearby hotel so that her condition could be easily monitored until she was ready to return home. It was during that first night in the hotel, when Jessica laid flat on the bed without a pillow, that she noticed the dramatic change in her condition.
"I said, 'Oh my gosh, mom, I can lay down flat!' I could never do it before the transplant without feeling like I was suffocating," she explains. "I could breathe normally again!"
Since then, life has been better than ever for Jessica and Evan. She has returned to her teaching position. Mom and son also enjoy swimming and other outdoor activities that Jessica could never previously consider doing.
She's also registered herself as an organ donor, hoping to 'pay forward' the gift of life that was granted her. "It's the least thing I can do, to give to others the gift I received," Jessica says. "It's my way of saying thank you to the donor who saved my life."
Related Institutes: Heart, Vascular & Thoracic Institute (Miller Family), Glickman Urological & Kidney Institute
Patient Stories
Patient Stories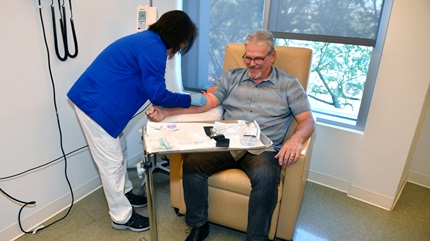 Dec 7, 2023
"The most frustrating thing in the world is not being able to remember something when it was just told to me two minutes ago. Now, with this drug, there's a chance I won't get worse for a while."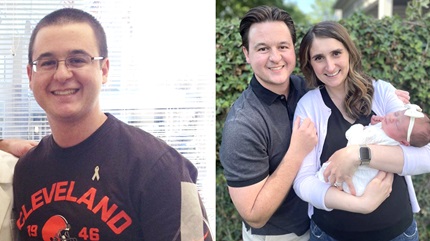 Nov 30, 2023
"At the time of my diagnosis, I was thinking, 'I'm 24. I'm a lifelong nonsmoker. I'm not supposed to get cancer.'"