It was just a normal weekday for 16-year-old Robbie Boyce. After classes ended at St. Ignatius High School, in Cleveland, Ohio, the sophomore headed to the gym for a workout as he readied himself for the junior varsity baseball season.
One moment Robbie was performing an overhead press with dumbbells, a weight training exercise, under the watchful eye of a personal trainer. The next moment, in his mind at least, Robbie found himself in the neurological intensive care unit (ICU) at Cleveland Clinic. He was awakening from a medically induced five-day coma, after undergoing surgery to treat a ruptured brain aneurysm that caused him to suffer a stroke.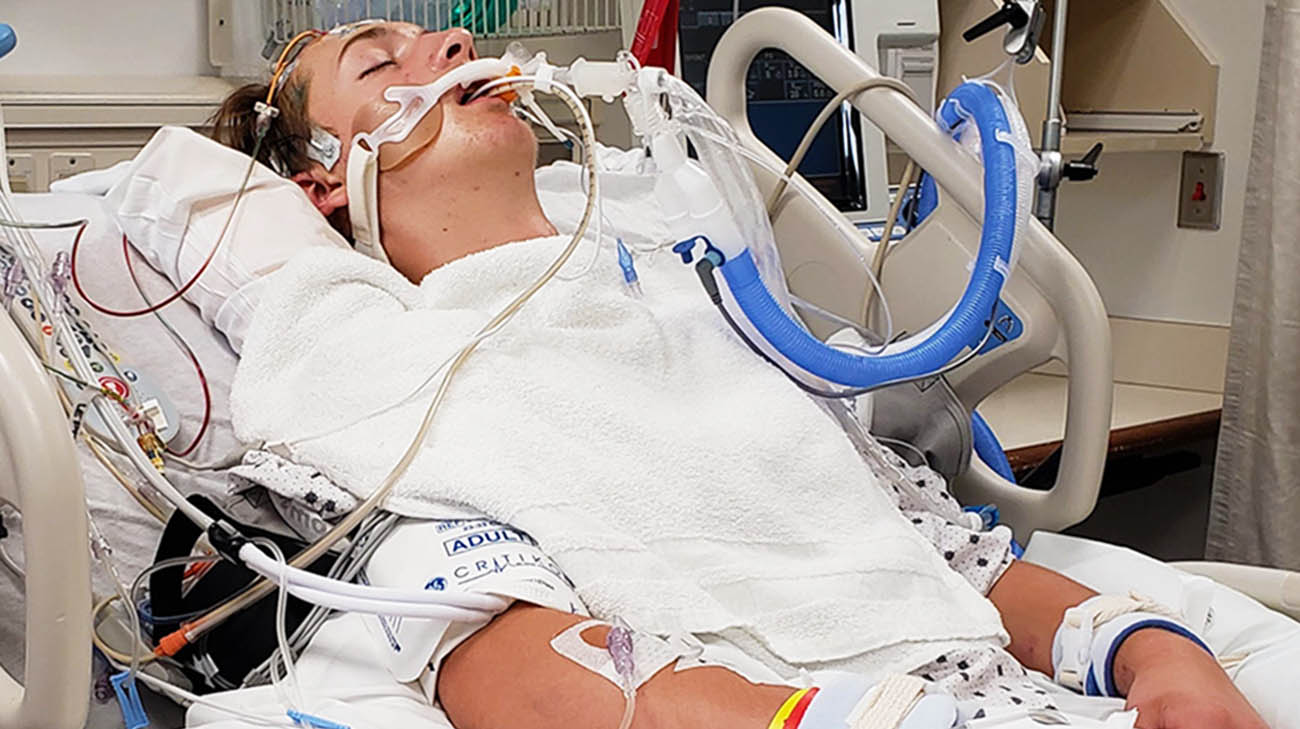 Robbie suffered a rare type of stroke called a subarachnoid hemorrhage. (Courtesy: Joe and Christine Boyce)
"I was having a good day, just doing the normal amount of lifting I usually do," says Robbie. "During one of my drills, I believe my coach looked away for a second. And when he looked back, I was laying on the ground, having a seizure."
Robbie was rushed by ambulance to a local hospital, where emergency room physicians quickly ascertained the healthy young athlete had suffered severe bleeding in the base of his brain, later determined to have been caused by a very rare type of stroke, called a subarachnoid hemorrhage.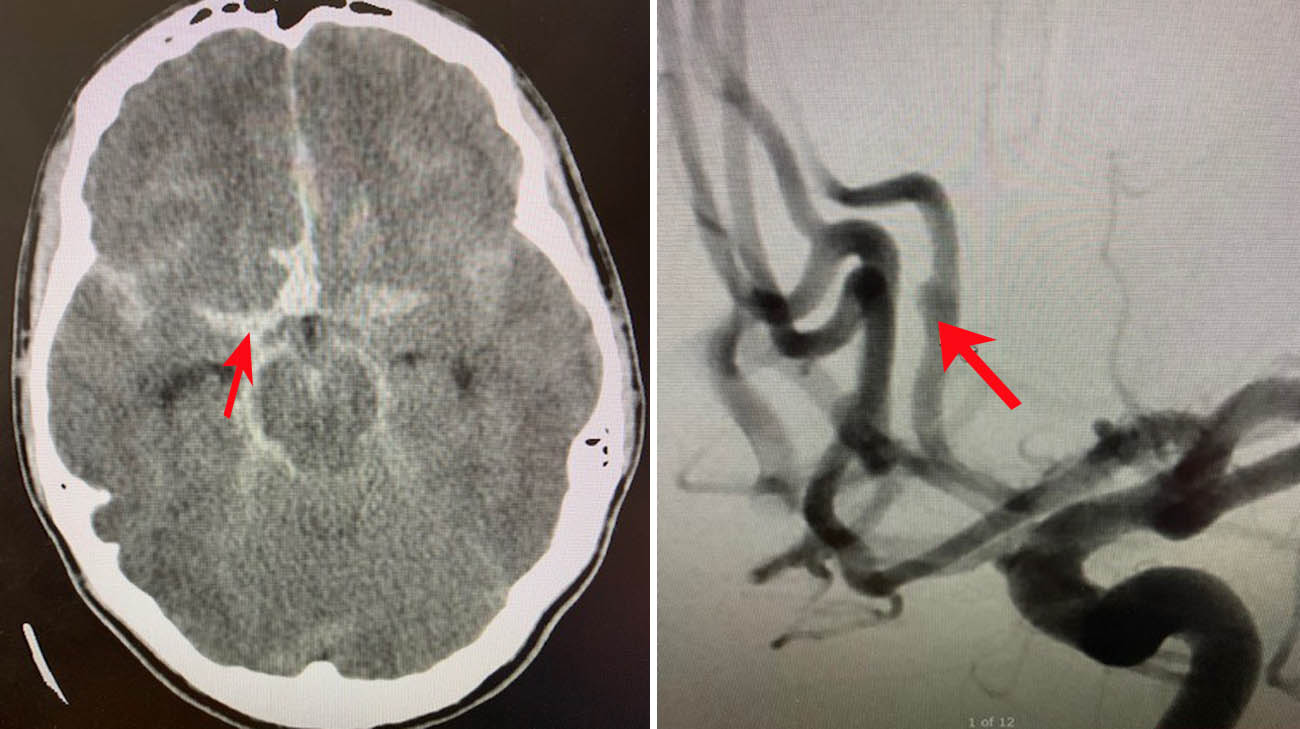 (left) CT scan of Robbie's brain showing his subarachnoid hemorrhage as the white area in the center. (right) Cerebral angiogram showing his aneurysm. (Courtesy: Cleveland Clinic)
Joe Boyce, who arrived at the local hospital minutes before his son would be airlifted by helicopter to Cleveland Clinic's main campus, recalls being in a state of disbelief as he whispered, "I love you," to Robbie, who was by then unconscious.
"Our life changed in an instant," says Joe. "I kept telling myself, 'everything's going to be OK. We're going to get through this.' But I didn't know why this was happening to my son."
According to neurosurgeon Mark Bain, MD, part of the multidisciplinary team including stroke and interventional neurologists, neurosurgeons, neuroradiologists, neurointensivists and nurses who quickly assessed and then treated Robbie at Cleveland Clinic's Cerebrovascular Center, his situation was quite uncommon.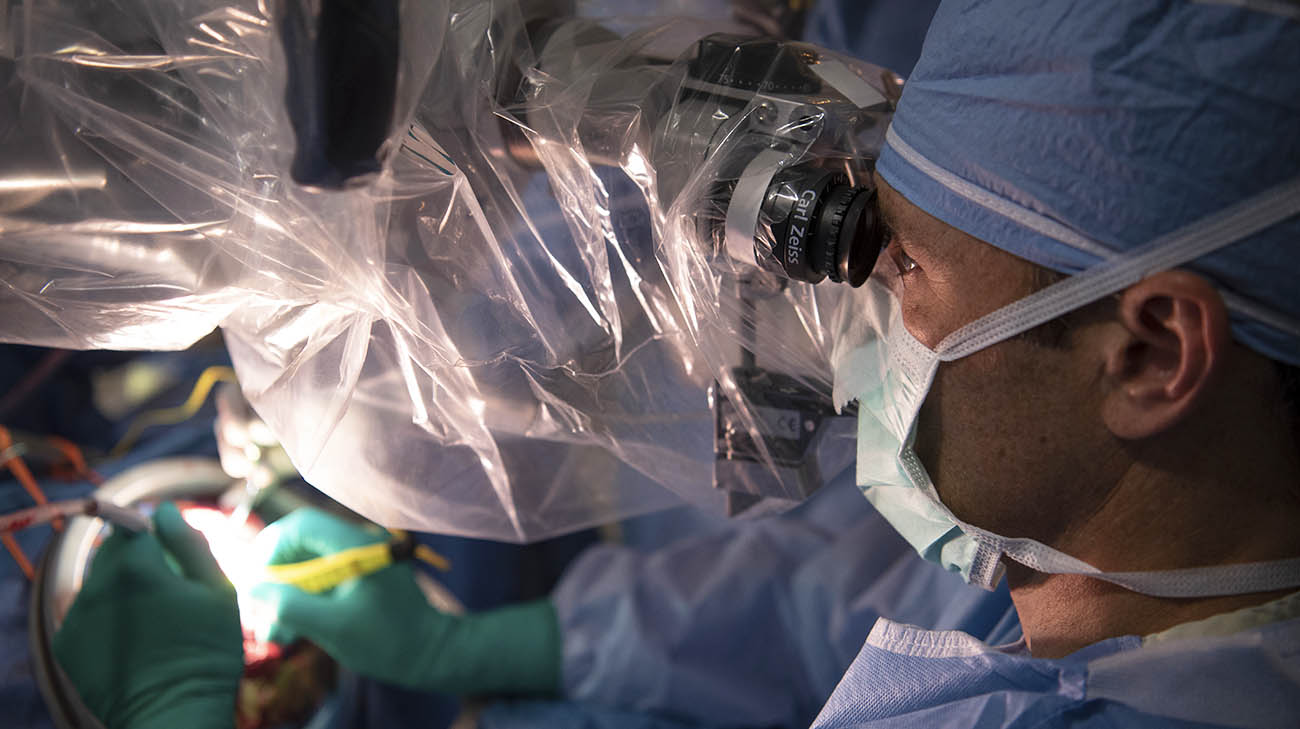 Dr. Bain performed a procedure on Robbie which involved inserting tiny coils into the unrepairable pathway, sealing off the aneurysm and blocking further blood from flowing through the artery. (Courtesy: Cleveland Clinic)
"It's a pretty rare condition, especially for somebody his age. Even rarer is the type of aneurysm he had," explains Dr. Bain. "It formed from an artery in his brain that tore. We see this just a very few times per year."
During the emergency brain surgery that ensued, Dr. Bain discovered the artery was too damaged to salvage, and performed a procedure, which involved inserting tiny coils into the unrepairable pathway, to seal off the aneurysm and block any further blood from flowing through the artery. While Robbie was out of immediate danger, his prognosis was uncertain while he remained in the coma.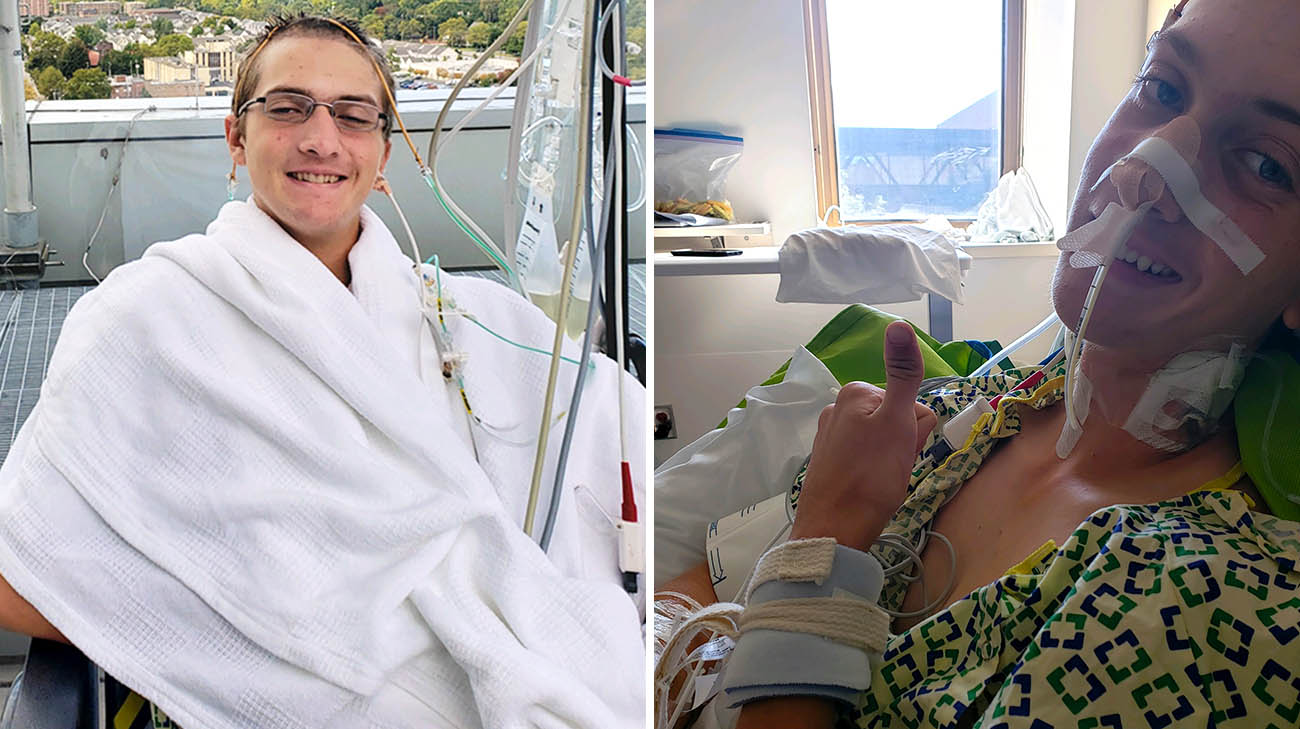 Robbie awoke from a five day medically-induced coma, after undergoing surgery to treat his ruptured aneurysm. (Courtesy: Joe and Christine Boyce)
Joe and Christine, Robbie's mom, spent hours and hours by Robbie's bedside, waiting for him to awaken. They and several of Robbie's friends and classmates decorated his hospital room with collages, baseball memorabilia and signs.
"The hospital staff was tremendous and encouraged us to put things on the walls and all over his room," Joe notes. "That way, when he wakes up, he'll see things that are familiar for him."
On day five, Robbie came out of his coma and managed a weak thumbs-up using his left hand. Initially, he was effectively paralyzed on the right side of his body. His recovery would be slow and painstaking.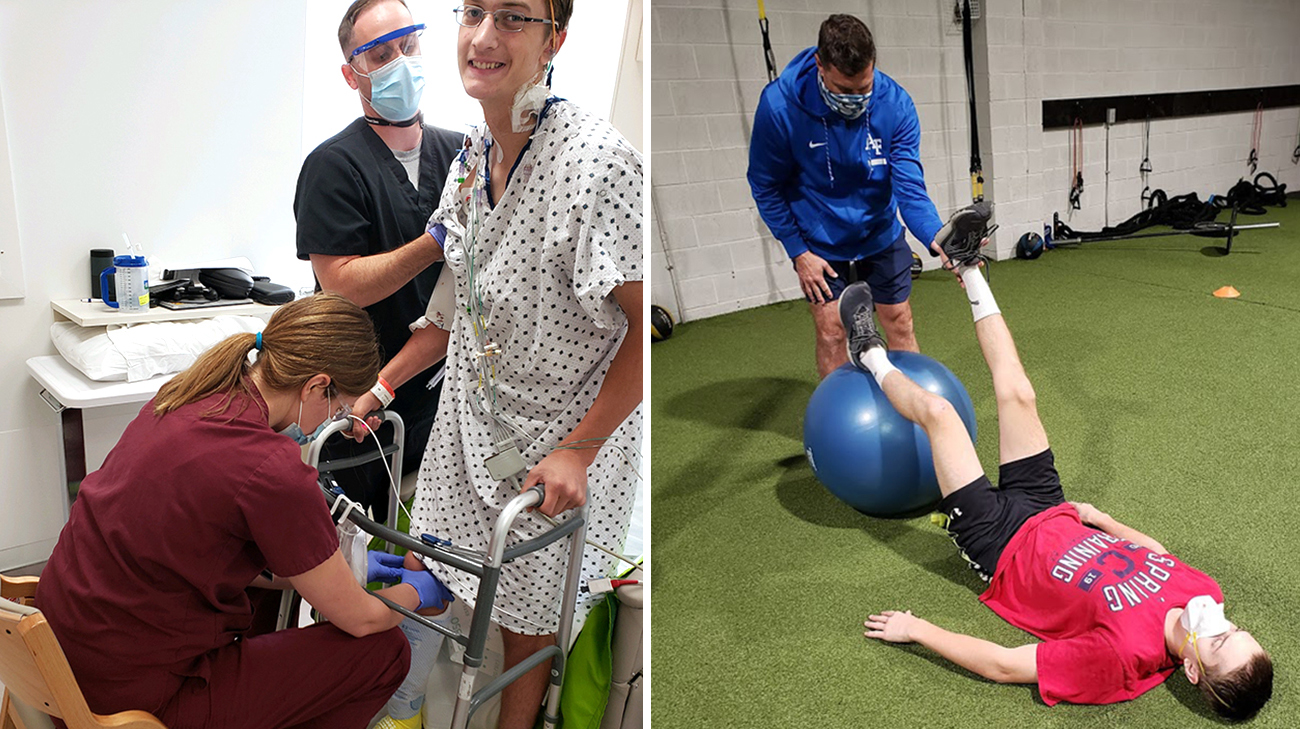 Robbie went through extensive rehab during his recovery. (Courtesy: Joe and Christine Boyce)
"At first, he couldn't move his right arm or his right leg. But then one day, his thumb moved just a little bit. The next day, he was able to lift his right arm and guide his fork to his mouth," Joe recalls. "We were so excited."
Robbie would spend 30 days at Cleveland Clinic, showing slow but steady progress. After two more weeks of rehabilitation therapy, during which he worked on improving his short term memory and relearning basic functions including walking, Robbie steadily returned to normal. With a lot of support from his mother, he was even able to catch up on honors precalculus, chemistry and other schoolwork by January 2021, just three-and-a-half months after his stroke and surgery.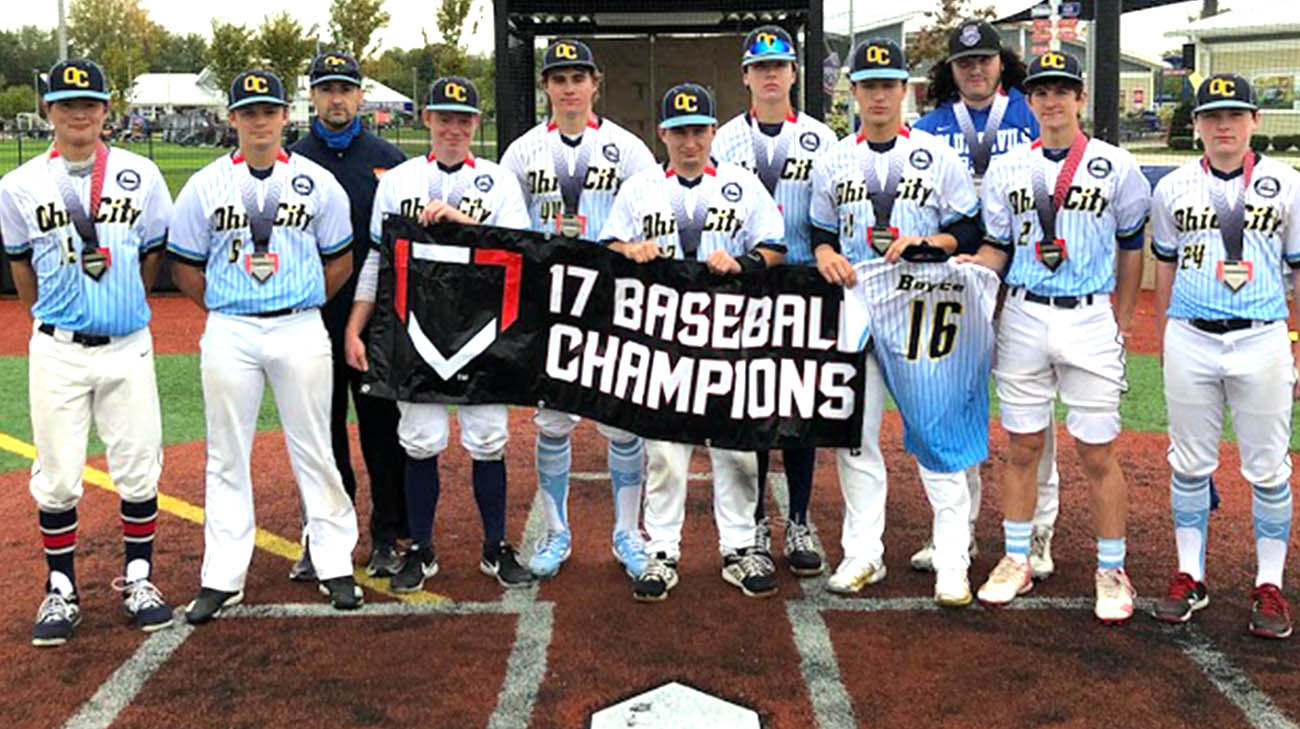 Robbie's baseball team held up his jersey to make sure he was represented, after they won a championship game. (Courtesy: Joe and Christine Boyce)
"His prognosis after the stroke was grim. I had nurses preparing me to put him in a long term care facility," says Joe. "We were told Robbie's recovery was like one in a million."
Robbie believes hard work, dedication and the support of his family, friends and medical team enabled his comeback. He started back on the baseball field spring 2021, on the St. Ignatius JV team. "I'm pretty much back to 100% of the way I was before," says Robbie, matter-of-factly.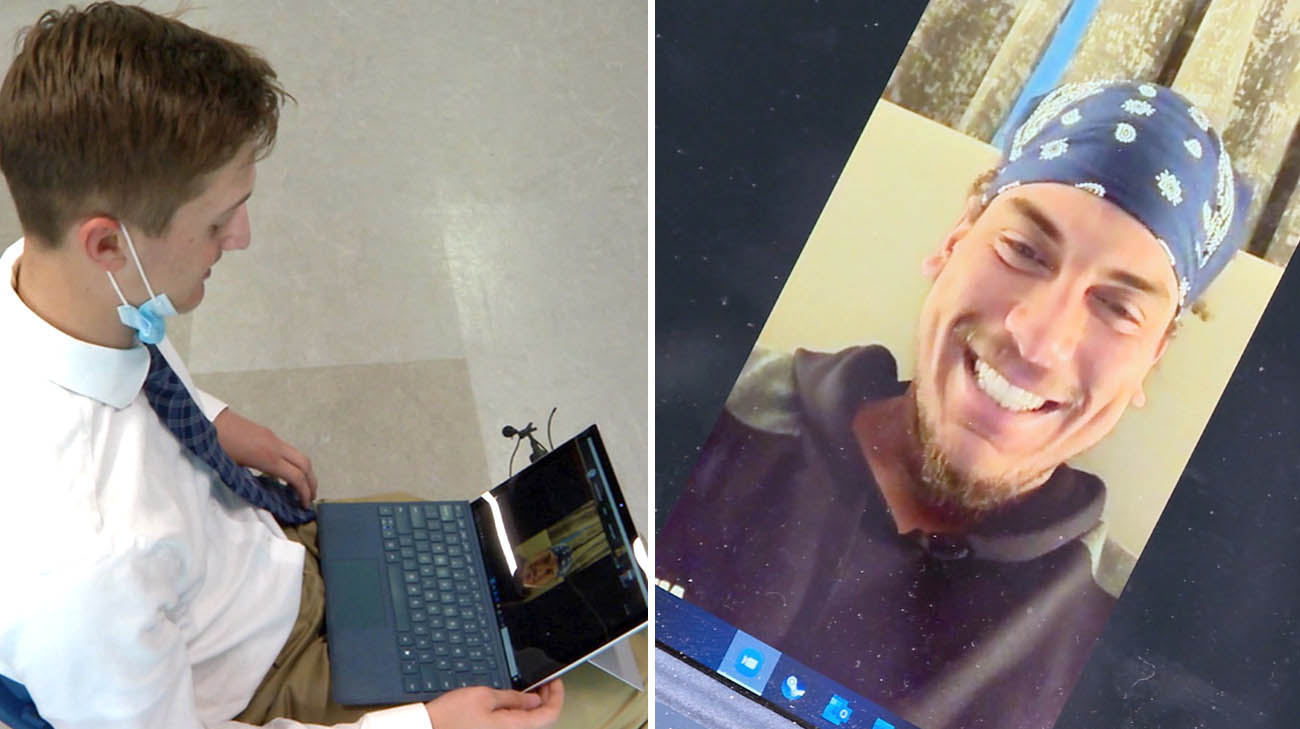 Robbie met with his favorite Cleveland Guardians player, Josh Naylor, during a virtual call. Josh heard about Robbie's story and wanted to encourage him as he recovers. (Courtesy: Cleveland Clinic)
His advice for others facing challenging and similar situations is to hang in there. Robbie says, "You'll be able to get through it if you keep pushing as hard as you can and believing in yourself. There's a lot of people out there rooting for you."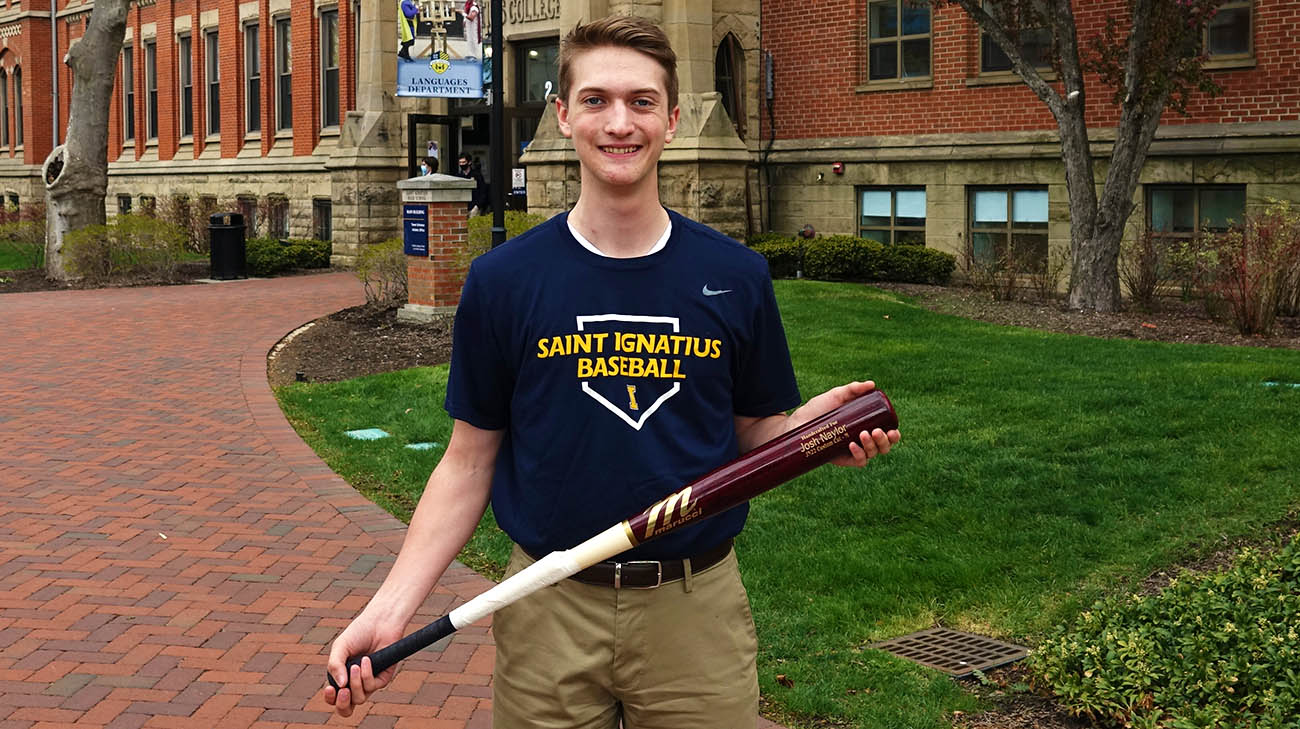 Robbie plays baseball at St. Ignatius high school, in Cleveland, Ohio. (Courtesy: Joe and Christine Boyce)
Dr. Bain marvels at his progress. "In general, with all strokes, the younger you are, the better you recover, but with Robbie, his (recovery) has been wonderful. When I saw him in clinic the other day, he was a normal 16-year-old kid sitting in front of me. I couldn't believe it was the same person."
Adds Joe, "If people ever ask if miracles exist, I say Robbie Boyce is a miracle. All the stars aligned for his recovery. He must have a guardian angel."
Related Institutes: Neurological Institute
Patient Stories
Patient Stories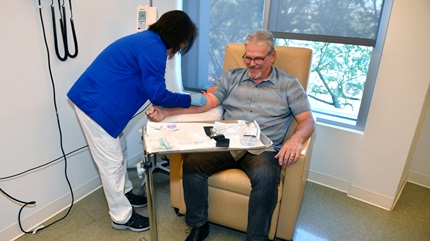 Dec 7, 2023
"The most frustrating thing in the world is not being able to remember something when it was just told to me two minutes ago. Now, with this drug, there's a chance I won't get worse for a while."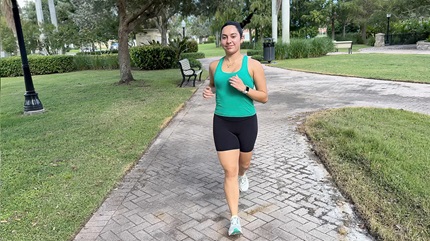 Dec 5, 2023
"Being able to run that 5k from start to finish with the same family members who supported me through the surgery was huge and I can't thank Dr. MacKechnie enough for getting me to that spot."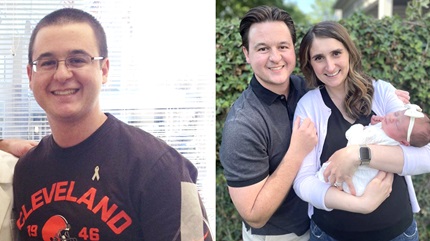 Nov 30, 2023
"At the time of my diagnosis, I was thinking, 'I'm 24. I'm a lifelong nonsmoker. I'm not supposed to get cancer.'"