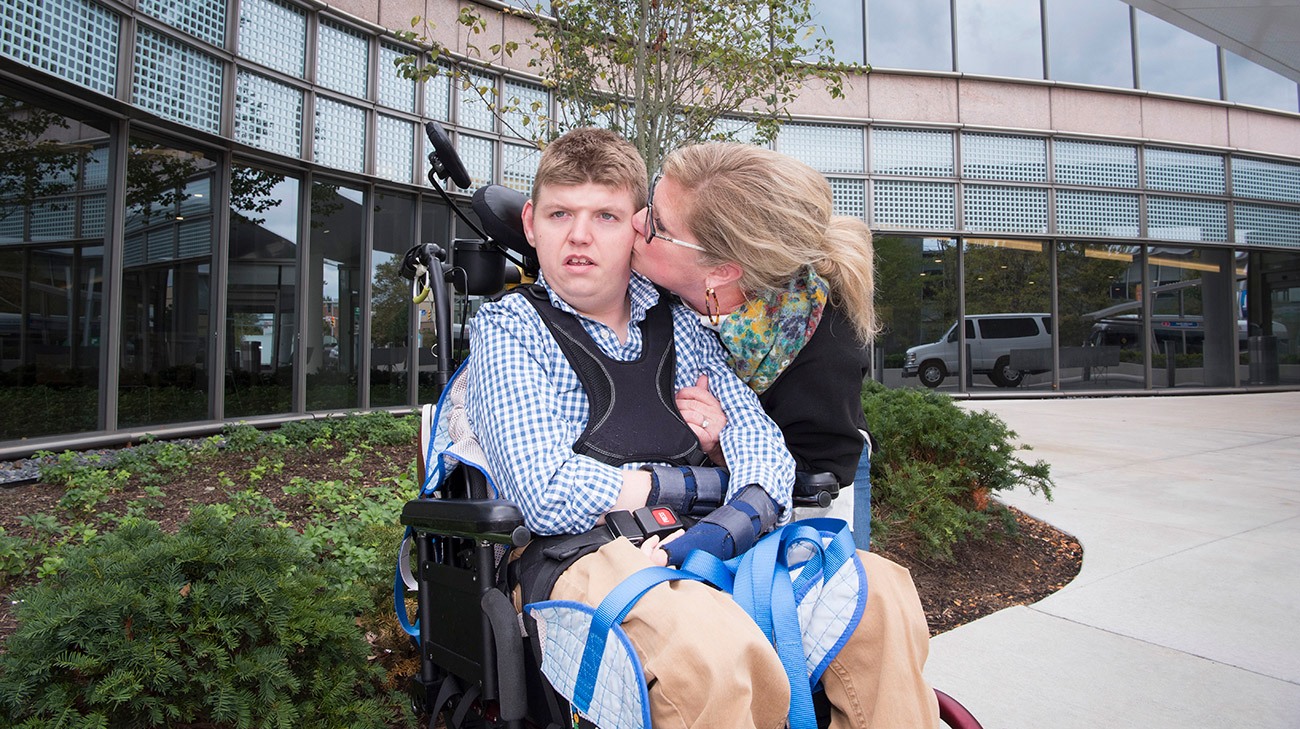 When Thomas Rice was 3 months old, his parents noticed something troubling. Sue and Ron Rice observed that their baby's eyes kept tracking to one side when he tried to focus on an object or a light. The couple consulted an ophthalmologist, who suspected a brain tumor and recommended an MRI. No tumor was found, but seizures were detected, and it was determined that Thomas had a brain abnormality.
A few months later, the Rices, who live in Hudson, Ohio, took their son to Cleveland Clinic Children's Inpatient Hospital at main campus to learn more. "That began the process of obtaining a formal diagnosis," Sue says. "What was crucial was that all of the things occurring with him brought us to many different specialists. We had to deal with all of his symptoms and daily challenges, such as his extreme reflux when he nursed."
Among the team of specialists from Cleveland Clinic's Center for Pediatric Neurology and Neurosurgery who cared for Thomas were a pediatric neurologist and an epileptologist, a subspecialist who deals specifically with seizure activity. As part of their son's care, the Rices also were referred out of state, to a neurologist and geneticists who specialized in the type of brain anomaly with which Thomas was diagnosed. Cleveland Clinic Children's continued to help with Thomas' daily medical management. "I respected that greatly," Sue says. "It reinforced our trust in Cleveland Clinic Children's."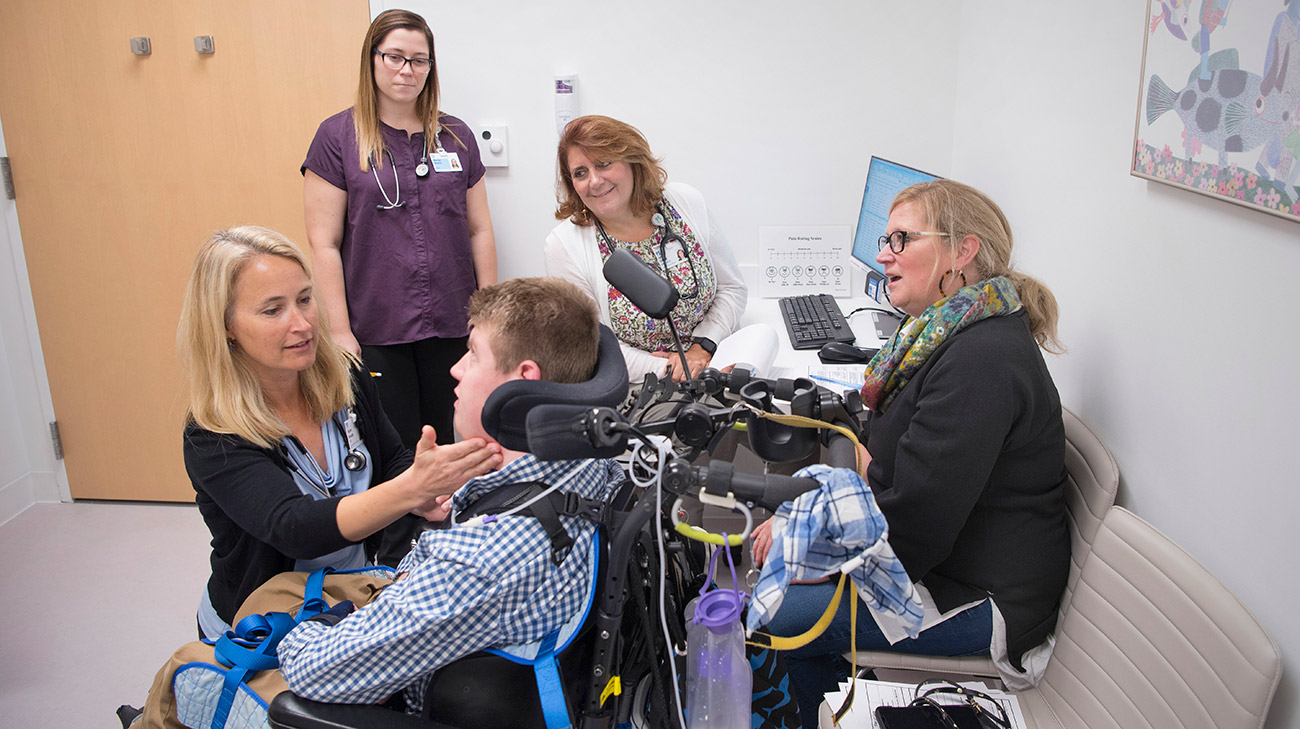 Thomas (center) and his mom, Sue (far right), meet with his care team — (left to right) Dr. Kalady, student Marisa Adams, and nurse practitioner Julie Corder. (Courtesy: Cleveland Clinic)
As the years passed, every day brought new concerns and challenges. Over time, Thomas continued growing and maturing into puberty, adolescence and adulthood, but he did not develop the ability to walk or talk. Now, Thomas is 22. His family — which includes older brother, William, and younger sister, Julia — is working with their Cleveland Clinic medical team to transition him from pediatric to adult medical care.
"I remember that I once feared so greatly these days that I'm living in now," Sue says. "But it's not nearly as frightening when you have people walking alongside you and a good medical home with all the doctors in one place — and they talk to each other. That's tremendous."
From the beginning, their Cleveland Clinic Children's team included not only physicians but also nurses and social workers who help ensure that Thomas' needs are met — from medical care, to support services, to administrative requirements of schools and governmental agencies.
Julie Corder, MSN, CNP, RN, a nurse practitioner with Pediatric Complex Care, helps coordinate and monitor Thomas' care by acting as his primary care provider.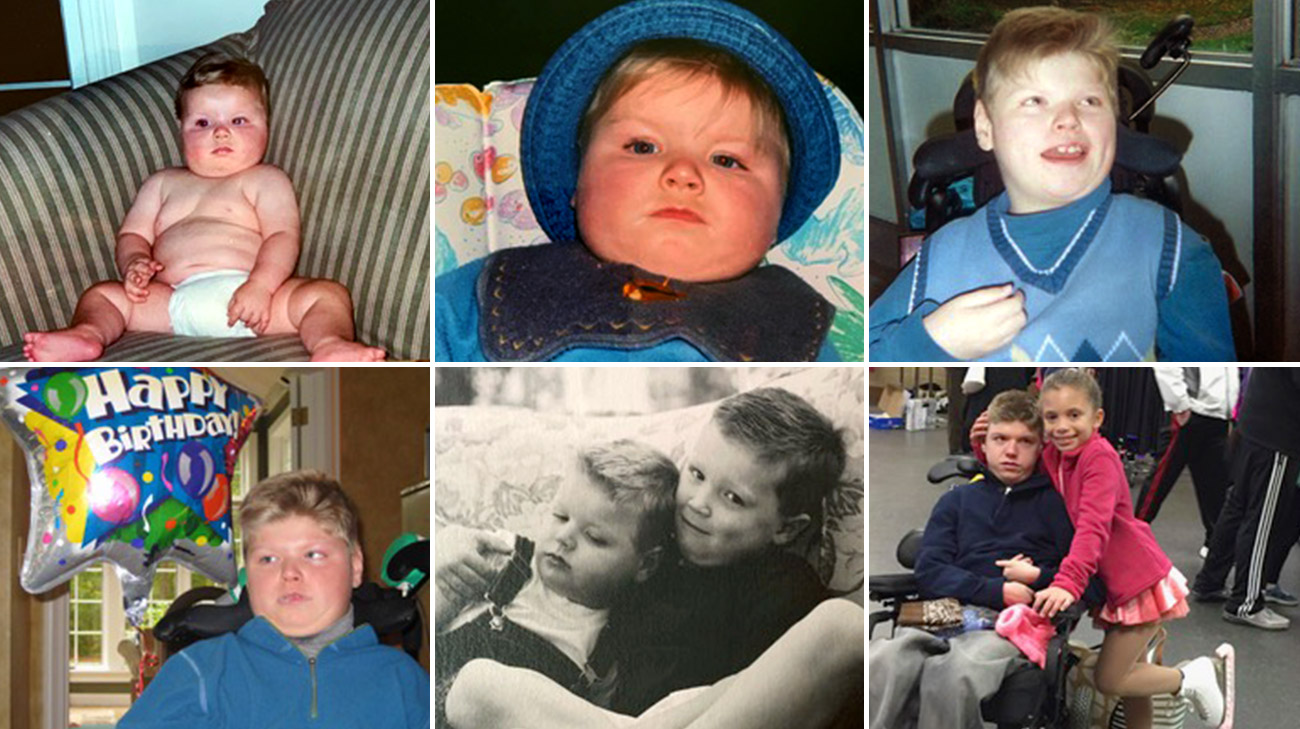 Thomas throughout his childhood, with older brother William (bottom center) and younger sister Julia (bottom right). (Courtesy: Sue Rice)
"We offer a patient-centered medical home for children with multiple chronic conditions, dependence on medical technology, including tracheotomies, wheelchairs, etc., who desire to come to main campus for their primary care," says Julie. "I see patients for well visits and to treat short-term illnesses or injuries. Our nurse coordinator works to coordinate visits with other caregivers so that families don't need to make extra trips here. We process a ton of paperwork each day, regarding supportive services through homecare nursing, occupational, physical or speech therapy, and a host of subspecialties."
Thomas is in the 1% of the medical population with the highest level of complexity, she says, "the top users of healthcare dollars. We try to help families manage their children's medical conditions in order for them to achieve their healthiest potential, stay out of the hospital, and become their best selves. We're the hub of the wheel in coordinating subspecialty supportive services, taking care of nursing orders, care plans, and insurance and school forms."
In addition to Julie, the Complex Care team consists of medical director Skyler Kalady, MD, the general pediatricians on main campus, a nurse care coordinator, a social worker, a dietitian and a pharmacist. They take care of about 140 patients.
When transitioning a patient from pediatric to adult care, the Complex Care team knows that communication is key and provides a warm hand-off to the adult care practitioner prior to the patient entering their office. "We try to soothe some anxieties by pointing out that we have a wonderful team who communicate with each other and a robust electronic medical record with the history of the patient's care, as well as noting that we are all within the same medical system."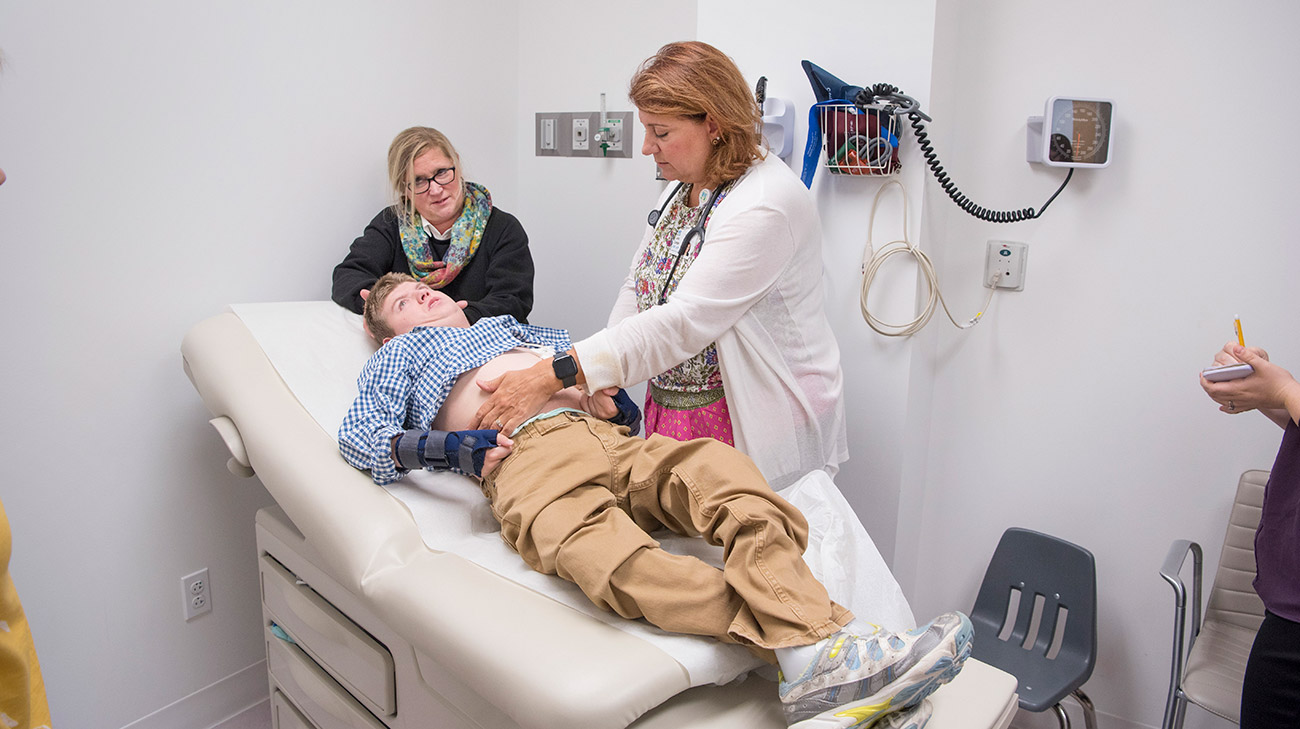 Nurse practitioner Julie Corder examines Thomas. (Courtesy: Cleveland Clinic)
An attentive medical team was critical for Thomas as a child, and will continue to be in his adulthood, Sue says.
"When we have nursing at home, nothing can be done unless a doctor approves the plans, and they have to be signed every 60 days," she says. "Julie can take a look at Thomas, get the overall picture and help us medically at home. Without someone to sign those papers, we're in a dark hole. We need a point person, someone who understands our multiple needs."
To help her family and other families facing similar challenges, Sue joined Cleveland Clinic Children's Healthcare Partners, a group developed by Cleveland Clinic's Office of Patient Experience to support pediatric families.
The group includes parents, patients and caregivers across Cleveland Clinic Children's, says Jessica Preyss, Administrative Program Coordinator for Quality and Patient Safety and caregiver lead for Cleveland Clinic Children's Healthcare Partners. "We want the parent or patient to feel like they're a member of their care team and have a say in what's being done. For instance, parents, including Sue, offered suggestions that helped Cleveland Clinic in designing the new Children's Outpatient Center."
Creating a smooth process for transitioning patients from pediatric to adult care is a challenge for many hospital systems, Jessica says. Having Cleveland Clinic Children's collaborate with our Healthcare Partners on this initiative could lead to a best practice.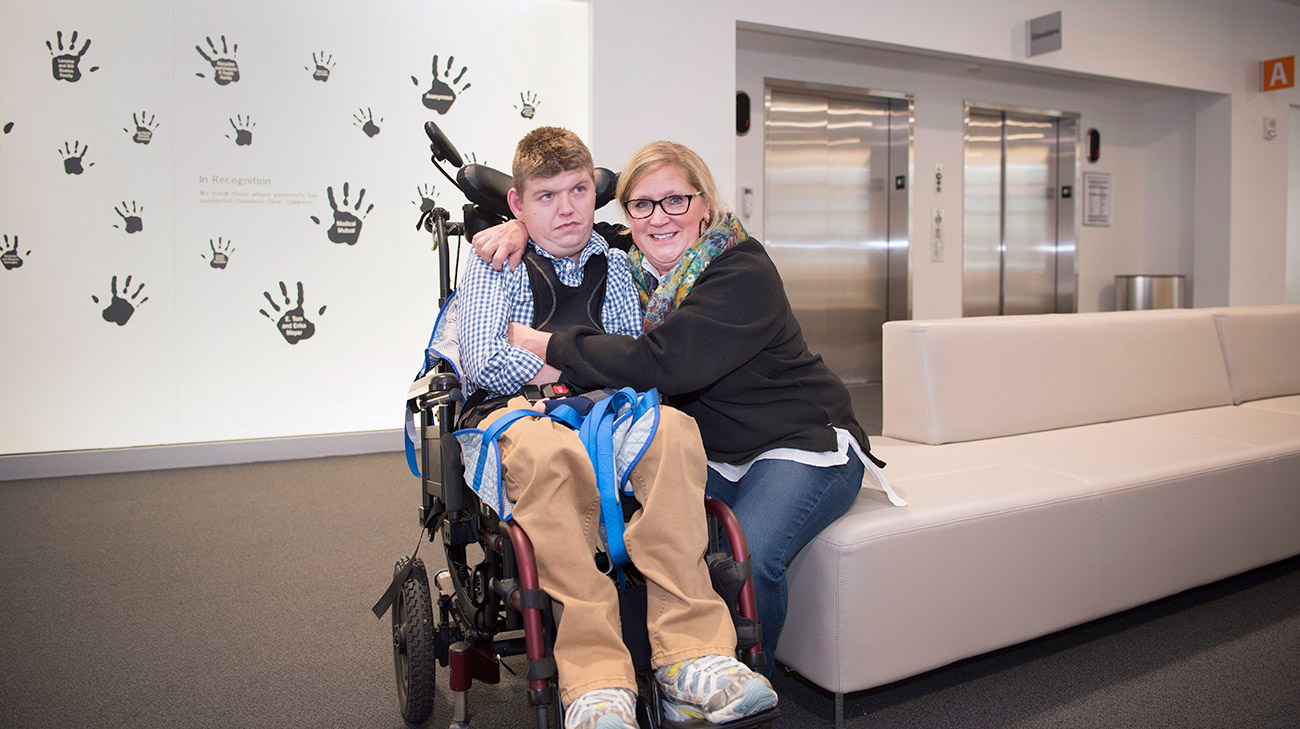 Thomas and Sue Rice wait for their final appointment at Cleveland Clinic Children's before Thomas transitions to adult care. (Courtesy: Cleveland Clinic)
"We see this as an area of opportunity, and we have healthcare partners who are very invested in being part of this journey and making it better for other families," she says. "We're always looking for more parents to join us and help make a difference. If anyone is interested or has the desire to participate, they can contact us at childrenshealthcarepartners@ccf.org."
The challenge of transitioning Thomas from pediatric to adult care is only one of many that have complicated life for the Rice family — while also enriching it.
"Thomas is that child whom everyone fears, whom some will gawk at, and others will say, 'I'm glad he's not mine,' because they hope their children won't have all of this to deal with," Sue says. "But he's become a young man who's still thriving, who's given us so much joy. And we've been helped along the way by a great medical team. When you're not in the flow, you can't see the beauty. Our medical team helps us so that we can slow down and see the beauty in our son."
Interested in joining Cleveland Clinic Children's Healthcare Partners?
Related Institutes: Cleveland Clinic Children's , Neurological Institute
Patient Stories
Patient Stories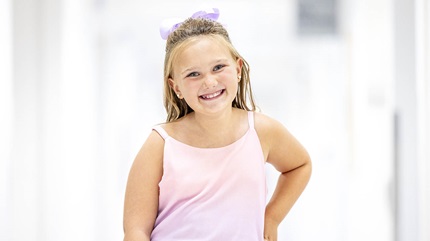 Sep 22, 2023
"This wraps up a chapter in her life we hope we never have to reopen. Audrey handled everything like a champ, and we are so grateful and proud."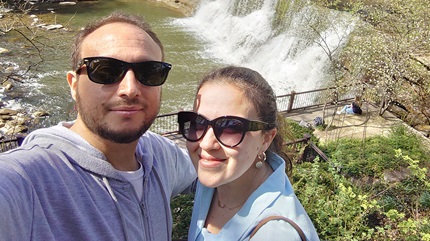 Sep 18, 2023
"Besides my first transplant, I've had other noninvasive surgical procedures, and I needed pain medication for all of them but not this time."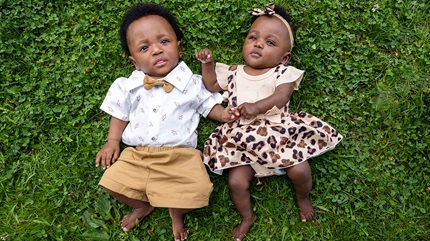 Sep 15, 2023
"Thinking about everything Kimyah and DJ have been through, it was hard to imagine us ever getting to this point. It was unclear if they would be able to do anything by themselves. Now, they're trying to do everything by themselves."