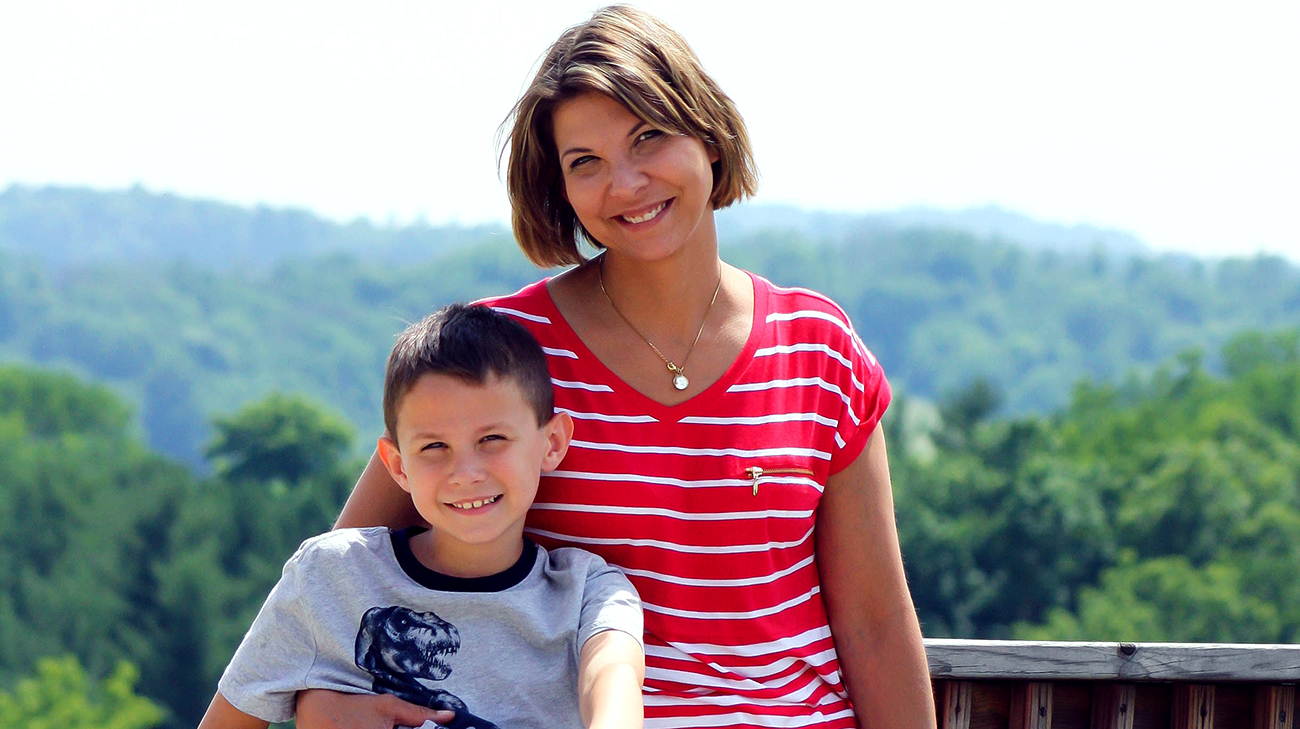 During her first-ever helicopter ride, Nicole Cavall gazed down at the ground below and recognized the tracks of the Cuyahoga Valley Scenic Railroad.
It felt surreal to her.
Her 7-year-old son, Stephen Comer, loves trains. So, they've ridden the rails of the Cuyahoga a few times. Now, fighting back tears and clutching a stuffed animal given to Stephen at a local Ohio hospital, she knew her son couldn't see the scene below as they raced to Cleveland.
He was in the back of the helicopter, being tended to by a Cleveland Clinic Pediatric Critical Care Transport team, disoriented, confused and weak.
"I remember thinking, 'Is this really happening?'" recalled Nicole, who lives with Stephen in Mineral City, 75 miles south of Cleveland. "We started the day at a soccer game, and now I didn't know if my son was going to live."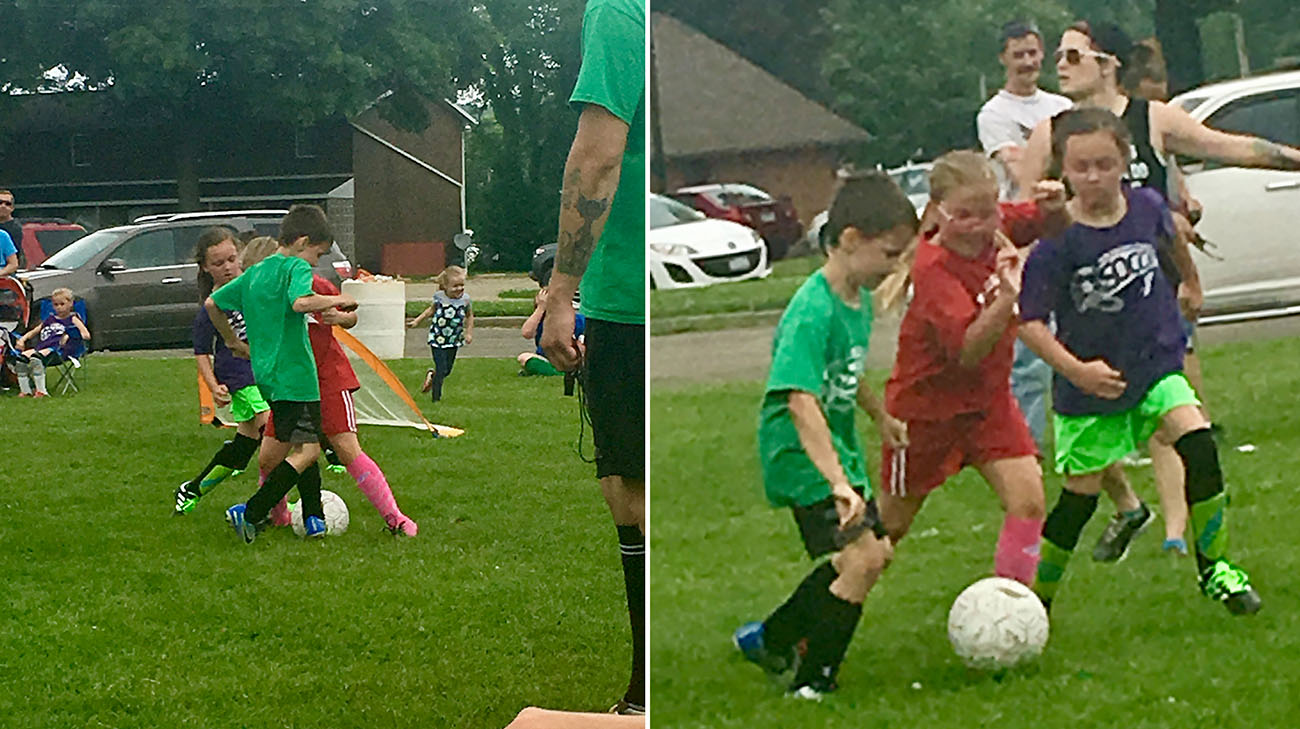 Stephen's mother, Nicole, took these photos of him playing soccer just minutes before he had a stroke. (Courtesy: Nicole Cavall)
Stephen, an otherwise healthy young boy who loves sports and science, suffered an acute ischemic stroke while seated on his mother's lap during a break from his afternoon soccer game on June 2, at the Tuscarawas County YMCA, not far from their home, in nearby Dover, Ohio.
"He laid down in front of me. He fell over, basically. I thought he was playing around," Nicole explained. "I told him, 'You have to sit up and watch your teammates.'"
But Stephen couldn't sit up. Nor could he talk. He could only mumble, and he was clutching at his face. Startled and afraid, Nicole gathered her limp son into her arms. Her mother rushed them by car to Cleveland Clinic Union Hospital, just two blocks away from the field.
Results of a CT scan at the hospital – and, later, an MRI taken at another local hospital – confirmed Stephen had suffered a rare occurrence: a pediatric stroke.
"I'd never heard of a child having a stroke," Nicole added. "He'd never had a medical problem in his life."
According to Neil Friedman, MBChB, director of the Center for Pediatric Neurosciences at Cleveland Clinic Children's, Nicole's reaction is common in parents – and even in some medical professionals. Only a few thousand cases of pediatric stroke occur each year, most at or just after birth.
"People generally aren't aware of pediatric stroke and will attribute symptoms to a headache or almost anything else," noted Dr. Friedman. "That's why the average (hospital) arrival time for a child with acute stroke is in excess of 24 hours after it takes place."
Since Stephen wasn't treated until eight hours after the onset of his stroke he was ineligible to receive intravenous (IV) tissue plasminogen activator (tPA) – the so-called "clot-busting drug" – which must be administered within the first four and a half hours of stroke presentation.
However, thanks to the quick action of Nicole and her mother, as well as the clinical staff that assessed his condition at another hospital, the team of Cleveland Clinic Children's interventional neurosurgeons awaiting Stephen's arrival as the helicopter approached were prepared to intervene immediately.
The MRI, and more specifically the MR angiogram, revealed a complete blockage of one of the main cerebral arteries in his brain. With no sign of trauma or tearing of the vessel, Dr. Friedman says it is possible Stephen's blockage, or focal vasculopathy, may have been the result of a prior viral infection. Stephen is now part of a national study, of which Cleveland Clinic is a participating site, funded by the National Institutes of Health, looking at the impact of infection, specifically certain viruses, in causing stroke in children.
Interventional neurosurgeon, Mark Bain, M.D., used a procedure on Stephen rarely performed in children called mechanical thrombectomy. During the surgery, a catheter is inserted into an artery in the groin, and fed up through the neck to the brain. When it reaches the site of the clot in the artery, a stent captures and removes it so blood flow is established again.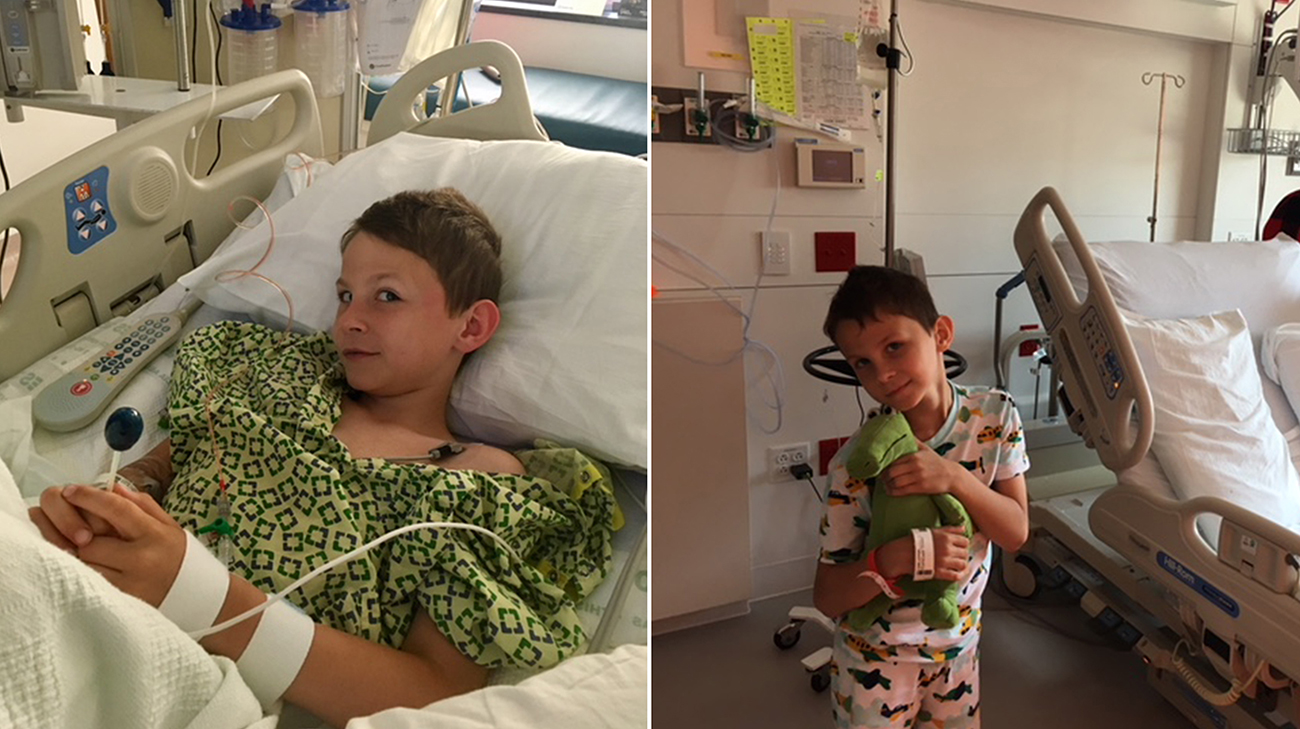 Stephen recovering at Cleveland Clinic Children's, after undergoing a procedure to treat his stroke. (Courtesy: Nicole Cavall)
Stephen's surgery, which lasted a few hours, was successful. Once he awakened, he was again able to talk, although haltingly. "But we kept seeing improvement, by the hour," explained Nicole. "By the next day, he was playing video games and drawing on whiteboard walls with dry erase markers."
Less than a week later, Stephen was discharged from the hospital. And just days later – with Dr. Friedman's blessing – he attended a science day camp.
When school resumed this fall, Stephen was back in class, telling fellow second graders about the adventures surrounding what he calls "the clog in my brain." Other than some occasional memory lapses, Stephen is a regular kid again – an outcome a grateful Nicole still can't quite fathom: "Other than wearing a medical alert bracelet and taking a children's aspirin once a day, he's back to normal. And happy."
As for Stephen, he'd like to try a helicopter ride again – this time, up front, with his mom. As he lamented to Nicole recently, "Mommy, that was the most expensive helicopter ride ever. And I couldn't see anything!"
Related Institutes: Cleveland Clinic Children's , Neurological Institute
Patient Stories
Patient Stories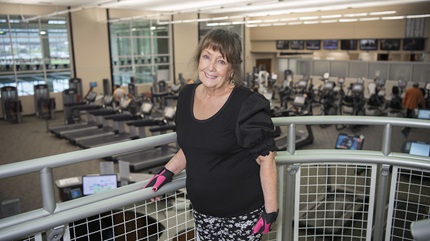 May 18, 2022
"I'm forever grateful for all the support I've received. It has truly made a difference in my life," she says. "My time spent at LifeStyles has been therapeutic and healing."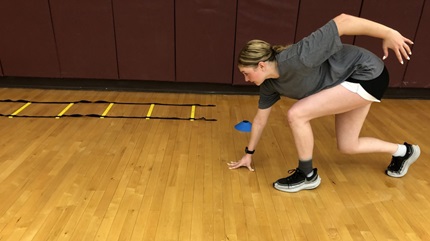 May 10, 2022
"I want to pursue athletic or personal training as a career... the program has benefitted me and it's inspired me to want to help others."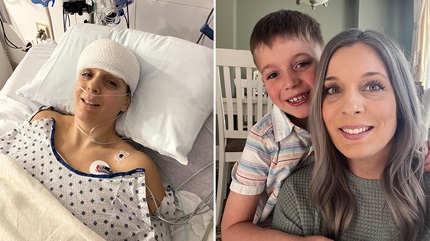 May 9, 2022
"I'm so humbled and grateful for Dr. Recinos and everyone at Cleveland Clinic. He did an incredible job and I truly owe my life to him."