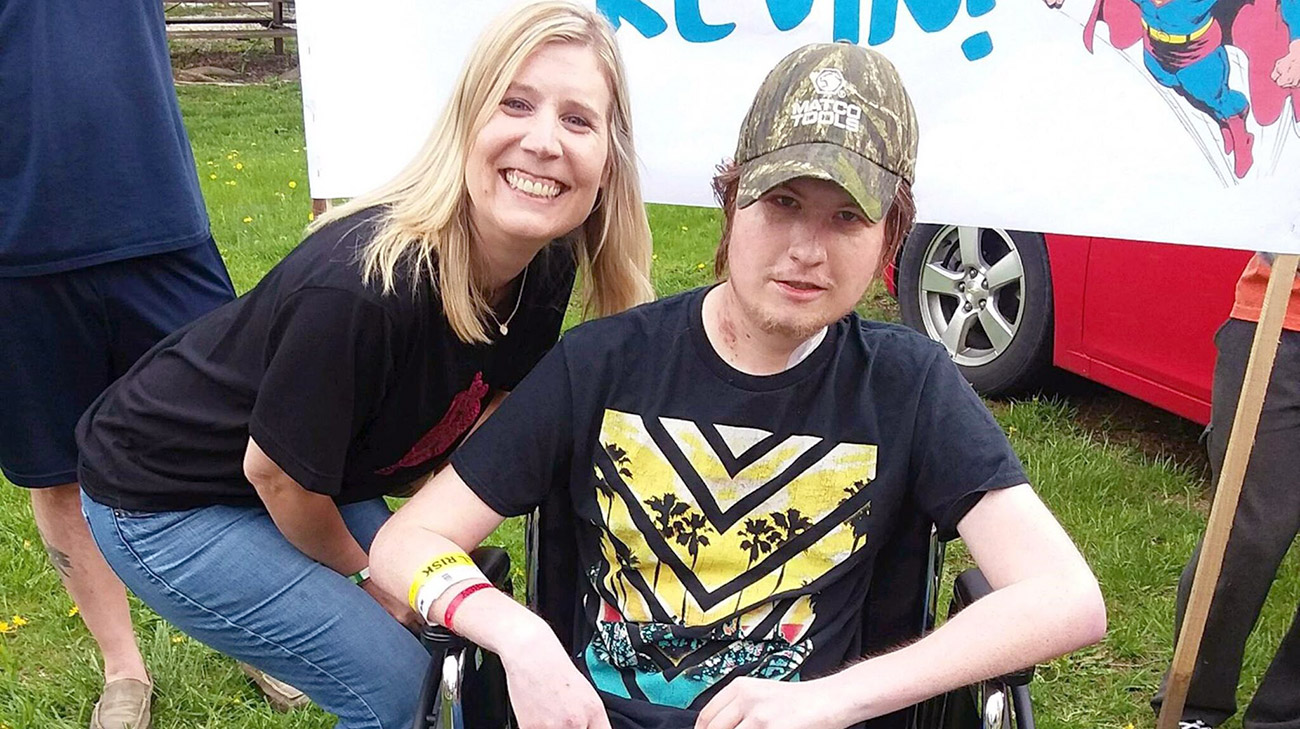 Kevin Detweiler Jr. turned 21 on July 28, 2018. It was a milestone that seemed a long shot just six months ago, when a critical care transport team rushed him by helicopter from Cleveland Clinic's Hillcrest Hospital to Cleveland Clinic main campus.
Afflicted with a rare form of genetic mitochondrial disease, which disables the body's ability to produce sufficient energy to function properly, Kevin was in full cardiac arrest on that day in January. It was the first of at least a half-dozen times Kevin would need urgent rescuing by Cleveland Clinic physicians, until he was finally sent home 104 days later –with a new heart.
"I wasn't expecting to have a heart transplant at 20," said Kevin, who is recovering at his home in Burton, Ohio. "I'm just really thankful I was given the opportunity, and it ended up saving my life."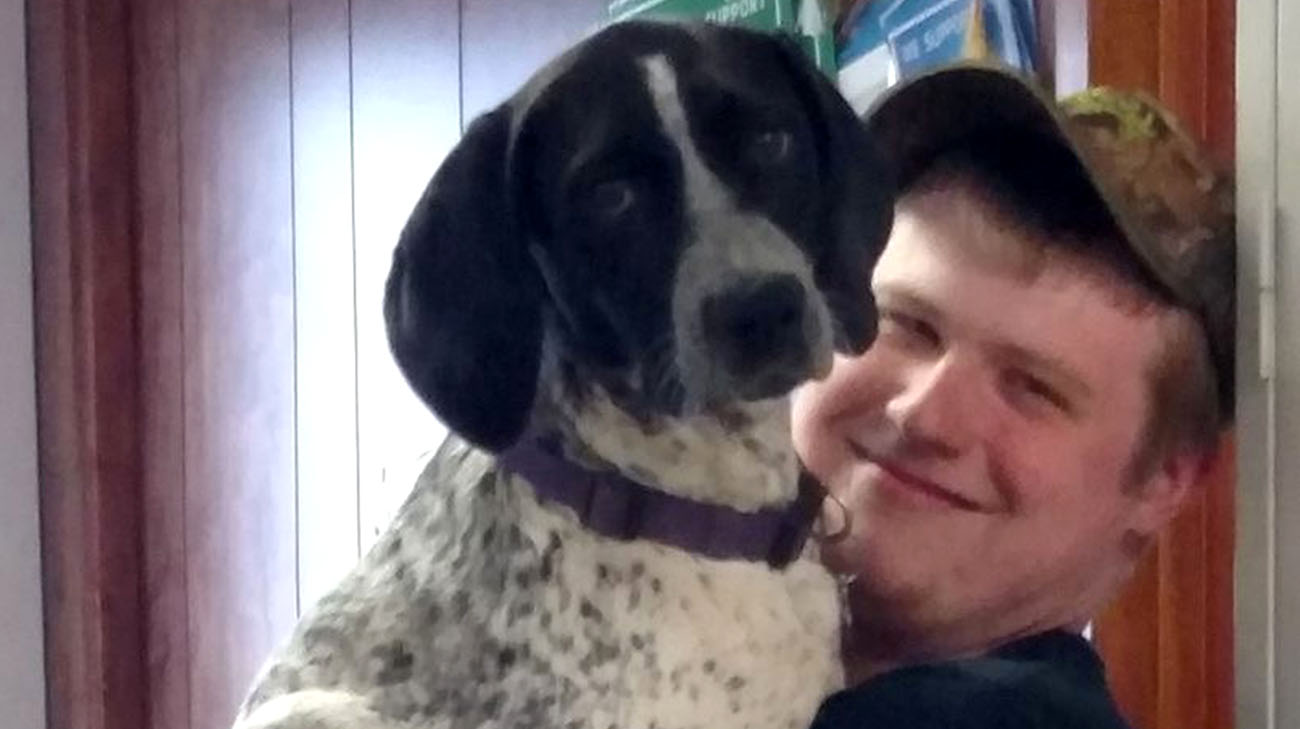 Remi is Kevin's four-legged friend who is always by his side. (Courtesy: Cori Detweiler)
According to Michael Zhen-Yu Tong, MD, a thoracic and cardiovascular surgeon at Cleveland Clinic's Heart & Vascular Institute, Kevin presented a complicated case that required the involvement of more than 20 physicians, along with dozens of nurses, nurse practitioners and specialists from many disciplines.
"To take care of a patient like Kevin, who had such a complex set of medical conditions and such a complicated course, requires a large and very cohesive team," said Dr. Tong, who operated on Kevin three times before and after his transplant surgery. "Because his condition is so rare, it took a leap of faith to get him ready for and through a transplant. We really didn't know if his body could handle it in such a weakened condition."
While Kevin has had mitochondrial disease since birth, the condition worsened during his teenage years. That is when his heart disease worsened and he began experiencing increasing bouts of cyclic vomiting syndrome (CVS), a condition in which a person suffers from sudden, repeated attacks of severe nausea, intense vomiting and exhaustion.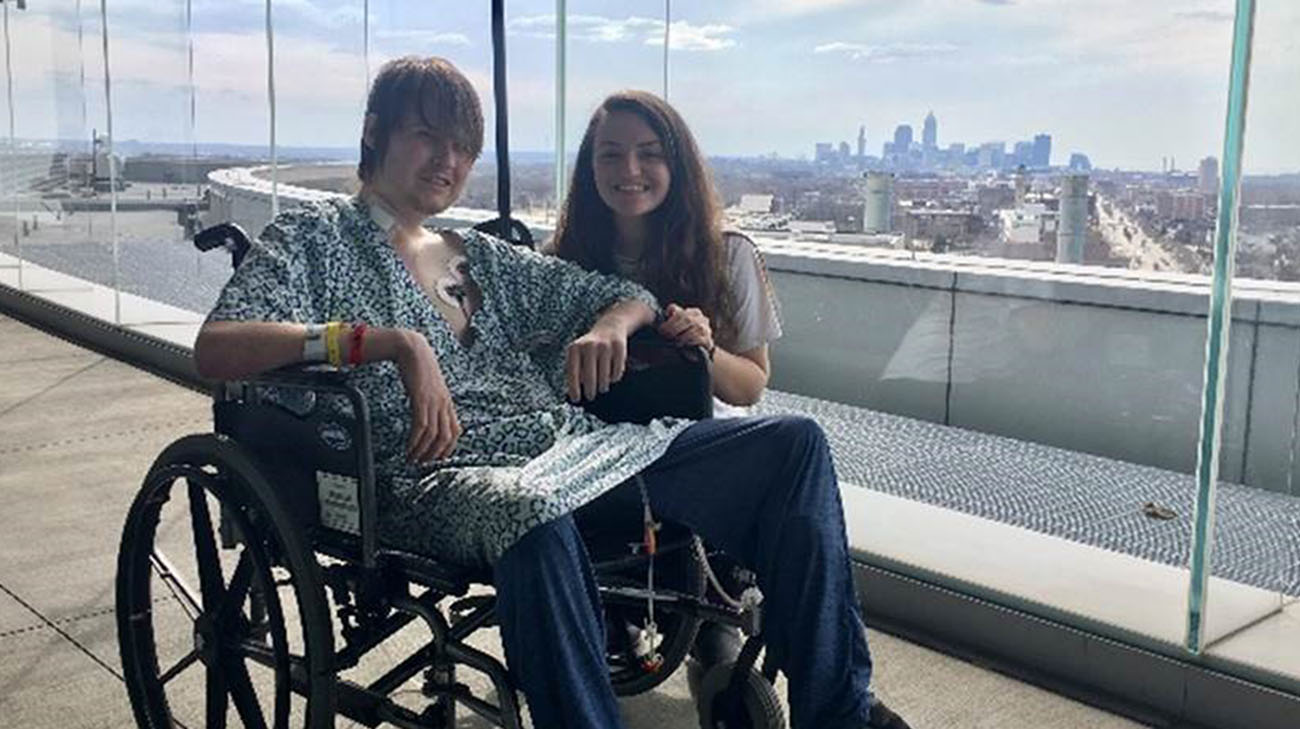 Kevin's case was so complicated it involved more than 20 physicians and dozens of nurses. (Courtesy: Cori Detweiler)
One of Kevin's physicians, Sumit Parikh, MD, Director of the Cleveland Clinic Mitochondrial Medicine Center, said heart failure is a common symptom of this type of mitochondrial disease and his failing heart prompted more frequent occurrence of CVS.
"Historically, people with his disease haven't gotten heart transplants because they may have so many other severe medical problems," said Dr. Parikh. "We now understand that some patients with mitochondrial disease can survive organ transplantation at nearly the same rates as other patients."
Dr. Parikh was able to review this data with the cardiac team in detail to show that Kevin would truly benefit from a heart transplant.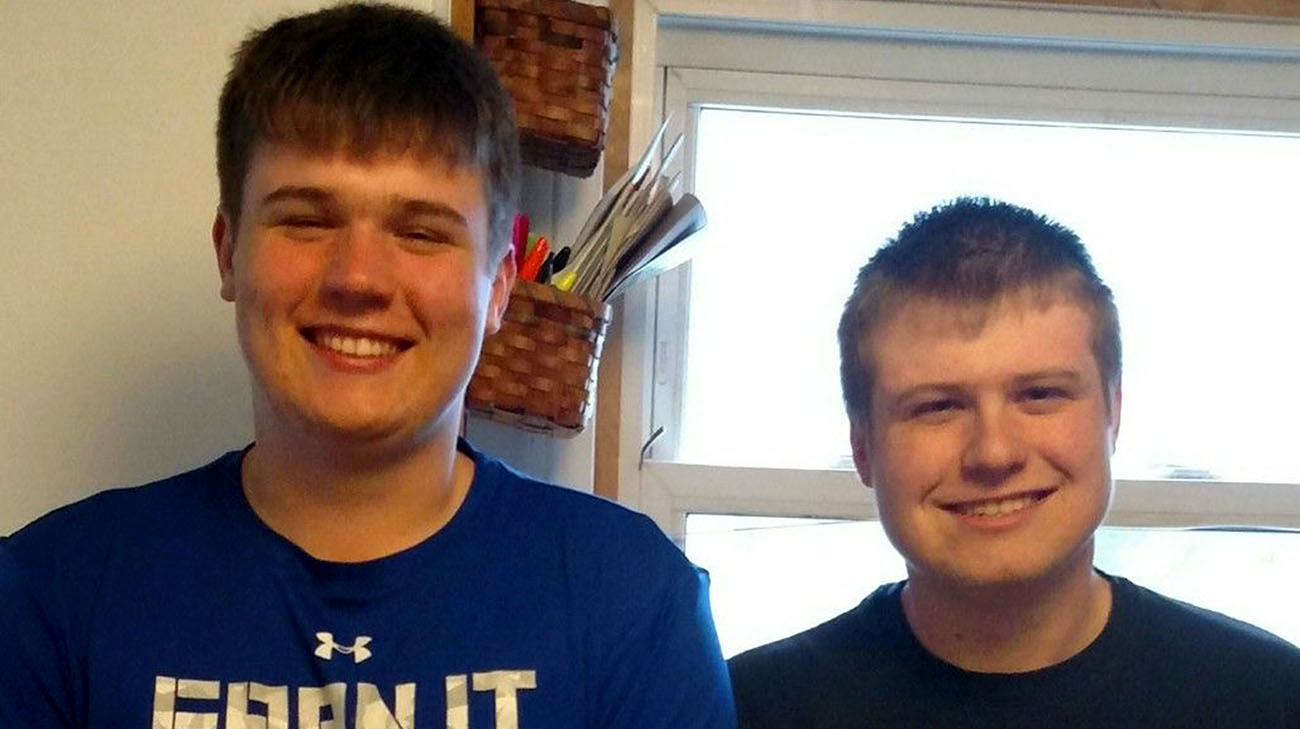 Kevin (right) and his brother Joe. (Courtesy: Cori Detweiler)
During bouts with CVS, Kevin would have severe metabolic worsening and vomit as much as 20 times over the course of a day or two. For instance, due to the CVS and his weakened heart, Keven's lactic acid levels would spike to more than 14 times the normal range due to inadequate blood flow to the body. His blood pressure would drop significantly, leading to a full cardiac arrest
"Very few people survive when lactic acid reaches the level that Kevin's did," said Dr. Tong.
To rescue Kevin from the cardiac arrest, the team at Cleveland Clinic twice inserted an extracorporeal membrane oxygenation (ECMO) device, a method used to add oxygen and remove carbon dioxide from his blood and to pump the blood through Kevin's body, when his own heart can no longer handle the load. The machine, while effective in saving Kevin's life, required heavy sedation and made Kevin bedbound. Most patients on ECMO would typically develop complications after a week. Patients rarely survive more than a week or two on ECMO.
"I don't really remember any of that time," Kevin stated. "That's probably a good thing."
While ECMO worked, Kevin continued getting weaker – so the surgeons inserted another type of mechanical support, a biventricular assist device (BIVAD), to support both his left and right heart. Doing so not only enabled Kevin to be awake, but allowed him to walk and maintain his physical strength. It also bought him more time as he awaited for a heart transplant at the highest level of priority.
About 10 days later, Kevin underwent an operation for a heart transplant performed by Edward Soltesz, MD, a Cleveland Clinic cardiovascular and heart transplant surgeon.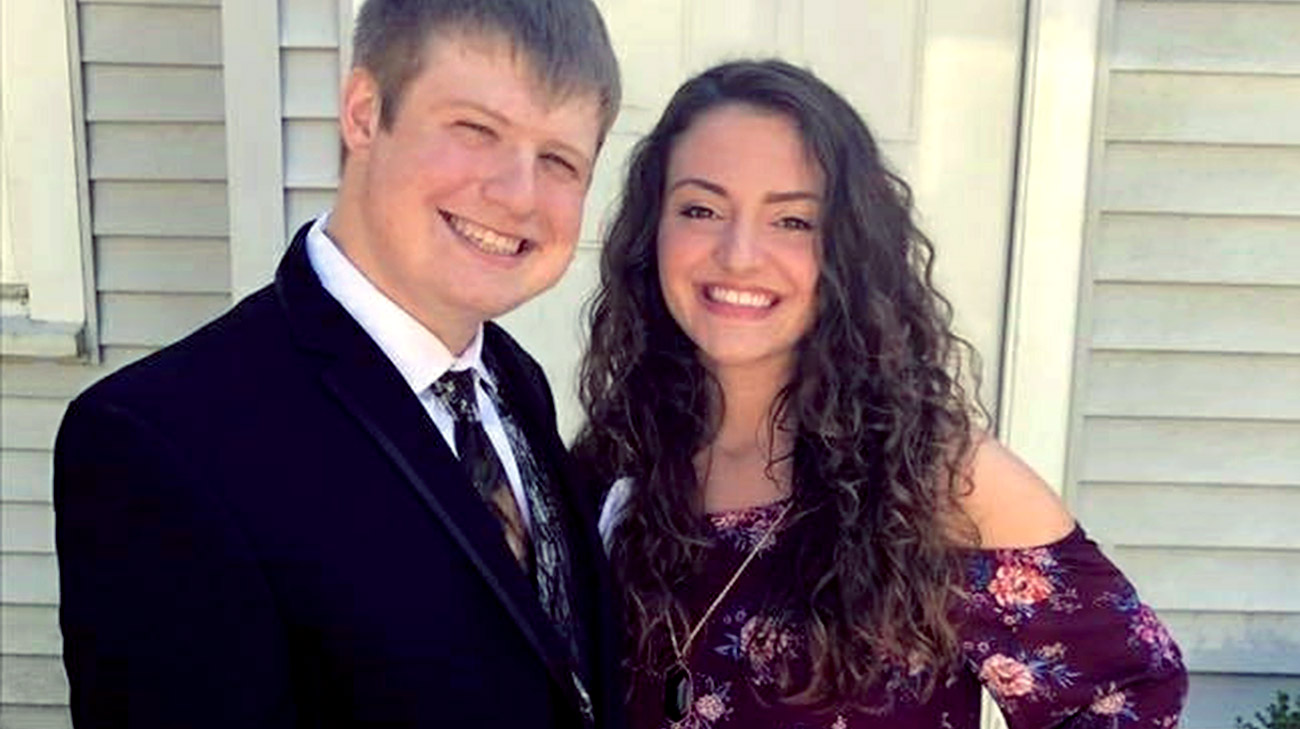 Kevin and his girlfriend, Ashley. (Courtesy: Cori Detweiler)
Kevin has responded well since his transplant and appears on the road to recovery, even after two major setbacks required additional emergency surgeries. One to repair a damaged artery in his leg and another to fix damaged aorta, both caused by infections.
He and his girlfriend, Ashley, have even resumed taking his dog, Remi, on long walks around his neighborhood. Soon, he hopes to again pursue his dream of becoming an auto diesel mechanic.
"I couldn't be more grateful for all that's been done for me. I definitely feel so much better," Kevin said. "But it's a slow process and I want to get back into shape. It's hard to be patient when you're 20."
Make that, 21.
Related Institutes: Heart, Vascular & Thoracic Institute (Miller Family), Neurological Institute
Patient Stories
Patient Stories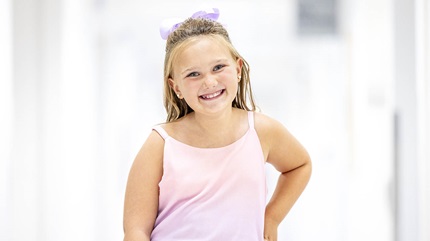 Sep 22, 2023
"This wraps up a chapter in her life we hope we never have to reopen. Audrey handled everything like a champ, and we are so grateful and proud."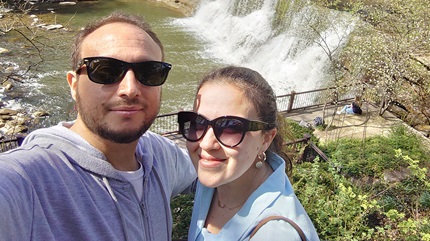 Sep 18, 2023
"Besides my first transplant, I've had other noninvasive surgical procedures, and I needed pain medication for all of them but not this time."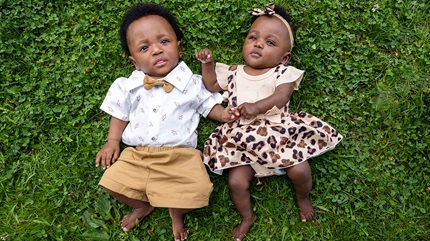 Sep 15, 2023
"Thinking about everything Kimyah and DJ have been through, it was hard to imagine us ever getting to this point. It was unclear if they would be able to do anything by themselves. Now, they're trying to do everything by themselves."