Baseball has been Jack Sparent's sport for as long as he can remember. He likes football and basketball, too, and has excelled at all three. But baseball was always special to Jack, and he liked to play it tough – taking the extra base on a hit into the outfield gap, diving for any ball he could reach – and earn the accolades of coaches and teammates alike. However, his budding career is currently on hold.
"Small moments are just so precious to me now," explained Jack. "I'm 14 years old and I almost died at 13. So, I've got to live for every moment I have."
For the second straight season, Jack has had to stay off the diamond, as he continues to recover from Guillain-Barre syndrome (GBS), a rare neurological disorder in which a person's peripheral nerves are attacked (instead of protected) by the immune system. Its onset can be spectacularly swift, causing muscle weakness, a loss of reflexes, numbness or tingling in parts of the body, and even paralysis.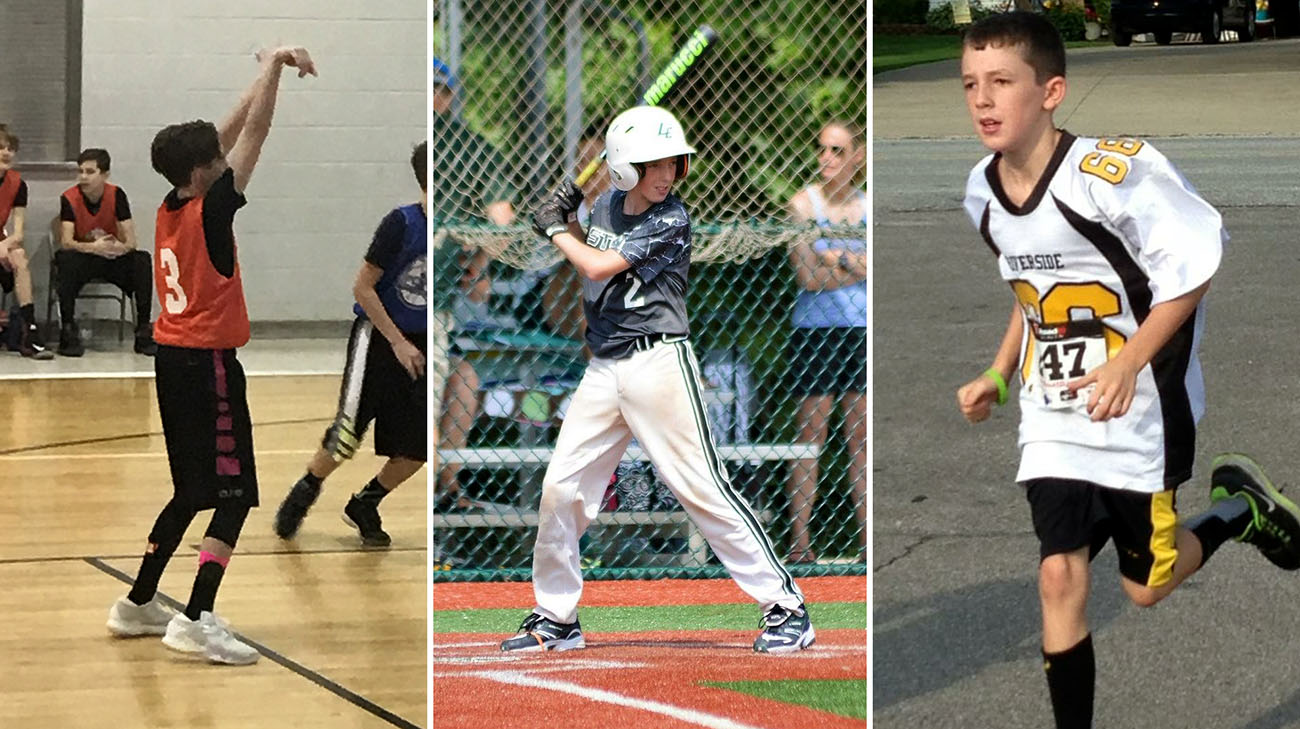 Jack has always loved being a multi-sport athlete. (Courtesy: Jacque Sparent)
According to Gary Hsich, MD, pediatric neurologist at Cleveland Clinic Children's who has treated Jack, he had an unusually, extremely difficult and life-threatening case of GBS that affected his entire body.
"In severe cases, GBS may involve arm function, head and face movements, and even breathing," explained Dr. Hsich. "And that's what happened to Jack."
After recovering from two bouts of what was originally believed to be the flu, Jack was participating in a school trip to Washington, D.C., in February 2017, when he suddenly became weak and, within hours, immobile. His worried parents – Jacque and Robert Sparent – didn't wait for the bus transporting the students to return to their town in Concord Township, Ohio; they sped by car to meet it in western Pennsylvania.
"My mom looked at me and said, 'What's wrong?'" recalled Jack. "And I said, 'I can't feel my legs.'"
Initially diagnosed at Cleveland Clinic emergency room with GBS, Jack – by now, suffering paralysis from his feet up to his eyes – was quickly transferred to Cleveland Clinic Children's Pediatric Intensive Care Unit (PICU). With Jack unable to breathe on his own, doctors quickly intubated and ventilated him and connected him to a breathing machine.
For the next month, he stayed in the PICU, immobile and fed through a feeding tube. He could only communicate with medical staff and his family by blinking his eyes. "At first, we didn't understand the severity. I just thought the doctors would treat him, and then we'd just be in the hospital for a couple of days," recalled Robert. "We didn't know it was going to keep getting worse and worse and worse."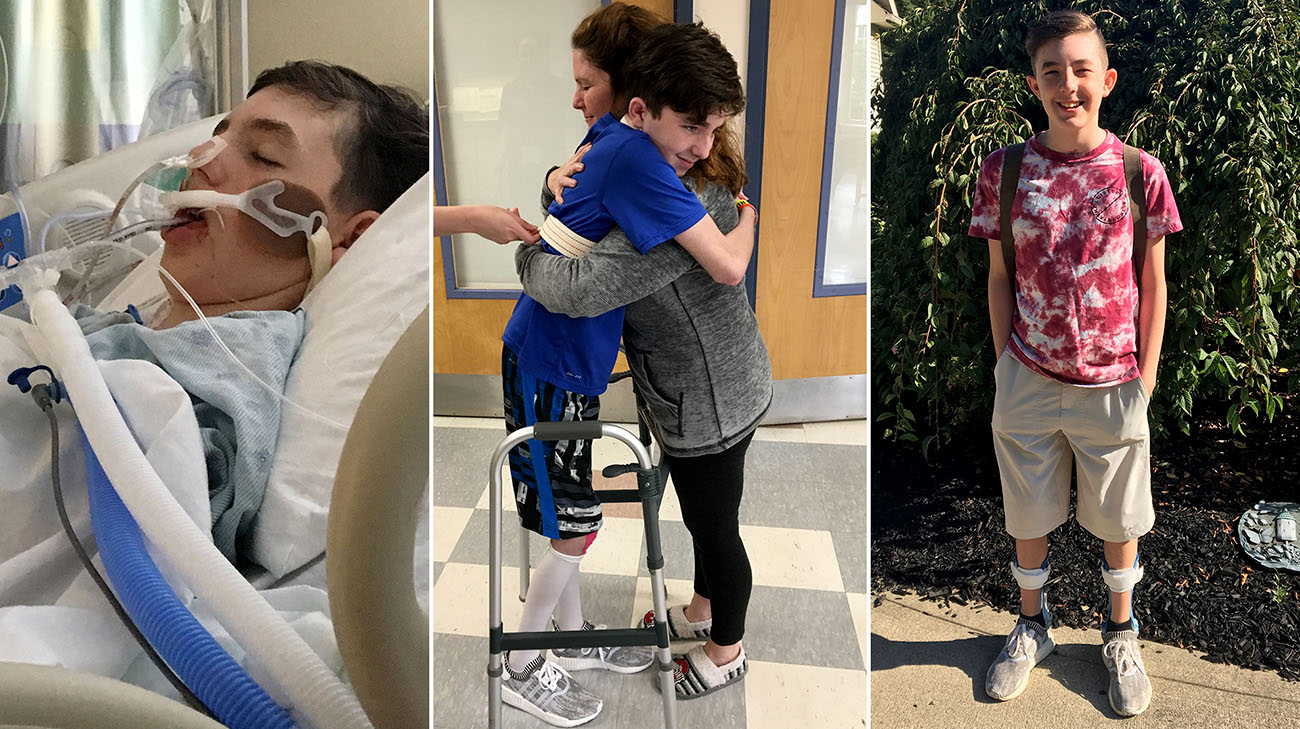 Jack went from being intubate, to learning to walk again, to using leg braces to walk independently. (Courtesy: Jacque Sparent)
When Jack was stable enough to transfer to Cleveland Clinic Children's Hospital for Rehabilitation, he could barely move, talk or feed himself. For nearly three months, he endured countless rounds of speech, physical, recreational and occupational therapy – determined to regain his life. Indeed, the athlete in him viewed rehab as a challenge he could one day overcome.
"When I found out I might never walk again, I had to step it up a notch," said Jack. "I didn't miss therapy even, like, one time."
Bethany Battershell, senior recreation therapist at Cleveland Clinic Children's Hospital for Rehabilitation, who treats Jack, was impressed by his work ethic: "Jack is one amazing kid. He has really worked hard to get stronger and back to his normal life while telling jokes and making you smile. It's not easy to be in a hospital and be missing out on your life outside of these walls."
Slowly, painfully, Jack improved – bolstered by his family, friends and even a visit from Cleveland Indians pitcher Andrew Miller. Finally, using just a walker, he was able to go home, return to school and live a different but happy life. Rehab continues, three days a week, and so does Jack's dream to get back on the field one day.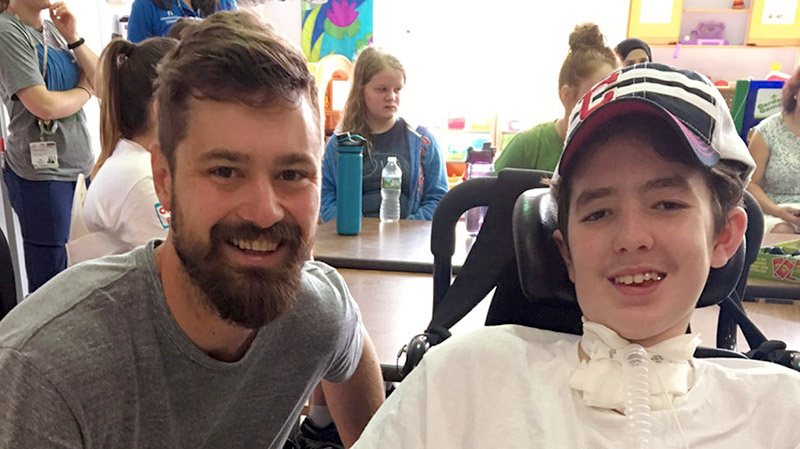 Jack and Cleveland Indians pitcher Andrew Miller during his visiting to Cleveland Clinic Children's. (Courtesy: Jacque Sparent)
"You just have to look on the bright side of everything," Jack said. "Don't ever think you are going to be defeated."
Jack Sparent, along with 6-year-old Tye'rell Simpson from Cleveland, received the esteemed Cleveland Clinic Children's Courage Awardduring the 28th annual Cleveland Clinic Children's Gala. The annual event, which raises funds for pediatric research, honors brave children facing medical obstacles and the dedicated caregivers who work tirelessly to provide comfort and healing.
Related Institutes: Neurological Institute, Cleveland Clinic Children's
Patient Stories
Patient Stories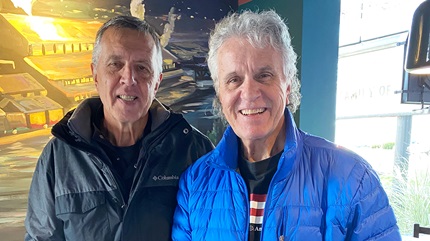 Nov 23, 2022
"Pay attention to your body. If you feel like there's something not right, there's probably something not right."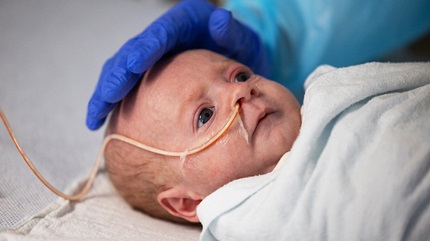 Nov 22, 2022
"I'm so glad we got Max examined right away."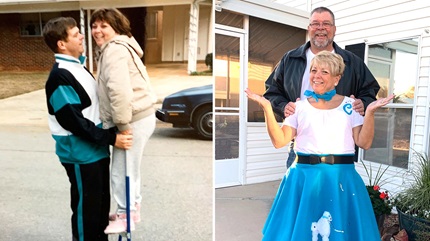 Nov 21, 2022
"My advice to caregivers is to remember to look after yourself. If you don't, you're not helping yourself or the loved one you're caring for."