At 15-years-old, Hussein Alblooshi, has more stamps in his passport than most his age. Singapore. Thailand. Belgium. Germany. England. United States. But, his trips from his home in Dubai, United Arab Emirates, weren't vacations – they were journeys to search for a cure for his disease.
When Hussein was two years old, his brother was ill and needed medical care. As the doctor examined Hussein's brother, he noticed that Hussein didn't look well – he had a yellow tinge to his face. Hussein's parents were surprised when he suggested that Hussein see a doctor. They brought one son for treatment and the other was in need, too.
The Emirati couple took Hussein to a hospital to follow-up on what the doctor had said. A blood test revealed that Hussein had Thalassemia – an inherited blood disorder that affects the body's ability to produce hemoglobin and red blood cells.
"His hemoglobin levels were very low and required a blood transfusion," says Mohamed Alblooshi, Hussein's father. "Our son had been living a normal life for two years, and overnight we learned that he'd need regular blood transfusions to keep him well."
Thalassemia is a genetic disease that is common in people of Middle Eastern descent; eight percent of people in the UAE are carriers of the defective gene. Hussein had beta thalassemia major – the most severe form of Thalassemia – which caused him to have low energy and difficulty sitting and standing when his hemoglobin was low.
In order to control the Thalassemia, Hussein would need monthly blood transfusions for the rest of his life. "It's the duty of a father or a mother to make every effort to find treatment for their sick child. When I'd hear of treatment somewhere, I'd go there," says Mr. Alblooshi.
For the next 12 years, the Alblooshi family travelled the world searching for a cure for Hussein, the third of their five children. They were thankful that the UAE government supported their quest.
Unfortunately, they never found what they were looking for. During a medical trip to England in 2015, Hussein needed to have his gallbladder removed. "I knew the disease was taking over his body; iron was building up in his blood and he was at risk of losing his pancreas. Once again, I applied for help with the Health Administration in Dubai," recalls Faridah Albannai, Hussein's mother. "I told them I needed to find a treatment for my son."
A UAE government representative contacted Cleveland Clinic to see if they could treat Hussein. The answer was – YES!
"The caregivers at Cleveland Clinic didn't treat me like a patient, but like a son."
Cleveland Clinic is one of a few hospitals that offer a unique and novel bone marrow transplant approach – called a haplo-identical transplant – that could benefit Hussein. Haplo means that donated cells match only half of Hussain's important genes. Using an innovative technique, Hussein would receive the half-matched, donated bone marrow from his brother, Suhail.
Once tests were done, decisions were made and papers were filled out, the family was on a plane to Cleveland.
"I knew this was an educated family that had been through a lot without any positive results," says Rabi Hanna, MD, Chair for Pediatric Hematology-Oncology and Blood and Marrow Transplant at Cleveland Clinic Children's. "So, I proposed a new therapy to them; one with potentially less graft-versus-host disease and fewer long-term side effects."
Hussein would receive reduced-intensity chemotherapy – or pre-conditioning with chemo – followed by lower doses of the medication. Once the transplant was done, he'd have additional chemo to avoid rejection of the marrow.
The family decided that this was the treatment they had been zig-zagging the globe for. "For the first time in 12 years, a doctor who was treating Hussein caused me to feel a peace of mind," recalls Mr. Alblooshi.
Because Hussein and his family were from overseas and would be in Cleveland for an extended amount of time, they were connected with Cleveland Clinic Global Patient Services – a department dedicated to serving the needs of international patients.
"The caregivers in our department speak many languages, are familiar with the cultural needs of patients from other countries, and help them make Cleveland their home while they're here for treatment," says Nizar Zein, MD, Chairman, Global Patient Services. "They often become extended members of our international patients' families."
In November 2016, Hussein received his bone marrow transplant. "The caregivers at Cleveland Clinic didn't treat me like a patient, but like a son," recalls Hussein.
After three months, his bone marrow showed to be 100 percent from his donor. And, at six months, immunosuppression therapy was stopped. Those two factors meant his transplant was a success.
"Hussein has the potential to do whatever he wants. He can make an impact because he's going to live a healthy, normal life," says Dr. Hanna.
His 12-year journey proved to Hussein that "Nothing's impossible. It's important not to lose hope or give up. Everything happens according to God's will."
Related Institutes: Cleveland Clinic Children's , Cleveland Clinic Cancer Center
Patient Stories
Patient Stories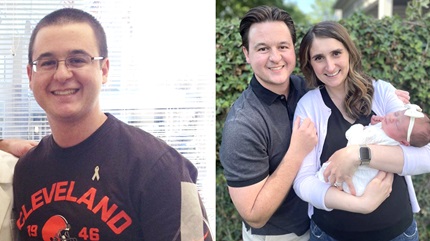 Nov 30, 2023
"At the time of my diagnosis, I was thinking, 'I'm 24. I'm a lifelong nonsmoker. I'm not supposed to get cancer.'"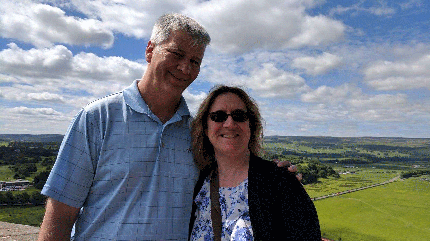 Nov 30, 2023
"I was under enormous stress and having difficulty sleeping, so I reached out to Dr. Saper to see if he had any suggestions as to how I could better cope."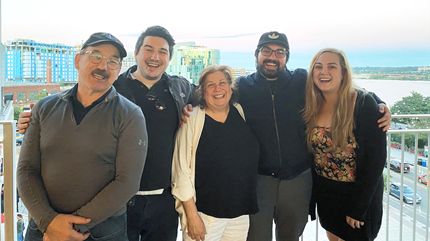 Nov 22, 2023
"I was truly blessed to be with the doctors and the entire cardiac surgery team. They saved my life."