See a Provider Live Using Your Smartphone, Tablet or Computer
When you need to find care, let us bring a healthcare provider to you. From your mobile device or computer, it's never been easier for you and your family to instantly access world class care at home or work. For nonemergency concerns, patients ages 2 and older can get a diagnosis or prescription online from a healthcare provider in about a 10-minute virtual visit. Our Express Care Online service allows you to choose between an on demand visit right away or to schedule a virtual follow-up visit for a later date. If you encounter any technical difficulties during your Express Care Online virtual visit please call 1.866.569.7530 (US toll free), any time 24/7.
Get Started
Commonly Treated Conditions
Cleveland Clinic Express Care® Online is the right choice for treating many typical issues including:
Specialty Care
Cleveland Clinic has specialists available for virtual visits on demand to treat a variety of issues related to these areas:
What are the Benefits of Virtual Visits?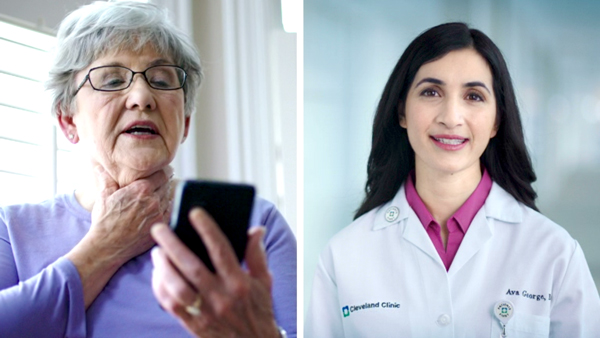 What are the Benefits of Virtual Visits?
Fast and Convenient: See a doctor by live video and get a diagnosis from your home or work instead of driving to a medical office. When appropriate, you also can get a prescription to the pharmacy of your choice.
Affordable: The cost of the on demand virtual visit is $55. Many insurance plans now cover the cost of virtual visits.
Secure: Your personal health information is safe and sound during your virtual visit.
Download Our App
An App Download Today Keeps the Doctor Just a Click Away
Connect with world class care in a matter of minutes and download Cleveland Clinic Express Care® Online now.