About Us
About Us
Cleveland Clinic Akron General is a nonprofit healthcare organization that has been improving the health and lives of the people and communities it serves since 1914. Akron General includes Akron General Medical Center, a 532-bed teaching and research medical center, and Edwin Shaw Rehabilitation, the area's largest provider of rehabilitation services; Akron General Partners, which includes Partners Physician Group, the Akron General Health & Wellness Centers, Lodi Community Hospital, Community Health Centers and other companies; Akron General Visiting Nurse Service and Affiliates; and Akron General Foundation. Cleveland Clinic Akron General is recognized regionally and within Ohio for its expertise and care. Akron is part of Northeast Ohio, which is composed of six metropolitan areas. Each area provides affordable real estate, excellent schools, safe communities as well as an abundance of outdoor activities.
Cleveland Clinic Akron General Behavioral Medicine is a multi-disciplinary department that oversees the functioning of both inpatient and outpatient programs to assess and treat mental disorders. The department operates 50 inpatient beds on units in the main hospital as well as a Partial Hospitalization/Intensive Outpatient Program and active Consultation Liaison Service within our Healthcare System. The department is actively involved in training mental health professionals. We are a major training site for the fully accredited Cleveland Clinic Akron General Psychiatry Residency Program operated by the Northeast Ohio Medical University and Cleveland Clinic Lerner College of Medicine of Case Western Reserve University (CCLCM). We sponsor an active program of continuing educational activities for mental health professionals employed within our system and in our community.
Check out the latest on Cleveland Clinic Akron General's Facebook page.
Welcome
Welcome
The Health Psychology Fellowship provides clinical training in psychological assessment and treatment of adult patients in a community hospital system setting. Training occurs through didactics as well as clinical exposure with direct supervision to facilitate the learning process. Most experiences are outpatient based, with fellows participating in services including diagnostic interviews, psychological assessment, individual psychotherapy, and behavioral interventions with adult patients reporting a wide range of medical and psychological problems (including but not limited to anxiety, depression, coping with chronic illness or disability, cancer, pain, insomnia, and developing/maintaining health-related lifestyle changes). In addition, fellows gain experience in the administration, scoring, interpretation, and reporting of results of psychological tests (objective personality and cognitive assessments) for clarification of complex diagnoses and facilitation of treatment planning. Our fellows often work with the psychiatry residency training clinic at Cleveland Clinic Akron General, where fellows conduct psychological assessment, consultation, and coordination of care with residents for shared cases. Fellows may choose additional elective experiences based on interest including working with our Bariatric Center, ACH inpatient burn unit, women's health service line including peri/post-partum, facilitation of inpatient group treatment, and general psychological testing with one of our neuropsychologists. The fellowship is clinical in nature, but the fellow is also expected to participate in ongoing research, didactics, and teaching.
The fellowship provides a generous benefits package:
Individual supervision for licensure.
Paid time away (15 vacation days, 5 personal days).
Individual/family medical benefits (available for a fee).
Dental insurance (available for a fee).
Vision insurance (available for a fee).
Flexible spending accounts for dependent care and healthcare expenses (contributions are pre-tax).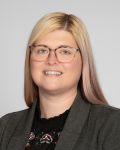 Adriane Bennett, PhD
Chief of Psychology
Dept. of Psychiatry & Behavioral Sciences
Cleveland Clinic Akron General Behavioral Medicine
Cleveland Clinic Akron General
1 Akron General Avenue
Akron, OH 44307
Phone: 330.344.7738
Fax: 330.344.2943
benneta5@ccf.org
Fellowship Supervisors
Adriane Bennett, PhD
Coda Derrig, PhD
Amanda Rose, PsyD
Brian Tapscott, PhD
Application
Application
Applications are accepted from October through the end of each calendar year. Applications should be submitted to the Program Director and are reviewed by the Program Director and supervisors. Qualified applicants will have completed all requirements for their doctoral degree (PhD or PsyD) in clinical or counseling psychology from an APA-approved program including their dissertation defense before the September start date of their first year of fellowship (no exceptions). In addition, they will have graduated from a pre-doctoral internship in adult clinical and/or health psychology that is an APA accredited graduate program (preferred) or graduate program that meets the APPIC standards (required). Our fellowship is not currently APA accredited, nor listed on the APPIC directory.
Interested applicants should email the following materials to Lindsay Sharpless at sharpll@ccf.org: CV, Official Transcripts and a letter of interest/intent specifying preferences for elective experience(s).
Include a clinical work sample and three letters of recommendation (sent by their authors). If you have not yet received your doctorate, a letter from your program director attesting to your status as a doctoral candidate, and anticipated date of dissertation defense as well as anticipated graduation date are also required.
Interview Process
Interviews for invited applicants are held in late January through March of each calendar year. Applicants selected for interviews will be contacted via email in mid to late January. All active supervisors will be present and participate during interviews to provide an opportunity to interact with all candidates.
Hiring Decision
Preference is given to applicants at APA accredited pre-doctoral internships in health psychology; however, applicants meeting APPIC internship standards will be considered. Prior to beginning the first year of fellowship, fellows are required (no exceptions) to have completed all requirements for their doctoral degree (PhD or PsyD) in clinical or counseling psychology from an APA-approved program including their dissertation defense.
Hiring decisions are typically made in late February early March of every calendar year. Actual appointments begin in mid-June.
For more information about fellowship research in Health Psychology Fellowship, please contact:
Adriane Bennett, PhD
Chief of Psychology
bennetA5@ccf.org