Venous Disease Sclerotherapy
Overview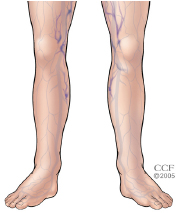 What is sclerotherapy?
Sclerotherapy is a medical procedure used to treat varicose veins and "spider veins." During sclerotherapy, the physician injects a solution directly into the affected vein. The solution irritates the lining of the vessel, causing it to swell and stick together. Over time, the vessel turns into scar tissue that fades from view. Sclerotherapy is a well-proven procedure and has been used since the 1930s.
How is sclerotherapy done?
Sclerotherapy is performed in a doctor's office. The treatment area is cleansed. The solution is injected directly into the blood vessel, using very fine needles. The number of veins injected in one session is variable, depending on the size and location of the veins, and the patient's overall medical condition.
How successful is sclerotherapy in treating varicose and spider veins?
Sclerotherapy works well for most patients. It is estimated that as many as 50 percent to 80 percent of injected veins may be eliminated with each injection session. A few (less than 10 percent) of the people who have sclerotherapy do not respond to the injections at all. In these instances, different solutions or a different method, such as laser therapy, may be tried.
In general, spider veins respond to treatment in 3 to 6 weeks, and larger veins respond in 3 to 4 months. If the veins respond to the treatment, usually they will not reappear. However, new veins may appear over time. If needed, you may return for injections.
How will I know if I am a candidate for sclerotherapy?
Before the procedure, you will have an initial consultation with a vascular specialist who will evaluate your eligibility for sclerotherapy. You are not eligible for sclerotherapy if you are pregnant, breastfeeding, or are bedridden.
You must wait at least three months after delivery before you can be considered for this procedure. You can have sclerotherapy if you take birth control pills. If you have had a blood clot in the past, your eligibility will be determined on an individual basis, and will depend on the extremity and the cause of the clot.
Veins that are potentially usable for future surgical bypass procedures (such as the saphenous vein for coronary artery bypass graft surgery) will generally not be considered for injection, unless they are already deemed unusable.
Will my insurance cover sclerotherapy?
Insurance companies do not provide coverage for sclerotherapy when it is performed for cosmetic reasons. Some insurance companies cover sclerotherapy for specific medical conditions. Your insurance company may request a letter from your physician concerning the nature of your treatment. Please contact your insurance provider to verify coverage before you consider the procedure. If you have questions about the cost of the consultation, treatment or stockings, please call the Patient Financial Advocate.
Procedure Details
What to do before the procedure
Medications: Prior to sclerotherapy, certain medications should be avoided. Please follow these guidelines:
Tetracycline or Minocin, both antibiotics, may possibly cause a staining of the skin if taken 7 to 10 days before or after sclerotherapy. Ask your doctor about other antibiotic medications you may take, or ask for safe guidelines for discontinuing these medications. If you are required to take an antibiotic before any invasive procedure, such as dental procedures, colonoscopy or surgery, please inform your physician.
Do not take aspirin, ibuprofen (i.e. Advil and Nuprin) or other anti-inflammatory medications for 48 hours before and after sclerotherapy, because these medications may interfere with the action of the sclerosing agent or increase bleeding. Tylenol is permitted. Ask your doctor for specific guidelines before discontinuing any medication.
Prednisone decreases the effectiveness of the sclerosing agent. Ask the doctor who prescribed your prednisone if it can be safely discontinued for 48 hours before the sclerotherapy procedure.
Other guidelines before the procedure
No lotion should be applied to the legs before or after sclerotherapy.
We recommend that you bring a pair of shorts to wear during the procedure.
If you have compression hosiery (support stockings) from previous treatments, please bring them with you so we can make sure they will provide adequate support after the procedure.
How will I feel?
Mild discomfort may occur when the veins are injected, and a cramping sensation may be felt for 1 to 2 minutes when larger veins are injected.
How long will the treatment last?
The sclerotherapy procedure takes about 30 to 45 minutes.
What happens after the treatment?
After the treatment you will be able to drive yourself home. You may resume your regular activities and are encouraged to walk.
You will be instructed to wear support hosiery or compression wraps to "compress" the treated vessels.
Support items can be purchased at the Cleveland Clinic Pharmacy.Support stockings purchased from a department store may not be adequate if a heavy compression stocking is prescribed.
For 48 hours after the procedure, please follow these guidelines:
Avoid aspirin, ibuprofen and other anti-inflammatory medications. Tylenol may be used if needed for pain relief.
Do not take hot baths or sit in a whirlpool or sauna. You may take showers, but the water should be cooler than usual.
Wash the injection sites with mild soap and lukewarm water.
Do not apply hot compresses or any form of heat to the injected areas.
Avoid direct exposure to sunlight (including sun tanning and tanning beds).
Call your physician if you have any concerns or questions after the procedure.
Risks / Benefits
What are the side effects of sclerotherapy?
Side effects of sclerotherapy may include:
Larger injected veins may become lumpy or hard for several months before resolving.
Raised, red areas may appear at the injection sites and should disappear within a few days.
Brown lines or spots on the skin may be noted at the site of the injection, possibly caused by a form of iron that escapes from the blood in the injected veins. In most cases, they disappear within 3 to 6 months, but can be permanent about 5 percent of the time.
Bruising may occur around the injection site and can last several days or weeks.
Temporary tiny blood vessels may develop at the treated area. This is called revascularization, "flares," "mats," or "blushing." They may appear days or weeks after the procedure but should fade within a few months and usually do not require further treatment.
Allergic reactions to the sclerosing agent may occur at the time of the injection and are rarely serious. Symptoms include itching and swelling.
Other side effects rarely develop after sclerotherapy. If you have any of these rare side effects, please contact your physician immediately:
Inflammation within five inches of the groin
Sudden onset of a swollen leg
Formation of small ulcers at the injection site
Red streaking, especially in the groin area
Resources
Doctors vary in quality due to differences in training and experience; hospitals differ in the number of services available. The more complex your medical problem, the greater these differences in quality become and the more they matter.
Clearly, the doctor and hospital that you choose for complex, specialized medical care will have a direct impact on how well you do. To help you make this choice, please review our Miller Family Heart & Vascular Institute Outcomes.
Cleveland Clinic Heart & Vascular Institute Vascular Medicine Specialists and Surgeons
Choosing a doctor to treat your vascular disease depends on where you are in your diagnosis and treatment. The following Heart & Vascular Institute Sections and Departments treat patients with all types of vascular disease, including blood clotting disorders:
Related Institutes & Services
Miller Family Heart & Vascular Institute
The latest information about heart & vascular disorders, treatments, tests and prevention from the No. 1-ranked heart program in the United States.
Section of Vascular Medicine: for evaluation, medical management or interventional procedures to treat vascular disease. In addition, the Non-Invasive Laboratory includes state-of-the art computerized imaging equipment to assist in diagnosing vascular disease, without added discomfort to the patient. Call Vascular Medicine Appointments, toll-free 800-223-2273, extension 44420 or request an appointment online.
Department of Vascular Surgery: surgery evaluation for surgical treatment of vascular disease, including aorta, peripheral artery, and venous disease. Call Vascular Surgery Appointments, toll-free 800-223-2273, extension 44508 or request an appointment online.
IVC Filter Retrieval Clinic - to make an appointment, call Vascular Medicine at 216.444.4420. Ask for Dr. Bartholomew in the Filter Retrieval Clinic. Your appointment will include a consultation with Dr. Bartholomew and the physicians who will perform the IVC filter retrieval procedure.
You may also use our MyConsult second opinion consultation using the Internet.
The Heart and Vascular Institute also has specialized centers and clinics to treat certain populations of patients:
Learn more about experts who specialize in the diagnosis and treatment of vascular and arterial disease.
Contact
If you need more information, click here to contact us, chat online with a nurse or call the Miller Family Heart & Vascular Institute Resource & Information Nurse at 216.445.9288 or toll-free at 866.289.6911. We would be happy to help you.
Becoming a Patient
Conditions
Treatment Guides
Diagnostic Tests
Diagnostic tests are used to diagnose your abnormal heartbeat and the most effective treatment method.
Webchats
Our webchats and video chats give patients and visitors another opportunity to ask questions and interact with our physicians.
Videos
Interactive Tools
Resource Links
*A new browser window will open with this link. The inclusion of links to other websites does not imply any endorsement of the material on those websites nor any association with their operators.
Why choose Cleveland Clinic for your care?
Our outcomes speak for themselves. Please review our facts and figures and if you have any questions don't hesitate to ask.
Cleveland Clinic is a non-profit academic medical center. Advertising on our site helps support our mission. We do not endorse non-Cleveland Clinic products or services. Policy