Venous Disease Sclerotherapy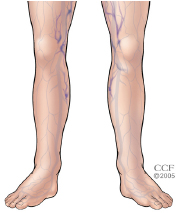 What is sclerotherapy?
Sclerotherapy is a medical procedure used to treat varicose veins and "spider veins." During sclerotherapy, the physician injects a solution directly into the affected vein. The solution irritates the lining of the vessel, causing it to swell and stick together. Over time, the vessel turns into scar tissue that fades from view. Sclerotherapy is a well-proven procedure and has been used since the 1930s.
How is sclerotherapy done?
Sclerotherapy is performed in a doctor's office. The treatment area is cleansed. The solution is injected directly into the blood vessel, using very fine needles. The number of veins injected in one session is variable, depending on the size and location of the veins, and the patient's overall medical condition.
How successful is sclerotherapy in treating varicose and spider veins?
Sclerotherapy works well for most patients. It is estimated that as many as 50 percent to 80 percent of injected veins may be eliminated with each injection session. A few (less than 10 percent) of the people who have sclerotherapy do not respond to the injections at all. In these instances, different solutions or a different method, such as laser therapy, may be tried.
In general, spider veins respond to treatment in 3 to 6 weeks, and larger veins respond in 3 to 4 months. If the veins respond to the treatment, usually they will not reappear. However, new veins may appear over time. If needed, you may return for injections.
How will I know if I am a candidate for sclerotherapy?
Before the procedure, you will have an initial consultation with a vascular specialist who will evaluate your eligibility for sclerotherapy. You are not eligible for sclerotherapy if you are pregnant, breastfeeding, or are bedridden.
You must wait at least three months after delivery before you can be considered for this procedure. You can have sclerotherapy if you take birth control pills. If you have had a blood clot in the past, your eligibility will be determined on an individual basis, and will depend on the extremity and the cause of the clot.
Veins that are potentially usable for future surgical bypass procedures (such as the saphenous vein for coronary artery bypass graft surgery) will generally not be considered for injection, unless they are already deemed unusable.
Will my insurance cover sclerotherapy?
Insurance companies do not provide coverage for sclerotherapy when it is performed for cosmetic reasons. Some insurance companies cover sclerotherapy for specific medical conditions. Your insurance company may request a letter from your physician concerning the nature of your treatment. Please contact your insurance provider to verify coverage before you consider the procedure. If you have questions about the cost of the consultation, treatment or stockings, please call the Patient Financial Advocate.