Overview
What is the LifeVest?
The LifeVest™ is a personal defibrillator worn by a patient at risk for sudden cardiac arrest (SCA). It monitors the patient's heart continuously, and if the patient goes into a life-threatening arrhythmia, the LifeVest delivers a shock treatment to restore the patient's heart to normal rhythm.
How does the LifeVest work?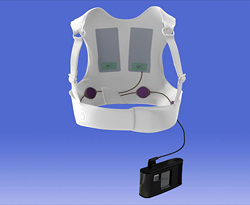 There are two main components to the LifeVest: a garment and a monitor. The lightweight, comfortable garment is worn under clothing and contains electrodes to pick up the patient's electrocardiogram (ECG). The monitor, about the size of a paperback book, is worn around the waist (like a fanny pack) or from a shoulder strap.
The monitor reads the patient's ECG continuously. If the patient has ventricular tachycardia (rapid heartbeat) or ventricular fibrillation (rapid, uncontrolled, ineffective heartbeat), the device sounds an alarm to verify that the patient is nonresponsive. If the patient is conscious, the patient has time to respond to the alarms by pressing two buttons to stop the treatment sequence. If the patient does not respond, the device warns bystanders that a shock is about to be delivered. If the arrhythmia continues and the patient still does not respond, a treatment shock is delivered through the garment electrodes.
After the shock, if the patient's heartbeat returns to normal, the alarms stop and the LifeVest returns to its normal monitoring mode. However, if the patient's heartbeat does not return to normal and the arrhythmia continues, the treatment cycle repeats. Up to five treatment shocks can be delivered.
How is the LifeVest different from an automatic external defibrillator (AED)?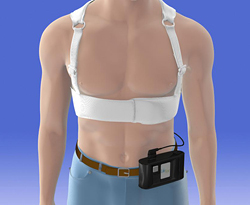 An AED requires a bystander to witness an arrhythmia event (such as ventricular fibrillation), then operate the device and administer treatment to the patient. In order to be effective, the treatment must be delivered with a few minutes after the event. The patient's chances of survival drop about 10% for each minute after the onset of fibrillation, so it is imperative that a bystander take quick action.
In contrast, with the LifeVest no bystander intervention is required. The device continuously monitors the patient's ECG, and if a lethal arrhythmia occurs, the LifeVest delivers a treatment shock typically within one minute. The LifeVest protects the patient even when the patient is alone or sleeping. This kind of protection cannot be provided by an AED.
How is the LifeVest different from an implantable cardioverter defibrillator (ICD)?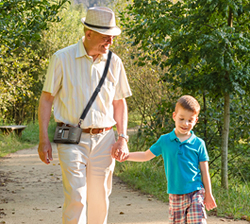 LifeVest worn by person
The ICD, as well as the LifeVest, provides continuous protection to the patient. The device may provide protection as a bridge to implantable defibrillator (ICD) implantation or cardiac transplantation. It can be useful in higher risk patients who are being considered for ICD implantation but who may not meet criteria yet for implantation. For example, patients who have had large myocardial infarctions or undergone coronary revascularization with decreased left ventricular function (LVEF < 30%) may be candidates for ICD implantation if their ventricular function does not improve after 1 or 3 months, respectively (MADIT-2 criteria). The LifeVest can provide protection during these periods. Patients who have an infection or malfunction of their ICD awaiting re-implantation could also use the LifeVest during the waiting period while their infection clears or until the ICD procedure is performed. Also, it can be potentially used in place of hospitalization for patients undergoing antiarrhythmic drug loading for other arrhythmias, such as atrial fibrillation, to protect against the worsening of ventricular arrhythmias during the early drug initiation phase.
How does a doctor view patient data?
Patients transmit information from their devices by connecting them to a normal telephone line. The LifeVest then sends the data over the phone line to a secure, password protected database that is part of a Web site called LifeVest Network. Physicians can access LifeVest Network at any time and view patient information, including ECG recordings (both automatic and manual), compliance data (how long patients are wearing the device), noise data, and other device-related information.
How can I get the LifeVest?
Yes, the LifeVest has been available for commercial use since receiving FDA approval in October 2002. Speak to your doctor if you are interested in this technology.
Resources
Doctors vary in quality due to differences in training and experience; hospitals differ in the number of services available. The more complex your medical problem, the greater these differences in quality become and the more they matter.
Clearly, the doctor and hospital that you choose for complex, specialized medical care will have a direct impact on how well you do. To help you make this choice, please review our Miller Family Heart, Vascular & Thoracic Institute Outcomes.
Cleveland Clinic Heart, Vascular & Thoracic Institute Cardiologists and Surgeons
Choosing a doctor to treat your abnormal heart rhythm depends on where you are in your diagnosis and treatment. The following Heart, Vascular & Thoracic Institute Sections and Departments treat patients with Arrhythmias:
Section of Electrophysiology and Pacing: cardiology evaluation for medical management or electrophysiology procedures or devices - Call Cardiology Appointments at toll-free 800.223.2273, extension 4-6697 or request an appointment online.
Department of Thoracic and Cardiovascular Surgery: surgery evaluation for surgical treatment for atrial fibrillation, epicardial lead placement, and in some cases if necessary, lead and device implantation and removal. For more information, please contact us.
You may also use our MyConsult second opinion consultation using the Internet.
The Heart, Vascular & Thoracic Institute also has specialized centers to treat certain populations of patients:
For younger patients with abnormal heart rhythms:
See: About Us to learn more about the Sydell and Arnold Miller Family Heart, Vascular & Thoracic Institute.
Contact
If you need more information, click here to contact us, chat online with a nurse or call the Miller Family Heart, Vascular & Thoracic Institute Resource & Information Nurse at 216.445.9288 or toll-free at 866.289.6911. We would be happy to help you.
Becoming a Patient
Abnormal Heart Rhythm Conditions
Treatment Guides
Diagnostic Tests
Diagnostic tests are used to diagnose your abnormal heartbeat and the most effective treatment method.
Anatomy
Videos
Interactive Tools
Resource Links
*The inclusion of links to other websites does not imply any endorsement of the material on those websites nor any association with their operators.
Why choose Cleveland Clinic for your care?
Our outcomes speak for themselves. Please review our facts and figures and if you have any questions don't hesitate to ask.
Cleveland Clinic is a non-profit academic medical center. Advertising on our site helps support our mission. We do not endorse non-Cleveland Clinic products or services. Policy