Lactation
Lactation is the process of making human milk. Human milk is secreted through your mammary glands, which are located in your breasts. Lactation is hormonally driven and occurs naturally in people who are pregnant. It can also be induced in those who are not pregnant. Lactation will continue as long as milk is being removed from your breasts.
Overview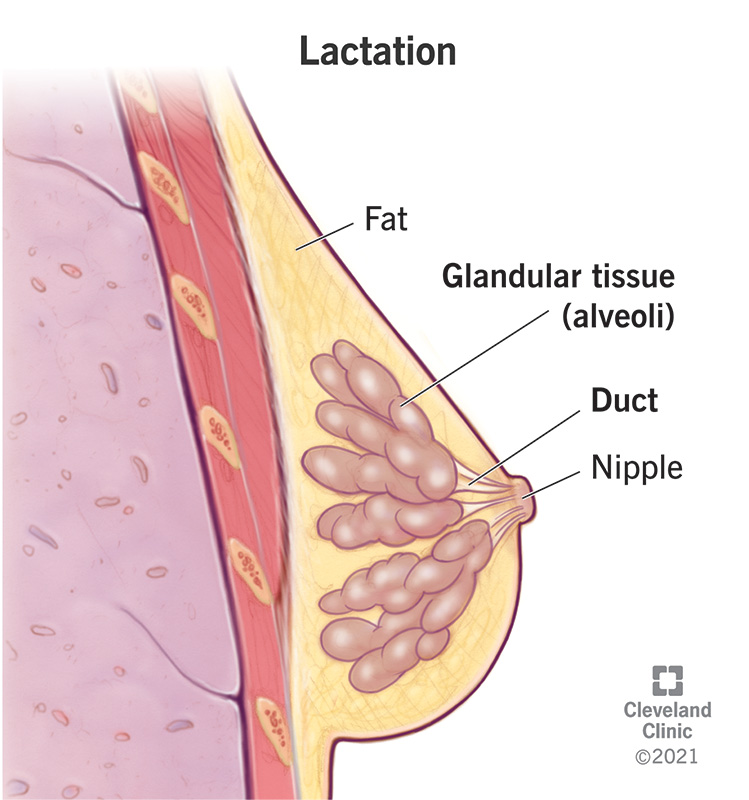 What is lactation?
Lactation is the process of producing and releasing milk from the mammary glands in your breasts. Lactation begins in pregnancy when hormonal changes signal the mammary glands to make milk in preparation for the birth of your baby. It's also possible to induce lactation without a pregnancy using the same hormones that your body makes during pregnancy. Lactation ends once your body stops producing milk.
Feeding your baby directly from your breasts is called breastfeeding (or sometimes chestfeeding) or nursing. You can also feed your baby milk that you have expressed or pumped from your breast and saved in a bottle.
Where does human milk come from?
Human milk comes from your mammary glands inside your breasts. These glands have several parts that work together to produce and secrete milk:
Alveoli: These tiny, grape-like sacs produce and store milk. A cluster of alveoli is called lobules, and each lobule connects to a lobe.
Milk ducts: Each lobe connects to a milk duct. You can have up to 20 lobes, with one milk duct for every lobe. Milk ducts carry milk from the lobules of alveoli to your nipples.
Areola: The dark area surrounding your nipple, which has sensitive nerve endings that lets your body know when to release milk. To release milk, the entire areola needs stimulation.
Nipple: Your nipple contains several tiny pores (up to about 20) that secrete milk. Nerves on your nipple respond to suckling (either by a baby, your hands or a breast pump). This stimulation tells your brain to release milk from the alveoli through the milk ducts and out of your nipple.
It helps to think of the lactation system as a large tree. Your nipple is the trunk of the tree. The milk ducts are the branches. The leaves are the alveoli.
Why do people lactate?
The primary reason people lactate is to feed a baby. Lactation is a biological, hormonal response that occurs during and after pregnancy to feed a newborn baby. Your body triggers specific hormones to initiate milk production and ejection (releasing of milk). All mammals lactate for this purpose and it's possible to induce lactation in men and in non-pregnant women using the right hormone medications.
Function
What triggers lactation?
A series of hormonal events, which begin when you're pregnant, trigger the lactation process. That process is called lactogenesis.
Stage one lactogenesis: This begins around the 16th week of pregnancy and lasts until a few days after you give birth.
Estrogen and progesterone rise and cause your milk ducts to grow in number and size. This causes your breasts to become fuller. Your mammary glands begin to prepare for milk production.
Your nipples darken and your areolas become larger.
Your Montgomery glands (small bumps on the areola) secrete oil to lubricate your nipple.
Your body begins making colostrum. It's highly nutritious and filling and serves as your baby's first milk.
Stage two lactogenesis: This stage starts about two or three days postpartum (after giving birth). It's when milk production intensifies.
Once your baby and placenta are delivered, a sudden drop in your estrogen and progesterone causes the hormone prolactin to take over.
Prolactin is the hormone that produces milk.
You'll notice your milk production increases dramatically at this stage. It's often referred to as milk "coming in."
Your breasts are often engorged (or overly full of milk) to the point where they feel sore, painful or tender.
Stage three lactogenesis: This describes the rest of the time you lactate.
Lactation generally continues as long as milk is removed from your breast.
The more milk that's removed, the more milk your body makes to replace it. Frequent feeding or pumping will cause your body to make more milk.
Hormones for lactation
The hormone prolactin controls the amount of milk you produce, and your body begins producing prolactin early in pregnancy. At first, the high levels of estrogen, progesterone and other pregnancy hormones suppress prolactin. Once you deliver the placenta, those pregnancy hormones drop and prolactin takes charge.
When your baby suckles, it stimulates nerves that tell your body to release prolactin and oxytocin. Prolactin causes the alveoli to make milk and oxytocin causes muscle contractions that push out of the alveoli and through the milk ducts.
When milk is released, it's called a "letdown," and it takes about 30 seconds of suckling before the letdown occurs. Because you can't control which breast receives the hormones, the letdown can cause milk to drip from both nipples.
Inducing lactation in people who aren't pregnant requires medication that mimics hormones your body makes during pregnancy. Suckling from the nipple can initiate lactation, either with a breast pump or by a baby. This is a complex process that involves working closely with a healthcare provider who understands the needs of non-pregnant people and has experience initiating lactation.
When do you lactate during pregnancy?
Lactation begins as early as a few weeks into the second trimester of your pregnancy. As estrogen and progesterone levels rise, your body prepares for lactation by increasing the number of milk ducts in your breasts, and those milk ducts will transport milk from the alveoli to your nipples. About midway through pregnancy, your body creates colostrum, which is your baby's first milk.
Can you lactate when you're not pregnant?
Yes, it's possible to lactate if you're not pregnant. Inducing lactation is a complex process that usually involves using hormone-mimicking drugs for several months to produce milk. The second part of lactation is expressing the milk through your nipple. Stimulation from infant suckling, pumping with a breast pump or hand-expressing signals the brain to release the milk. It's common for people in this situation to receive assistance from a healthcare provider who understands the needs of non-pregnant people and has experience initiating lactation.
How do you stop lactation?
There are many reasons why you might need to stop producing milk, and you can stop lactating either naturally or with the help of hormonal drugs.
Natural milk suppression
Lactation is a supply-and-demand process. Your milk supply gradually goes down as your baby relies less on breast milk, or as you reduce the number of times you nurse or pump. Generally, if you decrease the volume of milk removed from your breasts, your body will slow milk production.
Suppressing your milk can feel uncomfortable and most people will become engorged (the term for overfilled breasts). You may also leak milk or develop a clogged milk duct. However, you can treat that pain by taking an over-the-counter pain reliever, wearing a firm bra or using an ice pack on your breasts.
Medication suppression
Medications can also be an option if you need to stop producing milk. Your healthcare provider can explain more about lactation-suppressing drugs, as well as the benefits and possible side effects.
Anatomy
Where are the mammary glands located?
Mammary glands are commonly called breasts and both genders have them. They are located on your chest and are composed of connective tissue, fat and special glandular tissue that makes milk. A woman's glandular tissue is slightly different because it contains the alveoli and lobules necessary for producing milk. Women also have much more glandular tissue.
Conditions and Disorders
What are common conditions that affect your ability to lactate?
The ability to lactate and the length of time you're able to produce milk varies. Some can produce milk for years, while others have trouble producing enough milk for their baby.
Some common factors that can impact lactation or breastfeeding are:
If you're nursing or pumping your milk to bottle-feed your baby, you should always consult with your healthcare provider before starting any new medications or treatments. Many medications can pass to your baby through breast milk, which may have dangerous effects on your baby.
What is lactational amenorrhea?
Lactation amenorrhea (ah-men-oh-re-uh) means you aren't menstruating (getting a period) due to lactation. When you're lactating, your body produces prolactin, the hormone that produces milk. Prolactin reduces the amount of luteinizing hormone (LH) in your body, which helps trigger the release of an egg during ovulation. If you aren't producing enough LH, you can't ovulate or get your period. The length of time you can be amenorrheic due to lactation varies from a few months or until you're completely done lactating.
Does lactation reduce my risk of any diseases?
Studies have shown that breastfeeding reduces a woman's risk of ovarian and breast cancers. It can also lower your risk for Type 2 diabetes and high blood pressure.
Care
How do you maintain milk production?
Maintaining lactation is mostly based on supply and demand. The more your baby breastfeeds or the more milk you express with a breast pump, the more your body will make. There are ways to suppress lactation with hormones or oral contraceptives. If you wish to maintain lactation, some things you should do are:
Continue nursing on-demand or pump milk frequently (approximately every four hours).
Eat a healthy diet with enough calories. Low-calorie diets can decrease milk supply.
Drink plenty of water to stay hydrated. Human milk is primarily water.
Avoid smoking, drugs or alcohol. These can reduce your supply and transfer to your milk.
Frequently Asked Questions
What is the difference between lactation and colostrum?
Lactation describes the process of making and secreting milk from your breast. Colostrum is the first milk your breasts create during lactation and the first milk your baby drinks. It's thick, yellow and commonly called "liquid gold." Colostrum is high in protein, minerals, vitamins and antibodies.
What is hormone therapy for inducing lactation?
Couples or families who wish to induce lactation, maybe because of adoption, surrogacy or other reasons, can try hormone therapy. Induced lactation means you're creating a milk supply without being pregnant. It's a process that involves taking estrogen and progesterone for several months to make your body believe it's pregnant. This helps prepare your breasts for lactation. Some medications and herbs are believed to help establish a milk supply, too.
Several weeks before your baby arrives, begin pumping your breasts with a breast pump. This encourages your body to release prolactin, which produces milk. Ideally, you express your milk several times a day, just like you would if you had a baby. This helps establish a supply. You can also freeze any milk you produce for use once your baby arrives.
If you're considering this as an option, you should talk to your healthcare provider about your desire to feed your baby with human milk. Induced lactation works for many people, but not all.
A note from Cleveland Clinic
If you want to feed your baby human milk, it's helpful to understand the process of lactation so you know what to expect. Talk to your healthcare provider about how to best prepare for nursing or expressing milk. Remember, lactation can look different for everyone depending on your circumstances and health history. If you struggle with lactation at any point, you may feel embarrassed or even ashamed. But struggling with lactation is very common, and lactation specialists and other healthcare providers can help you as you try to overcome these difficulties.
Cleveland Clinic is a non-profit academic medical center. Advertising on our site helps support our mission. We do not endorse non-Cleveland Clinic products or services. Policy