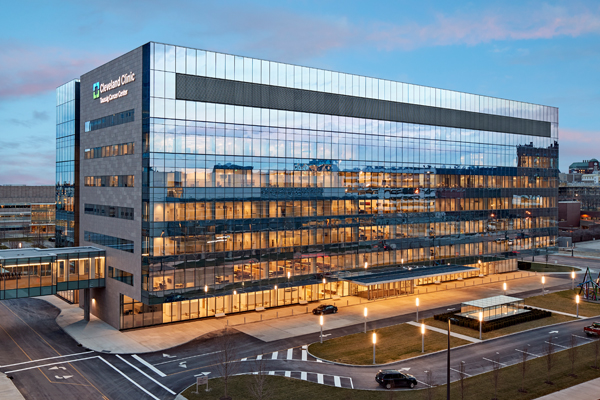 Cleveland Clinic is transforming care in profound ways that will influence healthcare practices around the world, today and for decades to come. The basis of this change is evidence-based care, which relies on innovation and leveraging new information technology.
Technology and innovation have touched every facet of medicine: diagnoses through blood tests and imaging; prevention efforts such as vaccines; monitoring with online telehealth programs; and treatments including medications, radiation and surgical procedures.
Electronic medical records give doctors and patients ready access to all of their medical data. Robots deliver supplies throughout the hospital and assist with surgery. IBM's Watson, of Jeopardy! fame, is now in our medical school, working with our physicians to provide fast, efficient access to relevant knowledge buried in huge volumes of unstructured data.
Cleveland Clinic's Center for Personalized Healthcare is showing the value of using customized patient data to diagnose more accurately and treat more effectively — for example, being able to anticipate and prevent serious health events in families whose members are at risk for hereditary disease.
In the near future, more innovation will include:
Technology to improve healthcare delivery and lower costs. We envision devices that can wirelessly transmit a person's blood glucose levels to a healthcare provider, eliminating finger sticks and making it easier for patients to manage their illness and avoid ER visits and hospitalizations.
Micro Electrical Mechanical Systems (MEMS). Cell-sized machines soon may rove through your vascular system, trawling for cholesterol or hunting down cancer cells. Our BioMEMS lab is working on tiny biochips that will perform pressure sensing, imaging, drug delivery and tissue sampling from the tip of a catheter.
Breath analysis. Diseases of the lung, liver, kidney and heart all leave traces in the breath. Devices are now being tested at Cleveland Clinic to detect lung cancer, asthma and other conditions through a patient's breath.
Cleveland Clinic has more technologies in development, but we need additional resources to speed these life-saving devices from the lab bench to our patients. Because government funding has declined 20 percent in the last decade and so few government sources fund development, we could lose an entire generation of researchers without support.
Which of today's innovations will be the game changers? We can't say for sure. But we do know that promising research, technology and business ideas have the potential to benefit humanity — only if someone supports their development.