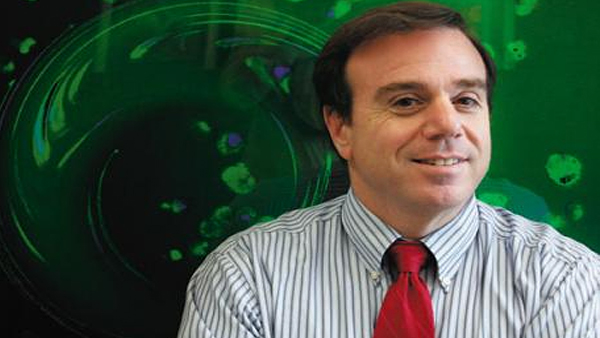 Cleveland Clinic's Lerner Research Institute is home to both our laboratory-based translational research and patient-based clinical research. (Translational research builds on basic science discoveries, moving them into practical applications that enhance human health and well-being.)
Research underway at Cleveland Clinic has the potential to:
Cure type 1 diabetes using stem-cell-derived insulin-producing cells
Determine the connection between dietary fat, intestinal bacteria and heart disease
Uncover the cause of progressive neurological decline in multiple sclerosis patients
Invent tools for personalizing healthcare based on a person's unique genetic signature
Discover the causes of and treatment for Alzheimer's disease and other brain disorders
How Your Donation Advances Research
"I say to people in the lab that you have to be scientifically fearless."
– Stanley Hazen, MD, PhD
Stanley Hazen, MD, PhD, and his team at Cleveland Clinic recently discovered that targeting microbes in the gut may prevent heart disease caused by a diet high in animal fats — a finding that represents a potential new approach for treating the leading cause of death in the United States.
Though Dr. Hazen — a cardiologist, biochemist and cell biologist — doesn't specialize in digestive disease research, he boldly followed where his research led him, making headlines for linking gut bacteria to heart disease risk.
Dr. Hazen and his colleagues at the Lerner Research Institute exemplify Cleveland Clinic's approach to discovery: Cross-disciplinary. Driven by creativity and curiosity. Entrepreneurial and unafraid to pursue commercialization. Focused on the greatest healthcare needs. And, perhaps most important, willing to follow where science leads them.
But to explore the most advanced ideas, Cleveland Clinic researchers need funds for pilot projects. When preliminary studies produce convincing results, we then can apply for major grants from the National Institutes of Health and other sources.
At Cleveland Clinic, the science is the care: Basic and translational research help us save lives. Our patients show us every day, firsthand, how important our work is, and we're excited about the discoveries we have yet to make — with your help.